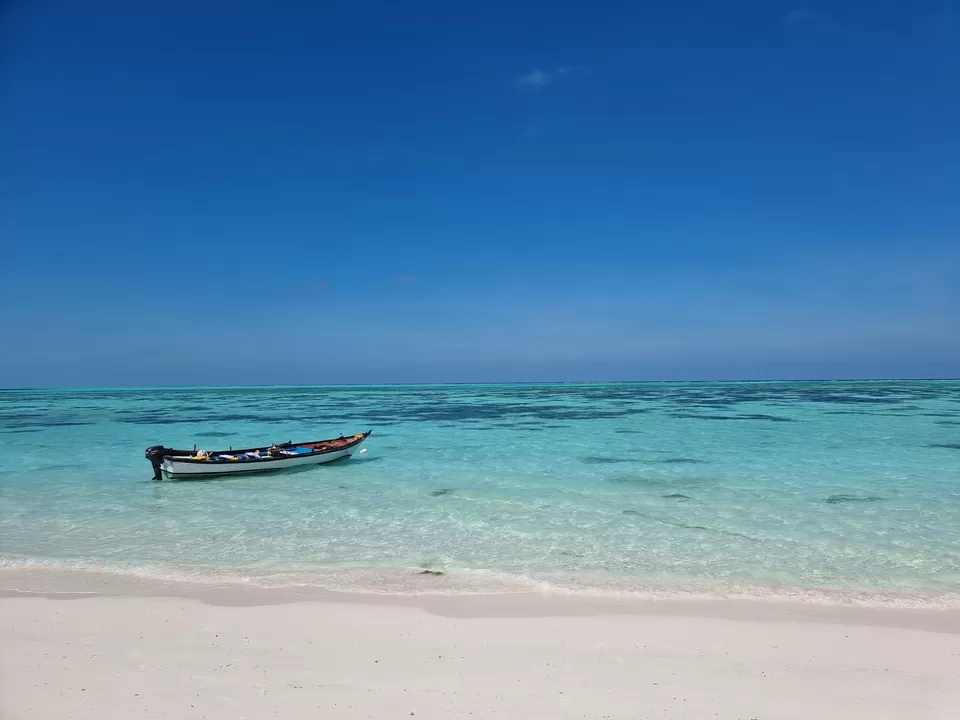 #Lakshadweep # Island #Tropical #Indiai
Less Explored Tropical Island Of India Till Date…
Lakshadweep is a group of 36 islands with an area of 32 sq km. It is one of the Union Territories of India. Kavaratti is the capital of Lakshadweep. It is located in the vast & emerald Arabian Sea. The name Lakshadweep in Malayalam and Sanskrit means 'a hundred thousand islands'. The inhabited islands are Kavaratti, Agatti, Amini, Kadmat, Kiltan, Chetlat, Bitra, Andrott, Kalpeni and Minicoy. Tourists are allowed to visit only a few selected islands of Agatti, Kadmat, Kavaratti, Minicoy, Thinnakara & Bangaram. The main occupation of the people here is fishing, coconut cultivation and coir twisting. Tourism is now emerging.
Some time ago, my sister in law and I decided we would take a holiday in the Lakshadweep islands. But we soon found out that visiting Lakshadweep was not going to be as easy as we thought. There's not too much information available online if you don't want to go through an agent, and whatever is it is quite confusing. So here's how we planned our trip, so you know how to plan your own Lakshadweep itinerary.
Permits: To enter Lakshadweep you need permits without permits you are not allowed. You can apply for permits on the Lakshadweep tourism website or get in touch with an authorised travel agent. We booked with the help of @gol_travels, they took care of our stay, excursions and permits. Gol Travels: +91 97783 89592.
There are other travel agents as well Coastalin & India Trotter you can DM them directly on their Instagram handles to get the quotes.
Report: RTPCR negative certificates within 48hrs of the journey is compulsory without which you won't be allowed even if you are fully vaccinated. (This information keeps changing depending on the covid situation and the Lakshadweep government. To get the latest information on the same you can check with your agent or Lakshadweep Tourism website
Reach: To reach Lakshadweep, we took a flight to Cochin and from Cochin to Agatti. From Cochin to Agatti there is only one flight in a day. What we did is we first booked a flight from Cochin to Agatti & based on that flight timing we booked our to and fro Cochin flight. To reach Bangaram Island Resort, you need to reach the ferry terminal from where you need to board a ferry to reach Bangaram Island Resort. It takes approximately an hour to reach.
To book a ferry and a cab which takes you to the ferry terminal from the airport needs to be booked in advance, which again you can do on the tourism website. And if you are booking through an authorized agent then they will take care of all these bookings.
Stay: We opted for our stay with Bangaram Island Resorts. Entire Bangaram Island is converted into a resort so you won't find any local experience. If you want a relaxed holiday you can choose this island to just sit & relax. Bangaram Island Resort will slightly burn your pockets in terms of cost. We paid 10k per night for double occupancy. Rates may vary depending upon which month you planning to visit. Also, there could be chances that government may change rates on a timely basis. So whenever you plan, you can check the latest rates on the Lakshadweep tourism website or else if you are booking through an authorized agent they will help you with rates, bookings etc.
If you want to experience local stay then one can opt for budget home stays at Agatti or Kavaratti Island. Kavaratti mostly people opt if they are planning to do certifications in scuba, Kavaratti offers the best scuba experience, which I heard from my friends who did it.
What to do: There are several water sports activities available at Bangaram Island. Kayaking, snorkeling, turtle watching etc.
What I would recommend is you can do coral garden snorkeling, shipwreck snorkeling, Thinnakara island, Parali island. For any water activities that aren't included in your packages.
There is also a sandbank behind the resort, from where you can watch the sunset. For us watching the sunset from the sandbank was surreal.
I would also recommend doing Try dive 6 meters scuba at Bangaram Island if you are scared of water or a first-timer of doing scuba. Else best scuba experience in Lakshadweep one can have is in Kavaratti Island where most of them visit to have their scuba certification.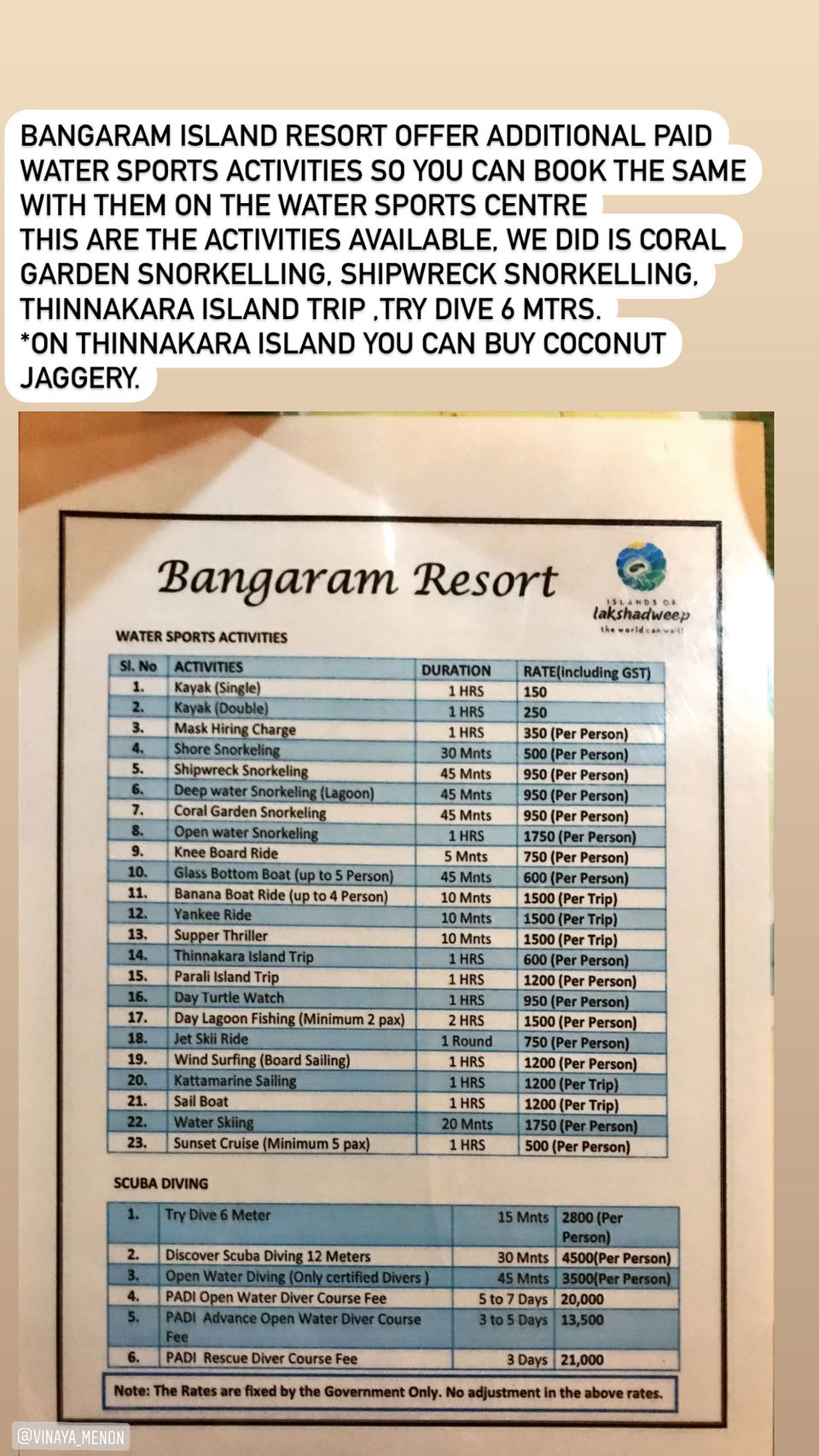 We planned our Lakshadweep trip for 4N 5D. The cost was approximately 62K INR Which includes flights, stay food. Also one can explore Lakshadweep Island via Cruising.