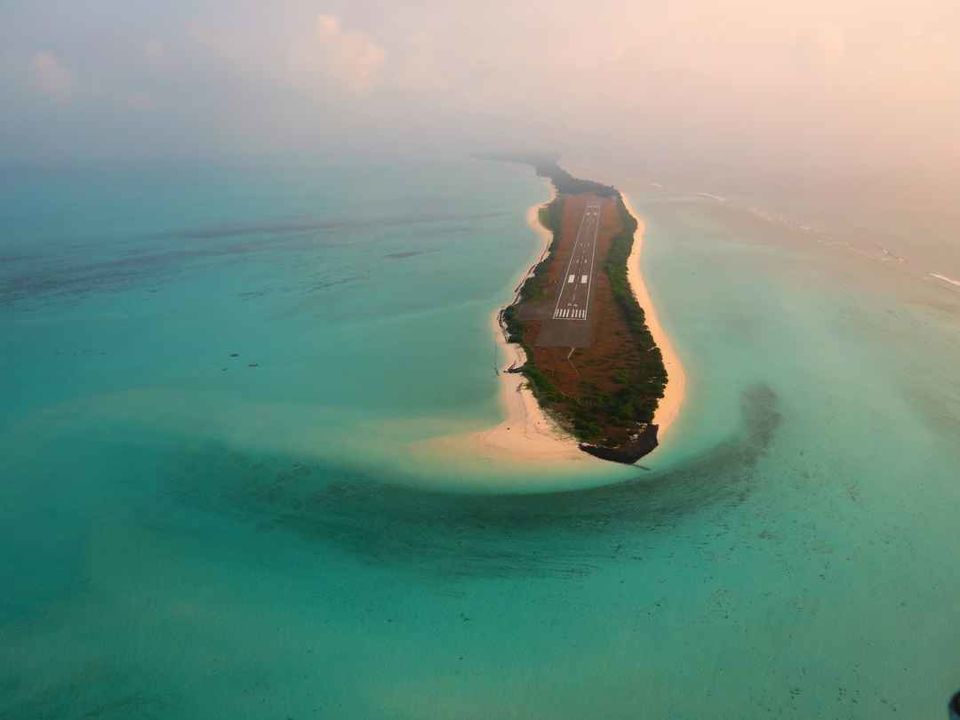 Imagine gliding above coral reefs, clearly visible below the waters and watching its denizens go past — bluefin tuna, reef sharks, eels, jellyfish, turtles, rays, both manta, and sting. And as you stroll along the island grounds, you're wrapped around pristine blue waters and soft white sands making up the ambiance. This tropical paradise is off the coast of Kerala, India, and it's the off-grid, Lakshadweep Islands.
A government agency—SPORTS, Society for Promotion of Nature, Tourism, and Sports regulates the number of tourists entering the island, a measure to protect the ecology of the place. Indians still require permits to visit the Lakshadweep Islands, and they booked trips to the island through SPORTS.
Out of 36 islands here, only 10 invites travellers, each better than the other exuding a gorgeous tropical paradise vibe. Kavaratti, Kalpeni, Kadmat, Minicoy, Bangaram, Thinnakara, Agatti are some of the few open to tourists.
The first of the islands to visit is Kavaratti, the capital city. Whether a beach bum or an adventure lover, Kavaratti offers a plethora of pristine sandy stretches, water sports and stunning vistas. Hotels offer packages for scuba diving, snorkelling, waterskiing, parasailing and windsurfing for outdoorsy kinds and also are some of the popular sports to try here.
But others who choose to lie low within the comfort of the beach hotel, can walk along white sands and sunbathe, swim in the shallow lagoons, look out for photography options and move around on a glass-bottomed boat to gaze the beautiful marine life up-close.
The island is also a base for INS Deeprakashak, one of the main Indian Navy Bases.
Fishing and coconut products are the major industry here and the locals major income earners. But the real draw of Kavaratti is the unhidden underwater world.
Go basking in the glorious views of the sea and feel the sea breeze in your hair. It's easy to imagine because the island is home to atolls, submerged banks and coral reefs. The Dolphin Dive Center in the island's northern reaches is where real adventure kicks off.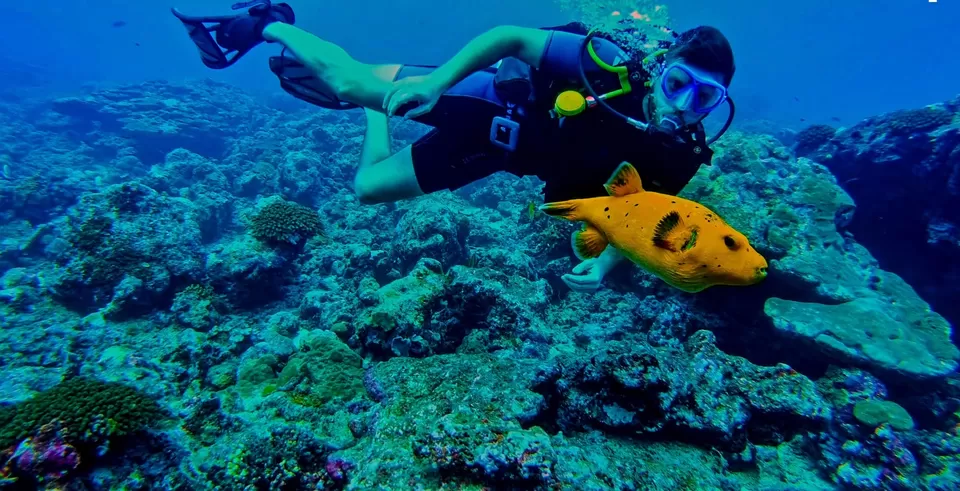 You can begin your scuba diving and snorkelling journey at the chicken neck point, the south of Kavaratti. For advanced divers, wall of wonder at the northwestern direction offers a maze of underwater caves or slip into the waters of turtle nest, another diving site to swim along beautiful sea turtles. Green and hawksbill turtles are the most common species of sea turtles found in the lagoons.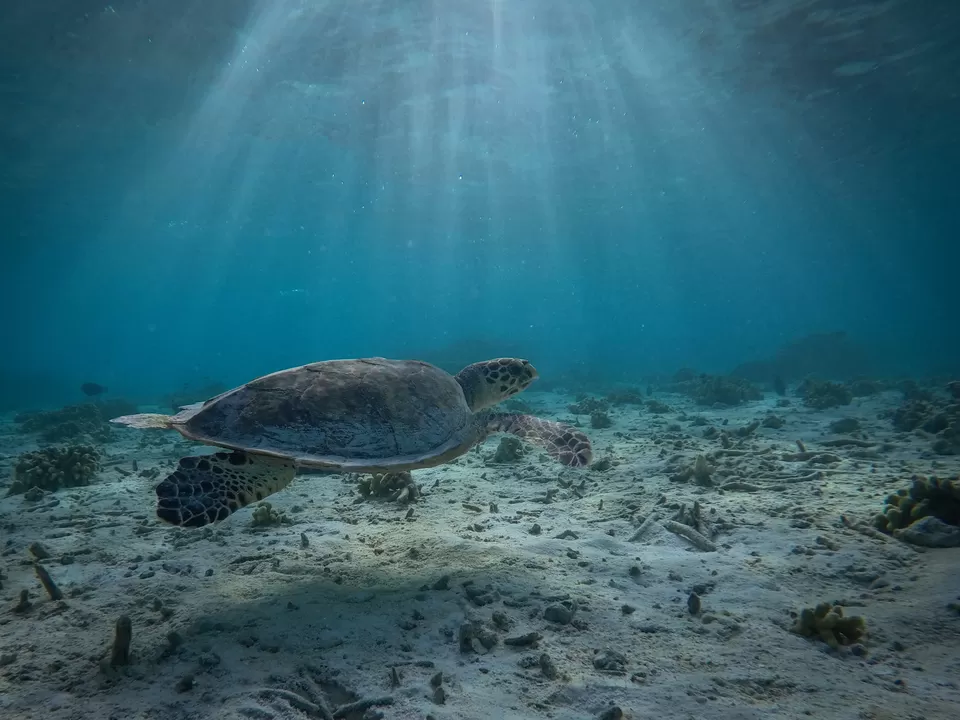 White sandy beaches bordering coral islands and the aqua blue waters take on a new meaning when viewed up in the air. Fulfil your dream of flying like a bird by going parasailing.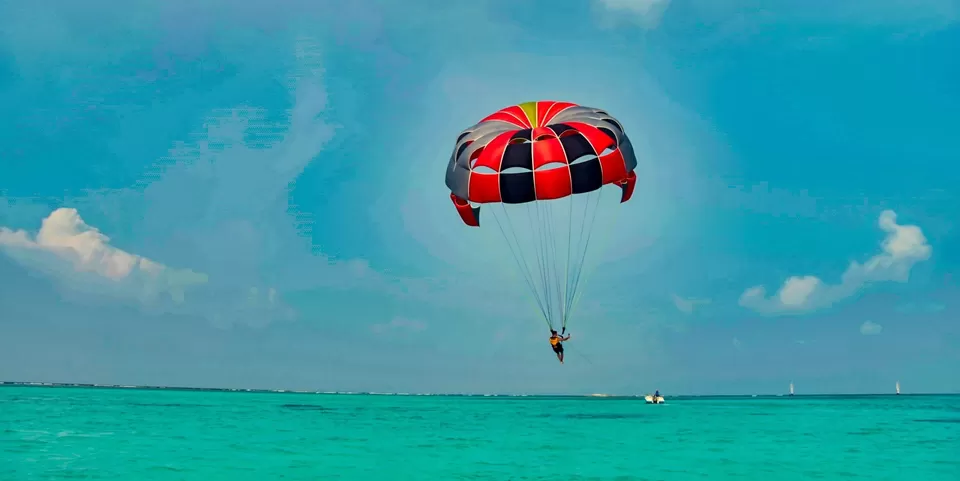 Indian surfers also come to the shipwreck beach in Kavaratti to ride the big swells of Arabian sea.
Lakshadweep Surfing Club, the first surfing community of the island run by Samad, a three time gold medallist national swimming champion, PADI Dive Master and International certified surf instructor, dedicates his time teaching beginners and advanced how to perfect technique.
You can also go stand-up paddle-boarding. These tours open a window up-close to the unspoiled ecosystem of Lakshadweep which needs to be protected, and that's why travel to this part of India is bent towards responsible tourism.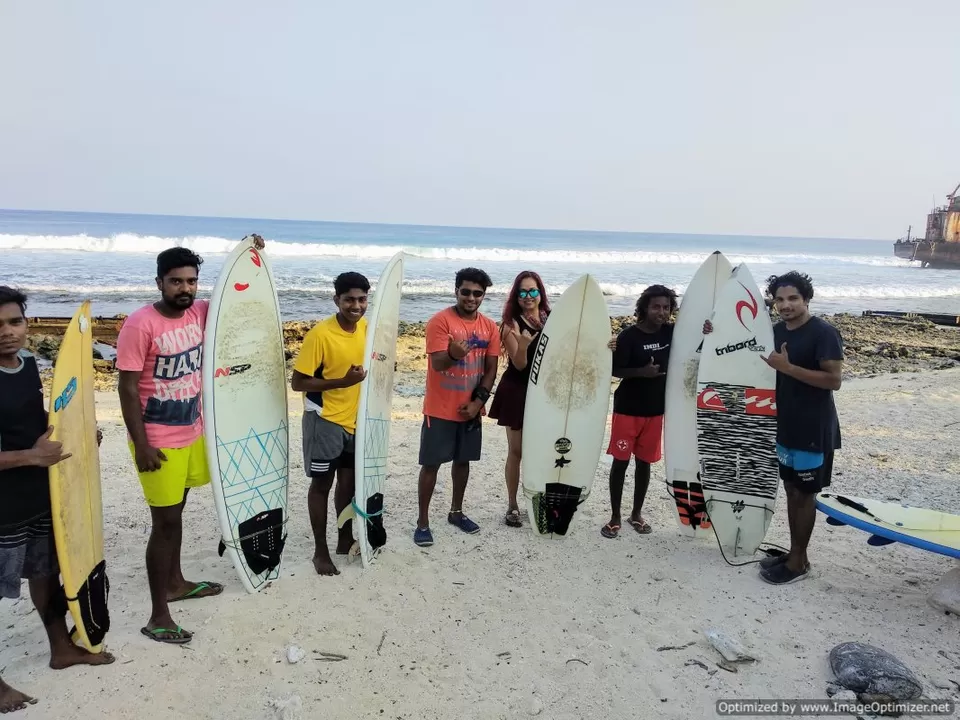 The next island on the list is Kadmat, looked up to for its gorgeous lagoon and wall-like coral formations, also home to a colony of fishes and water species — lion fish, lobsters, tuna, rays, sharks, shoaling jacks, fusiliers, sweet lips, groupers, rays, eels, turtles.
A dive is a glimpse into the rich biodiversity of the Lakshadweep's underworld. Such times when most reefs are waning of rising temperatures, plastic pollution and sewage, overfishing, chemical sunscreens and unmanaged high density tourism, Lakshadweep has heavily regulated the influx of tourism and maintained eco-friendly practices around the island resorts.
When you head to the beach, use a reef-safe sunscreen, eliminate plastic and spreading importance of the reef system are some lessons one learns here.
Kadmat, an elongated white sandy stretch dotted with palm groves lining the lagoon is also a diver's must-go.
Day's activity like kayaking, pedal boating, yachting, skiing keep you busy and let you admire the beauty of this tropical island. And once out of water, there is enough to soak in. The azure blue melting into the horizon and magical shades of gold filling in during sundown is a phenomenon worth catching on.
Visit the local coconut factory where you could learn about the process and production of coconut oil, coconut powder and other by-products.
Kadmat also has a bustling city market. Stroll around to savour some of the street grubs like baby squid fries, fish pakoras, fish samosa. Also try the pazham pori, a type of banana fritters which is best savoured with a warm cup of coffee.
Close to Agatti and Kavaratti is another tear-drop island, Bangaram. Frequent boat rides take off from Agatti and so is their chopper services.
Bangaram Island Resort right on the beach is one of the best place to anchor in this remote island. It has a diving center, beach volleyball court, helipad, spa and health center. A journey to Bangaram means a journey to an oasis of blue lagoon closed off by coral reefs. And add other attractions like the colourful marine life, unpolluted surroundings, and gorgeous coconut groves. While you swim past shoals of colorful fishes in the sloping reefs and coral gardens, there are ship-wreck diving sites on this island for advanced-level divers. Other sports activities are jet skiing, kayaking, snorkelling and windsurfing.
At low tides, sandbanks come to the surface and allow ample opportunity to amble around and Instagram-worthy clicks.
The diving center also offers scuba diving courses, from beginners to advanced diving on open waters that would take a minimum of 5 days for you to become a certified diver.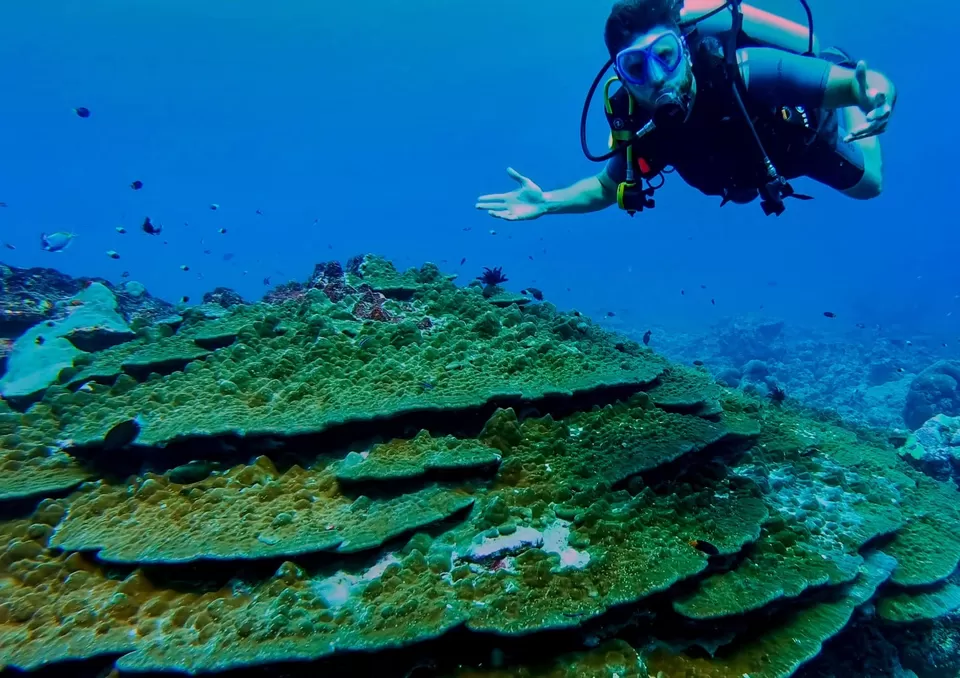 The rustic row of cottages has hammocks attached to trees perfect for relaxing by the sea after the day's activity.
During the night make merry over delicious seafood fares that could be arranged on the candle lit beach front. Also, take a moment to watch the phosphorescent plankton lit up the beach while the night canvas fills with stars.
Another must-visit island is the Thinnakara and takes a 45 minute boat ride from Agatti. Coming you'll see two other uninhabited islands, Parali (one) and Parali (two). It shares the same lagoon of Bangaram and takes just 15 minutes by boat to reach the opposite Thinnakara isle.
Turquoise coloured waters, coconut palms, powdery beaches and an incredible coral life make it an irresistible island to visit. On reaching Thinnakara and retiring to the eco-friendly, rustic beach tents, the island feels like a Robinson Crusoe island idyll.
The beauty of Thinnakara is that you won't find automobile traffic here.
The lagoon was full of rare sea turtles and don't miss out the turtle watch starting with a scenic boat ride to the neighbouring waters. Sighting the sea turtles was that easy on crystal clear emerald waters. And while you plan to walk around the idyllic white sandy shores, you're bound to stumble on the island's many hermit crabs.
Thinnakara boasts of over a 200-year-old shipwreck site, almost near the end of the lagoon and don't miss the shipwreck snorkelling. So even if you're not a PADI certified diver, don't worry, with few hours of training, this dive would go easy on you.
Don't leave Lakshadweep without experiencing Minicoy, an island idyll. The remotest yet the most picturesque island of Lakshadweep. Every week, only one boat reach here and the only way to get here on your own is a chopper. No wonder, few travellers visit the island a month.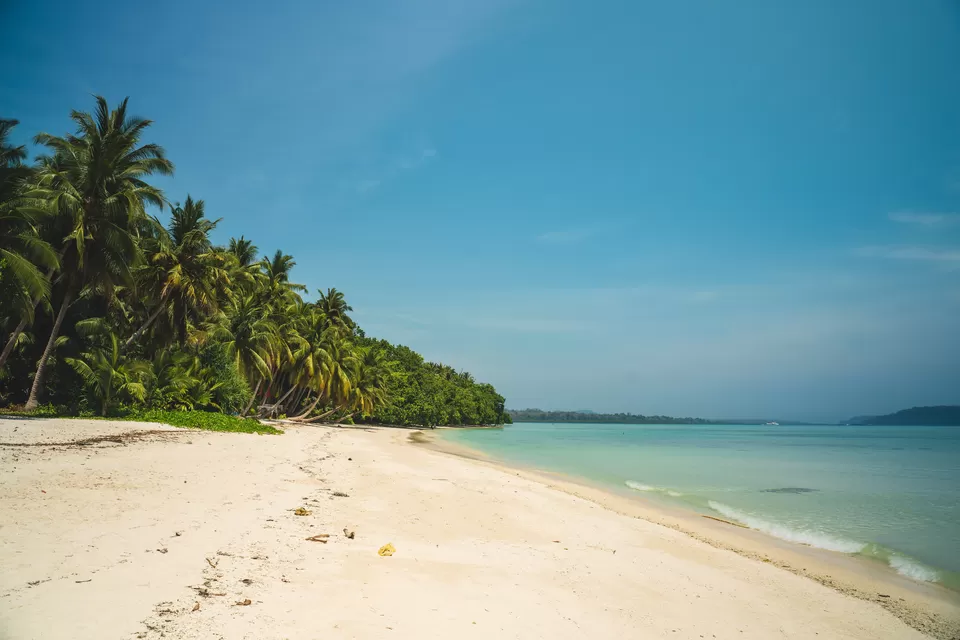 Minicoy is not so mini in fact the largest of the islands in the Lakshadweep chain and closest to the Maldives. Residents speak the mahl language while other islanders speak malayali. The lighthouse here rewards stunning views of the open sea and floating palm-ridged lagoons.
You can rent a bike and explore the villages. Minicoy has three shipwreck diving sites drawing serious scuba divers. Together they look like underwater coral museum, today housing colourful fishes and plenty of coral patches.
The perfect waves tumbling down makes it a perfect surfer's ground. There is nothing more indulging that riding on water sports that are on offering — Kayaking, surfing, snorkelling, water skiing and parasailing, besides scuba diving.
For a leisurely stay, the one resort maintained by SPORTS is your perfect retreat. The beach is right at your feet. The only sounds you hear are those waves. As night falls the breeze keeps cool, and the moon casts silver shadows. Take the company of a local hotel staff who could fill you in with the island's culture.
Like other islands of Lakshadweep, Minicoy's primary occupations are also boat making and fishing. Jahadhoni is the boat racing festival that takes place every December followed by a gala food fest and cultural programs.
Thirty large wooden boats sail on open waters, and over 200 zealous oarsmen power the boats in unison to compete against each other. It's a spectacle to watch organized by the tourism board.
Sign up for fishing tours taking you on country boats where 1000-year-old, offshore pole-and-line fishing with origins in the Maldives is still practised. Join a troupe of local fishers who can help you get the day's freshest catch in the deep waters. Tuna is the island's most prized export and the hotels across the island prepare a hearty fare with it.
They cooked smaller species of tuna in brine and sundried to make maas and further use as a stuffing to make mass appams. Tuna grills or tikka are the most common dish on buffets. Mus Kavaab is another fish item, most cherished. They marinate Mus or boneless fish with a paste made from coconut, turmeric, chilli powder, coriander powder, cardamoms and cloves and cook in a gravy. Don't miss the unique Minicoy paratha best enjoyed with chicken gravy.
Luxury needn't have to be extravagant. Sometimes something as simple as nature and its wildlife does the trick. Set off to Lakshadweep if diving into pristine reefs and island hopping on boats in the company of expert divers and sports enthusiasts is your kind of vacation.