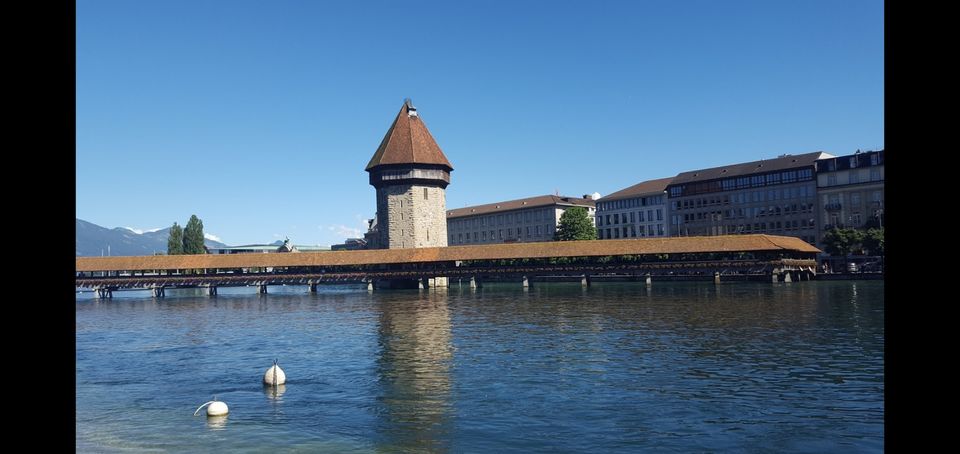 On our trip to Switzerland, we visited the city of Lucerne.
We were based in the quaint village of Lungern.
Lucerne is around a 30min drive from Lungern.
The town of Lucerne itself is a must see on anyone's Swiss bucket list! It has a glistening glassy lake and  mountains all around that rise up many feet into the sky
Lucerne is a true fairytale destination.
And one of the  the main attraction of this beautiful town is The Chapel bridge and water tower.
Chapel Bridge (or "Kapellbrücke" in German) is a wooden walking bridge that goes across the Reuss River in the city Lucerne in Switzerland. Its purpose was to connect old part of town on the right bank with the new part on the left and to protect against attacks that could come from the lake.
As we walked through the bridge, we saw mesmerizing paintings hanged throughout the bridge on the ROOF!
Felt like being in a Dan Brown novel!
These paintings depicted the Lucerne legends.
One of the characteristics of Chapel Bridge is that it has paintings hanged bellow its roof.
Our guide told us that the paintings were made as early as the 17th century by a local Christian painter . however in 1993 a fire broke out on the bridge ( probably from the cigarette,) and destroyed two thirds of paintings.
At the middle of the bridge, there is a water tower. Ok
It is so called not because it holds water but because it's constructed right in the middle of the river.
Apparently the tower is older than the bridge by a few years and was also used as a prison.
( Imagined this as a pretty version of Grindelwald's  Numenguard)
However the tower was not open to tourism and we only saw it from outside.
We also spent some time on the banks of the river where there were ducks and swans.
It was a delight to watch the swans dip their faces in water such that their legs popped straight up!
It's an amazing experience to walk through the wooden bridge and it's also an excellent photo opportunity!