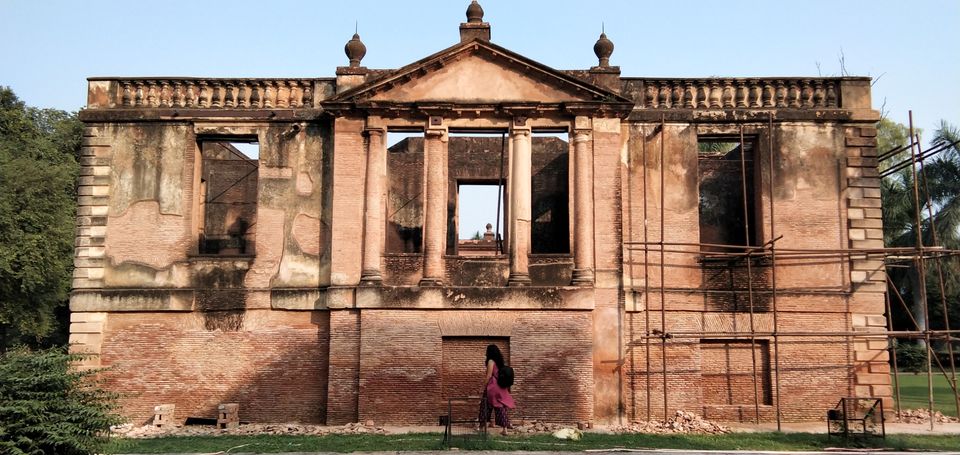 Until the day of leaving to Lucknow, I was contemplating. Offcourse I wasn't going to back out, but there was a kind of an uneasiness, because I didnt't know what was in store for us besides, abundant delicious food. The people, the vibe, their culture is surely very different from when I belong (Goa) and we HAD to adapt to that for a few days. It could be the language, the dressing, the kind of attitude we would need to wear on our sleeve all the time, because it was just the 4 girls, setting out to explore a small portion of Uttar Pradesh, i.e. Lucknow - Benaras - Prayagraj - Ayodhya.
We landed in Lucknow at an odd hour of 10:00 pm, when there were absolutely no Uber or Ola available around the airport. Eventually we booked an airport cab. We put on our G-maps to make sure we were on the right route.( ALL DAY, EVERY DAY LITERALLY. as a safety precaution )
While driving Sikander, our driver, recieved a call from home. His wife told him to bring groceries to stock for the next few days, as the Ayodhya verdict was to be announced the next morning, and there were heavy chances of curfew for a few days. As the last time the Ayodhya incident took place in around 1992, the markets were set on fire, and gun firing took place and it was a massive chaos. Alot of people had died. Hearing this, our excitement to explore died out too. He handed over his card while he dropped us, incase we needed to be taken around the next day.
We checked in, ordered food from our hotel, and the only plan for the next day was to watch news, and hope that Lucknow stayed calm so that we could get out.
The verdict was out, and we heard people bursting fire crackers while we had some extra heavy breakfast from Rattilal's which was so good that it turned out to be our brunch. We called Sikandarji, as he was the only person we knew around, and we thought we could rely on (intuitions). He offered to take us around to the new lucknow side, as old lucknow was fairly prone to uncertain mishaps because of which everything was shut there.
We finally set out to explore at 2:00pm, after contemplating over it the entire morning.
We visited Dilkusha Gardens first, followed by the Le Marinerie college. We love to see places, irrespective of how famous/relevant they are on a tourist guides map. Dilkusha is a fairly magnificent lakhauri brick structure that housed soldiers back then, where as Le Marinerie left us awestruck by the detailed, intricate hand painted ceilings and interiors.
Next was Dr. Ambedkar Memorial Park, which was majestic yet quite a massive waste of monetary resources. It's nicely executed no doubt, preferably visit this at sunset time.
Our driver drove us around to show us the Sahara India owners property, and the area's that houses huge mansions that belong to the ministers. Also visited 'Sheroes', it's a cafe that is run by acid attack victims.
Dinner was ordered viaSwiggy, from Dastwarkhaan, which is also a must visit. It was surely an eventful day, irrespective of every uncertain event that couldve just taken place.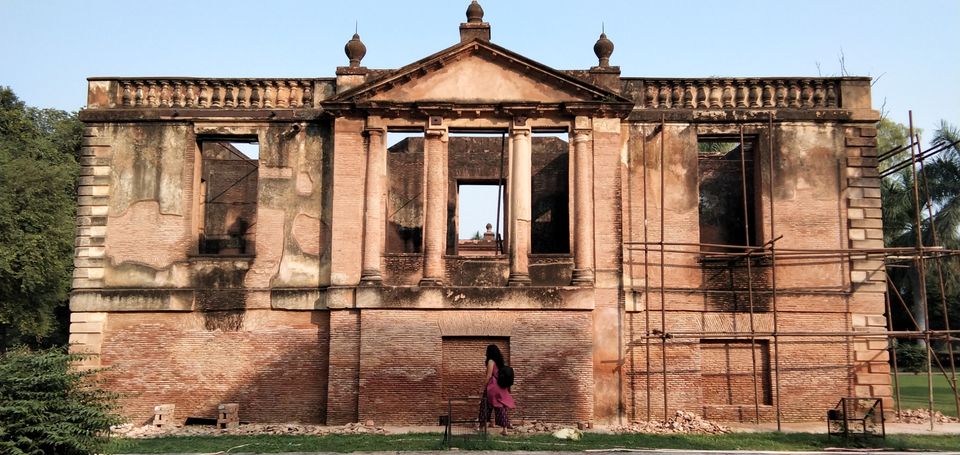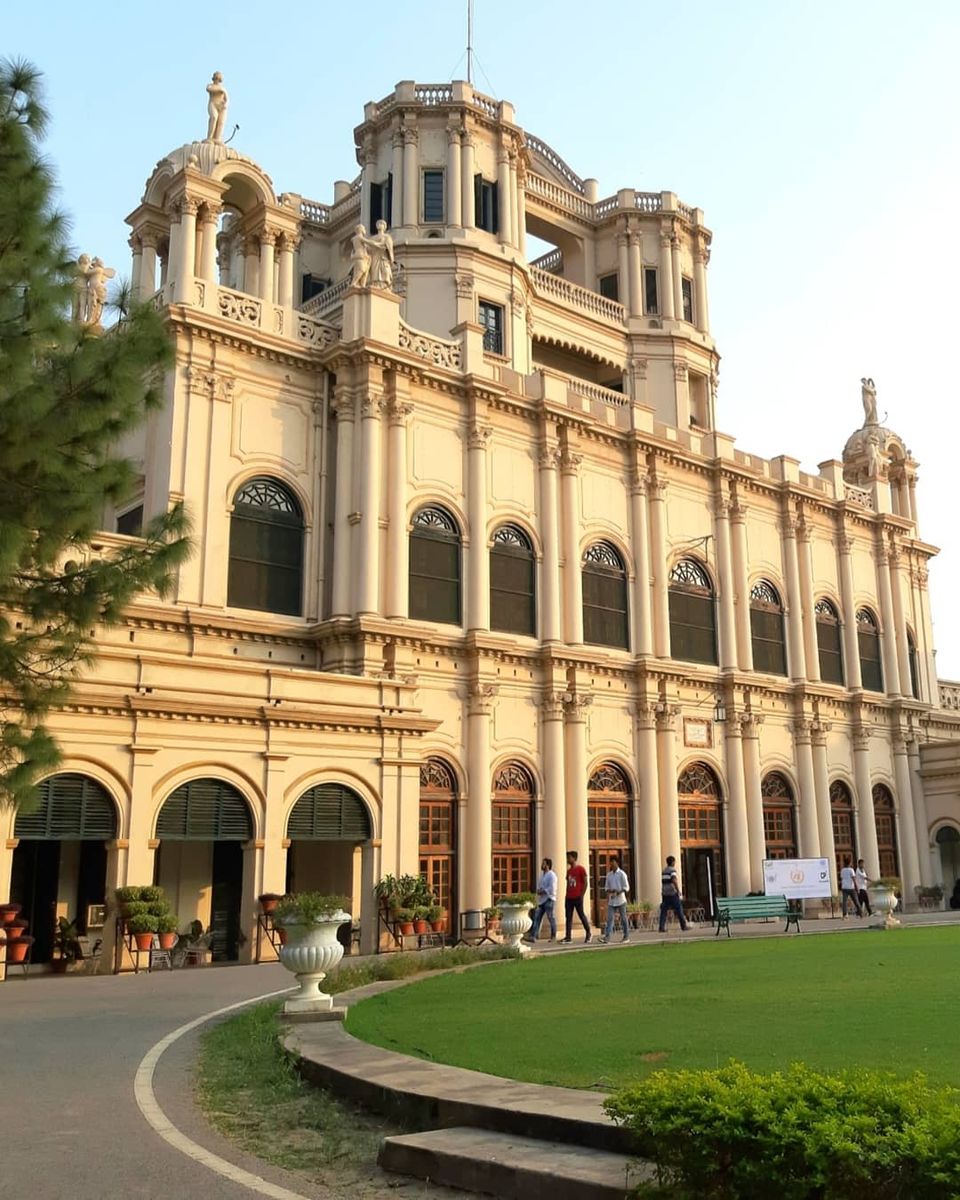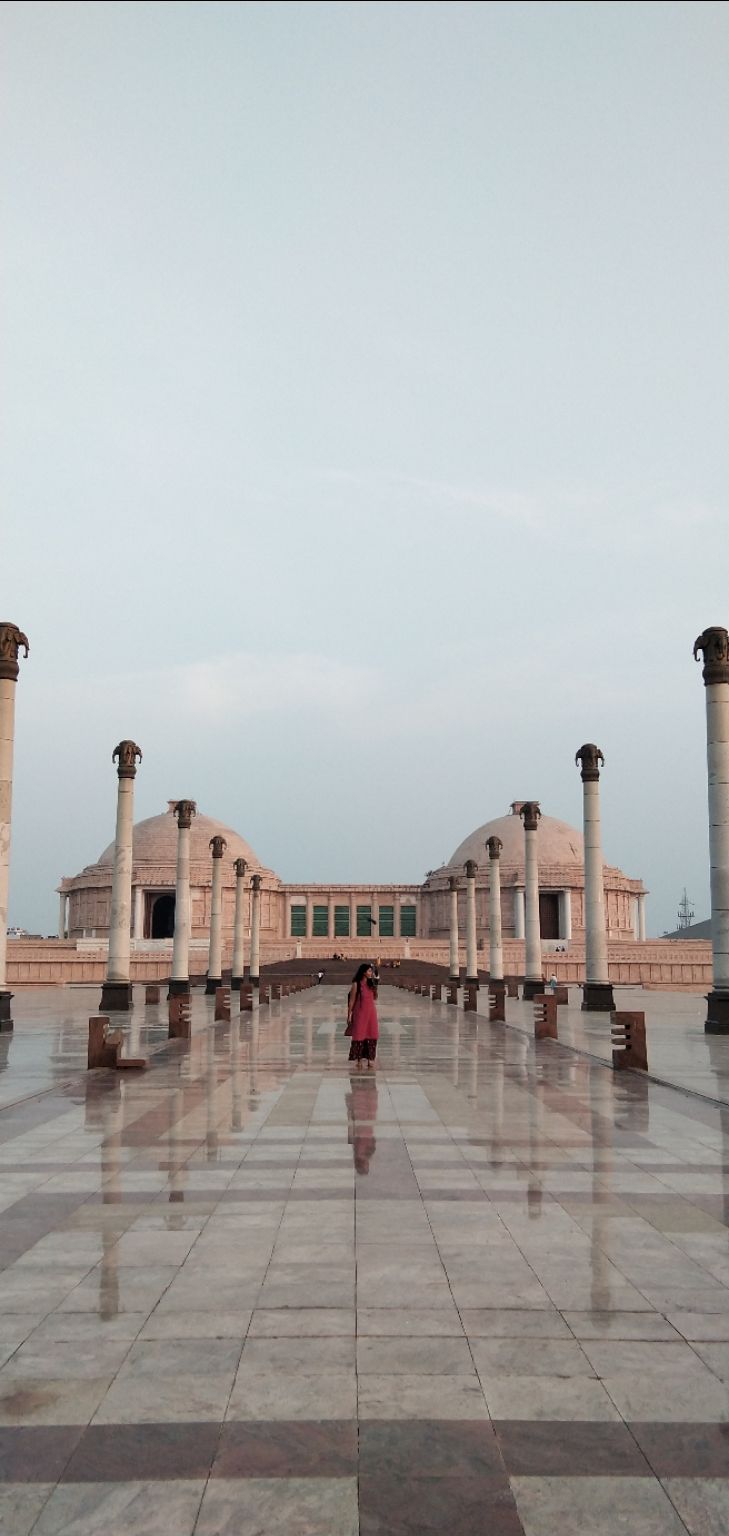 The next day we set out by ourselves to see, the British Residency and spent way too much time admiring the massive ruins. We had lunch at Royal Tandoor, in Old Khadra region. It's not marked on Google maps, but it served the BEST biryani we had in UP.
Post lunch we had asked Sikanderji to take us around in the old city areas. Rumi Darwaza, Bada Imambara, Chota Imambara, Hussainabad clock tower, Shahi Baoli, bhool bhulaiyya . It's all in the same area. Preferably take a guide, or else you might just get lost and not feel the essence and the magnificence of the place. These monuments are massive, visually spectacular and built strategically par excellence, which we fail to understand if we aimlessly walk through them.
Hazratganj market and Qaiserbagh; these areas have some heritage buildings that could be driven past just to see. Sikanderji would go out of the way and drive us past through many places that weren't a part of our itenary.
While dropping us for dinner at the much hyped Tunday Kebabi he drove us past the gun markets, there are massive shops lined up, that only sell guns. I'd never imagined this, EVER. Post dinner we had dessert at Prakash Ji ki Mashoor Kulfi.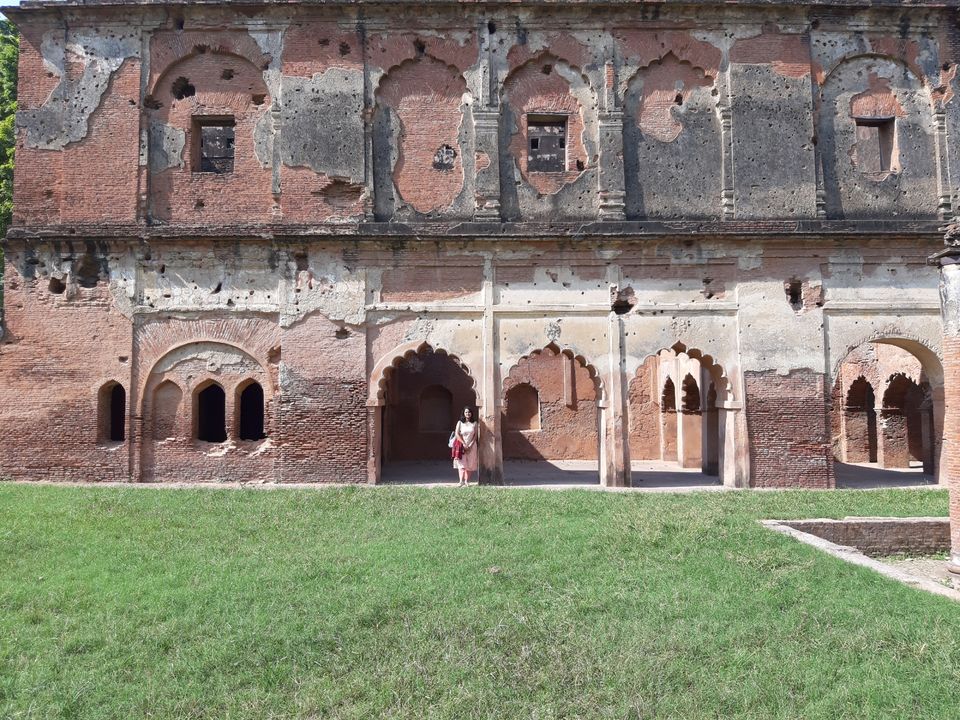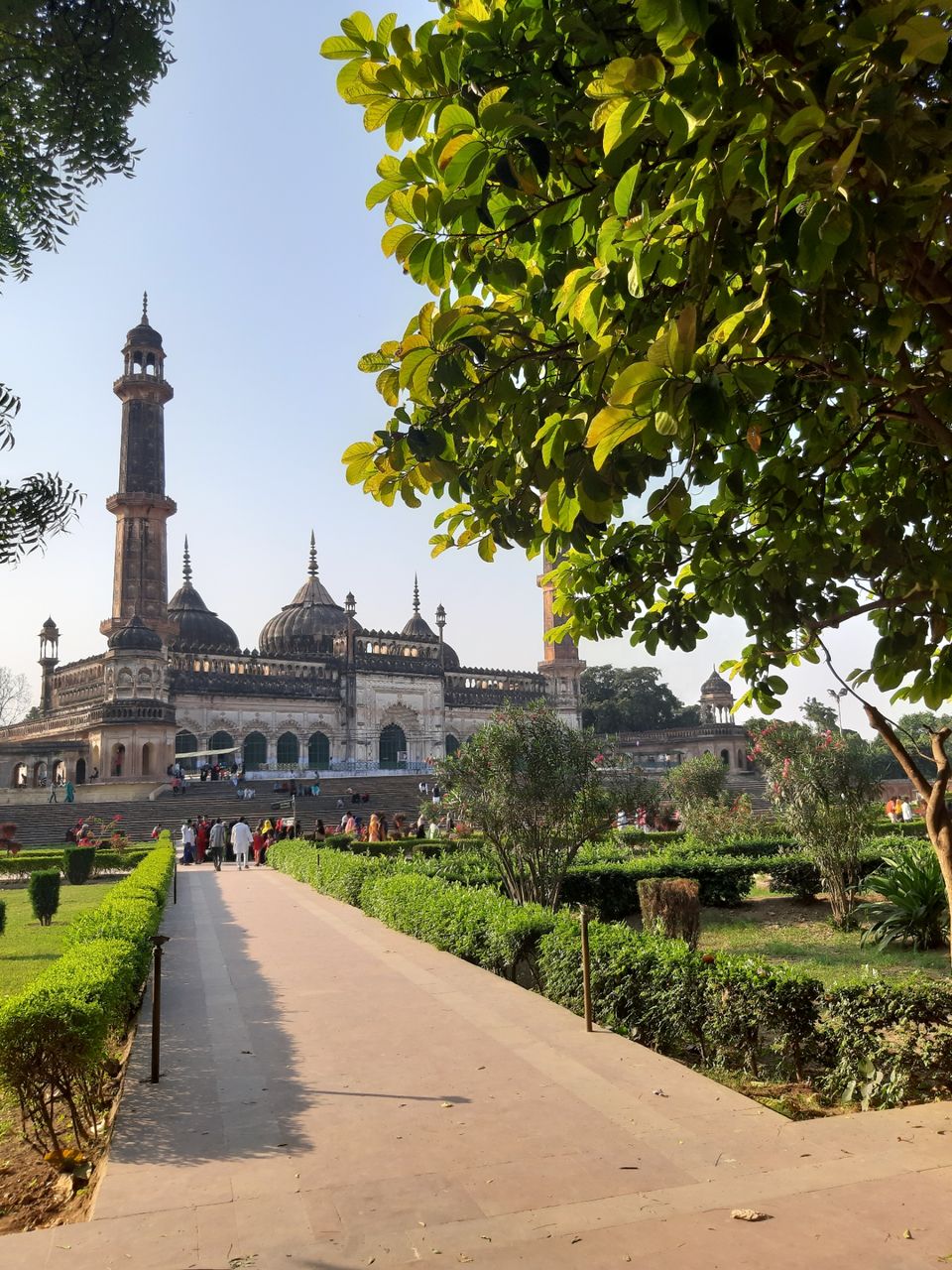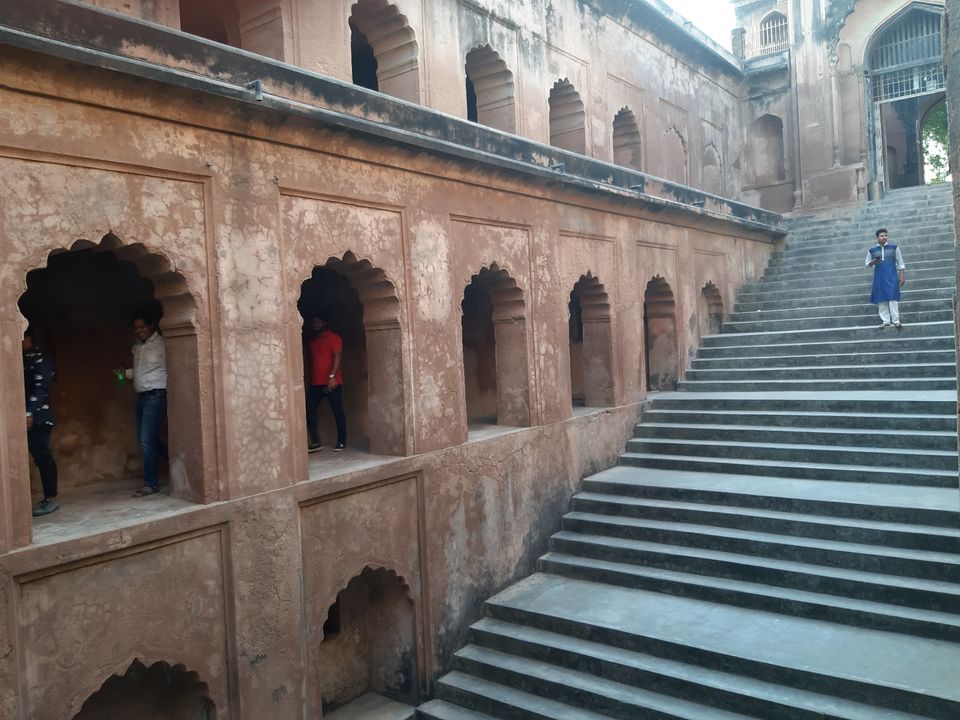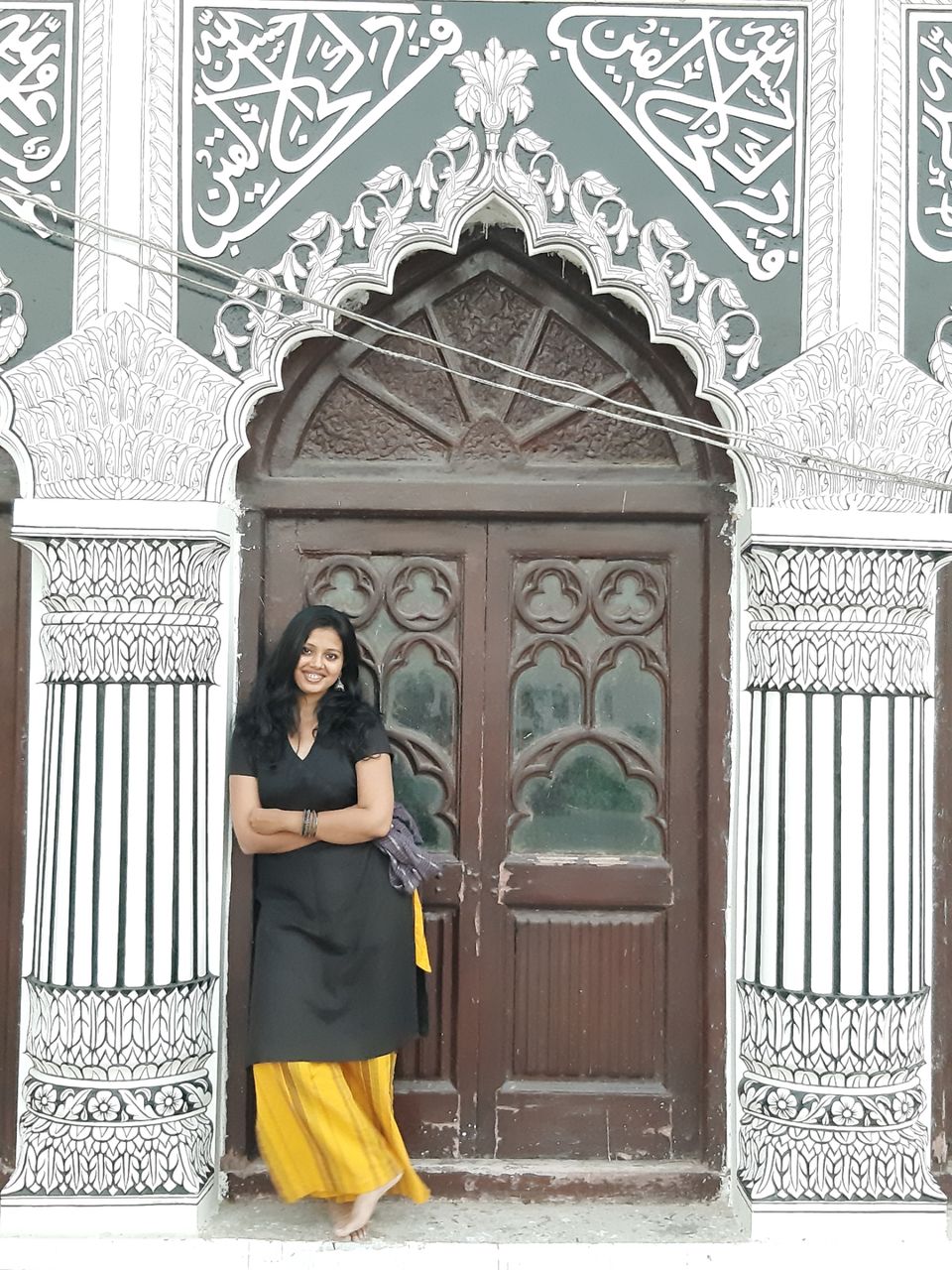 It was our last day here, so we HAD TO purchase Chikankari kurtas and sarees. the plan was to explore old Lucknow a little more, but instead we went shopping. There are many shops by the name Seva Chikan, which are overpriced. That we had visited on the previous days. We got most of our stuff from the Janpath market, which has a number of retail stores selling reasonably priced goods.
Next we visited Chhatar Manzil, which is now undergoing restoration(we didnt know that). We were lucky to watch them grind the mortar which is made out of pulses, honey, leaves, mud, lime etc. which would be plastered onto the walls.
Next was Maqbara of Saadat Ali Khan, which was walking distance, so walked it up, followed by the super famous Sharma Ji ki Chai. It's an absolutely must try. Also MALAI PAAN and chaat from Ram Ashrey.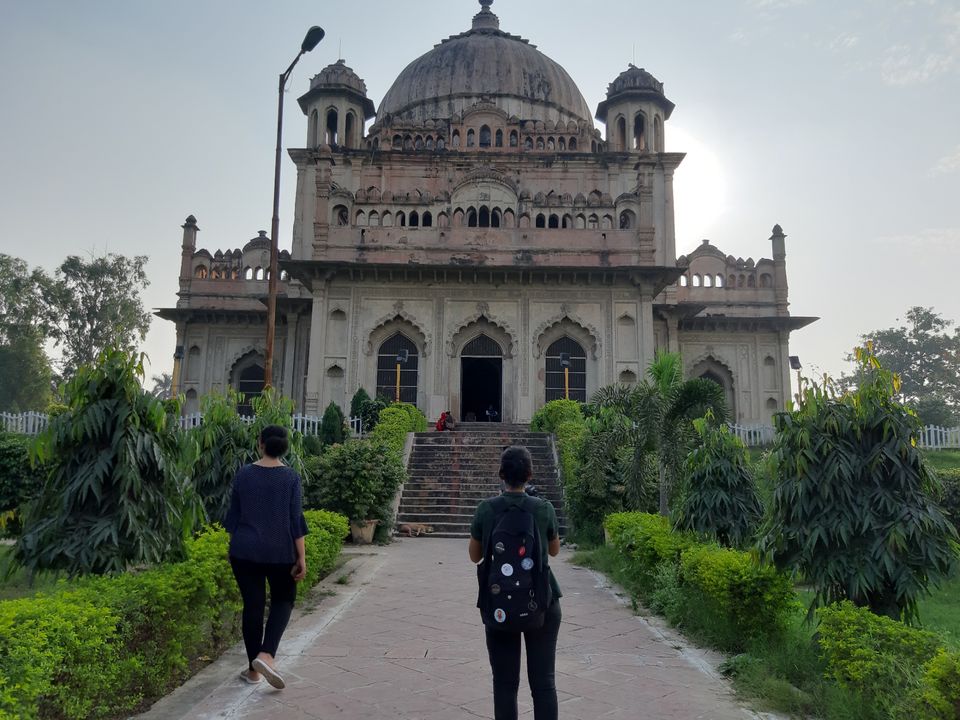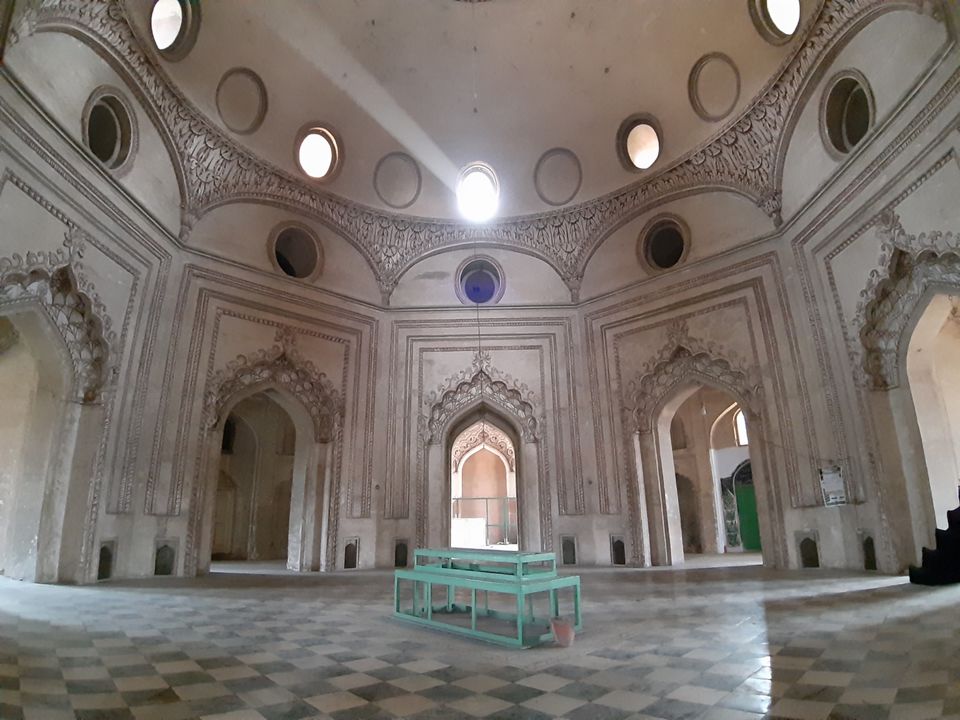 These four days in Lucknow were our first 4 days in UP, and we were almost getting a hang of it. We knew how careful we had to be all the time, always watch out for each other. When we landed, we'd come with a mental block, about the men here. But we realised very soon that we had generalized way beyond. Nevertheless what we came here for, was Chikankari (which we bought is abundance) and galauti kebabs and there sure didn't disappoint.