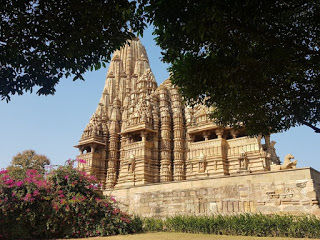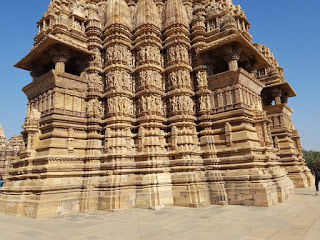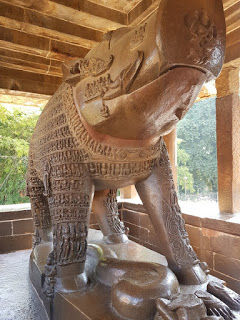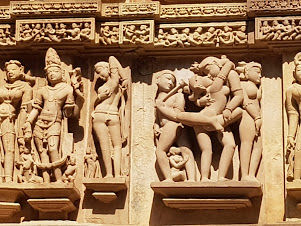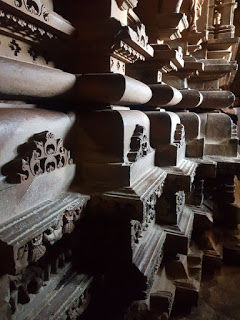 Recently stumbled upon an article about the declining footfall in Khajuraho due to poor road, rail and air connectivity and instantly thought of the quick getaway, a road trip to Khajuraho in the last week of December 2018 .It was an impromptu trip planned with friends over casual dinner, about what to do in the holiday season. Long pending place of interest was finally going to be ticked off bucket list .
Excited, we set off in our car around 9.00 am in the pleasant Nagpur winter. Winter is the best season to be in and around Nagpur, which faces summer for the remaining 9 months of the year. Khajuraho, situated in Madhya Pradesh is approximately 600 kms from Nagpur. We went via Sagar- Chindwara route. The road is in great condition, a part of it 4 lane and major part of the road is 2 lane. It is dotted with several dhabas and small stopovers for the mandatory 'Chai'. The slight nip in air, bright sunny day, interesting friends for chit chat and hearty laughs; Kishore kumar - Jagjit Singh with their melodies, the ever helping girl from google maps and hubby - a passionate driver in the driver's seat. We were set !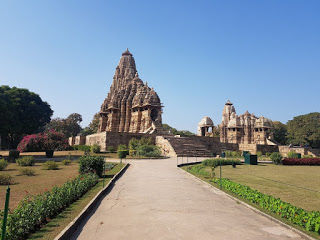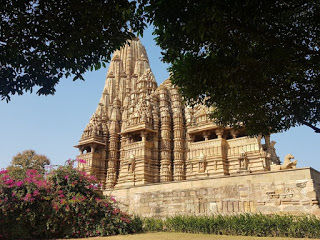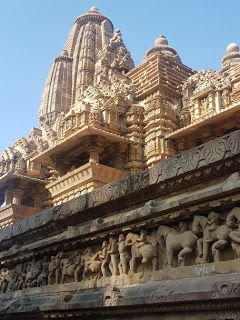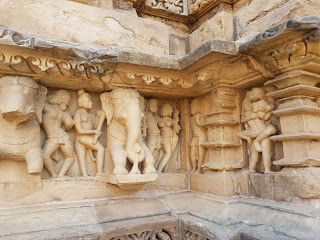 Journey of around 9 hours was joyful and smooth. As we entered Khajuraho around 7.00 pm, distinct cool weather and huge trees lined on both sides of the road made a pleasing sight. We passed by the Khajuraho Domestic Airport which is majorly underutilized since there are hardly any flights coming in and going out of Khajuraho. The ones that operate are exorbitantly priced. It's cheaper to travel abroad than fly Delhi- Khajuraho!
Khajuraho has been declared as UNESCO world heritage site since 1986 . Mostly known for the it's erotic sculptures, it draws curiosity of Indians and Foreign Nationals alike. After a quick and smooth check in at Hotel Radisson, which is a quite close to the temples; we confirmed timings and plan for the next day with our guide, Shri Tiwariji .Highly recommend him for his enthusiasm, knowledge and dedication.
Next morning after breakfast, we set out to to see the Western group of temples. The Khajuraho temples are divided into Western, Eastern,and Southern groups. Personally found the Western temples most beautiful and they are the largest group of temples. They were built by the Chandela Dynasty, who were great patrons of art and sculpture. They built temples to commemorate their victories and these were built between 900-1100 A.D. After the decline of the Chandela dynasty the temples were destroyed significantly. Luckily they got covered under lush, dense palm trees for centuries which protected them from further destruction.. Hence the name, 'Khajuraho'. Local legend states there were two golden palm trees at the entrance of the temples which were missing when this place was rediscovered in 1800's by a British engineer.
The first impression after reaching the temples was, wow! The place was clean, well maintained which is unusual of our public places. The view of well manicured lawns along with the sandstone temples, and intricate carvings on the outside walls made such a pleasing sight. The coolness of winter added to the pleasant feel. It was baffling to know that the temples were built using sandstone sculptures and sandstone only. No cement or mortar used, but interlocked together using grid system and the entire structure could be dismantled from the top!
The temples are mostly famous for the erotic sculptures, although they constitute just 10 percent of the carvings. What is depicted in the carvings are all aspects of human life including farming, scenes of war, motherhood, women adorning themselves with jewellery and make up, weddings, dance, music,festivities, animals and erotics. The reason for depicting erotics is probably conveying the Hindu philosophy of life, treating 'kama'(desires), as essential part of human life; along with arth (physical posessions), dharma( righteousness) and balancing the three that ultimately lead to Moksha. It also depicts, the need to shun wordly pleasures before attaining Moksha. Hence the outer walls of the temple depict the wordly pleasures, which one has to let go before entering the sanctum inside, signifying moksha. There are mythological characters depicted too, like the 'Shardool' ; which is half lion-half human devouring itself. It represents how we are slaves to our ambitions and desires and how we need to strike a balance and not allow the demon within each of us, devour us. This mythical animal is repeated many times in the carvings all over the temples.
Among the Western Group of temples,'Varha (Boar incarnation of Vishnu)' temple we first visited is one where the 'Varha' is made of huge monolithic stone with intricate carvings and is built on a raised platform. How they managed to bring that stone to it's place, and with such fine detailing and without modern machinery leaves one wonderstruck! Another temple, the 'Kandhariya Mahadev' ( Shiv temple) temple alone has 900 sculptures on the outer walls. Devi Jagdamba temple enshrines Goddess Parvati and the sanctum is painted black to give appearance of 'Kali'. The Lakshmana temple is the second largest and oldest temple and the only one which is fully intact. Sun temple has Lord Surya on a Chariot of 7 horses all meticulously carved with precision. It is also the temple where most of the dance performances take place during the Annual Khajuraho Dance Festival, which is in February every year These are the Western Group of temples.The Eastern and Southern groups are much smaller in size though similar. Haven't mentioned in detail about each of the temples as there is immense information on Wikipedia, M.P tourism website and generally all over the internet. The only 'live' temple in the Western group of temples is the Matangeshwar temple, where pooja is performed till date. The temple has 8 feet tall 'shiva ling'.
Few suggestions. When you visit Khajuraho temples, wear shoes that can be easily removed and worn. I had worn sneakers and it was such a pain to lace n unlace at every temple. Also, carry an umbrella, it helps protect from the scorching sun after 11.00 .am. There is a small canteen inside for water and small tidbits, so you dont need to carry your own water all around while walking.Do hire a guide, its worth the money spent.
Khajuraho temples are very well preserved and presented, something we lack despite our rich history and having so much to showcase. One exceptional thing was clean and well maintained public toilets, a rarity at our public places. Kudos to M.P tourism for this effort! Even tough we went in the peak season, there wasn't maddening rush. One could move around at leisure and click pictures, without random people in the background/ foreground.
After walking for around 3 hours in the sun, we were tired and hungry. Found this cute place 'Raja's cafe' just outside the temple complex, serving delicious Indian/ Continental food and fresh juices/chilled beer. Take your pick and try n take a seat to the terrace. The view of temples from there is lovely!
A short trip over weekend, but definitely worth visiting. An insight into our rich heritage. Do visit Khajuraho. Specially if you have an inclination for fine arts. If architecture and the story of blood and sweat behind it appeals to you. If history appeals to you. If nothing else, you know what its famous for, that should surely be an incentive!! LOL :)