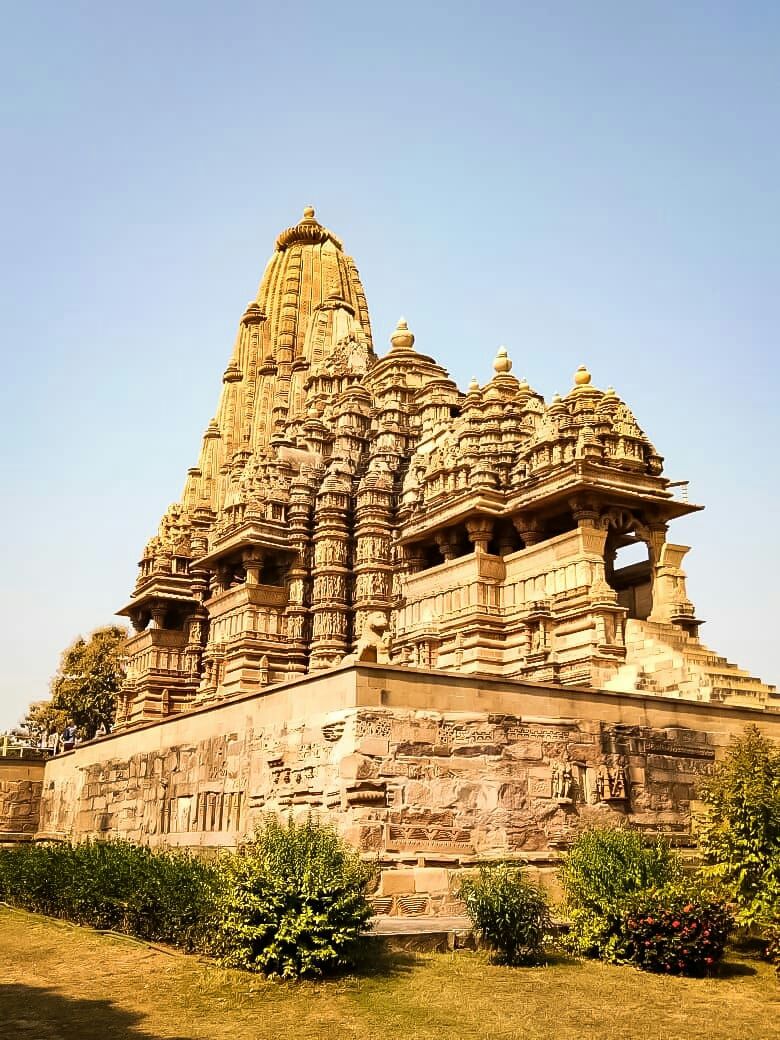 Hey there! Please leave a feedback
  
13-11-2018
  
   I'm not sure if it was a jerk of the bumpy, rickety bus I boarded a night before that day or sunshine of the dawn- I woke up. My eyes opened to a pleasant november morning. It was around 8.30am, when the bus was passing through tiny villages of Madhya Pradesh, I asked the bus conductor whereabouts of the bus. "5 मिनट को टैम हे, गाड़ी पन्ना पोहचन मे, उतै से खजुराव के लानै एक-डेढ़ घंटो ओर लगै " He answered in local dialect bundelkhandi.
   Nestled in the heart of India 'Madhya Pradesh', on the backdrop of Vindhyachal ranges, there is a small touristy temple town and UNESCO world heritage site famous for its bold, erotic and incredibly stunning sculptures.
       I was heading to Khajuraho.
         
   But my quest was not only limited to witness these architectural marvels but also to understand how come these sexually liberating work of art was created in India back then, while in contemporary world, most of the Indians consider even talking about sex in the public as taboo. Bus was making its way through the wilderness of the nearby Panna national park and teracotta roofed mud houses and I was wondering if I would get my answers or not.
         As soon as I reached Khajuraho bus stop, I walked straight to the tea stall, A chai was much needed at that point. After denying numerous times to the offer 'आओ भइया खजुराव घुमा दै.. ' and ditching the Rs. 100 autorickshaw ride, I decided to walk by myself to 'Yogi ashram guest house' the stay I booked for this trip.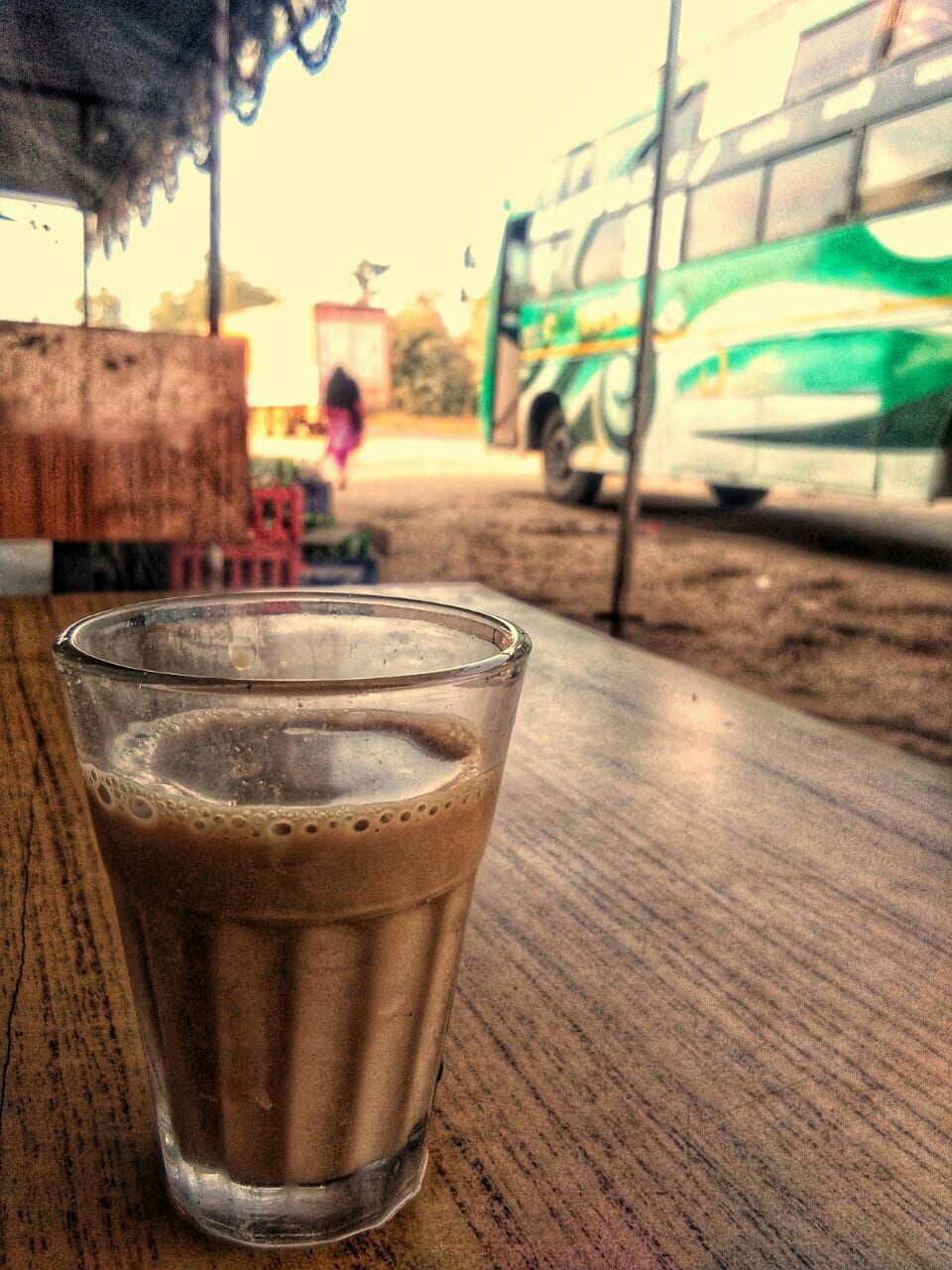 Located half a km outside of the town, this place is perfect for budget travellers and backpackers who seek solace in calmity and peacefulness.
   Amidst the hustle-bustle of foreign and local tourists, and vendors selling 'Kama Sutra' booklets in different languages, I rushed straight to the stay.
    If you have wondered that this was a solo trip, well it wasn't. There she was, waving at me from a distance, decked up in her favorite hoodie, my friend and ultimate travel companion, Pournima. This 3 day trip was supposed to be started together but she missed the only direct bus from Nagpur to Khajuraho and got herself into changing buses to reach there, 4 hours after me.
   After getting recharged from the tiring journey, we went to 'matangeshwar mahadev temple', the only living chandela temple in Khajuraho dedicated to lord shiva holds immense religious importance among devotees.
   The 2.5 foot long, huge shivalinga is visible from the very first step up to the temple. The evening aarati here is great for experiencing spiritual side of Khajuraho.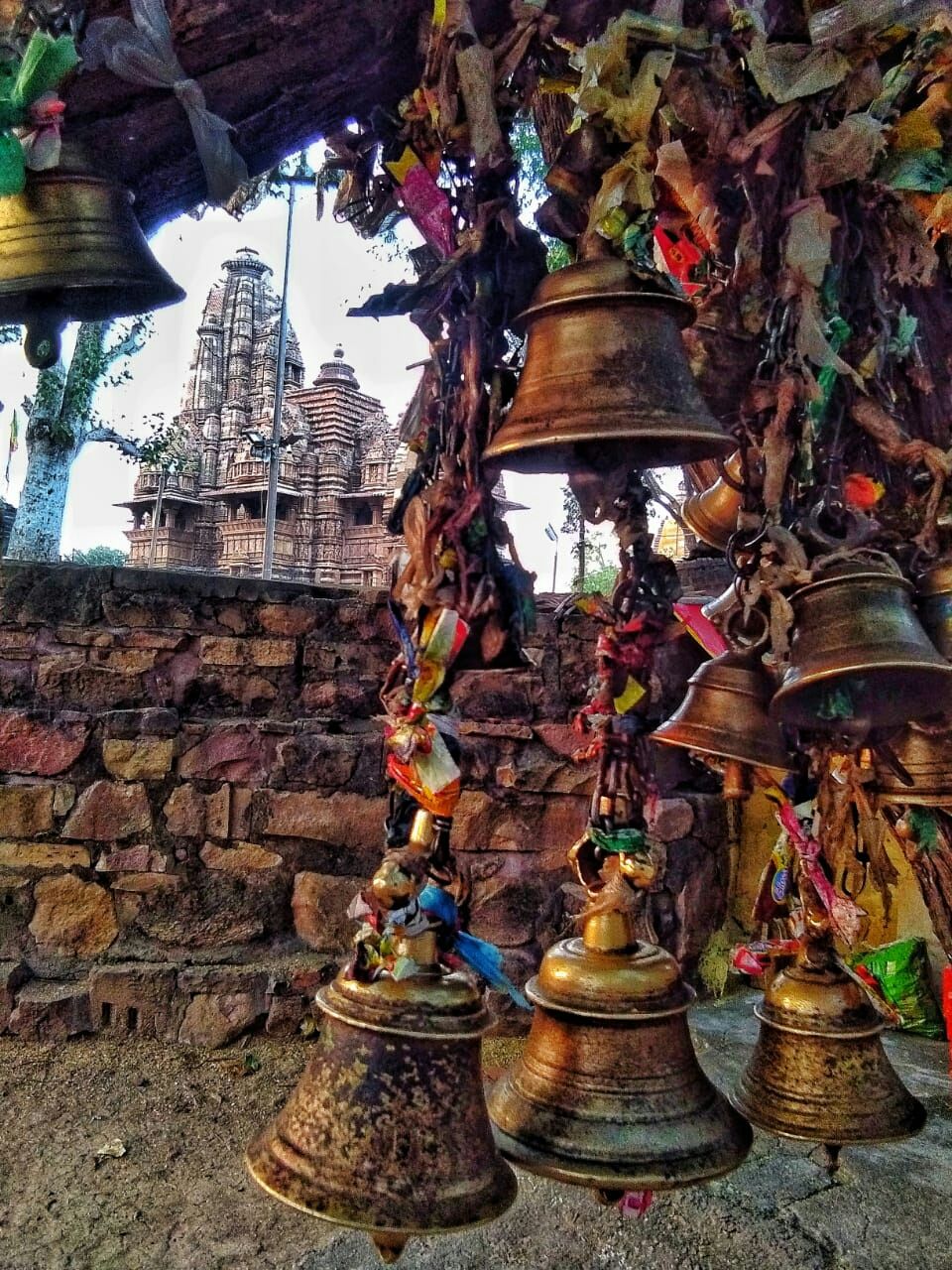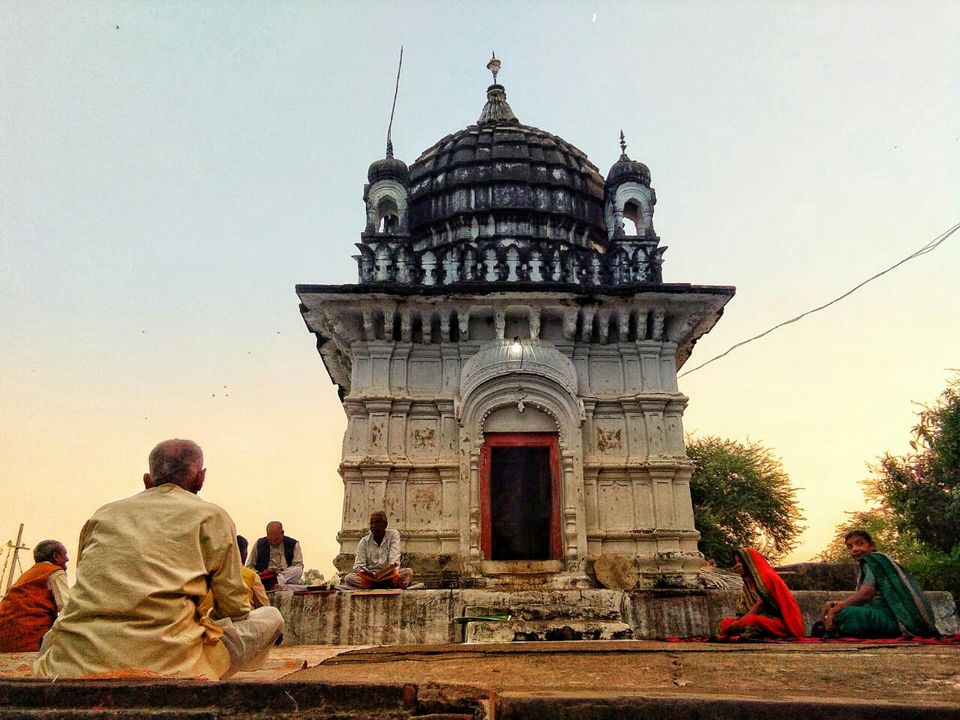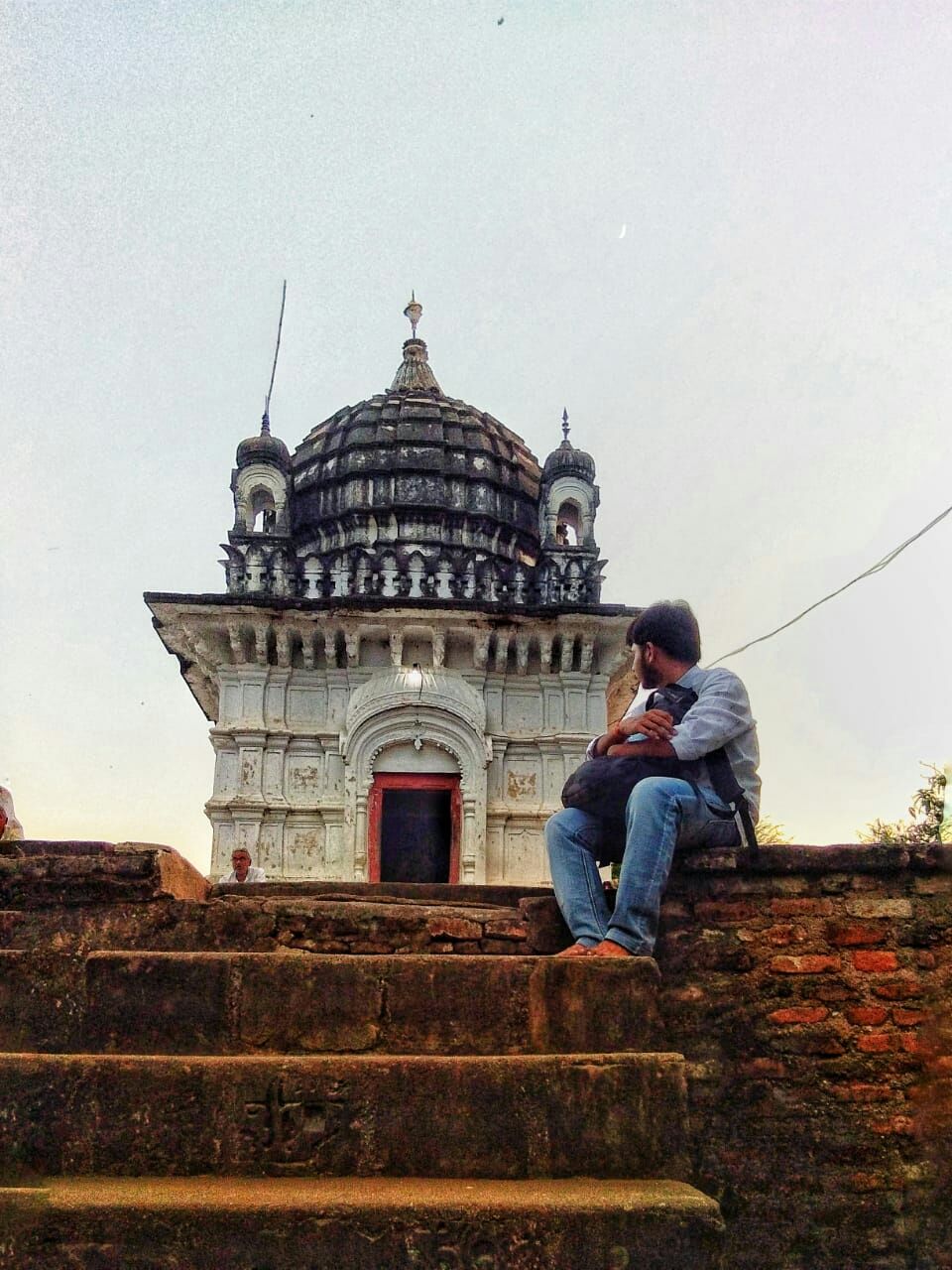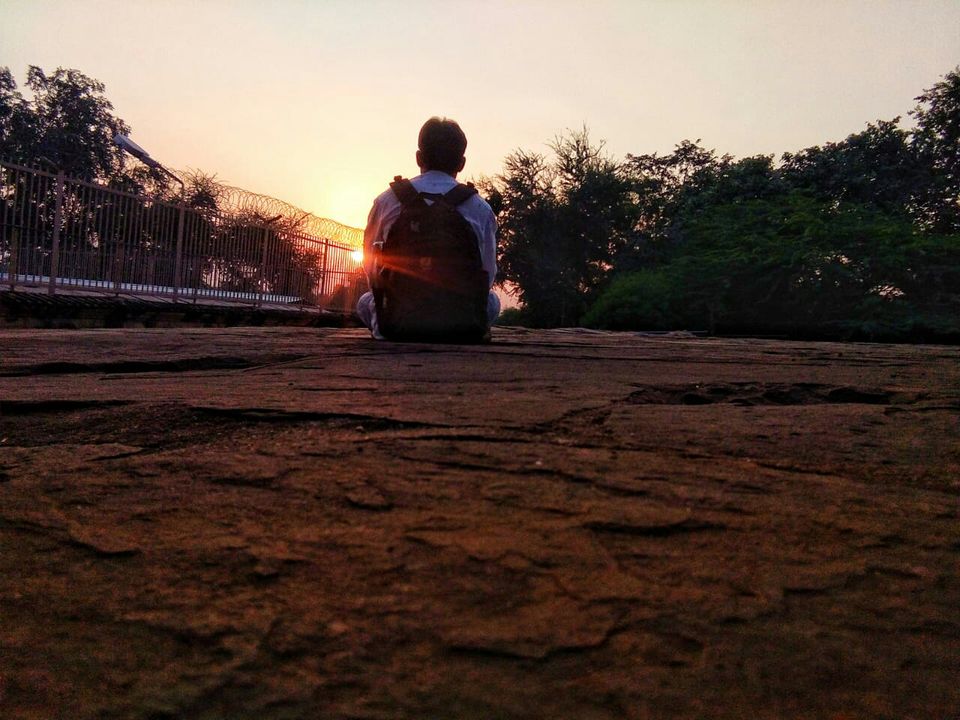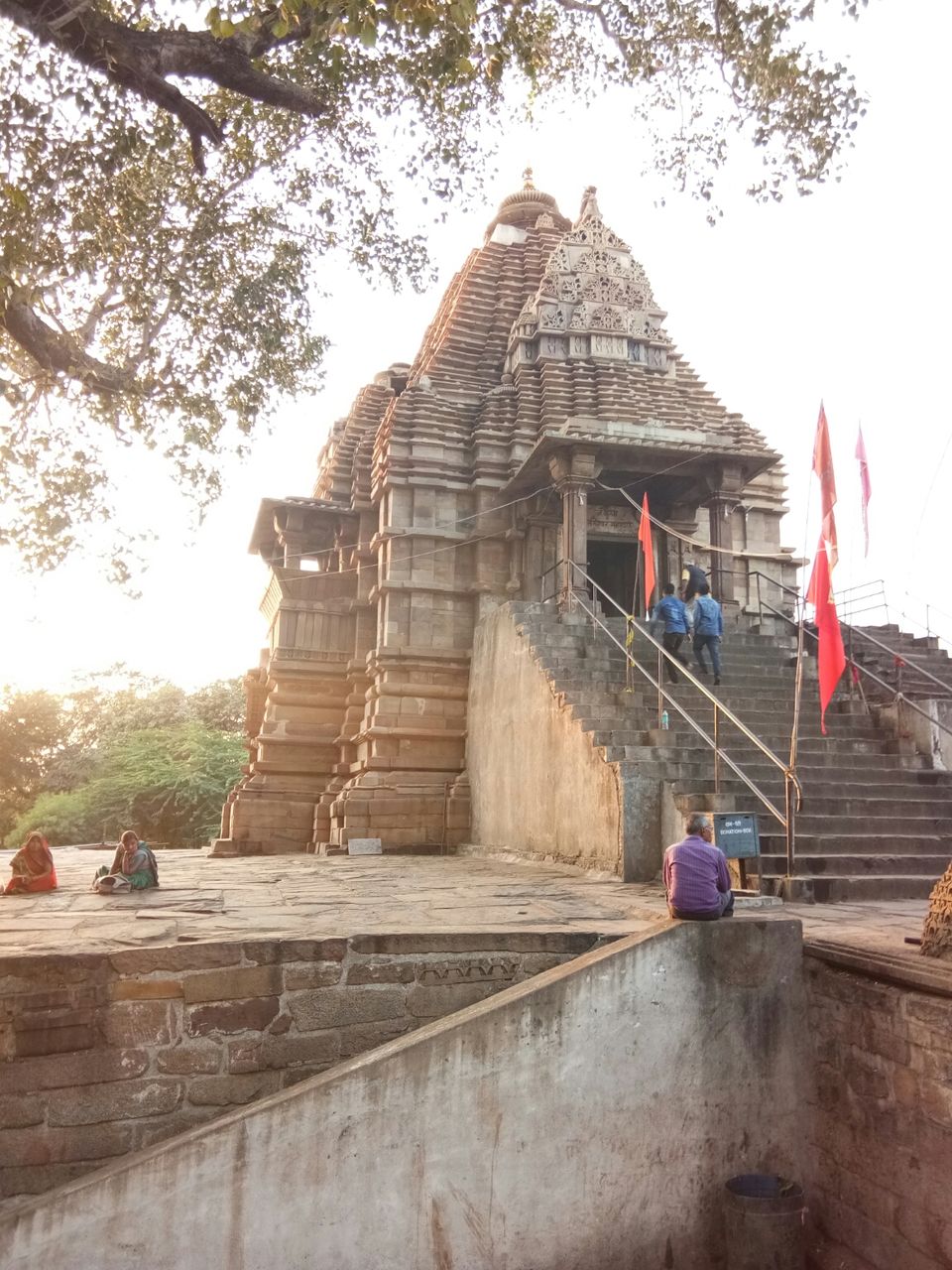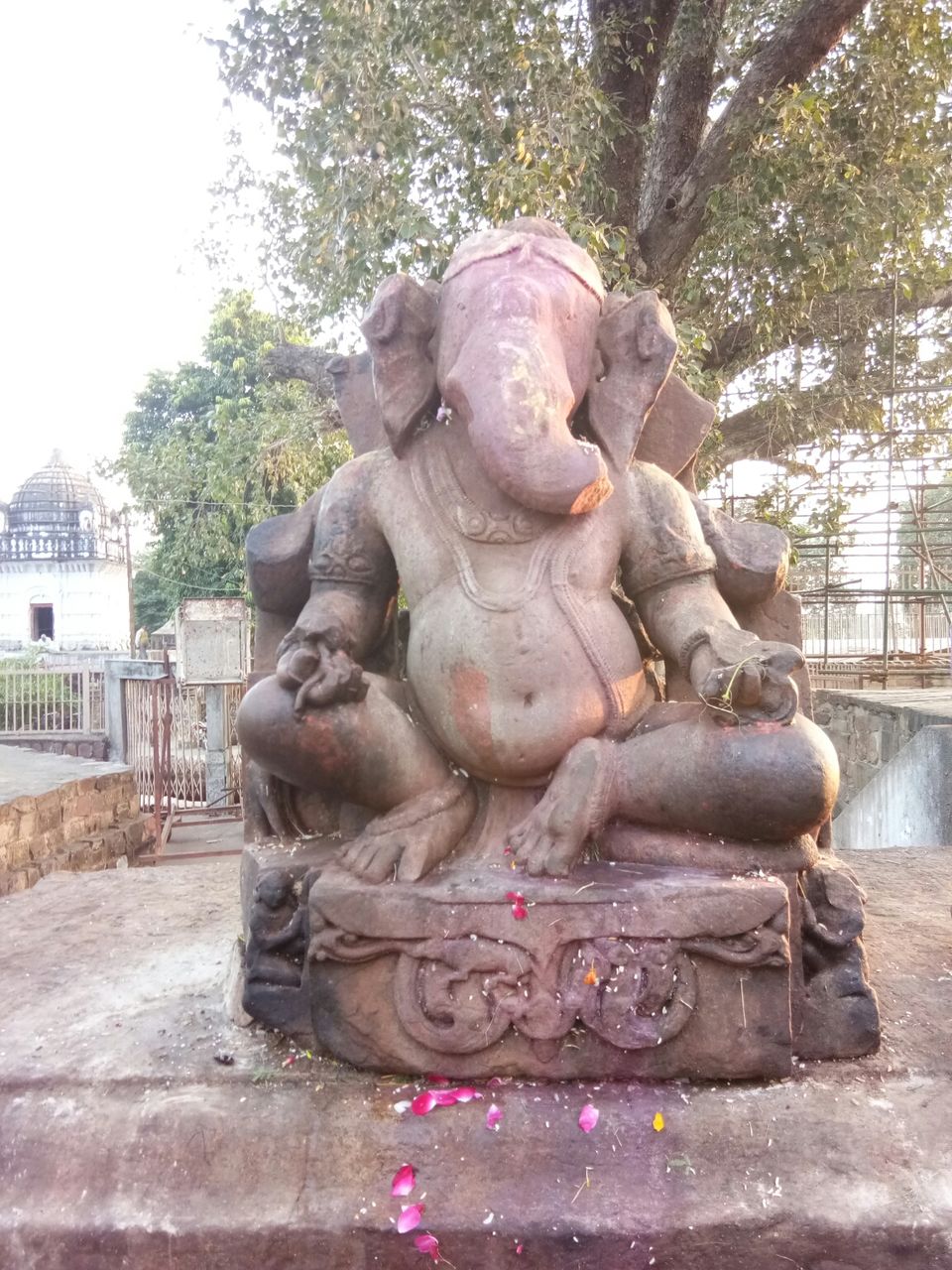 Offering the great view of the temples, undoubtedly this is the best place in terms of ambience in Khajuraho. The place has Indian as well as exotic cuisines to choose from.
We had wood fired italian style pizza that night.
   Budget travellers may find this place a bit expensive but one visit is worth.
     And we asked for two tickets on our turn at the window. It was around 9 am, we were at the entrance to the 'western group of temples' after having a helping of chai and toast in the breakfast.
    For the whole time while in the queue, we were looking for a group of tourists who wouldn't mind to help if we request them for allowing us to join them and listen to their guide, given our tiny budget.
     It was really helpful of a Canadian group, they readily agreed to it. They were two middle  aged couples  on their luxurious vacation, carrying expensive gucci and prada accessories with them and charming happy smile on their faces.
    Not exaggerating, the manner he narrated the historical, architectural, social and spiritual aspect of the temples was spellbounding. Our guide Mr. Brijendra Singh was one of the most renowned travel guides for historical places in central India and we got another reason to feel lucky and I knew I was going to get my answers.
   As we were entering he told us that the temples in Khajuraho were built around 10th-11th century AD by various chandela kings. After decline of the chandelas, out of around 85 some 25 are withstanding time.
The temples were hidden from the world because of the thick vegetation and forests which had grown around until rediscovered by a british surveyor T.S. Bert in 19th century.
   We were seated on the steps of a small lakshmi shrine in front of lakshmana temple. Mr. Brijendra began to give us an insight about the basic architectural style of all the temples. He went on to describe about the mandapas, antarala, garbhagriha and sikharas.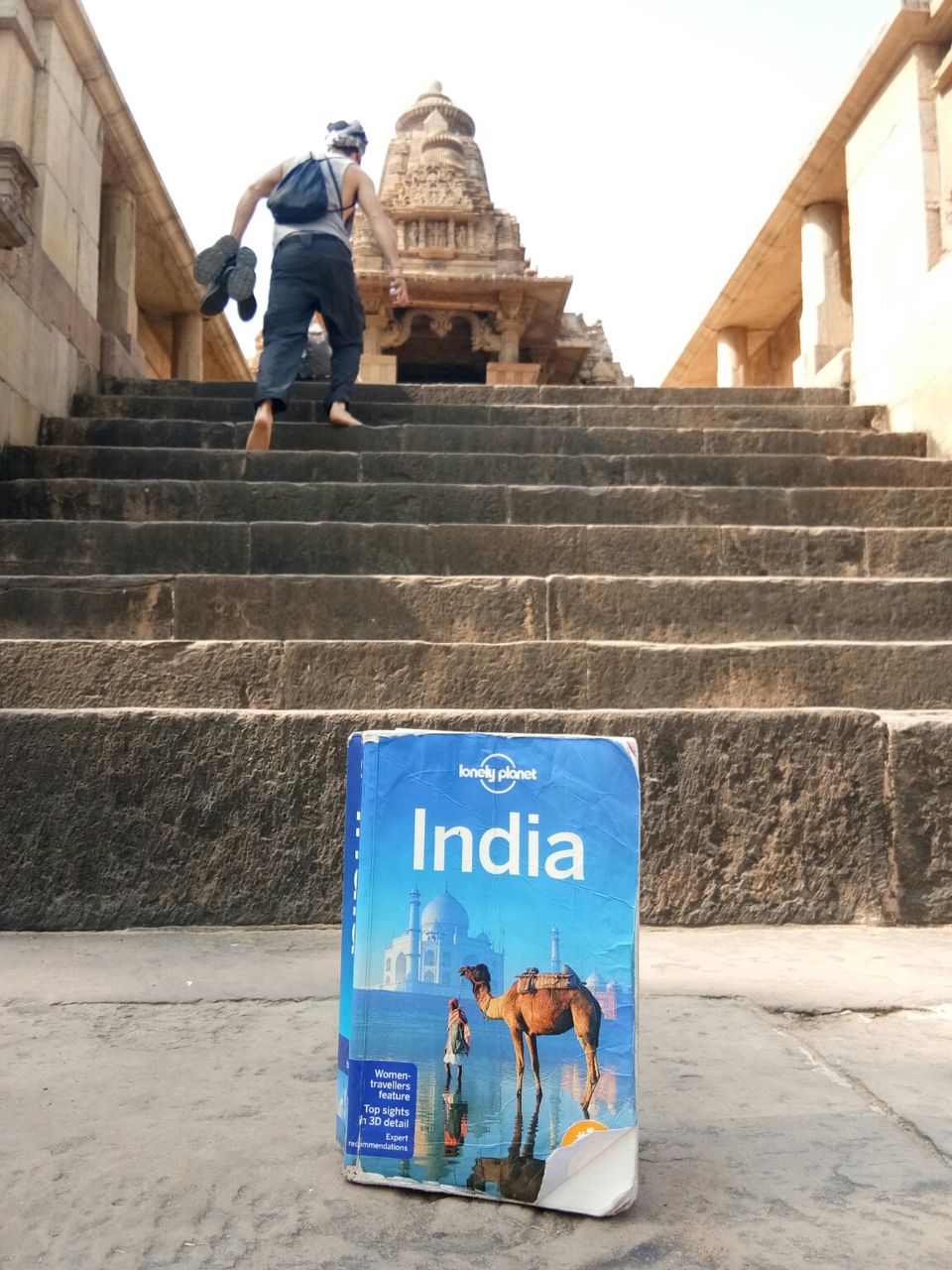 "Before we see and understand these sculptures, what we really need to know is the inspiration behind their creation, the four purushartha in hinduism. Purushartha or objects of human pursuit are dharma(moral values), artha(economic values), kaama(pleasure values) and moksha(salvation). Moksha, which is ultimate human ideal, which brings human closer to the God can't be attained unless he has seeked other pursharthas. The sculptures on the temple symbolizes the attainment of dharma, artha and kaama, so when a person enters the temple he pursues moksha." he said emphasising on spiritual aspects.
   He added, "From this you can understand why there are sexual sculptures on the temple walls. It symbolizes attainment of kaama which is of great spiritual importance from this perpective."
   I was really impressed by his explanation about it. Eager to know his point of view I asked him, "At present India and its people consider talking about sex and related topics as taboo but these centuries old temple say otherwise, Why so? What happened to us?"
   He smiled at me and said, "Because we, contemporary Indians are concerned only about pleasurable aspect of sex, better say we do not have any knowledge left about the spiritual aspect of it. Centuries of slavery and dependency have made us so devoid of happiness that we search it in materialistic aspects. The knowledge of our ancient times is long forgotten. We have become very much curious about sex, but in a regressive fashion. When you are curious for materialistic things, it is lust and lust definitely is a taboo."
   Now a smile had appeared on my face, a smile of satisfaction. I got my answer.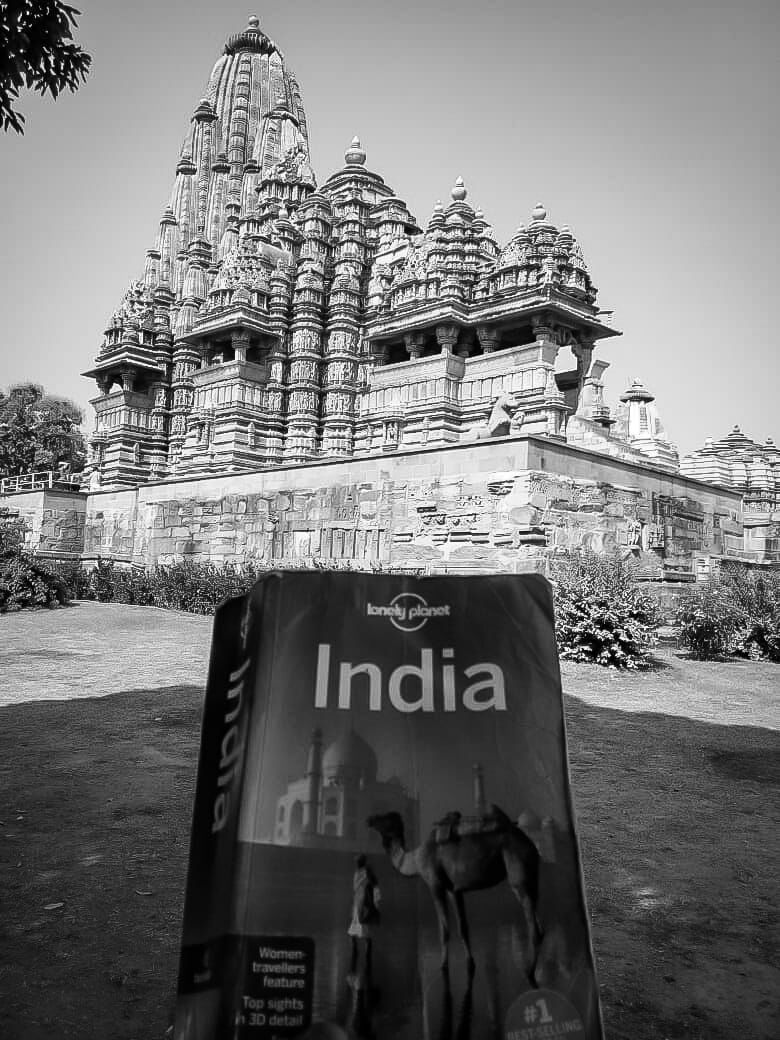 So there started our string of uncountable awes and ahem-ahems, as we began to explore these temples with Mr. Brijendra. I will summurise for you the things you can't afford to miss-
1) The whole new(yet ancient) perspective about the the hindu deities as you see the temple wall carvings.
2) beautifully carved apsaras and surasundaris engaged in various playful activities, as if standing there since ages only for you to appreciate.
3) the smaller shrines of varaha and nandi statues.
4) a glance at inticrately carved roofs inside the temples.
5) the magical sunshine reaching the garbhagriha
6) Figure out these architecturally important stuffs- vyalas, kirtimukhas, kichakas, the arches at the entrances of main temples, the water drainage system of the temples.
7) various sexual inspirations from the carvings, the gymnastic orgies, threesomes etc.
8) war and sex were really important part of life of chandela soldiers,as can be seen on the boundaries of laxamana temple.
9) horses were ridden in different ways by chandela soldiers.
10) the mountain like appearance of kandariya mahadev temple.
11) the famous tantric pose of sexual practice at kandariya mahadev temple.
12) the sardula statue between kandariya mahadev and jagdambi temple.
13) interpretation of apsaras supposedly by some shepherds, amateurly carved out on the floor of one the corners of laxmana temple.
14) some interesting carvings which you can't find in the western group of temples can be seen on the village temples, so keep exploring.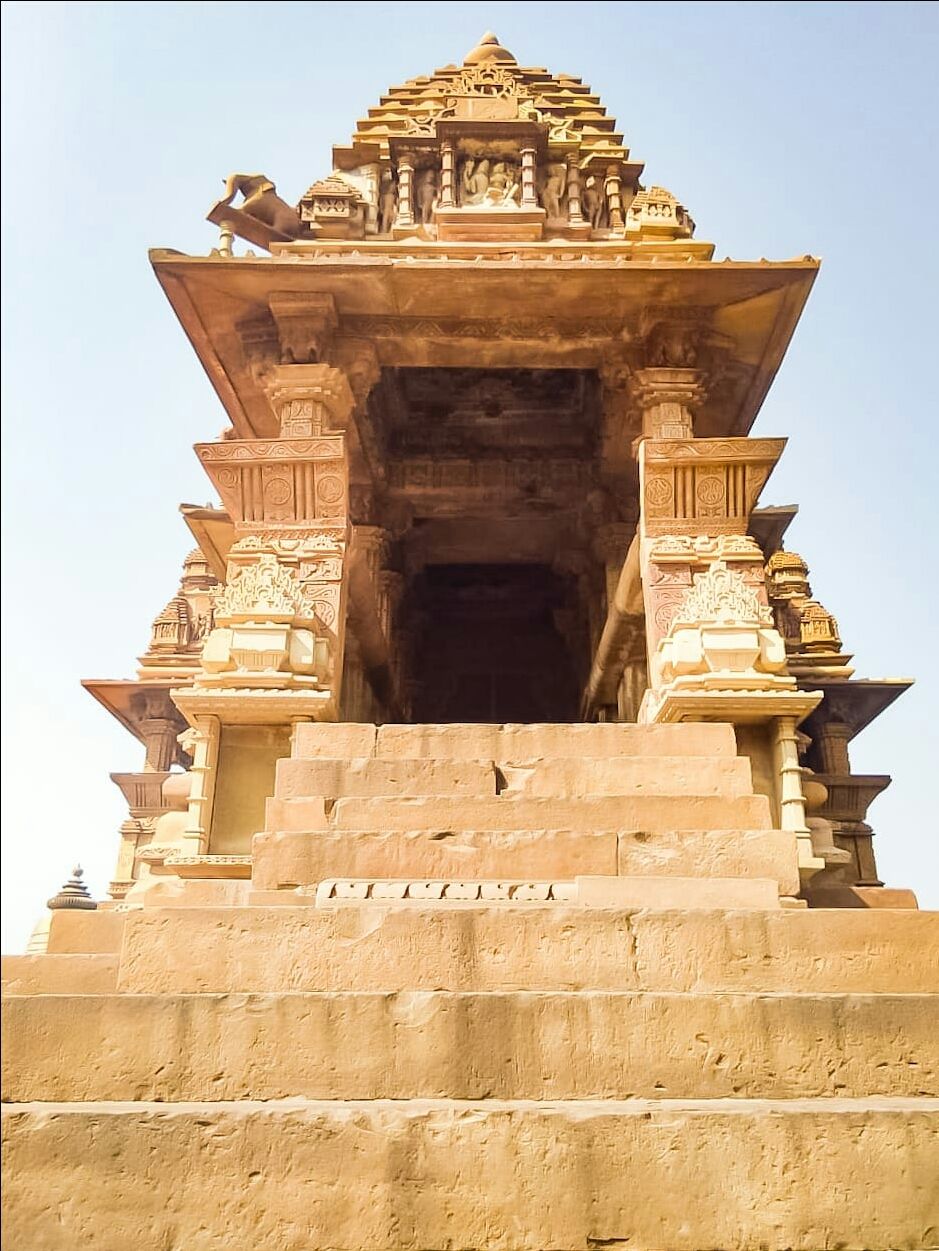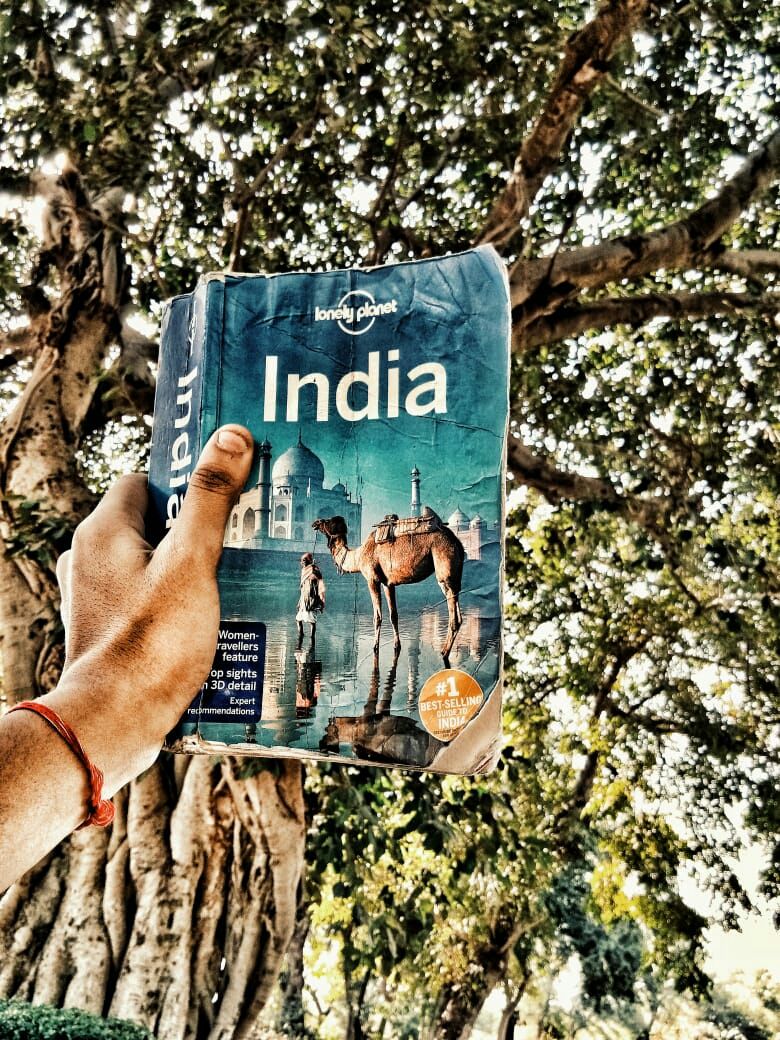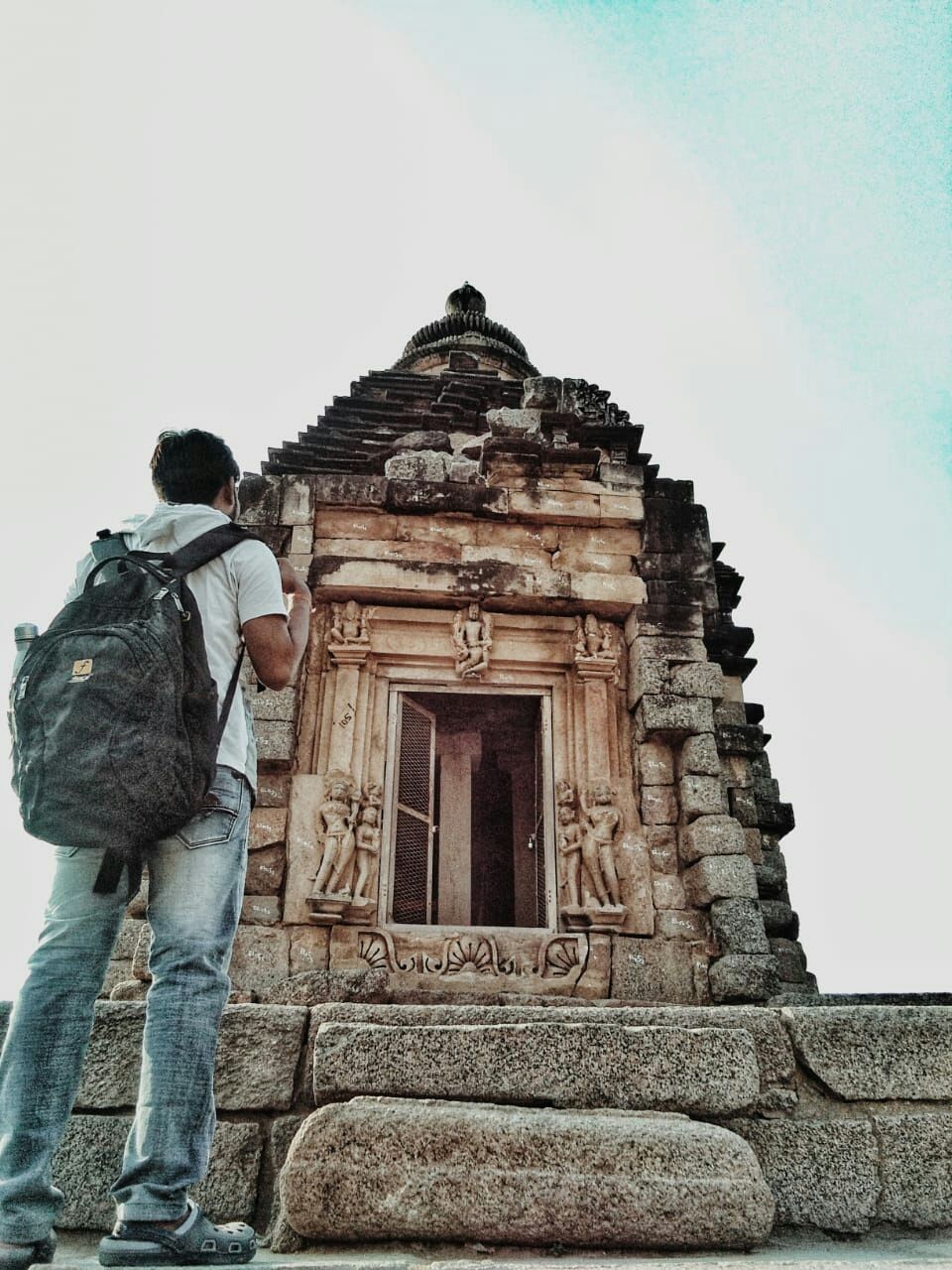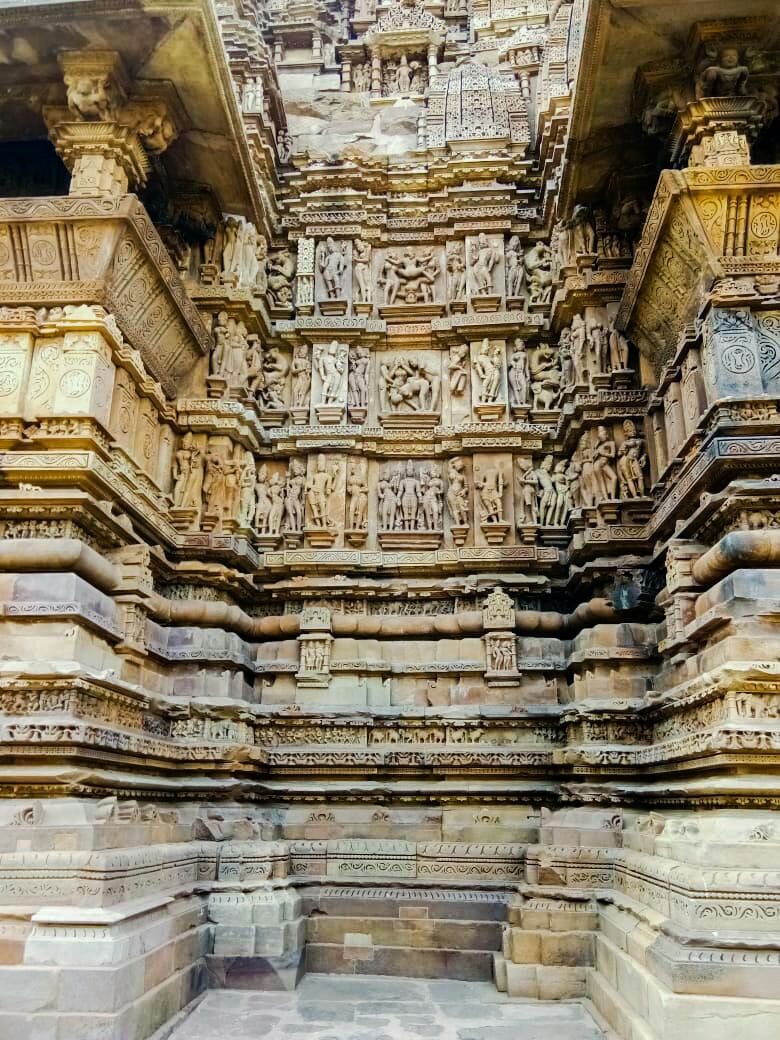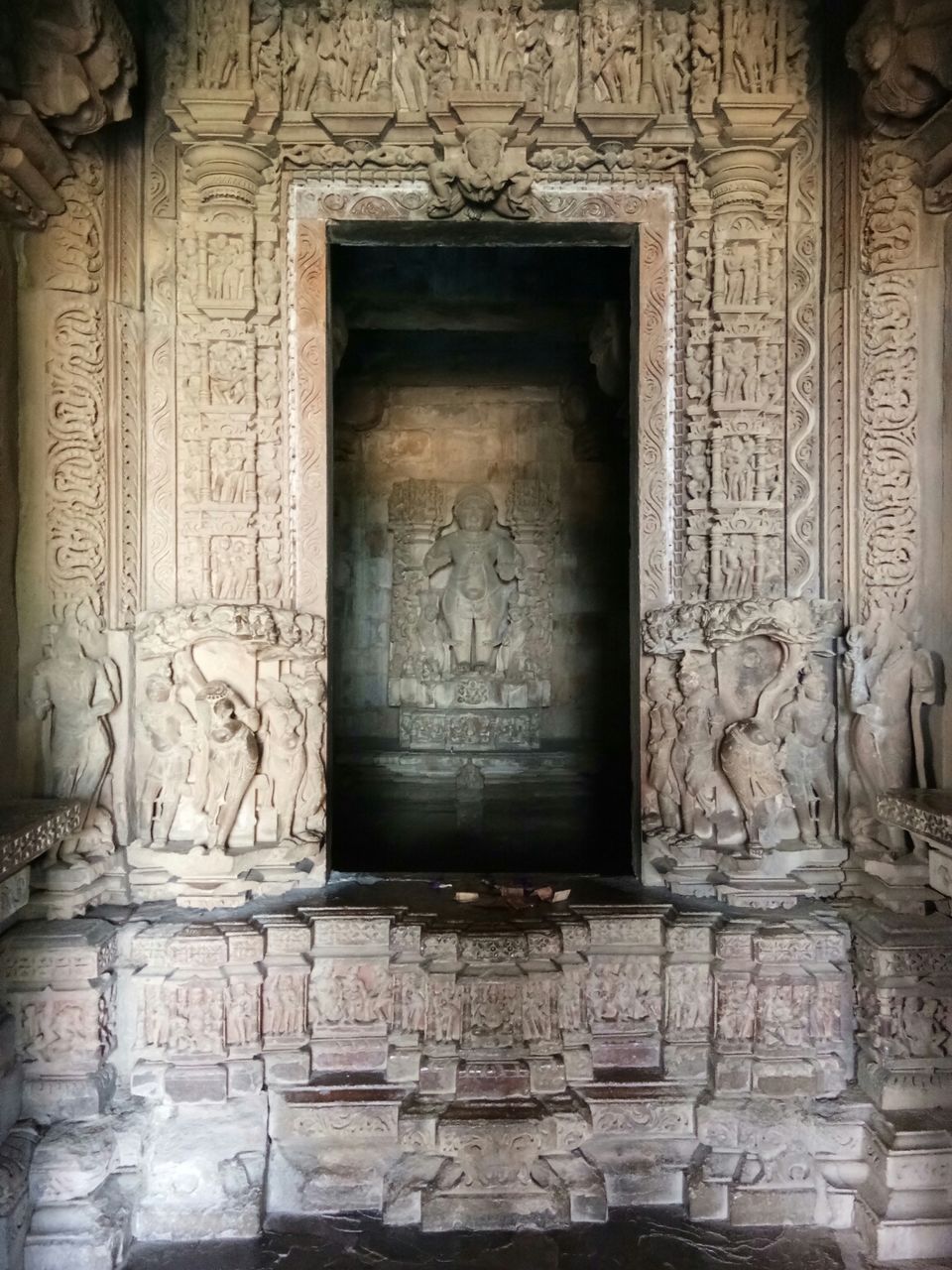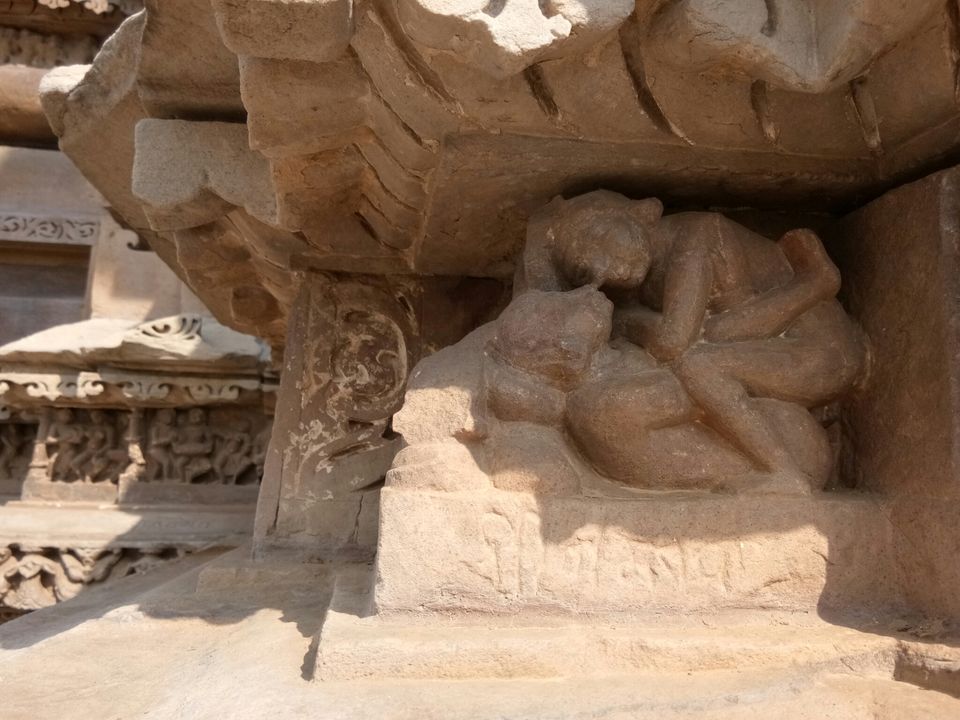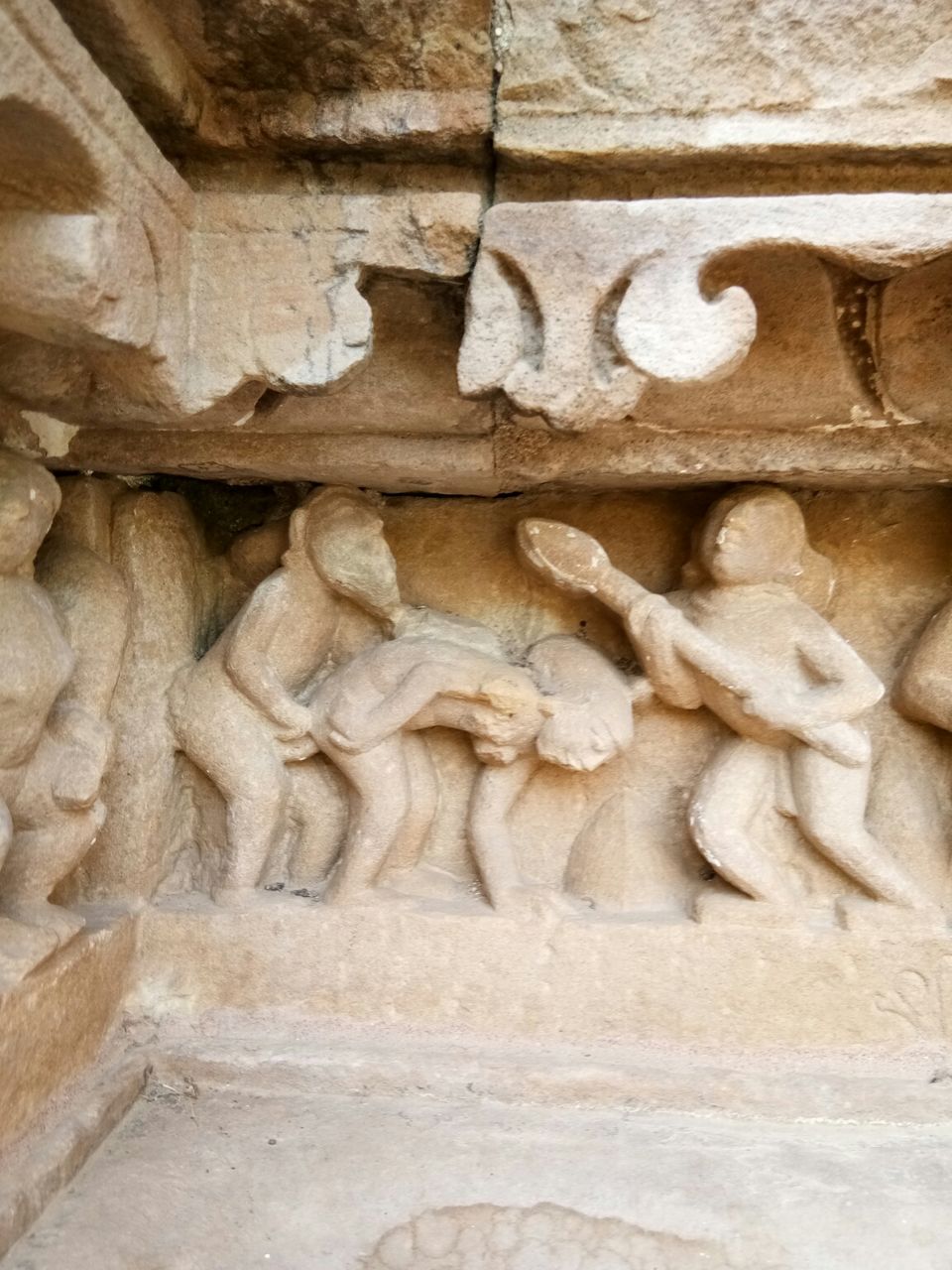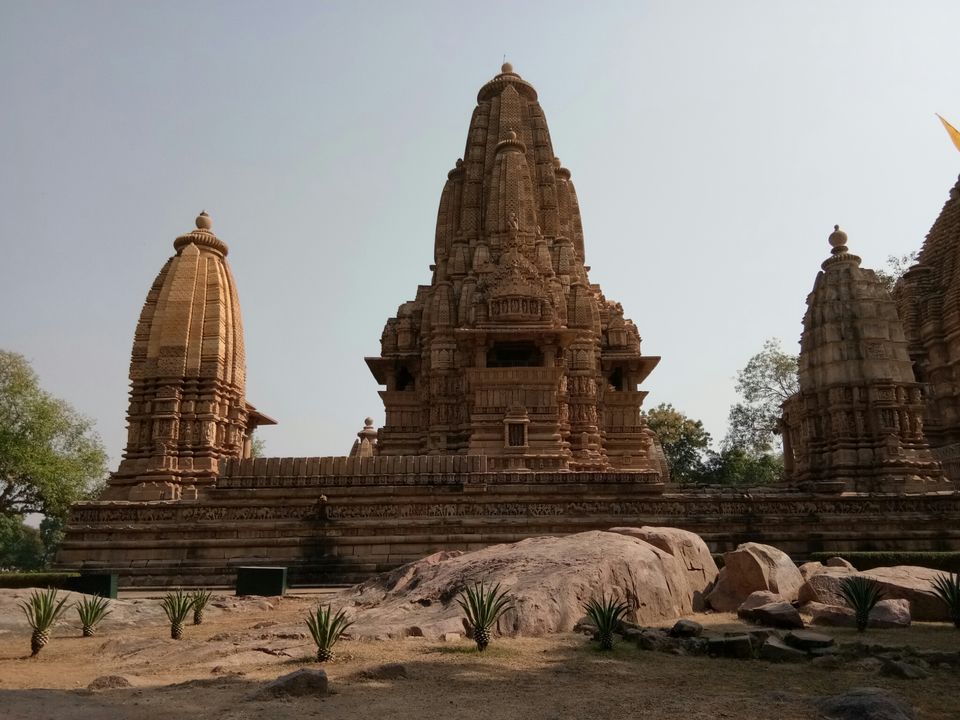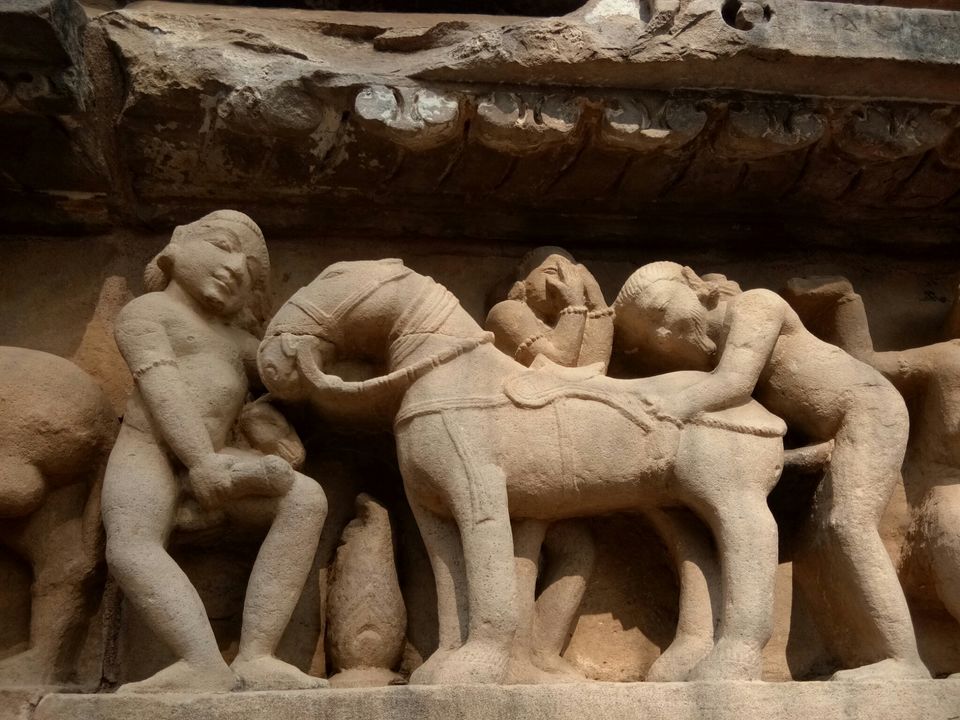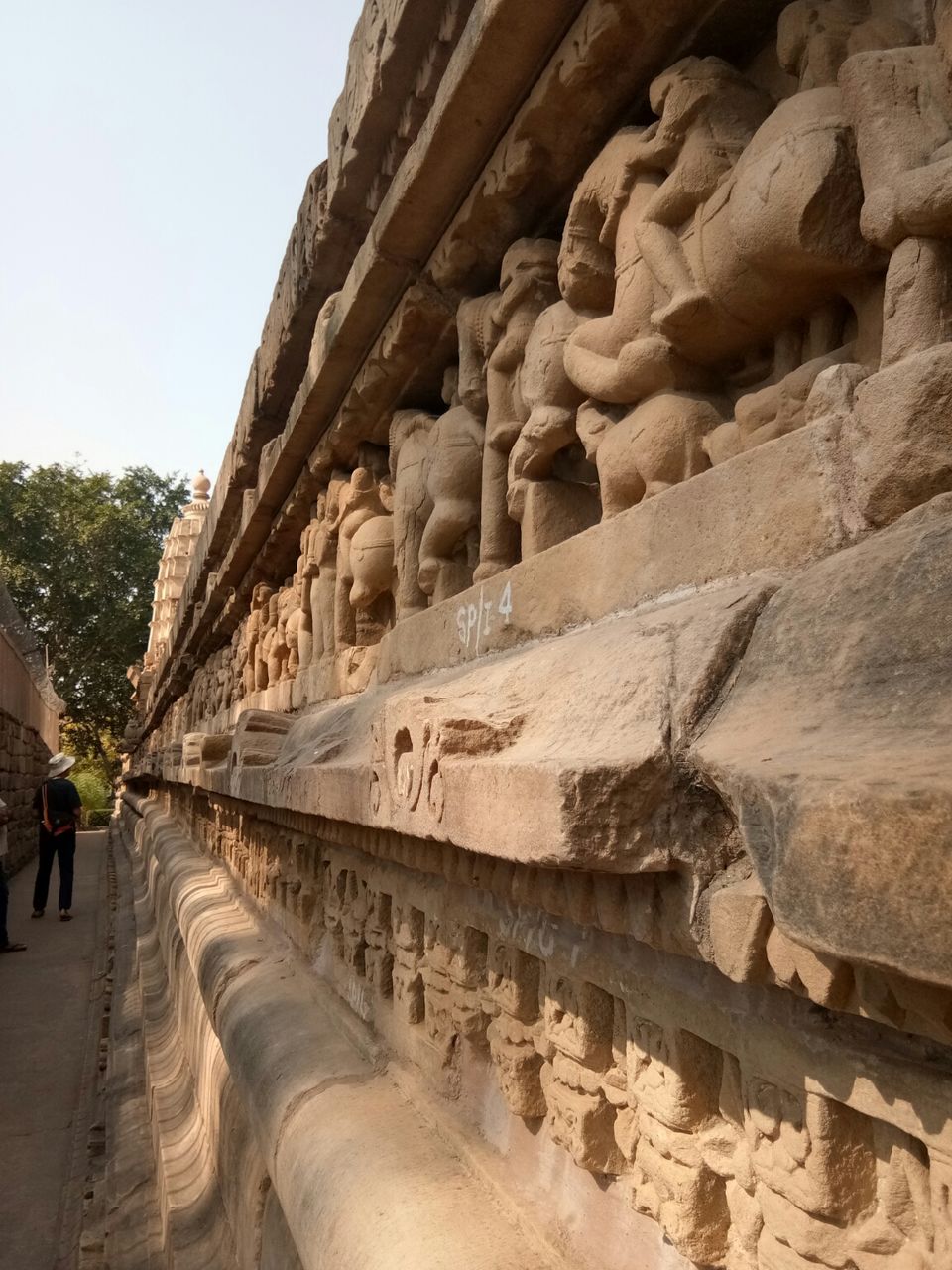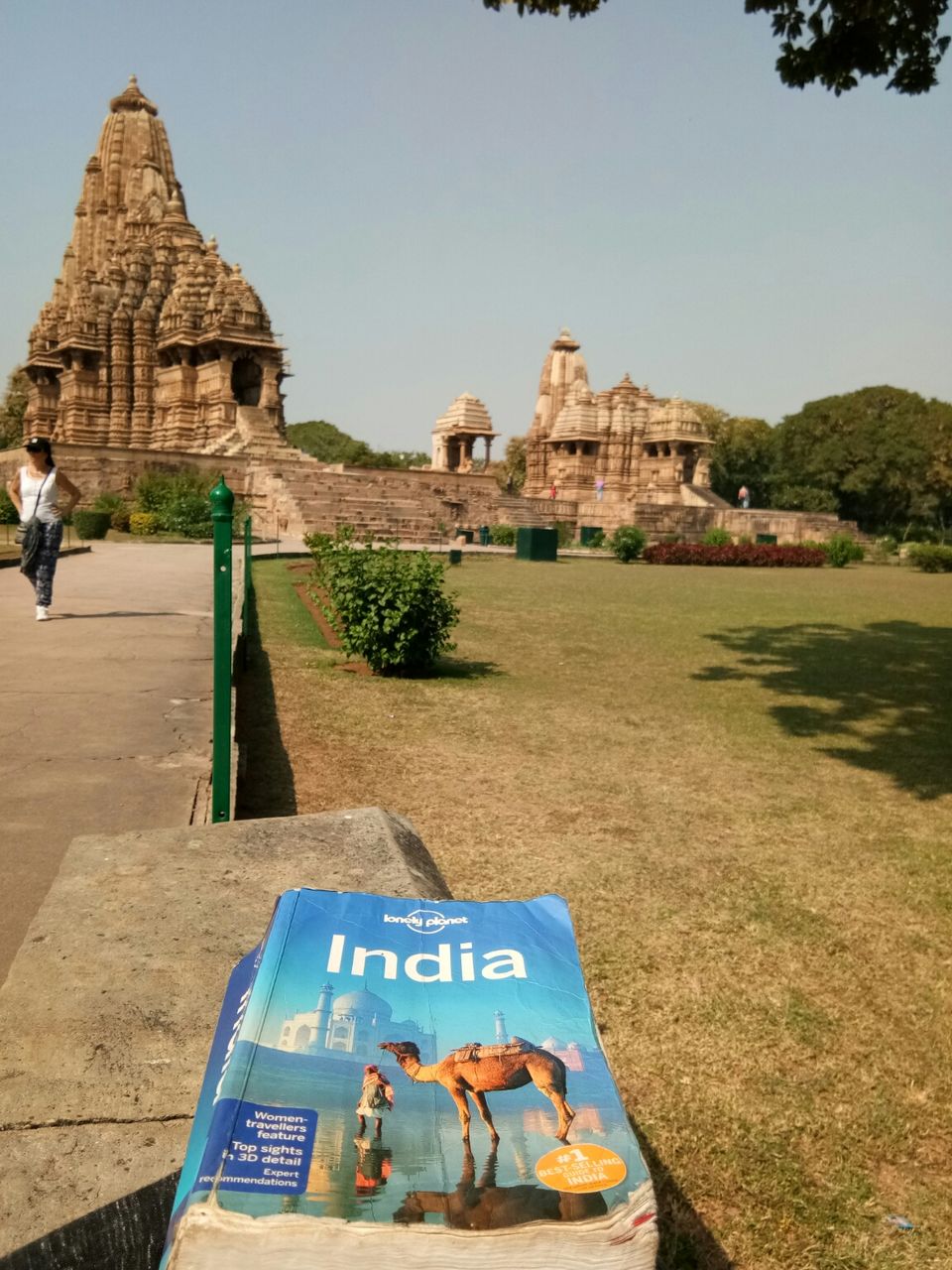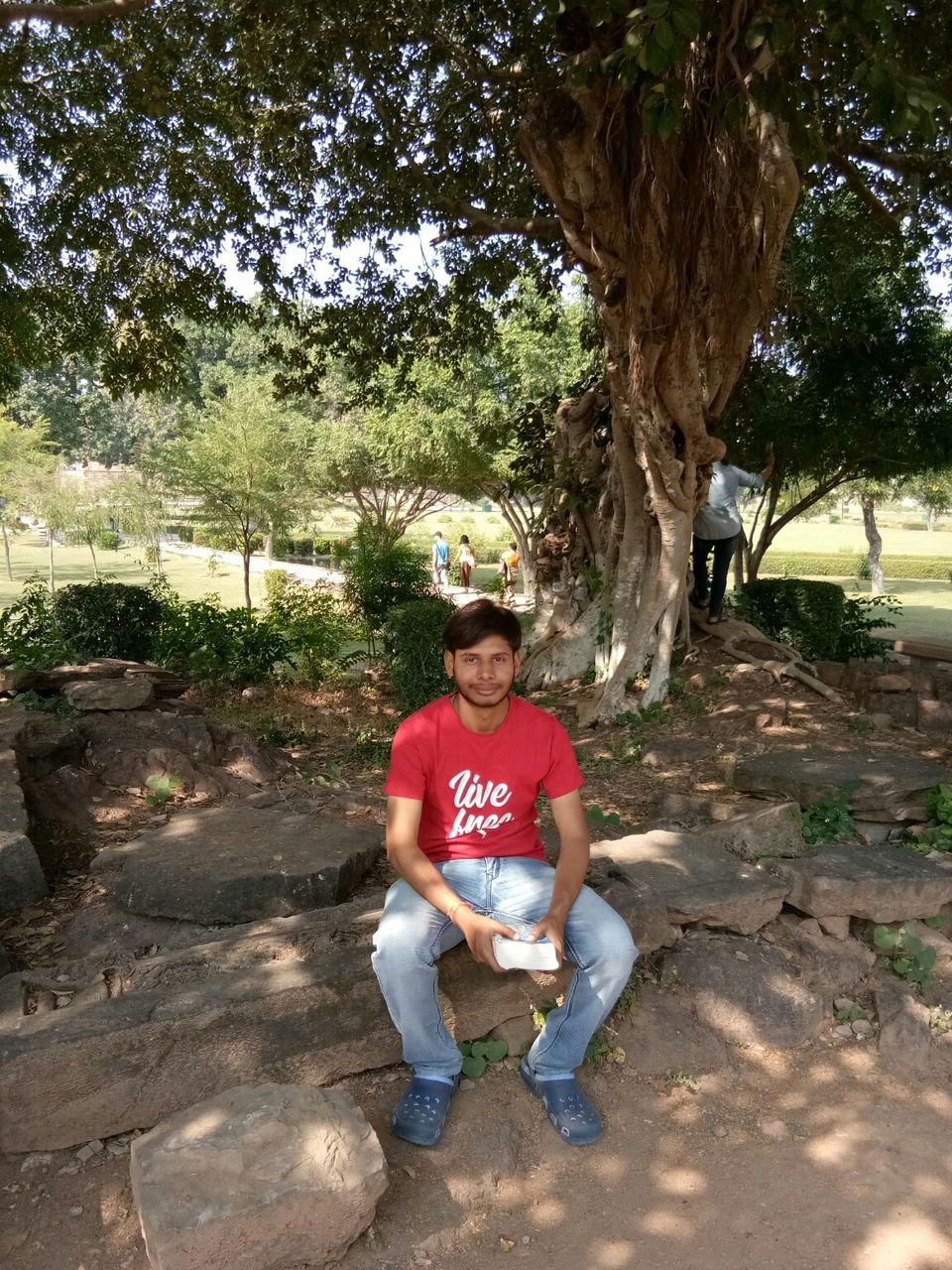 For in-depth knowledge about chandela history and architecture of the temples, this should not be missed. If  you are on a budget visit here first, and won't need a guide. We visited here afterwards and it was an immersive experience.
   We continued our exploration to eastern and southern group of temples scattered all over the village with a local guide. He had various legends and folklores to narrate and we were interestingly all ears.
    These temples have a lot to offer. Some carvings are really unique and can't even seen on western group of temples. The only temple facing west, Chaturbhuj temple is a must visit at the sunset.
   After a tiring day, we went watch Light and sound show at the western group of temples in the evening. The story is narrated by a master sculptor starting with a folklore and continued with the history of temples and chandela kings. It was pompous and spectacular.
  15-11-2018
       It was a lazy morning and a laid-back day. As our plan to visit nearby raneh waterfalls got cancelled.
  
   We had an evening bus to return but before that I really want to revisit the villages. So we decided to hire bicycles for a half day and minutes later we were making strolls through the narrow lanes of the village.
   As we stopped somewhere, we interacted with some locals. It was easier because I know how to speak in bundelkhandi because these are my roots.
   Khajuraho and nearby Jatkara villages can be easily compared to an artist's colour palette. There are the houses of every possible colour. I found it very cool.
       Rest of our day, we spent relaxing at Raja's cafe, cherishing the memories we made during this trip. As they say in bundelkhandi,'बहोतई आनंद आऔ हमै खजुराव मै'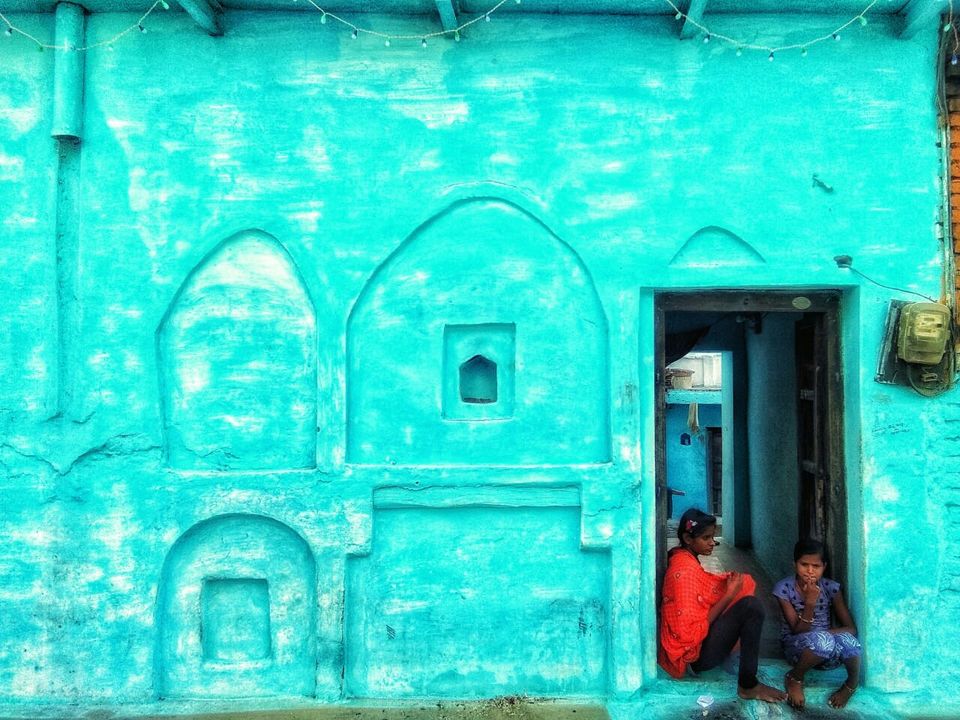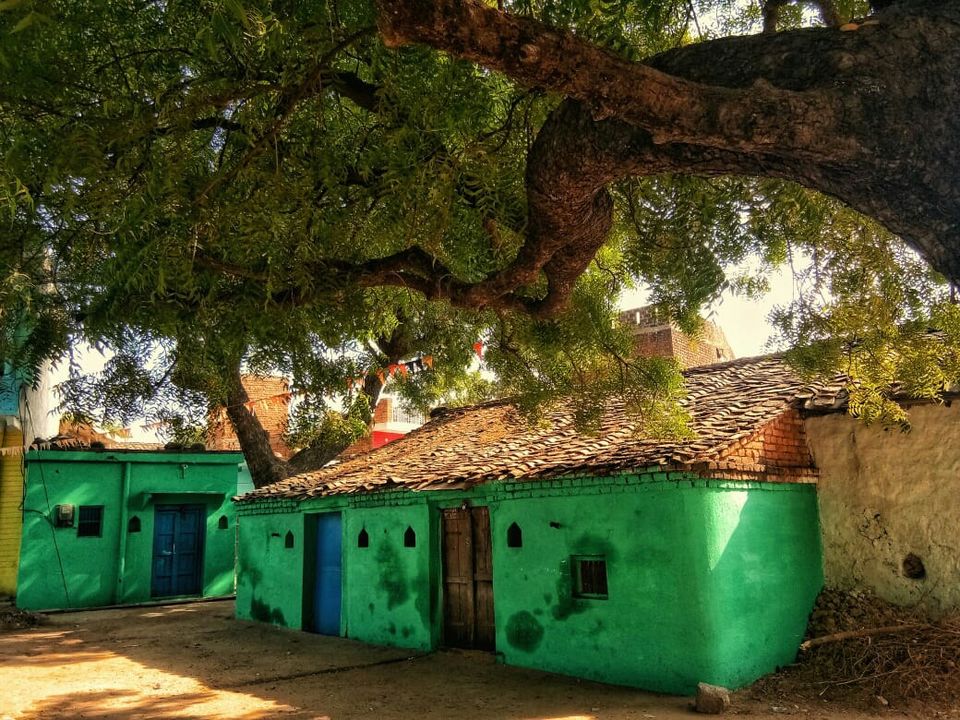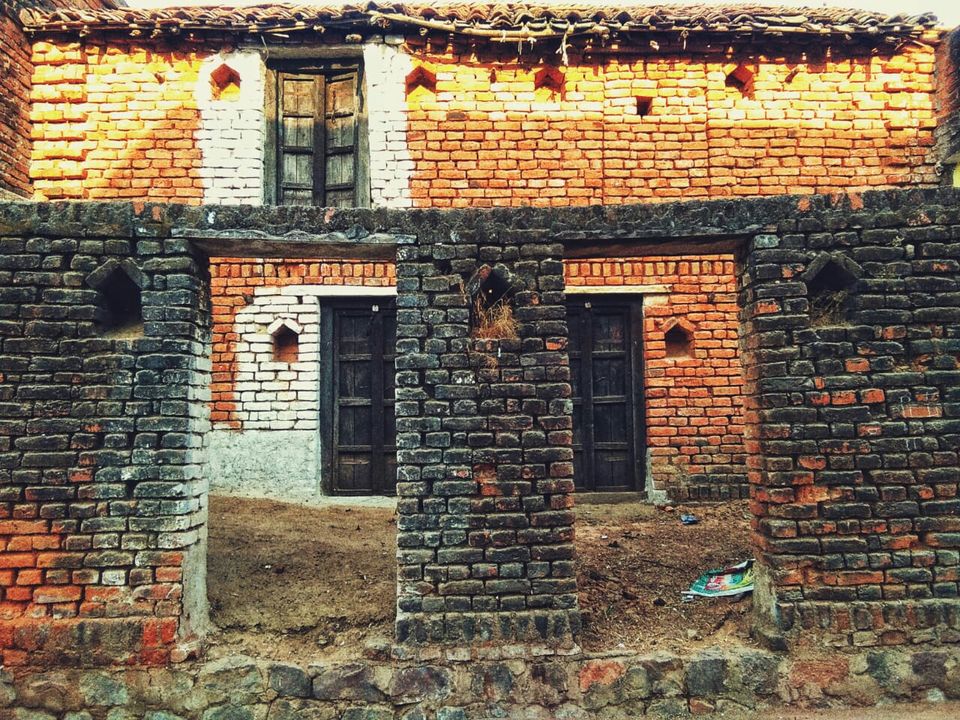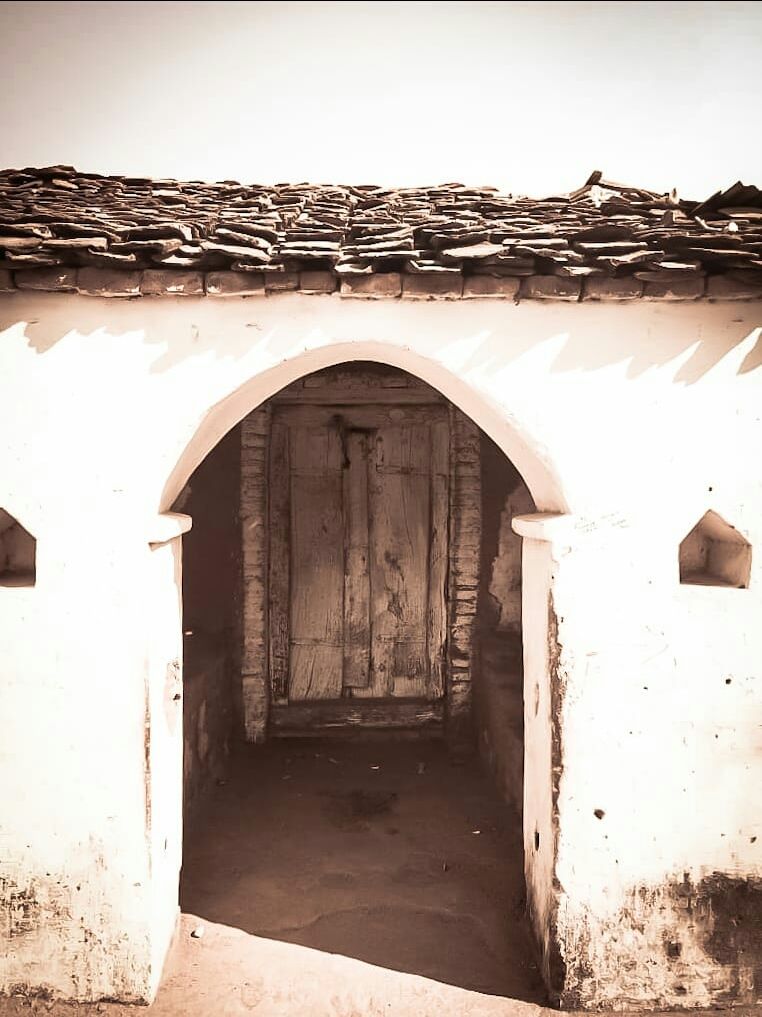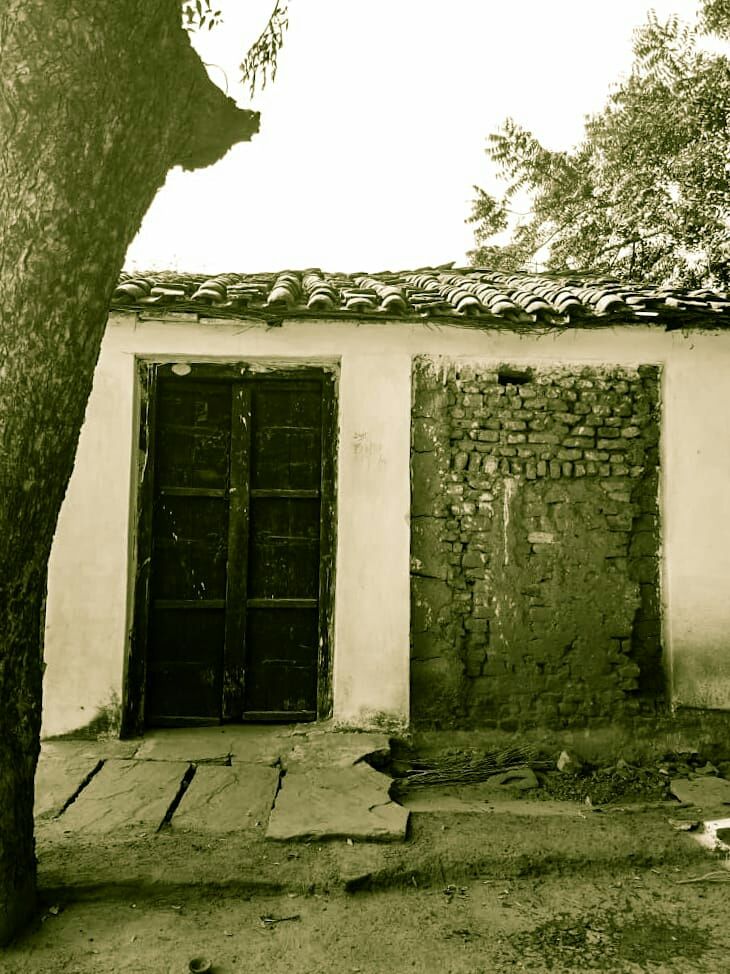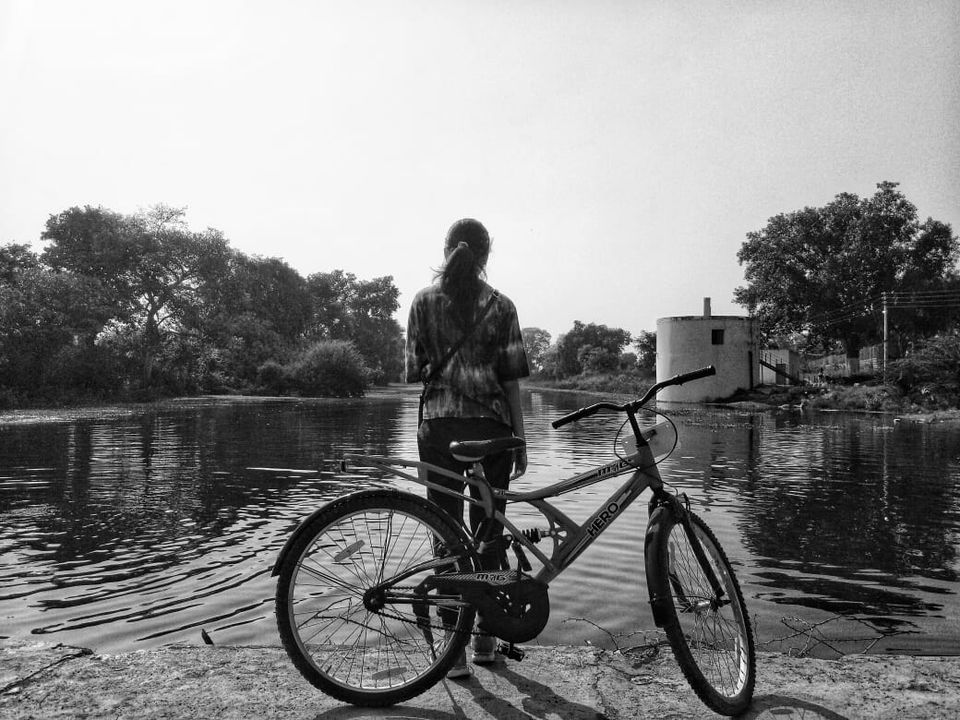 Note- all the pictures are taken by my friend Pournima and I.