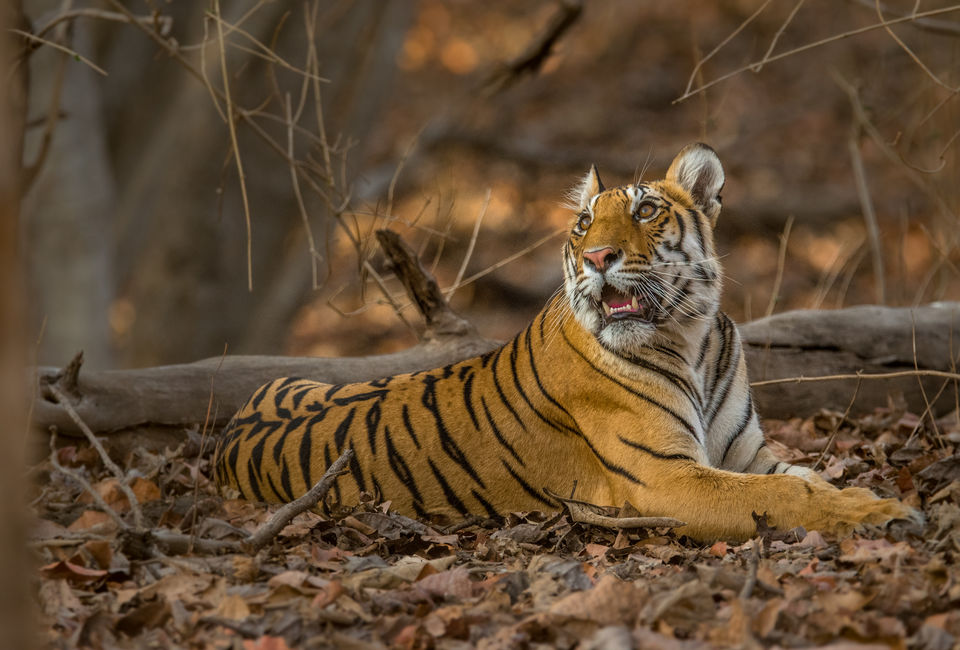 Pench Tiger Reserve, Seoni (Madhya Pradesh) is one of the major Protected Areas of Satpura-Maikal ranges of the Central Highlands, which is among the most important tiger habitats of the world.
Established in 1975 with an area of 257.26 km2 (99.33 sq mi). It includes Pench Tiger Reserve and derives its name from the Pench River that flows through the park from north to south dividing the park into almost equal western and eastern halves, the well-forested areas of Seoni and Chhindwara districts respectively. It was declared a sanctuary in 1965, raised to the status of national park in 1975 and enlisted as a tiger reserve in 1992.
The area of the present Pench Tiger Reserve has been described in Ain-i-Akbari, and is the setting of Rudyard Kipling's The Jungle Book.
The History
The forest cover in the park area includes teak mixed with other species like saja, bijiayasal, lendia, haldu, dhaora, salai, amla, amaltas. The ground is covered with maze of grasses, plants, bushes and saplings. Bamboo is also found at places. Scattered white kulu trees, also referred to as 'ghost tree', stand out conspicuously among the various hues of green. Another important tree for both wildlife and tribal people of this region is mahua. The flowers of this tree are eaten by mammals and birds, and also harvested by the tribal people as food and to brew beer.

When to Visit
The best time to visit the park is between November and May. The park is open to visitors between 6 am and 10:30 am and between 3 pm and 6 pm. The park remains closed during July, August and September. The park can be accessed by road and railway. The nearest airport, railway station is Dr. Babasaheb Ambedkar International Airport, Nagpur and closest city is Seoni, bus can be taken to the park. Turiya is the nearest highway stop near Pench. Open jeep safaris are allowed from each of the gates twice in a day, with a fixed quota for each gate, for each schedule.
Pench National Park: Travel tips
Pench national Park location and how to get there
The closest railway station and airport to Pench National Park is in Nagpur. From there, it's an easy 1.5 hour drive.
Rail: Board the train till Chhindwara or Jabalpur. From there you can hire a cab till Pench, which is an approximate distance of 190km from Chhindwara and Jabalpur. Another option is to board the train till Nagpur and hire a taxi ahead. Pench Tree Lodge provides with reliable cab services from the railway station till the lodge. Nagpur has better connectivity of trains and the road journey takes about 3 hours (145 km).
Air: Nagpur is the nearest airport connected to all metros by regular flights. It's approximately 145 km from Pench that can be covered in a three/four hour drive. Great flights are offered by Indigo airlines to Nagpur. Another way to reach the park is via Jabalpur airport, which is about 215 km from Pench and takes about 4-5 hours by road. Most of the lodges provide reliable pick and drop services from the airport. Pench Tree Lodge offers a responsible and reasonable taxi service for the convenience of their guests.
Road: Pench Tiger Reserve is located on the Nagpur-Jabalpur Highway. You can go by road from Jabalpur or Nagpur and reach Pench in three to four hours. Another option is to go via Bhopal which is approximately 500 km from Pench or Kanha. Nearest bus stand to Pench is Khawasa or Seoni and hourly buses are available from Nagpur. Khawasa is 12 km from Pench and you can avail the pick and drop service organized by the resorts. Khawasa gives access to Turia gate side of Pench. For Karmhjiri side, its best to get dropped at Suktara and Pench Tree Lodge is 20 km from there.
Where to stay in Pench National Park
Pench has plenty of resorts and hotels for all budgets. You can easily book any of the places which has a good review and is near to the park.
Pench safari booking
The safari tickets can be booked online through the website: mponline.gov.in. You can also book the tickets through the resort in which you have decided to stay.
Morning jeep safari starts at sunrise and ends at 11.00 hrs, whereas evening safari begins at 2.30 pm and ends at sunset and the timings may vary slightly depending on the season. There are three gates to the park, namely the Turia Gate, the Karmajhiri Gate and the Jamtara Gate out of which Turia Gate is the most popular. Turia gate has got congested due to innumerable resorts and hotels. Karmajhiri and Jamtara gate are quiet, closer to nature but have limited jeep entry.
Trespassing different routes is not allowed. Booking charges, park rates and other details all are available on the website mponline.gov.in.
Like all the other parks of M.P., Pench too allows a total number of eight people in a jeep, out of which six are tourists and the other two are the guide and the driver.
Pench safari cost
The safari vehicle costs INR 1500-2000, while the guide fee is INR 480. Please tip your guide to encourage guiding that goes beyond just chasing the tiger.
Travel Tips
Bookings should be done 120 days in advance since the park tickets are limited.
It is mandatory to carry ID cards for safaris. The ID needs to be the same as the one with which you booked your safari.
Carry binoculars, camera and a bird book to identify birds to make your trip more fruitful.
Wear comfortable walking shoes. Do check your shoes every time before wearing them to avoid scorpions and other creatures.
Carry proper woolens in winters and an effective sunscreen in summers.
Carry Hats/Caps and personal medicines (if any)
Wear muted forest colours like earthy greens or beiges and avoid perfumes and deodorants. Whites & any bright colours should be avoided.
You can visit travel sites like IRCTC and Cleartrip for all railway and flight related information. To check information regarding bus schedules visit mptransport.org