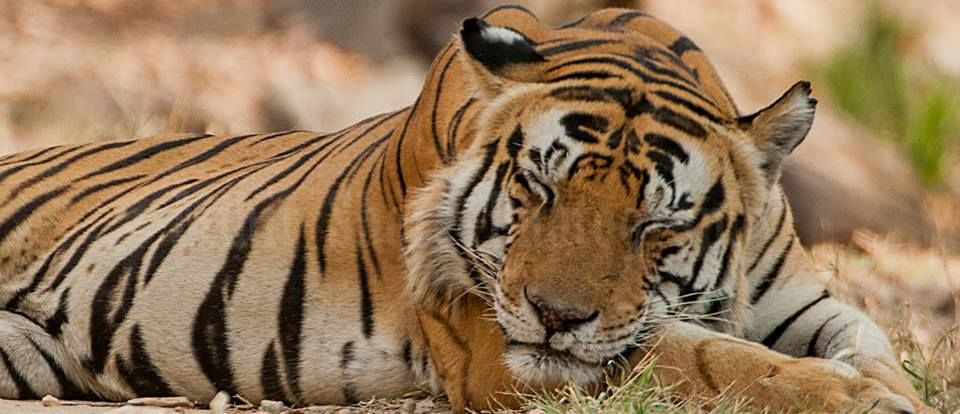 One just has to refreshingly watch the Wainganga river, the royal Seoni Hills and fill with amazement at the beautiful gorge where Mowgli killed Sher Khan (villain tiger of The Jungle Book) - to happily accept the blend of reality and fiction in perfection at Pench Tiger Reserve.
The dense wild forests which are a part of "Pench"in Madhya Pradesh were announced as a national park in the year 1983 and a tiger reserve in the year 1993.
Situated on the NH-7, Pench National Park is in between the Seoni and Chhindwara districts of Madhya Pradesh state in India. This wildlife hub is just convenient train ride and short road drive away from major cities like Mumbai, Pune & Nagpur. The nearest airport is Nagpur. The Pench Tiger Reserve area can be easily reached from Pauni through two major entry gates–Karmajhiri and Turiya. With a number of Pench National Park Tour Packages offering luxury stays near to the safari hub, Pench National Park is thus an amazing choice for a family/group vacation.
If you planning to book Pench National Park Tour Packages, then remember the best time to visit the wildlife park is between October and May. While summer months of April, May and Early June are when the tiger and other rare wildlife sighseeings are highest. The timings for safari are from early morning 6 am to 10.30 am and afternoon 3 pm to 6 pm. You need to do online safari booking in Pench for your whole process to be quite well-organized. Also you need to ensure that the online safari booking in Pench is completed months in advance to avoid last minute hassle and non-availibility.
Talking about the rich wildlife, Pench is primarily renowned for the Royal Bengal Tiger. According to the recent Tiger Census, it has been estimated that there are nearly 40 tigers in the park. Further, it is also home to 42 species of mammals, 15 species of reptiles, and 4 species of amphibians in the wildlife park. Interestingly, you will come across a number of striking animals such as chital, sambar, nilgai, wild pig, gaur and jackals to name a few. If you are fortunate, you might also see the great Indian leopard, sloth bear, and the stunning striped hyena.
You will find some of the best Pench Resorts that will provide you with comfortable accommodation facilities, WiFi, entertainment and other important amenities. At Pench Resorts, you will also meet some amazing wildlife tour guides and forest specialists who respond to animal calls.
One of the prime things to understand during your Pench Adventure Safari is how the tour guides and the expert jeep driver answer to forest calls so as to consider right direction to head in for highest chances of spotting the tiger. From bird chirping to monkey calls, the guides give close attention to everything that goes on in the forest as well as teach you some interesting new things during your safari trip at Punch.
So, If you make 2-3 Pench national park safari booking during your weekend stay at Pench, your are almost certain to spot the tiger at least once. You can choose any of the top wildlife tour operators such as Mumbai Travellers and do a booking of pench national park safari for your family and friends.