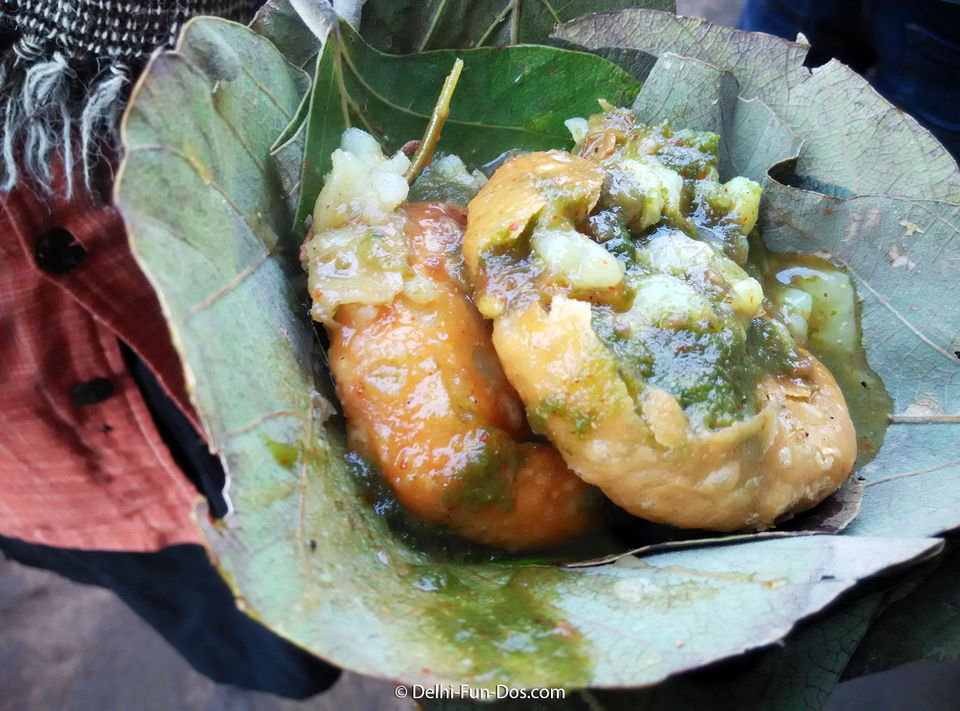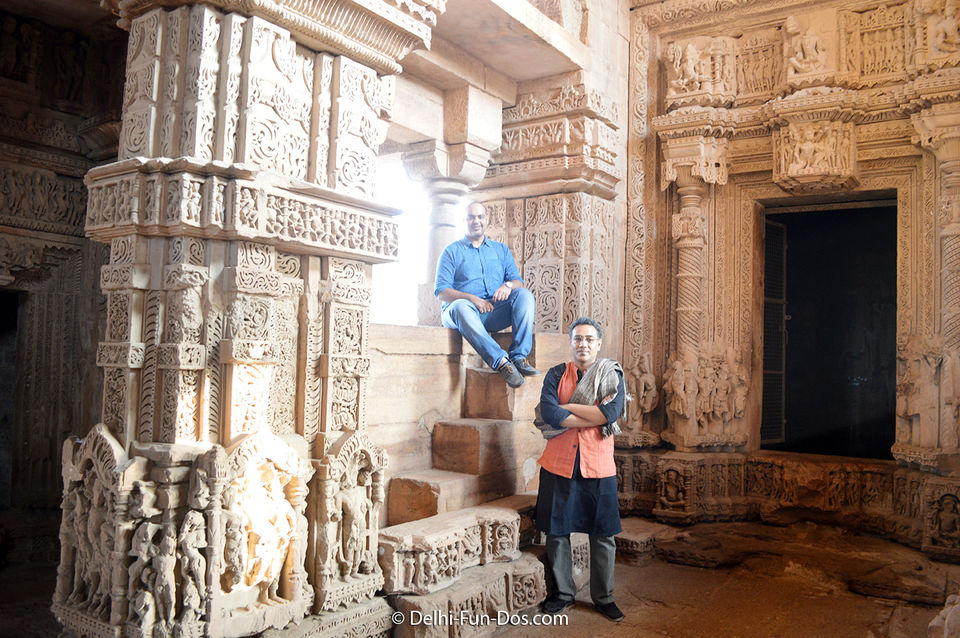 Like most Delhiites we have covered Rajasthan and popular hill stations of Himachal and Uttarakhand. Hence we wanted to travel to another state. Gwalior in Madhya Pradesh is proximous to Delhi – Just a 6 hours drive. However given the severe heat, summer is not a suitable time for travel. November to February is the best time to visit Madhya Pradesh. Gwalior is about 330 km from Delhi NCR and we expected to cover this distance in about 6 hours. This seemed reasonable driving time and we zeroed in on Gwalior as a start to exploring MP and we decided to do a Gwalior Foodtrail alongside our regular sight seeing.
Gwalior is high on street fare and almost every nook and corner was dotted with food carts. Most of this is desi variety and most of it is vegetarian. We tried a few options:
Kachori and Bedai at S.S. Kachoriwala: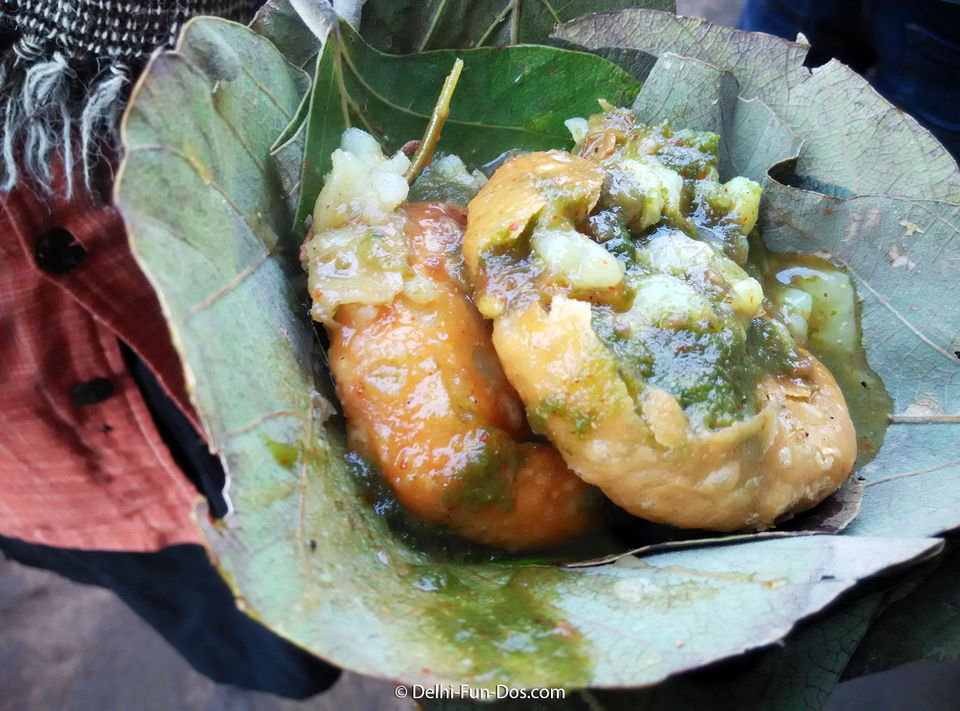 Located at a busy intersection, this shop was selling kachori, bedai (known as bedmi poori in Delhi, Rajasthan), samosa, pakodi, jalebi etc. We tried the kachori, bedai and smaosa which were served in leaf cones. The watery aloo sabzi was pored over the kachoris and topped with sweet and green chutney.
The soggy kachoris have to be had with hands. There is no sitting arrangement and we found lines of people standing outside patiently awaiting their serving. And we found them licking their fingers later. Every item was Rs 10 per piece. Our whole breakfast was done in neat Rs. 90/-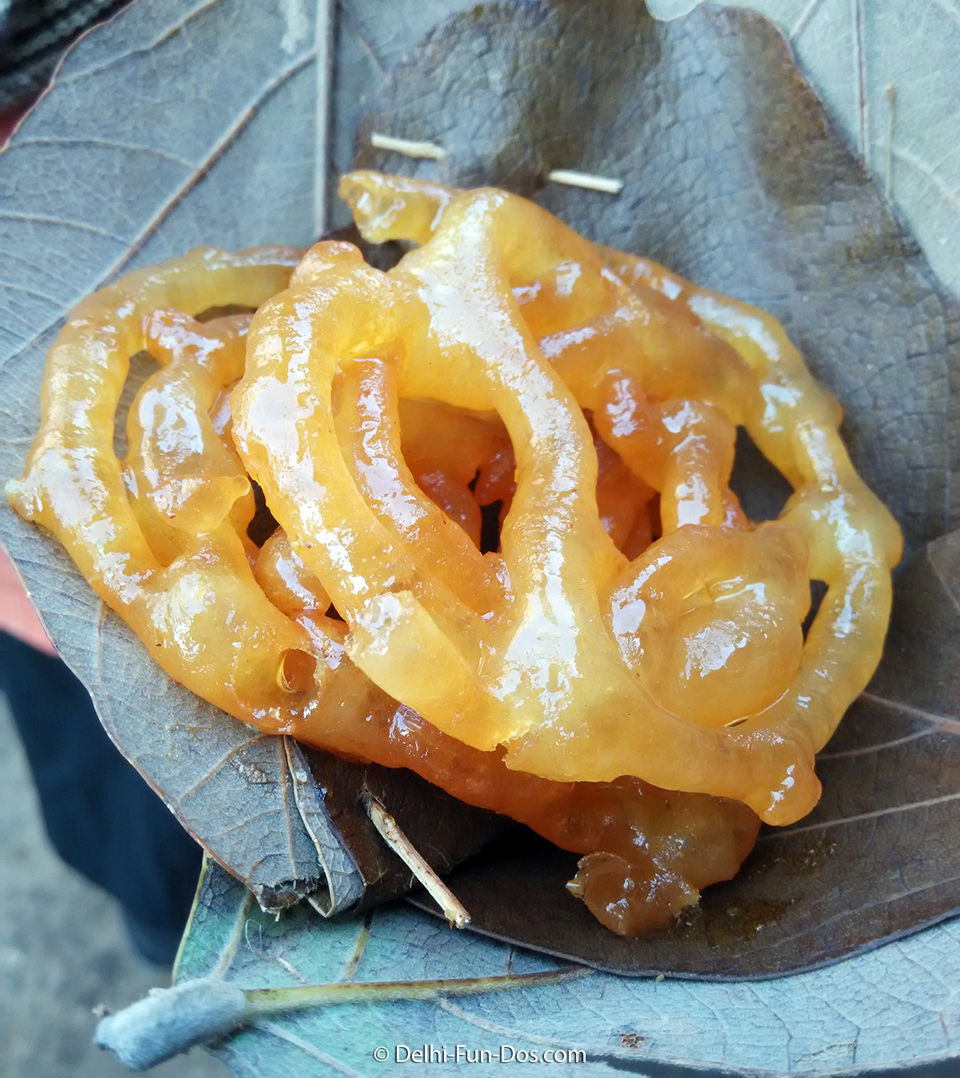 Poha at Aggarwal Poha Bhandar (APB):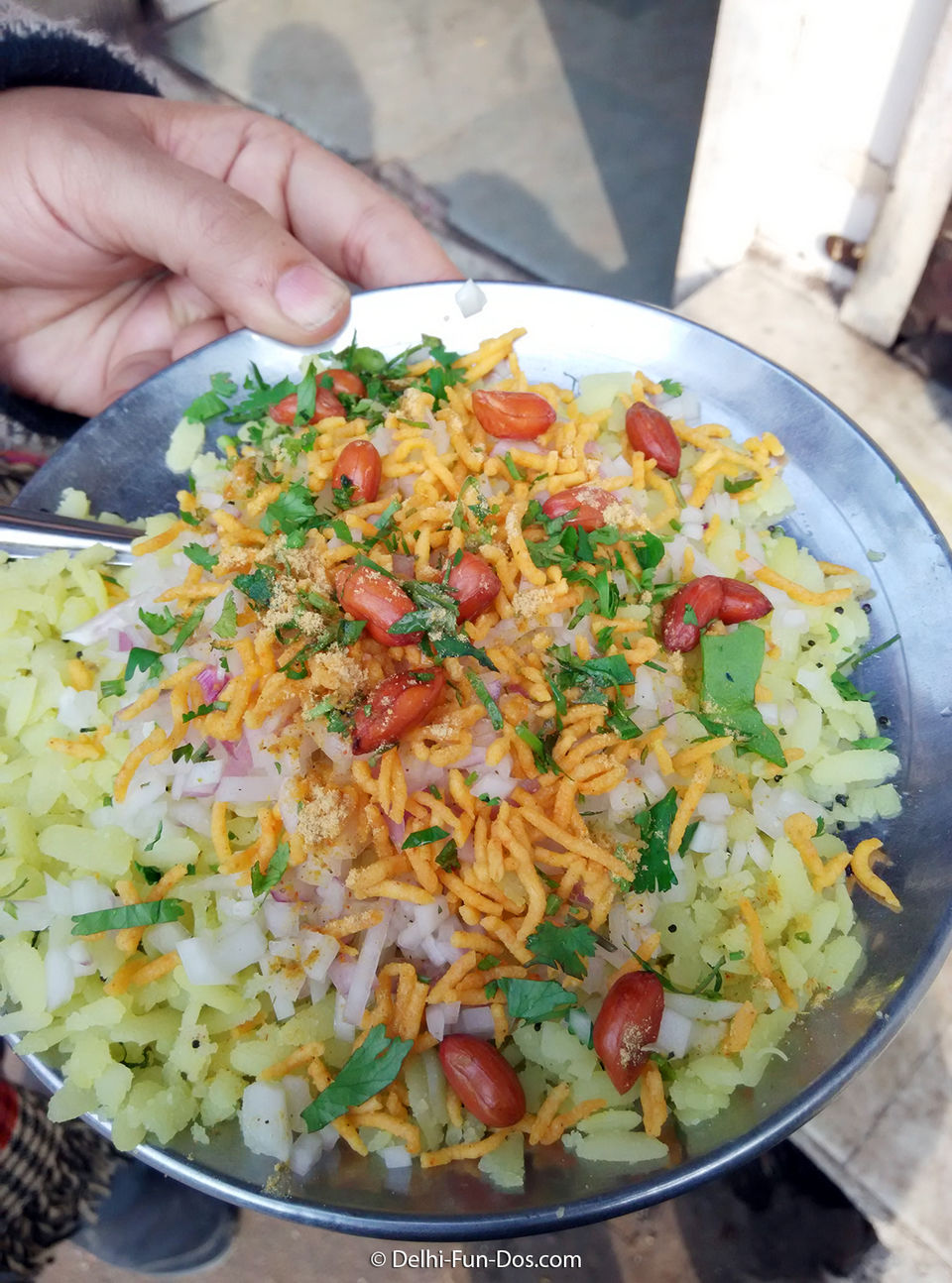 Just like Mount Abu, Poha – the humble Gujarati flat rice dish is a popular breakfast item in Gwalior. There are many APB in Gwalior and we didn't know which one to try. We just trusted our gut feeling and tried poha at one of the shops.
The poha was freshly made, subtle in taste, slightly sweet and topped with peanuts, coriander leaves and a lemon wedge. We just loved it.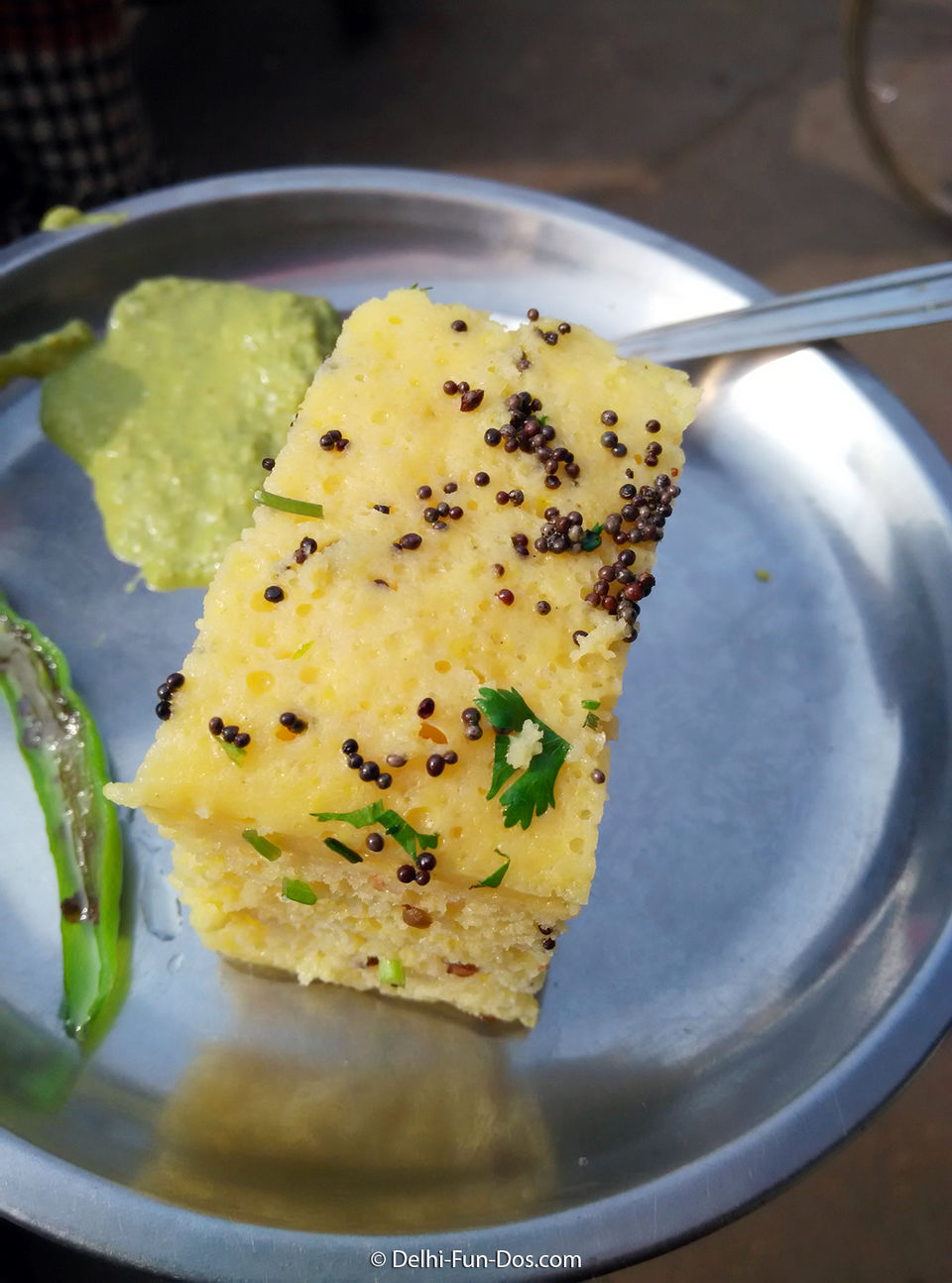 We also tried their dhokla which was slightly different (and definitely better) in taste than dhokla in Delhi and we liked it as much as poha.
Karela Chaat at Chaupati: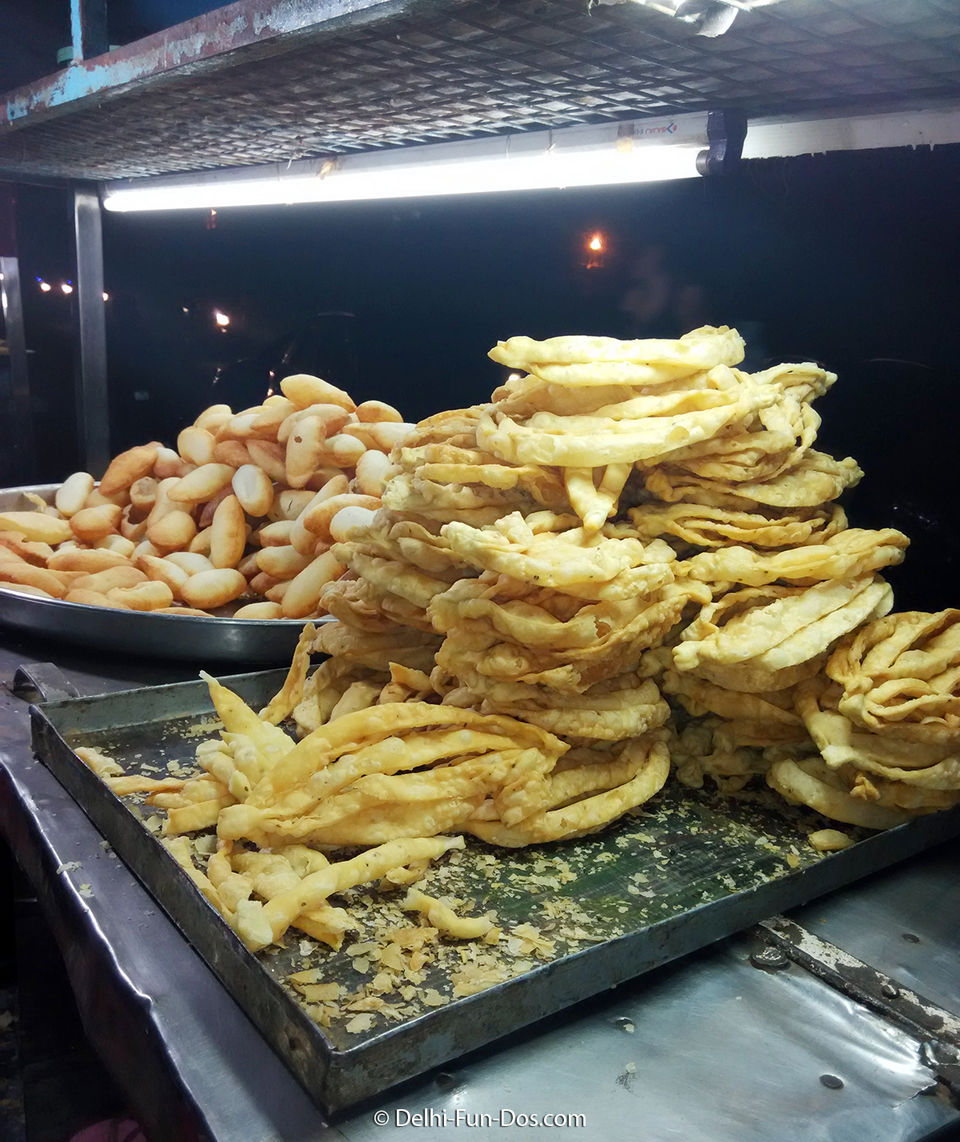 We were surprised to hear about Chaupati in Gwalior. Somehow we always relate this name with Mumbai. Our guide at Gwalior Fort mentioned that Chaupati would be a nice place to hang out on 31st night. We took his word and visited this place late evening. Chaupati here is an open area with food carts selling street food like gol gappe (the long oval variety), karela, tikki choley, dahi bhalla etc. Karela (the chaat variety not to be mistaken with the vegetable) used to be a regular item in Delhi years back and now have disappeared totally from Delhi food scene.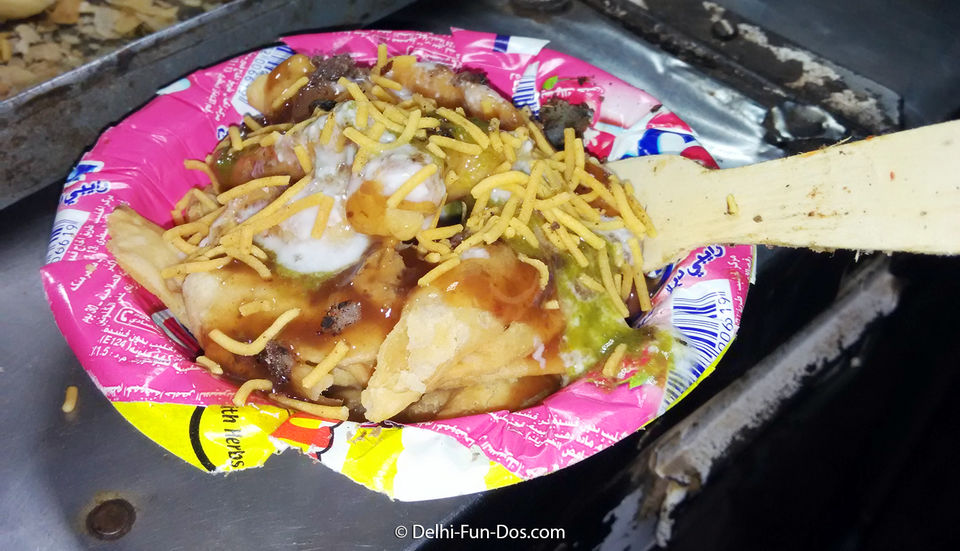 This fried, white flour based dish is in shape of a karela. They break it inside a paper bowl (dona) and serve it with chutneys and spices. The taste was average but we liked it for the sake of nostalgia. The atmosphere at Chaupati was very casual and gang of bikers and families were having good time gorging on pocket friendly street food.
Muraina (Morena) ki Gajak: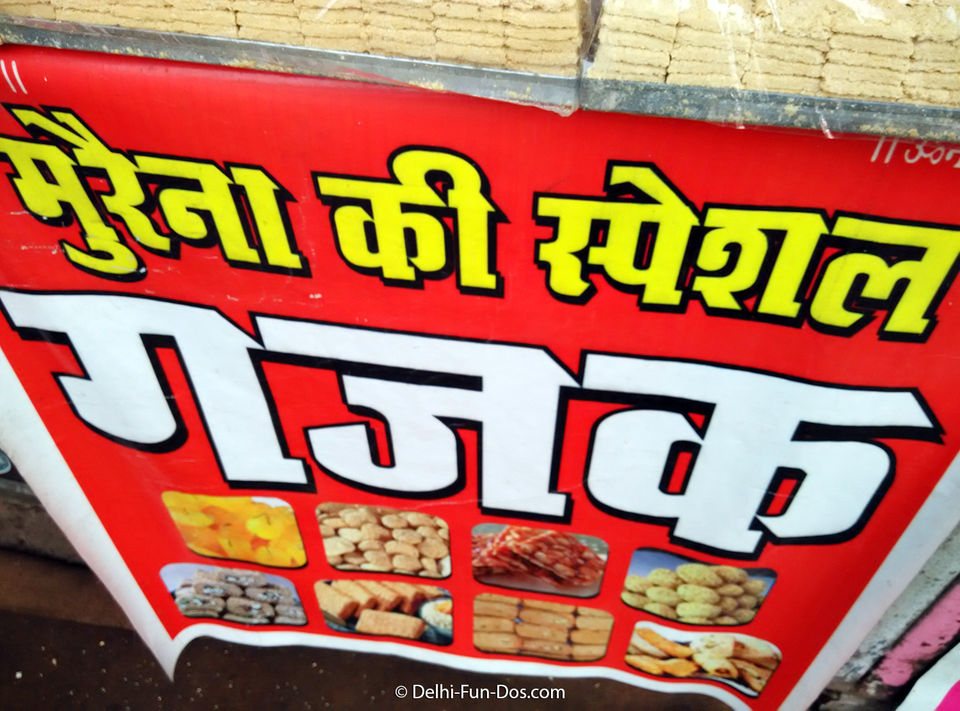 What panchi petha is to Agra, Muraina gajak is to Gwalior. Be it Naya Bazar or Dal Bazar, one can see lines of shops selling Morena ki Gajak. Muraina is a small town near Gwalior and Gajak from this place is famous all over India.
We saw some shops near Railway Station opposite Indian Coffee House and bought boxes of several varieties of Gajak for friends and family.
Indian Coffee House: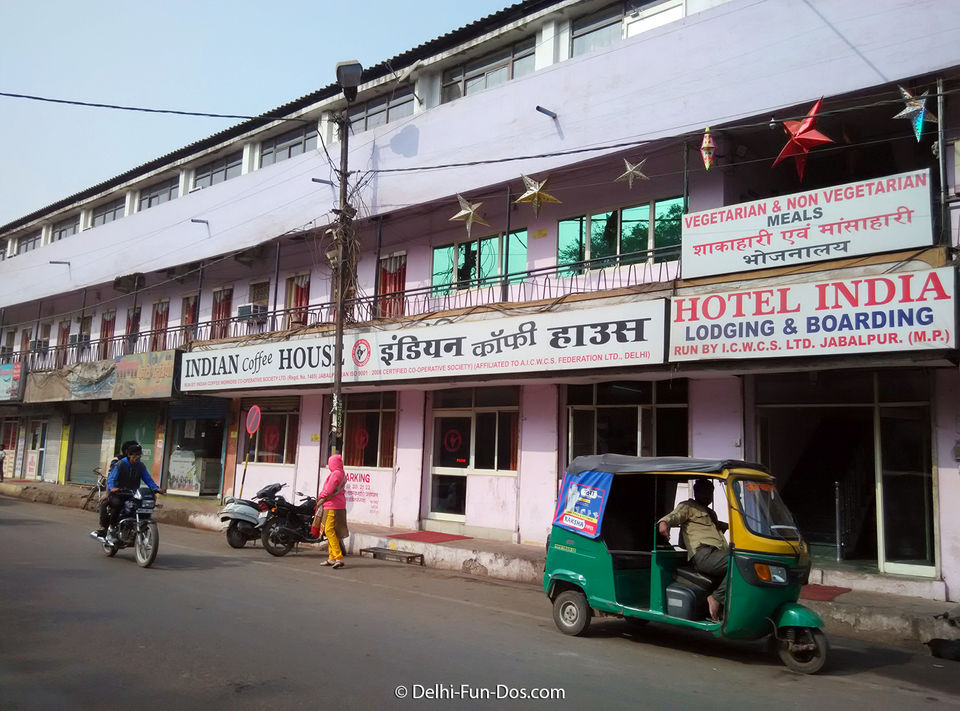 One of the 400 outlets of the legendary Indian Coffee house is located in Gwalior. This was our last day in Gwalior and we decided to have breakfast at Indian Coffee House. Luckily this was en-route to our next destination in Gwalior – Tansen Tomb. Indian Coffee house here is adjacent to the Railway station and the parking is on the other side of the road. This Gwalior outlet has retained that typical character of any Indian Coffee House.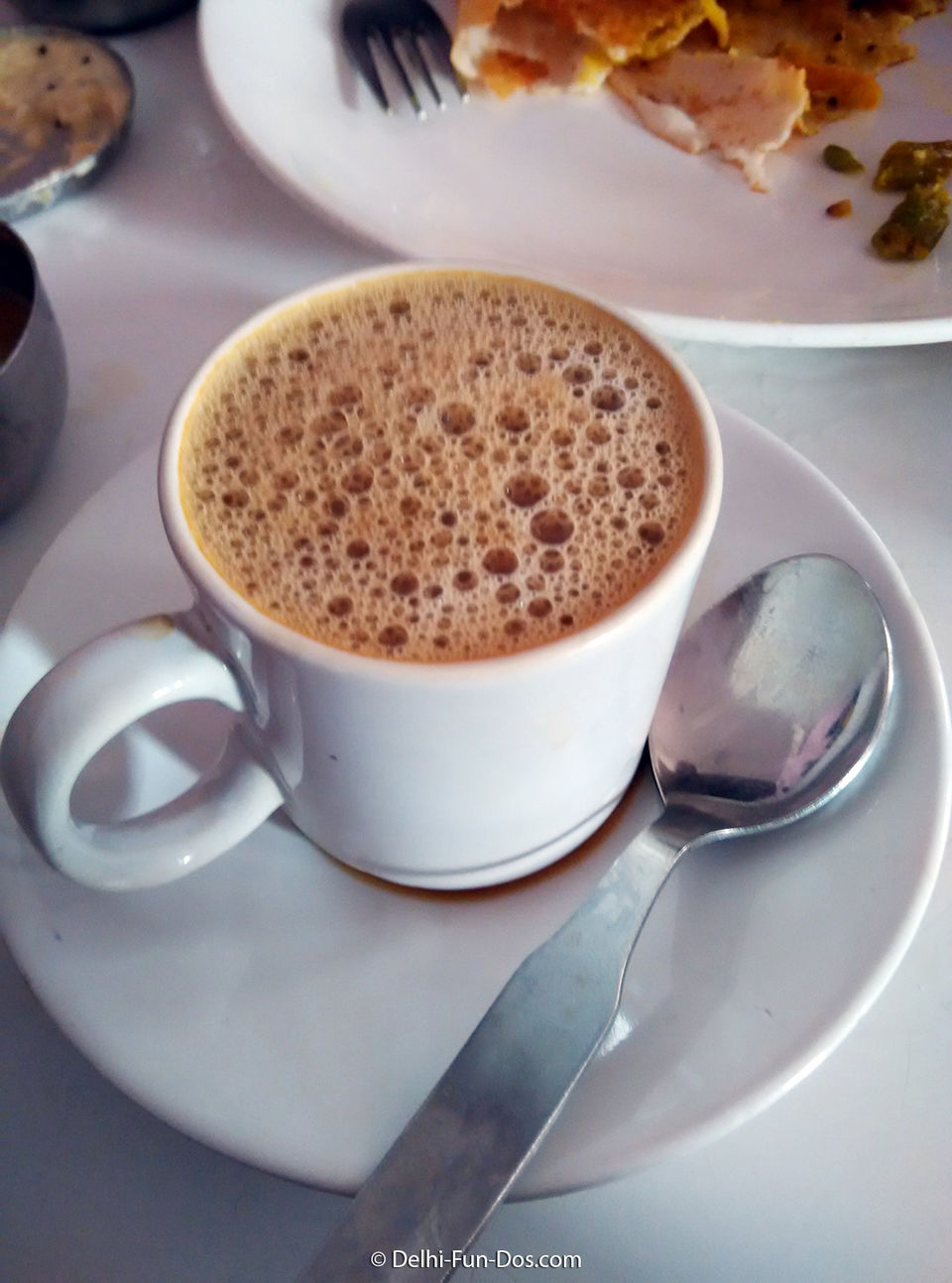 Smell of South Indian food, snooty waiters dressed in white with noticeable white turbans and the usual crowd and noise of diners. We had Dosa and filter coffee here. The stuff was good - very typical of Indian Coffee House.