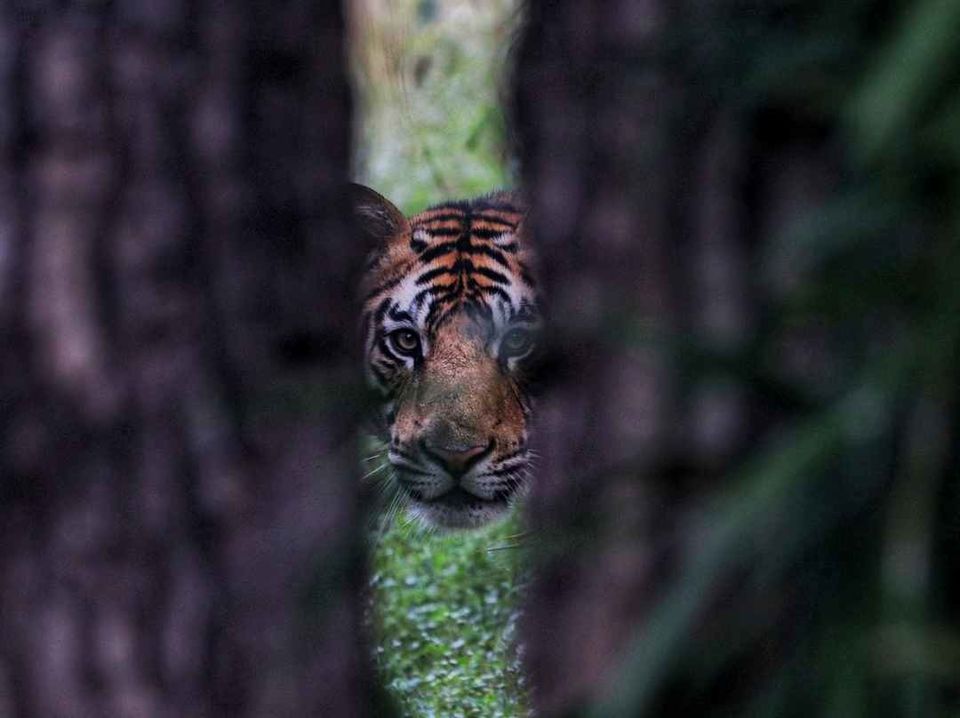 "Visit a forest for its beauty, whatever comes with it, is a bonus from mother nature," say the wise men.

While I agree to the statement and the thought behind it, I also feel that since most of us spend a lot of money, energy and time behind planning a trip like this, it should ideally bear the expected results.
While of course you can in no way predict the behaviour and nature of tigers, you can always narrow it down and give yourself the best chance of encountering one in the lush green forests of India.
So why not know about the same and work your best on it and leave the rest to the wise men's mother nature.
National Parks to visit
There are a total of 104 national parks in India, out of which 50 fall under Project Tiger. Given the array of choices, it is important to know which ones are the hotbed for tiger activity and which ones are not. There are several reserves in the country that have put in astonishing work to save one of the most endangered species in the world.

Ranthambore Tiger Reserve
Easily one of the hottest properties, if not the hottest property in tiger sightings around the country. Ranthambore National Park, in the past few years has turned out to be one of the hot-spots for encountering tigers in the wild. It is also one of the most expensive National Parks to visit and costs between 1500-1800 per person depending upon your choice of Canter or Jeep for a three and a half hour game drive.
The Park is divided in 10 zones (with separate routes for crowd reduction). While sections 1-6 report of abundant activity, it is better to avoid the rest of them if you going for a weekend trip at the place. The best way to ensure the booking for the first six zones, is to book in three months advance.

Bandhavgarh National Park
My favourite of all the National Parks in the country, but bias comes easy if a Park presents you with you first tiger sighting. Bandhavgarh is divided into three zones, Tala, Magadhi and Khitauli. All three zones have their own characteristic, whereas Tala has the more variety in terms of terrain, Magadhi has better concentration and sightings of tigers. Khituali has been historically known for the least number of tigers, but it does play host to the largest tiger in the park.
The safaris at Bandhavgarh cost between 550-770 are are pretty reasonable considering the amount of ground they cover.

Pench National Park
This has to up with the best in terms of beauty in India. In your lucky day, you will get to see some beautiful terrain, an assortment of birds species, tigers and hopefully leopards.

Kabini
This place is special,and deserves to be so. Located in the intersection of Nagarhole National Park and Bandipur Tiger Reserve, Kabini is the home to the Black Panther (melanistic leopard).

But mind you, it is pretty expensive to stay here, and I mean 25k for 2 nights expensive. Leopards are shy animals and it is recommended that you have a good budget and time at your hands to visit this little place by the Cauvery in Karnataka.

Season
The drier the better. Best months to go on a tiger safari would be the months of April and May, when the natural water sources run out and the animals are forced to live on the artificial lakes dug by the forest department. This allows excellent opportunities for photographers and general visitors to catch the elite carnivores in the hunt.
However, if you want to catch them mating, you should probably be looking around mid November to mid December.

Where to stay?
There are abundant private facilities available that range from reasonable to luxury accommodations. The government guest houses are usually between mid luxury to luxury levels. Expect to shell out 4000-5000 for two people with all meals included.

How many safaris to go for?

Anything more than one works. While there is no chance that you will be able to predict, but a minimum of two would do if you are lucky.