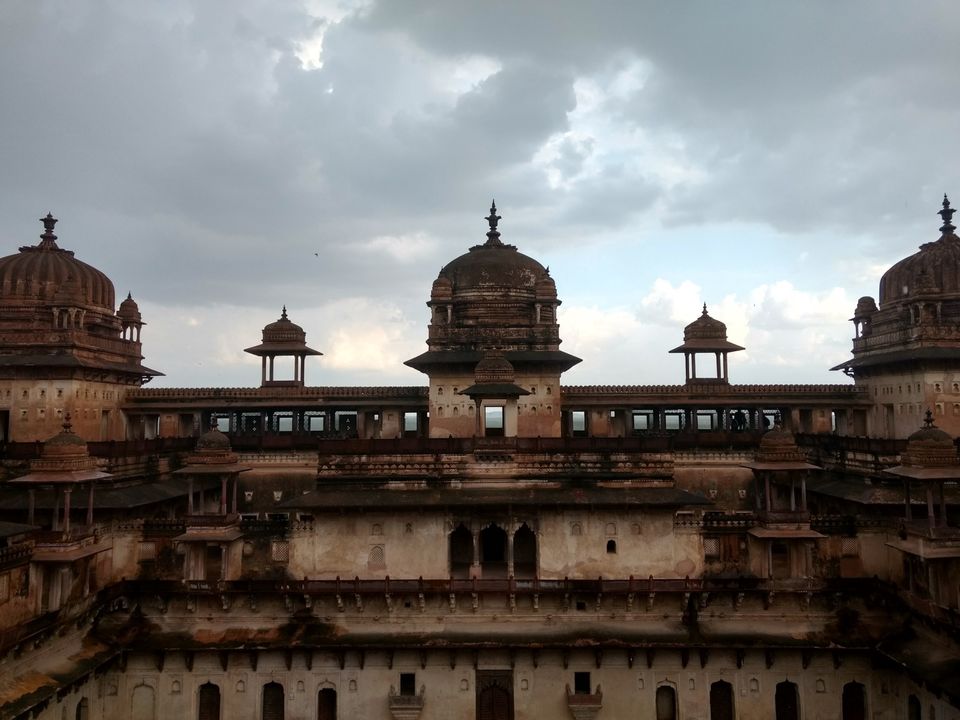 I had recently resigned from my travel job that most people envied of. To me it became a boring routine as a travel expert of entertaining back to back scheduled trips of group of people mainly from the metro cities. I was stationed in the Parvati Valley in Himachal Pradesh for a period of 4 months and the monotony started making me weary and exhausted. I used to take trips every week, sometimes the next trip would begin just the next day. Before I could serve my notice period which was of 2 months, my employer decided to fire me and did not pay my full and final settlement entirely. Good riddance, I say! But I was dependent on my salary and have always lived paycheck to paycheck. Without any savings and I was also homeless as my recent apartment contract in Mumbai had just ended.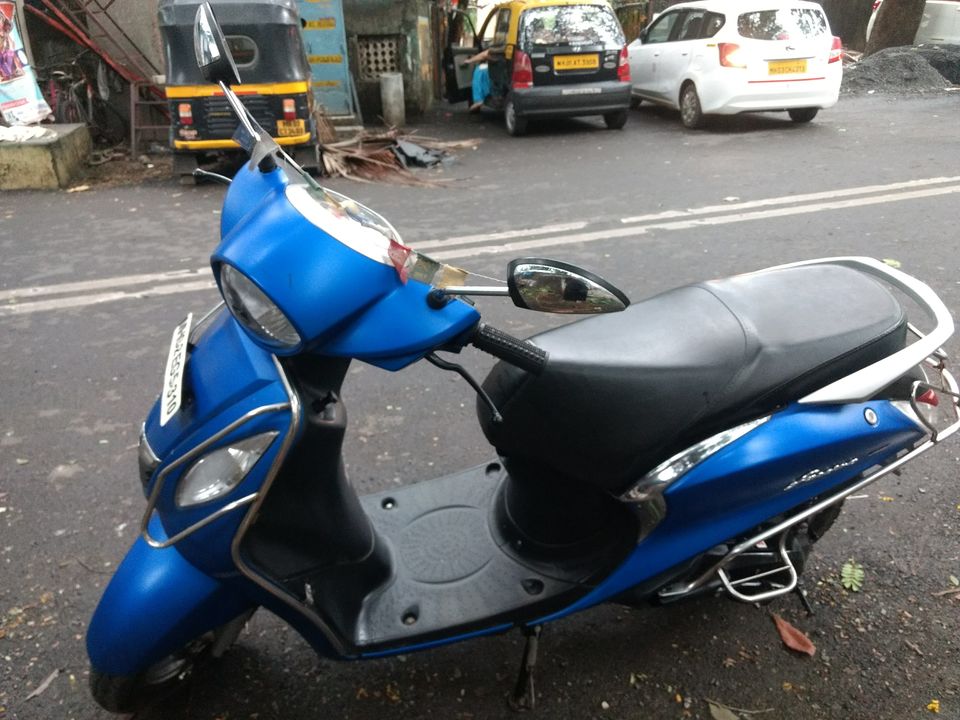 So what did I do? I sold off my bike which I was barely using since I mostly travel by public transport. And all this time, when I was travelling around India, I was still paying for its maintenance cost while it stood lazily in the parking lot. With this new cash flow, I finally had both the time and freedom to travel to the places I wanted to. Finally, I could get rid of sleeping late every night around 1-2 am while working as a travel guide (thanks to having to edit and upload all the photos and videos on the same day after managing a long day trip that included trekking). I wanted to be lost again in some remote place, to be able to talk to the locals and get to know about their culture without worrying about a schedule. I felt like a free bird again!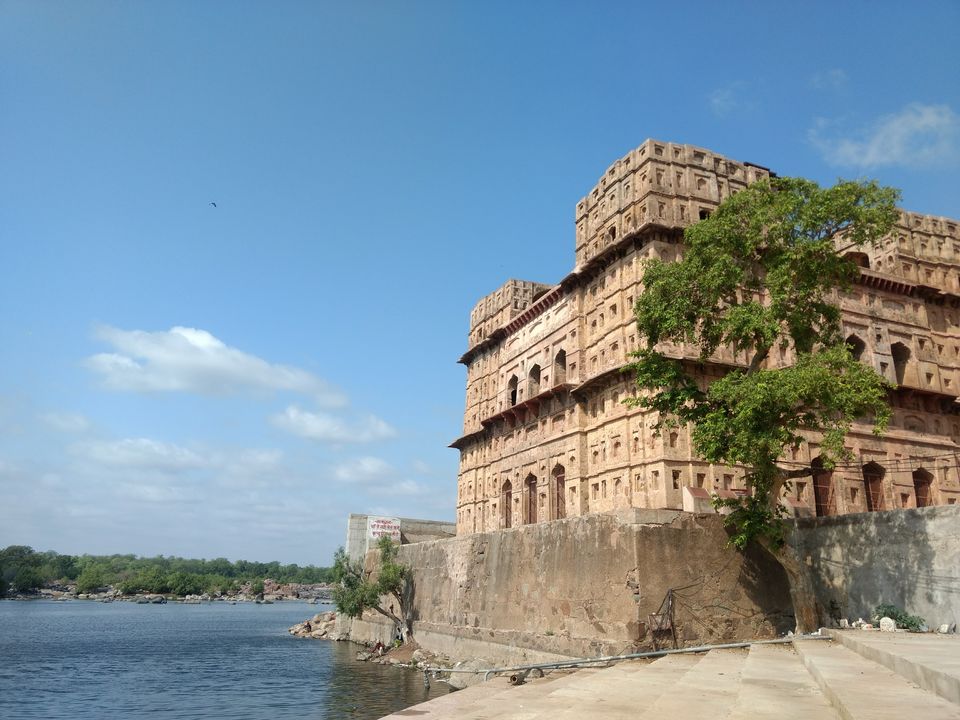 Madhya Pradesh has been on my mind since a long time. So I decided to finally visit it. There are plenty of architectural wonders like palaces and fort and interesting wildlife sanctuaries. Before heading to Madhya Pradesh, I visited the peaceful and yet chaotic city of Varanasi, Banaras as I like to call it. Took a train to Jhansi and with my luck of booking a tatkal ticket, I ended up in a general compartment. Now general compartments in India were mostly jam packed, specially if you are travelling through the states of Bihar and Uttar Pradesh.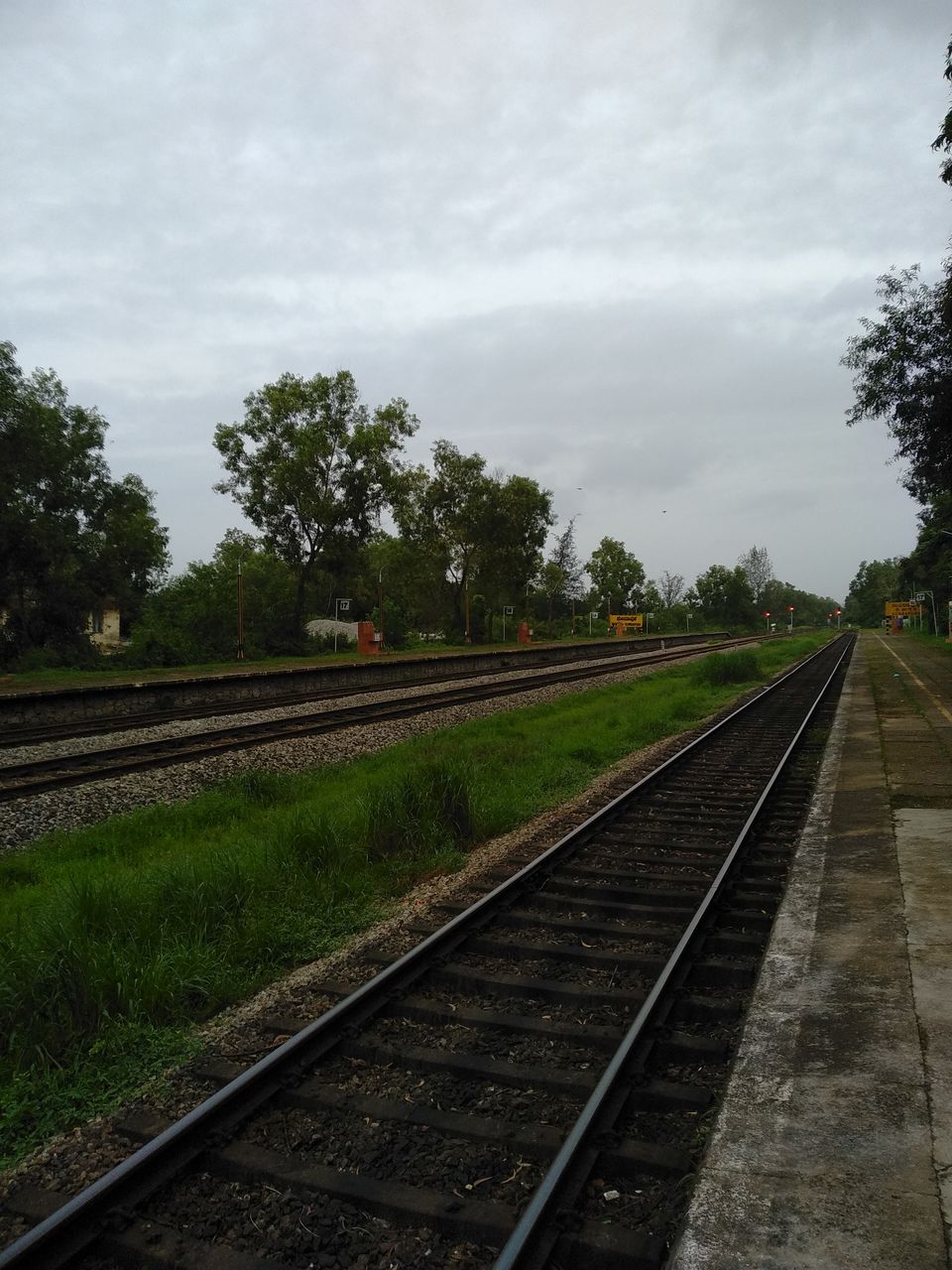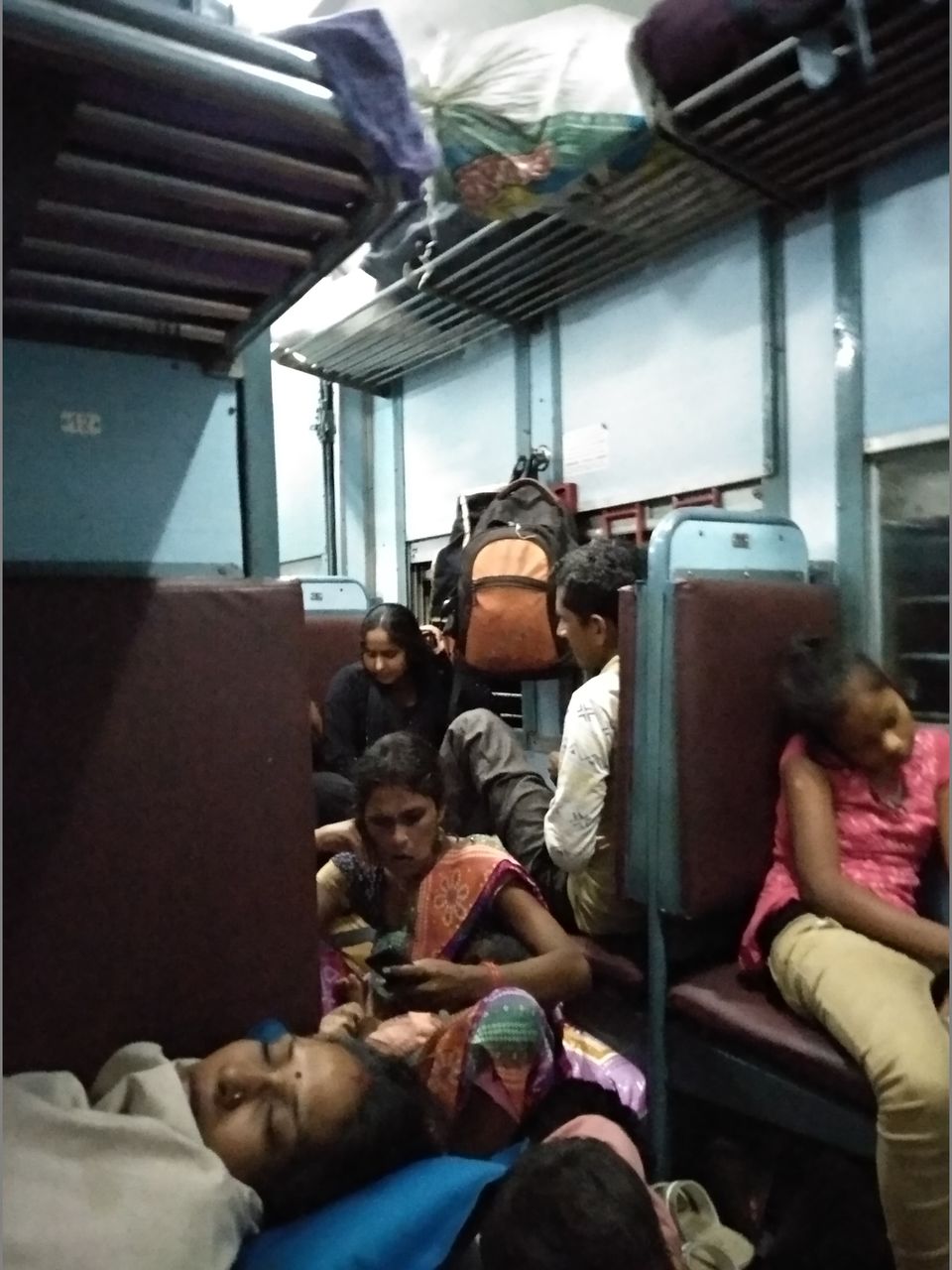 The compartment was so tightly packed, that people were sitting next to the toilet too. I struggled so hard with my 40 litres backpack to somehow fit in and find a place. Since there was no space to sit or even stand, I somehow stood for a few hours, after which my body gave up and all sort of pride and ego dissolved. I ended up sleeping on the train floor without even putting a newspaper. Held my backpack and passed out. The train was late by 5 hours, another thing Indian Railways are famous for. I was tired and badly wanted Jhansi Station to arrive. This was one of the most bad train experiences. It is one of the major railway station for Madhya Pradesh, although located on the Uttar Pradesh border. It was 9 A.M and I finally made it to Jhansi.
Now Orchha was a place I had not heard of ever before. Everytime someone mentioned Madhya Pradesh to me, It would be Gwalior, Khajuraho or a Pench National Park or Kanha tiger reserve. A friend who had stayed in Madhya Pradesh for a few years, told me about this little gem of a place. I was not too convinced on visiting it. But thanks to the exhausting general class train journey, I decided to give it a try. Since I was in no mood to take another mode of transport.
Because I was tired and felt extremely dirty having slept directly on the train floor. I decided to take an auto to Orchha. Orchha is just 3o kms from Jhansi and there several buses that ply to Orchha from Jhansi. One can also take a sharing rick, both the bus and the sharing rickshaw cost INR Rs.20. The road is scenic and the ideal time to visit is monsoon and winter. It was July then and it was still summer in Orchha. Despite the summer heat, the roads were scenic and a little dusty too.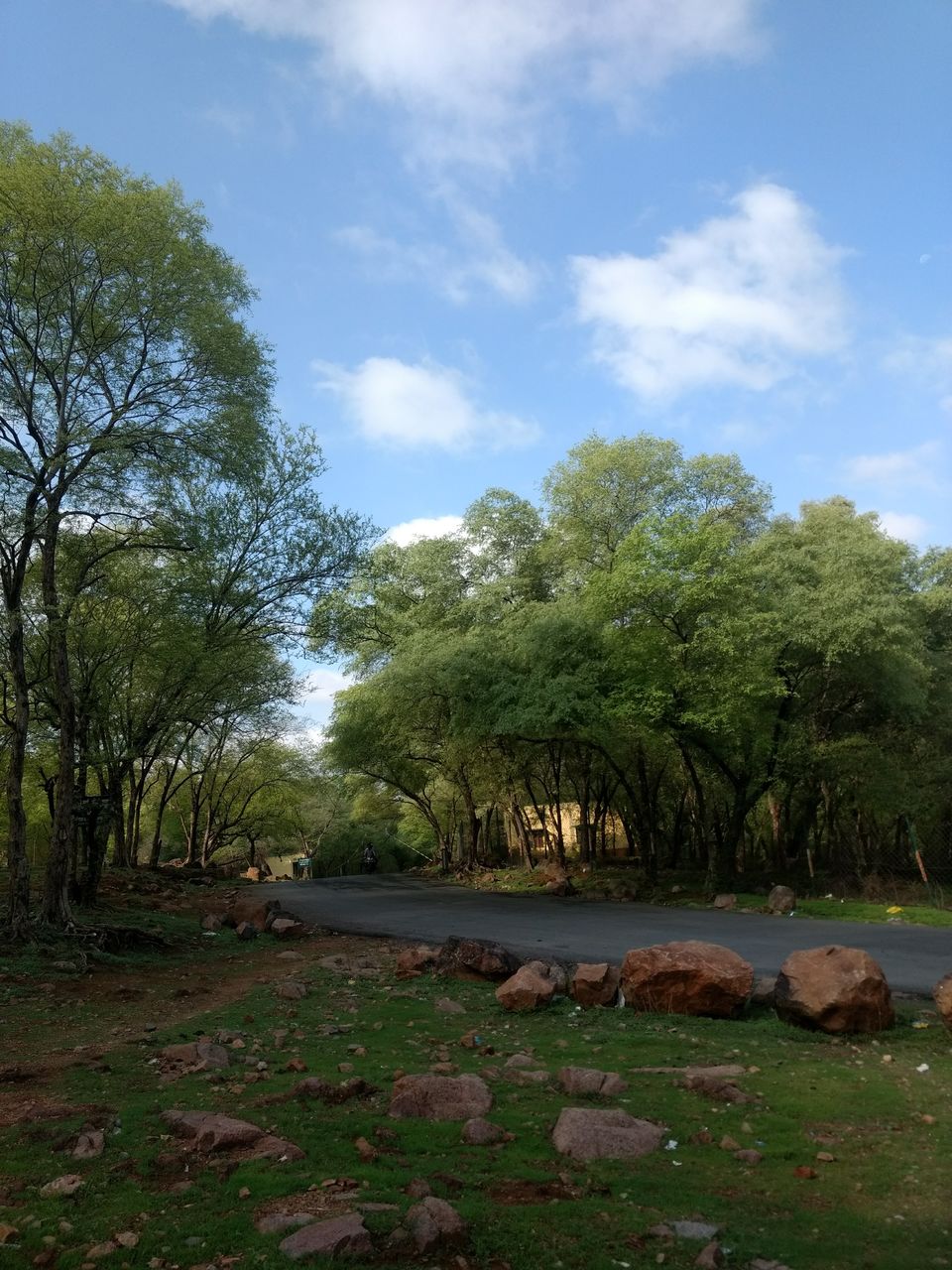 There are a lot of affordable guesthouses to choose from when in Orchha. I looked up a place on booking.com and found Temple View guesthouse which is located right in the heart of the village. And nearby to the famous Ram Raja Mandir and the Orchha fort. And the room tariff was a double room that was clean and spacious was just INR Rs.300. The staff were super friendly and gave me a few ideas of discovering the village on my own. Rooms in Orchha are available for mostly between the price range of INR Rs.250-500 and budget friendly for a traveller to stay longer. Orchha is a tiny hamlet and the people are friendly and the village is so clean. Although it's a tiny village, there's plenty to see. The rustic old village houses with water coolers installed through the windows and a few occasional paintings on the wall.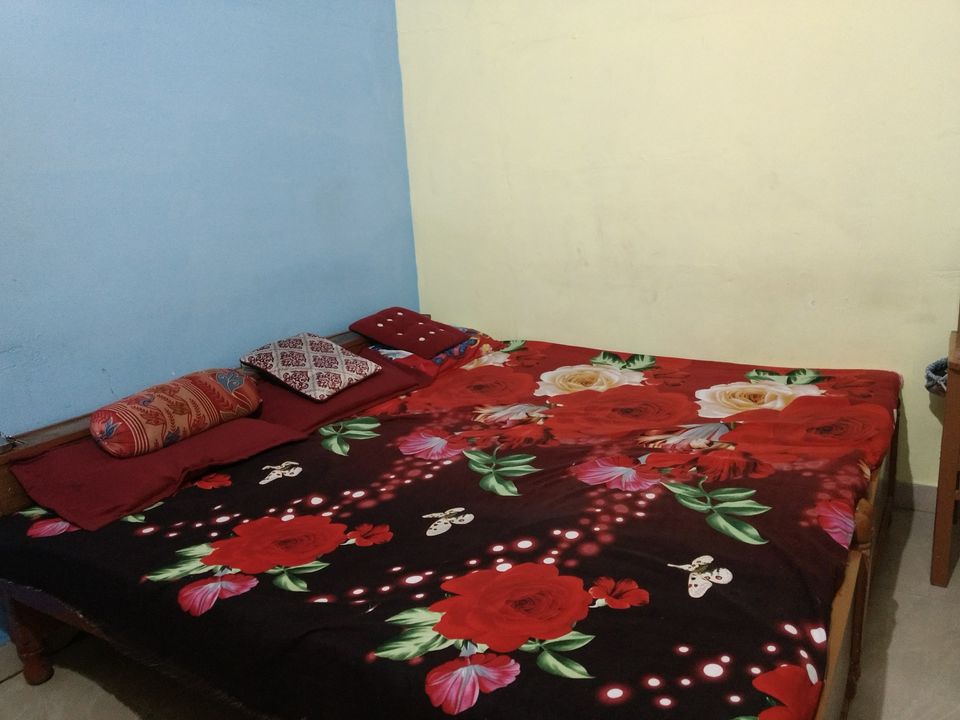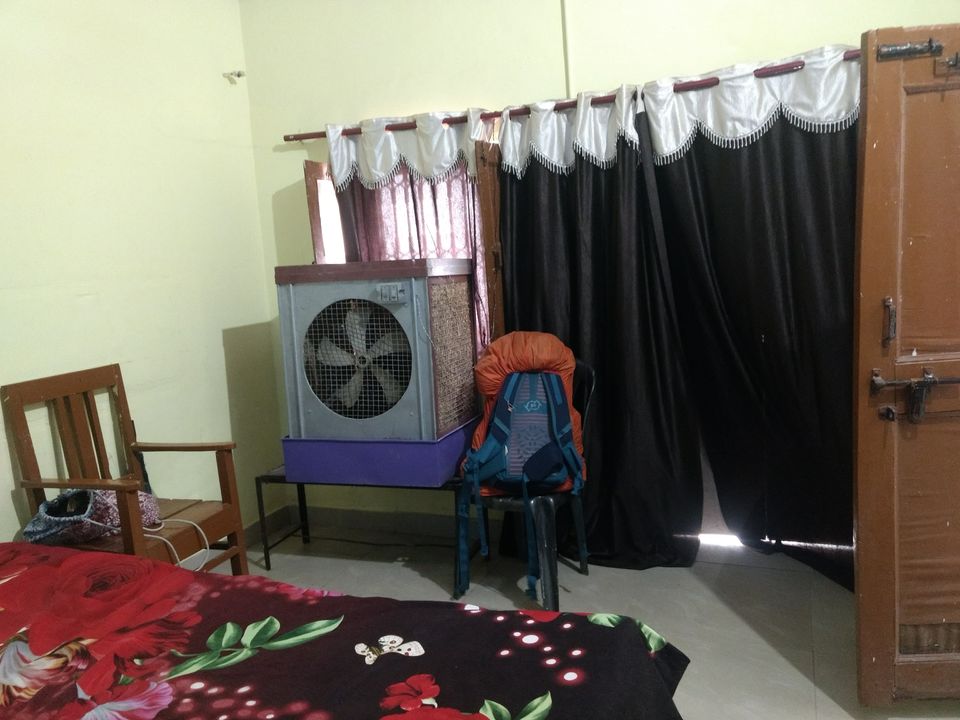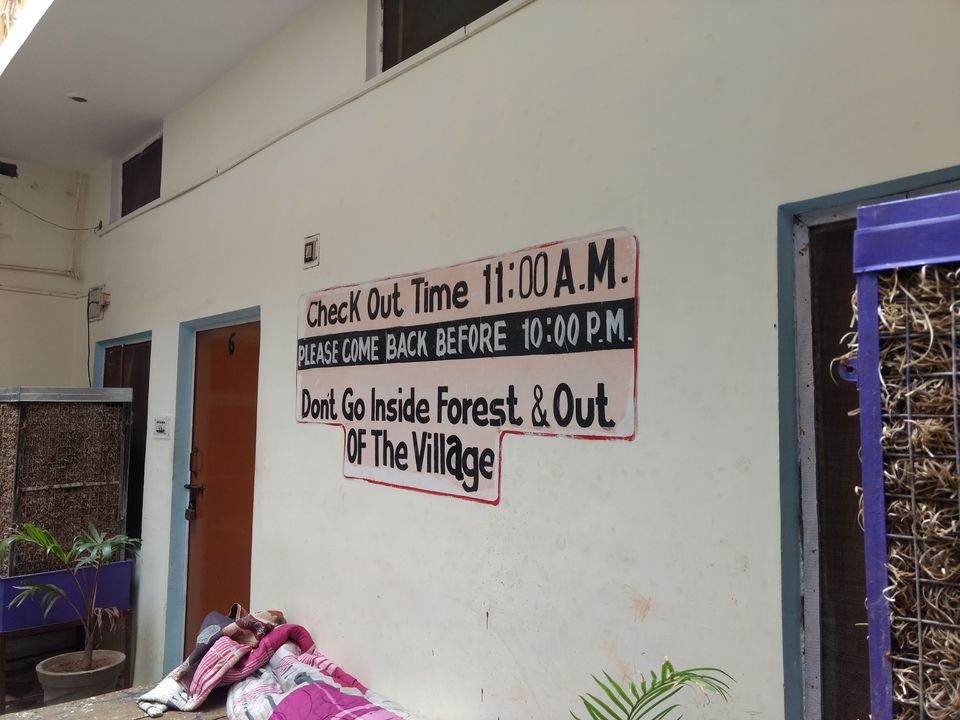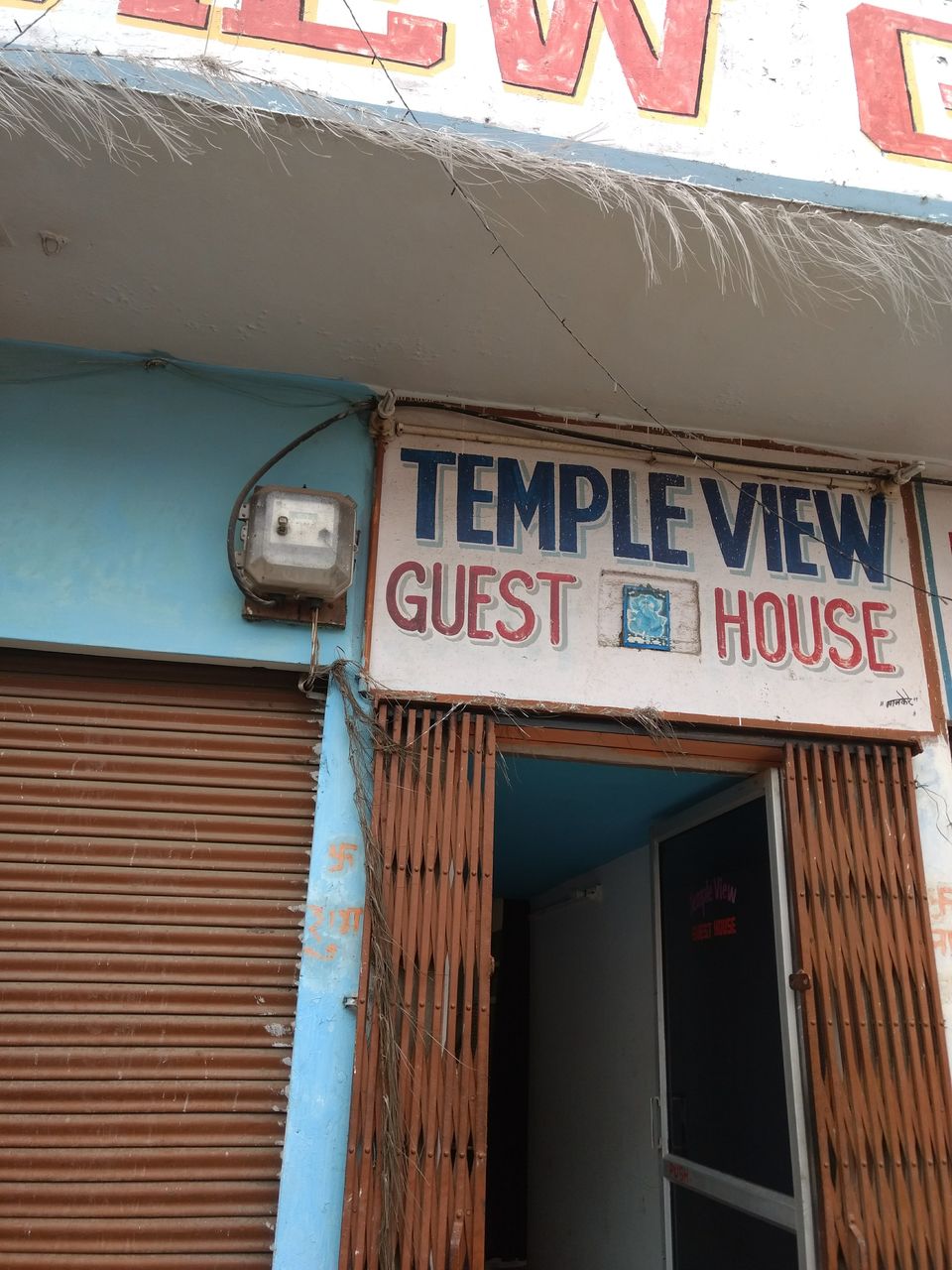 Places to visit:
Orchha Fort : Orchha fort also known as Raja Mahal was biult in the 17th century and the will take you back in time. It's old charm, famous architecture that is super detailed, old ceiling paintings that date back to the 16th century makes this place is a must to visit. The paintings on the ceilings are easy to miss and have Hindu mythological illustrations. It can take 3-4 hours easily to explore it. Make sure to take a water bottle along with you as there are no shops in the vicinity. A water purifier is installed near the second entrance, so one can refill their water bottles too. The jharokas or windows situated on the left hand side of the fort offer spectacular views of the city. I was lucky that the rain gods paid a visit the same day I arrived in Orchha and the it was mesmerizing to see the downpour along with the aromatic petrichor. I could literally see the entire village and the surrounding forest from here.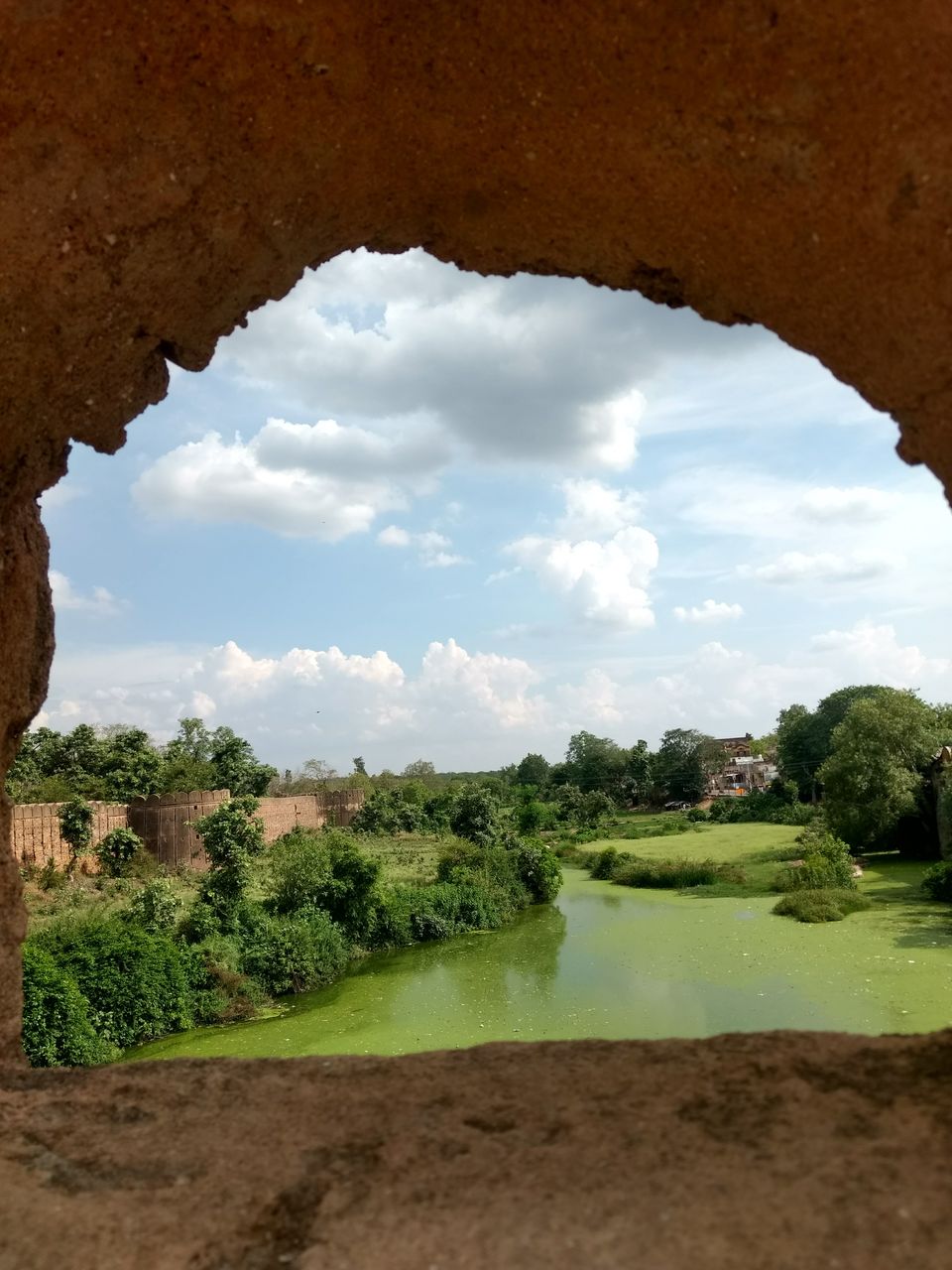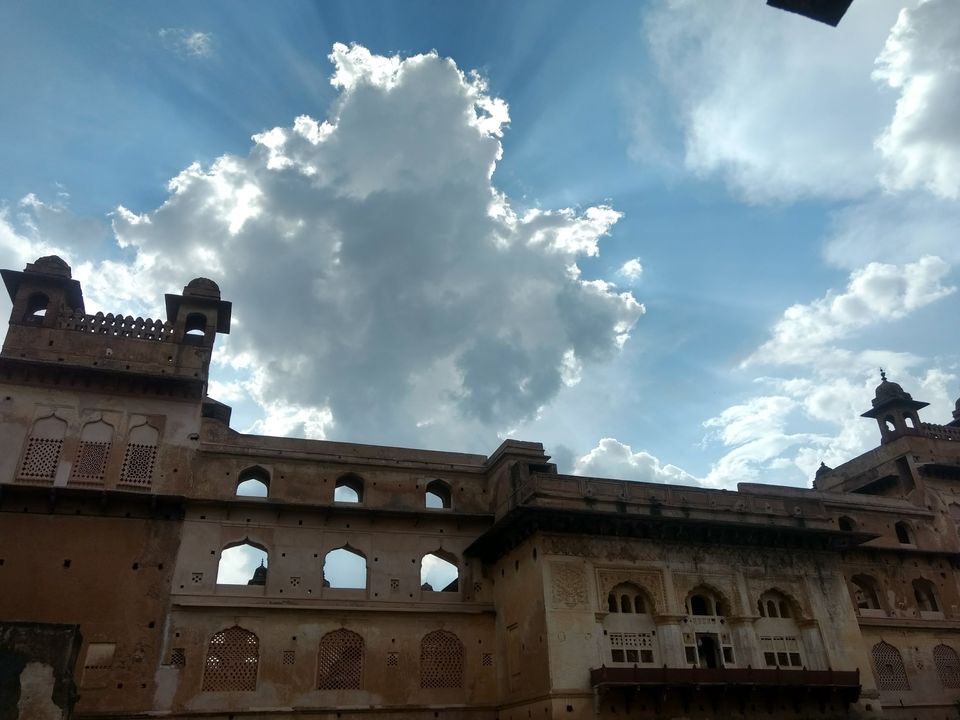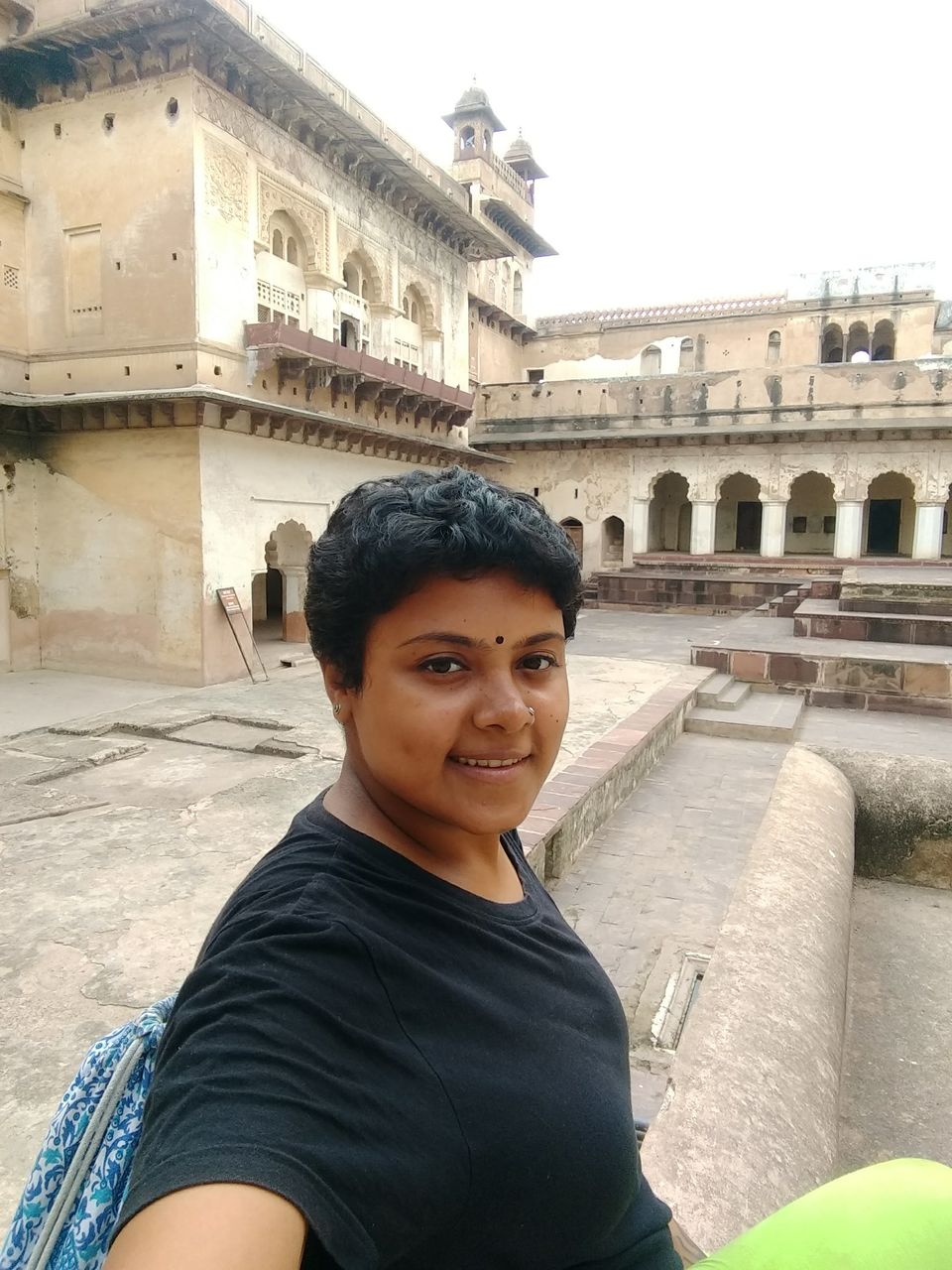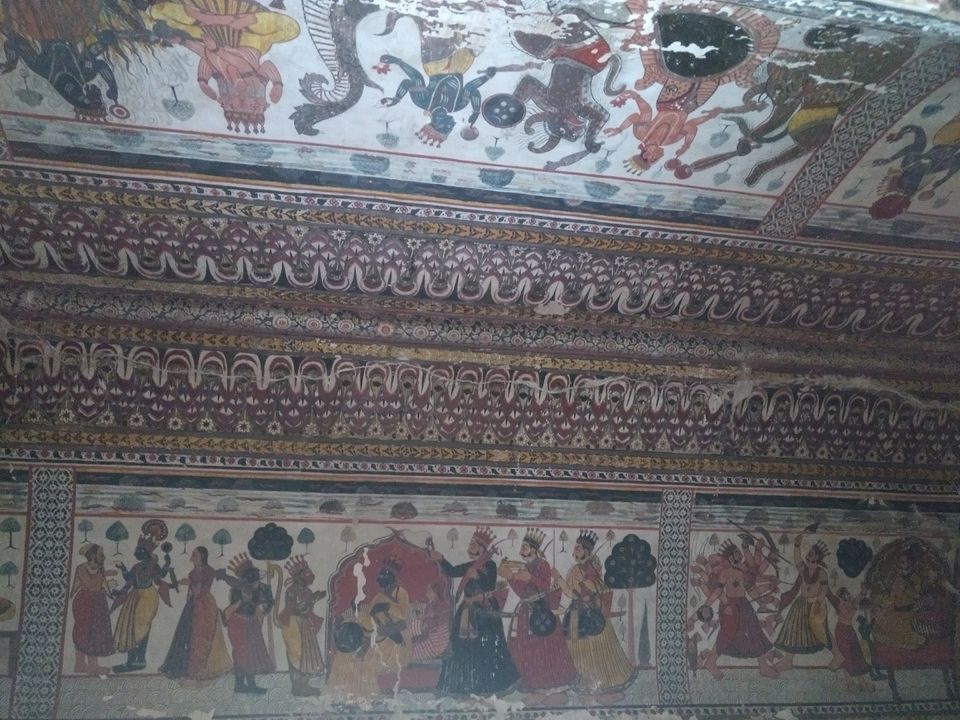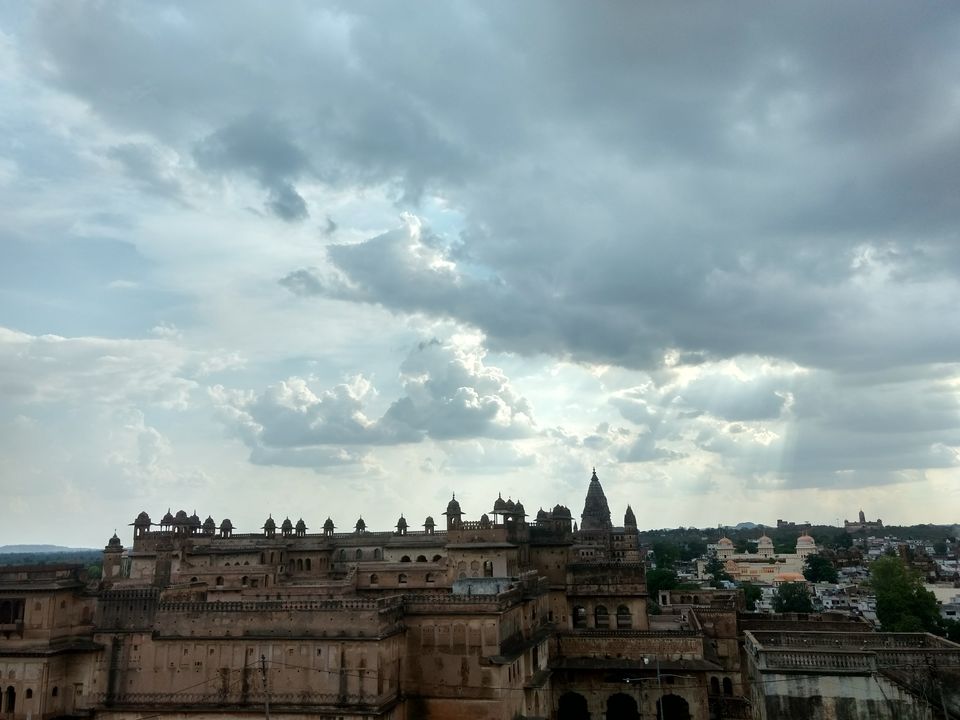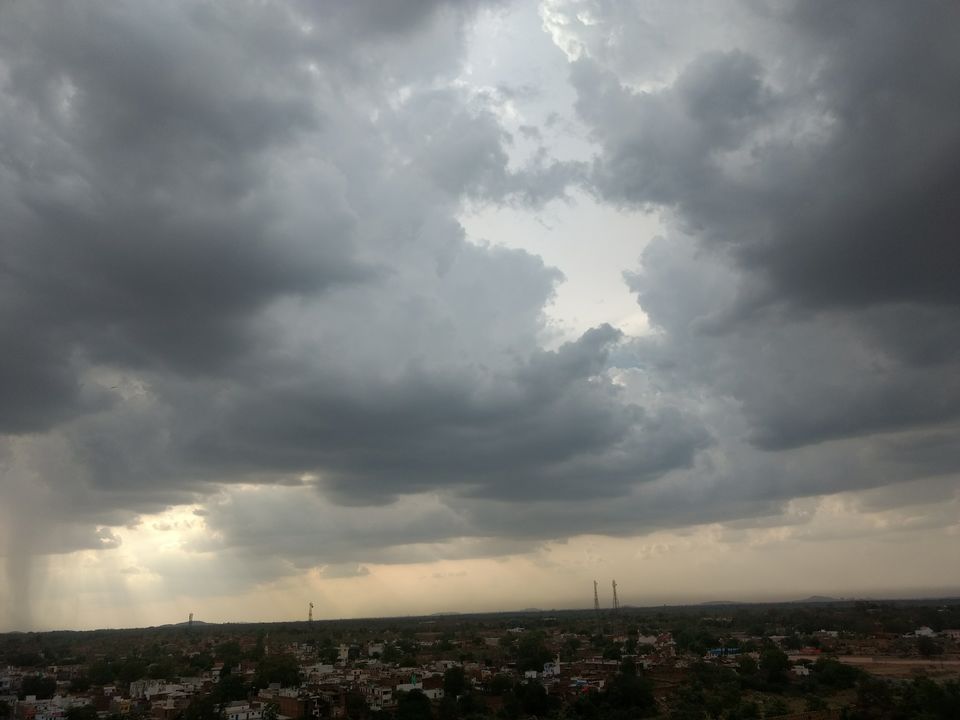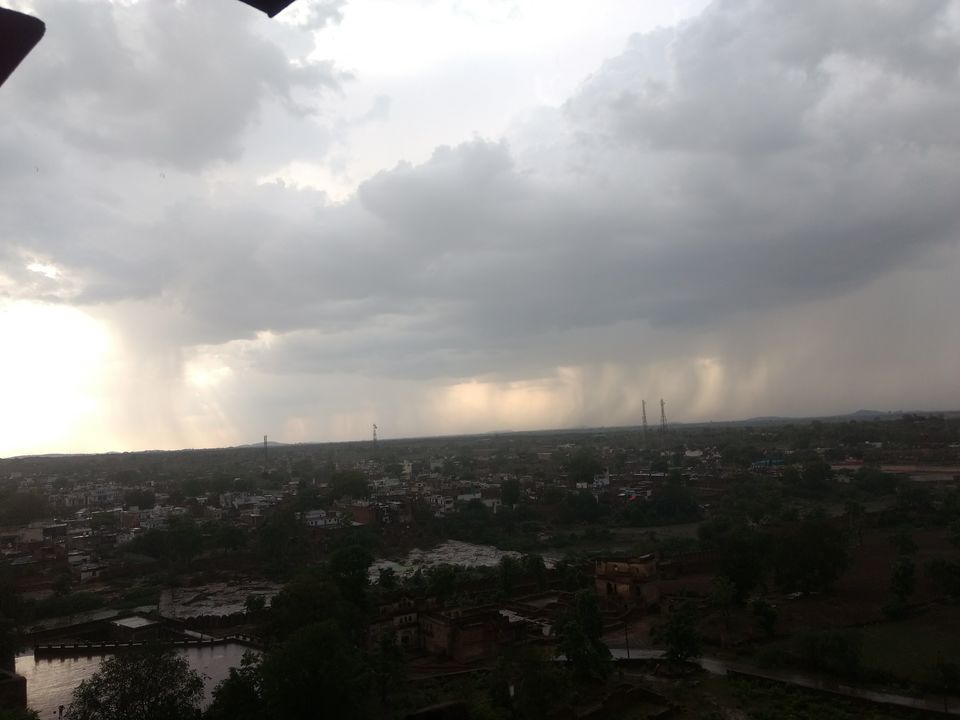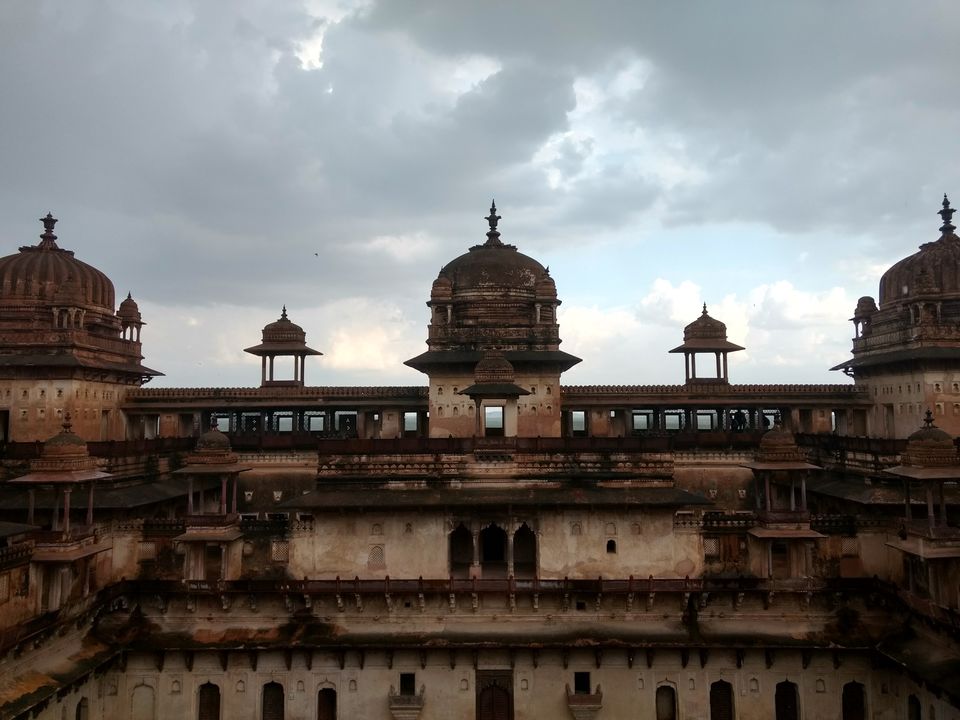 Ram Raja Mandir : Religious or not, one should visit the aarti that happens at 8 P.M. It has so much energy and positive vibes. Also there are a few eateries around the temple that serve lip-smacking sweet dishes mainly made out of milk. Also the Puri Sabji (Indian fried roti and vegetable curry) is super yum. Non-veg is not available at Orchha. There are a lot of street food options available and also a few restaurants. Try out the veg puff available at the main junction near the fort. It is a crispy baked puff with a vegetable filling and is topped with some shredded cabbage, aloo bhujia and sauces. Makes up for a good snack.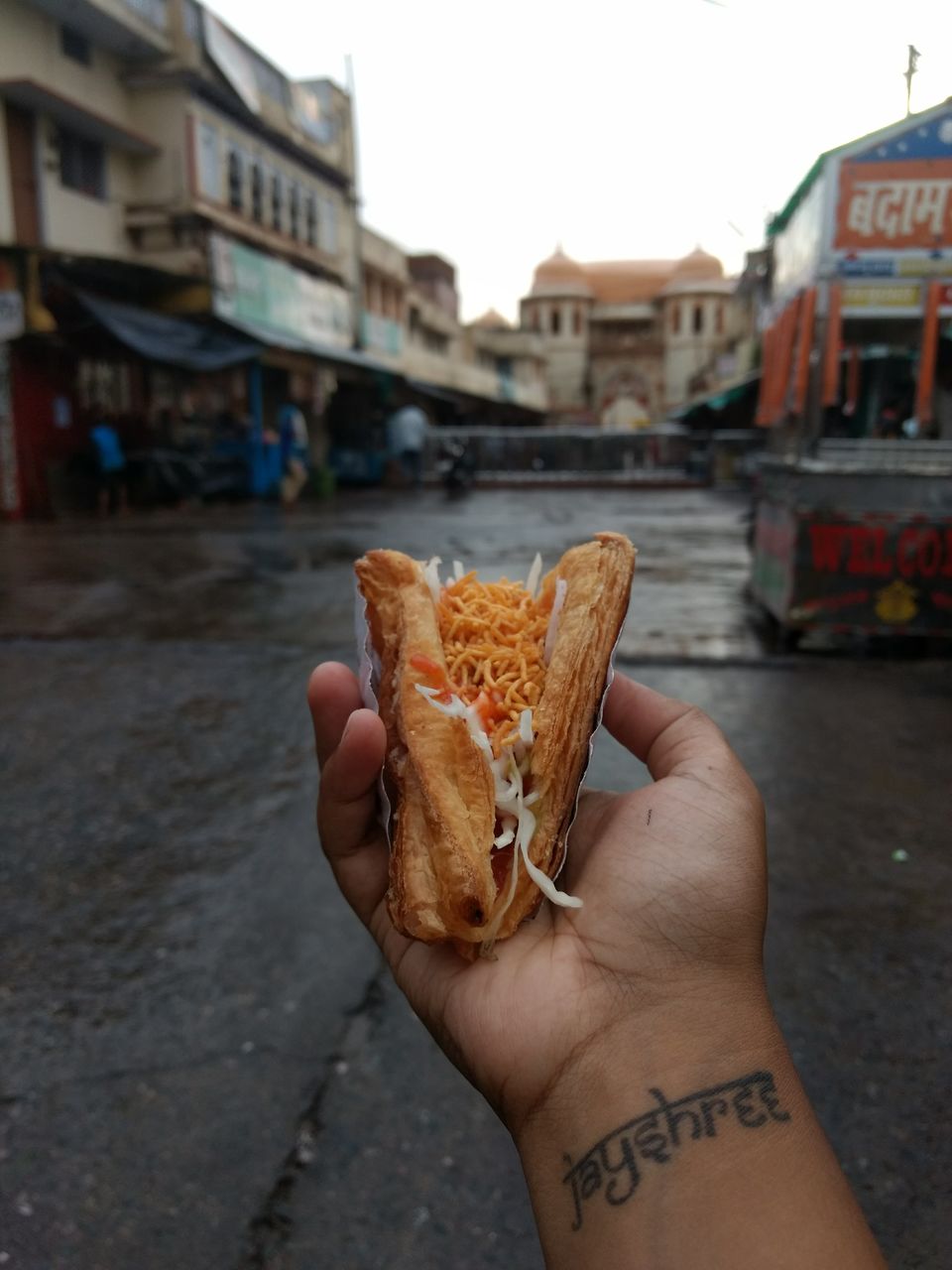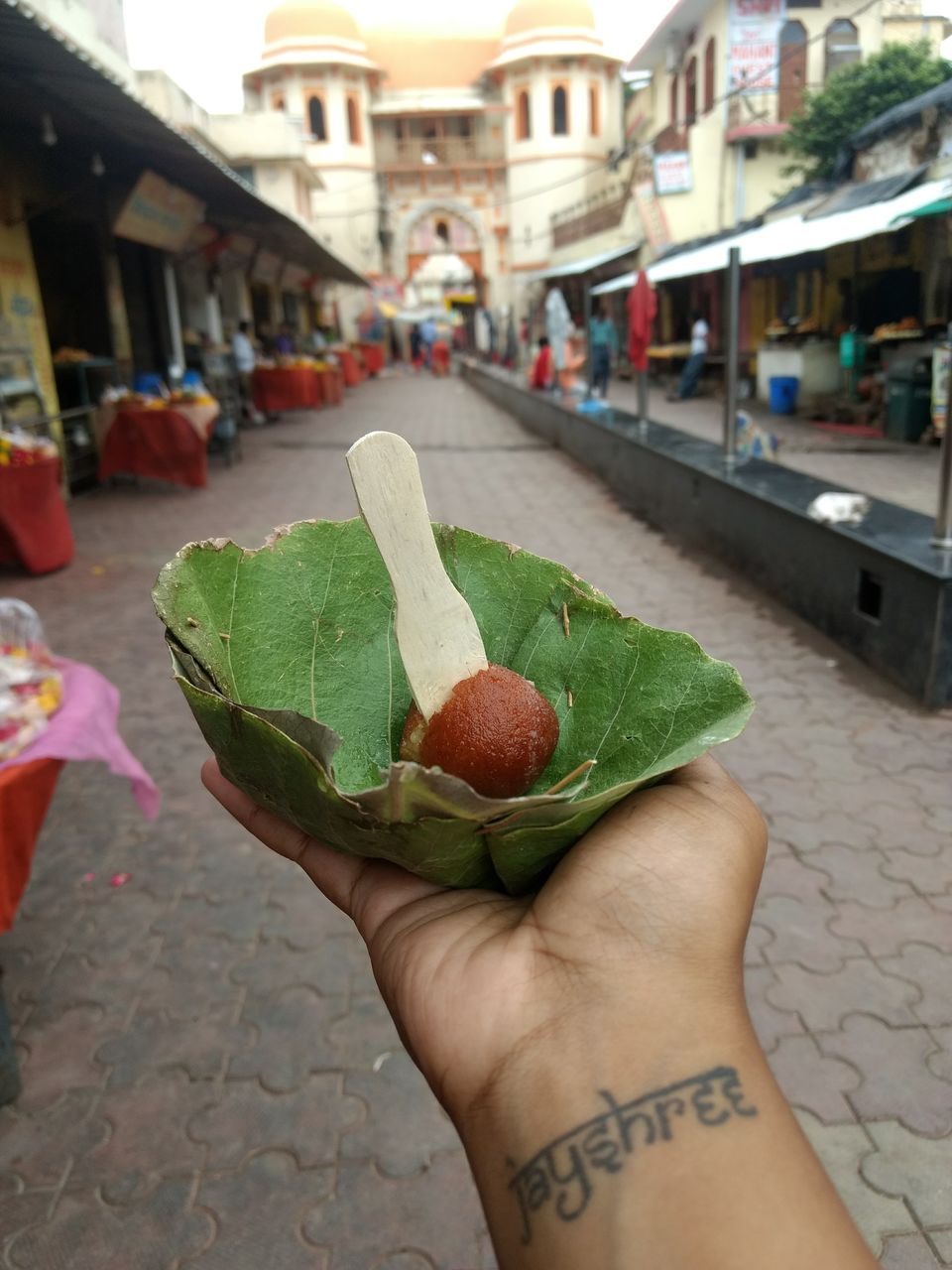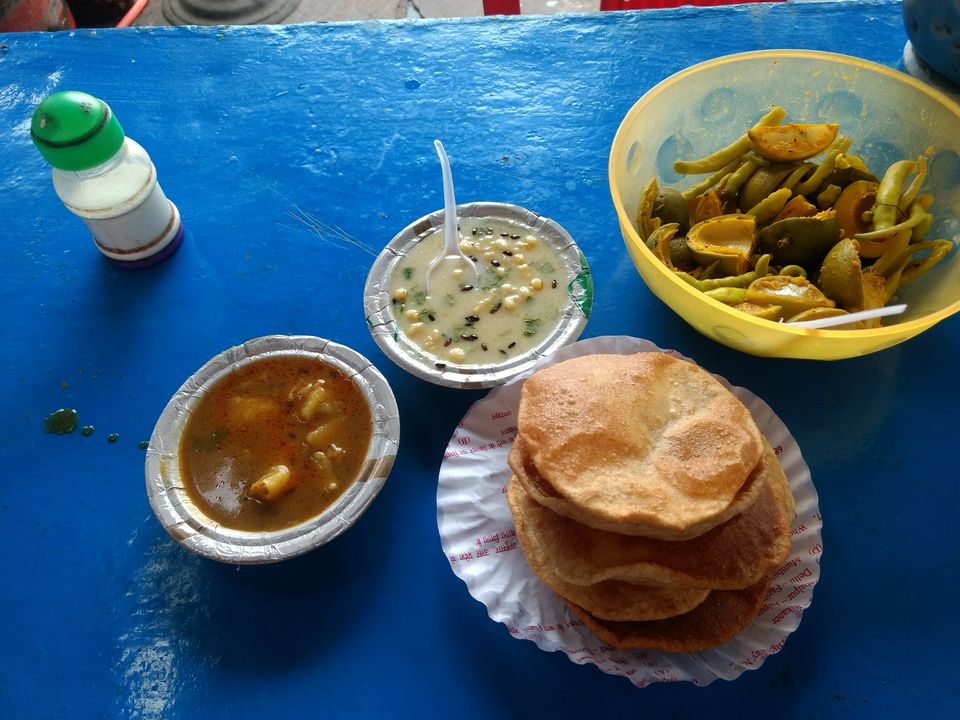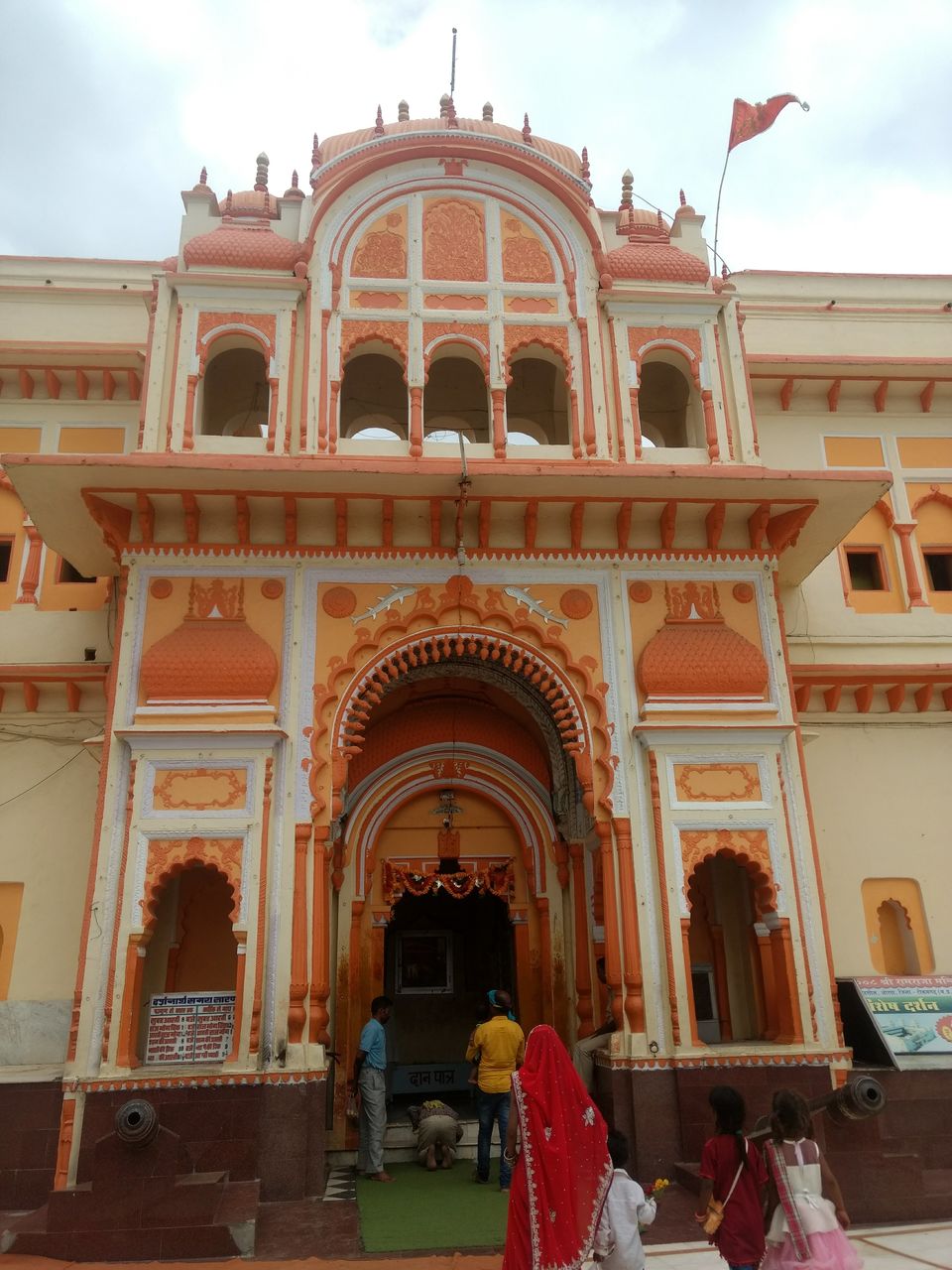 Laxmi Narayan Temple : This temple is more of a architecture delight than a temple. Has a combination of fort and a temple style that has stunning murals that depict mythological and spiritual themes. A combination of Islamic and Indian style of architecture. Definitely an art lover's delight. Also a good place to take some stunning pictures.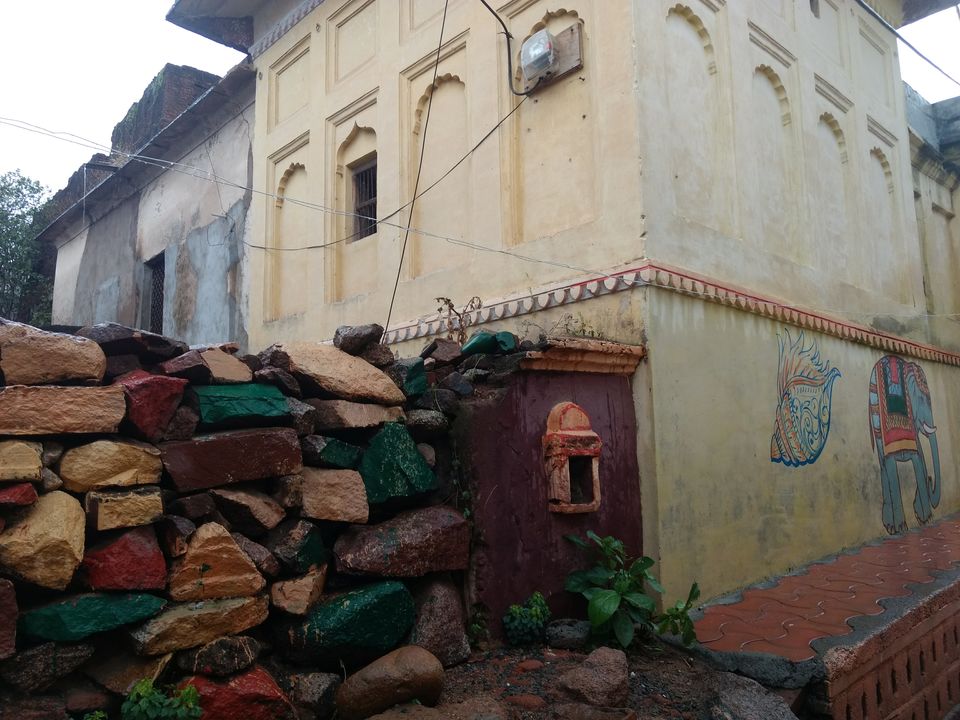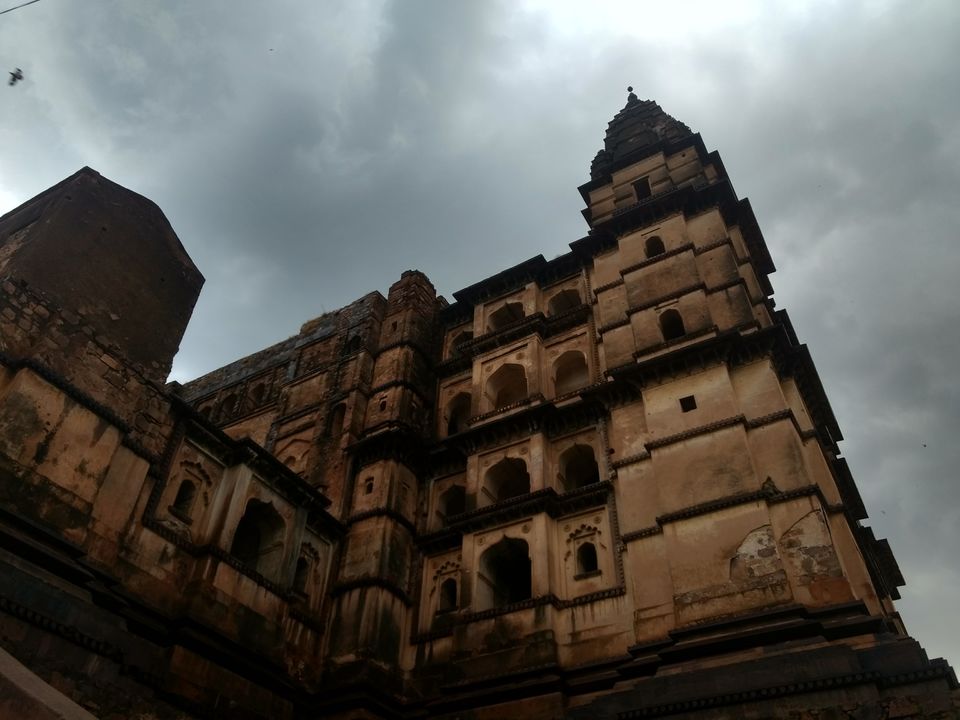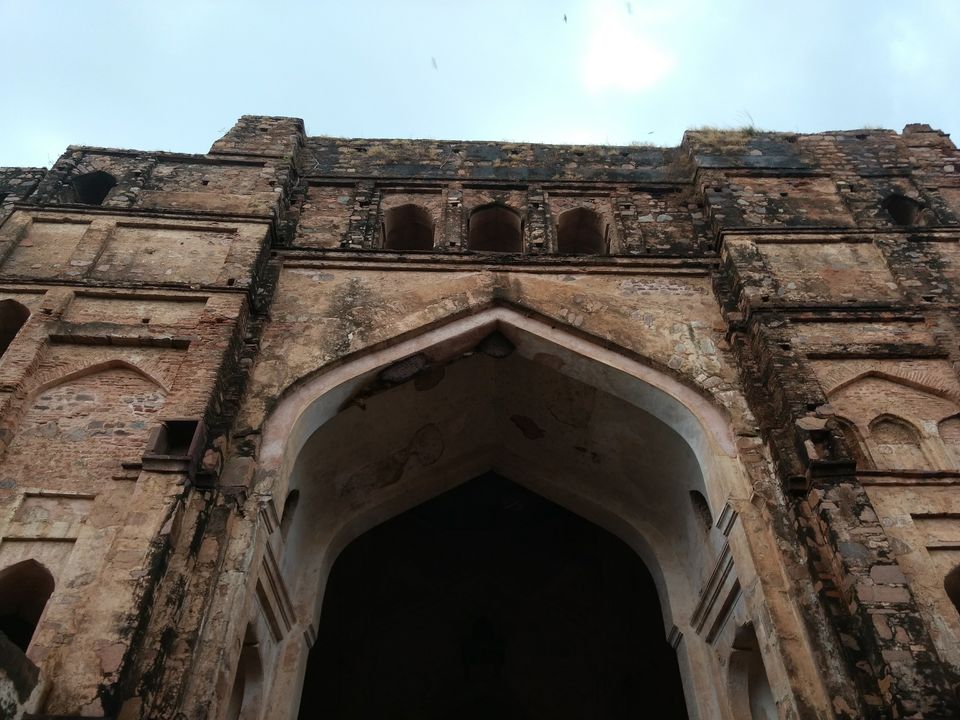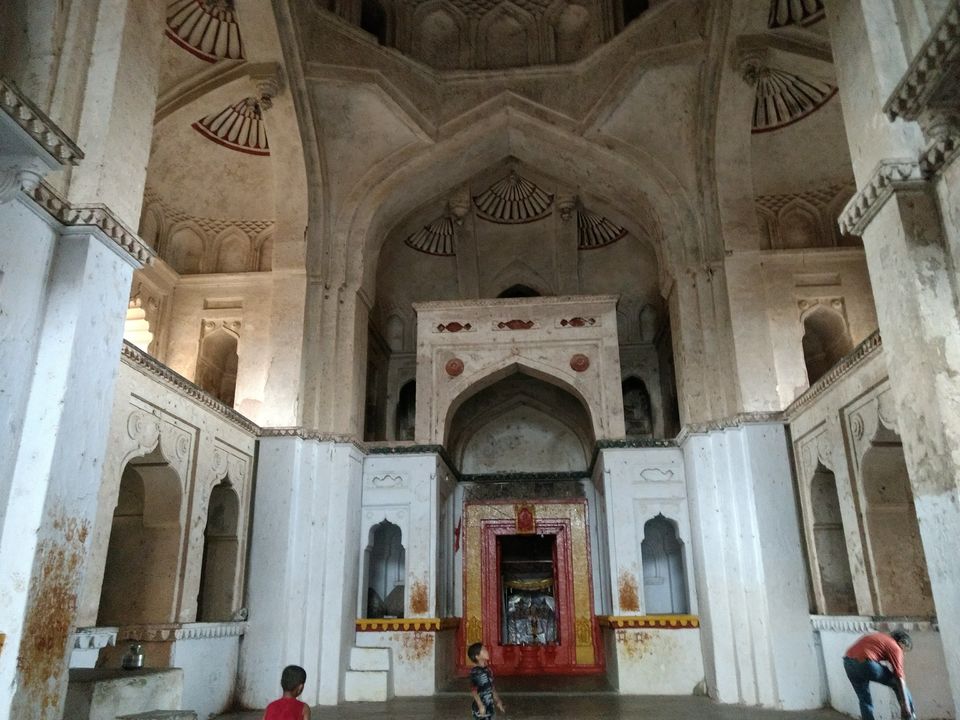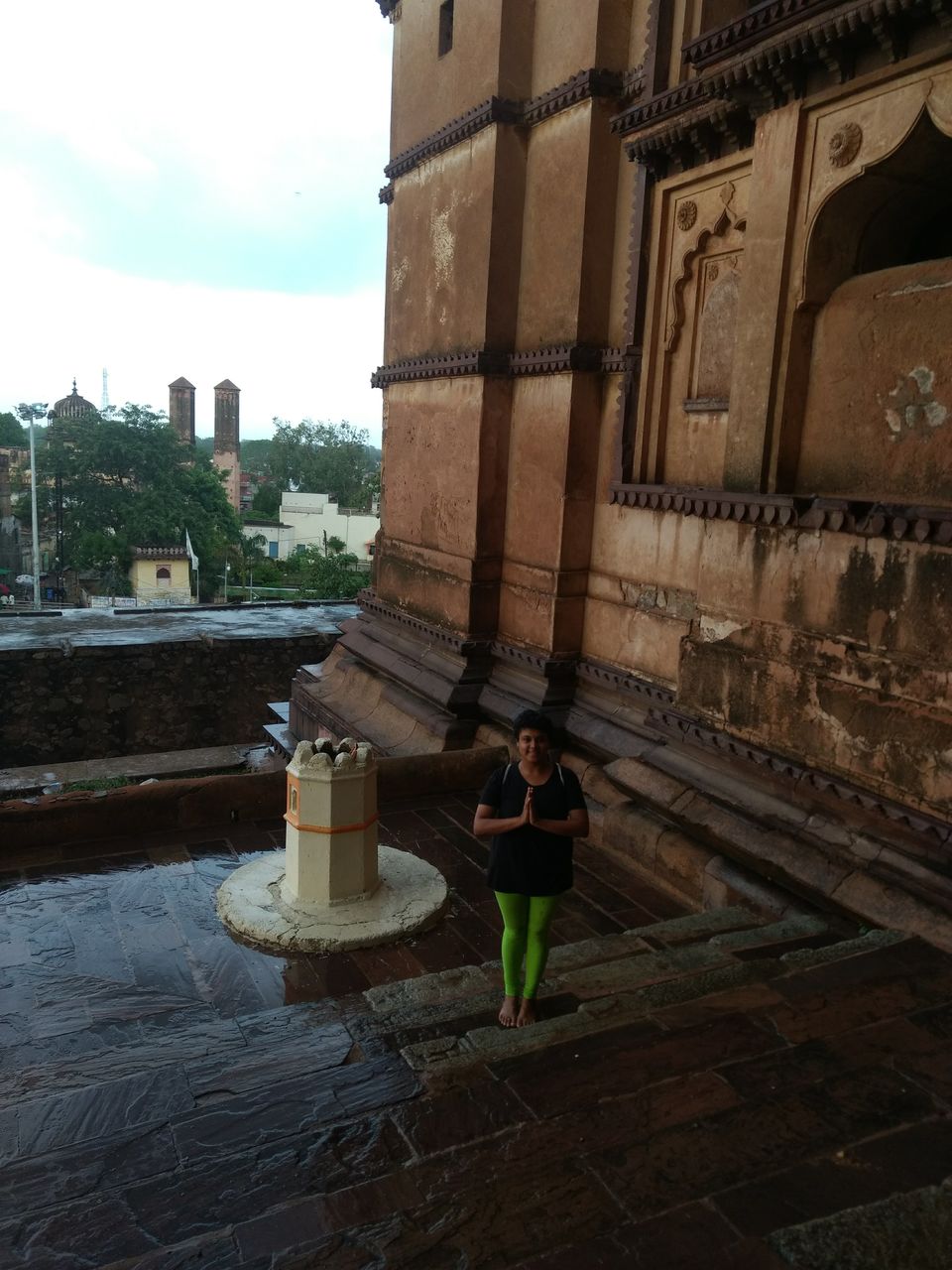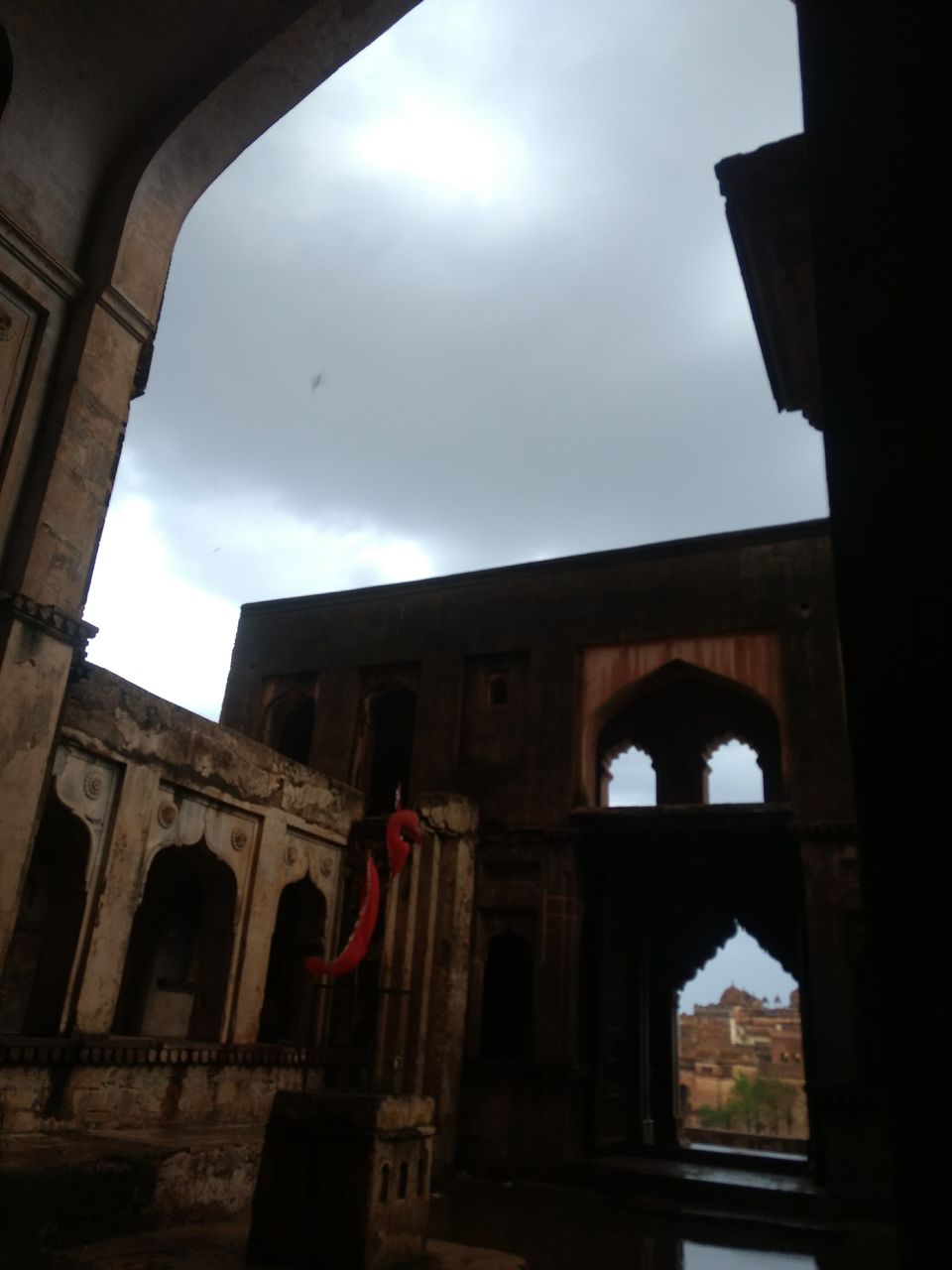 Shopping : The streets of Orchha offer hippie stuff, souvenirs, handicrafts, gemstones, jewelry. Be sure to bargain hard.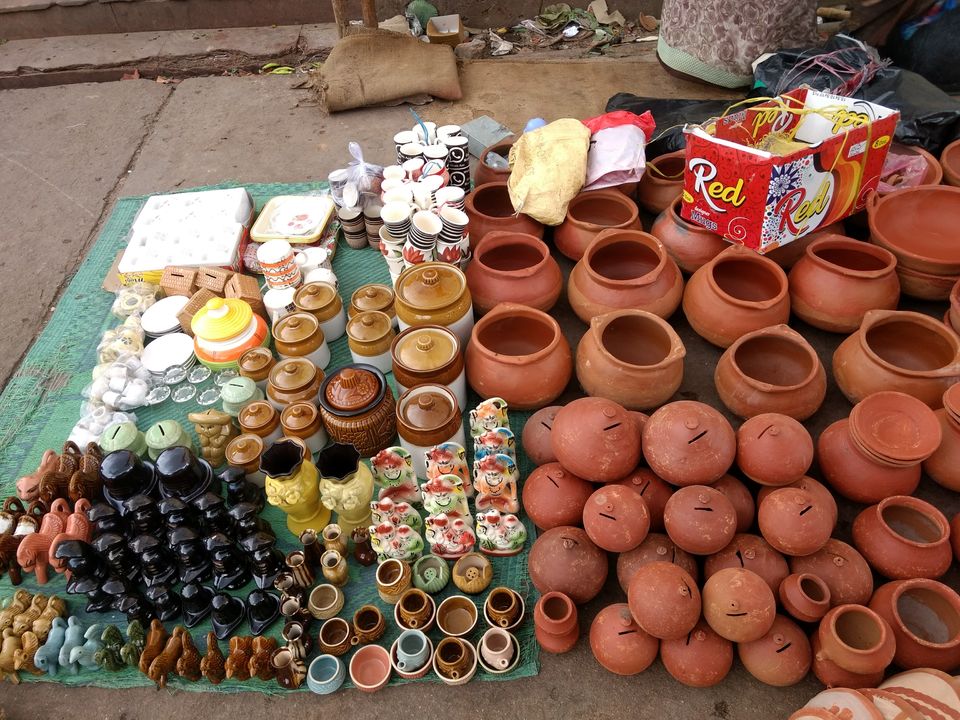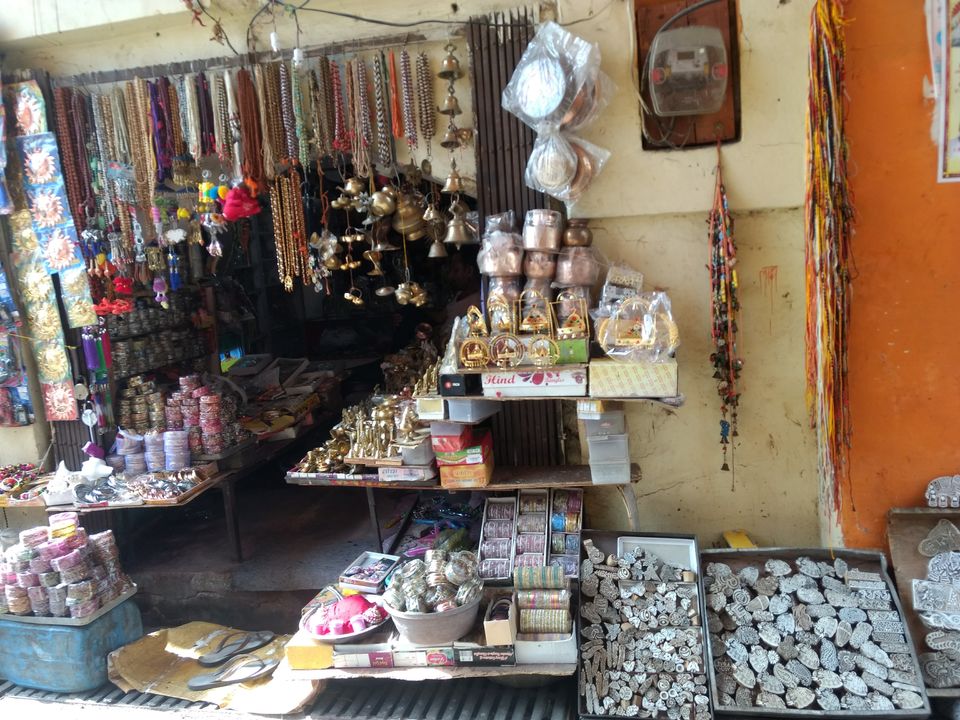 Betwa River : A 10 minute walk from the village will lead you to the river of Betwa. The river water is surprisingly clean and clear. One can take a swim here near the ghats, mornings are more preferable. It's so scenic and calm. I almost lost a track of time here.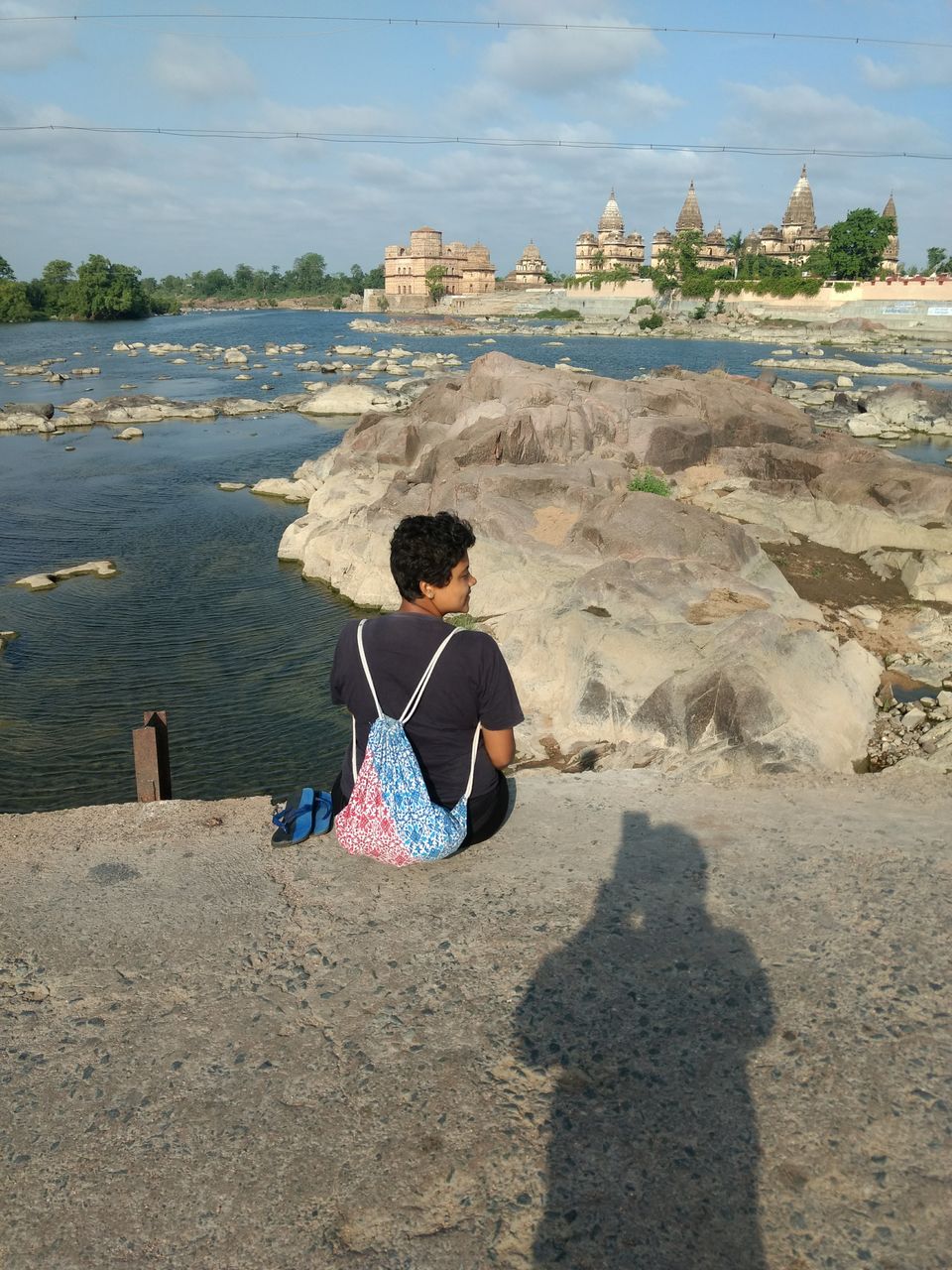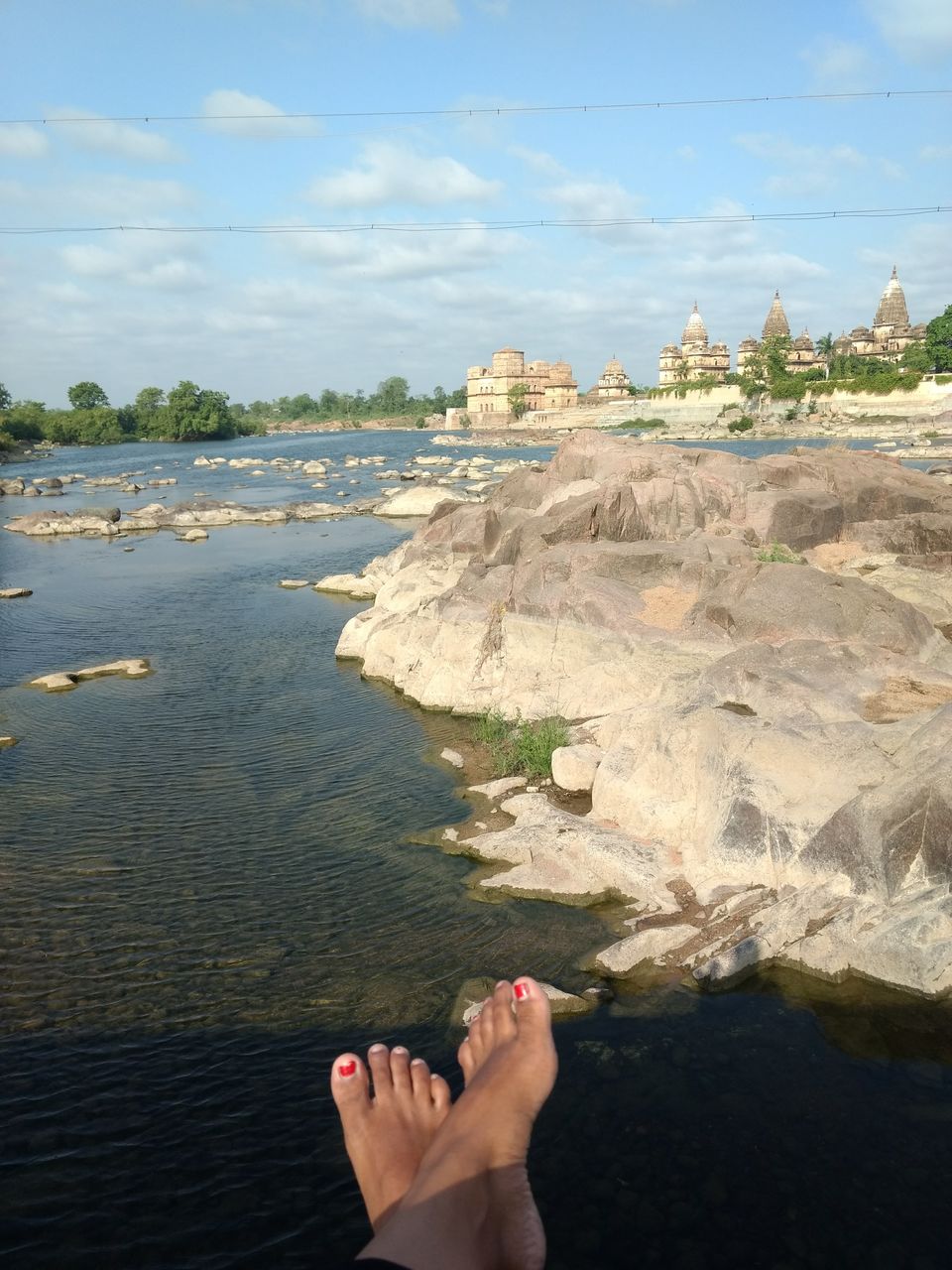 Cenotaphs : Right beside the Betwa river, there are these cenotaphs, also known as "Chatries" that celebrate the history of Orchha. Built mostly in the 17th and 18th century by the rulers of Orchha, these cenotaphs add so much beauty to the landscape. They are located on the Kanchana Ghat on river Betwa.
Orchha Wildlife sanctuary : After one crosses the river through a newly built bridge it leads you to the jungle or The Orchha Wildlife sanctuary starts here. The roads are in excellent condition and one can also cycle in the sanctuary. The different shades to green and the flora will get you get enchanted for sure. Again, lost track of time for its was so peaceful. I ventured here early morning when the sanctuary has not even opened.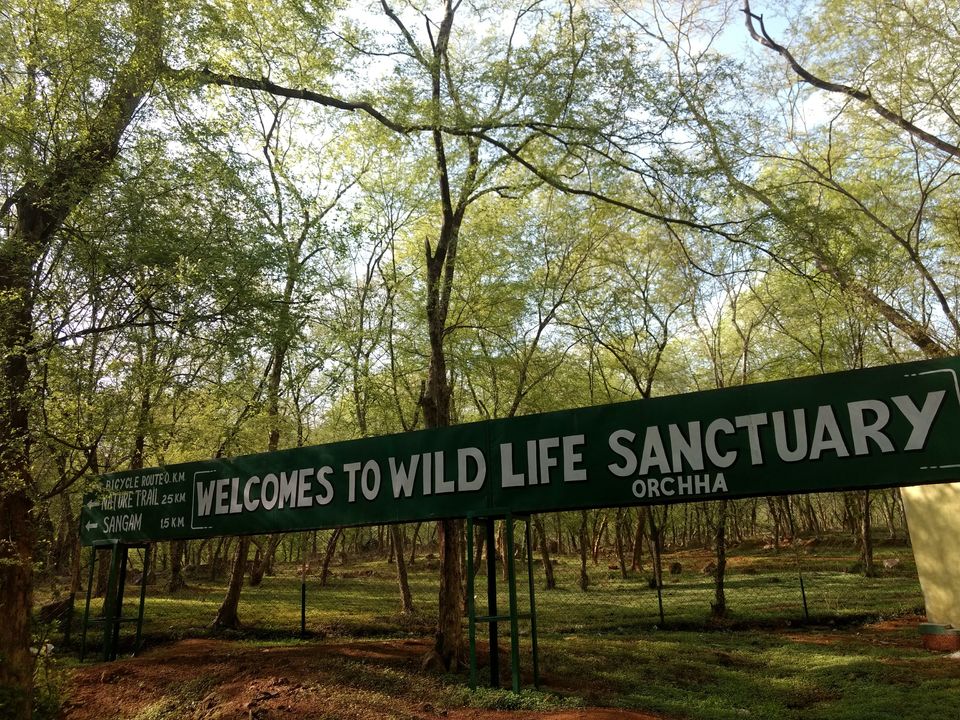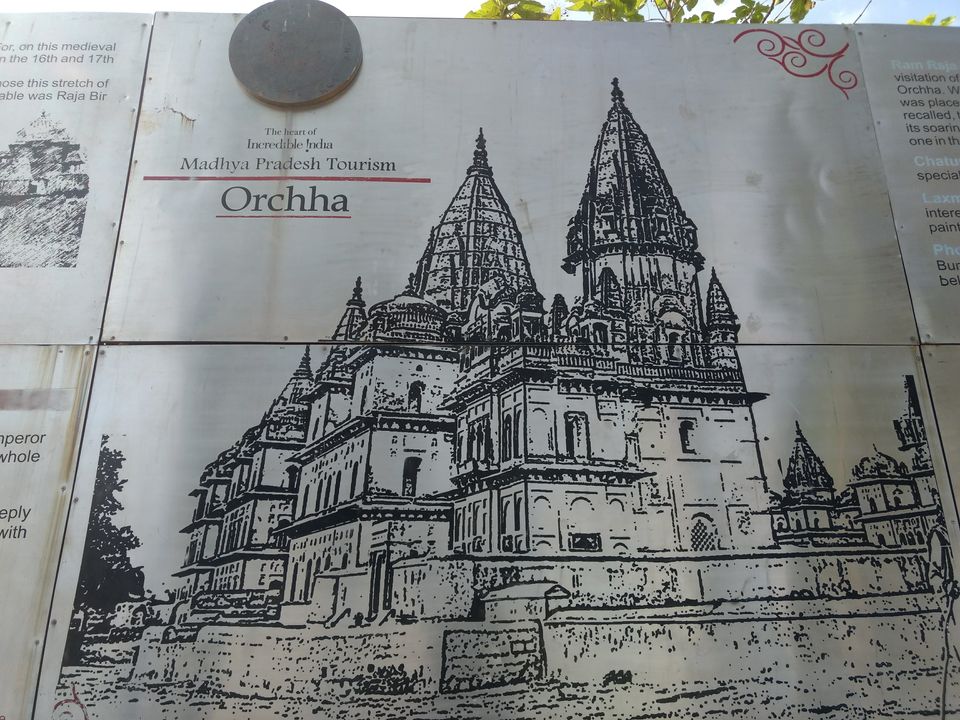 It was the break I needed to lose myself in nature, in artistry of architecture. Orchha took me back in time and its people made me feel at ease. And I was happy I choose to visit this tiny hamlet in Madhya Pradesh. Even more lucky that the monsoons hit Orchha the first day I travelled here and the grey skies matched with the fading walls of the Orchha fort. Petrichor enjoyed with hot cups of chai and made to order potato bhajiya (fritters). Also cows in Orchha walk across the road, will randomly block your way and probably stop by to say Hi or MOOO. They are just searching for food and are friendly.
There are more places to visit too, but I was here just for 2 days roughly and explored the places at my own pace. So if you are looking for a place that's not touristy, is budget friendly, with good vegetarian food, architectural porn, you must visit Orchha.