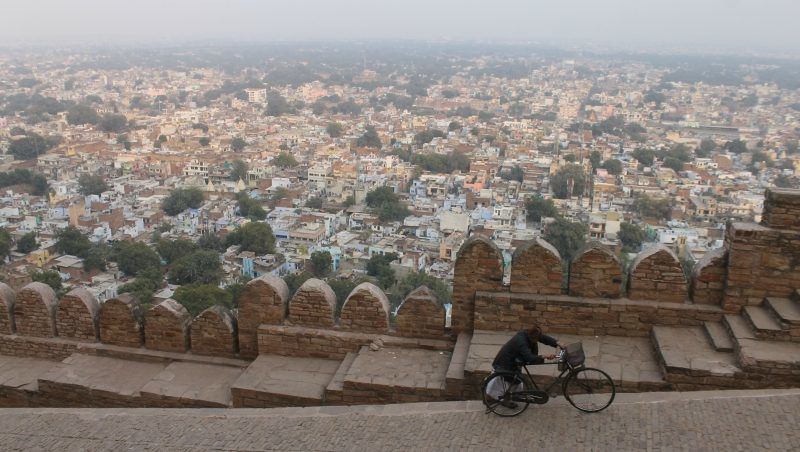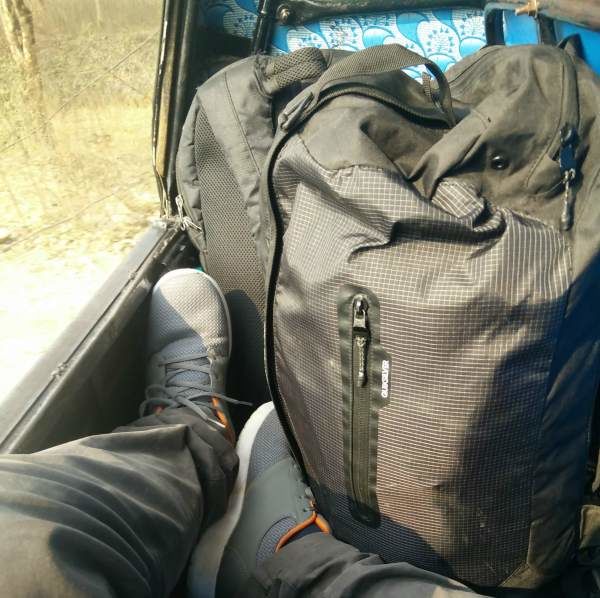 At Jhansi station just at the border of Madhya Pradesh, a bit worried about how I would reach in time, I frantically looked for something that would take me to Orchha. Two minutes later, a voice entered my ears. "Orchha, sir Orchha chalenge?" - just got lucky! I rushed towards the shared auto where people were actually flowing and hanging out. I somehow managed to 'adjust' myself onboard, finishing a 5 minute ride to the Jhansi bus stop. Here, I bumped into the backseat of another auto. This one was rather too comfortable. Me and my backpack were chilling like two bottles of beer on a banana beach. The ride to Orchha for merely Rs 20 completed in around 30 minutes.
Discovering the perfect route, the journey was fun and now here I was at my destination - Backpacking is indeed a learning and accomplishing process.This time, I decided to explore the northern and eastern part of Madhya Pradesh which are not at all far from Delhi, starting my journey from quite-a-city Gwalior to the Kingdom-miniature Orchha(via Jhansi) to the R-rated Khajuraho and finally ending safely in the safari of Tala(also known as Bandhavgarh). Here's the recollection of all my memories from the invaded roads, transitioning between cities, talking about how I found the best food & my journey around the bunch of people I met on my way.
Gwalior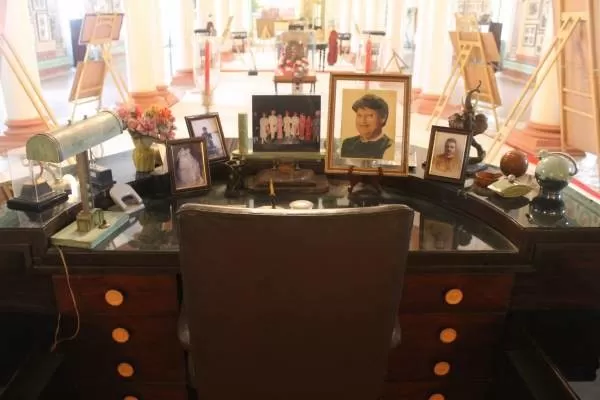 City at a glance Half a day had already passed in a six hour super-fast train journey from Delhi to Gwalior. Should I fill my stomach in Gwalior and then go places or do the other way around? The dilemma hovered around my head for quite sometime, but was solved when I soon found myself amidst the bustling streets of Naya Bazaar, the oldest market in town. Following the incessant cramming of people on the way, it was hard to stop for a meal. Luckily, a hygenic restaurant Vyanjan Family restaurant, caught my eyes. It stood enroute to Jai Vilas Palace - a palace that depicts the royalty of Scindia family in the most incredible manner, stretching across with the big lawn and a stunning variation in interior decor over the generations.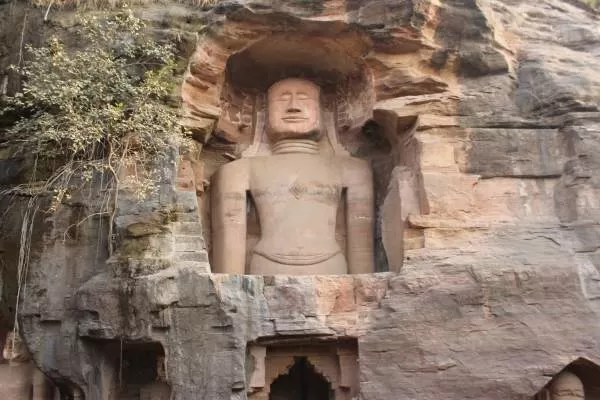 Swaying in and around the Gwalior FortA Must- do - I strongly recommend to get down at the Urwai gate of Gwalior Fort and then take a walk to the fort(almost a kilometre road trek) as you would be accompanied by idols of Jain Tirthankaras carved around the hills in different asanas(postures) throughout the climb.
You can count the idols, compare their heights and laugh at those lazy buggers taking their vehicles till the fort. Among the incredibly tall idols, the tallest one is of Bhagwan Adhinatha(58 feet 4 inches - just imagine).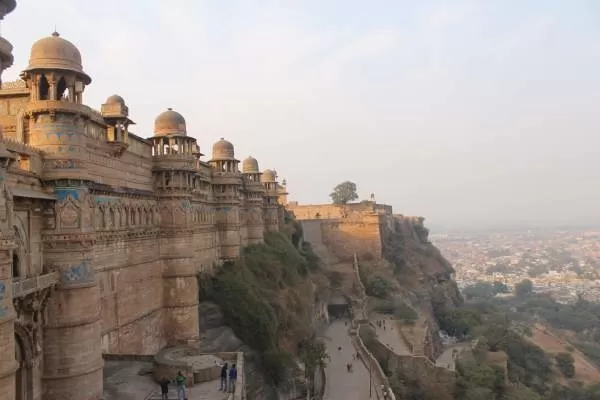 Inside the fort, the main attractions are - the turquoise tiles over the Man Mandir Palace, Labrynth inside Shah Jahan Palace and Karan Mahal(tickets are required for these, rest are free), the picturesque sunset of the city from Gurudwara Data Bandi Chhor and the easy-go-sliding exit route from Hathi Pol(elephant) gate.
Keep up the hunger at SS Kachoriwala and Bahadura Sweets I was so tummy-tized by the taste of Samosa at SS that I couldn't stop myself from gorging on them. Also, there's a customary 30 minutes long wait for the Kachori being prepared for the evening crowd. Glad they accept Paytm in the world of demonetization (and cash of course). Kachori and Samosa with their secret chutney in the leaf bowl is a must-try!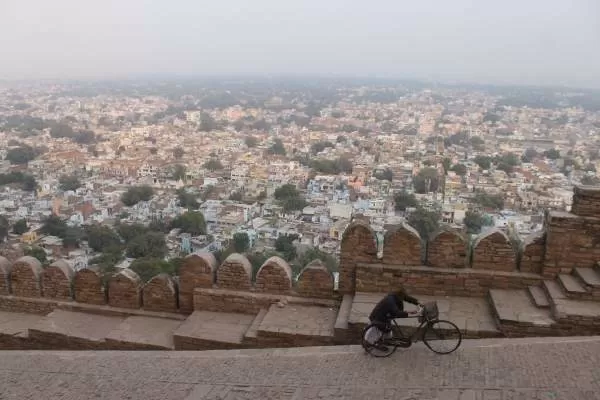 While walking towards my hotel( Hotel Balaji, Naya Bazaar), I discovered Bahadura Sweets, where Halwais were busy grinding milk and shaping the shudh-desi-ghee Ladoos. They give Ladoos in pieces(Rs 20 per piece) unlike Agra, where none allowed me to grab a piece of Petha.
The day was high on food hunting and low on sight seeing. That's it from Gwalior. Tomorrow morning, I'm heading straight to Jhansi, and on my way to Orchha, just 18 kilometres from there.
I'm standing right across a gun point, I'm stuck here for 3 hours. Surrounding me, are a couple of people fiddling with every other object on the train. The rest are busy making weird noises, though, some of them aren't a part of the journey anymore. ut that's how it is supposed to be - Welcome to the passenger train with a bunch of soldiers and a huge crowd commuting with me on way to Jhansi.
Orchha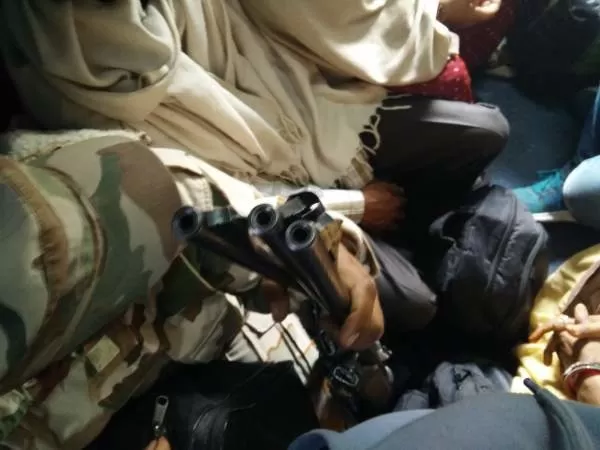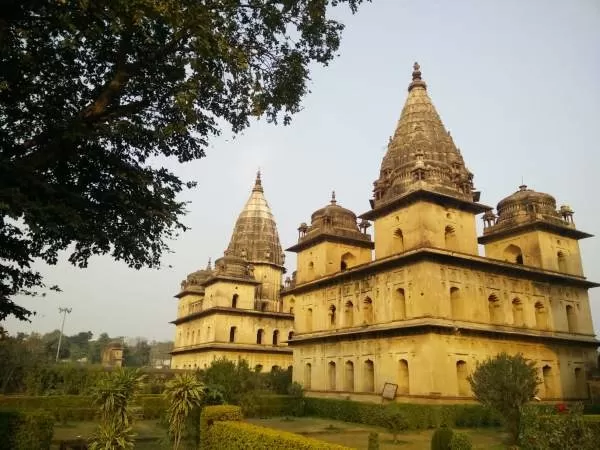 Everywhere on the internet Orchha was called the Hampi of Madhya Pradesh and it does feel great to visit the contemporary when you have seen the other two years back, here's my Hampi story. Walking could be the best mode to explore the little town. A guy at Ramraja adventures told me about the activities they host, such as river rafting, Kayaking, cycling, forest stays and much more at affordable prices - sounded interesting but skipped them due to time crunch.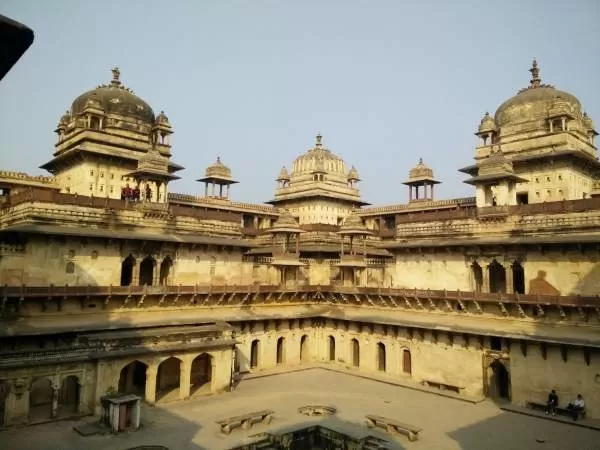 Make your way to Mahals at the cheapest price You just need a single ticket worth Rs. 10 to get into all the monuments in Orchha. The ticket is available right outside Raja Mahal, right behind the board of Hotel Sheesh Mahal and restaurant. Isn't that cheap thrilling? Raja Mahal is the best place to enjoy the evening light and sound show, heading on to the Jehangir Mahal where you appreciate the top view of the small town - feel the fresh air and gaze at all the tall temple peaks. The mesmerizing beauty of Betwa river and small ruins (place where common man in the kingdom used to live) in the areas of Jhorkas leaves you spellbound.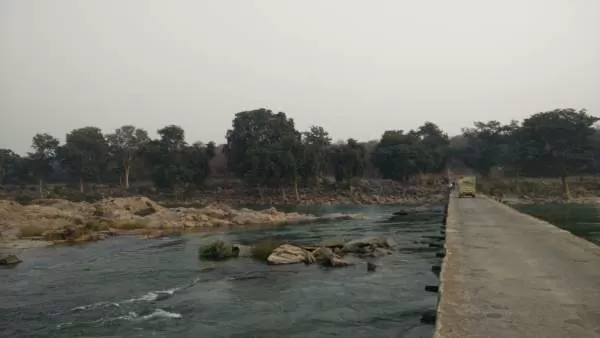 Hault at the open bridge at Betwa river I was walking cautiously on this small, fenceless but strong road over the Betwa river where all humans are going gaga to capture the mesmerising view of the river flowing under the bridge and sun to be drowned very soon. I managed to take a 360º video without messing around with any humans and vehicles.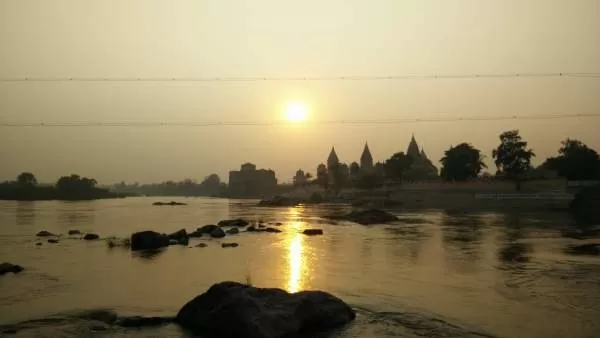 Sit back on riverside and enjoy the sunset near Chattris Located on the bank of river Betwa, Chattris(Cenotaphs) offers the best view of the setting sun. You do have to walk for a kilometer to reach here from the Raja Ram Mandir, the largest temple in town.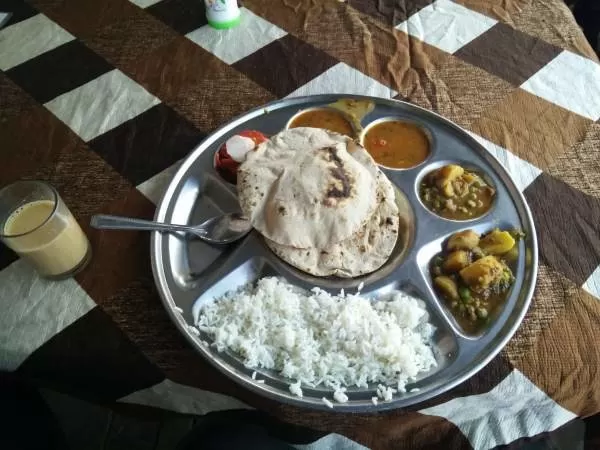 What did I just hear - There's BEER ! I was bit curious about the mug that a couple of foreigners were holding. My jaws dropped off when I came to know that Beer was being served in that mug. Not for most of the crowd present there, it was served to only a few people who knew how to behave soberly and would not create any scenes post drinking. I totally loved the idea of the super cool owner.
All of this happened at Bhola restaurant and the juice center, located right at the junction of Jehangir Mahal and Raja Ram Mandir. Coming along their menu, were the simplest dishes one would love to eat - Thali(unlimited gravy and chapatis with changing menu everyday) with one of the most humble owner treating you like 'Roti Lo, aapne khaya hi kitna hai'. Moreover, their ginger tea gave me a great kickstart to explore the next half of my journey. Not to promote them here, but they also got the best juice in town.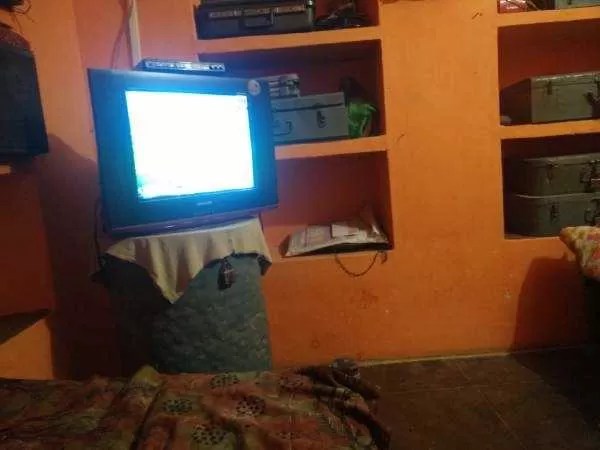 I bid farewell to my host family early morning. The place looked like an empty forest. There was no auto-rickshaw nor any humans on the road. Never mind, I got my freezing walk to remember till the Orchha auto stand.
So I'm all set to board the passenger train 51821 from Orchha to Khajuraho. Suddenly, there's something ! People are running to the bogeys at the end. Completely clueless about what happened, I asked someone in the train, 'Khajuraho ke liye yahi train hai na?'. Humbly, he told me to board any of the last 5 bogeys as the train splits into two at some point. Not even caring about the possibility of such a thing happening, I just ran towards the last compartment.
Poker faced group of temples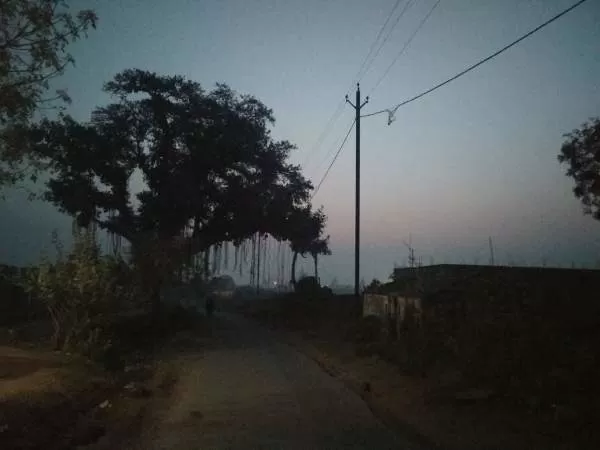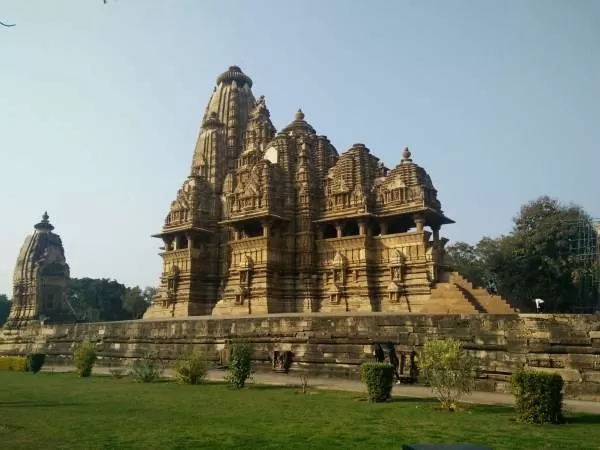 Warmest Homestay at The Friends of Orchha Located in a nearby village of Ganj around 1 km from Orchha is the homestay, run by Asha and Romi. My host Mukesh was a friendly guy, he showed me his entire house, shared some of the interesting story of guests and cooked a sumptuous meal for me. I had dinner in the open area of the house. I also got a chance to watch cricket on their Television with his kid, who was a big Kohli fan. I stayed in a well-maintained hut.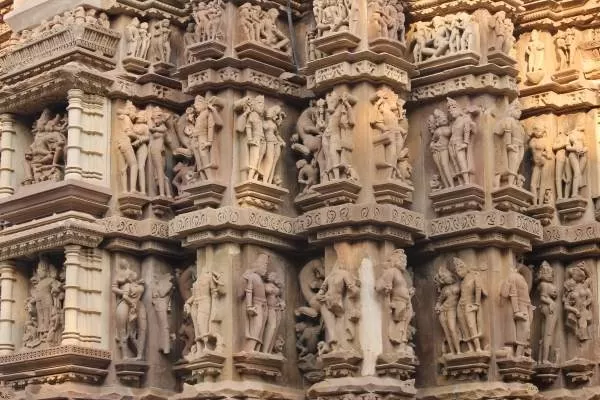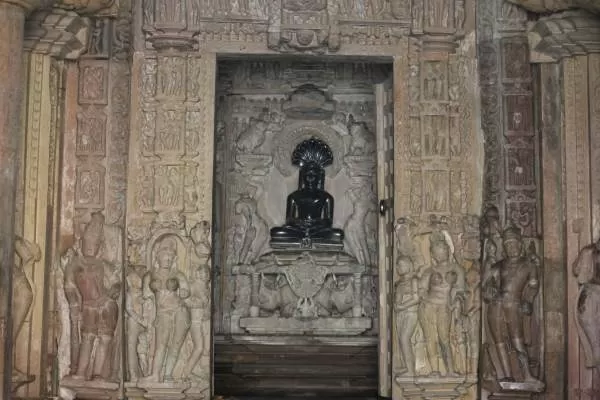 Western group of temples - Buy a ticket worth Rs. 10, hop onto every temple in the premise, do not miss the erotic idols around the Lakshmana Temple and Vishnu's devil avatar and his 11 heads at Chitragupta temple. Do catch up the light and sound show in the evenings.
No train, No Bus - how to reach Bandhavgarh? - Should I stay in Khajuraho tonight or take an overnight journey ? This dilemma led me to stuff myself into a car that was reaching Satna, the junction from where I could get a train to Bandhavgarh. The unplanned night drive was rough. The car did not have a name plate. The episodes of Crime Patrol(a crime TV show) ran through my mind for 3 hours.
Eastern group of temples - Do not miss the dwarf form of Lord Vishnu at the Vamana temple and beautiful carvings on the walls of Javari temple.
Alive and safe, I reached Tala. I gave 400 bucks to the man who dropped me to Satna(well connected trains - Mumbai, Delhi, UP cities and lot more), where I boarded the train to Umariya, the nearest railway station of Tala.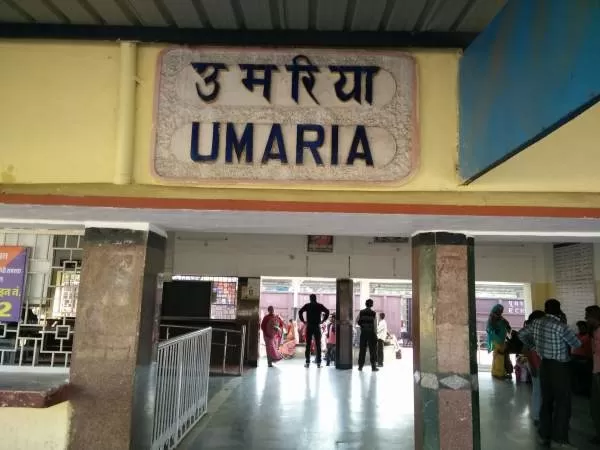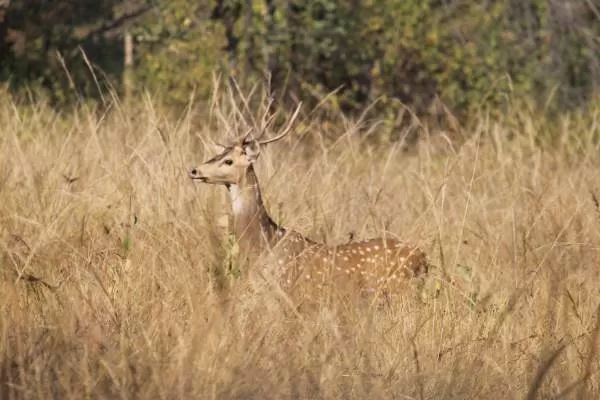 Eat your heart out at Lassi corner Nothing serves you better than Aloo parantha and a glass of banana chocolate Lassi after the tour at Khajuraho's - affordable, filling and delicious.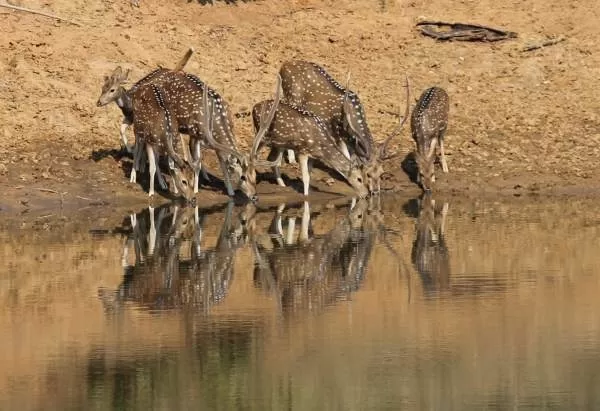 Tala(also known as Bandhavgarh)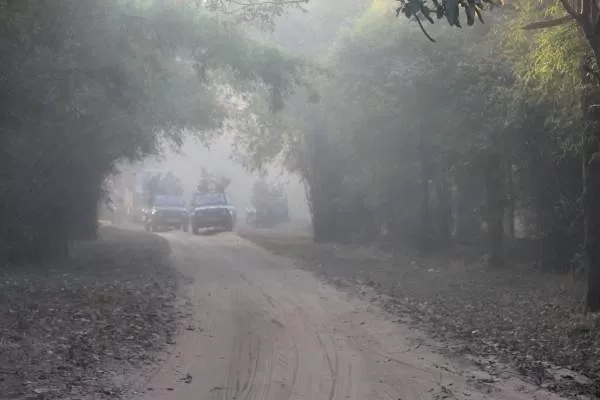 A deadly route to Bandhavgarh National Park I Kept my luggage at a small hotel in Umariya, mustering myself for a scary ride.5 a.m. - It was cold and dark. Once, I entered the forest area, it started showing scary road signs - 'Drive slow, an animal might just walk in' and there was no vehicle or person on the road. Shiver ran down the spine. What if a tiger walks in the middle of night? Surviving through the goosebumps, I managed to reach half an hour before the safari starts, shared my safari ride with a couple.
I'll rest for a while after the long sleepless madness before I catch my next train. After a super exhaustive day, every place you find shelter seems like heaven.
Some Travel Tips
Meet Guddu, an enthusiastic sight specialist The safaris at Bandhavgarh National Park are divided into slots and types. A bunch of gypsies go for the safaris in a slot, where everyone is waiting for the view of tiger, be it behind a bush or crossing their road.
Though it is difficult to find animals in winters (as told by our incharge in the safari, Guddu), the eyes of all safari riders worked really hard to find something. Guddu used all his instinct to show us a tiger. He narrated the story of a brave incharge who saved his visitor when a tiger jumped onto their safari van. A photographer on the same safari managed to capture that perfect moment. Apart from a few nocturnal creatures, we couldn't find many animals during the safari.
Souvenir and hunger stop at Malaya cafe A tiny cafe and shop that serves English and continental food. You can find lot of souvenirs of interesting musical instruments created by barks of trees, wooden goodies and a lot more.
Do stay curious on the train, assure yourself that you're in the right train. Also, take care of your belongings - Be alert all the time.
Use Booking.com to find restaurants at great deals in the above areas.
BTW, there is Zostel in Khajuraho opposite to Shiv Sagar Lake.
You have to do a lot of research about the connectivity between places. Going forward, follow opinion of locals or Google's wise trains' recommendation.
Carry enough cash with you, since these towns do not have many ATMs.
Share the contact of the driver of your rented car with your friends or families in case you find it suspicious.
This post was originally published on The Travellist.
Frequent Searches Leading To This Page:-
solo trip madhya pradesh, madhya pradesh travel itinerary, madhya pradesh travel blog, solo madhya pradesh, solo trip madhya pradesh