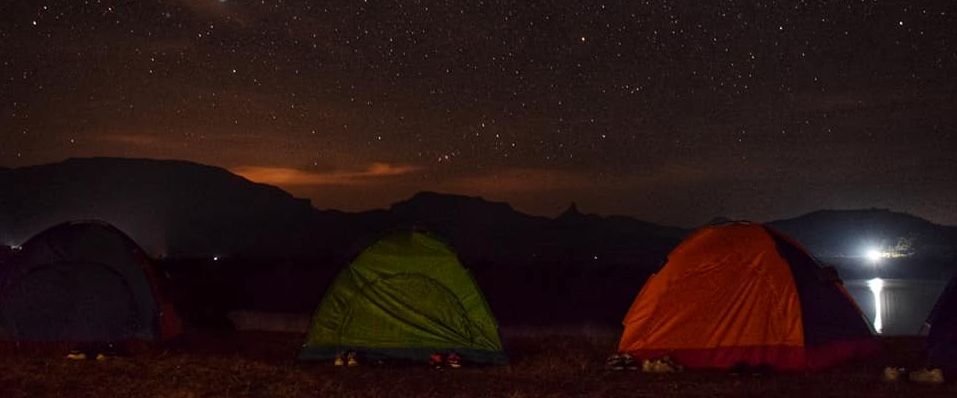 A year ago, I watched the episode of Travel show named "Bada Weekend" on my favorite TV channel Travel XP. This episode was covering parts of Bhandardara and as soon as watching the whole episode I made my mind that some day I'm going to visit this place.
During my 7th semester exams of engineering I got call from Prateek (Co founder of @traversindia) who specially invited me for this special camping at Bhandardara. I was on cloud nine by just imagining the picturesque hills and lake view. And finally the day arrived.
I took Sinhgad express early morning 6.05 am from Pune station with my two other friends Shweta and Darshan, we reached Mumbai on time at 10 am. We had few plans to visit near by places in CST area but cancelled at the last moment as we were running late. While wandering in Fort area , we found one old Irani restaurant where we had brunch and headed back to CST again. Within an half an hour, we were at CST and took 12.28 pm local to kasara station. The main advantage of boarding local from CST is you get seats . Around 2.20pm , we reached to Kasara railway station. From @traversindia (event partners) Prateek and Lokesh both guys were already waiting for us and other participants too. After small introduction session& giving instructions about do's and don'ts everyone followed Prateek and Lokesh.
Bhandardara is a very beautiful less known hill station , in the midst of western ghats of India. The village is located in Tehsil Akole, Ahmednagar dist. in Maharashtra, about 185 kms from Mumbai and 174kms from Pune. Bhandardara is located at an altitude of about 2471 feet above sea level.
To reach bhandardara, there is only one option and that is 7 seater or shared Jeep/Crusers. In Bhandardara the public transport can be done by these ways only or else you can do it with your private vehicle. Kasara ghat is having some sharp turns and road is smooth so one can enjoy fully. Within 15¬ to 20 min main highway ends. From this turn you can try to sit on top of the Jeep/cruiser to enjoy the beautiful view around . Sitting on top of the vehicle is not allowed in this area but at this remote place , you can enjoy the beautiful views of hills and valleys. It seems like riding a roller coaster but actually its not like that. You can have two options to reach Bhandardara. First, through AMK fort base village and kalsubai range which is too beautiful so I would recommend everyone to take this. Also in midway, there is bhavali dam which is serene and very calm place. Second way directly takes you to Bhandardara village.
We had halt at Bhavali dam for a while as the place is too calm and will give you a very desi feeling. It was yellowish everywhere because it was ending days of winter and last rainfall here at this place is below than average. We spent some time and did some photo shoot for self promotion on social media. Everyone of us got dozens of pictures to upload on social media sites. Normally we don't get a chance to witness such a serene view in cities now.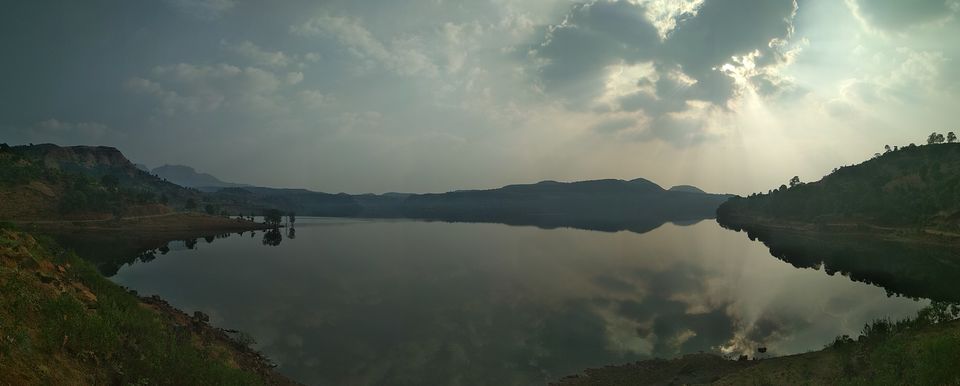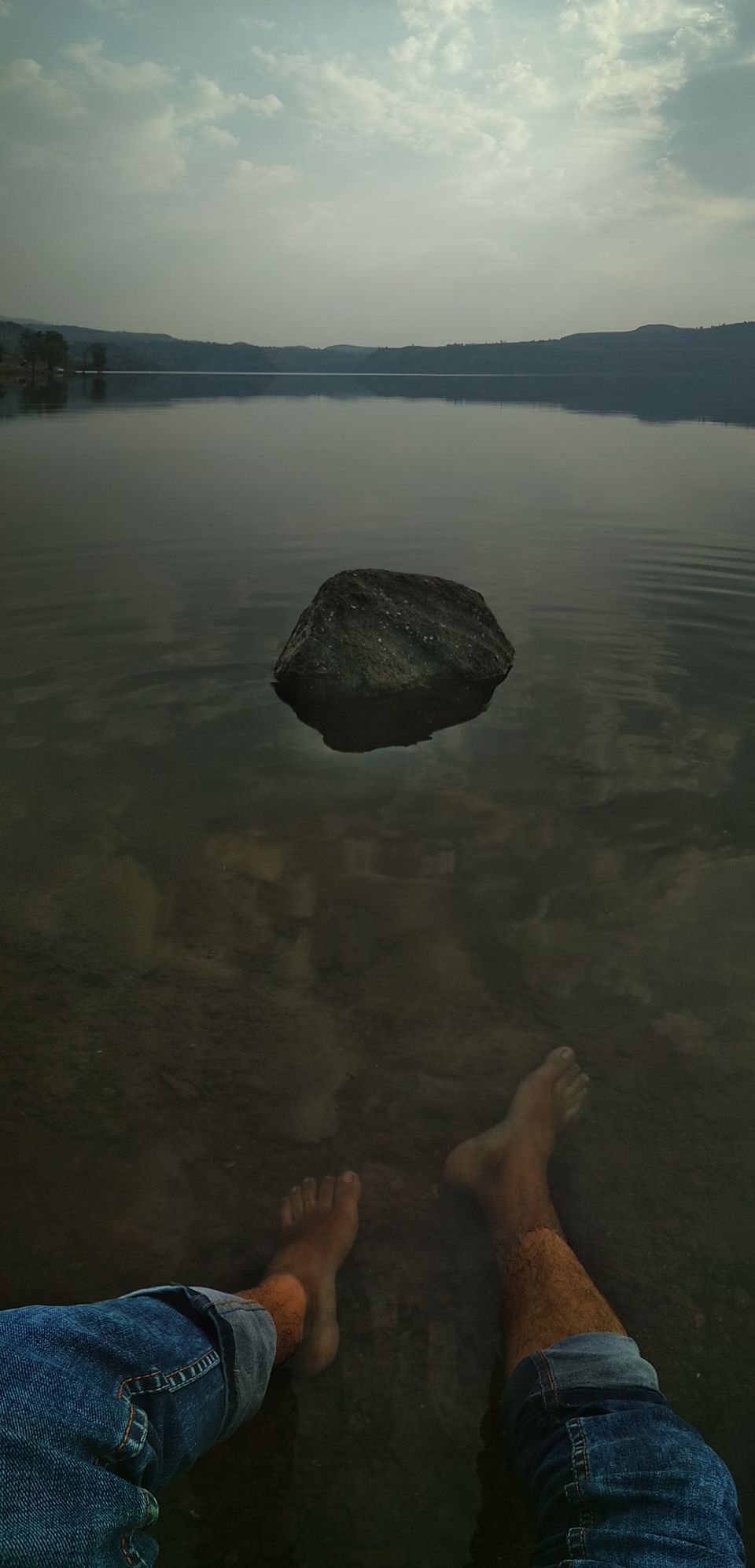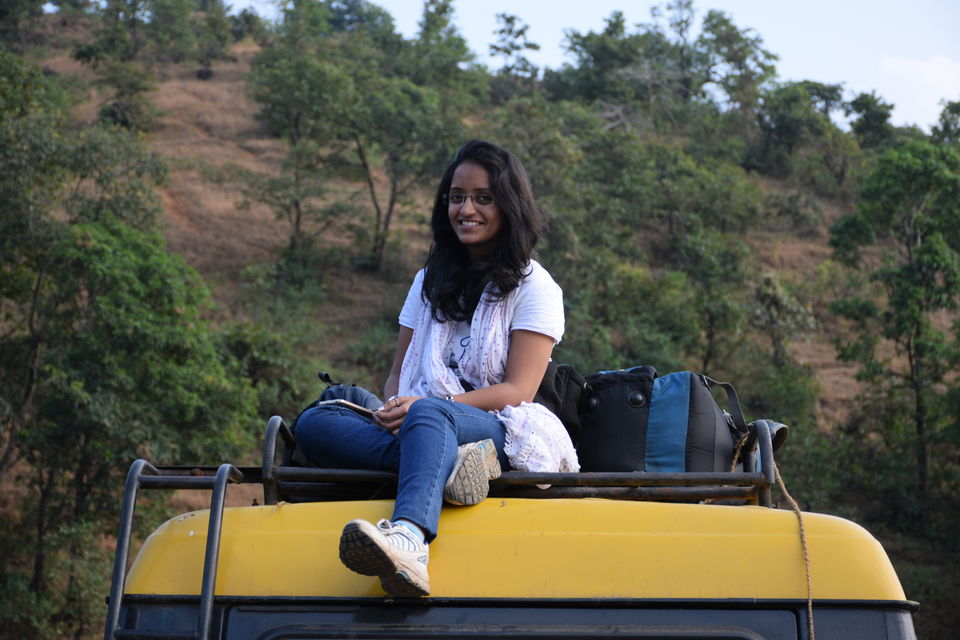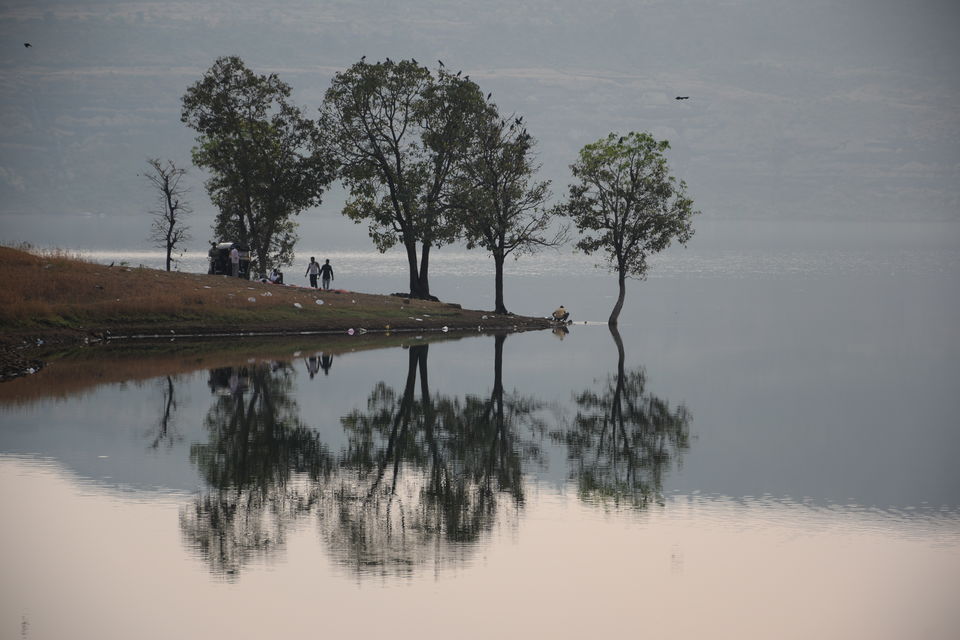 Finally within hour, driving through dense forest and mountain we reached our final destination Bhandardara. As soon as we got off from vehicle we decided to step down at Arthur Lake, which is formed due to the construction of Wilson Dam and is fed by Pravara River. This lake is also known as Lake Arthur Hill or Bhandardara Lake.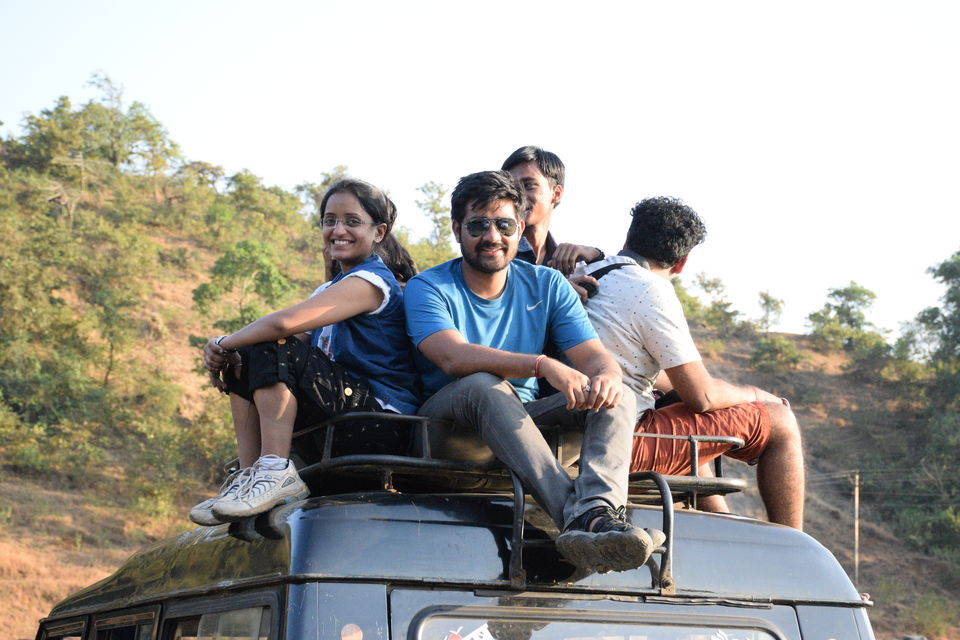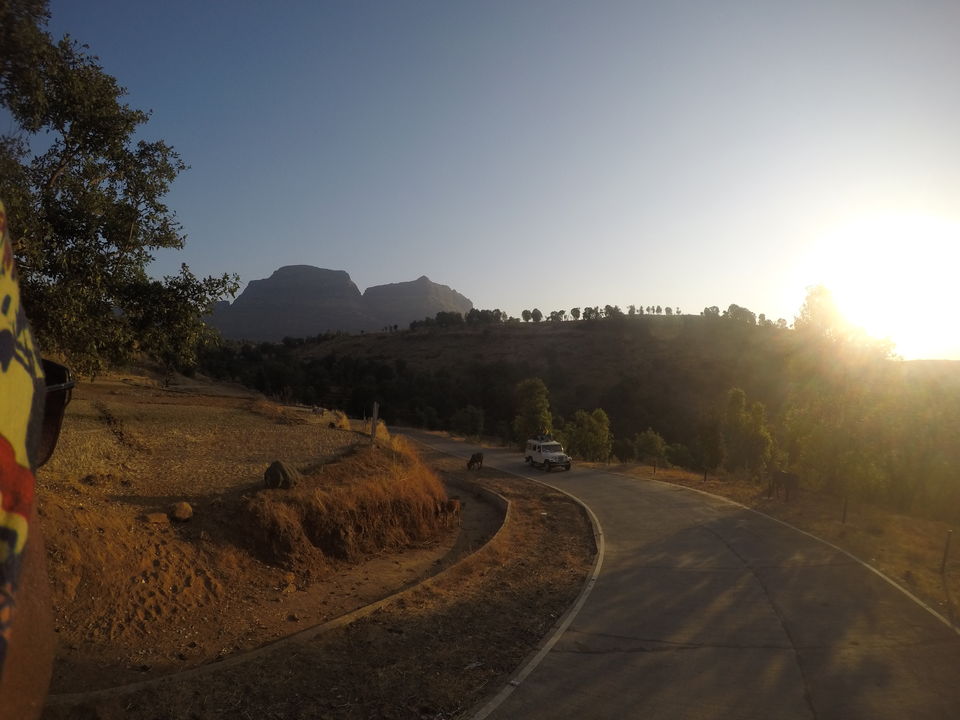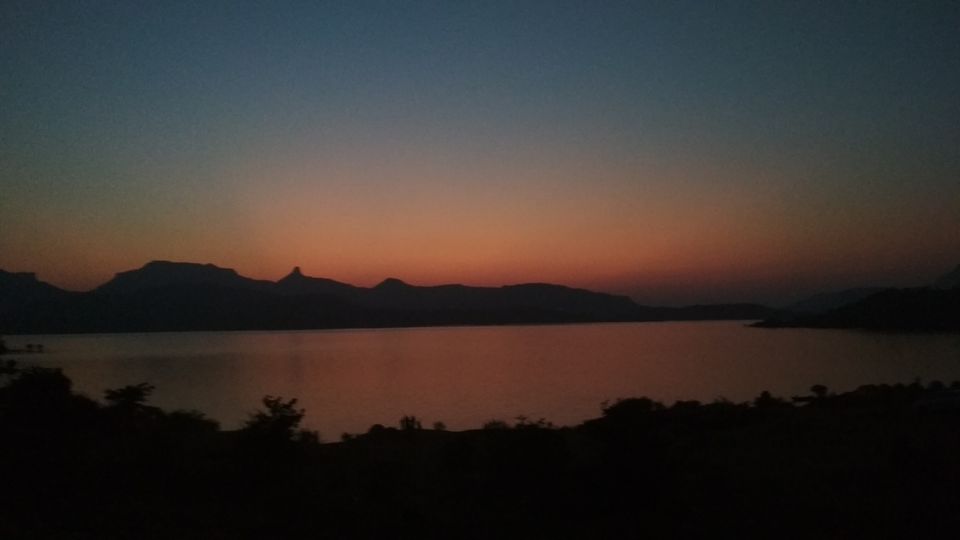 The clear and placid lake is bounded by thick forests of the Sahyadri hills. This lake is around 34 km long and the stream features a wonderful waterfall, named Randha Falls that come down from over 45 m height. This lake also holds religious importance, as Agastya Rishi meditated at this place. Arthur Lake acts as a reservoir for the Bhandardara Dam or Wilson Dam. The construction work of the dam was started in 1910 AD and was completed in 1926 AD by the British. The dam is one of the oldest dams in India at a height of 492 feet and is famous for the nearby Umbrella Falls. When the gates opened, the outflow creates two huge cascades of water creating a spectacular sight. Boat ride on the placid waters of wondrous Arthur Lake is a memorable experience. The lake gets it water from the Pravara River and is bounded by thick canopied forests of the Sahyadri hills. The boat ride is enjoyable and offers spectacular view of the surrounding hills.
The terrain to lake from resort area was a bit slippery but its normal in such places. Everyone got amazed by the beauty of surrounding range of sahyadri's. This place is famous for fireflies. But it was month of January so spotting any fireflies was not less than a day dream. So without thinking much , we already decided to visit this place again in the month of May end or just before monsoon starts.
At the necklace garden resort near the dam we freshen up & had some snacks, coffee. By 7.30 or 8 pm everyone gathered around resort lawn for brief introduction and followed by Do's and Don't at camping site. With 5 to 10 min of walking distance , we came across camping site near Lake. It was full dark only head torch from team were flashing all the time. Staff from resort had already done all arrangements and tents were ready. Lokesh allotted all the tents and quickly everyone occupied. Finally everyone settled and it was time for some talk and sharing stories. Around the bonfire everyone gathered and started to share some of their memories of camping and photography experience.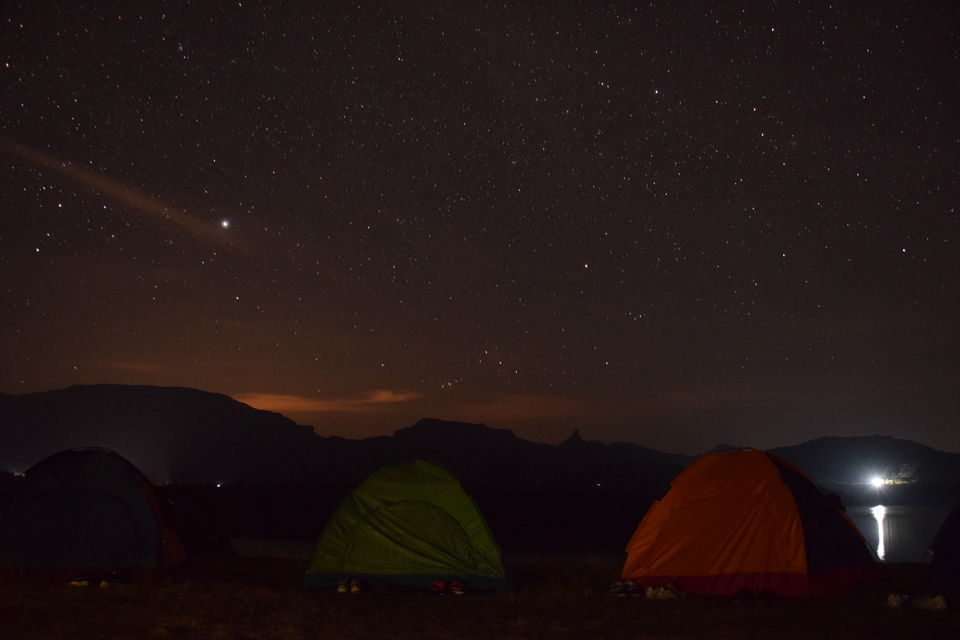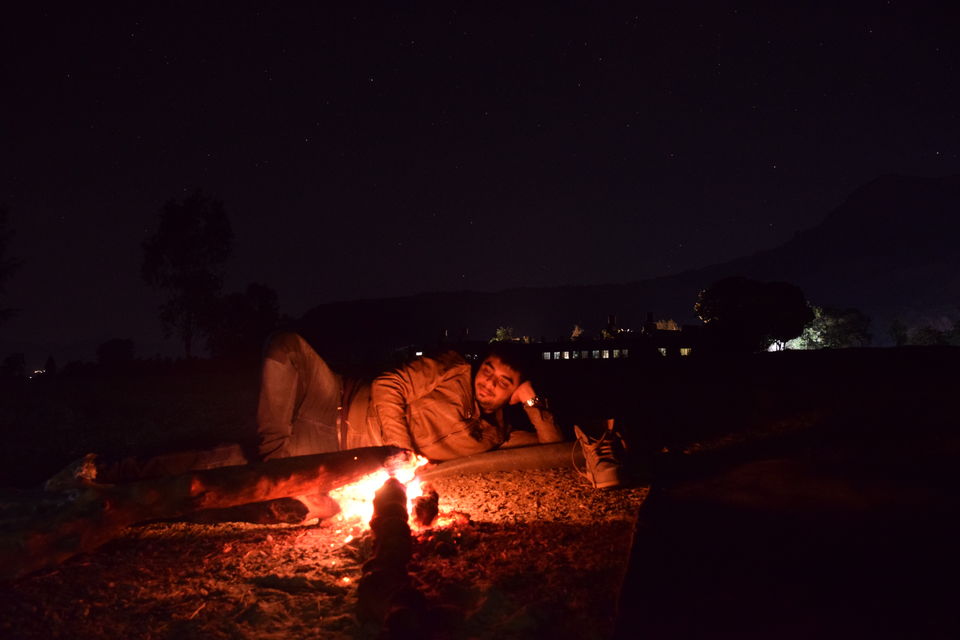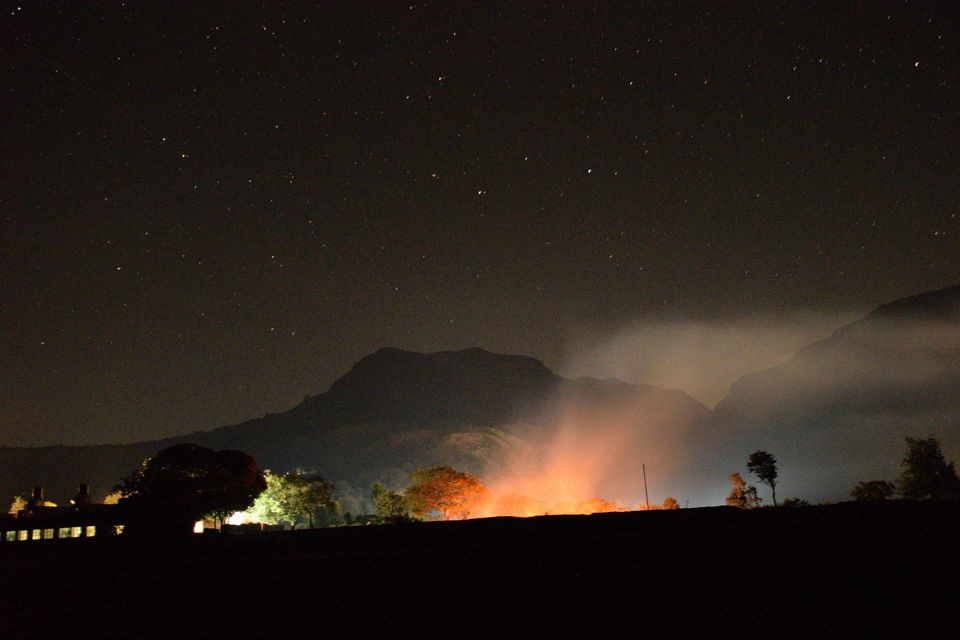 I took my DSLR and decided to take some night portraits and do some night photography. Sky was filled with millions of stars. When in Bhandardara when you look at particular direction for 5 to 10 minutes, you will get to see shooting stars. Indeed, It was a very different feeling to be at camping, surrounded by people who had same interest in photography. When you travel and start communicating within no time strangers became friends. And we create some beautiful memories together. Food arrangements was one of the good point to be included.. .kyu ki khane ke liye hi jeete hai hum log... It include BBQ both veg n non veg followed by full dinner with awesome taste of desi tadka.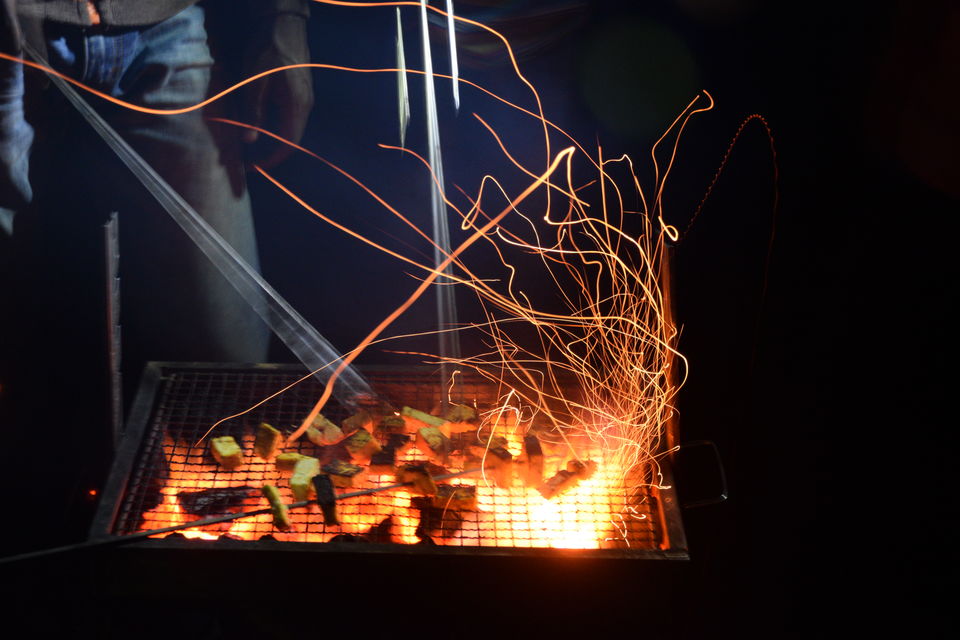 Whole night all the members took lots of photographs of the stars, people, trees and may be ghosts too. This camping was specially dedicated for night photography and was conducted by Lokesh, Sudeep and Rugwed. We got brilliant stuff to showcase on our walls and learnt lots of things in just a single night. For whole night I didn't slept for single minute. In morning around 6 am, everyone waked up in half sleep. I witnessed the magnificent view of sunrise over sahyadri's. All saffron on the east side and sun was about to rise over sahyadri ranges. On the opposite side,the Ratangad fort was shinning in golden color as sun rays were making it look much brighter. And the view of dam and surrounding became more pleasant now. Words are too less and even the picture will not do the justice for the scenery I experienced.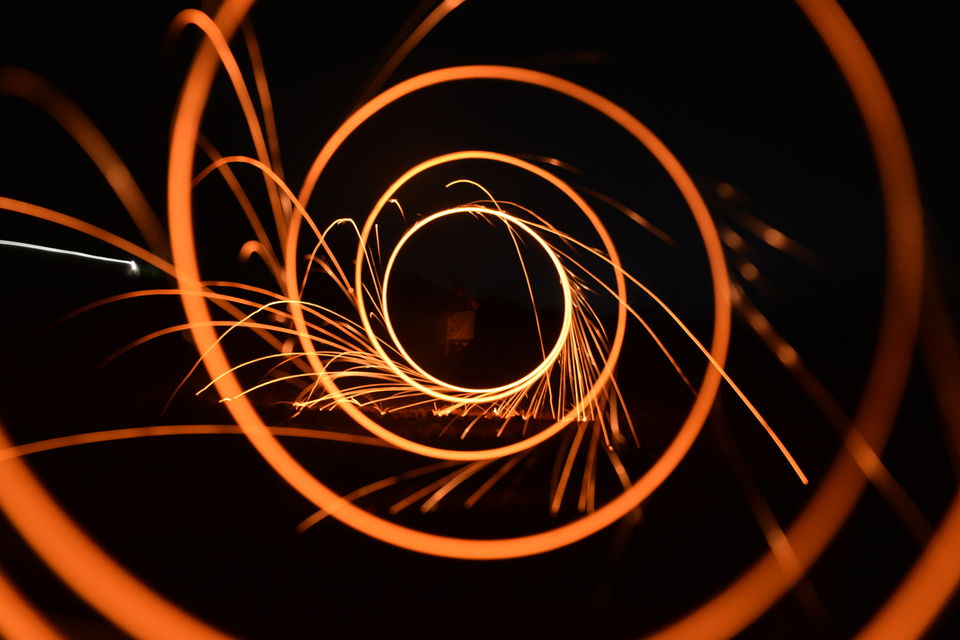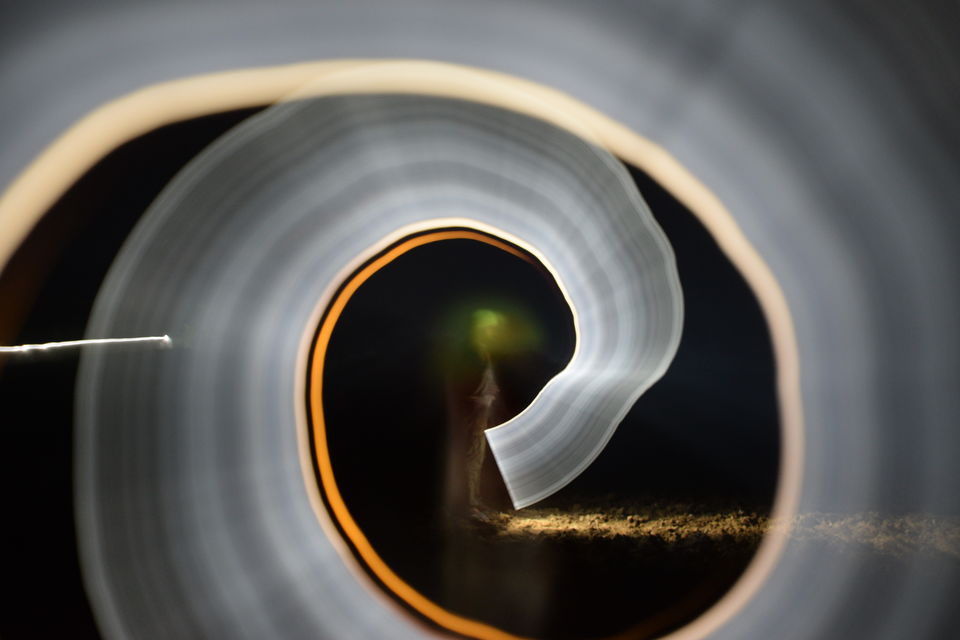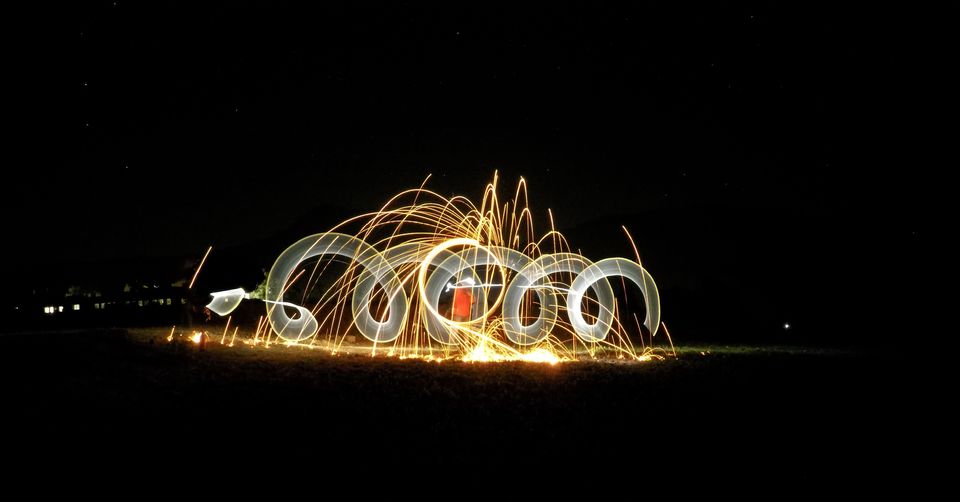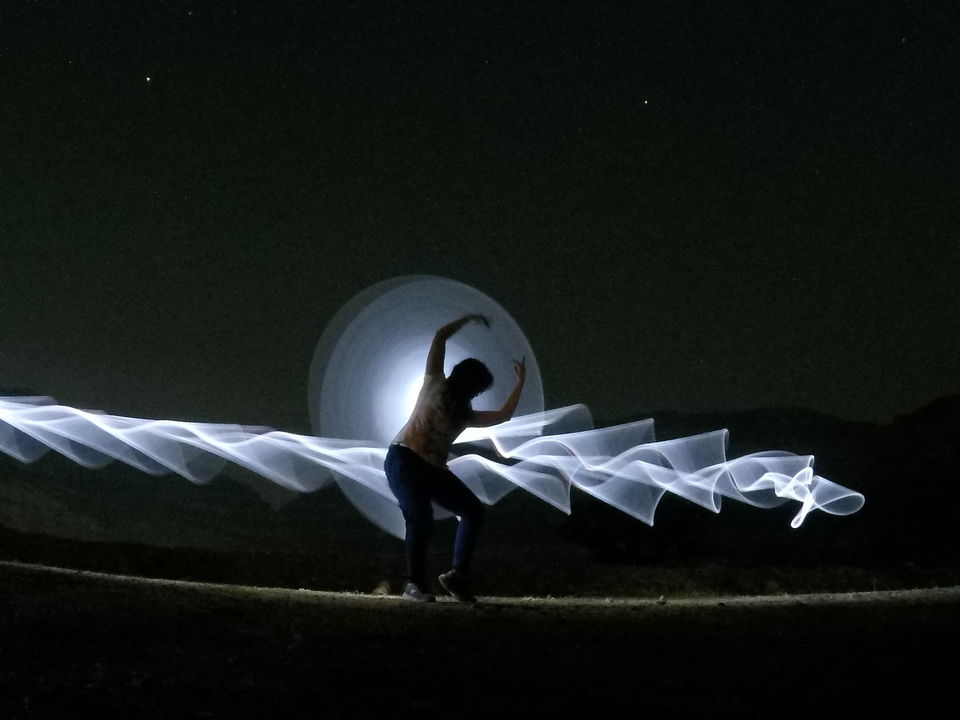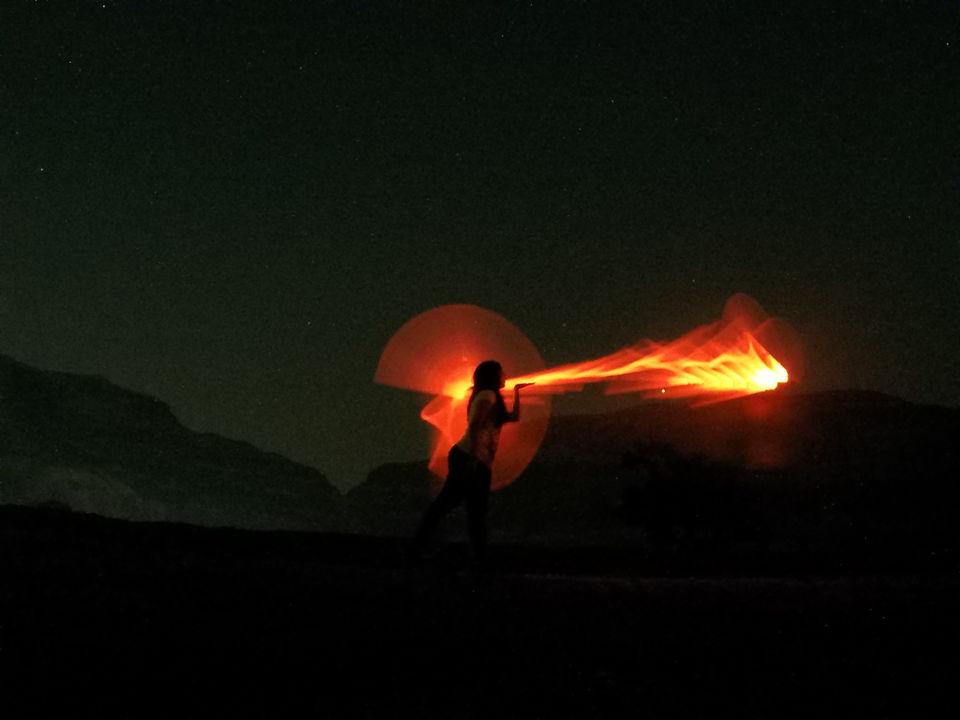 Everyone's mobile phones were either about to die or almost dead. I was lucky enough to have some battery left in my phone. So again I started to clicking pictures in morning sunshine. Before getting late we packed up and took one group photo. Breakfast was authentic Maharashtrian food such as Kanda Pohe and Misal Pav. Later maggie arrived on demand and coffee/tea too. After finishing breakfast, everyone started to exchange numbers and social media account user names & everyone made promise to get in touch with each other. Soon we left resort and reached Kasara Railway Station through Ghoti-Kasara road which is shortcut road from base camp to railway station to reach station before time and finally we managed to catch 11.10 am Local to get back to mumbai and then pune.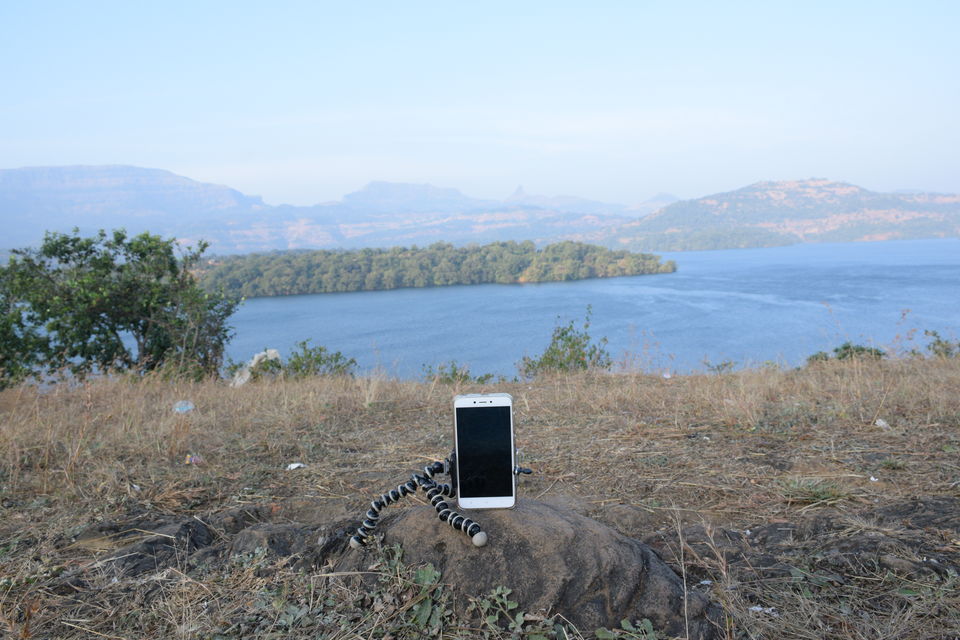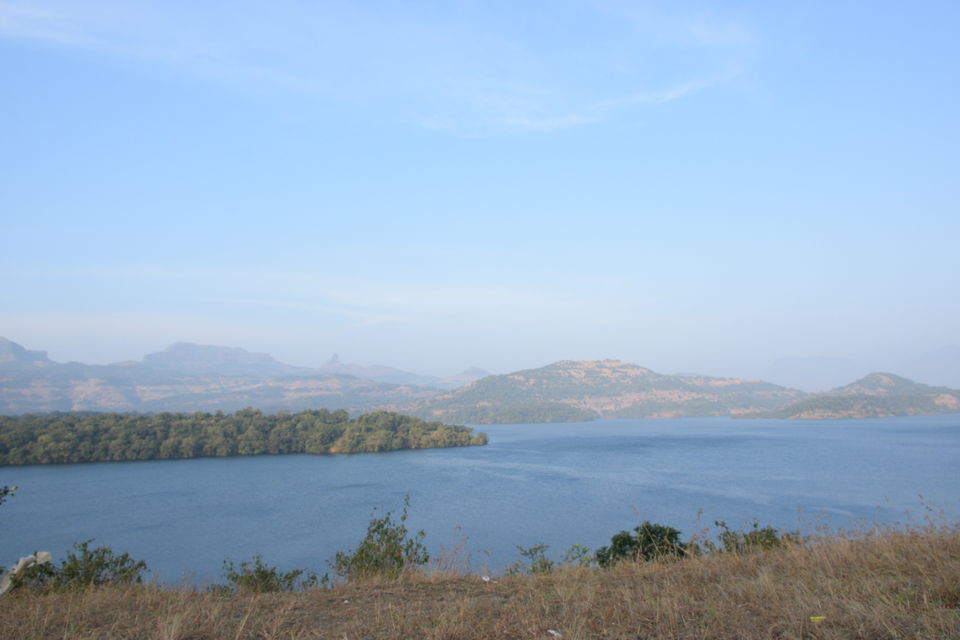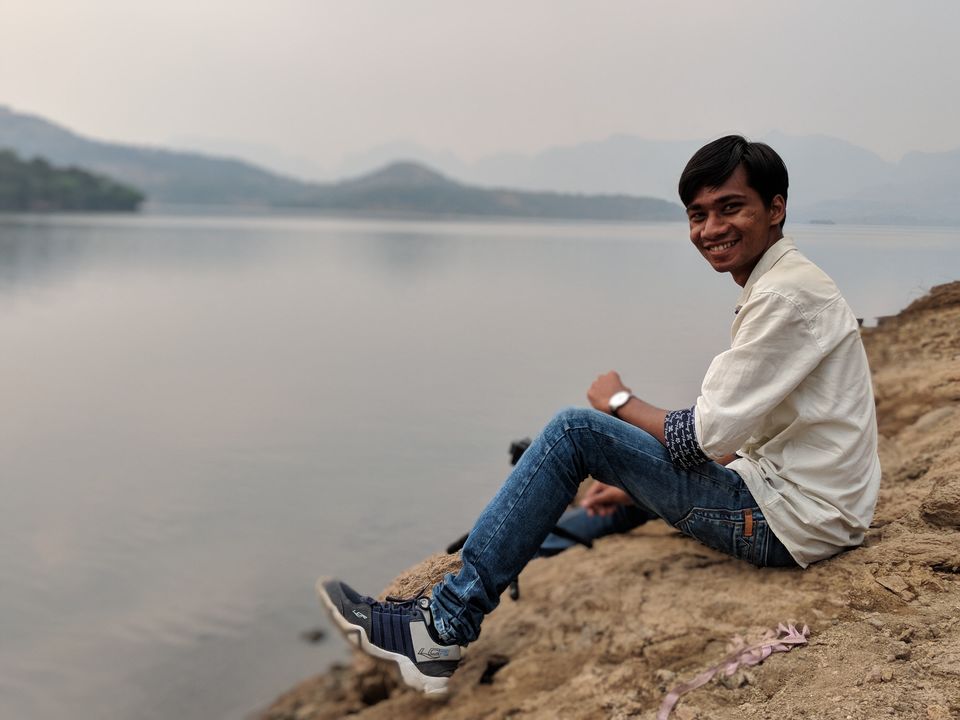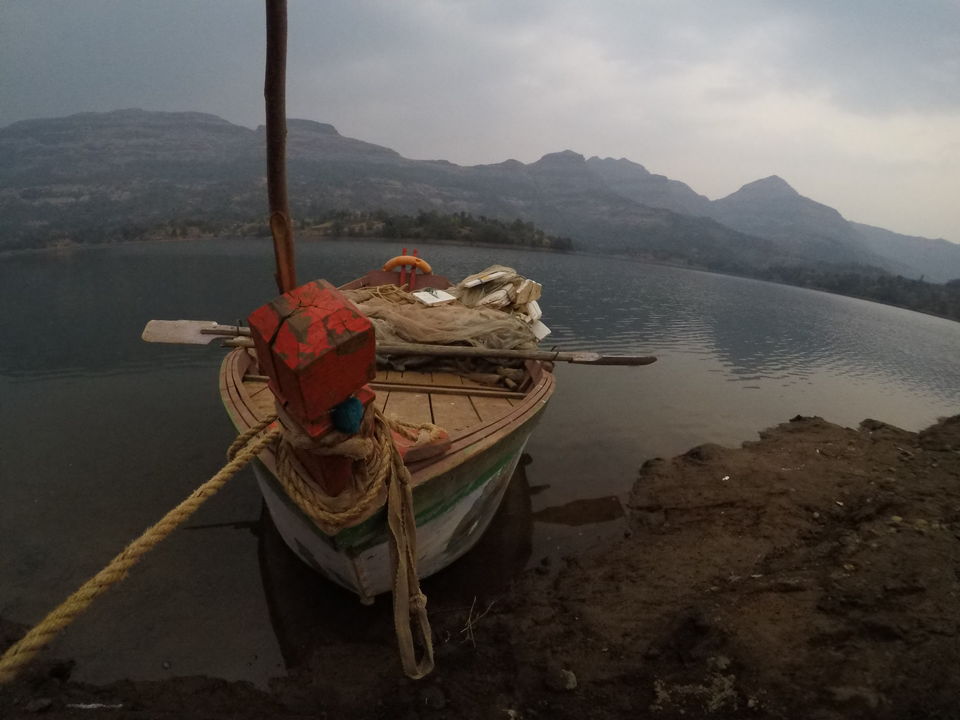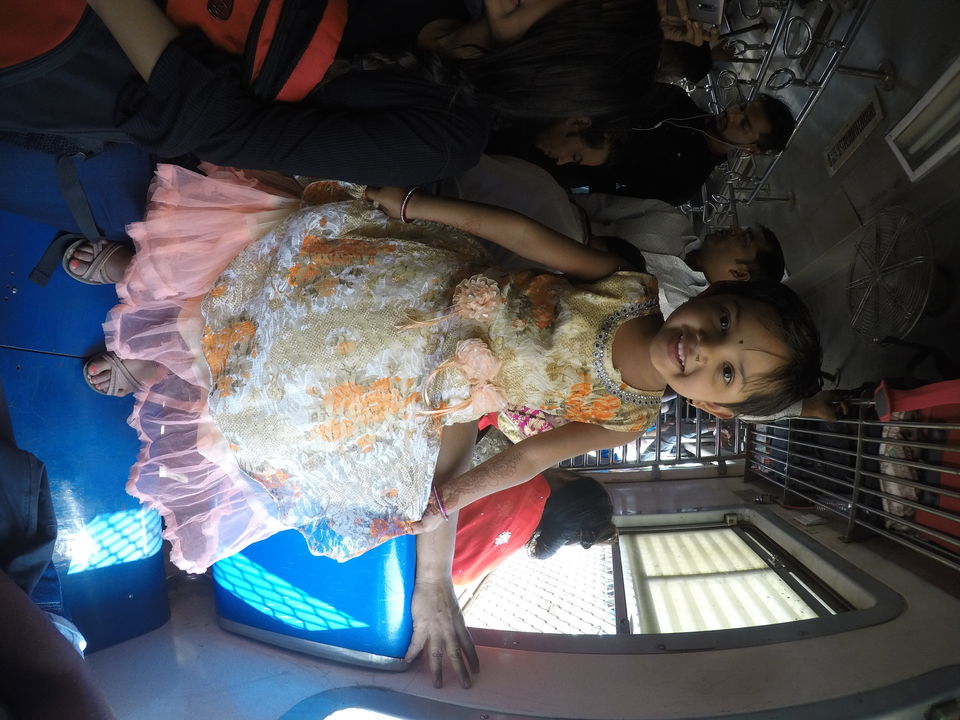 How to reach -
By road - doesn't matter where are you travelling from. It may be nashik, mumbai, pune or may be any. Open navigation and follow the route. It's well connected from all major cities by national highway.
By Train - Take any train to kalyan station and then board Local train to kasara. Kasara is the nearest railway staion to Bhandardara which is approx 70km. From kasara you will get 7 seaters or Jeep. They charge 3000rs for group of 8-10 people.(with return)
State transport buses are available to directly bhandardara but they are very limited. Another option is to reach igatpuri first then take bus to bhandardara or goti village.