Hi, follow me to explore maharashtra. I'm one of the solo travellers in maharashtra. Wander with me.
A country with diversities in nature, climate, religion, faces but United under one flag- Tiranga(a tricolour national flag).I never been out of India. I don't know about any other country but I'm totally mad about Indian culture, traditions. Every Indian have dream of exploring world but they totally neglects their own country.
So many saints and gods taken birth in this holy country. Our religions are totally different in nature but United through hearts.
Hi from maharashtra. The land of Chhatrapati's, land of Maratha empire. Maharashtra is one of the most populated state in india, maharashtra's population is larger than Croatia, Iceland and than many other countries. And larger in size than Nepal, bhutan, etc. Shocking information, right?
Today almost every person living in the world know about Bollywood and if you are mad about Bollywood film industry then this place is for you. Mumbai is a capital of maharashtra and also known as economical capital of India. Bollywood film industry cultivated and grown in maharashtra apart from all rocking beaches parties and modern culture maharashtra have beautiful spiritual, religious culture though. You can experience here the combination of modern society with old culture and traditions of maharashtra.
Temple Complex
Shri Sai Baba, the revered faqir of Shirdi, has found a second home in Shirgaon. Prati-Shirdi, as devotees call it, was built in 2003 by Shri Prakash Deole, former legislative council member and founder trustee of the Shri Sai Baba Temple Trust, Shirgaon.
It was a miracle of sorts as Shri Deole, an active politician, turned to spiritualism and decided to build an inch by inch replica of the Shirdi Sai Baba Temple at this nondescript village of Shirgaon.
Exactly nine months and nine days after the work on the temple began, the impressive shrine stands tall today amidst lush-green fields, far away from the hustle and bustle of the city. A perfect getaway for devotees seeking their beloved Baba's blessings!
Prati-Shirdi is a ditto copy of the Shirdi temple. Mr Deole has taken personal care and pains to ensure it resembles the original structure in every aspect. Be it the Gurusthan, Samadhi Mandir, Chavadi, Dwarkamai or the Dixit Wada, the accuracy with which every minute detail has been replicated leaves many a pundit in awe!
The Annachatra, built in 2009, is a palatial edifice which can serve food to over 1500 devotees at a time.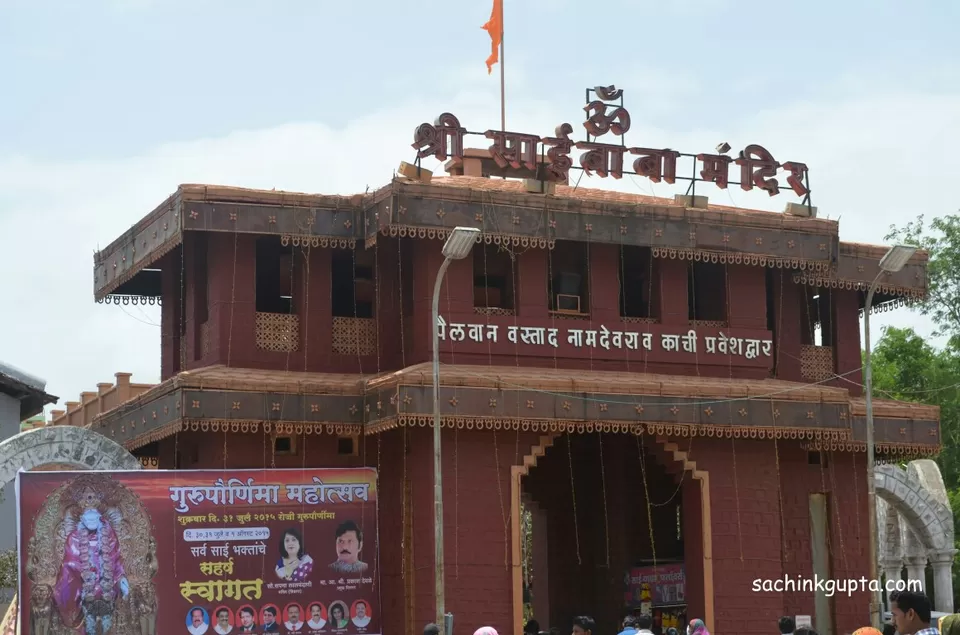 GURUSTHAN
"Gurur Brahma, Gurur Vishnu
Gurur Devo Maheshwara
Gurur Sakshat Para Brahma
Tasmaye Shri Guruvaiya Namah"
Gurusthan means 'the place where the Guru resides'. Since the Gurusthan at Shirdi has a neem tree under which Sai Baba used to rest, it was but natural to expect one at its replica in Shirgaon. Luckily for Shri Deole, the patch of land selected as the temple's site had six neem trees, and the one found to be the most suitable according to Vaastu Shastra was earmarked. And around it was built the Gurusthan.
Besides the neem tree, the Gurusthan houses a pair of marble padukas enshrined atop a pedestal, a 'Shivalinga' and a photograph of Shri Swami Samarth.
Placed atop a stand, a small dhuni, signifying the sacred fire, glows gently in front of the shrine here. Until recently it was kindled every day by embers brought from the main dhuni at the mosque. Now, however, this is done only on Thursdays and Fridays.
The neem tree at the Gurusthan is not just another tree. Devotees do pradakshinas around the tree (and thereby the shrine). Many devotees discover that Gurusthan is an ideal place to sit quietly. And some regard the tree as a symbol of the Guru's grace under which humanity takes shelter and receives protection. Indeed, Sai Baba once commented that His devotees are simply resting in the shade of the neem tree while he bears the brunt of their deeds.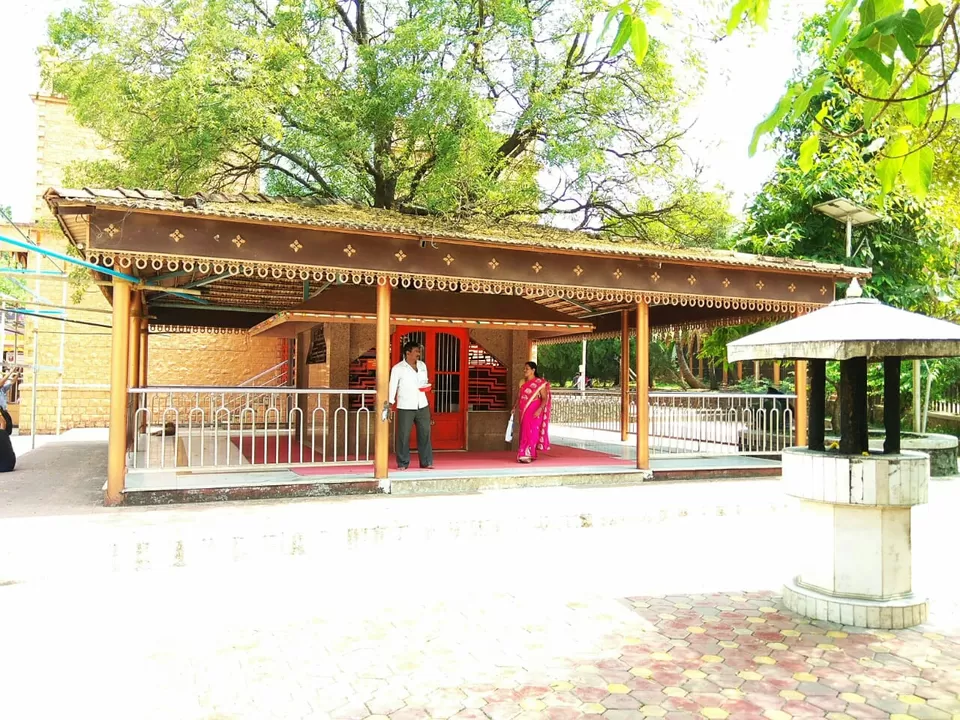 SAMADHI STHAN
What every pilgrim to Shirgaon fervently longs for is to rest their forehead at Baba's sacred feet. The Baba's benign, larger than life-size figure, carved by Shri Ramprasad Bharadwaj out of marble bought from Makrana, exudes grace and benevolence. The Baba sits relaxed in his customary cross-legged posture, imposing yet elegant, his eyes sparkling - a source of hope and succour for millions of his worshippers.
At the Samadhi, devotees offer obeisance and seek forgiveness for any wrongdoings. For them, the idol does not merely represent God: it is God. And the opportunity to prostrate before it and make religious offerings may define for many the fulfillment of a lifetime's ambition. The inner sanctum is polished up with gold and the raised platform on which Sai Baba's idol rests is made of pure silver.
The quietness and solitude prevailing inside the main temple complex is enlivening. Despite the throng of devotees lining up in serpentine queues, one finds oneself enveloped in an ineffable inner peace. Perhaps it is this self-awakening that spurs 'bhaktas' of Shri Sai Baba to return to Shirgaon - again and again!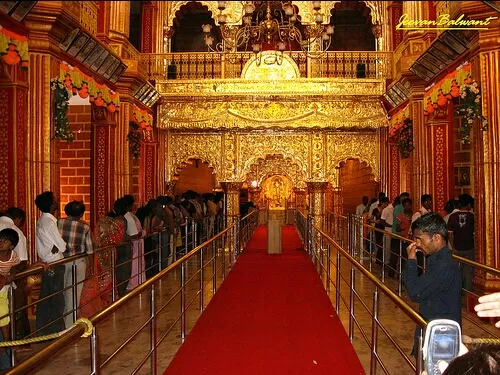 DWARKAMAI
Dwarkamai, or the Masjidmayi as Sai Baba called it, is indeed a mosque. It is an embodiment of the spirit of tolerance and acceptance. Sai Baba once told a visitor, "Dwarkamai is this very mosque. She makes those who ascend her steps fearless. This masjidmayi is very kind. Those who come here reach their goal!" Baba's settling in the mosque at Shirdi was a turning point in his life, or rather, in that of the village itself, as it brought him closer to the local people.
The name "Dwarkamai" became popular only after Baba had taken Samadhi. It was first coined when a devotee once expressed a wish to make a pilgrimage to Dwarka, a town in Gujarat sacred to Lord Krishna. Sai Baba replied that there was no need to do that, as that very mosque was Dwarka. "Dwarka" also means "many-gated", and "mai" means mother. Hence, it signifies, "the many-gated mother."
The Dhuni – a sacrificial rite (Yagnya) on a pyre – is the most significant part of Dwarkamai and is kept 'alive' at Shirgaon. It is the sacred, perpetually burning fire that Baba built and which has been maintained ever since.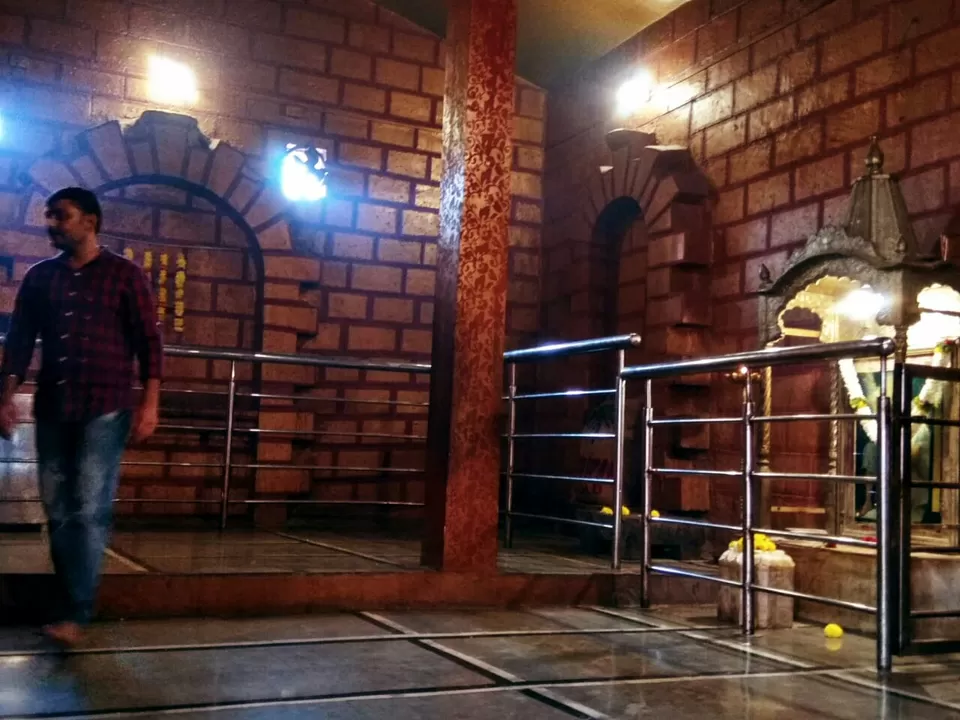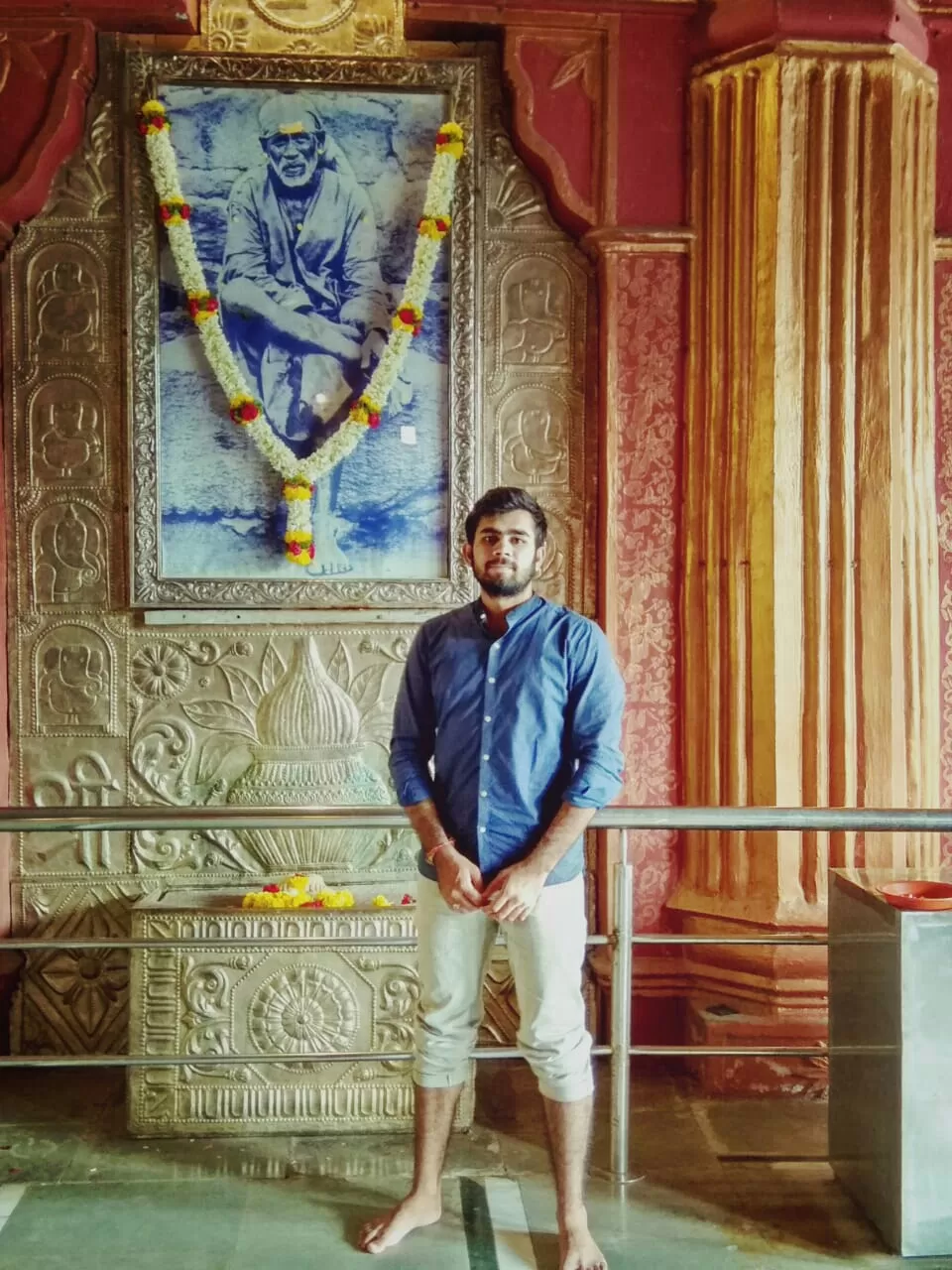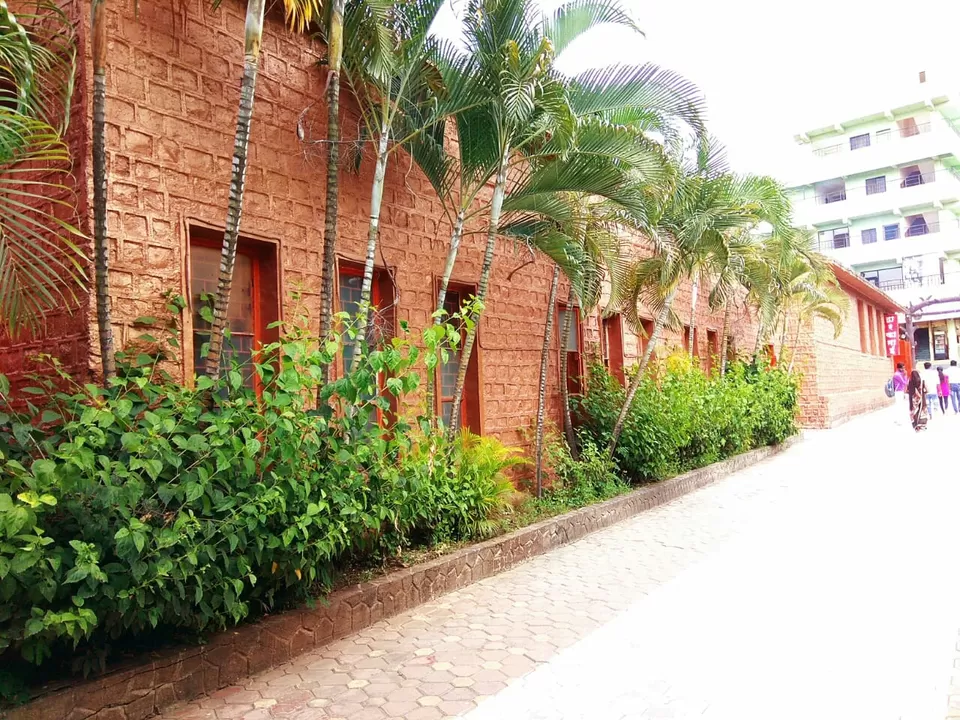 CHAVDI
Sai Baba is intimately connected to the Chavdi, which in Marathi means the "village office." During the last decade of his life, the revered saint used to sleep here on alternate nights. In the temple structure Chavadi has a place of prominence, because it is here that the formal worship of Sai Baba began.
A large portrait of Baba adorns a wall inside the Chavdi. On the painting's left side is a plain, wooden bed, which resembles the one kept at Shirdi. It was on this bed that Baba was given his last bath after he had left the earthly sphere in Dwarkamai. On each Thursday, the bed is taken out and is replaced with a palanquin. Next to the bed in the same corner is a wheelchair which was presented to Baba when he was suffering from asthma.
Women were not allowed in this section and this tradition is maintained today. Only men and children are allowed in this area. Chavdi is open 5 a.m. to 9 p.m.
ANNACHATRA
Located adjacent to Sai Baba Temple in Shirgaon, the Annachatra – also called the Rajwada (the Palace) - is an architectural marvel, where devotees have 'Maha-Prasada' every afternoon.
Even a glimpse from a distance enchants the visitor. And as you move closer the details and the artistic finesse leave you spell-bound! At first glance, anyone can mistake it for a well-maintained historic palace built by a king to exhibit his love of art and sculptures. A palace it is but a new one with a touch of the ancient and traditional combined with modern-day architectural refinements.
The Rajawada's uniqueness lies in its construction type. Built by using joint moulds, the 14,000 square foot 3-storey building has no bricks at all! Hundreds of skilled workers from Mumbai, Pune and Kankavli worked round-the-clock for two years under the supervision of founder trustee, Shri Prakash Deole, and the guidance of architect, Shri Vivek Khatavkar. The result is a human marvel, which according to Shri Deole, will soon find a mention in the Guinness World Records for its artistic splendour.
At the entrance stand two giant elephants with their trunks held high, welcoming the devotees for a hearty meal (the Maha Prasad). The traditional 'Samais', suspended atop the jumbos, signify the end of darkness and gloom and the beginning of a bright new day full of hope.
Behind the elephants, the pillars are sculpted with a 'Yali' or 'Shardul' - a mythical creature with a lion's head and a horse's body - which is supposed to be more powerful than a lion or an elephant. Mythology has it that a 'Yali' is a royal guard who protects temples and palaces from evil.
The entrance or the 'Maha Dwar' leads to the main dining area which is equally impressive. The interspread carvings of flowers and peacocks on walls and pillars glow under brightly-lit chandeliers, as cool air wafts in and helps one relax, inducing a loving absorption in Sai contemplation and devotion.
The kitchen on the right-hand side is a spacious and clean place that can serve 1500 devotees at a time. The expansion work is in progress as the cooking room will be shifted to an adjacent building. Taking note of the fact that sitting on the floor may cause discomfort to some Sai devotees, the temple trust has thoughtfully provided comfortable dining tables.
The first floor dining is equally big. The top floor houses eight exclusive suites reserved for the VIPs. Explaining the motive behind the creation of the Rajwada, Deole says: "Sai Baba was the king of kings. The Annachatra ensures that Baba's followers also get a kingly treatment."
The Anatomy
Building: Annachatra (called the Rajwada or the Palace)
Foundation: Vijayadashmi day in 2006
Inauguration: Nov 22, 2009 by Shri. Sushilkumar Shinde, Union Power Minister.
Type: RCC construction using cement, mortar, sand but no bricks.
Art: A mix of the ancient and modern conceptualised by Mr Deole
Finishing: Colouring by artistes hired from Rajasthan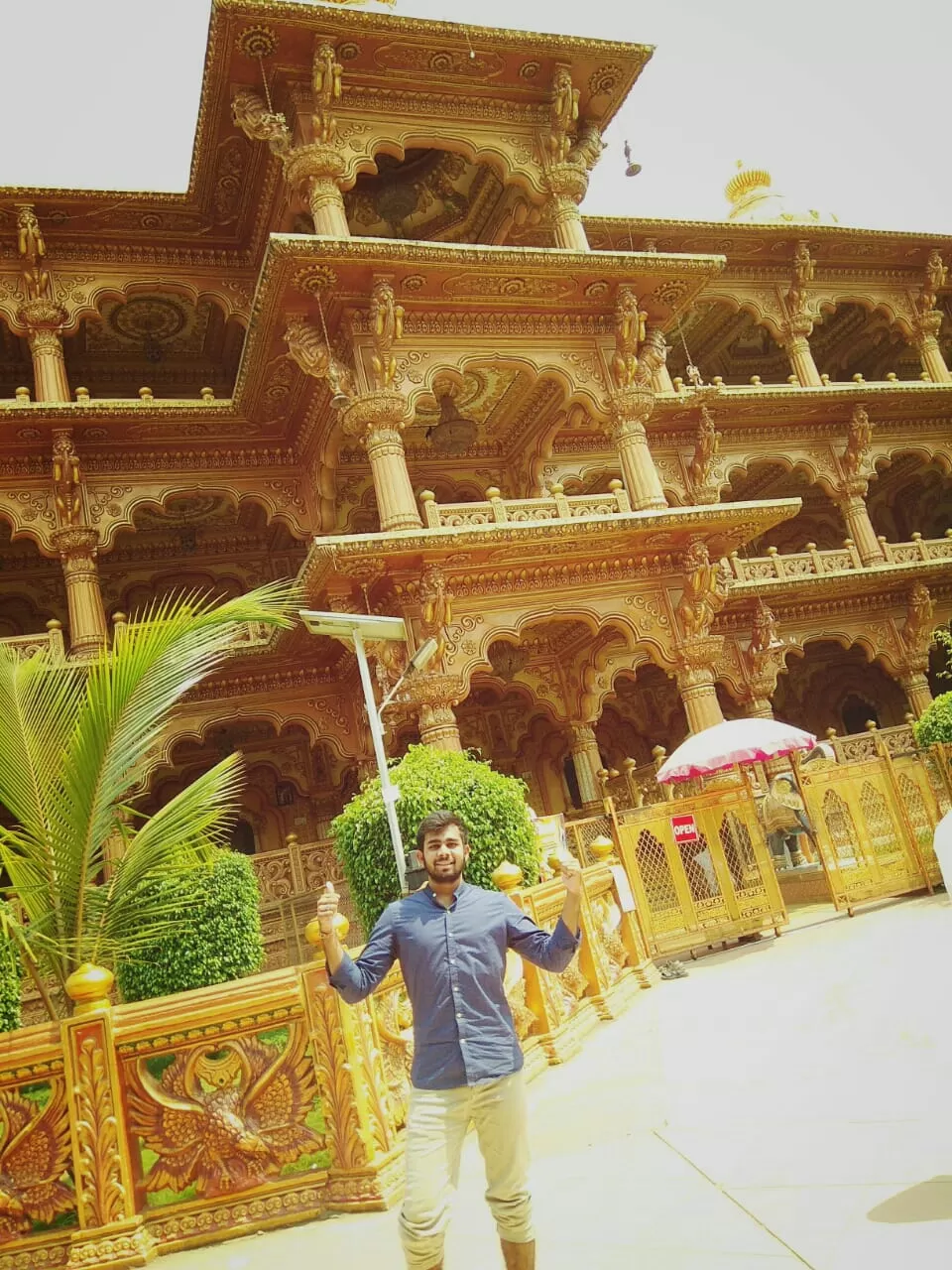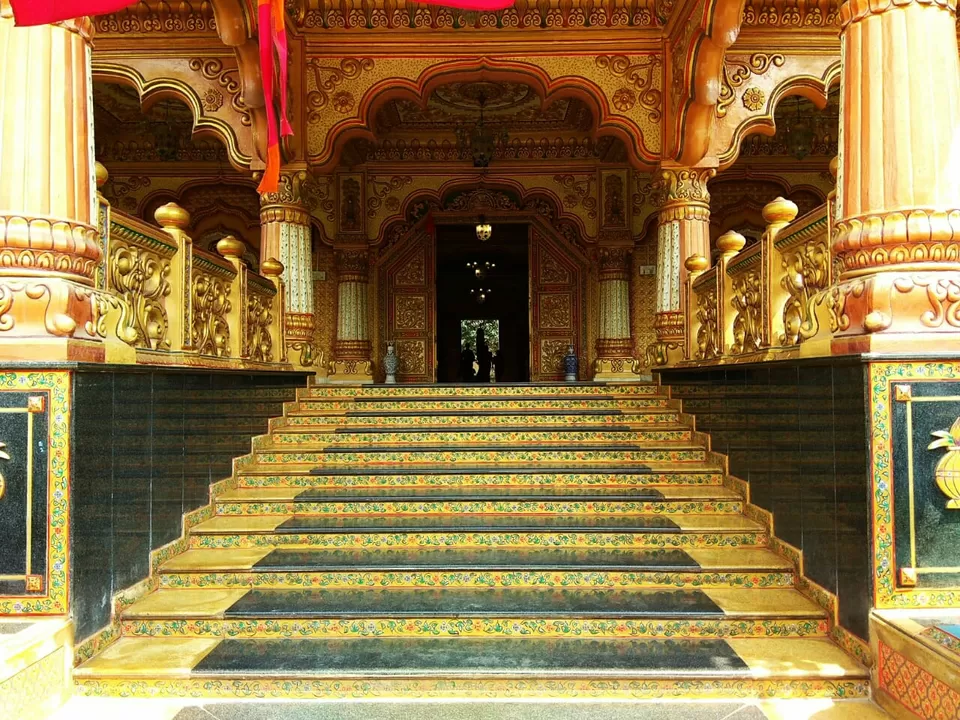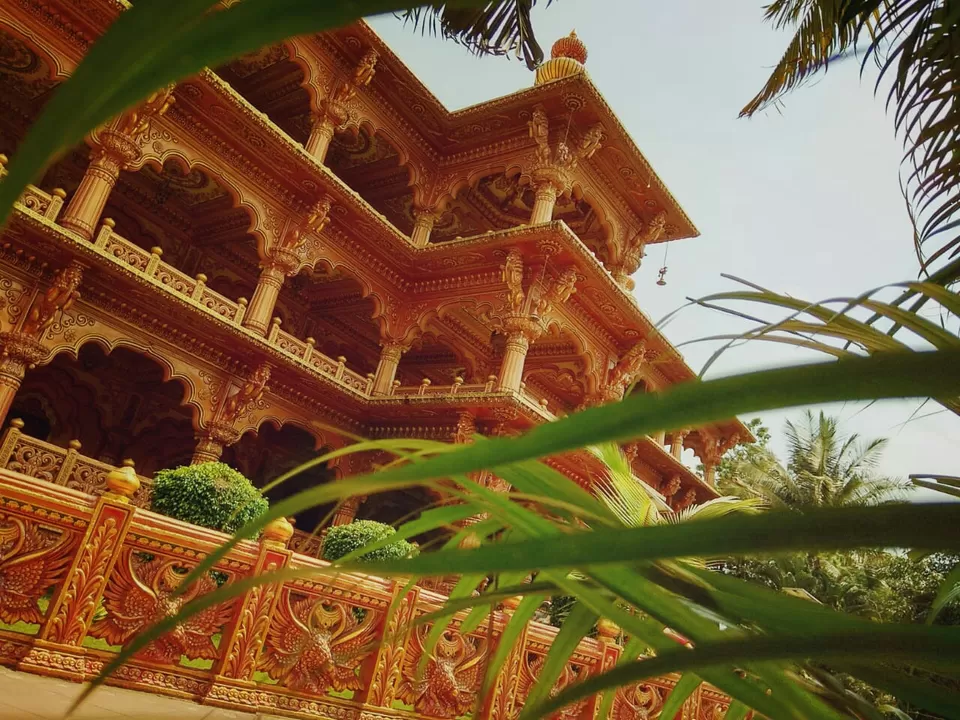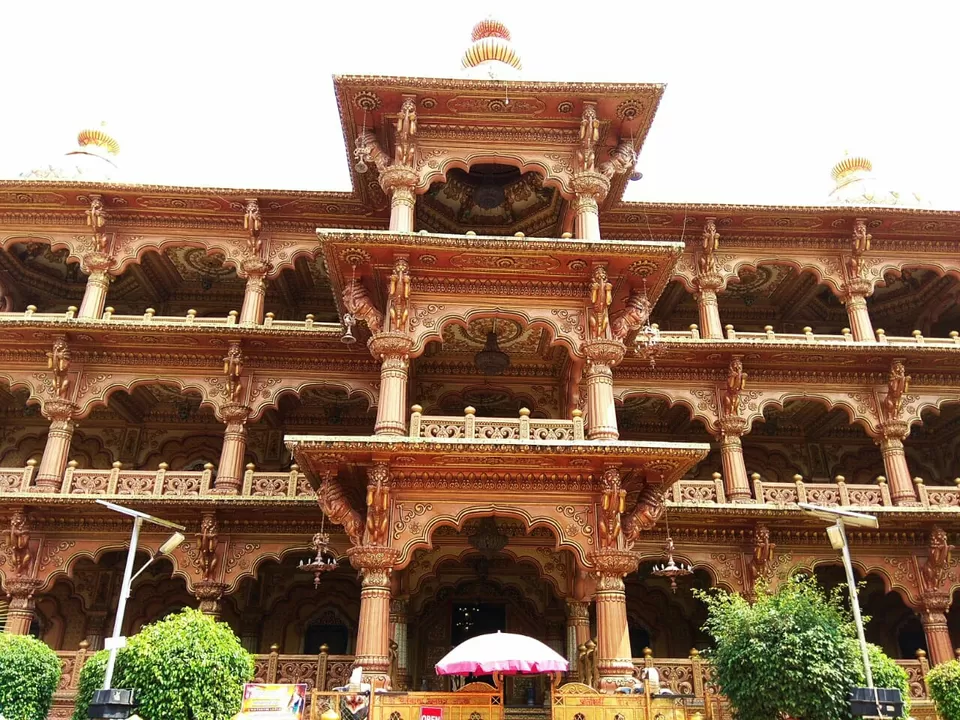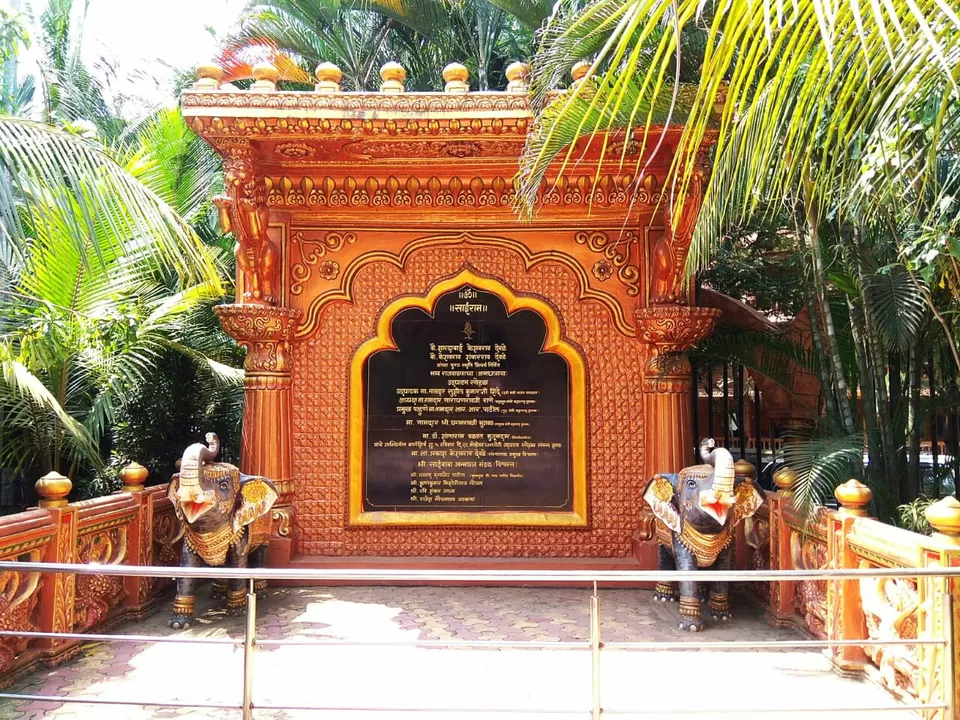 Daily Programs
Kakad Arti 5:30 am
Maha Abhishek 7:00 am
Noon Arti 12:00 Noon
Dhup Arti 6:15pm
Shej Arti 10:00 pm
Pratishirdi Sai Mandir opens in the morning at 5.00 AM till 10.30 PM
Whole day it is open for Darshan, it is never closed except eclipse day
How to reach -
It is a few kms drive across the expressway (through an underpass) to Shirgaon Sai Baba temple. All the daily aartis done at Shirdi are also performed here. The temple remains close from 10.30 pm to 5 AM.
Prasad is available from 12 noon to 3 pm at the Anna Chatralaya. For the ones who find it difficult to make the trip to Shirdi, this is a good alternative.
It is just before the Somatane toll plaza on Mumbai Pune old highway (NH4) , around 3 kms from Dehu Road. If you go through NH4, you have to pay the toll.
If going by expressway, then take exit to somatane which is after Talegaon toll plaza and link to NH-4 but don't go NH-4. Take a right turn just before the NH-4 and sign-board will display.
Parking is available near the temple.