A couple of years back, one fine December morning, I got a call from one of my travel friends that she made a plan to visit Shirdi on the eve of Christmas and she wanted me to join her. I had a long wish to visit Sai Baba temple but couldn't make it possible. So, I happily agreed.
Getting ready :
It was a 2 N and 3 D trip. So, I packed light. I didn't take any woollens because I thought Nasik or Shirdi is in the plateau region, so it wouldn't be too cold during winter. And those who live in Kolkata for years, know very well that it's usually cold on or after Christmas. So I was wearing a light cardigan and that was all.
How to reach there :
If you wanna travel by train, there is a weekly direct train 22894 - Hwh Snsi Express runs from Howrah Jn to Sainagar Shirdi or you can avail 12130 HWH Pune Azad Hind Express for Kopergaon, the nearest station to Shirdi, 16 km away or 12860 Geetanjali Express for Nasik Road which is 75 km away from Shirdi. As it was only a fortnight left, we could able to arrange sleeper class train tickets in Geetanjali Express for Nasik Road. On the scheduled day, we met at Howrah Railway Station and boarded the train. Initially, the journey was comfortable. We finished our dinner with the food that we took along from our respective houses and went to sleep. Suddenly I woke up feeling cold. It was nearly midnight. The train was moving fast and the cool breeze coming through the narrow gap of the window made me shiver. Sleeping off and on the rest of the night, I woke up at 5 am with running nose. But fortunately, as the day progressed, the sun rose, the temperature increased and I became fine. We reached Nasik Road by 5 pm.
After coming out of the station, we were looking for a cab but they charged a heavy amount. Someone suggested taking the bus which leaves a few walks away from the station. We got there and found a Volvo Bus about to leave for Shirdi. The bus was almost full only two or three seats were left. We got two separate seats and the bus started. It stopped only once at a roadside Dhaba for the tea break. We reached Shirdi by 8 pm.
Where to stay :
A couple of meters away from the Bus terminus, just in front of the Sai Baba Temple Complex, you will get plenty of Hotels. We booked Sai Tulsi near Gate No. 2.
After checked in, we got refreshed and went out for dinner. There was a beautiful South Indian restaurant nearby. We had a sumptuous dinner there and retired to bed.
Day 1
Paid a visit to Sai Baba temple
We woke up as early as 3 am, got ready and stepped out to visit the Samadhi Mandir – the main shrine where Sai Baba 's mortal remains kept. The roads were empty but there was a long queue inside the gate. I quickly checked the temperature in mobile ( Just remembering the last night's experience) and found that it was 8 degree C. I just couldn't believe my eyes. Such a low temperature in Shirdi !!! So, if you are in Shirdi in December, carry woollens to cope with the morning cold. We deposited bags, mobiles to the counter as these are not allowed inside and kept our shoes at the shoe store just before the entrance.
We got into the queue of free darshan around 4.30 am. The cool bridge was blowing and soon I started feeling cold again. Anyway, we kept waiting in the queue while watching the Kakad Arti in the giant screen mounted high up in front of us. A divine vibe was prevailing all around.
The temple opens to devotees by 6 am. and we reached on the feet of Sai Baba by 6.30 am. The darshan is quick as devotees are ushered out with speed, to accommodate everyone. Sweet boondi was given while going out of the hall.
We went backyards to collect UDHI ( Vibhuti) ( It's a by-product of wood(ash) but obtained from Dhuni(sacred fire), lit by Sai Baba in his lifetime) packet from temple distribution counter. I have heard that it has a unbelievable healing power, so I decided to bring some packets back home. There are several counters but you have to stand in a long queue. Only one packet is given to one person at a time. If you want to take more than one packet, then you have to join the queue every time. I collected 3 to 4 UDHI. But it didn't take much time.
There are other places of interest related to Sai Baba around and we covered all the following places back to back.
Dwarakamayee – where Baba spent his whole life. As soon as you enter, you can see the stone slab where Baba used to sit and Dhuni burning continuously from the time Baba lit it.
Chavadi - This temple is said to be the place where Baba often rested.
Gurusthan - It is the place where Baba used to spend his time initially under a Neem tree before moving to Dwarakamayee. He used to say that this is His Guru's place.
Dixit Wada Museum - It stores exhibits that showcase the life and times of Sai Baba.
Besides, there are the temples of Ganesha, Hanuman, Shiva, and Shani located very close to each other in a line around the Samadhi Mandir.
It was almost 9 am and we were feeling hungry. So, we went straight to a nearby hotel and had an awesome breakfast with giant Puri & Chole.
Soon after breakfast, we went to visit Khandoba temple.
This is a few walks away from the Sai Baba complex on the main road. This temple is dedicated to Lord Shiva in the form of Khandoba and holds special importance for being associated with Saibaba. It houses the idol of Lord Khandoba and his wives Banai Devi and Masai Devi on either side.
There is a rectangular sandpit just in front of the temple which was used for fire-walking in those earlier days. Now the tradition has stopped.
Although morning was cold but day was hot even in December. The sun was shining brightly overhead. So, we got back to the hotel.
At noon, we headed towards Prasadalaya to have lunch. Located a couple of meters away from the temple complex, this vast dining hall provides tasty and hygienic foods to thousands of devotees daily for a nominal fee. The place was overcrowded. There was long queues in front of the counters. We got to know that there are two types of coupons, one is Rs. 10/- for the general meal and for VIP meal is Rs. 50/- . We took a general meal coupon and after half an hour waiting in the queue, we entered the huge dining hall. After having a sumptuous lunch, we got back to the hotel.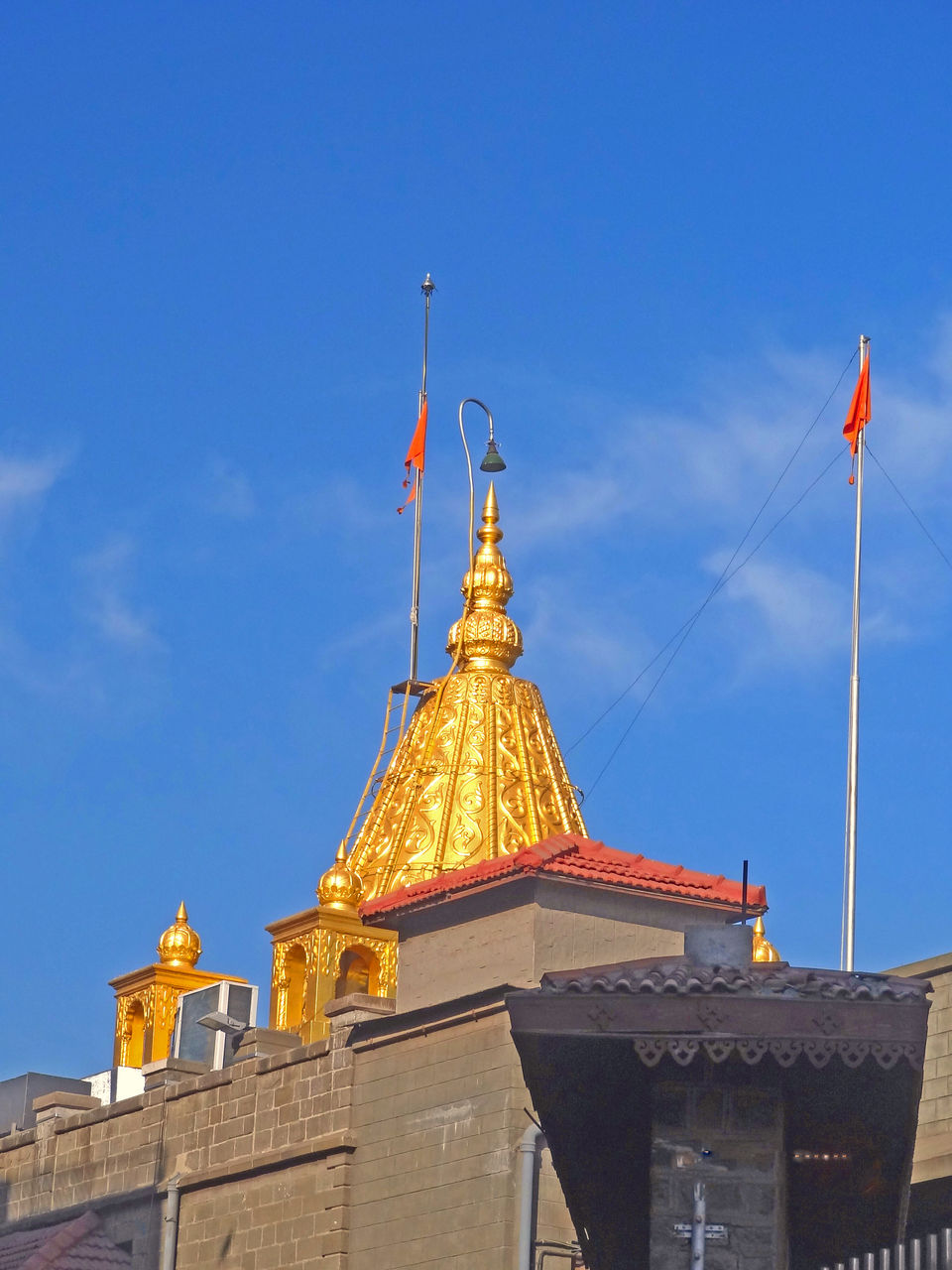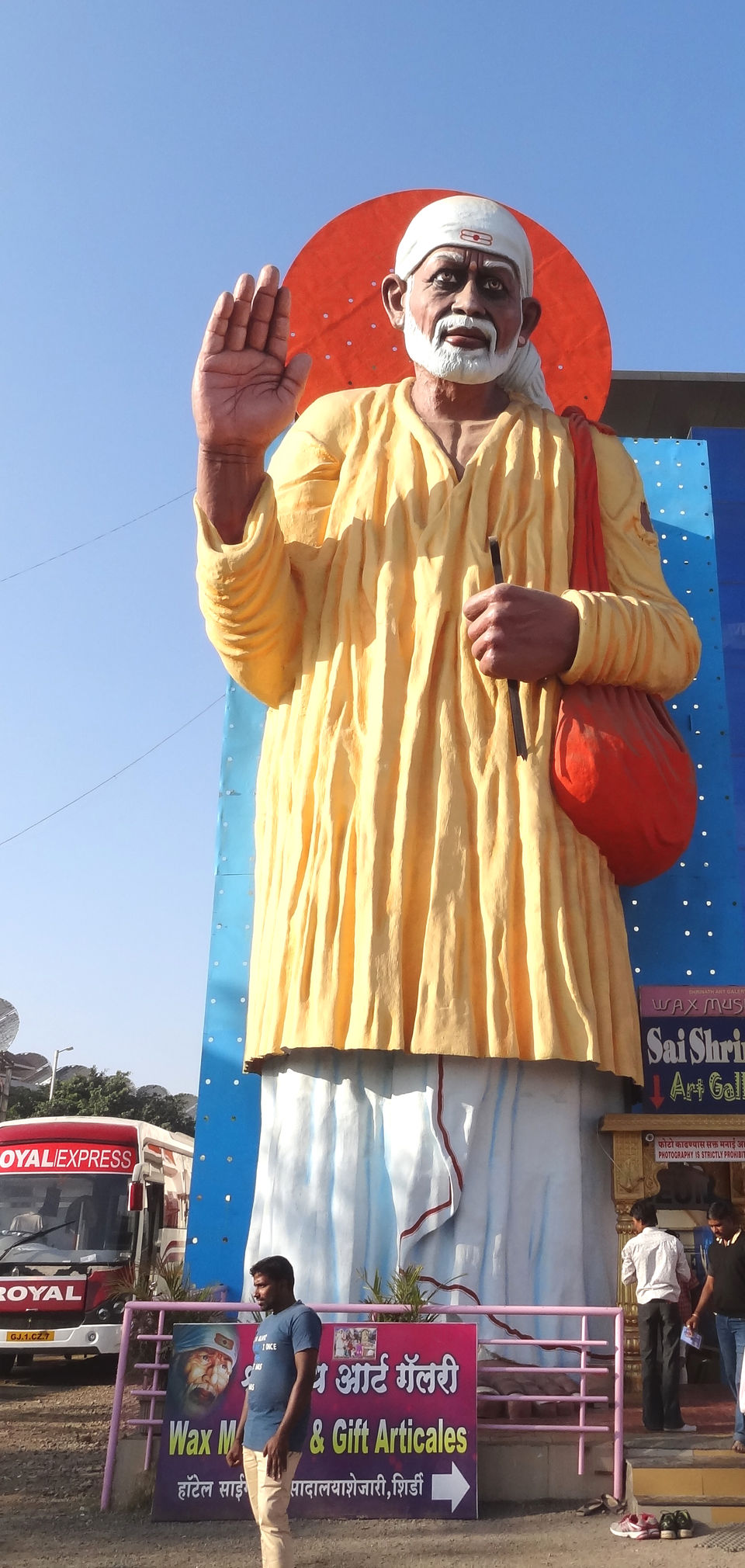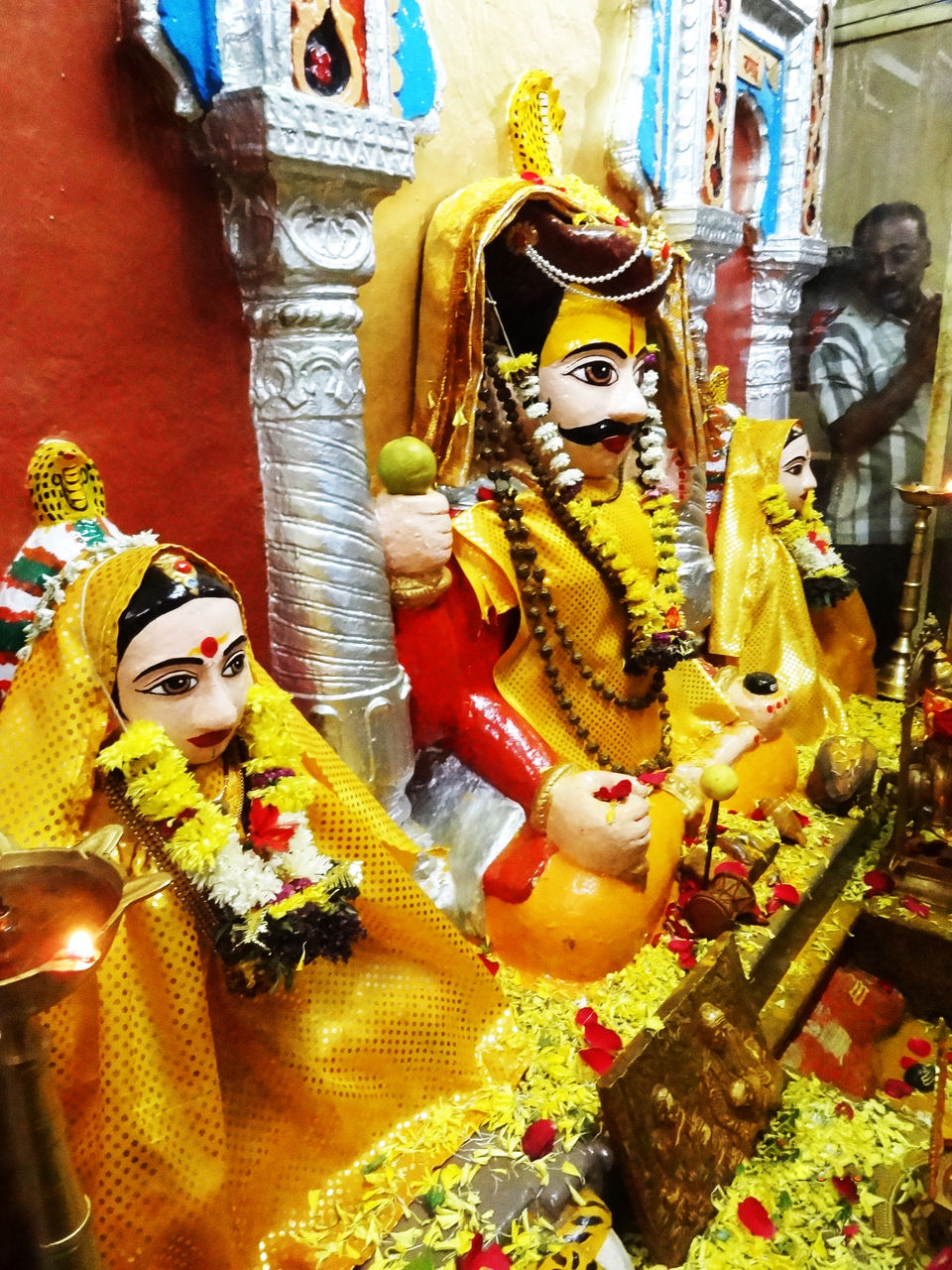 In the afternoon, we went to explore the market around the temple complex. Hundreds of small shops selling sweets, Pooja items, and stuff related to Sai Baba. The variety of sweets tickled our test buds and we new sweets and also bought some to take back home.
If you are in season, you get to see that pomegranate and black grapes are sold in plenty around the temples. And the price was economical in compared to Kolkata. We bought in large quantities and finished our supper with fruits and kept some for taking back home.
Although we got to know that Prasadalaya remains open till 10 pm but we didn't take the effort to go there for dinner instead we had it at a nearby restaurant and retired to bed.
Day 2
A day trip to Nasik
The next morning, we planned to visit some other spiritual places in Nasik. A cab was booked and we set off in the morning. On the way, we took a stop at a beautiful roadside Dhaba for breakfast and continued the journey. As soon as, we entered the hilly region, the scenic beauty of the Sahyadri mountains left us spellbound. The journey along the silk smooth road flanked by the hills and valleys was really enchanting. We reached at the foot hills of Saptashringimata temple within a couple of hours.
The Saptashrungi Temple is located in the hilly region of Nanduri village in Nashik at an altitude of 4,700 feet. The village is in the foothills of Saptashrungi Gad. According to the Hindu scriptures, the goddess Saptashrungi dwells within the seven mountain peaks, also known as Gads. Sapta means seven and Shrung means Peaks. The temple is one among the 51 Shakti Peethas located on the Indian subcontinent and here one of Sati's (first wife of Lord Shiva) limbs, her right arm is reported to have fallen. The temple is also one of the 'three and a half Shakti Peethas' of Maharashtra. The temple is a manifestation of Goddess Mahalakshmi of Kolhapur, Goddess Mahasaraswati of Tuljaur and Goddess Mahakali of Mahur. One needs to climb 510 steps to reach the temple. The other option for disabled people is palki.
The narrow lane lined with small shops selling puja thali and other puja articles leads you in the beginning of the staircase. We bought Pooja thali from one of the shops and kept our shoes there and started climbing the steps. The stairway has a roof overhead and the climate was pleasant, so we didn't feel tired while climbing. Also the more you climb the more awesome is the view. We took almost 2 hours to reach the entrance of the temple. There was a huge crowd at the entrance in a queue.
Finally, we saw the orange idol of Saptashrungi Mata carved out of a natural rock which was approx 8 feet tall with eighteen hands, holding different weapons. The Devi is decorated with a crown, a silver nose-ring and necklace. The chanting of "Saptashrungi Mata Ki Jai" by the devotees was making us feel the divine ambiance. We offered Pooja and started getting down.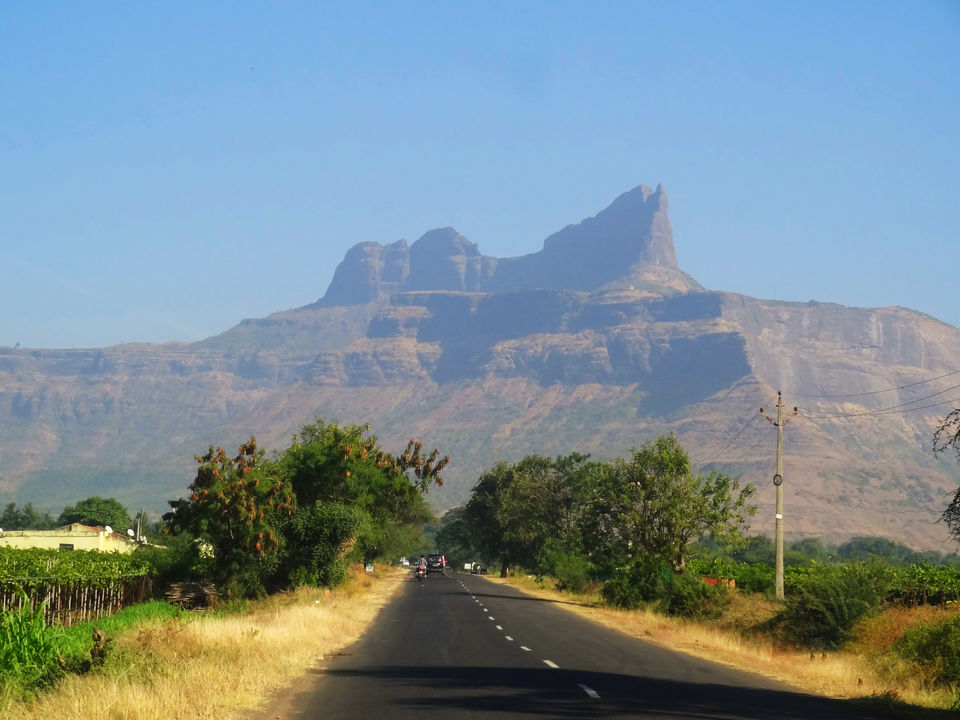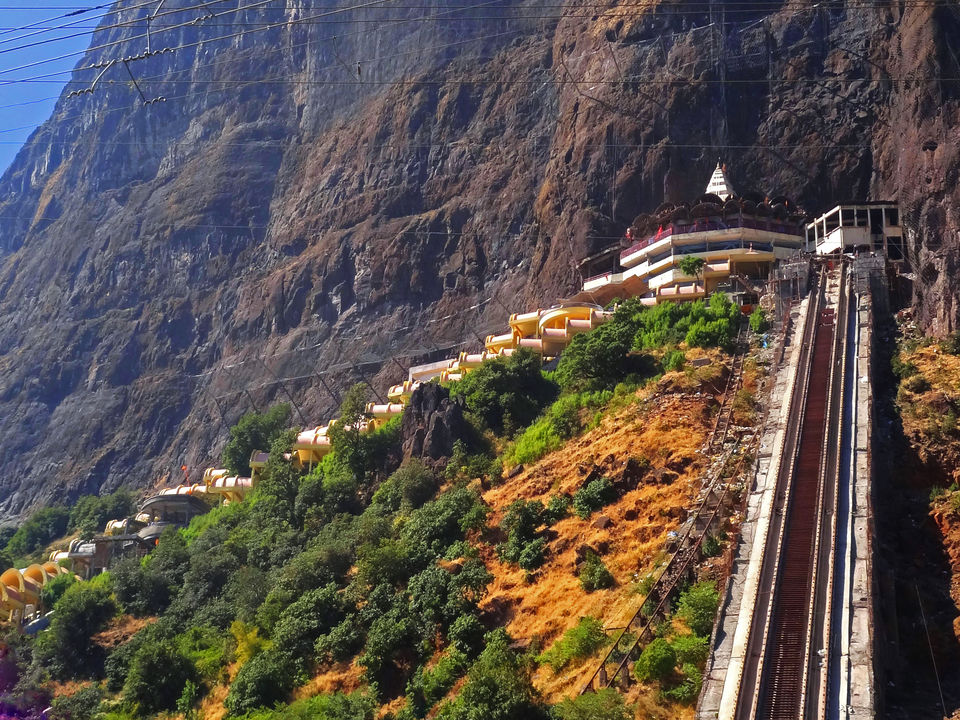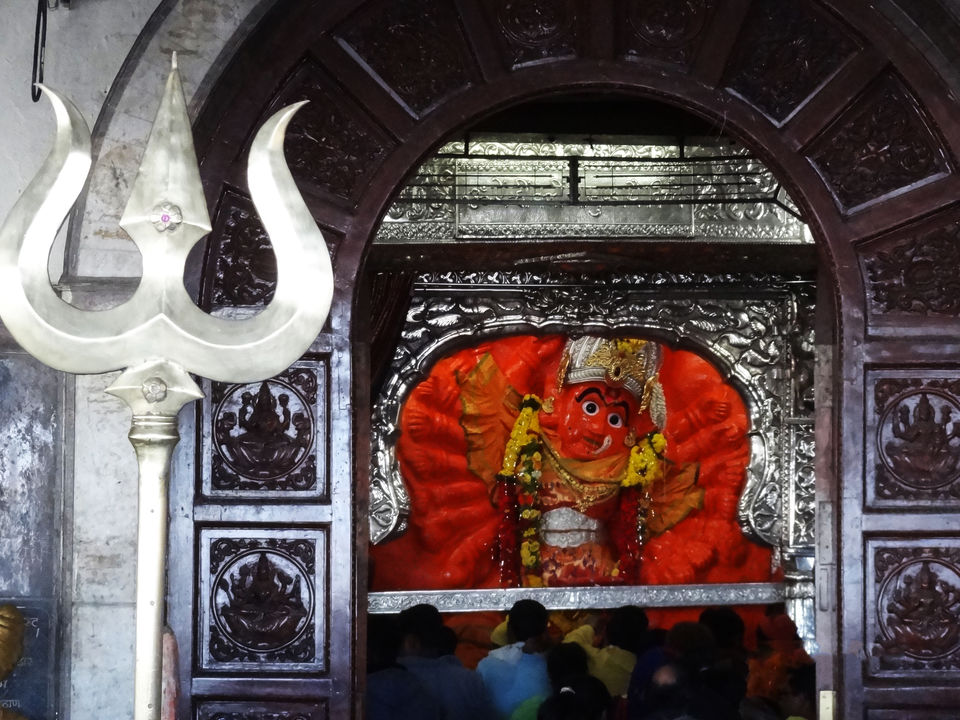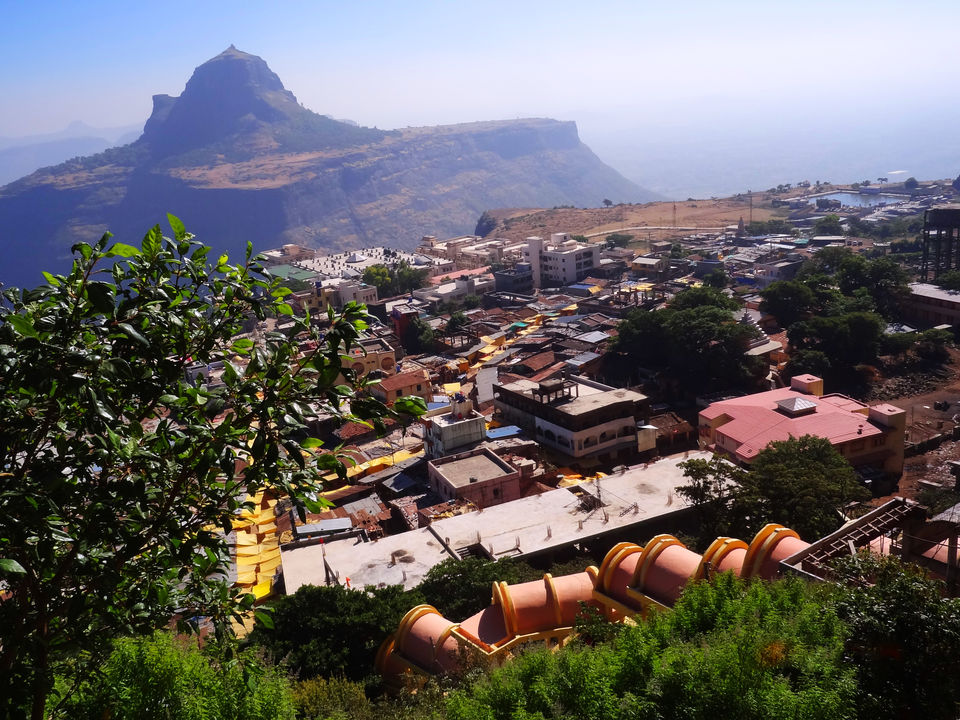 Next, we headed to Panchabati – This place is religiously significant as it is said that Lord Rama, Sita and Lakshman stayed here during exile. You can find old and lofty banyan trees all around. The Kalaram Temple, Kapaleswar Temple, Sita Gufa are some of the important places in Panchvati.
It's probably one of the oldest Hindu shrines in India. This temple dedicated to Lord Rama and features a black idol of the deity and that is the reason it's named Kalaram.
Kapaleswar Temple
Another ancient Hindu temple dedicated to Lord Shiva. But unlike other shiv temples, there is no Nandi.
It's a small cave from where Sita was kidnapped by Ravana. A narrow staircase takes you to the entrance of the cave which is very narrow and one has to negotiate with a tunnel like structure to reach the basement. Senior citizens and obese people should avoid entering the cave since one has to crawl that small part to reach there. The cave houses idol of Lord Ram, Sita and Lakshman and a Shivling.
River Banks of Godavari :
It's a bathing Ghat by river Godavari. Thousands of pilgrims throng here from every corner of the world during Kumbh Mela.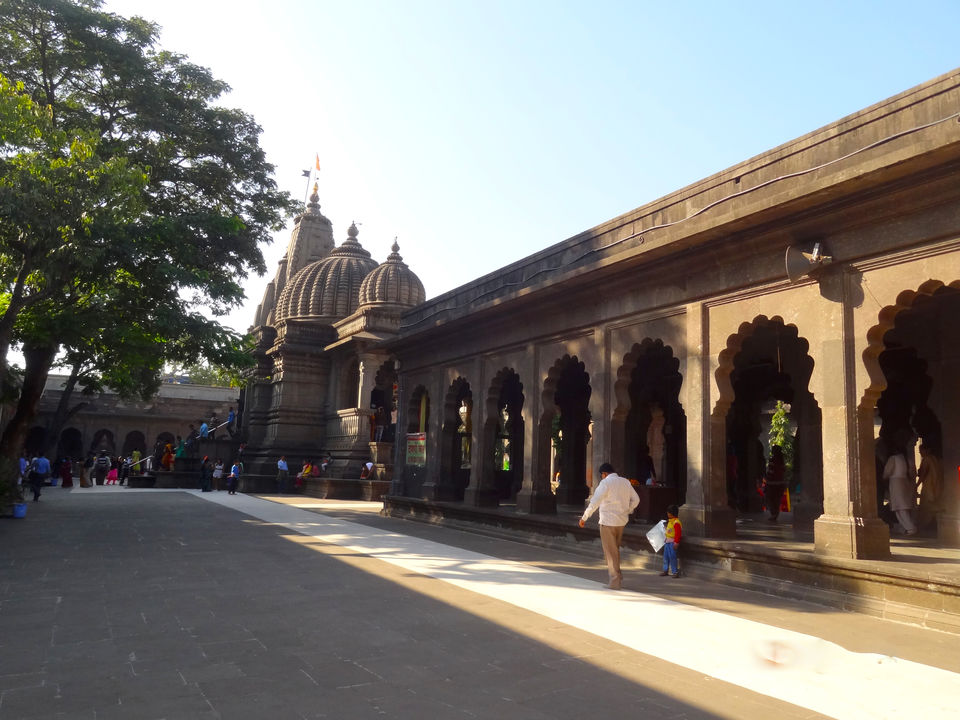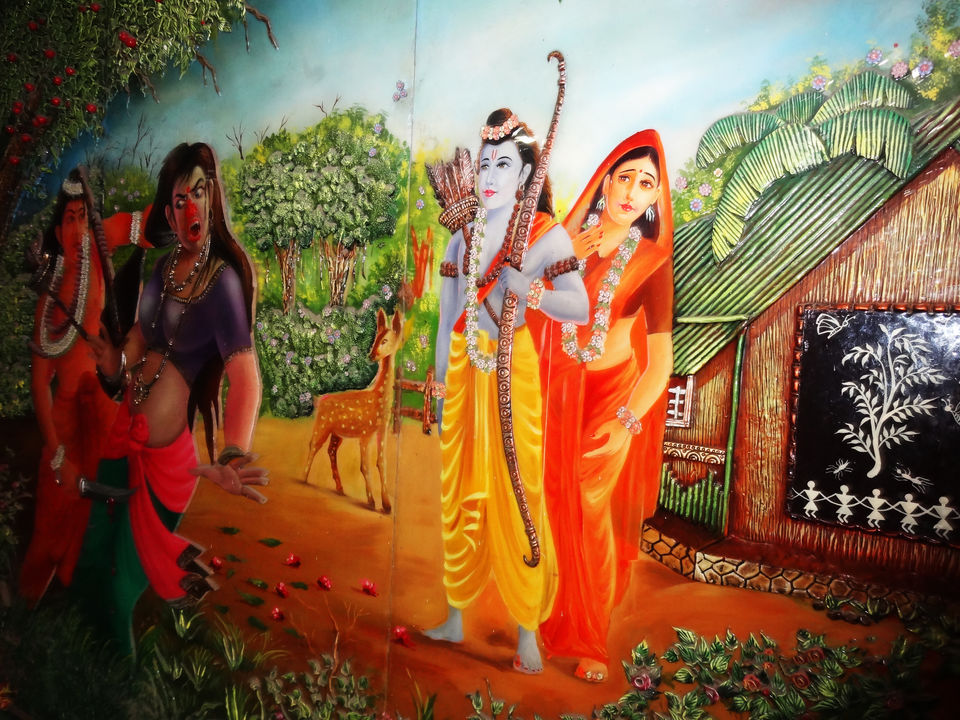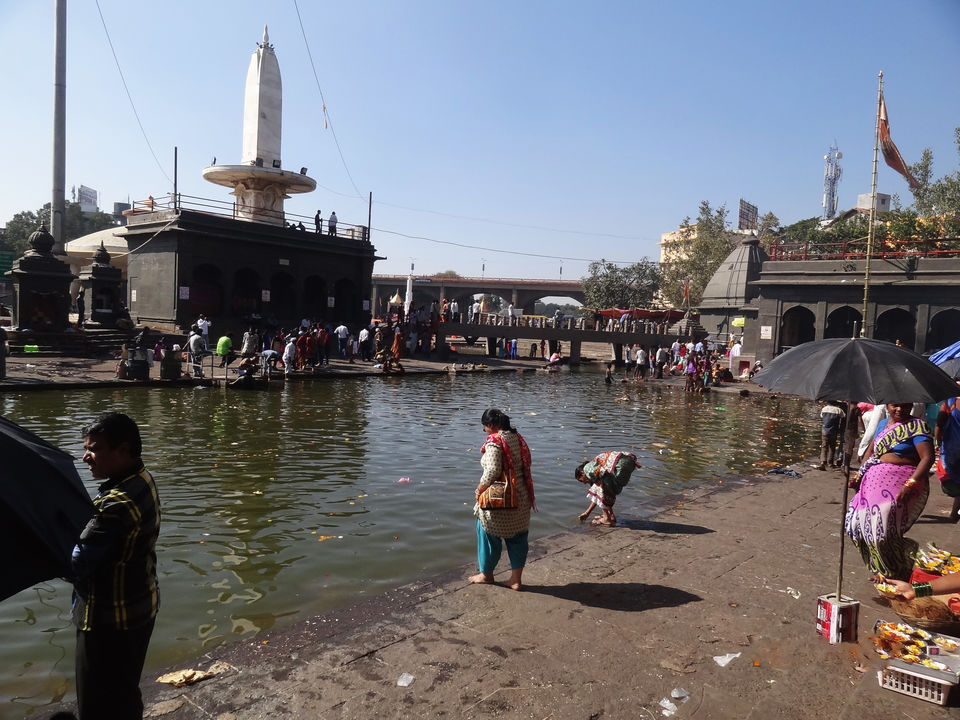 Post lunch we headed towards Trimbakeswar temple and reached there by 4 pm. The place was crowded. There is a ticket counter at the entrance of the temple and we found a long queue for the tickets there. The counter didn't open till then. After almost one hour waiting, we somehow could able to manage two tickets. It costs Rs. 200/- each. We deposited electric gadgets at the counter as these are not allowed inside the temple and joined the darshan queue.
Trimbakeshwar Temple is one of the holiest and sacred places for Hindu pilgrims and is revered as one of the 12 jyotirlinga shrines of Lord Shiva in India. The temple lies in the foothill of mountain Bhramagiri which is the source of river Godavari. The most attractive part of this temple is the presence of 3 linga's each representing Brahma, Vishnu and Shiva. The lingam can be seen through the tilted mirror which is mounted on the backside wall of the Shiva linga.
It's a beautiful marble temple complex. It has the replicas of all the 12 jyotirlingas, don't miss this temple if you want to see all the jyotirlingas at one place. There is a temple dedicated to Lord Krishna in this complex. The walls of Krishna temples have inscriptions from Mahabharata and the life of Lord Krishna. The temple is visited by crowds from all walks of life and the frequency increases many folds during the Kumbh Mela.
We got back to Shirdi by 8 pm.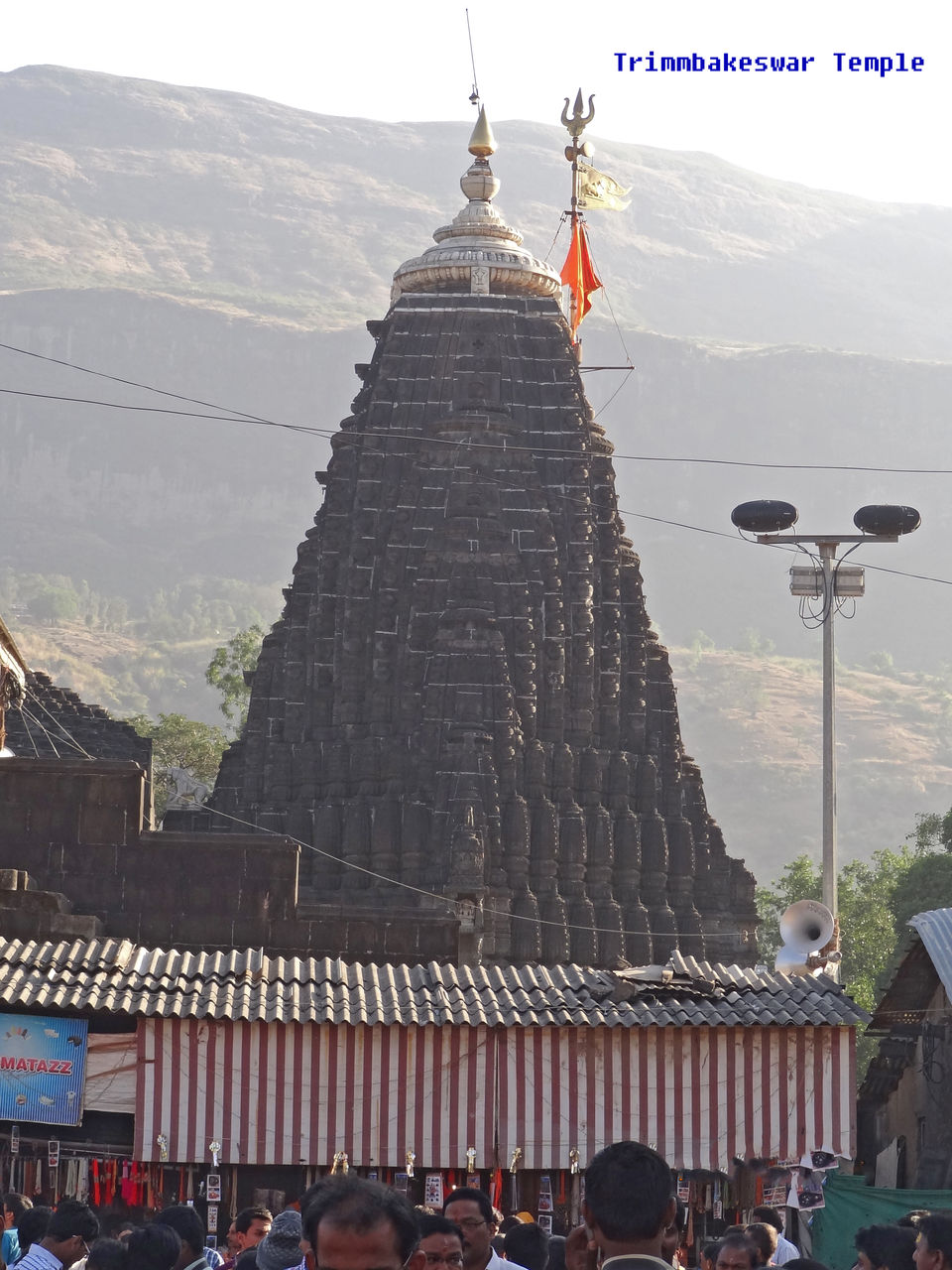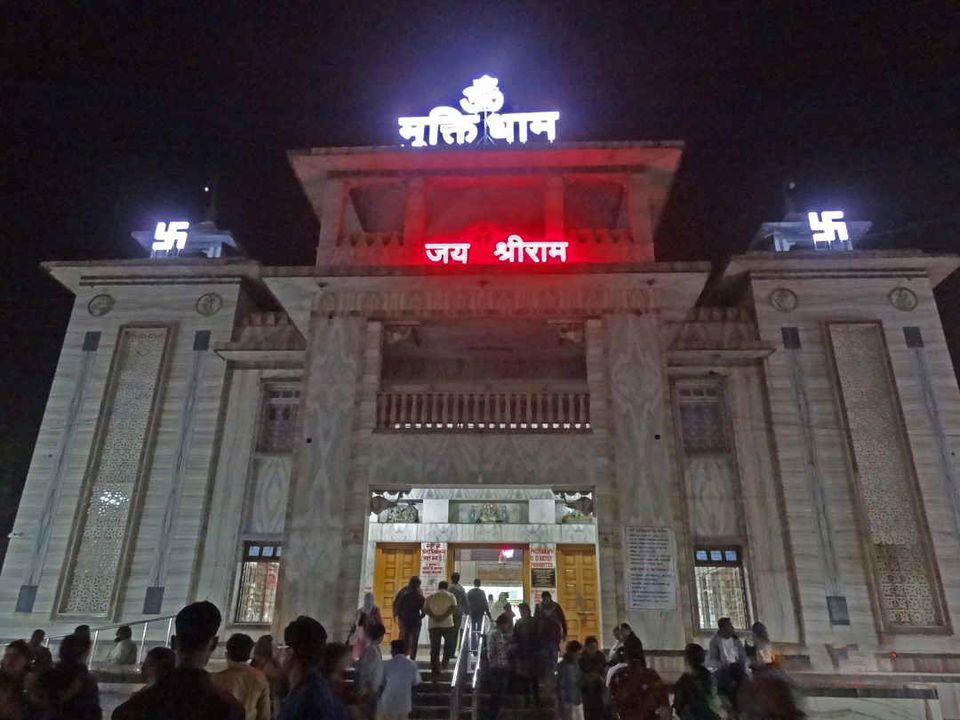 In the morning, we visited the Sai Baba Temple once again and after breakfast, we headed to Shani Shingnapore, a small village around 80 km from Shirdi. You can easily get shared transport near the temple at fixed rates. Within a couple of minutes journey, you get to see the village landscape, sugarcane fields on either side of the road and bullock cart laden with sugarcane. It took almost two hours to reach. Leaving our shoes in the cab, we headed towards the temple. The small shops selling puja thali and mustard oil are found in plenty near the temple. We bought a puja thali and a small mustard oil bottle and went in.
Shani Temple
This is one of the most famous Shani temples in India. A huge gate welcomed you inside the temple. The black stone is placed majestically on an open altar in the courtyard. The large crowd clamored to offer prayers and pouring oil on the Shila. The temple doesn't have any priest. We also offered prayers and poured the oil into the big container from where through the pipe the oil is continuously dripping on the Shani Shila.
Door less village
The village is also famous as door less village and the houses and shops of this village don't install any door or use any locks. They use a simple bamboo partition or curtain to cover the main entrance. Before leaving the village,I took a stroll around and click some photos.
On our way back to Shirdi, we found many roadside makeshift stalls offering fresh sugarcane juice. We made a quick pit stop to quench our thirst at one of those stalls. These stalls use the traditional method to extract juice from the sugarcane by using the power of the Bull instead of the machine. Something that I have never seen. Many of these stalls are beautifully decked up with colourful balloons. Some stalls have swings made from a wooden plank hanging from the tree branches. We enjoyed some fun time swinging on while sipping the juice.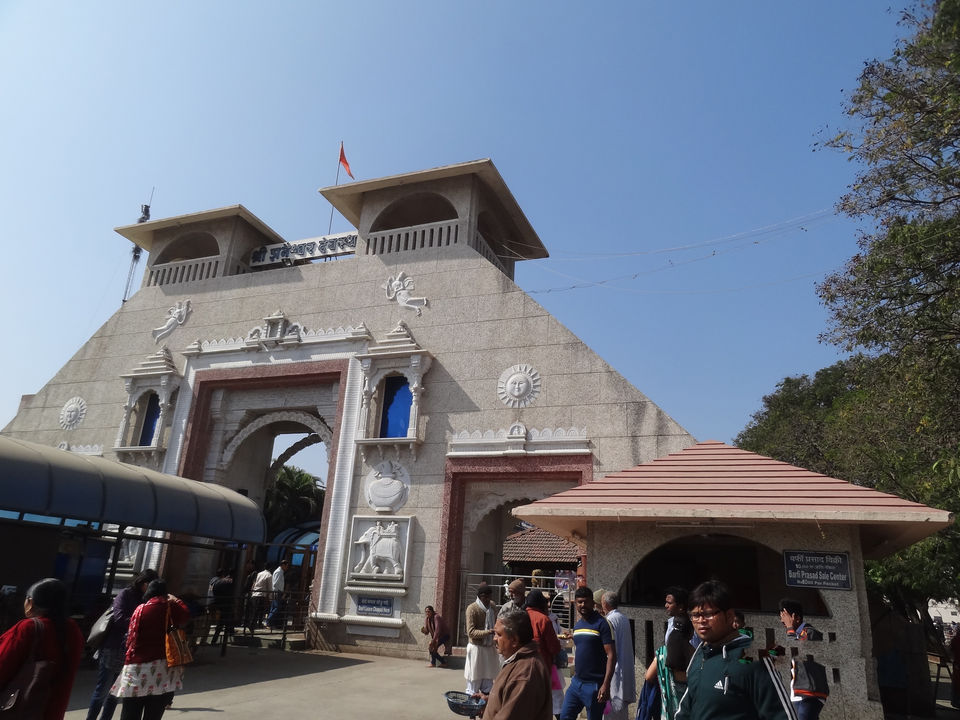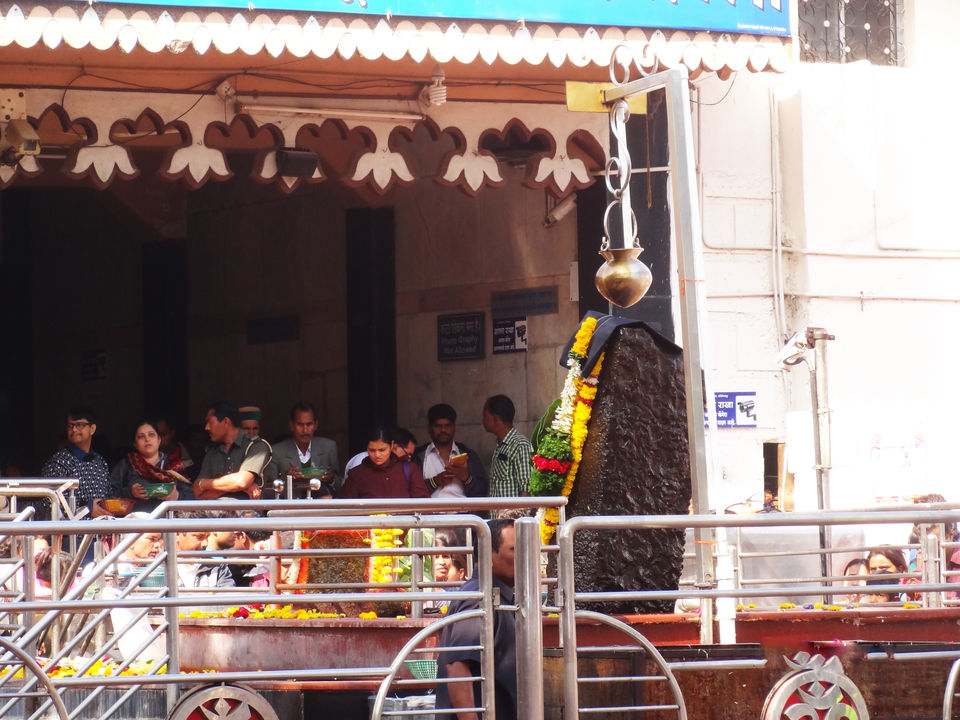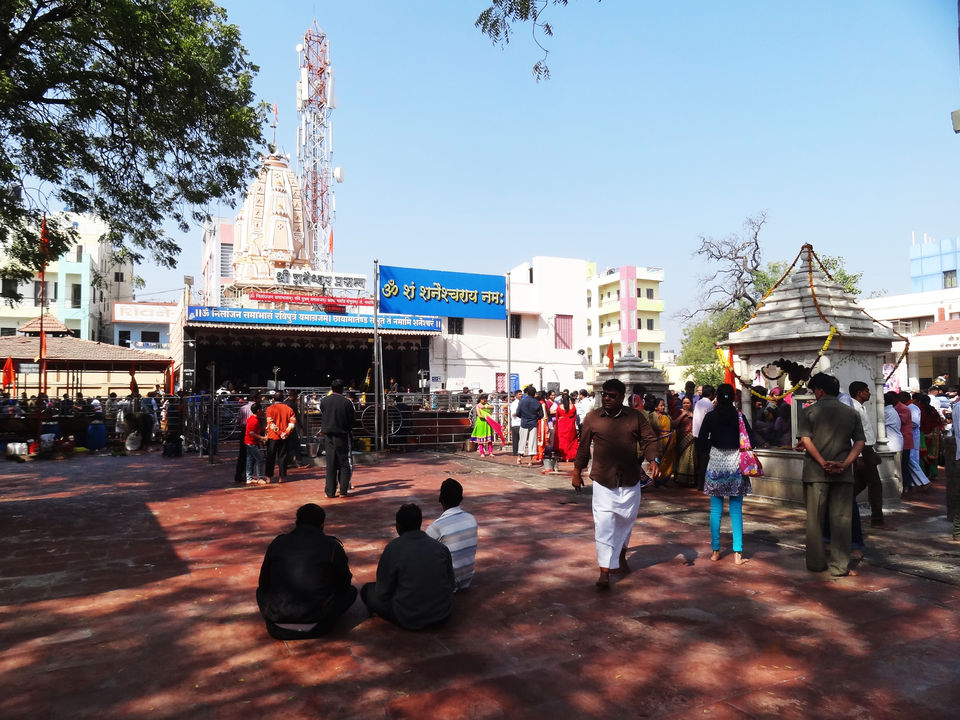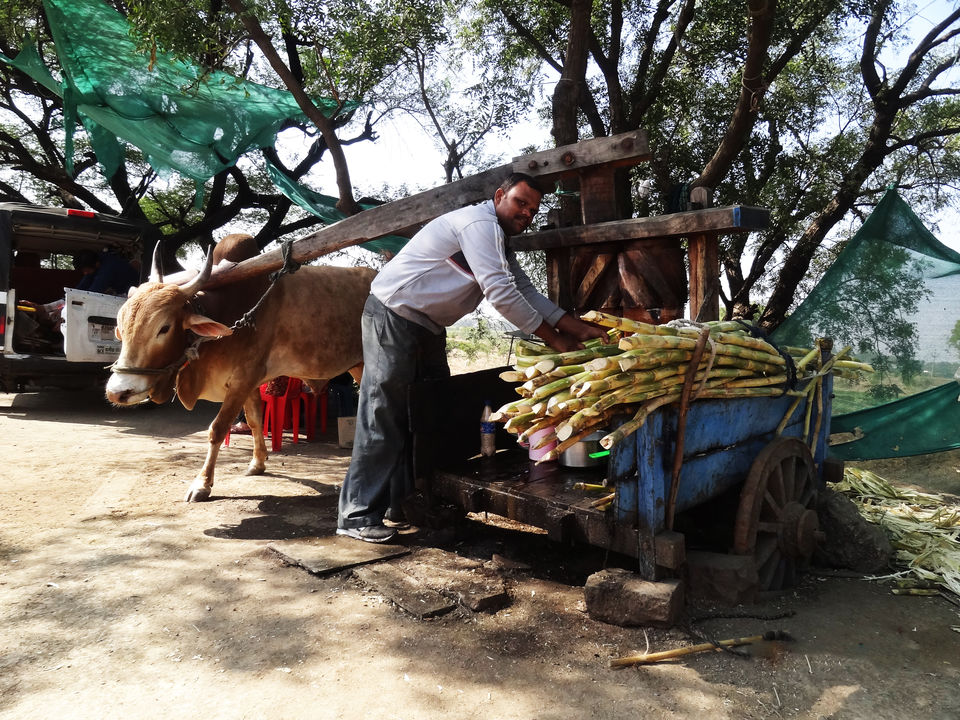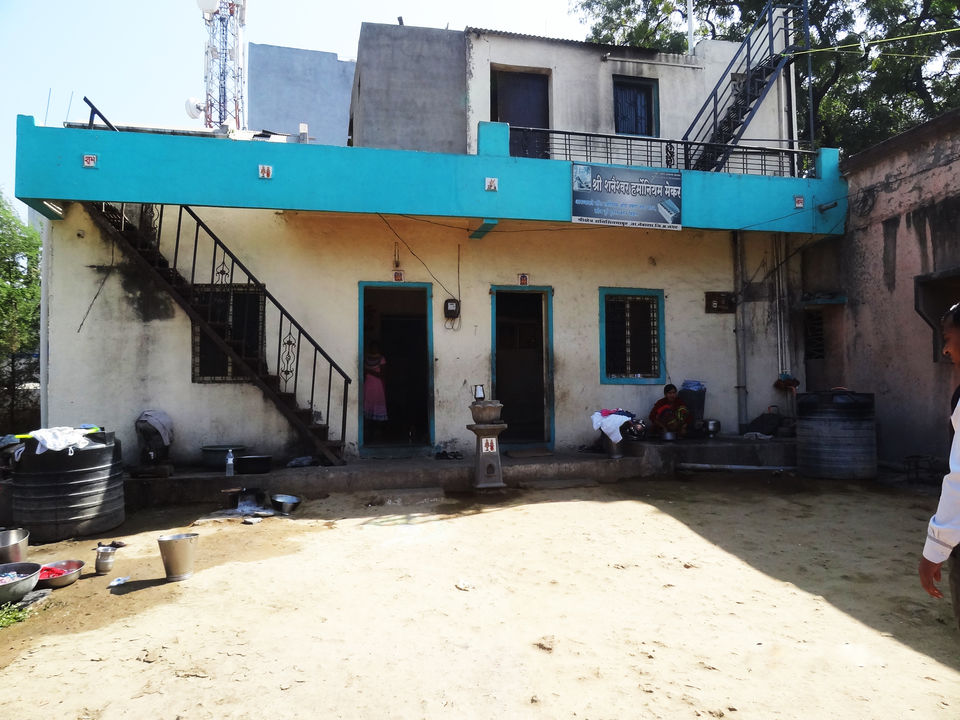 After getting back to Shirdi, we went to Prasadalaya to have lunch. This time I had a VIP meal coupon. It was on the first floor. Lift is available. The large hall is less crowded and there was no waiting queue. After having the awesome food I got back to the hotel.
That was the last day at Shirdi. We had booked the return train ticket in Pune Azad Hind Express from Copergaon Station. We got packed dinner and started for the station by 7 pm. The cab was moving fast along the highway and we reached the station within a couple of hours. The train was around 11.30pm. But we got to know that it was running late by 2 hours. So, having finished our dinner, we started waiting. There was no announcement. I was feeling sleepy and at last around 2 am, the train arrived. We boarded the train, settled our respective seats and soon fell asleep. I got a sound sleep that night, didn't feel any cold and reached Howrah at early dawn.