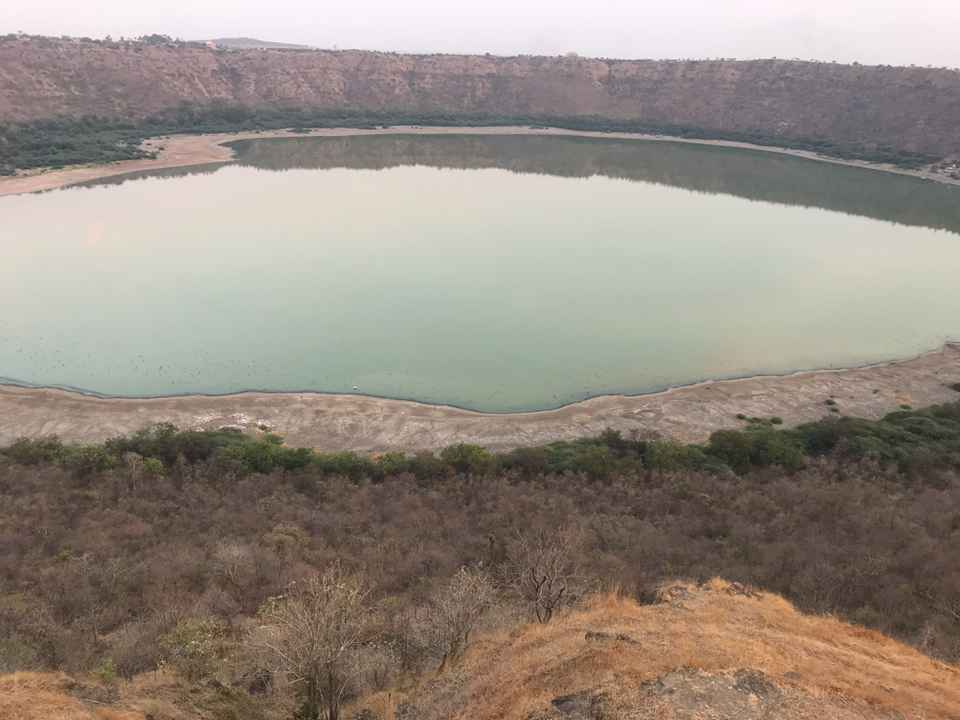 Information —The world's greatest mystery a Lonar Lake is located in Buldhana District (Maharashtra), It is formed by high velocity impact crater of Basaltic Rock. It is to be said that crater diameter is around 1.8 km that responsible to formation of 1.2 Km diameter with depth of around 137 m Saline Soda Lake which formed 52000 years ago. Initially Scientists believed that the lake was of Volcanic origin but further studies proves the Lake was a formation due to extraterrestrial impact of Crater.
The ecosystem of the lake is pretty unique in the sense that there are two distinct water regions in the lake and they don't mix with each other.
The outer region is neutral region with pH level of 7. The inner region is the alkaline region with a pH level of 11.
Due to its alkaline nature,there is no vegetation on the belt of mud.
There are lot of temples made like Ajantha was build in 12th Century at the base of lake but not functional but all are depicting ancient Indian Architecture.
This lake is also for the home of residents and some migratory birds. And also the home for gazelles, chinkara.
And if you are lucky, You may have to see some wild animal.
Lonar is a land of temple where you are able to see numerous temple which is made in between 6th-12th Century. Some of them are Goumukh Temple ,Daitya Sudan( Vishnu) Temple,Chopda Mahadev Temple,Shiva Temple and Hanuman Temple
Morning is the best time to visit to lake and you will able to see sunrise and you will experience trekking during your way back to hotel from lake.
How to reach— It is 150 km from Aurangabad and 390 Km from Nagpur ( I did road trip from Nagpur that tooks almost 6-7 hrs to reach at Lonar)
Season- Winter is the best season
Where to Stay—-the best option is to book MTDC resort prior to 1 week or maybe more