Formed around 52,000 years ago as a result of a meteor striking the surface of the earth, the Lonar Lake is one of Maharashtra's best-kept secrets. For perspective, the meteor weighed 2 million tons and was travelling at an estimated speed of 90,000 kmph.
For many years, Lonar Crater was thought to be volcanic in origin, due to its location in a basalt field made from volcanic rock dating back 65 million years. However, the presence of maskelynite, a glass that is only formed from high velocity impact, points towards its extraterrestrial origin.
The Story of Lonar Lake
A more popular local story about the lake blissfully ignores science and goes on to state that Lonar Lake was formed when Lonasura, a mythical demon who used to harass and trouble local people so much so that Lord Vishnu descended to earth to vanquish him, was pushed back into the netherworld with tremendous force by Vishnu!
Most tourists come to nearby Aurangabad to visit the Ajanta and Ellora caves, but hardly make it to Lonar Crater. So, here are few reasons why Lonar Crater Lake needs to be on your bucket list:
• The Lonar crater is the best preserved impact crater formed in basalt rock and is the only one-of-its-kind on earth.
From the number of meteors that drop towards the Earth – anywhere from 30,000 to 1,50,000 each year – this one managed to create the Earth's largest and only hyper-velocity impact crater in basaltic rock.
• Lonar Lake is an incredible place to witness migratory and local birds.
Shelduck, black-winged stilts, brahminy ducks, red-wattled lapwings, blue jays, bayaweavers, hoopoes, barn owls, golden oriole, larks, tailorbirds, parakeet and peafowl, spot them all at Lonar Crater!
• The Lonar Lake is an exceptional 'bowl of unparalleled biodiversity'.
Along with migratory birds, gazelle, langur, bats, mongoose, barking deer and chinkara also inhabit the surrounding jungle spread with teak trees. A belt of large trees, about a mile broad, runs all round the Lonar Lake in rings of tamarind and babul trees.
• Each of Lonar Crater's temples is a world of its own, experience it!
The Ram Gaya temple, the Kamalja Devi temple, and the partially-submerged Shankar Ganesha temple, are all situated near the Lonar Lake. The most significant temple, however, sits in heart of the Lonar town – the Daitya Sudan temple. This temple is dedicated to Lord Vishnu, exterminator of the demon Lonasura.
• The Lonar Lake trek adds to the charm of the place.
This trek involves covering the 6 km perimeter of Lonar Lake. Every section of the lake has a different experience to offer. There are multiple starting points to the trek, such as the Maharastra Tourism Development Corporation (MTDC) Hotel.
Read more about the trek here.
You can also explore the lost world of the Lonar Crater with Mumbai Travellers.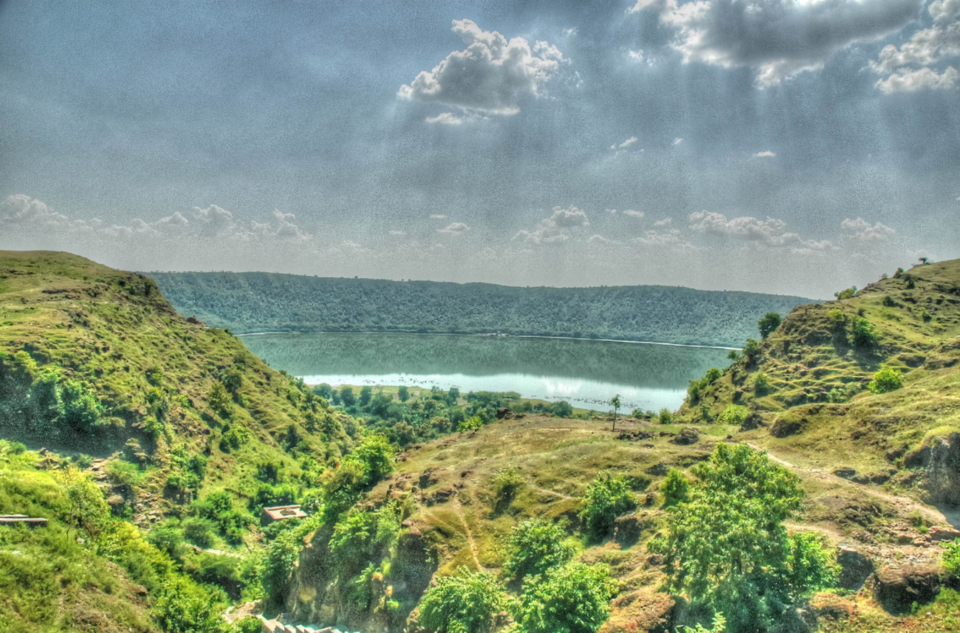 The Guide to Lonar Crater
Location:
Lonar is a small town in the Buldhana district of Maharashtra.
How To Reach:
By Air: Aurangabad is the closest airport to Lonar.
By Train: More than 20 trains run between Mumbai and Aurangabad via Manmad Junction. A post-monsoon rail journey is the best to witness stunning views of the misty mountains, lush fields and waterfalls.
By Road: The central bus stand in Aurangabad is about 1km from the train station. Buses to Lonar ply via Jalna and take about 5 hours.
Where to Stay:
The MTDC Resort is closest to Lonar Lake and is a decent option for stay and food.
Best Time to Visit:
Winter (October to February) is the best time to visit Lonar Lake. The weather is mild, with clear skies, gentle breezes and average daytime temperatures that range between 12-25°C.
Ever been to Lonar Lake? Tell us about your own unusual travel experiences in the lesser-known destinations around India. Share your travel stories, photographs and videos with like-minded travellers on Tripoto.