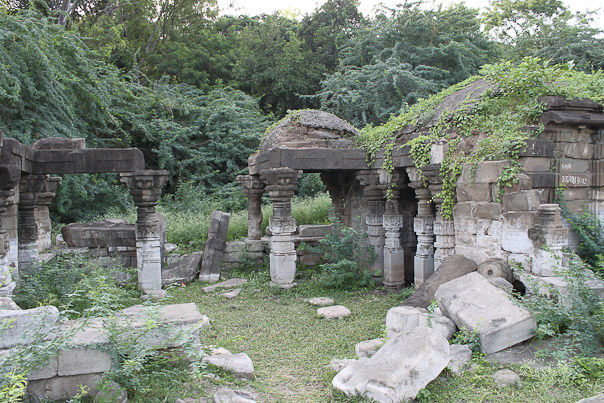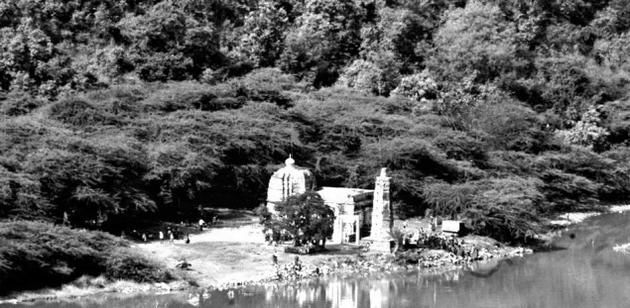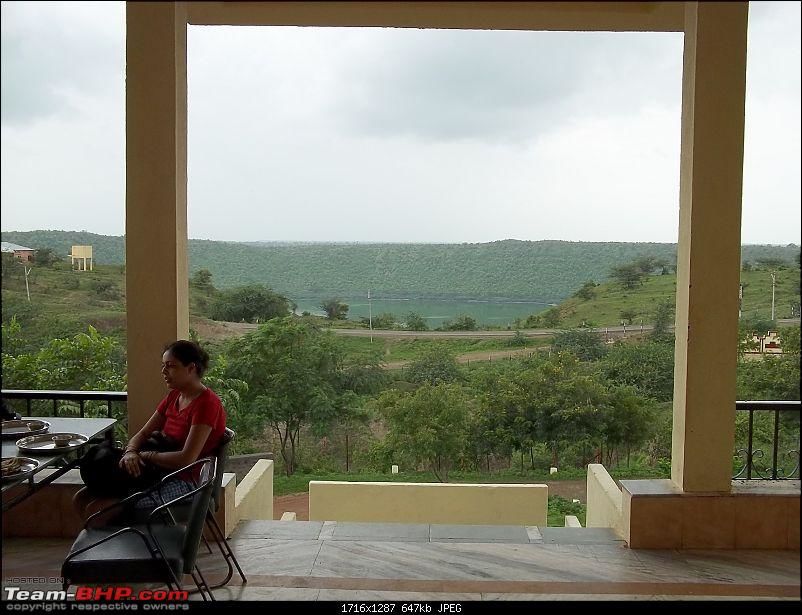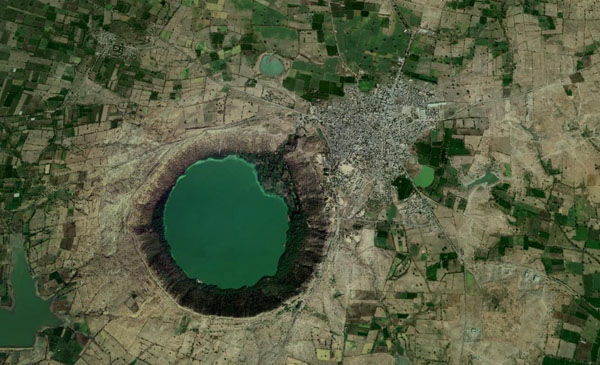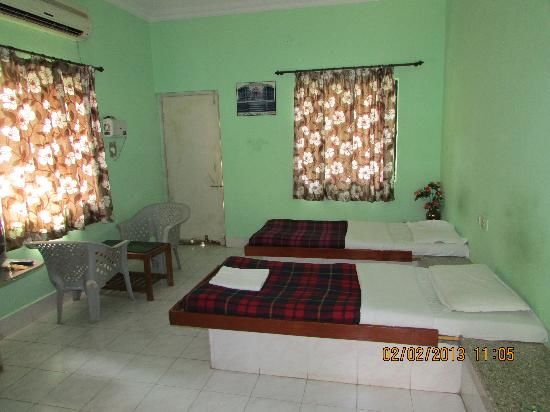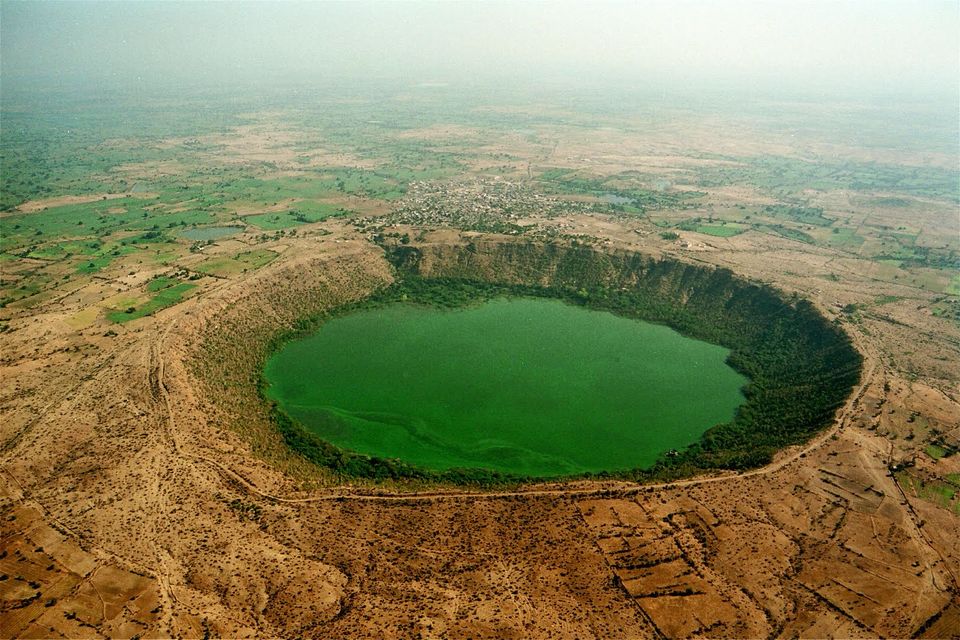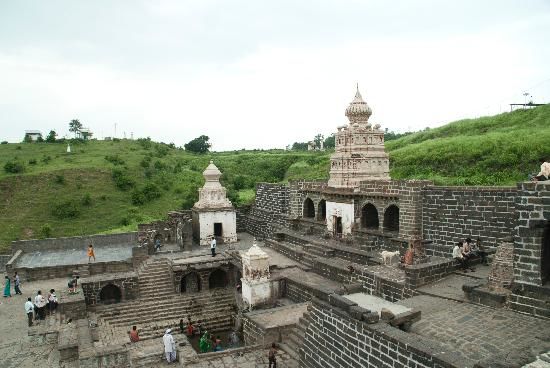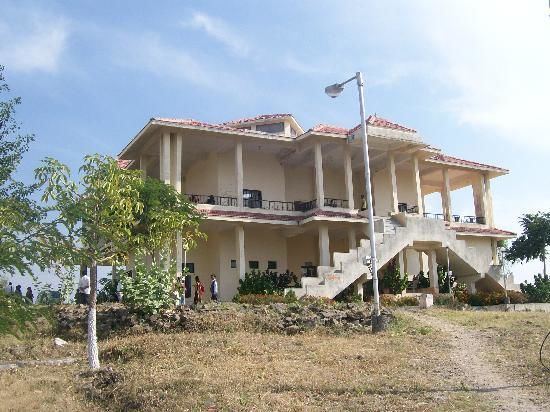 LONAR CRATOR as per Wikipedia:
Lonar (लोणार) is a town and a municipal council in Buldhana district of the division of Buldhana of the region of Vidarbha in the Indian state of Maharashtra. It is a Taluka of the district of Buldhana and is located near Mehkar. It is an important place in Buldhana district and is famous for Lonar crater and Lonar Lake, which is located at 19°58′N 76°30′E.
Lonar is situated around 550 km from Mumbai, around 160 km from Aurangabad and around 140 km southeast of the famous Ajanta Caves, about 4½ hours drive via Buldhana. Though it is in proximity to many tourist spots, it is not visited by many tourists.
Lonar is located at 19°59′06″N 76°31′23″E. It has an average elevation of 563 metres (1847 feet). Lonar Lake is a saltwater lake at Lonar in Buldana district, Maharashtra, India, which was created by a meteor hitting the Earth during the Pleistocene Epoch. The impact crater thereby formed is the only hypervelocity meteoritic impact crater on basalt rock. A lake that evolved in the resulting basaltic rock formation, is both saline and alkaline in nature. Geologists, ecologists, archaeologists, naturalists and astronomers have reported several studies on the various aspects of this crater lake ecosystem. Lonar Lake has a mean diameter of 1.2 kilometres (3,900 ft) and is about 137 metres (449 ft) below the crater rim. The meteor crater rim is about 1.8 kilometres (5,900 ft) in diameter. The circular depression bears a saline water lake in its central portion.The crater's age is usually estimated to be 52,000 ± 6,000 years (Pleistocene),although a study published in 2010 gives an age of 656,000 ± 81,000 years.
Lonar is one of those places which has lost it's vicinity and even the Archaeological Society of India is not serious upto preserving this awesome place. It is said that, if Lonar Crater is studied carefully, YOU WOULD NEVER REQUIRE TO GO TO MARS!- source BBC DISCOVERY DOCUMENTARY available on Youtube.
Stories to be believed, the Lonar when hit by the meteor, there were 09 temples, 01 cave and 1000 lives lost, still date, there are ruins everywhere. Imagine you get to see a devastation that occured appx 60,000 year earlier.
The Crater water is completely alkaline and has no signs of aquatic life. The water has an acute pH of 9-10. When you touch the water, you still have a soapy feeling! It is just great, apart you drinking it.
The crater that hit Lonar from MARS, has still bits and pieces floating around the water, if you are lucky enough, you get one! Special, isn't it? Holding a peice worth 60,000+ years is tooooo awesome!
Reportedly, there is a forest that has grew over years surrounding the place, if you spend 01 hours in the forest, you are sure to get complete relief from illness like cough, cold, fatigue, headache, fewer. Trust me, this has been experience by me as we had visited in winter with cold and cough.
There is also a temple which has water coming out of a nozzle everyday twice, in morning and evening, but the source is till unknown! Yes, it is still unknown. You get amazing feeling if you take a bath from it, drink it and it takes sweeter than sugar water.
Just below this temple, down the valley, there seems to be a myth that seemed true to me. There was supposedly a temple, where just minutes before the meteor hit Lonar, a group of 7-8 sages '(sadhus) were performing a "yagya". When the meteor hit, they were completely buried inside the Earth and till date when you dig up the land, you would find "ash" coming out.
There are many more stories that you would hear once you plan to visit. The images uploaded are taken from various sources (google images) as I am currently unable to upload the actual pics caz of size being huge (DSLR guys can understand) and editing takes time. So guys, if you have time please visit this lost treasure in India.
Oh I forgot, you would find many scientists across the world coming here and investigating, get along them and you would find facts which will just BLOW YOUR EFFIING MIND!!!!!!!!!!!!
HOW TO REACH:
Nearest you can go "properly" is Amravati, Maharashtra. From there, my recommendation, book a cab or something, or, if you choose to go by local bus, I bet you will scream one thing- "SAVE ME GOD". :D
The only suitable place where you can stay!