This Article is Written by Nishi Dedhia.
Visapur Fort
Looking for a 1-day monsoon thrill? Kudos! You are on the right page. Located in Pune district, near all-time favorite Lonavala hill station and standing at an elevation of about 3556 feet, Visapur fort is the most preferred 1-day excursion destination amongst trek enthusiasts and thrill seekers, preferably during monsoon in Maharashtra. Imagine yourself walking on a trail oversaturated with flora and faunas of Western Ghats and experiencing a cold breeze along with the fresh smell of the surrounding nature! Sounds enthralling, doesn't it? In reality, it's way more mesmerizing as the trail is privileged with numerous waterfalls. Of course, that's the main reason why this trek tops the list of places to enjoy in monsoon. The earsplitting thunderous sounds of the waterfalls are the natural songs that are mandatory to enjoy while on this trek. Picturesque of clouds looking like a heap of cotton candy synergistically add up into the captivating view of this trail. Due to its easy accessibility from nearby Megacities, Pune and Mumbai, it adds one more reason to be most preferred for weekends and holidays.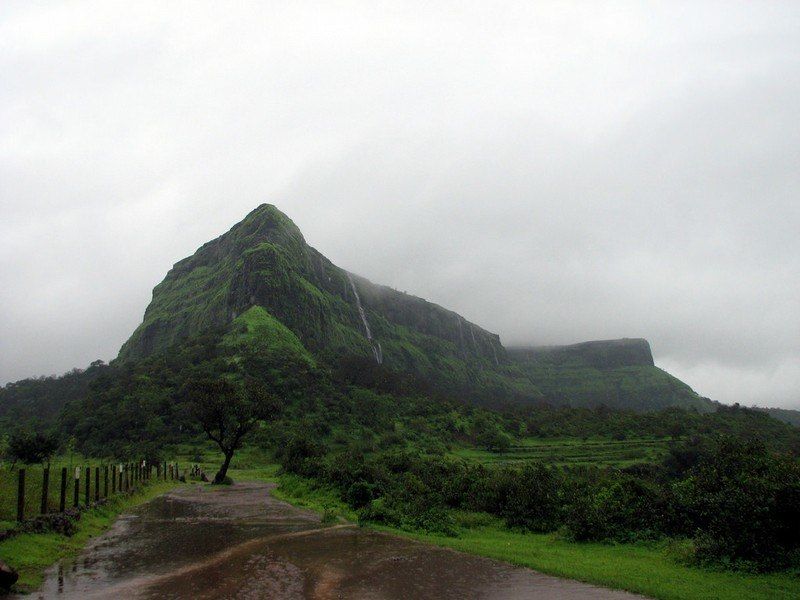 Like its nearby forts, Visapur fort is cuddled by lush green arms of Sahyadri Mountains in the Western Ghats which is a World Heritage site. being part of Lohagad-Visapur fortification and perched at a higher elevation than its twin fort Lohagad, it promises the most scenic views of Tikona fort, Tung fort, Lohgad fort, Pawana lake, and Mumbai-Pune expressway. Within the fort, there are caves, cisterns of water, a decorated arch, and old houses to ensure the engagement of archeological enthusiasts and history buffs. As the trek is a guided one, Don't worry if you are not amongst any one of the above. Still not exhausted after trekking this marvelous fort? the fort is well surrounded by other attractions like Bhaje Buddhist caves, Lohgad fort trek, Pawana Lake, Amby valley city, Karla caves that are add-ons to this trek. So what are you waiting for? Save your next monsoon to explore this monsoon paradise, the Great Visapur fort trek.
Peb Fort
Have you ever roamed on a railway track amidst dozens of waterfalls, surrounded by dense jungle and foggy weather where sunlight tries its best to make the way, and a fascinating view of the lush green valley along the track? If no, then you are missing out on an amazing 1-day excursion destination that is very close to our Megacity- Mumbai! Yes, this mesmerizing trail leads you to a famous historical journey at Peb fort which is famous for its supposed shape of the elephant-headed God, Lord Ganesha. It attracts a lot of trekkers and nature lovers due to its proximity to the famous hill station Matheran near Mumbai. Imagine yourself on a walk along the Matheran valley which eventually ends up at the top of Peb fort, with a 360-degree view of the entire Matheran hill station. Yes, it's an alluring experience but in reality, it is much more captivating as the abundance of flora and fauna at Matheran allows you to witness picturesque panoramic views of the blissful mountains no other than in monsoon.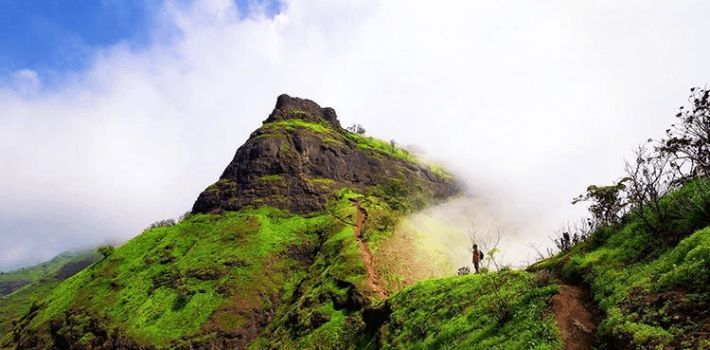 Peb Fort, commonly known as 'Vikatgad', which means formidable due to its trail which passes through thrilling deep ravine and cliffs. But don't worry about that as you will be guided by a team of experts during this excursion. Once you reach the top, don't forget to enjoy the views of Chanderi fort, Nakhind hill, Malanggad, Prabalgad, Kalavantin, and Tahuli from the elevation of about 2100 ft. as this fort is in continuation with these hill range and served as a watchtower in history. The fort was primarily used for storing grains and ammunition in the chain of caves over it which attracts many archeological and history buffs every year. This trek is a complete package of what one could ask for a day in the monsoon. Well, the monsoon is arriving at this fort, when are you?
Devkund waterfall
Want to explore the waterfall hidden inside the dense jungle which is unknown to the world? Then be ready to witness a very rare plunge waterfall, Devkund waterfall, where water from high prominence of about 80 ft. falls straight into the pond of about 30 m diameters with earsplitting thunderous sounds of cascaded fall. Along with the beautiful natural pool below the waterfall which has crystal clear bluish-green water, Devkund waterfall has a trail passing through the lush green forest dense with many species of beautiful birds and animals, makes this place a whole lot unexplored. If you are craving for a beautiful monsoon experience then come here to witness an amalgamation of three waterfalls, to soak in the natural beauty that surrounds the waterfall, and to lose yourself in the greatness of white water cascading down the rocky terrain inside the deep jungles. Of course, this unspoiled and pure place has a lot to offer, and that too within few miles away from Mumbai and Pune.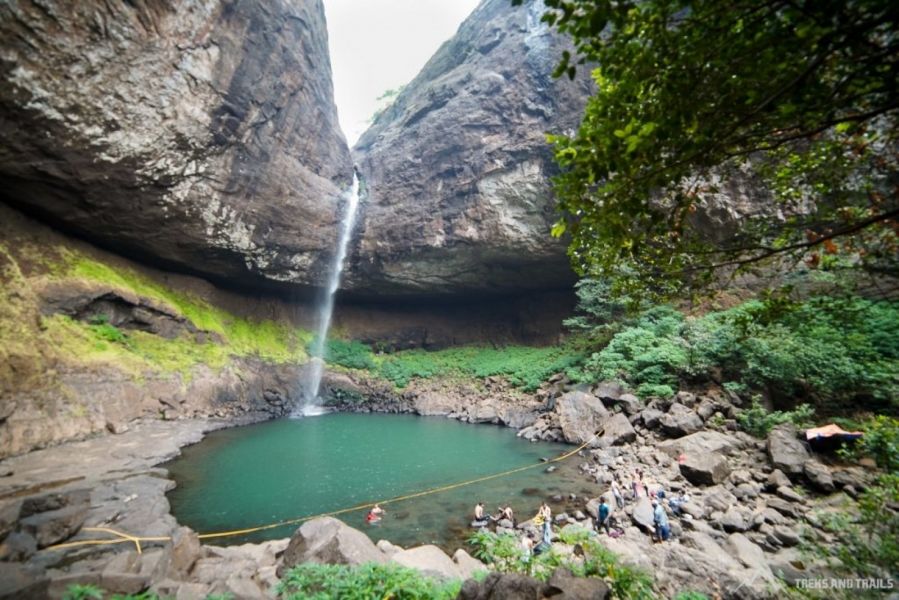 Once the white water cascaded down a series of rocky outcrops, it flows on its way, nonchalant as nothing had occurred. Don't forget to click photos for your next Instagram post beneath the rainbow formed by the diffraction of light through the droplets of this waterfall on a real sunny day. It is believed that the Kundalika river has originated at Devkund so if you are an adventure seeker and have some more days in your buffer don't miss out on a chance to get a thrilling experience at Kundlika river rafting activity and the adventurous Andharaban jungle trek which are in its close vicinity. Picturesque Tamhini Ghat is another yet most favorite weekend destination one would want to check off his bucket list with. There are very few perennial waterfalls in India and being one of them, Devkund waterfall attracts a lot more travel junkie and adventure seekers. To enjoy a short trip away from city life it is a cool place to be away from the crowd. So save your next monsoon to explore the unexplored part of this place.
Andharban Forest Trek
Andharaban, literally translating to the dark forest, where sunlight hardly penetrates the thick canopy and the dense foliage, is a most preferred jungle trek by adventure seekers and nature enthusiasts during monsoon due to its impeccable trail which passes through dense jungle surrounded by the chirping of birds, numerous waterfalls cascading over the rocks and the picturesque flora and fauna of lush green mountains & plateaus that are perched in western ghats, the world heritage site. Imagine yourself walking on a ridge offering a captivating view of the evergreen mountain ranges of Tamhini Ghats on one side and a stunning view of Kundalika valley on the other hand! If this fascinates you then you are one step away from booking yourself for hiking in delightful lush green hills, soaking in awesome waterfalls, and witnessing luminous clouds beside you that look like a heap of cotton candy. The best part about this trek is you will not overtire yourself climbing elevated rocky patches as this trek starts at an elevation of about 2160 feet and descends in Konkan to reach Bhira where is the origin of the Kundlika river famous for its white water river rafting.
It takes nearly 5 hours to complete this 13km easy level trek so even if you are a novice trekker, you are most welcome here. This excursion can also be carried out as a night trek to make it more adventure-proof and to explore an offbeat side of this trail by hunting for the various rare bird species like Chaatak, Malabar, dwarf kingfisher. The Indian giant squirrel is also seen in this area but you will need to be lucky enough to get that opportunity. Coming up to here and missing out on Devkund waterfalls, Tamhini waterfalls, viewpoint, Tamhini hills plus valley trek, Lavasa and Lonavala is completely impossible. So make sure to enjoy the breathtaking white water river rafting which is in close proximity to this place. Although purely a descending trek, Andharban manages to elevate your senses to the next level so make sure to check out your bucket list with this majestic jungle trek.
Korigad Fort Trek
Treading on stairs full of water pouring on them is still a dream of many people. If it is yours too then embark on a delightful trekking experience that would take you to the lap of the Sahyadri Mountains and explore the offbeat side of Lonavala which is one of the most charming hill stations near Mumbai-Pune. Rising over 200 m than the neighboring valleys, Korigad fort promises the most scenic views of high profile Amby valley city along with the Tung and Tikona forts that are perched on lush green Sahyadri Mountain ranges. The most exciting part about the trail is that the entire lush green route passes through the numerous gigantic waterfalls and the dense jungle where even the presence of small sunlight accentuates the darkness even more. Roaming on the walls along the perimeter of this fort with the splendid views of colossal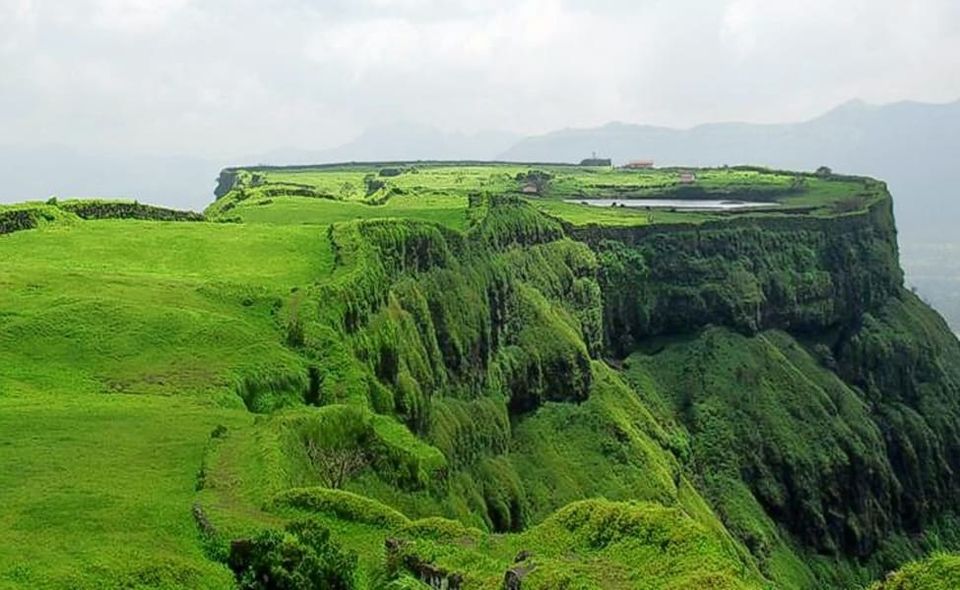 Sahyadri Mountain Ranges and accompanying with elvish monkeys will take your senses to the next level.
If you are looking for an easy one-day trek to enjoy with your family, friends, corporates then Korigad fort is waiting for you!
The fort is also fulfilled with immense historical importance and is still intact with the architectural styles of the buildings that showcase the grandeur of Chatrapati Shivaji Maharaj's legacy. Despite being so close to the crowded hill station Lonavala, this fort has an essence of serenity that is maintained with three elegant temples that are built on the top of the notch. The journey can be made much more mesmerizing by adding pit stops to the monsoon destinations like Lion's point, Bhushi dam, Shivsagar Lake, Shivling Points which are en route while heading towards the fort. Journey to Korigad fort is the monsoon's paradise and no one would miss this opportunity to enjoy the purest form of nature at its best.
For Amazing Trip Please Click on https://www.trekhievers.com/collections/maharashtra-monsoon-treks