Just 100-120 kms from Pune & less than 250 kms from Mumbai, I never knew there exists a place which turns into a heaven in rains. I only came to know about it when I recently did my one of the best mini road trip to a small hill station called Mahabaleshwar. It is not at all an offbeat destination, but turns to be an offbeat place in monsoon. I really think that is the best time to experience it and indeed see " Mahabaleshwar in Monsoon ".
- Mahabaleshwar & Panchgani
This trip was not much planned, hence we took a self drive Zoom Car on rent and started from Pune at around 10 am.
Being driven on north Indian roads, didn't expected that I will start feeling the serenity in driving so soon as we touched the highway.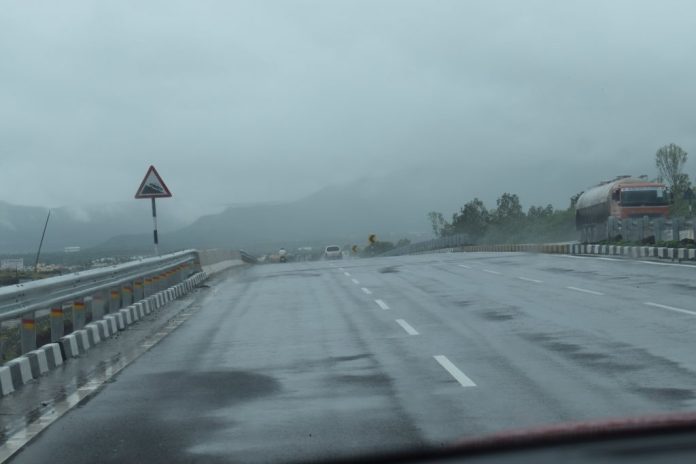 As most of travellers say, if you want to do Leh-Ladakh then the best way to experience that tranquility is to do it via road. Same is for Pune to Mahabaleshwar route too. And if it is in monsoon then, you can't describe it in words. You can only experience this beautiful road trip to Mahabaleshwar in monsoon.
Soon, we reached our first point Harrison's Folly.
This point comes first when you are entering Panchgani from Wai village. It has basically a three side view of mountain cliff, village in the valley, and Dhom Dam.
The awesome part is you can drive straight upto point.
It is Less crowded than other famous points, this also is a must see spot which can be seen either during the ascending or descending from the hills.
Next, we reached Panchgani and decided to stay at our hotel and enjoy the whole day with nature.
Mahableshwar - Panchgani have a lot of small/big waterfalls & many small monsoon rivers crossing your way while driving. Especially, in monsoons the flow of water is quite strong.
We visited a lot of other places too, but due to monsoon and frequent rains we were not able to click much pictures. Some of the beautiful places that we visited included :
One of the popular among the tourist places in Mahabaleshwar. The lake is surrounded by trees on all side, and offers boat riding option as well.
Things to do at Venna Lake : Fishing for adults and mini-train rides for kids.
Opening hours: 7 am to 7 pm, every day.
Entry fee: None. Boat rent is chargeable
As people and most of the internet blogs suggests, the best time to visit Lingamala Falls is between July and December. We visited the waterfall in monsoon and hence the waterfall was much higher & more beautiful.
Things to do at Lingmala Waterfall: You actually see three waterfalls here. The mesmerising Dhobi waterfall and Chinaman's waterfall are also nearby.
Opening hours: 9 am to 6 pm, everyday.
Entry fee: Rs. 20/person
As its name suggest, it is a piece of mountain which somehow resembles the shape of an elephant's head. Quite a popular place to visit in Mahabaleshwar, it's a perfect picnic spot in fresh air. However, because of monsoon and heavy rains we were not able to enjoy the beauty of this place too much as it was very cloudy and we were not able to see much views from the cliff.
Things to do at Elephant's Head Point: Spectacular View. Also, as seen in many Bollywood movies its a quite popular echo point among couples and fun-seekers.
Opening hours: 9 am to 6 pm, everyday.
Entry fee: None.
On our way back to Pune from Mahabaleshwar. We stopped at Mapro Garden. The place is abundant with strawberry plantation and has a big food production unit. It also hosts the annual Strawberry Festival with great enthusiasm. Jams, preserves, marmalade, toppings, syrups and squashes - all sort of strawberry delights are manufactured and sold here. You can try some wonderful fruit salads, strawberry shakes, and ice creams, prepared from fresh strawberries, just plucked from the garden.
Opening hours: 8 am to 8 pm, everyday.
Entry fee: FREE.
- Pune to Lonavala
After exploring Mahabaleshwar & Panchgani, we decided to head our exploration towards Lonavala. A very beautiful and small hill station, less than 100kms from Pune. Like Mahabaleshwar, it looks double beautiful in monsoon.
Same as Pune to Mahabaleshwar, the roads are superb for driving from Pune to Lonavala. It takes less than 1 hour to reach Lonavala from Pune.
Beautiful landscapes and many small/big waterfalls, makes your driving simply wonderful.
Again, due to monsoon and frequent rains, we were not able to visit many points there as everything was closed due to monsoon high alert. But still, I would say if you are true nature lover then you should must visit these places in monsoon. Just to experience the nature's beauty which cant be described in words.
Finally, we found one of the point open and we decided to spend our rest of the day there. The place is known as Kune Falls in Lonavala
It is one of the famous waterfalls in Maharashtra and also one of the best places to visit in Lonavala.
The Kune Falls is the 14th highest waterfall in India and is located centrally within the Lonavala-Khandala valley. It is completely surrounded by lush green vegetation and provides a great visual experience and due to monsoon, trust me it was looking 10 times more beautiful.
However, there are more places such as Bhushi Dam & Mulshi Lake which you can enjoy here. But due to monsoon and too much water in the river, both the places were closed.
Well, the disappointment of not seeing these places because of monsoon was very less for me as I indeed experienced the inner beauty of all these places which no one can experience in those crowded tourist seasons.
Hope we will soon be able to do one more trip to these beautiful hill stations of Western Ghats.
Feel free to share your thoughts and comments below and let us know what do you feel about them.