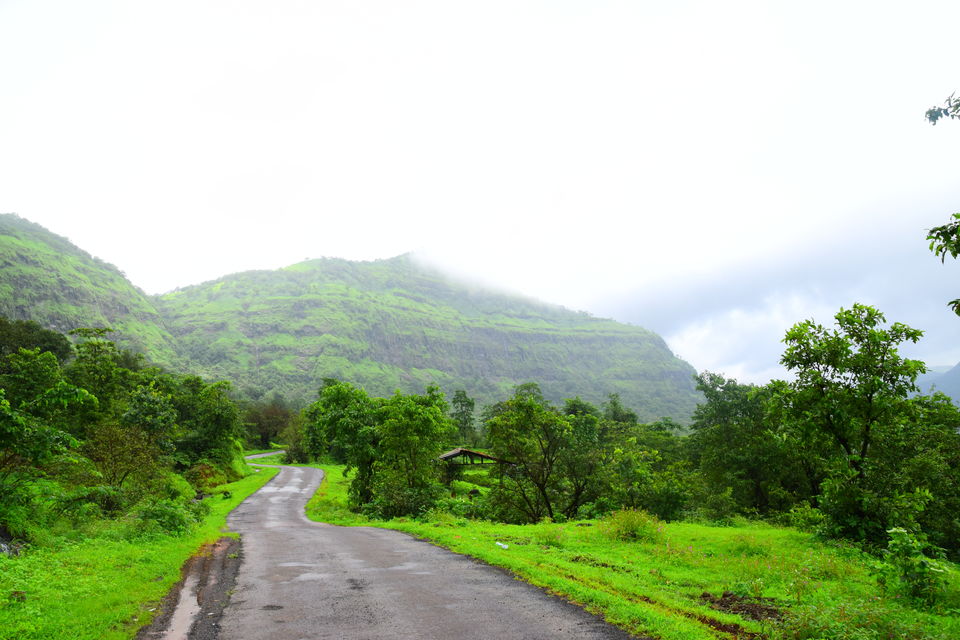 Day 1: 25th August 2018 Saturday
The most awaited road trip of the season was to start at 6 am in the morning. We had booked a car from Drivezy for 2 days (Cost inclusion for each and everything will be explained at the end) starting from saturday at 6:00 AM to sunday at 9:00 PM.
We picked up our car from drivezy at 6:30 AM in the morning and by taking the name of Ganpati Bappa we started our trip.
After a 10 min halt in front of pizza hut, wakad Pune we had poha and vada sambhar as our breakfast and moved ahead to the beautiful tamhini ghat via Hinjewadi and pirangut.
Travelling till Hinjewadi phase 3 is literally a cumbersome task on weekdays owing to the heavy traffic in office hours but today, the feel was totally different.
The weather was beautiful, roads were empty and of course, the excitement of the ROAD TRIP added to the joy.
Shubham has said it to us many times that the Journey is more important rather than the destination but only today I felt the same.
The roads were beautiful till the tamhini ghat started and once we entered the tamhini village, everything changed in a flash. There were clouds all over and the visibility was a mere 40-50 ft which decreased the erstwhile speed of our vehicle from 50-60 kmph to 25-30 kmph.
Before we move any further let me introduce you to my fellow road trippers, I(Shishir)- Driver and acrophobic, Daksh- The co-driver and photographer, Shubham- The Co- photographer and foodie and Ajay- Sleeper cell member and overenthusiastic.
Cruising through the beautiful western ghats made me once again believe that the decision of starting a job in Pune is not all that bad The city boasts of approximately 50+ forts and numerous beautiful places in a 100km which is just a dream come true for any traveller especially a working individual like me who though may have left the college but still works on a very tight budget :P.
We had decided to reach the Raigad fort base village by 11 PM latest but seeing the love for waterfall and the picturesque landscape in the ghat we stopped at most probably the last waterfall which was approximately 100m away from the road. The waterfall was visible from the road and we were tempted to stop and hence technically our first halt(thankfully we stopped).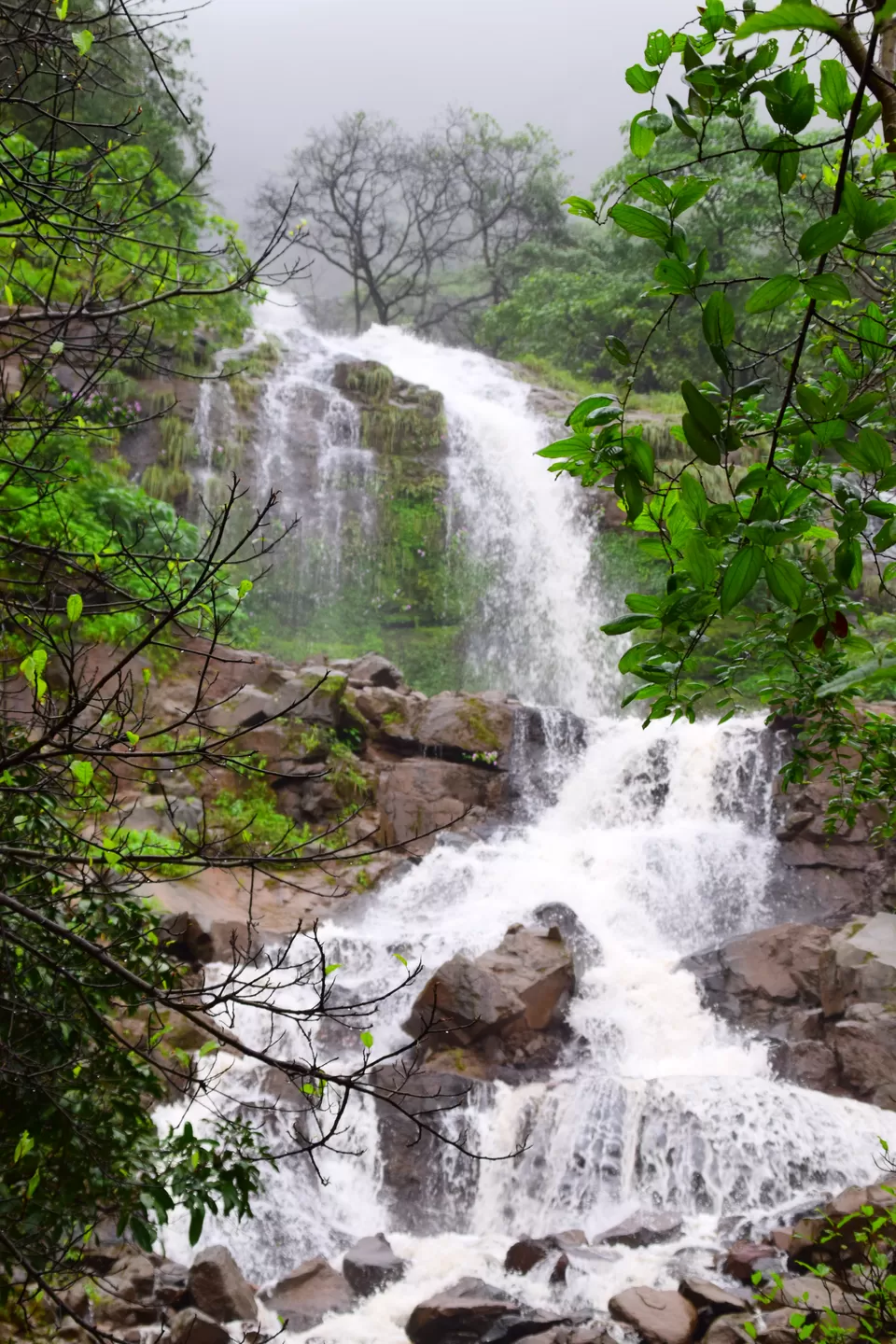 The shutterbugs (Shubham and Daksh) got to their business of clicking the photos, Trying the photography tricks and techniques which these enthusiasts learnt we realised that none of us had bought any polythenes with us in case of rains and hence we had to run like 5 minutes later as the drizzles started.
We crossed tamhini ghat in another 10-15 minutes, and now we were in front of the POSCO steel plant.
Crossing the steel plant we stumbled upon a very beautiful River bridge and hence, stop no. 2.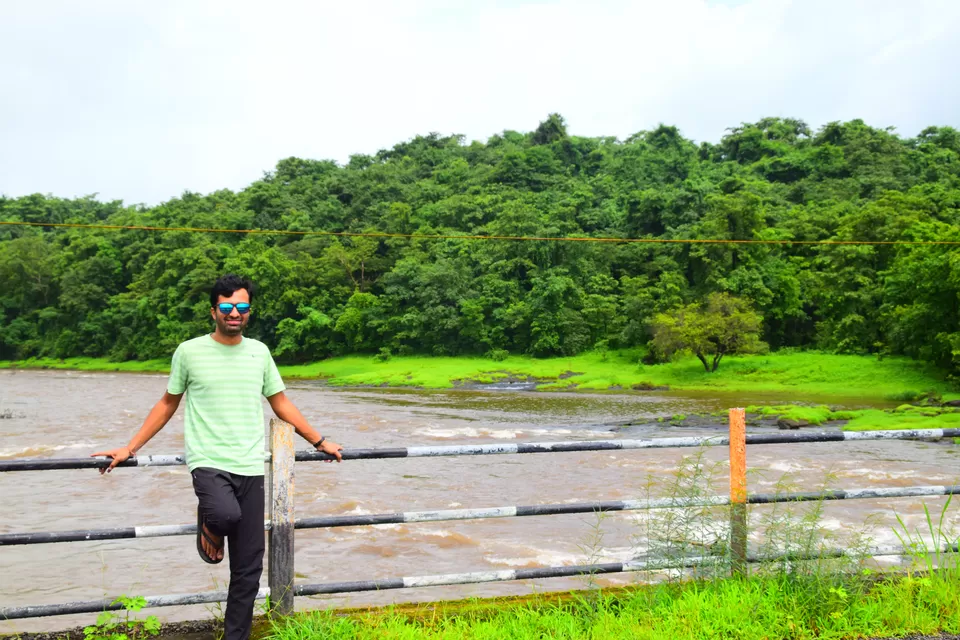 As suggested by our very own Sleeper cell Ajay we should change our t-shirts as we had ample of stock for a 2-day trip and the photos, when uploaded to the social media, will make it look like different day trips.
Smart indeed :).
To reach Raigad we have to take the ongoing road to Mangaon and take a sharp left turn at Nizampur, from where Raigad is 30km away.
The turn can be missed if you are not following the navigation and hence I advise you to keep an eye on the signboards for the directions.
From here the beautiful journey of tamhini ends and Raigad actually starts.
It is a small single lane road which is filled with beautiful mountains in the backdrop and supported by the lush green paddy fields. The road was almost empty and not more than 4-5 vehicles passed by us which were mainly some locals only so it can be assumed that the place is a little bit untouched. After covering a distance of approximately 7-8 km we came in front of an empty road which was covered by lush green fields on both the sides, on the left side were mountains but at a distance of approximately 200-300m and a lush green field having minimal vegetation and on the right the field extended for 100's of meters. Looking straight in the road gave us a beautiful view of the Western Ghats but unlike the Himalayas, these mountains were forest covered. If we see the Himalayan ranges carefully, we can see that when we look at the mountain ranges in any hill station of himachal or Kashmir there are 100's of mountains in the background and we are able to see them with decreased visibility as we go ahead which was not the case with the western ghats but this was the only time I was able to see the similarity and it amazed me to the core.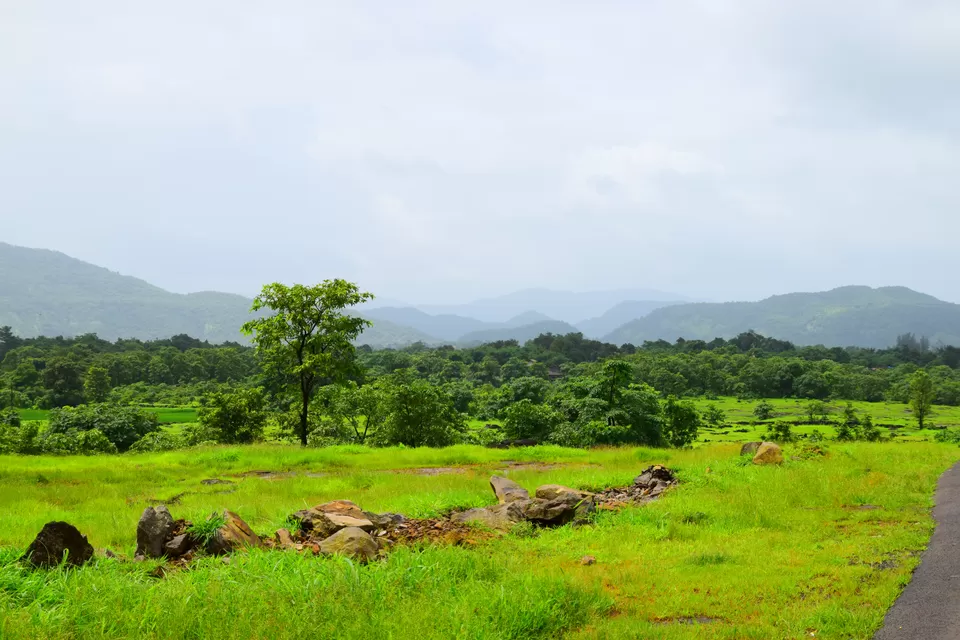 The location was so beautiful that we can literally shoot a Bollywood movie song on the road itself and it will have the most picturesque surroundings. As expected, the shutterbugs got back to their work and hence started a photo session of half an hour which ended with many burst mode cover photo shots and all were very very very beautiful.
Leaving from this spot, we were approximately 19km away from the fort and we reached there in half an hour.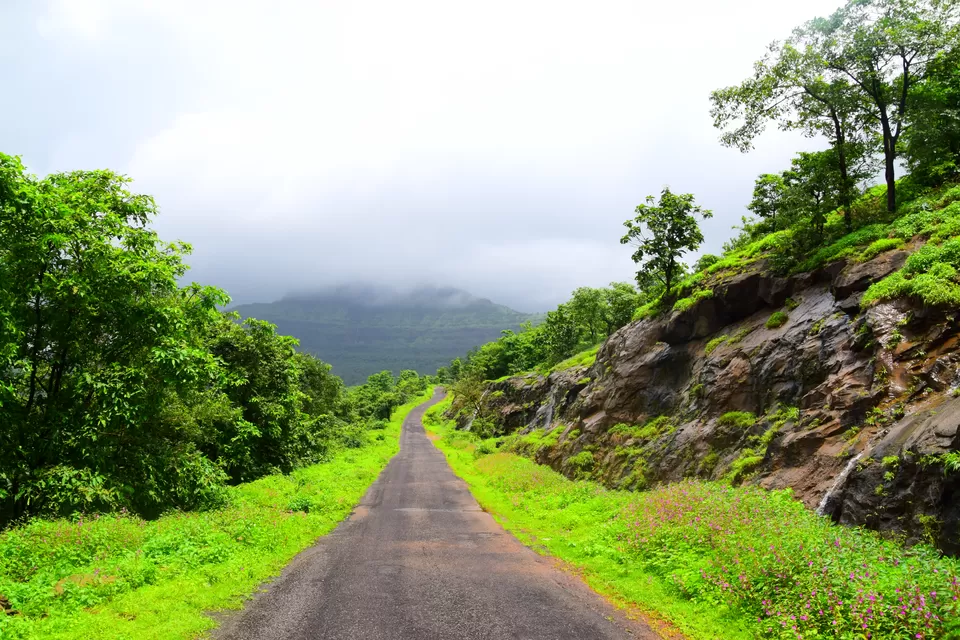 Raigad Fort : Not aware of the historical importance of the fort but it is presently in the best condition of all the forts in Maharashtra. The fort has 2 ways to go up which are
· Ropeway
· Stairs
The stairway takes approx. 1-1.5 hours to reach the top and ropeway takes 2-5min.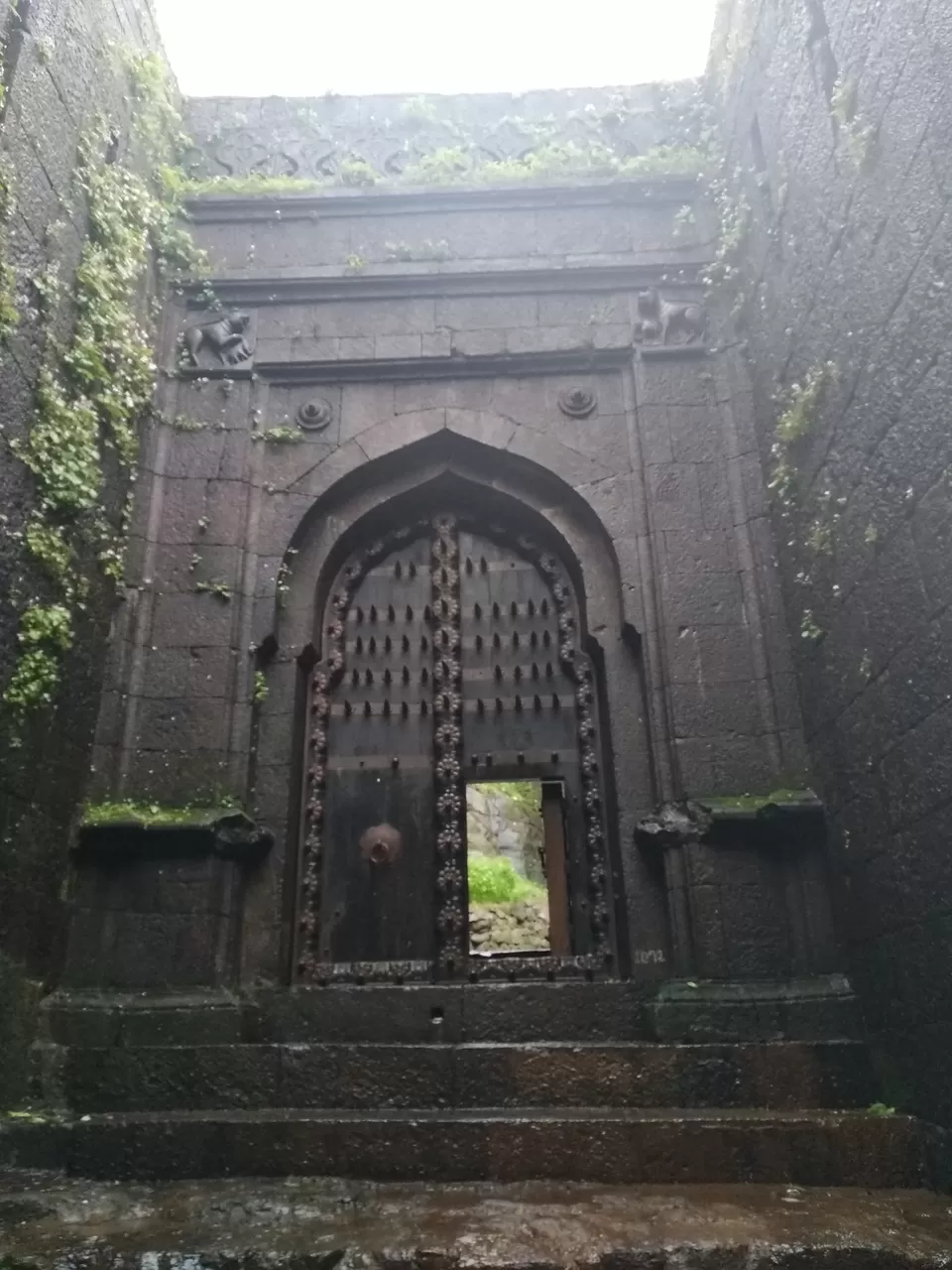 The cost of Ropeway for adults is INR 300/- for a 2 way ride and INR 185/- for a single way ride(inclusive of taxes). As soon as we reached the base of the fort, it started raining heavily and guess who forgot their raincoat at home? Obviously me!! I went to get the vehicle while it was left lying in the hall and no one picked it up. Hence I had no other option but to enjoy the rains. We took the stairs for a trek upwards and it was not a tiring affair and can easily be done in 1 hour if one does not stop in between.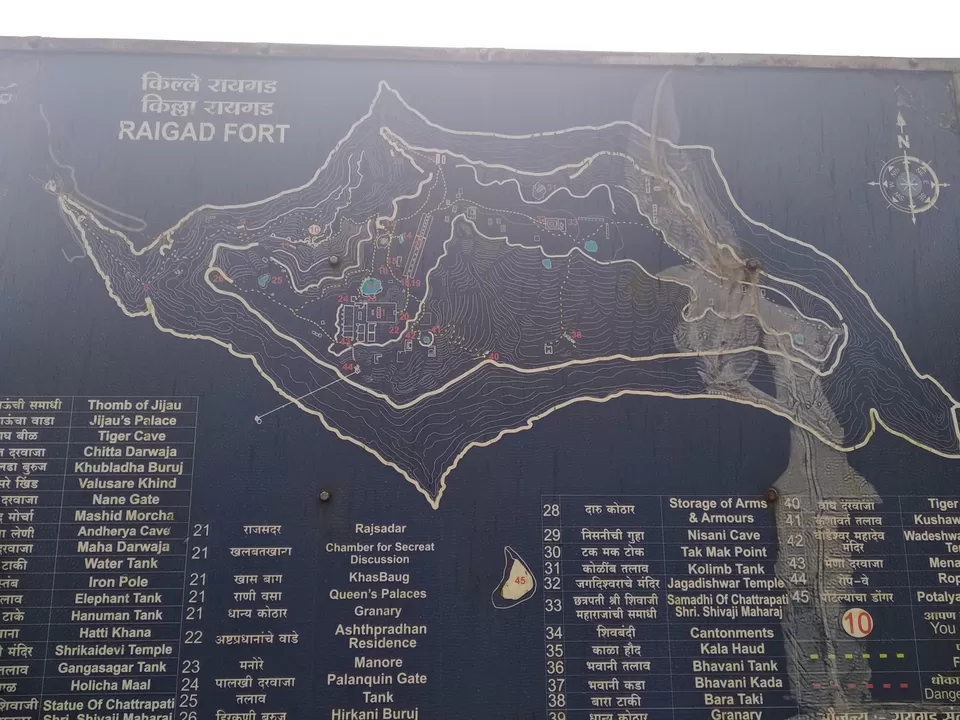 Upon reaching the top, one understands that how big the fort was and there is a market place, Weapons storage area, Sabha, Queen's Bedroom etc. We went to the end of the fort which gave a very beautiful view of the village and then proceeded to descend, but this time we took a ropeway (my biggest mistake). I am scared with heights and as soon as we sat in the ropeway, there were clouds all over and hence we were not able to see the actual height at which we were standing but as we continued to move down, the clouds started vanishing and I was not able to look down (I started chanting hanuman chalisa ).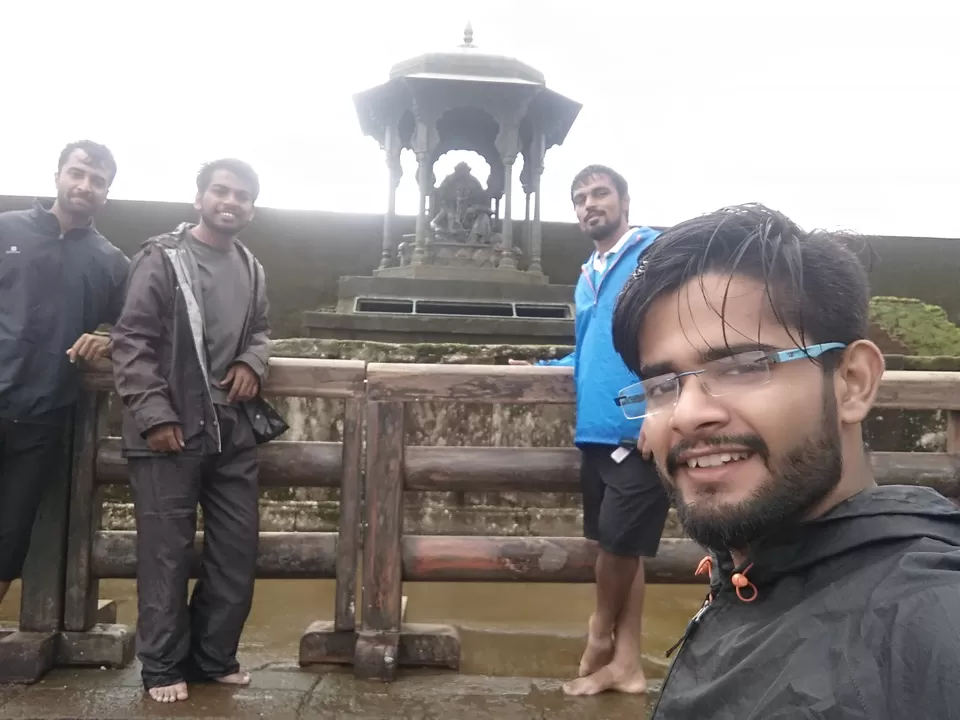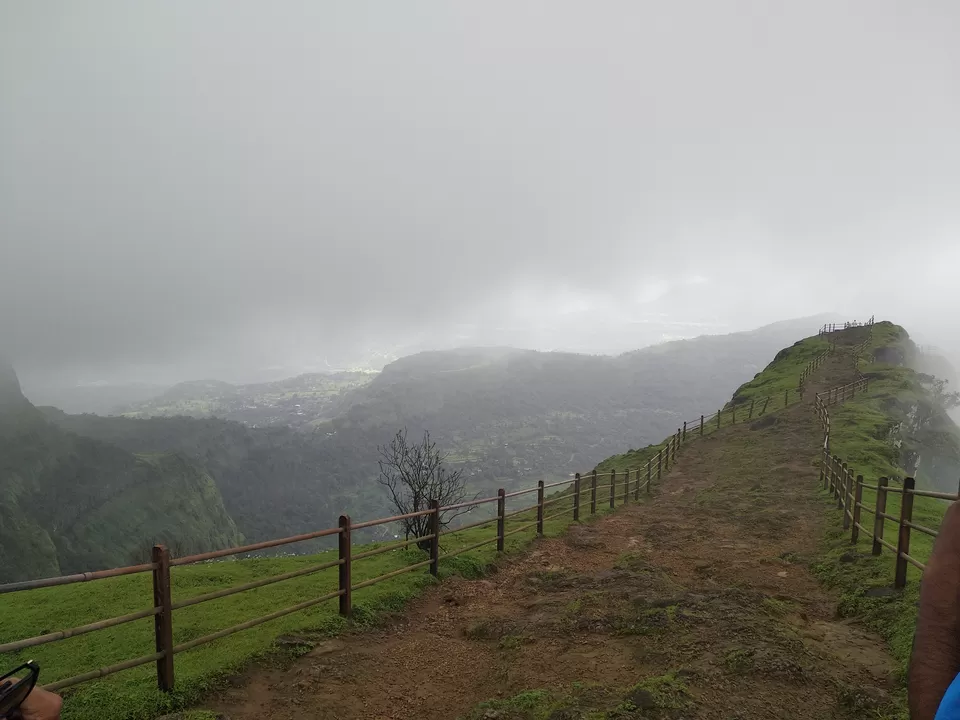 Once we got down from the ropeway, it was decided to have an evening snacks and dinner in mahabaleshwar only as we had plenty of options to eat there in comparison to raigad which is sparsely populated with very less places for decent food and it comes to me as a surprise that how our foodie aka Shubham agreed to our decision in a blink of an eye.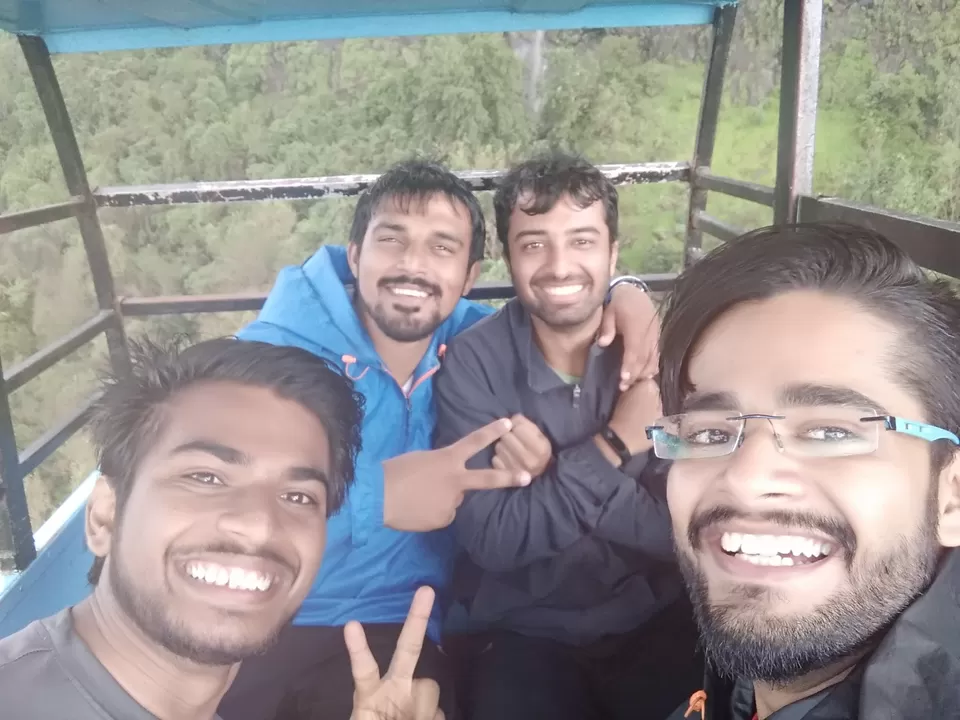 We changed our clothes, got into our wheels and headed to mahabaleshwar. It was 3:30 in the afternoon and we thought to make it to mahabaleshwar by 6-6:30 PM.
The distance from Raigad to Mahabaleshwar was approximately 100km and the road we took was Mumbai-Kanyakumari Highway which was rather a secluded place and had very less traffic as compared to the Mumbai Banglore Highway which is generally used to approach Mahabaleshwar.
The route was very beautiful again and it rained in a few patches but by now the sleeper cell made justice to his name and was in a very deep sleep. He was accompanied by Shubham for a short while until we woke him up at a beautiful bridge below which a small river was flowing.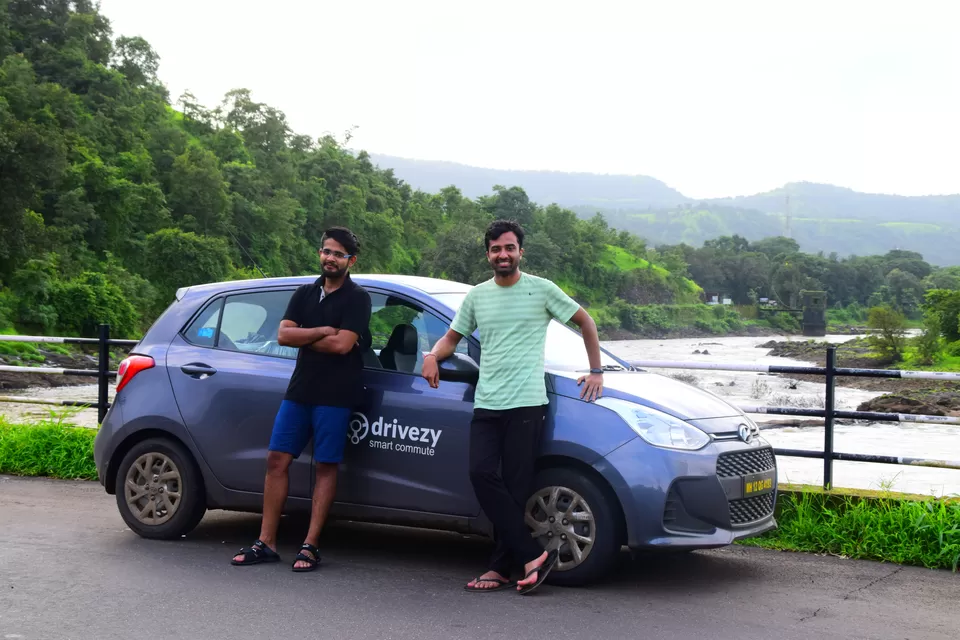 It took us approximately 2.5 Hours and we entered the ghat region of Mahabaleshwar. The sun was about to set and hence it started to become dark, the visibility decreased to about 20-25ft and we were practically not able to shift the stick to 3rd gear also.
Meanwhile, we entered Mahabaleshwar and crossed the Venna lake which was under our bucket list for tomorrow as it was late. The initial plan was to find a hotel room and then head for Dinner but we went the other way round.
Next Stop was the much anticipated Mapro Garden. I had heard many praises of the sandwich and shakes at Mapro Garden and the hunger made me mad. We ate and drank like animals and everything was completed in just 20 min. Next on was the difficult task to find a hotel as it was late and now we didn't had the upper hand while negotiating.
We finalized a hotel r00m near Mapro Garden and parked our car inside, entered the room and changed to night clothes. Now started the chit chat which somehow lead to a Shayiri session by our very own Shubham and he searched and told us some 17-18 shayiris which made us give him ovation after ovation for the same.
We called it a night at 11 PM as we had the hotel booking till 9 AM , so had to vacate the place before then.
Expense for Day 1
Car from Drivezy – 6182/- for 585km from Saturday 6AM to Sunday 9PM.
Raigad Ropeway Ticket- 185/- Per head
Fooad @ Mapro Garden – 2000/- (500/- per head)
Room Rent- 1400/- a night for 4 people
Day 2: 26th August 2018, Sunday
Day 2 was rather a small day for us as we had to reach back home by 9 PM and we had decided to visit Mahabaleshwar and Panchgani both in the morning and will leave for Lonavala through the Mumbai-Banglore Highway for a dinner and then head home.
As planned we woke up, got ready and left our hotel at 9 AM and headed straight to the Lingamala waterfall. The entry ticket for the same costs INR 20/- for an adult. It was raining and as told earlier my raincoat was untouched and relaxing at home whereas here I was getting all wet, but its all part of the experience. We went to the waterfall and thanks to the weather of Mahabaleshwar it was all clouds around and we were unable to see even a single stream of the waterfall. The waterfall is huge and is in 3 stages and approximately has a fall of 400+ft (I assume). The paparazzo waited for more than 40 minutes to get a shot (forget perfect), but there was disappointment all around. It was raining for the whole time and the preparation to protect the camera from rain was phenomenal. It was not our first time as this had been inherited from our previous trip of Devkund Waterfall (I will share the blog for the same, soon). Next stop was Venna Lake.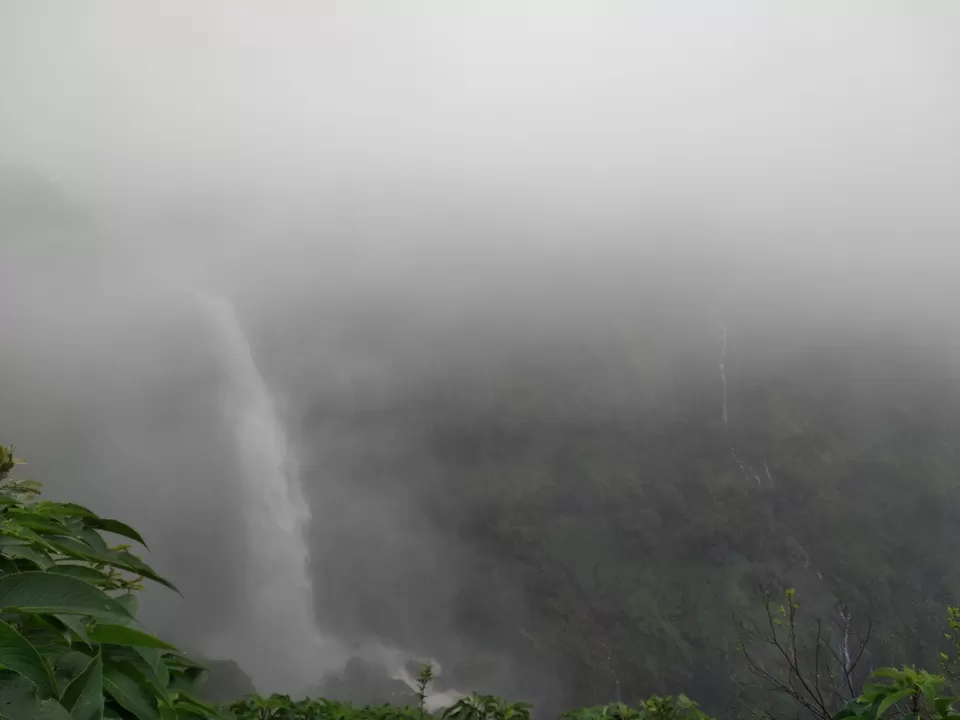 On arriving at the Venna lake, it was useless to go there as the rains showed no mercy on us and nothing was visible past 75-100m. We stopped for a quick bite having the famous 'Bhutta' which was just the perfect snack for monsoons and moved back to Mapro garden for the Brunch.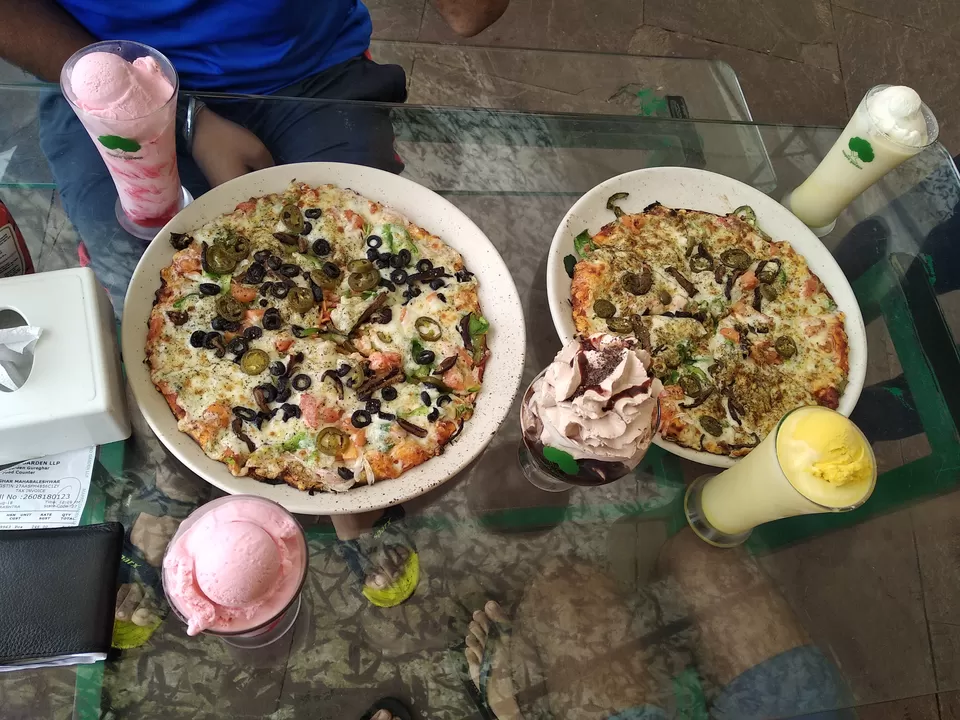 Maybe it was the tiredness or the cheese, but we ended up eating a little bit more this time which shot up our bill (P.s. it was supposed to be a pocket friendly trip). As expected, Shubham was not able to eat what he anticipated and we ended sharing up that. None of the food stuff gets wasted or thrown specially when u have cheese sandwiches, pizzas, variety of shakes, ice cream smoothies and a bunch of bachelors who stay 600+ kms away from home. After getting our tummies full it was time to see the beautiful Panchgani.
Our first stop in Panchgani was Parsi point which attracted a parking fee of INR 30/- for a four wheeler and no entry fee per head. It was a beautiful place which gave you the view of the famous table land and Dhom Lake. This place will definitely bring out the hidden photographer in you and we for instance had 2 enthusiasts, so it is safe to assume that they took the full advantage of the clear skies and again Ajay and I had to beg for our photographs.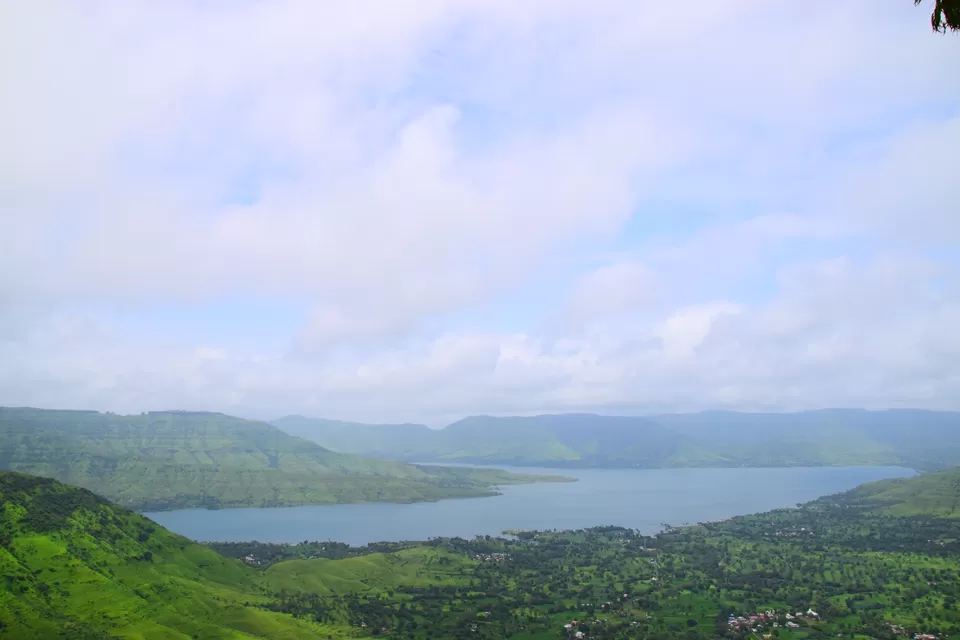 Next up was Table land which was a meagre 3km from Parsi point but the road was a bit tricky. It may not require extreme care but one needs to be attentive due to the hairpin bends which are present with an increased elevation. Before reaching the Table land you have to pay a toll of INR 30/- per 4 wheeler and INR 20/- per head which was also present in Mahabaleshwar. A total of INR 110/- (30- vehicle, 80-for 4 people) was taken twice in duration of 10km and that is separate to parking or entrance or both at each point. Being in the vicinity of Pune and Mumbai makes this a highly visited place and the amount of tax collected did not do the justice to the existing basic facilities like cleanliness and infrastructure .I'm a firm believer that cleanliness is not just the municipality's responsibility but a combined effort of people as well but it was clear that the efforts from the first front were missing.
Moving to the Table land, we parked our vehicle and went to the Table land which was just a plateau structure and we can see the beautiful Dhom lake from it. But as expected, it started raining very heavily and we could not see the place and we came back to our car.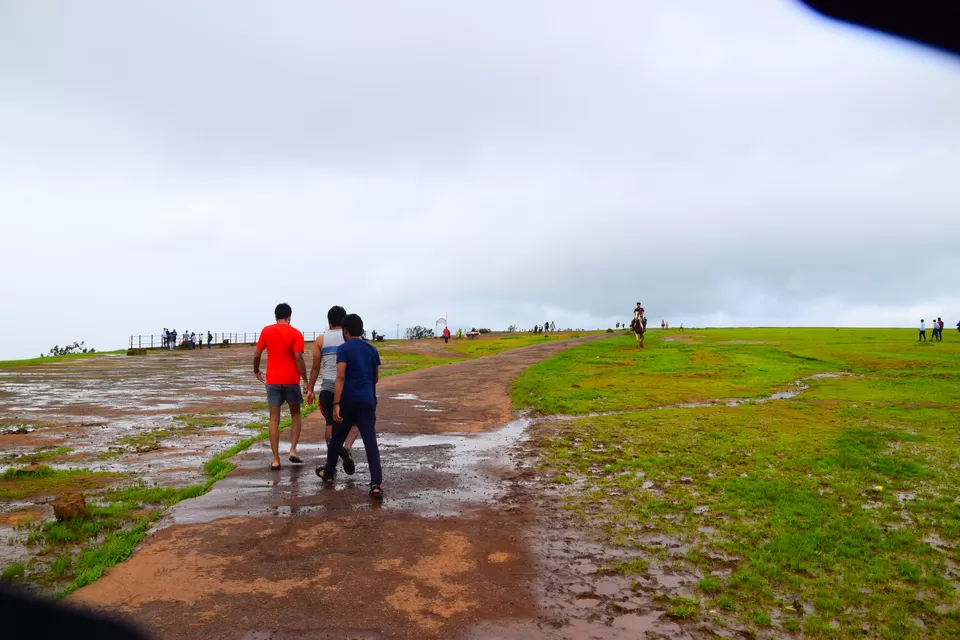 This sort of marked the end of our Panchgani trip and we were all set to go to Lonavala for our dinner. It was 3 PM and it would take us 3-3.5 hours to reach Sunny da dhaaba. Moving down from Panchgani to catch on the Mumbai-Banglore higway came a very beautiful spot which resembled the views from Parsi point, The only difference was that we had an unrestricted view and it was open form each and everywhere. We could see the mountains and valleys in 3 out of 4 directions.
Frankly speaking I didn't even knew the name of that place and just decided it to name something according to our ease which was a common norm (Or you can say past practices!!). Upon further searching I came to know that it is not just any point but its named as 'Harrison's Folly'.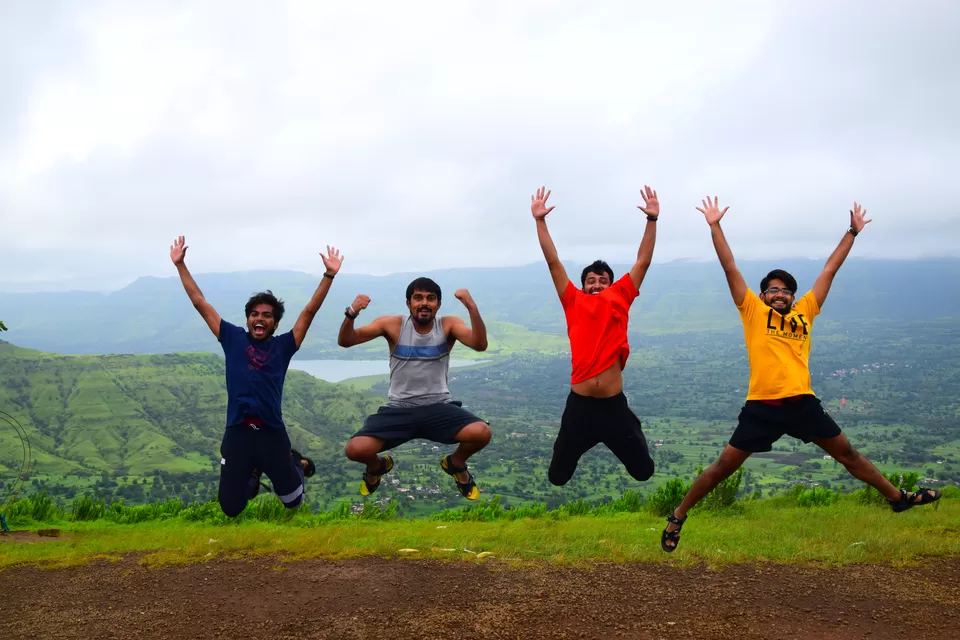 Initially, we were skeptical to go or not and no one was saying a yes or no but I didn't wait for the vote and pulled the car inside. It attracted a INR 30/- parking fee and u are standing at the cliff. We clicked ample of photos in various pose. It was a tough time teaching Ajay 'The DAB'. Finally he did it and we decided to move ahead to Lonavala.
The ghat section from Panchgani ended in about 7-10 Kms and we were now on the Mumbai-Banglore Highway. The route is scenic, but nothing as compared to the one we encountered in our onward journey to Raigad.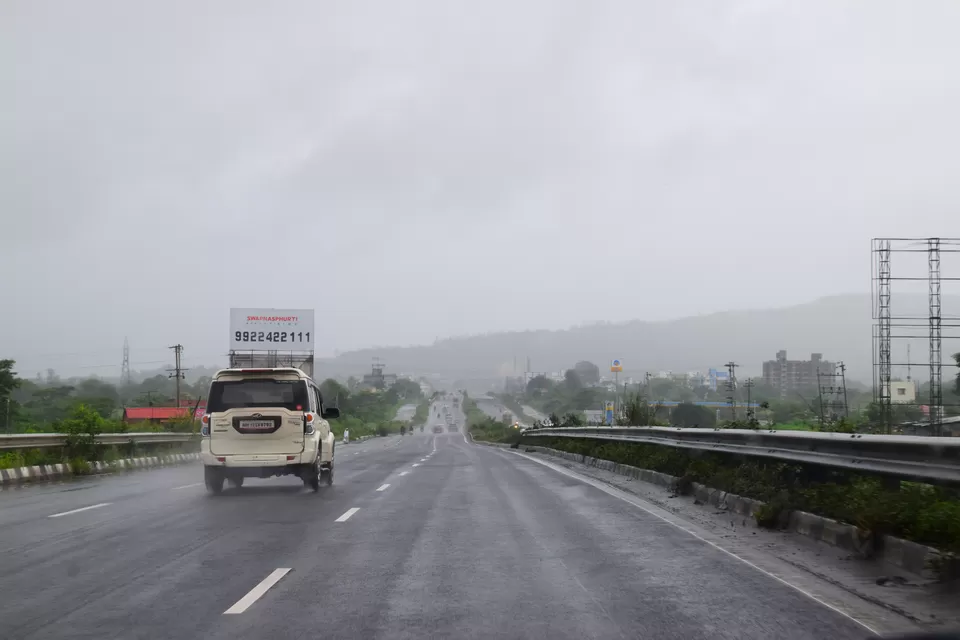 The distance from Panchgani to Lonavala is approximately 150-155 Km and can be comfortably covered in 2.5-3 Hours (depending on the traffic in Pune). We were able to complete the full distance in a single stretch with just a 5 min stop for driver change.
As told earlier, we were not specifically going to Lonavala but to Sunny Da Dhaaba on the old Mumbai-Pune Highway and hence we had encountered 2 Tolls which were while entering Pune from Satara and One while exiting Pune towards Lonavala.
After a 3 Hour drive from Panchgani to Lonavala, we sat at the otherwise busy dhaaba and surprisingly we were the only people present.
After having our dinner, we were headed straight to home and that journey was the worst part of the trip as we all knew it is our last road trip or for the matter of fact last trip of us all together as Daksh was serving his notice period and will be moving back to Indore in September, Shubham could be going to Oslo for work purposes, Ajay was planning to change his location from Pune to either Delhi or Ahmedabad and I was unsure of what was to come my way.
All in all it was a very good experience and I hope that we get to drive through some of more beautiful indian roads in our coming future.
Disclamer- All the places have been visited by me personally and what I have showcased is my personal point of view which may differ person to person. The names of food joints mentioned have in no way paid me to take their name and are highlighted by my personal choice as I enjoyed their tasty food. I tried to search the name of the hotel online but was unable to find, also the payment was made in cash so no record of the online payment. The receipt provided by them got damaged due to rain in Lingamala waterfall.
Expenses Day 2:
Mahabaleshwar entry toll- 110/-(20*4 per head + 30 vehicle)
Panchgani entry toll- 110/-(20*4 per head + 30 vehicle)
Lingamala Waterfall- 80/- (20*4 per head)
Harrison's Folly- 30/- (Parking fee)
Brunch at Mapro Garden- 2200/- (approx)
Dinner at Sunny da dhaaba- 2000/- (approx)