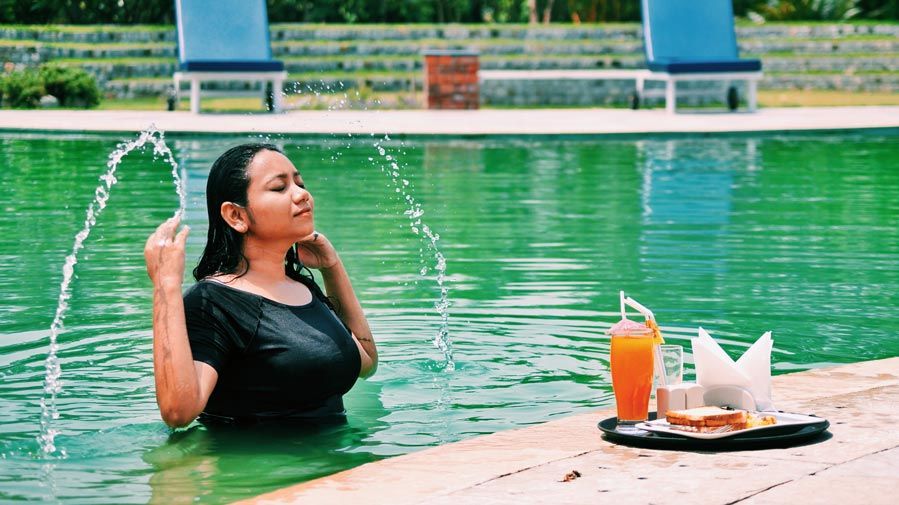 For me traveling is an escape from the daily hustle and bustle of everyday life. I am sure, it is for most of us. But with me, it is inevitable (it used to be because of my college and other work commitments). Some people find solace amidst the mountains, some live to soak the sunshine, some find adventurous road trips galvanizing and for some the tittle-tattle of local markets are refreshing. I feel comfort in the heart of Mother Nature. Being born and brought up in a concrete jungle, I never knew the feeling of being close to nature and how magnificent it can be, until my trip to Mcleodganj two years back. Since that time, I decided to get close to the flora every time I get an escape from the bustling streets of New Delhi. This time I got an unparalleled opportunity to experience the untouched and awe-inspiring Jim Corbett National Park. Before I start penning down and documenting this experience, I am so exhilarated to give a huge shoutout to Tarangi Resort and Spa who made this trip possible and also made my stay a pleasant episode. Now, sit tight and relax as I take you on a virtual tour of the Tarangi Resort and its extravaganza.
Day 1
As you all know, I am just not a morning lover while I am on the plains. But as soon as I step my foot in the mountain areas, my mornings instantly become pleasant and there is this chill and positive vibe all around. Something like this happened with me this time too (I reached Ramnagar at 4:30 AM in the morning, jeez!) and all my agonies faded away as the cold breeze hit my face and I was able to capture some of the most dramatic hair flips. When I reached Tarangi Resort, I was literally filled with awe and wonder when I saw the lush greenery all around. I have never seen a resort that kept their flora so intact and benign. The journey from the reception to my room was a spectacular affair as I kept my head rolling to see the tranquil property. On my way, I was so hoping for a minimal room with a spectacular view and was keeping my fingers crossed. To my surprise, God fulfilled my wishes at once (this is the first time in 21 years, lol) and I got the upgraded riverside room with the most picturesque view of the Kosi River. I enjoyed viewing the Kosi River and its waves crashing with the stones whilst sipping my morning tea. As far as my room was concerned, it was minimal and yet luxurious. The room had one super comfy double bed, one study corner, couch, cupboard with safety locker, TV, coffee maker, mini fridge and daily use kits. In case you ask for more, you can give your eyes another treat by poring over the quaint interiors of the room. After resting a little bit, I geared up myself for exploring the property.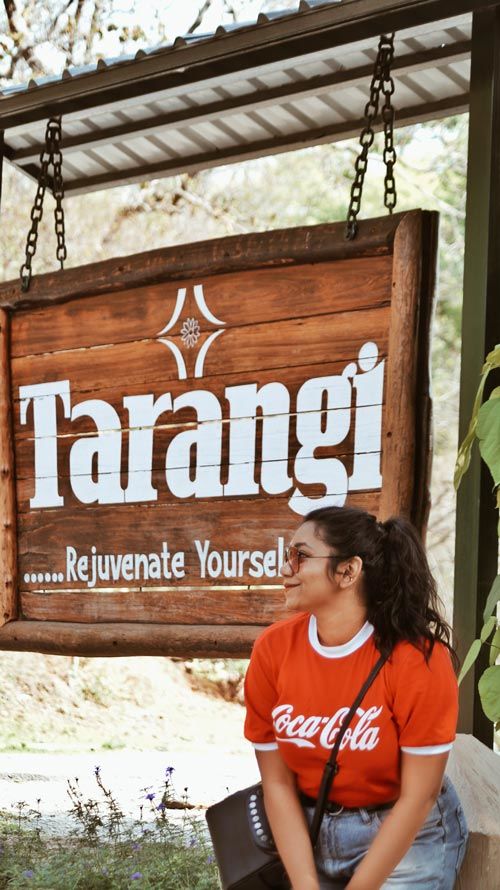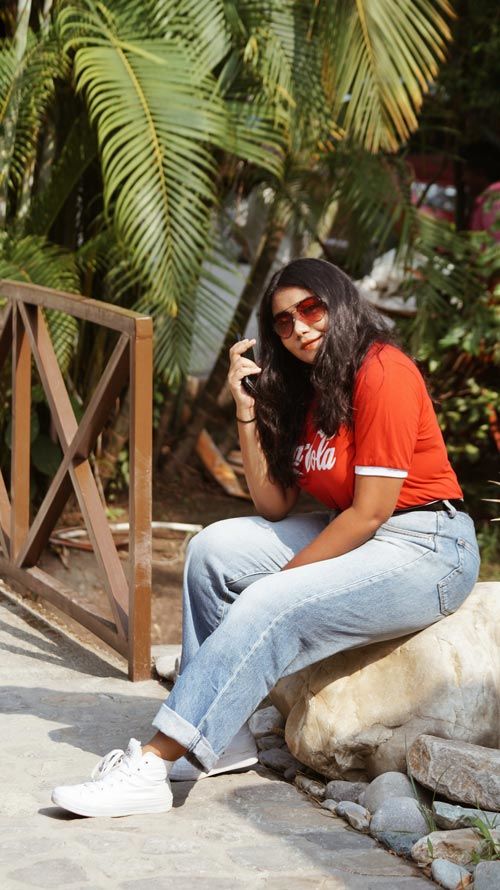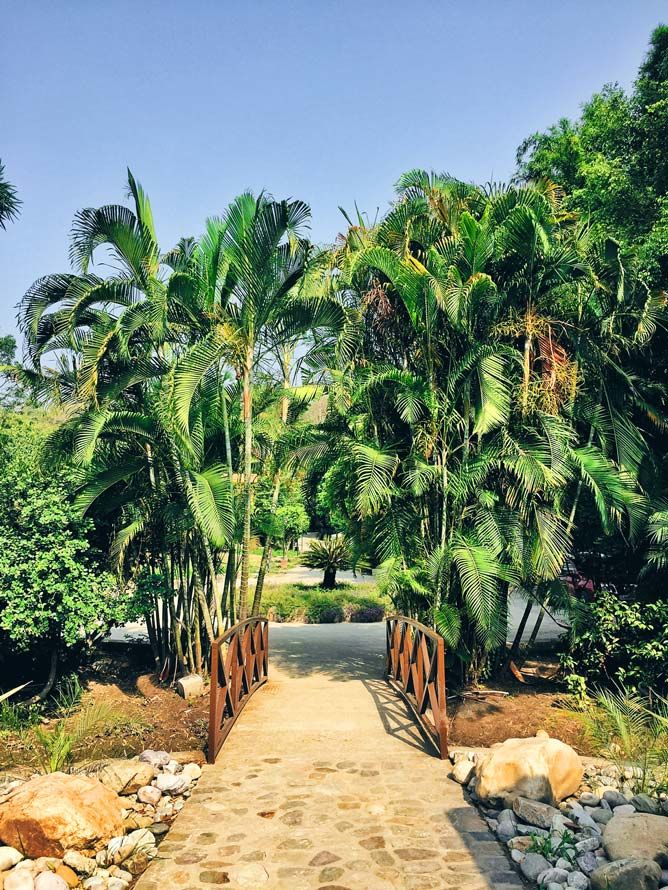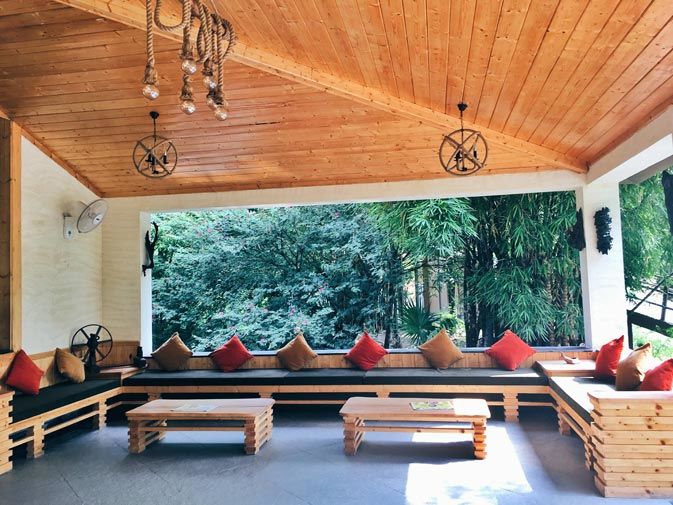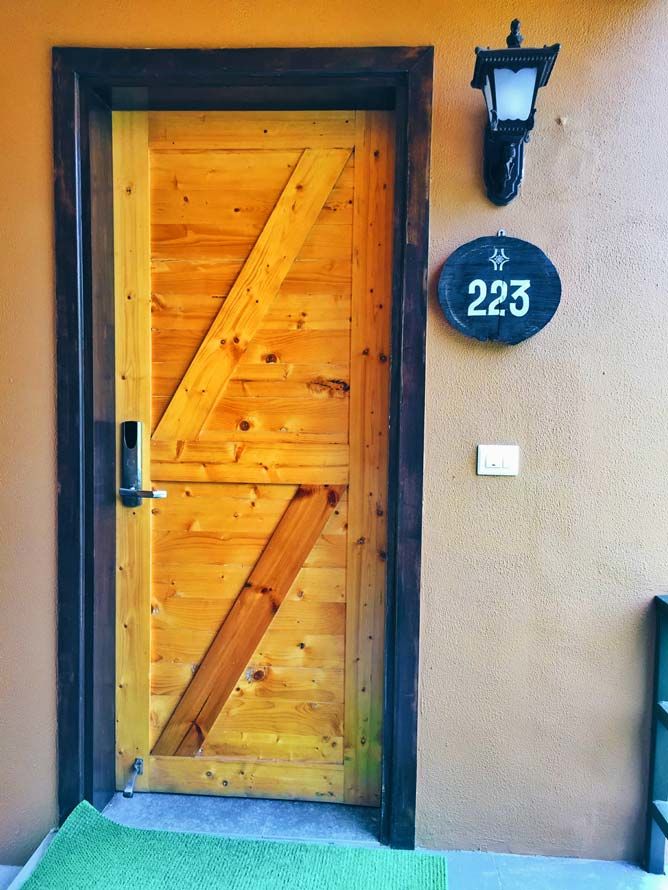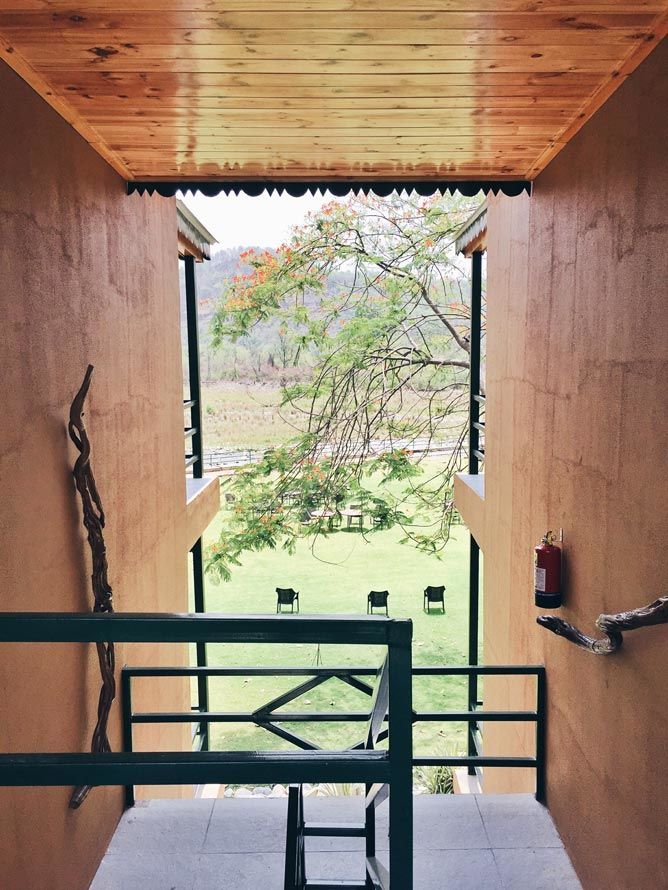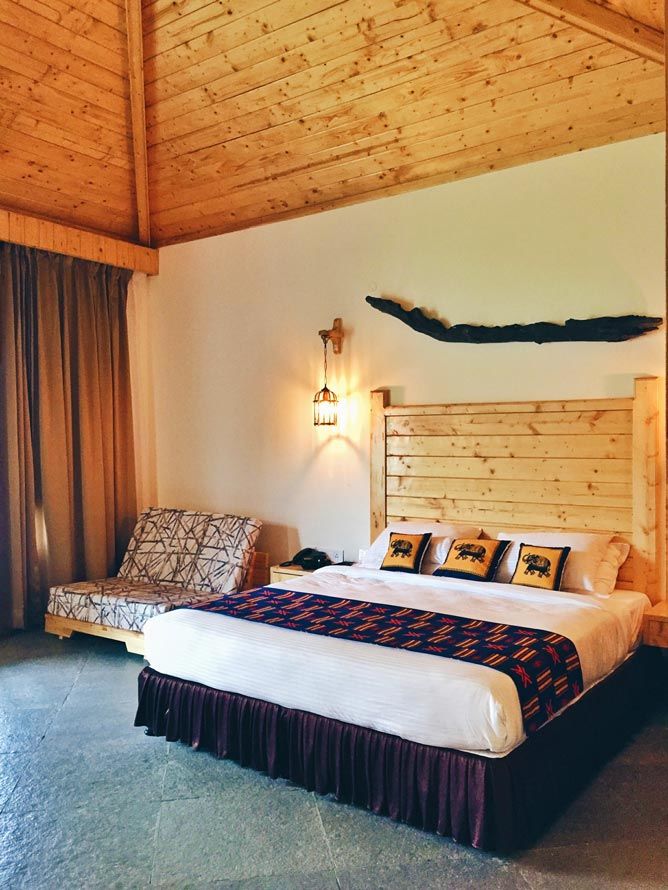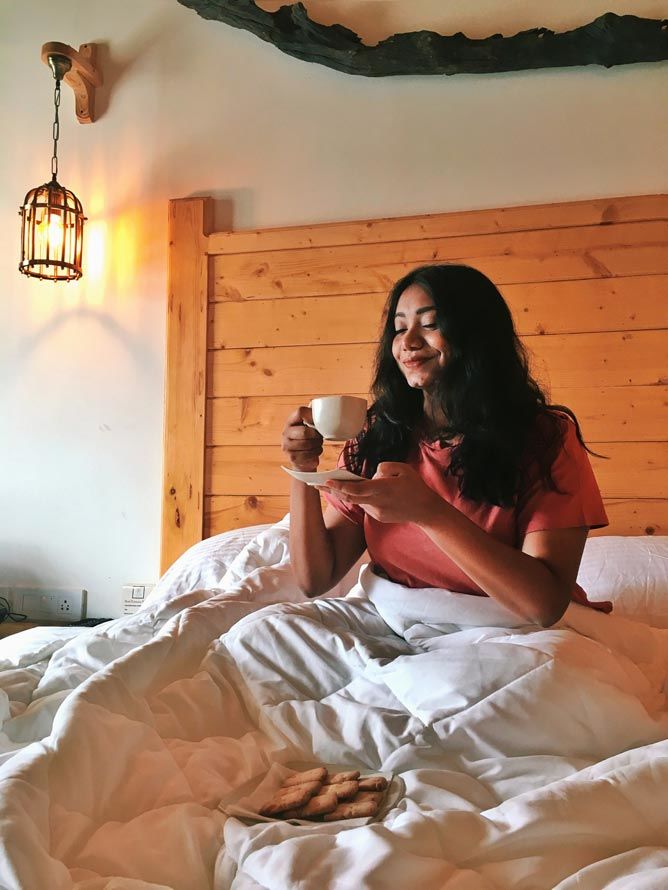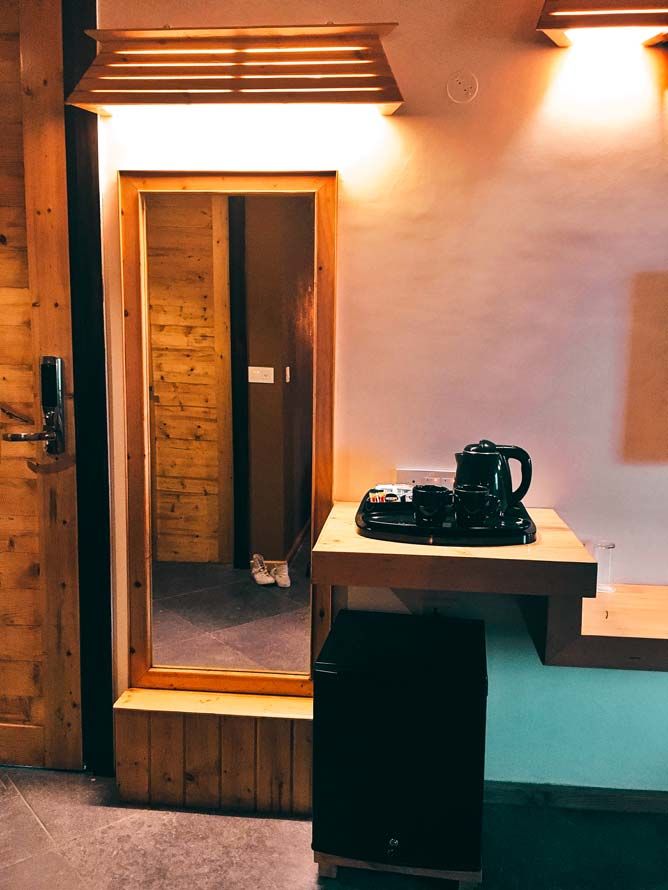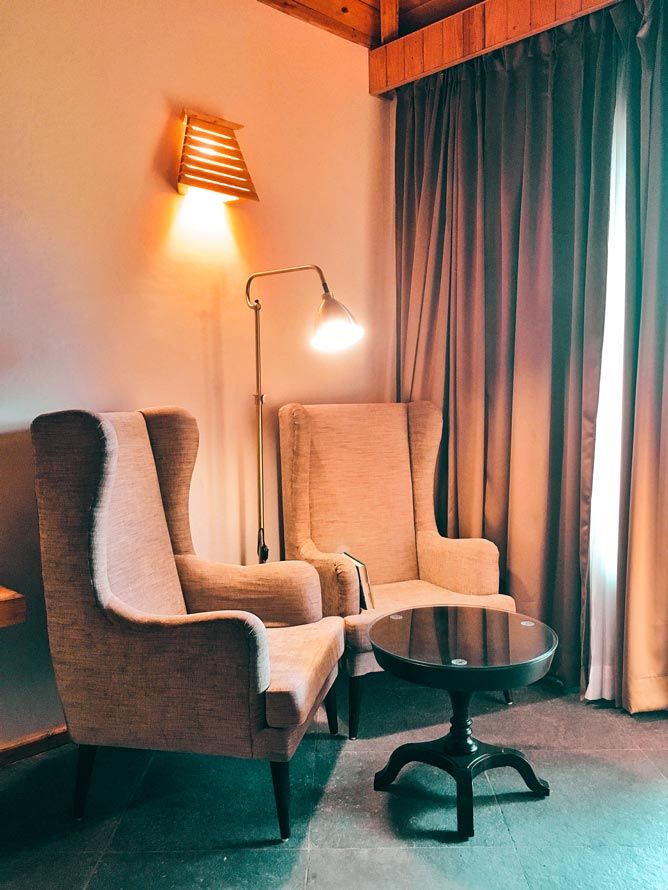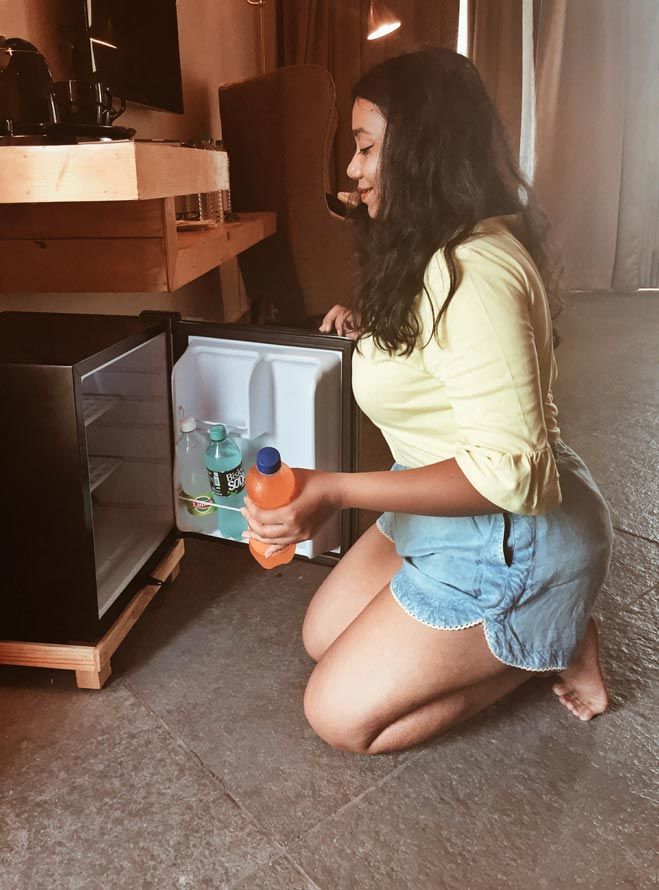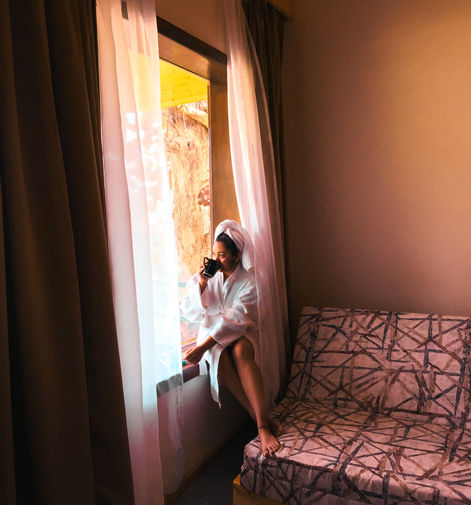 The first place that caught my entire attention had to be the pool. So, I dropped by the pool and went on for a calming morning swim. It was like working for the appetite as the Tarangi team delivered my breakfast to the pool itself.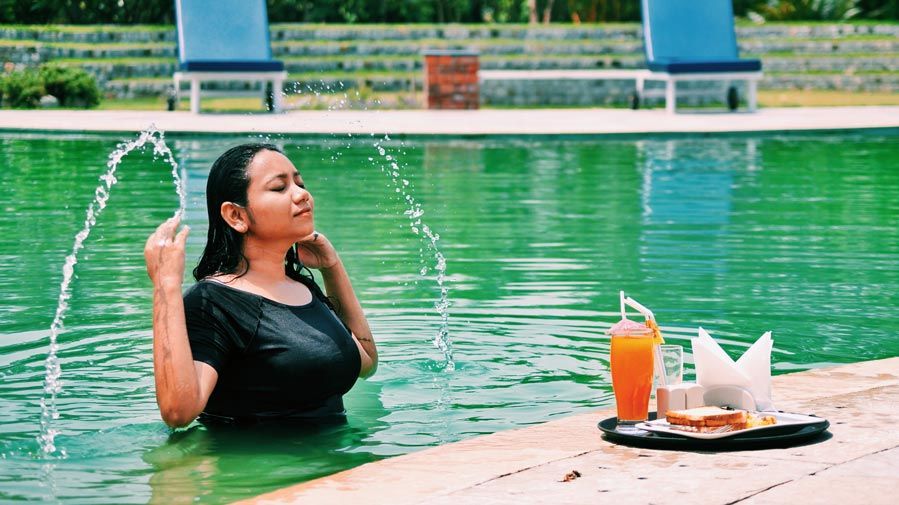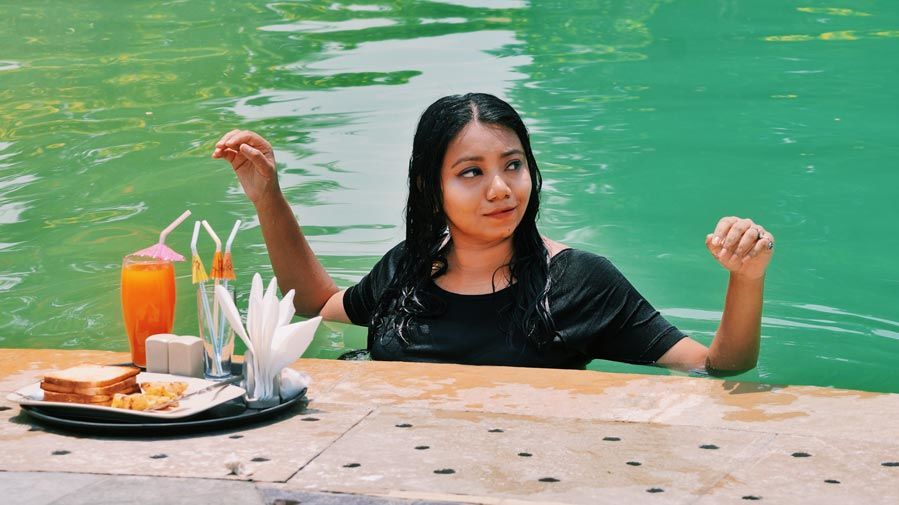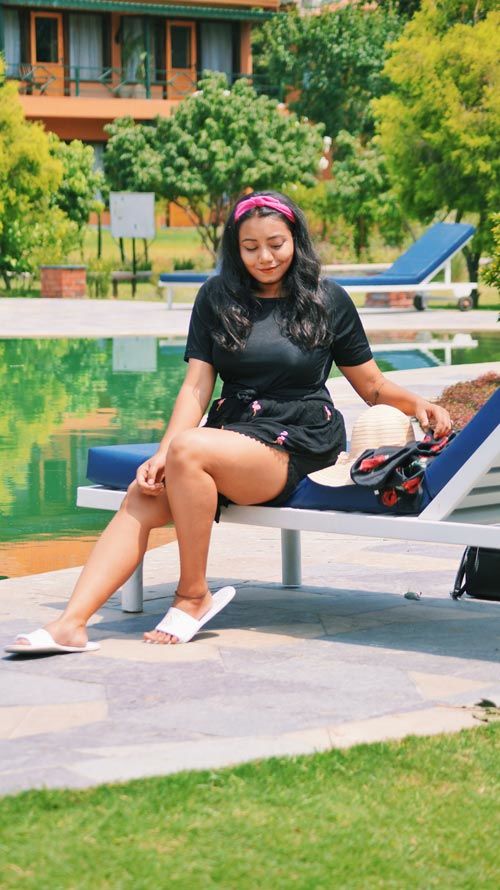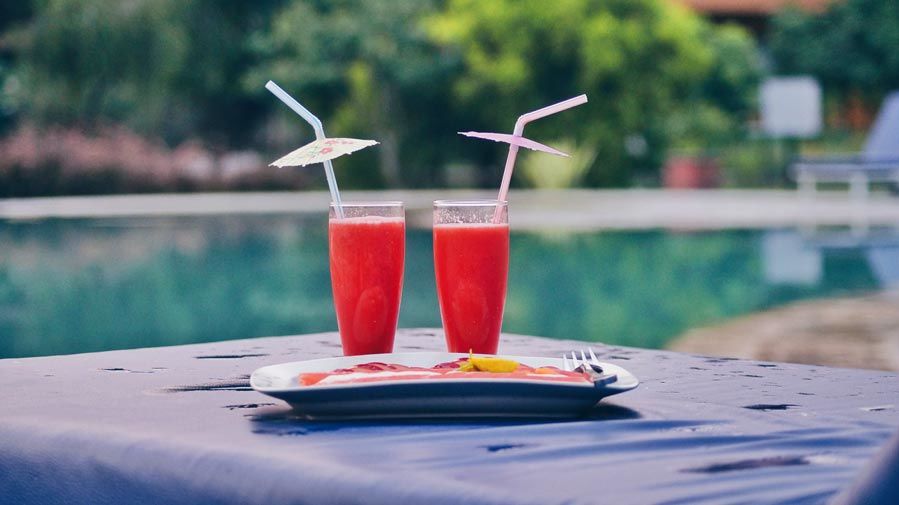 After the swimming session, I continued exploring more and what I witnessed is beyond expectations. I watched a big giant python hanging on one of the bamboo trees inside the resort. It was breathtaking. Period. And trust me, if you are fortunate enough you can even spot a deer resting by the swimming pool.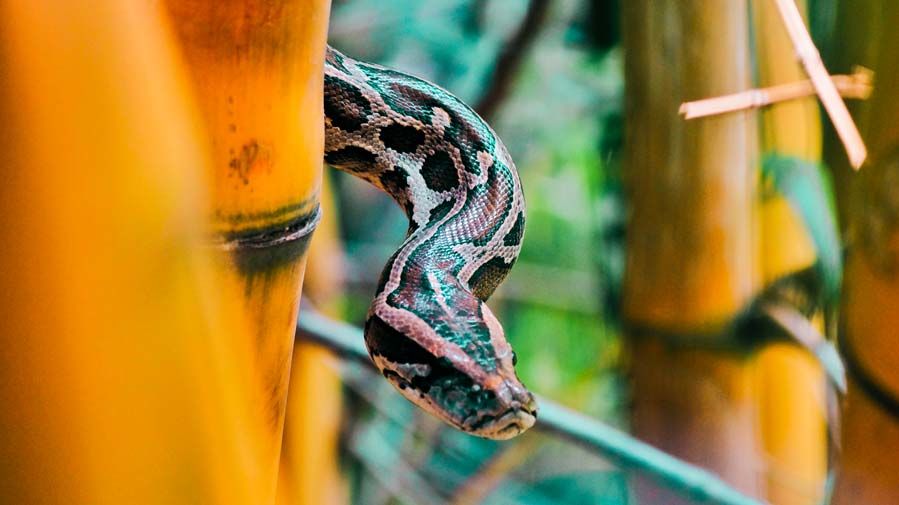 My next stop was the book shelve in the reception area. They have a marvelous collection of books, ideal for the people who love to read. Nights here are filled with melodies. Yes, they arrange for musical nights or Bollywood Jams every night. It was so good to sit back, relax and listen to live orchestra along the riverside. And yes after strolling through the 13-acre property, I indeed earned myself a sumptuous and fulfilling dinner. They have a grand buffet system with both vegetarian and non-vegetarian options. I went off to bed afterward as I knew the coming day is even longer and better.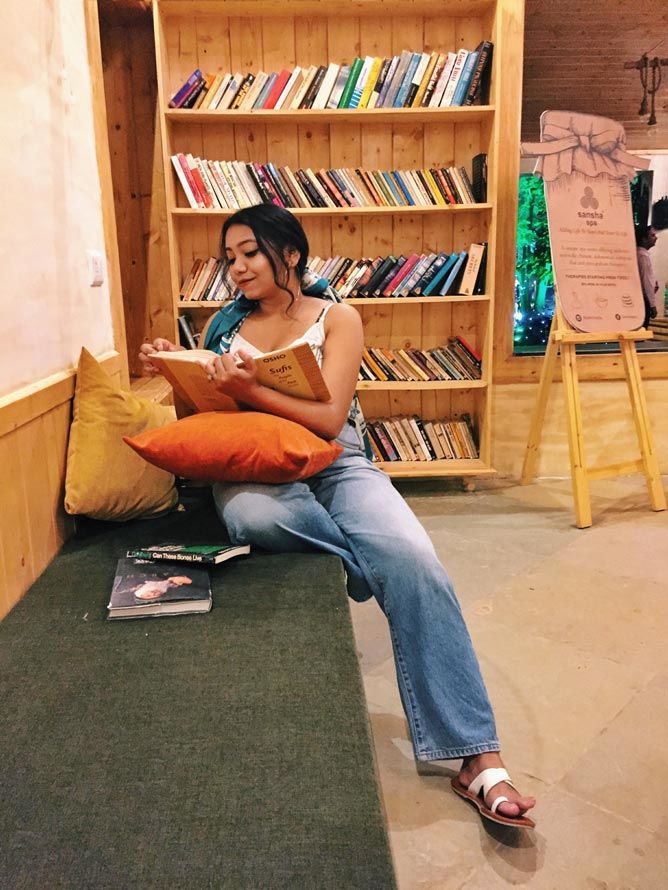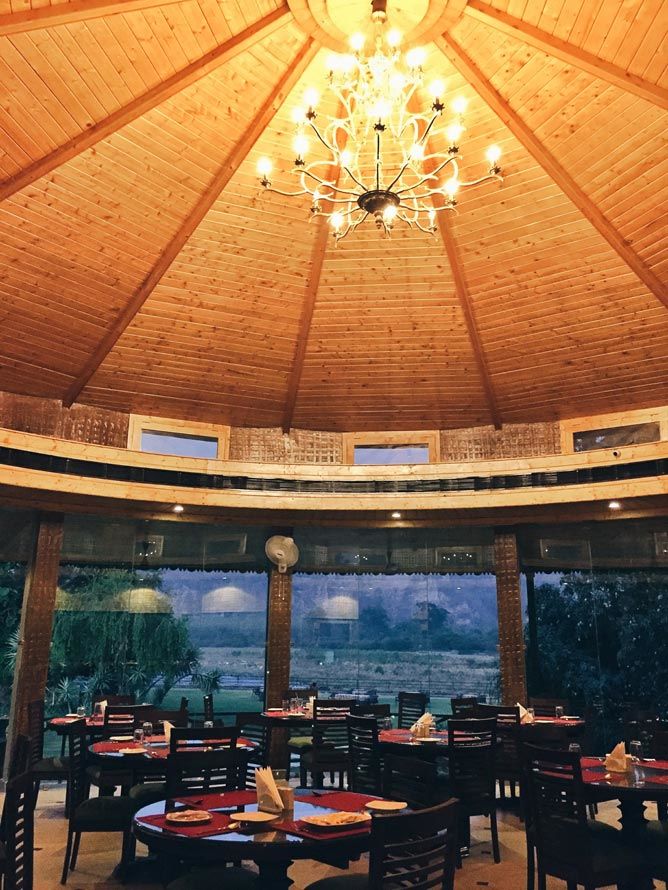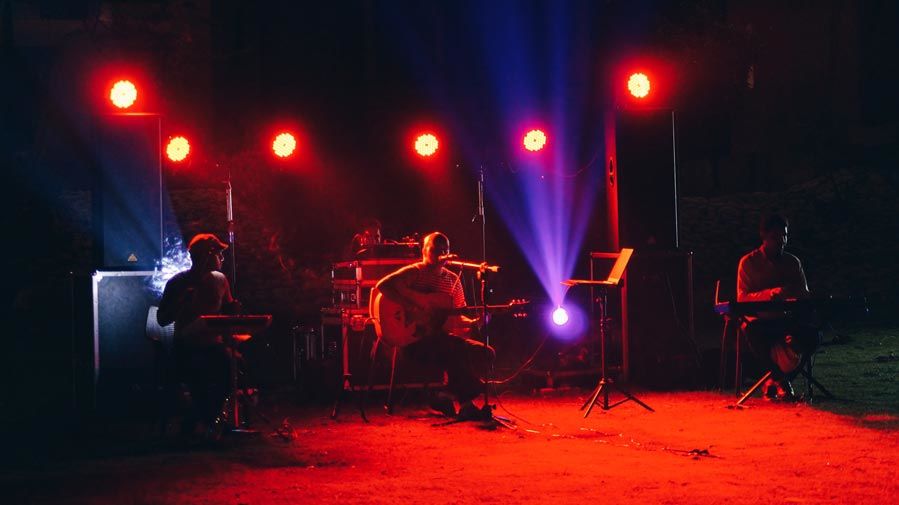 Day 2
I gird up my loins as I woke up at 4 AM in the morning for the Jungle Safari. This is probably one of the things that I never thought of putting up in my bucket list in the wildest of my dreams. But as they say, when the Universe wants it, there is nothing much you can do about it. And honestly, I am so elated that this trip indeed happened. It was a 5-hour Safari through the dense forests. I felt so connected to the untarnished nature and every second of the trip was incredible. It is so hard to explain the feeling. You must visit it to know it truly. Well, I was not one of the lucky ones to spot a tiger, but I did get a chance to watch deer, hornbills, elephants, and peacocks (another reason to visit again).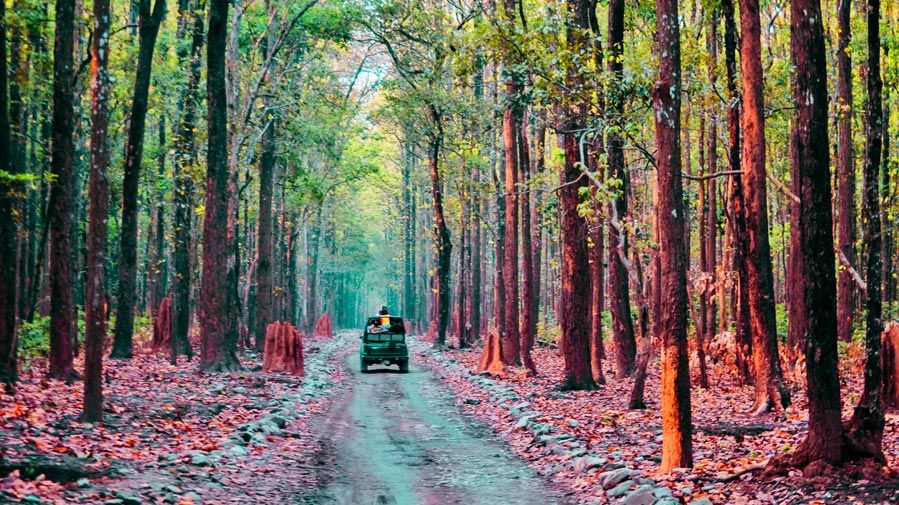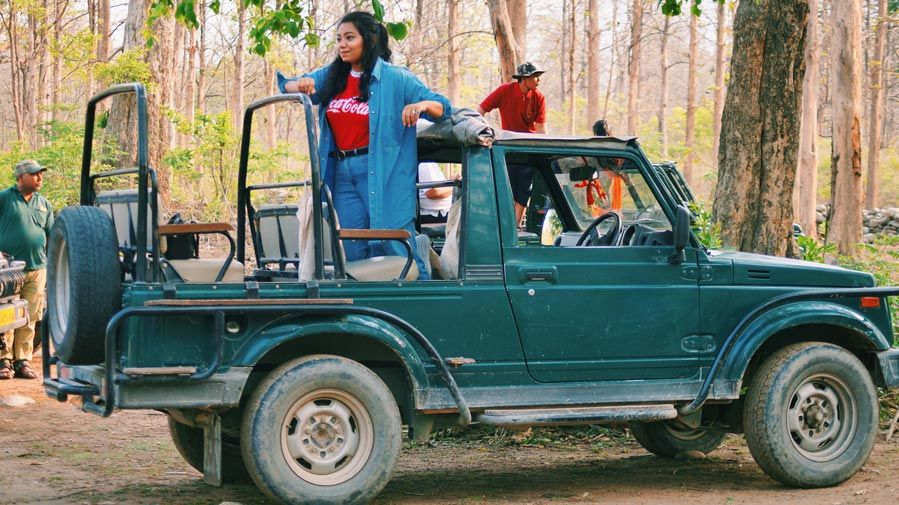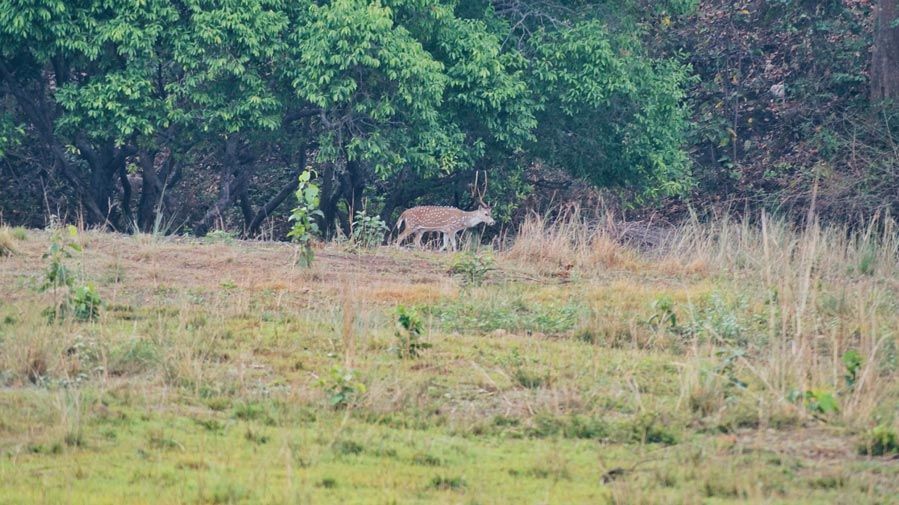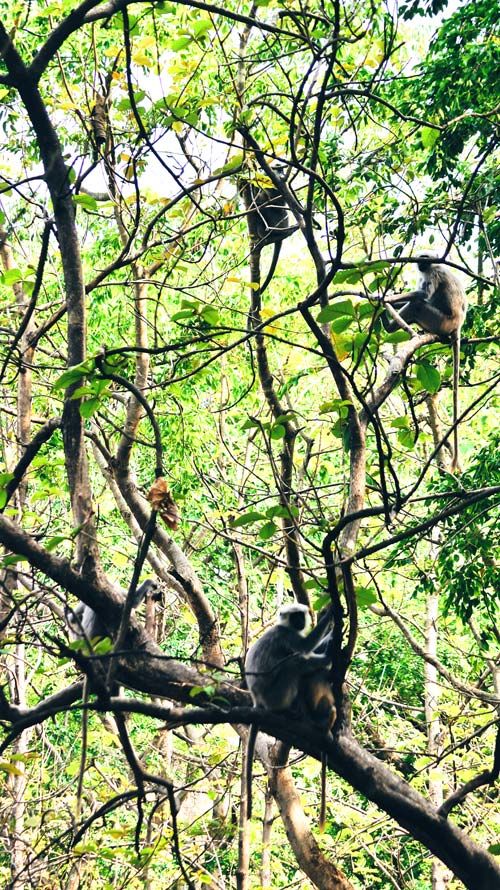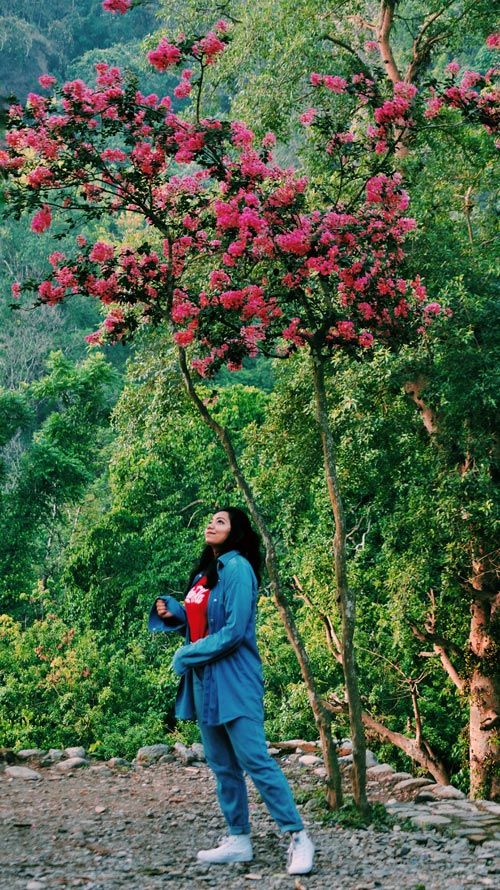 After the rip-roaring Safari, I headed back straight to the Panorama Restaurant of the resort and treated myself with appetizing breakfast. The variety of options available here is drool-worthy which includes continental, Thai, ala-carte and Indian cuisine.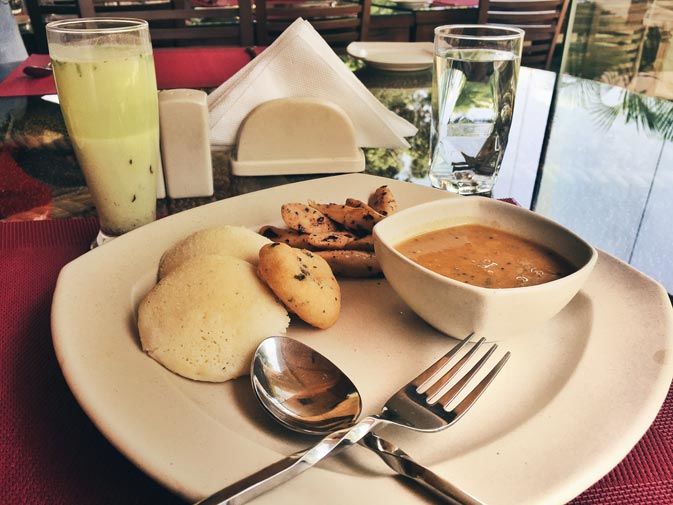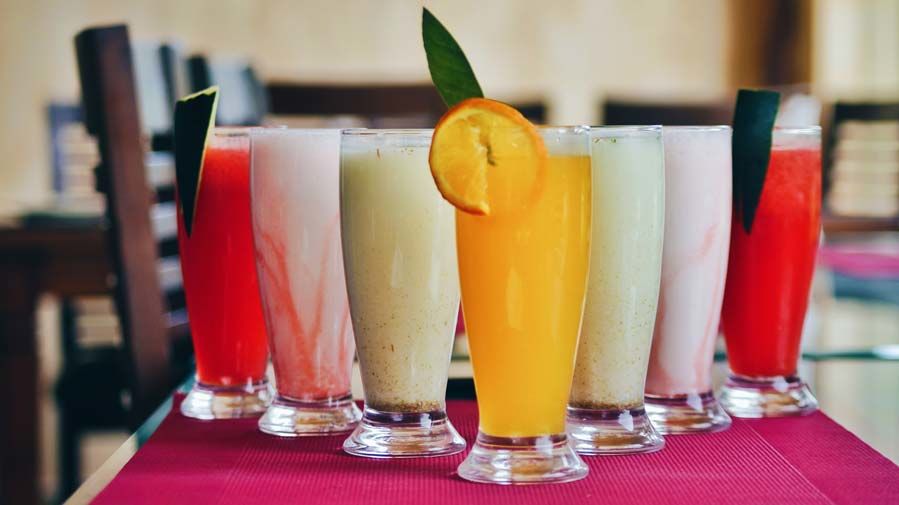 Now was the time for the next big thing. Yes, yes! Ever since I was a child, I wanted to have a perfect Bollywood moment in my life, where I would look no less than a Bollywood diva. And I did achieve my fanciest childhood dream my flaunting the gorgeous flowy skirt from Mohini Gupta Label and flipping my hair along the Kosi Riverside. Don't believe me, then see for yourself.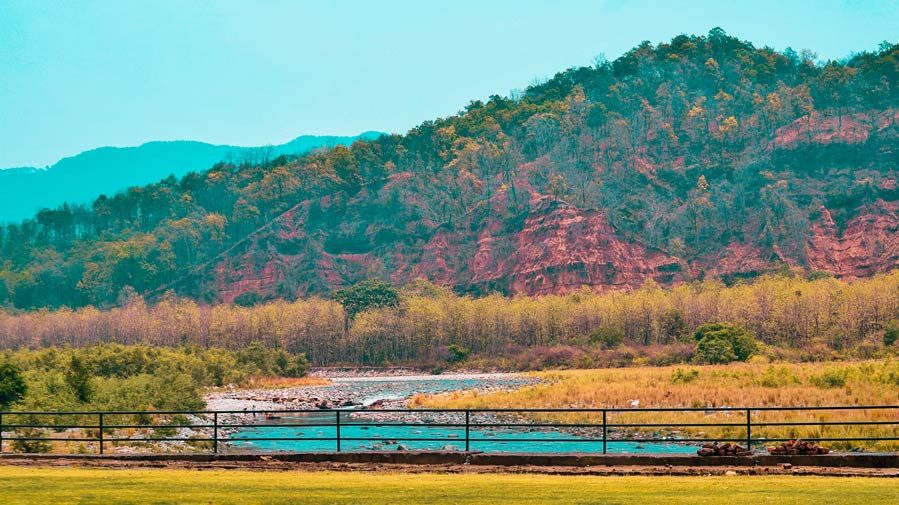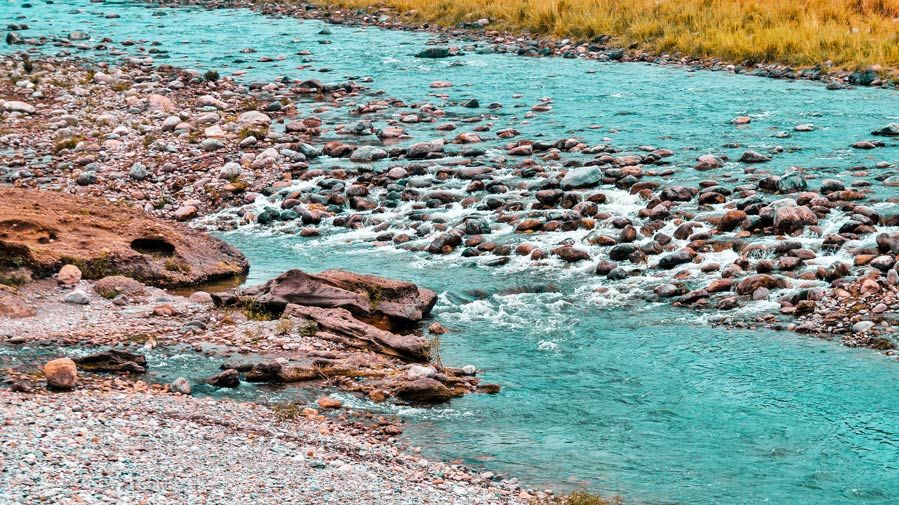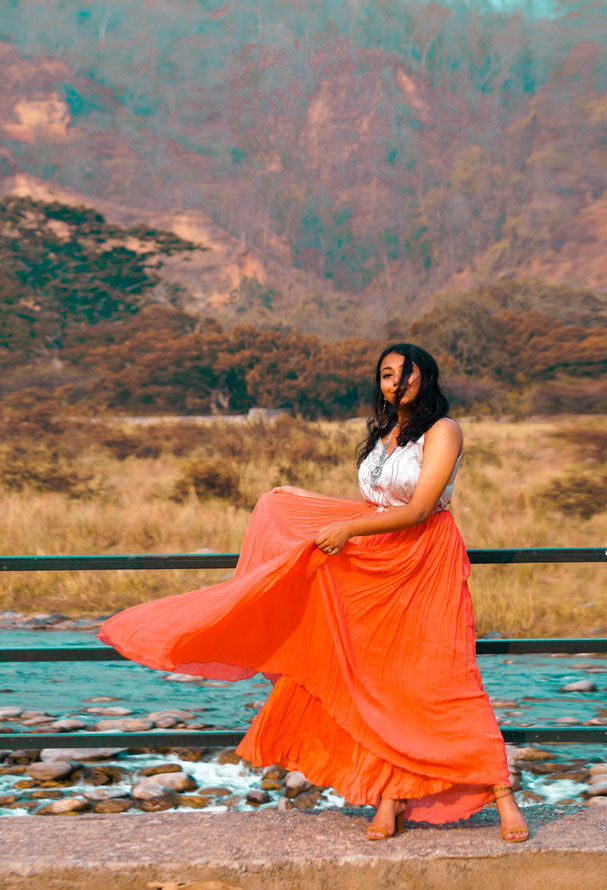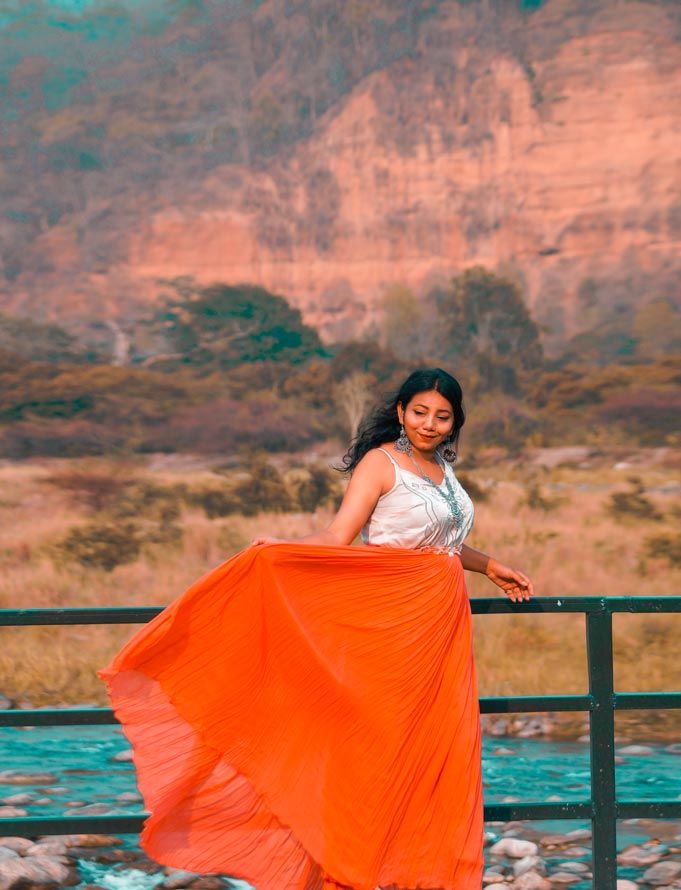 I don't like good food, said no one ever. And after a whimsical photo shoot, I literally yearned for a sumptuous meal. And the team of Tarangi made sure that the lunch was as grand as possible.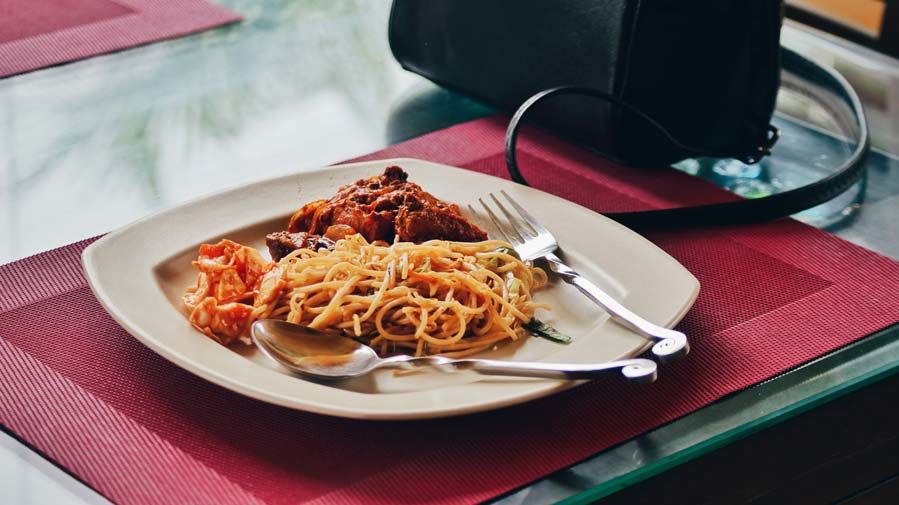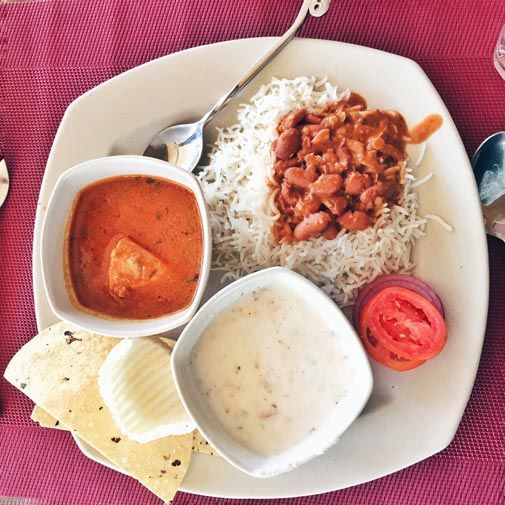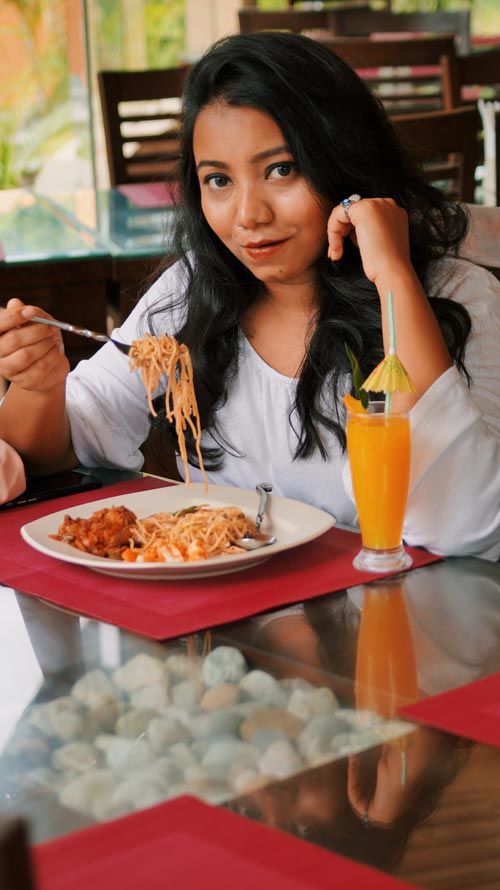 In the evening, I took a walk along the mango orchids inside the Tarangi Resort. Wait what? Mango Orchids? Yup and they have litchi orchids too. And remember when I said that they kept their flora intact and untouched? Well, Tarangi also has Rudraksha tree and Bhojpatra tree which has both religious and historical significance. The nights are usually happening here and I also had the privilege to groove to some Bollywood numbers.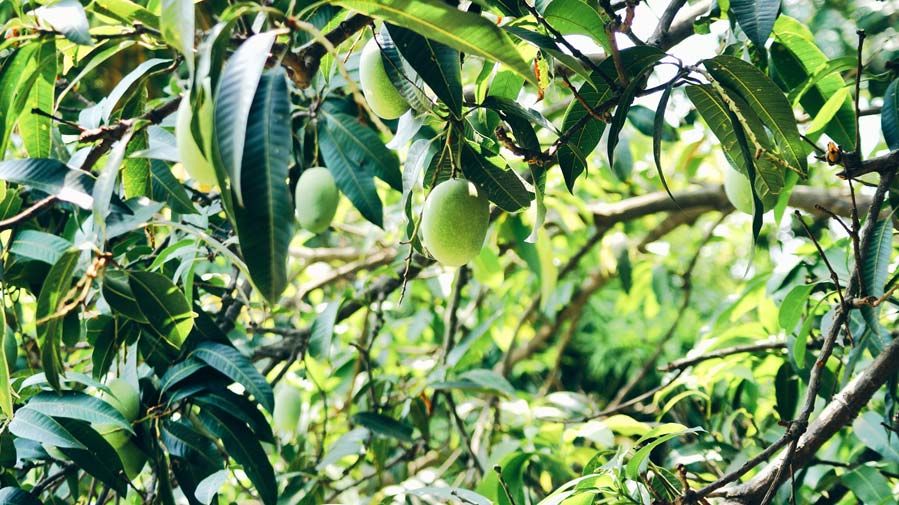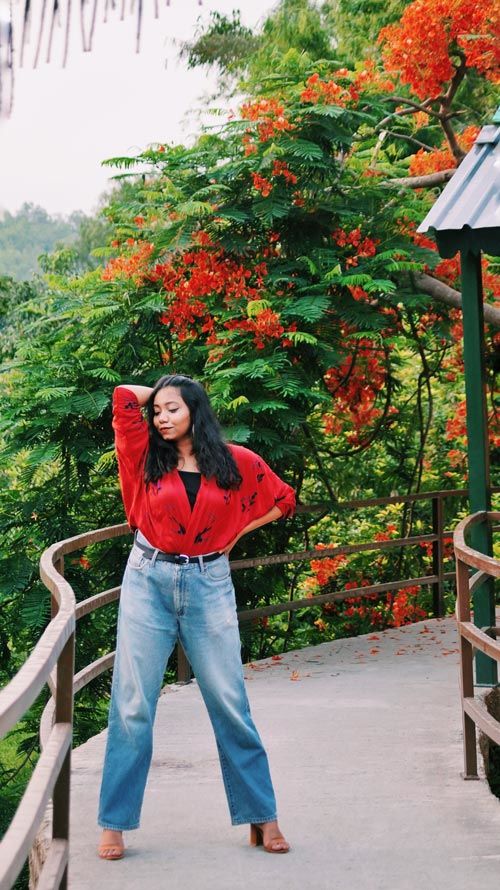 Day 3
Today was the final day of my stay at Tarangi Resort and I was just not ready to leave the place yet. But as they say, all things come to end whether it be good or bad. My experience at Tarangi Resort was short but filled with fun, adventure, and happiness. Before leaving, I did something with the Team Tarangi that I am going to cherish lifelong. We did tree plantation and I am so happy that as the years pass by, this plant will nurture and grow into a tree. Next time I visit Tarangi, I hope to see the plant all grown up.
A huge shout out to the entire Tarangi Team for being such gracious hosts and treating me so royally. I may forget the infrastructure or the ambiance but the hospitality I received from the Team is eternal.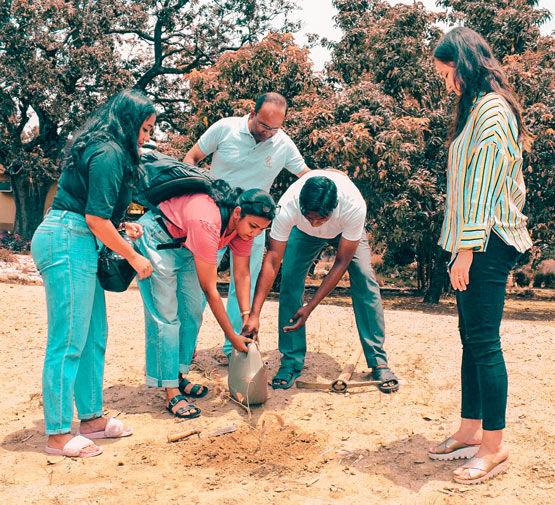 Before I conclude my blog post, let's go through the history of Tarangi Resort and how it came into existence.
Tarangi Resort History and Highlights
Tarangi Resort and Spa is owned by the entrepreneur couple Ritu Saraswat and Shivam Saraswat. Trust me when I say that you will not find such warm, welcoming and humble owners anywhere. Tarangi Resort dates back to 2005 but most of the resort's property was washed away by the Uttrakhand Floods. Since then the property had been abandoned until the entrepreneur couple took charge. Tarangi Resort and Spa made a grand comeback on April 2018. Tarangi Resort and Spa offers 44 luxurious rooms each with a spectacular view of either the River Kosi or the Sitamani mountains. They also have 2 pool villas. The biggest attraction of the Tarangi Resorts and Spa is the 800 feet long stretch of the riverbank. This makes Tarangi Resort one of the most prime locations for destination weddings in Jim Corbett. If this is not enough motivation for you, then you can also try out the Sansha Spa at the Tarangi Resorts. Riverside rooms booking start at 9500 INR (inclusive of meals) and the pool villas start at 25000 INR (inclusive of meals). GST is additional.
To know more about Tarangi Resort and Spa, visit their official website.
Pro Tip: Go for rooms with the riverside view. It will be an experience to remember. Pinkie Promise!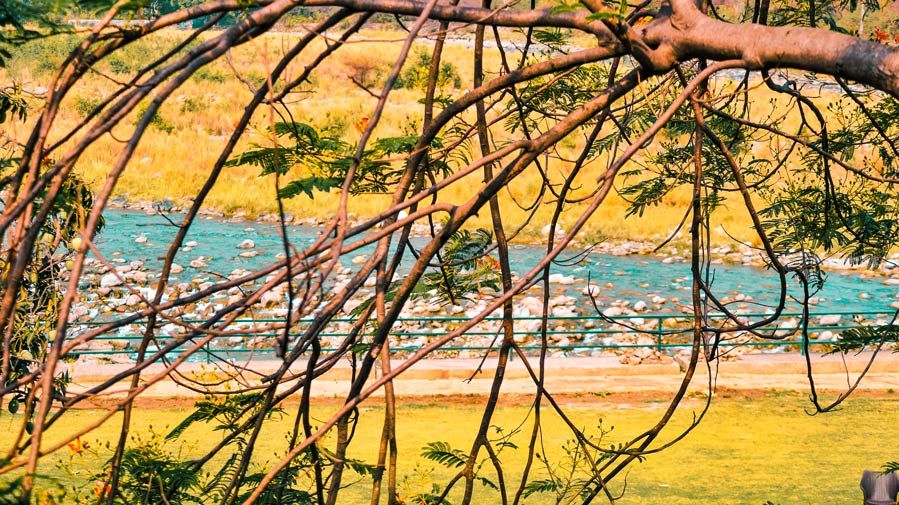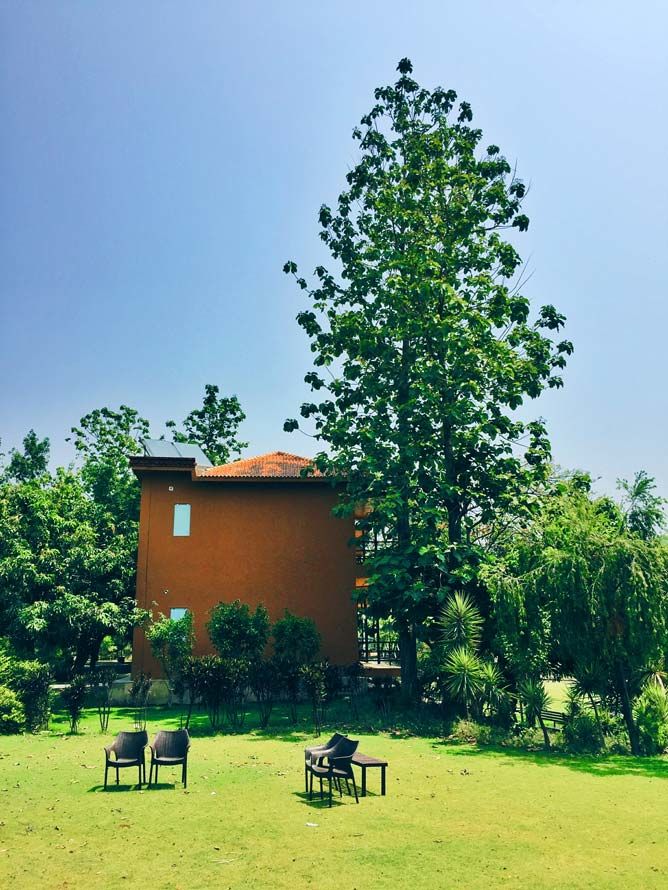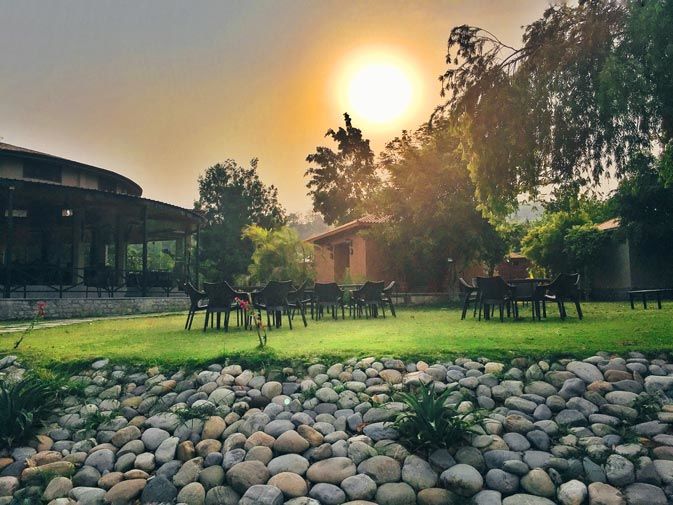 It was really hard to say goodbye to these wonderful humans and leave the colorful wilderness behind. I won't say that I came back as a new person, but I did find my inner peace I was looking for and I am just rejuvenated for my upcoming adventures. The positive vibes that I felt there is making me say that Tarangi is indeed is a justice to its name.
Until next fun trips,
Love xx
Sayanti