'I travel not to go anywhere, but to go. I travel for travel's sake. The great affair is to move.'
-- Robert Louis Stevenson
Northeast is one of the least explored places in India. And here we are talking about Meghalaya, to be precise, Nongriat(Double Decker Living Root Bridge). The place was on the list from so long and finally, my friend (Kshitij Shivaji) and myself, decided to go. We both were in different cities and planned to meet in Guwahati, at one of our common friend's place(Devadeep Gupta, DD). We reached Guwahati on alternate days. And then it all started.
Day 1
We started from Guwahati quite late at 1:30 pm, and reached Shillong at 4 pm after booking a shared cab.
A newly constructed four lane highway, shining in the sharp sun of northeast, turning smoothly on the edges of hill, going up and down keeps you interested for the better part of the journey. On the way, 17 km before reaching Shillong, you will cross a famous tourist place of Meghalaya, Umiam Lake. It's a beautiful lake with crystal clear water (If you have time and a personal vehicle then do spend some time over here. Since we were in a hurry to reach Cherrapunji, we went straight to Shillong).We got down at Police Bazaar,the main market in Shillong where you can find a lot of good options to eat. We went to this place called 'Red Rice', an authentic khasi restaurant with reasonable price. There are other options as well with cheaper rate and some fine dine too.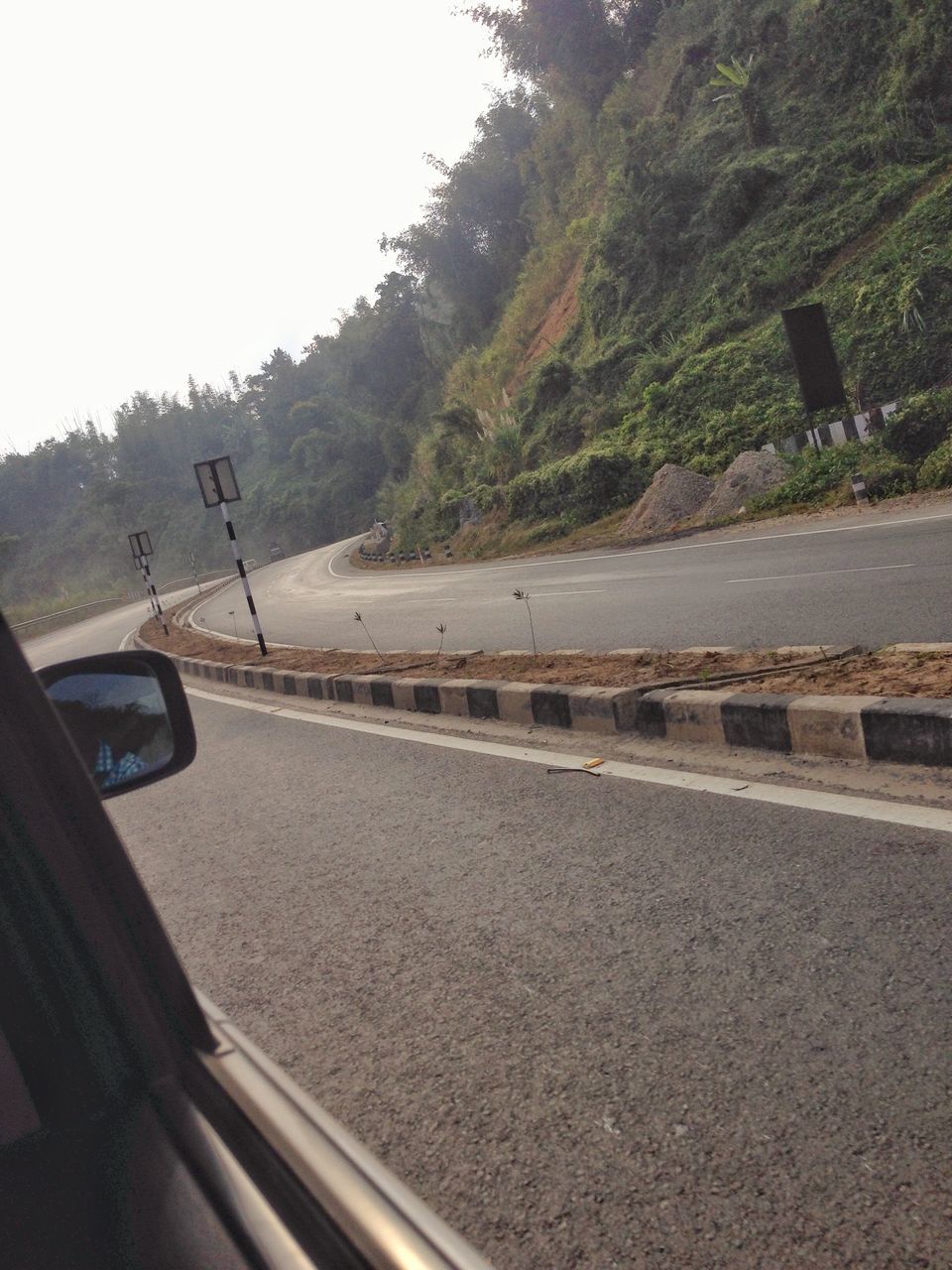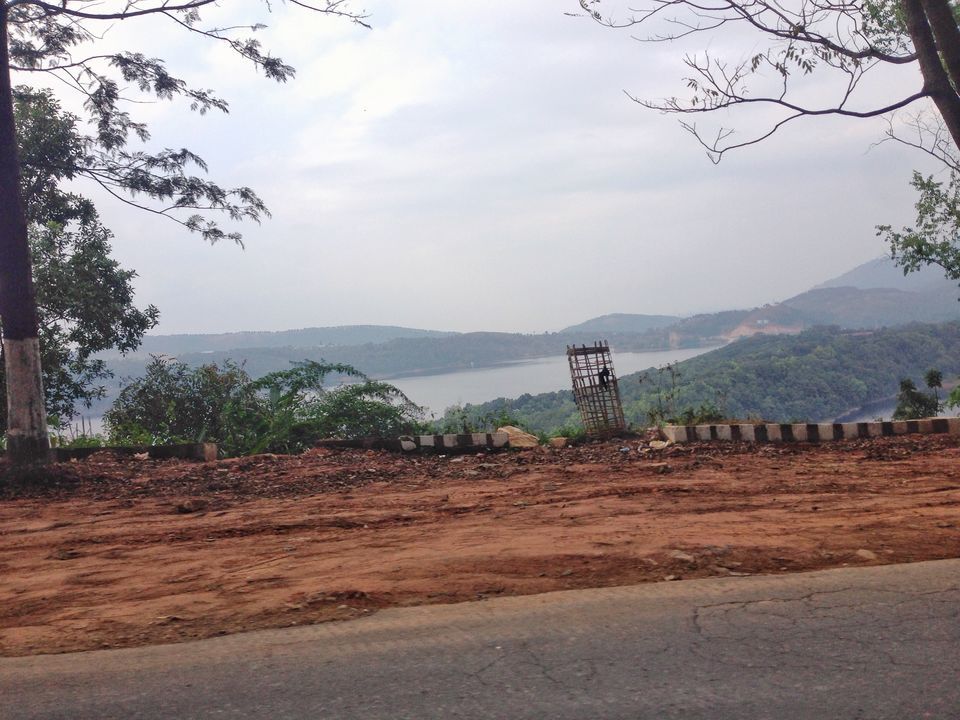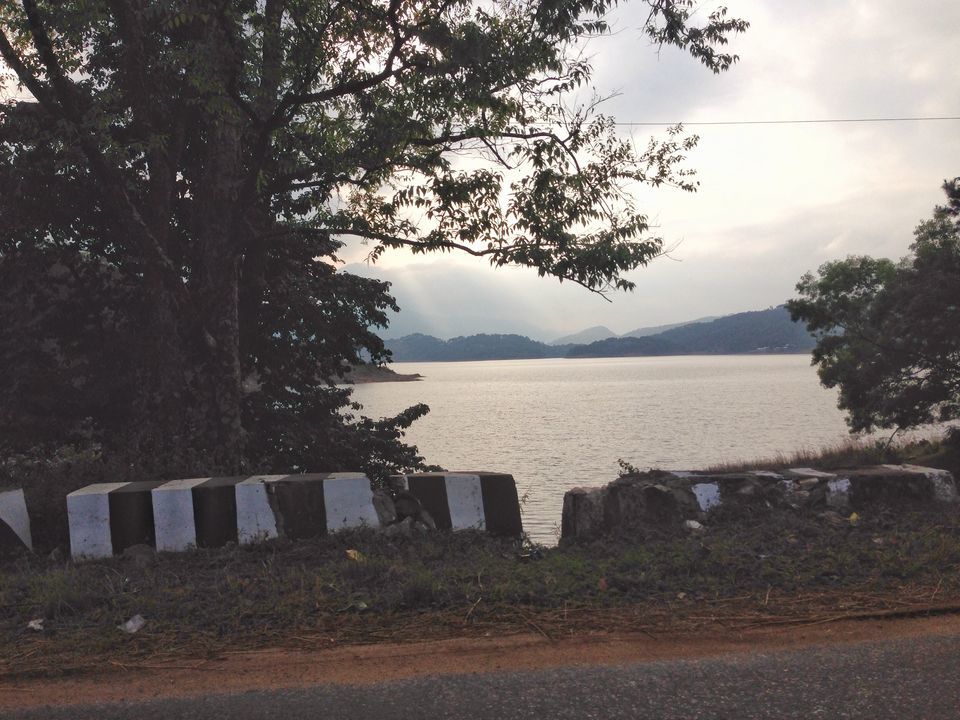 The local mode of transport here is a taxi, you turn your head anywhere and find a number of black altos piling up one after another. Shillong is a congested city, with high rise in the number of tourist every year, making it more congested, but the suburbs of the city is mesmerizing.
By 5:30pm, we started exploring options to reach Cherrapunji. We found out from the locals, that from the main bus stand we can get a shared as well as private taxi for Cherrapunji. By the time, we reached bus stand, it was already 5:45pm and in Northeast it gets dark earlier than the rest of India. It isn't difficult to get a shared taxi but the taxi which was about to leave was already full and the next one was after half an hour. Since it was already past 6, we booked a private taxi and started our venture to the wettest land on planet Earth. It was all dark so we could not enjoy the scenery that was on offer by Mother Nature.
Our plan was to stay at 'By The Way' guest house which we came to know about from our friend in Guwahati.This place is on the out skirts of Cherrapunji, in the village 'Sohra". By 7:30 pm we were at the guest house.
It's a pretty unique place. A linear building on the sides of the main road, with rooms on the lower level and few amenity shops on the upper. There were 4-5 rooms with 4 to 5 beds in each room. Neighborhood was quite vacant but one could locate few shops & residences nearby and a local market within 250 mtrs. There are a few restaurants and amenity shops which will cater your basic needs.
After freshening up, we went to the market, had some light snacks and went to sleep looking forward to our next day trek.
Day 2
We woke up around 8:00AM and started getting ready for trek. We had two backpacks and for the ease of our journey, we left some of our luggage and one backpack in the guest house, thanks to the extremely helpful and friendly owner of the guest house, Happiret a young man in mid 20s.
After having brunch, we took a taxi for Tyrna (Motorable road ends here) around 12:30 pm. After 20-25 minutes of drive through the narrow road of khasi hill, we reached Tyrna.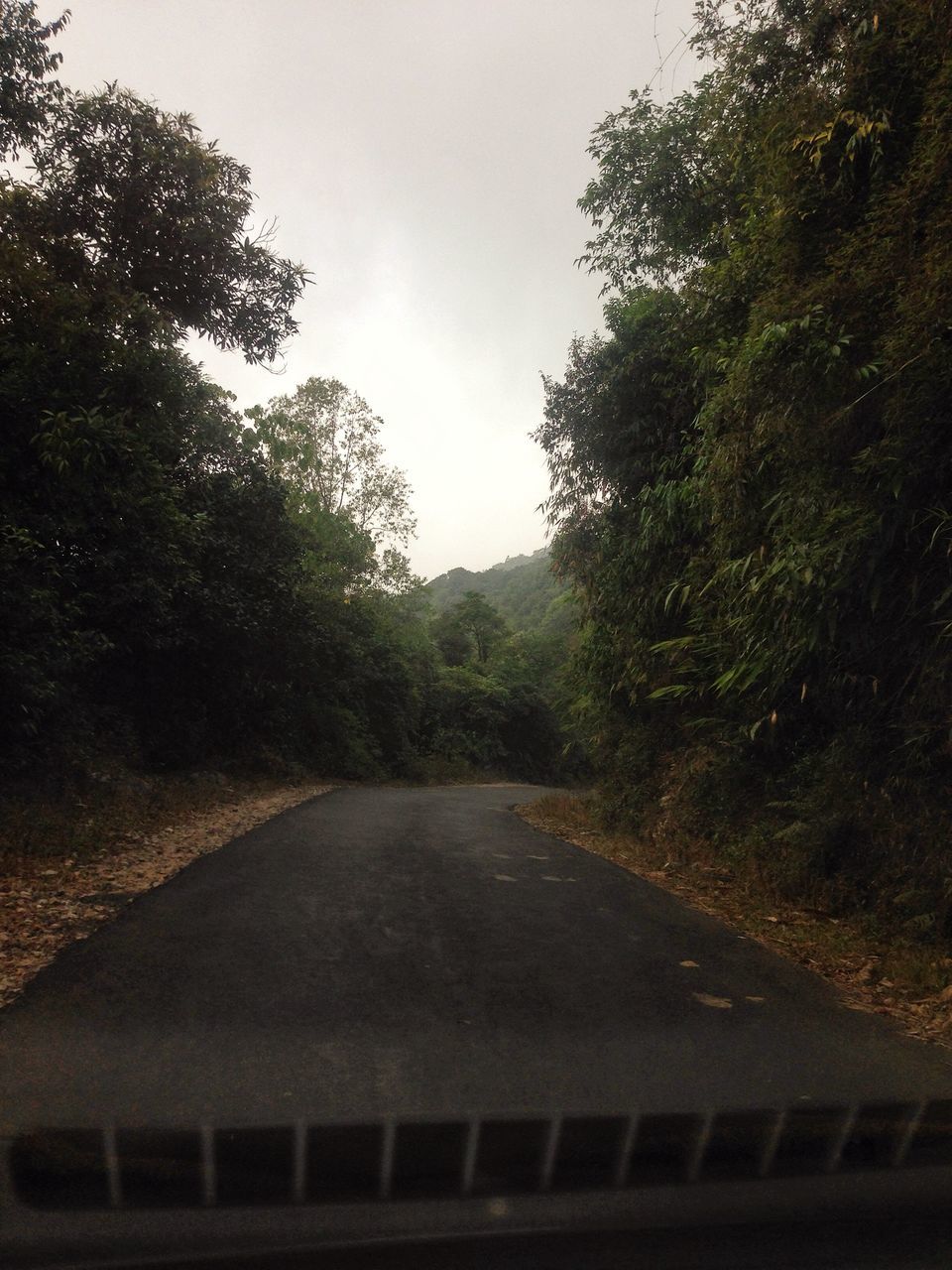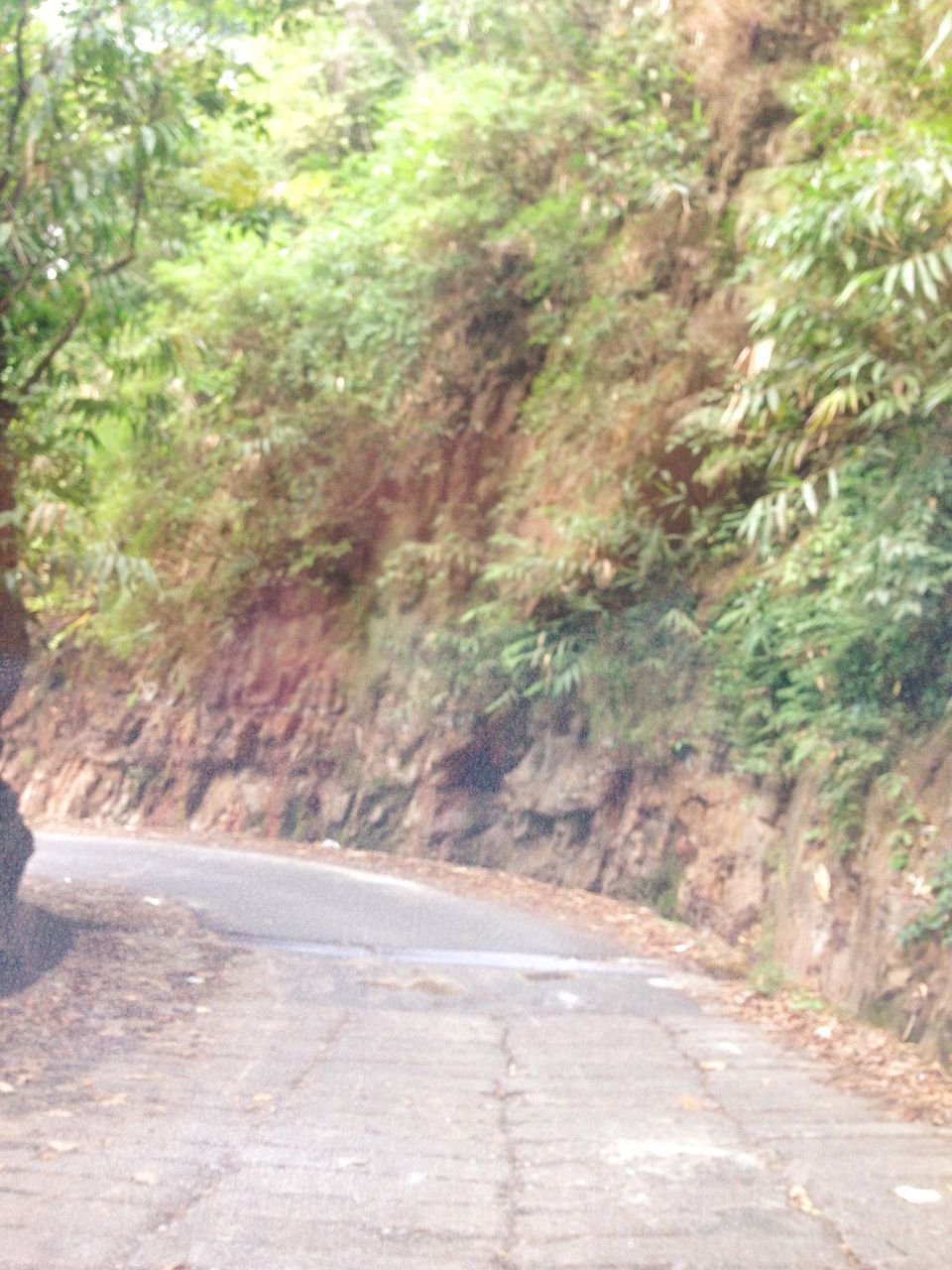 Tryna is at the top of the hill and to reach Nongriat, you have to first go downhill into the valley, cross a river and then climb up for some distance. It takes 2-3 hours to cover the distance but the tricky part is that almost the whole trek (i.e. 3 km approx.) is stairs (3500 Stairs approximately).The trek distance is not a problem but stairs makes you tired.
We started walking down from Tyrna at 1:00 pm. The path is either a cemented staircase or uneven step of stones, in the middle of thick jungle. Very casually we walked down the stairs, while the nature unfolded itself.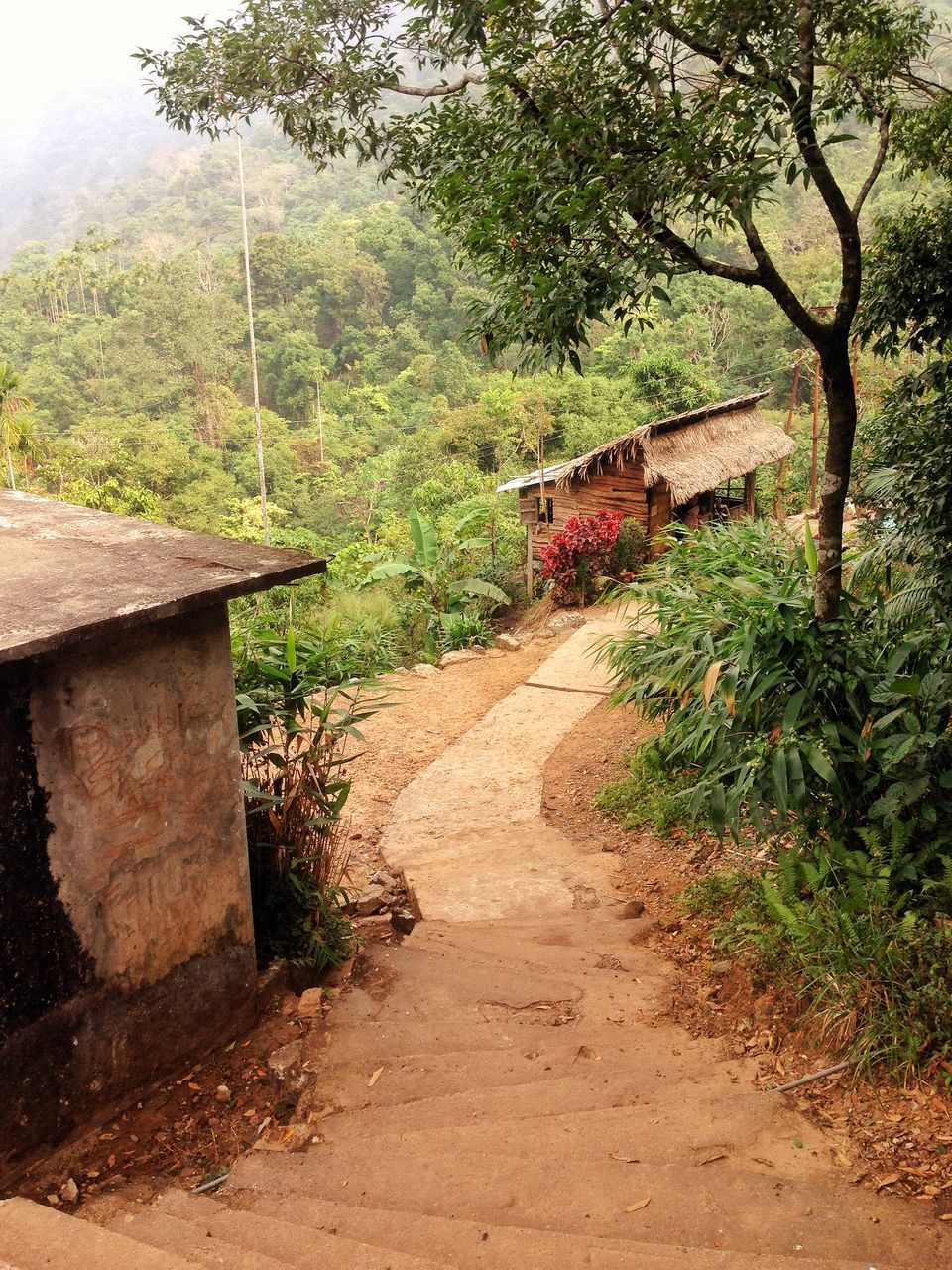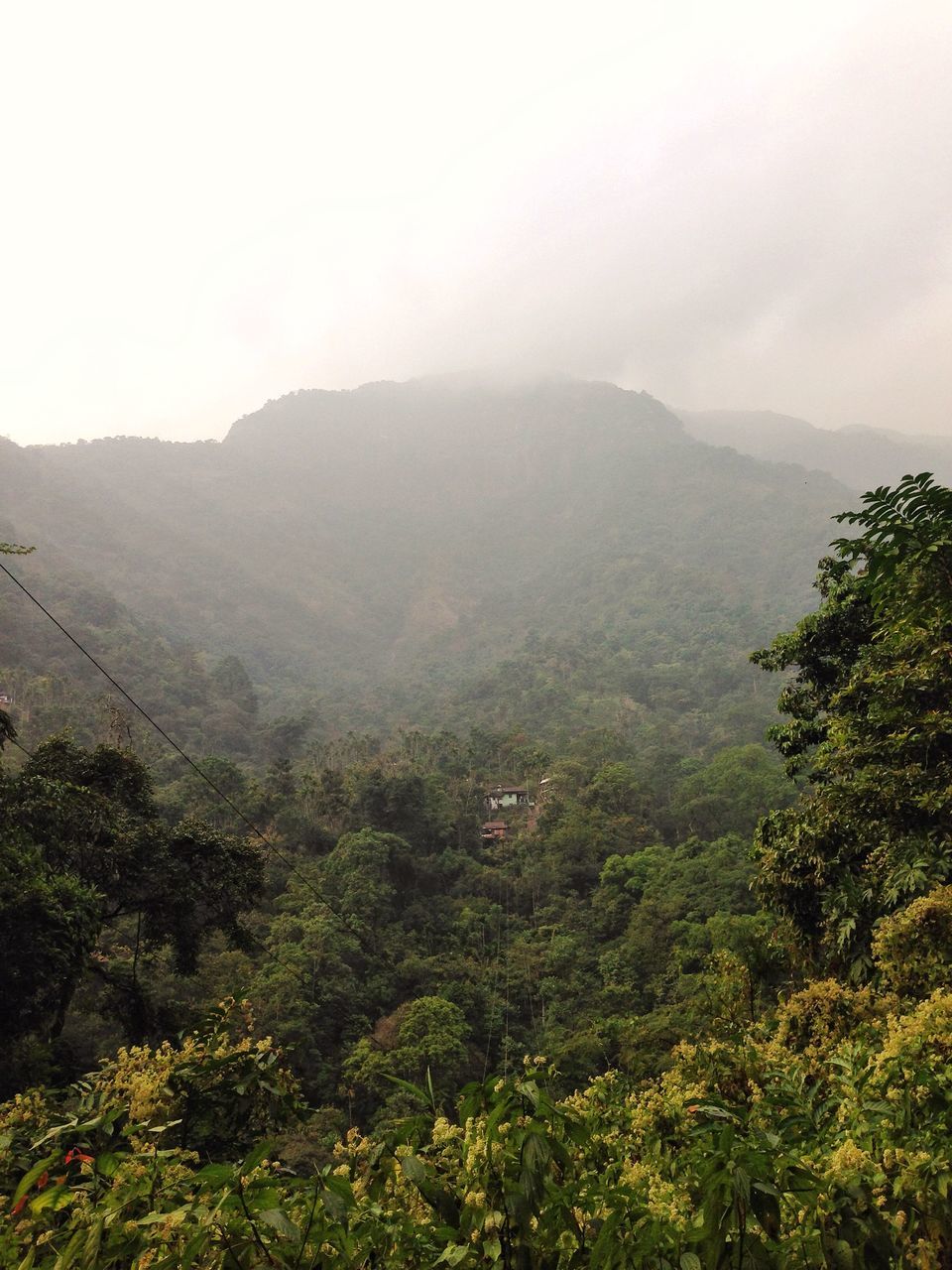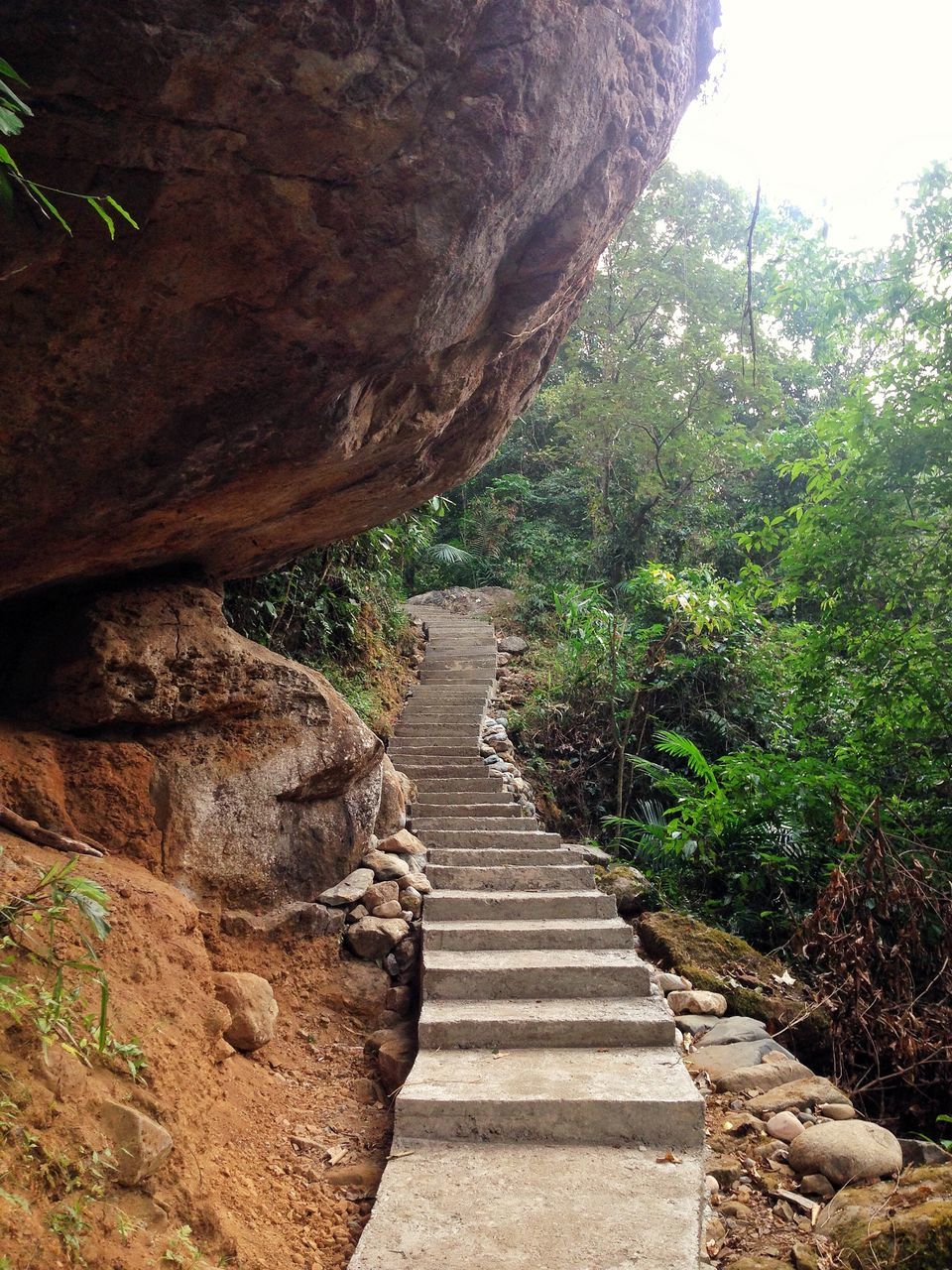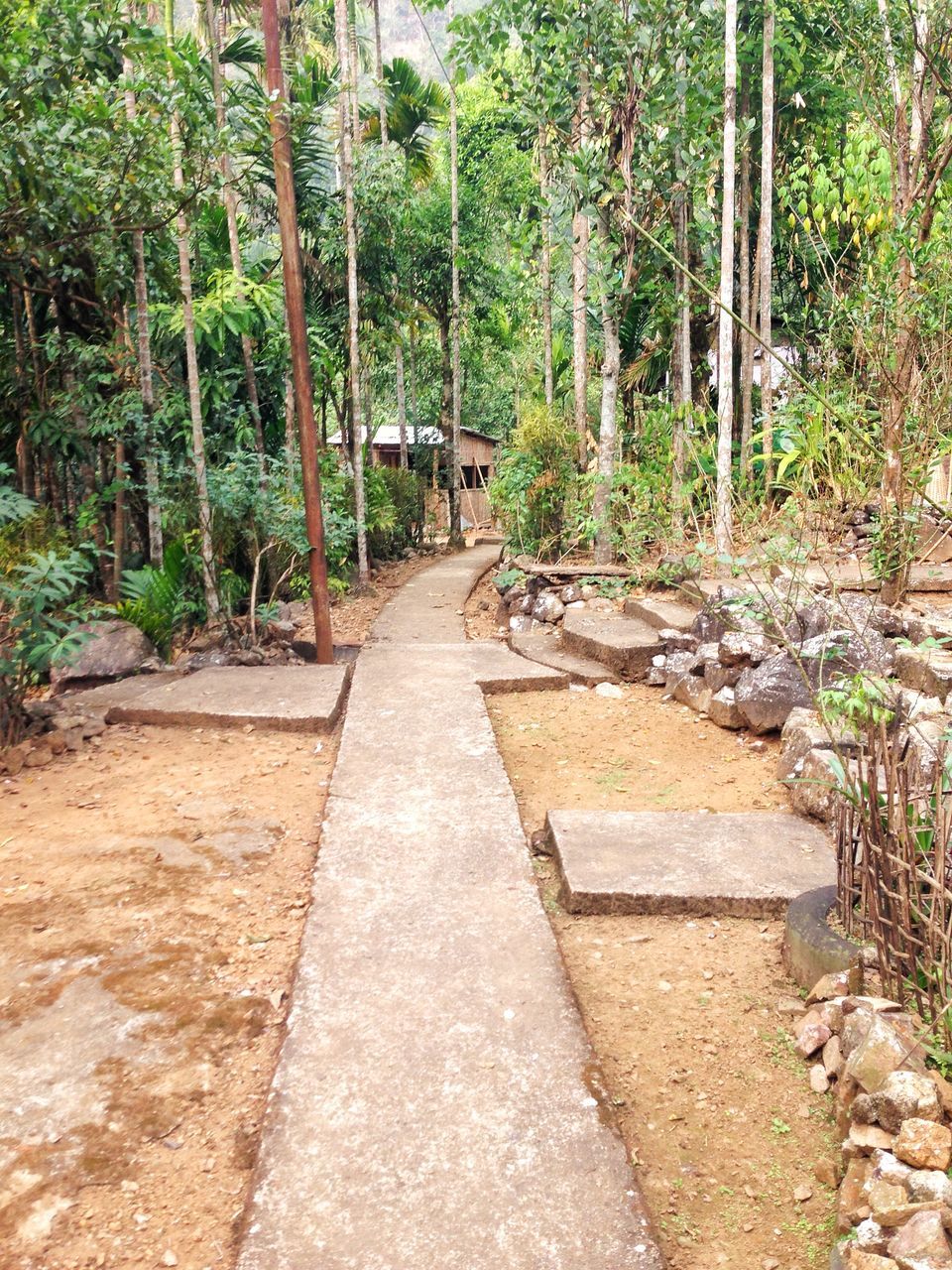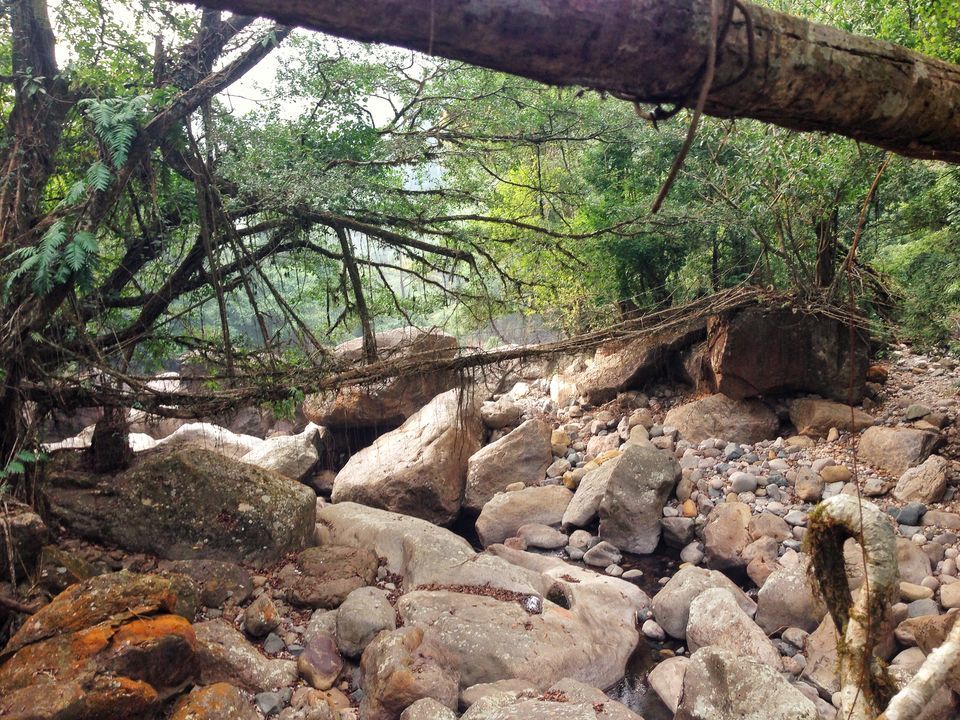 After an hour walk down the stairs and multiple halts, we reached a small village from where you can go to the single living root bridge, but for that you have to take a detour of some 100-150 mts. We took a break for 10 minutes near the bridge. It was such a blissful place surrounded by luscious green, a river flowing and to cross that, Mother Nature making a bridge from itself.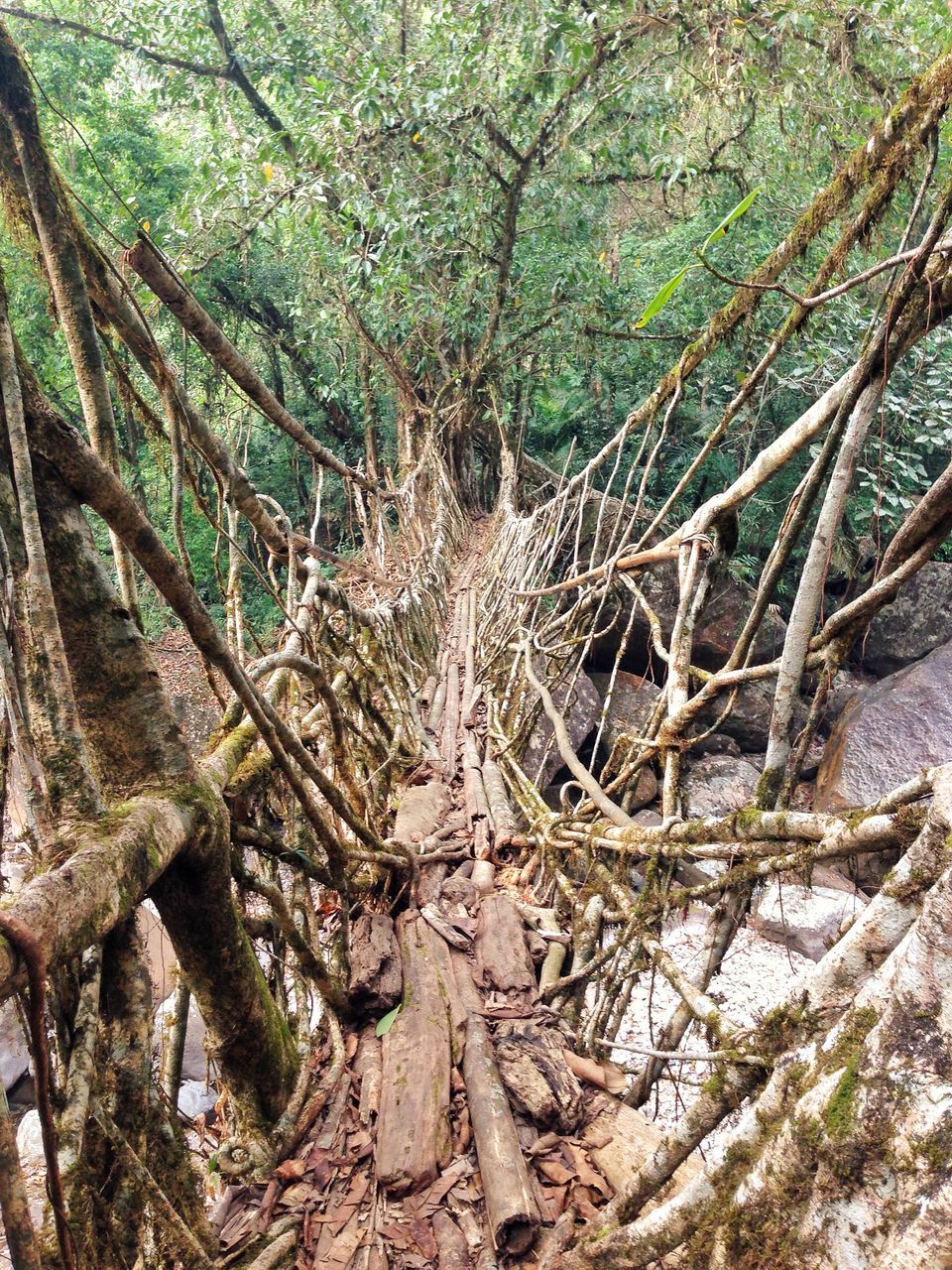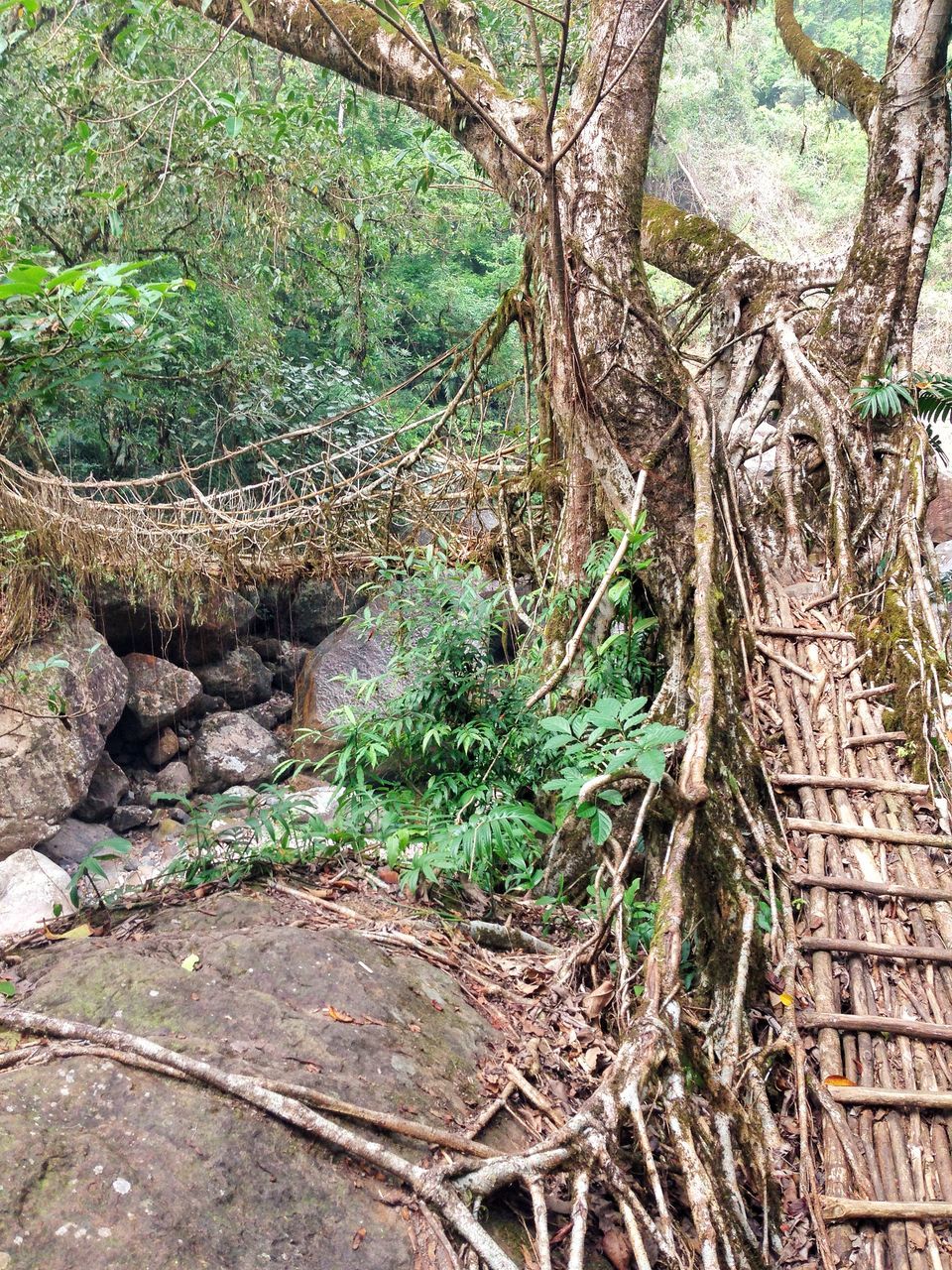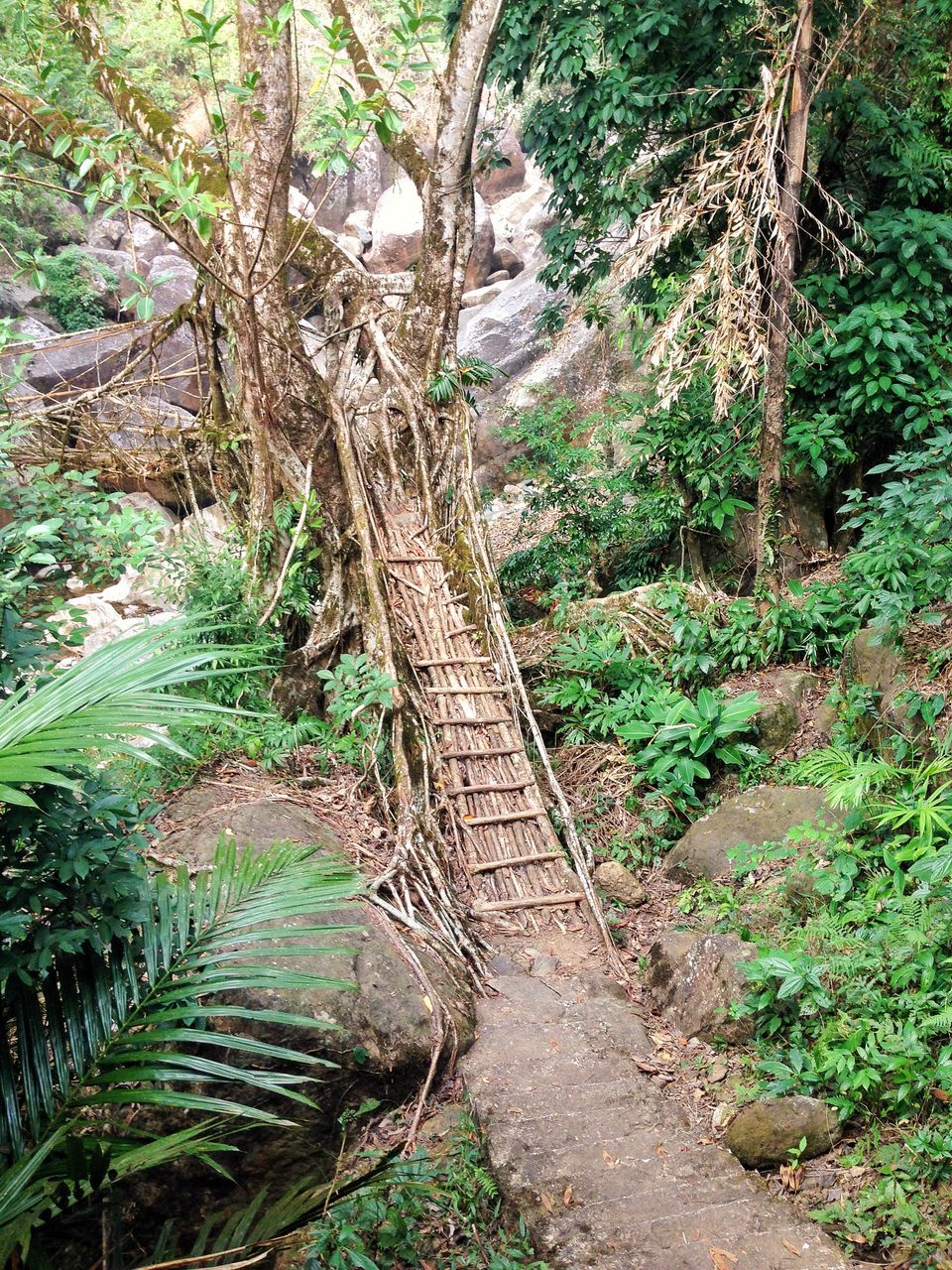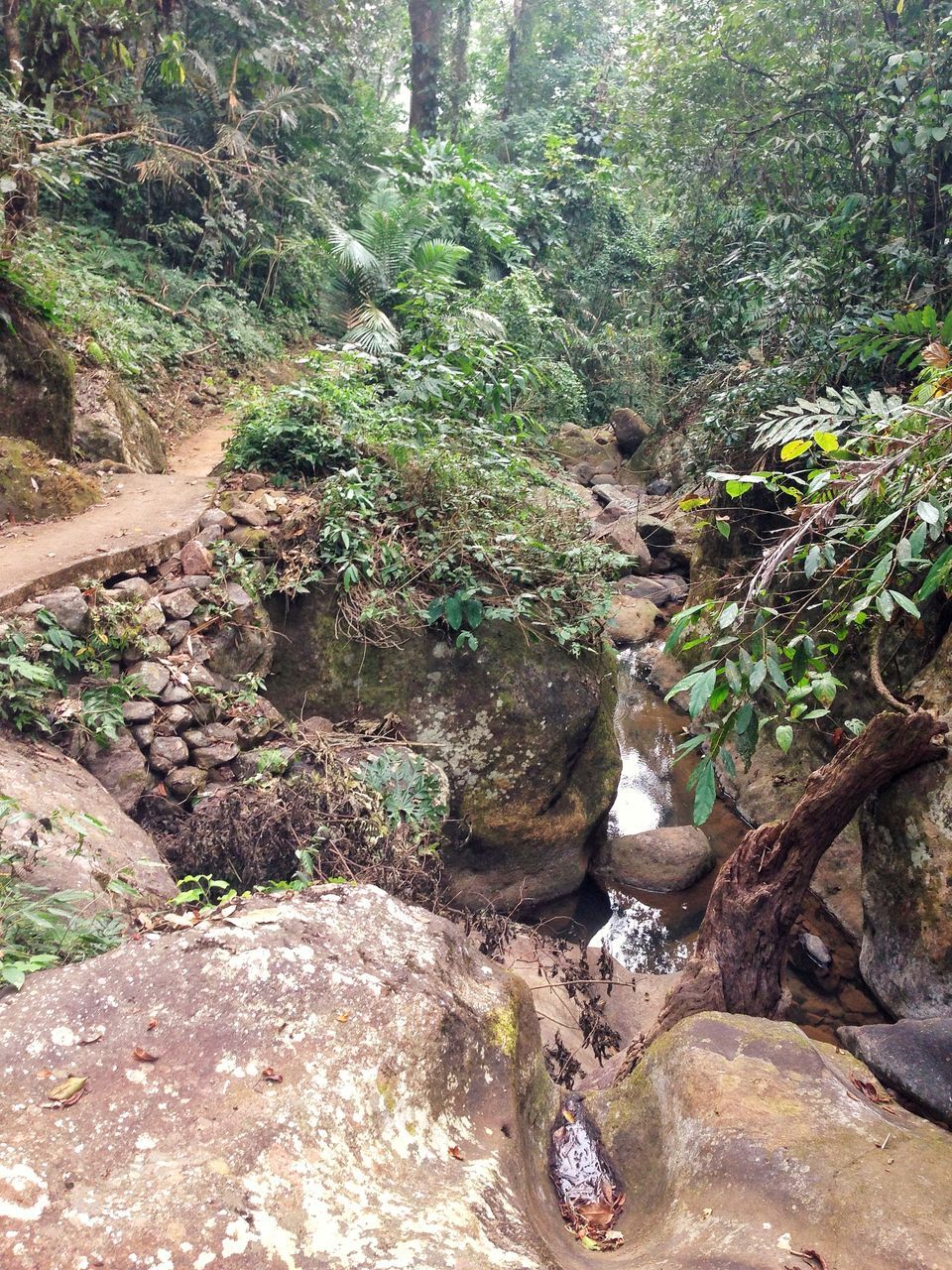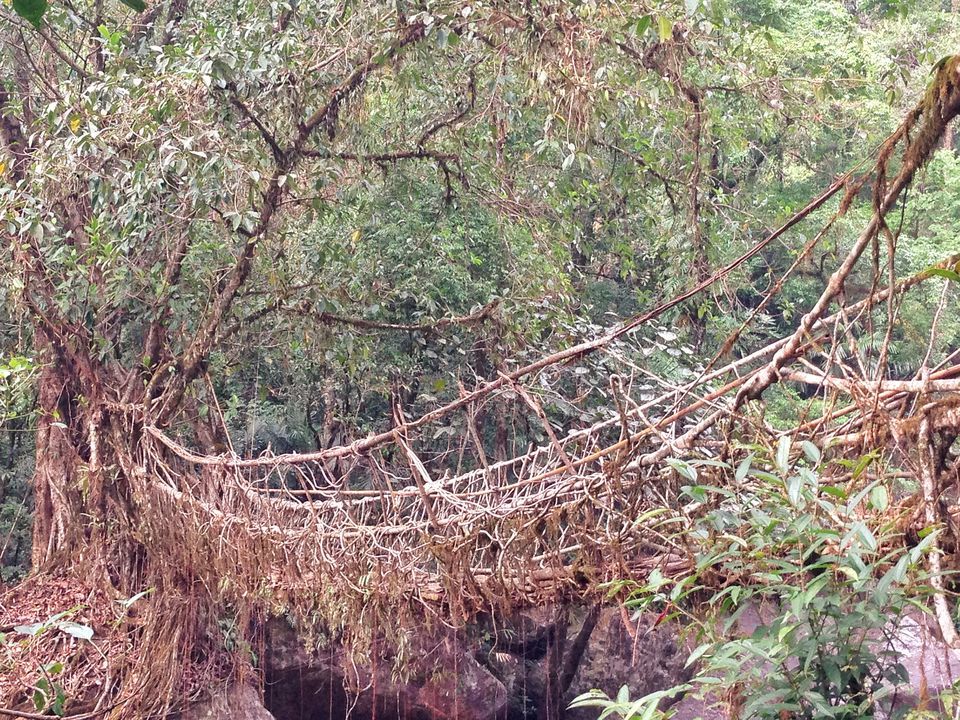 On our way we met few villagers, who climbs up and down daily for their day to day life. You will also find few tea stalls in your way.
After walking down a steep flight of stairs and crossing a couple of steel wire bridges over a river at the bottom of the valley, we reached a tea shop. There was adeck from where the view was alluring, you can look down at the river and the wire bridges. The water is sparkling and one can actually see the stones at bottom of the river. After having tea and spending some time there, we started climbing the stairs uphill and within 10-15 minutes we were at Nongriat.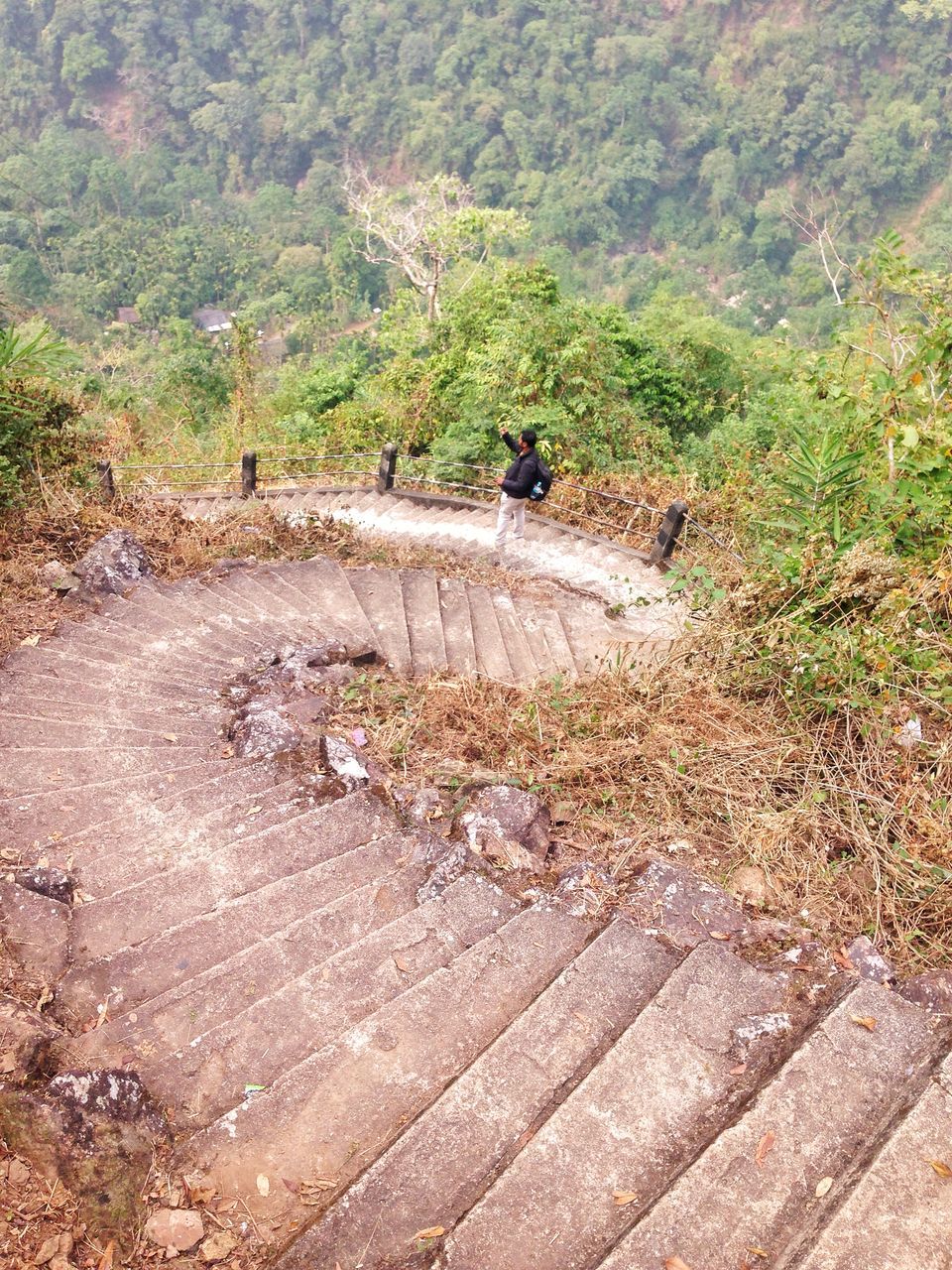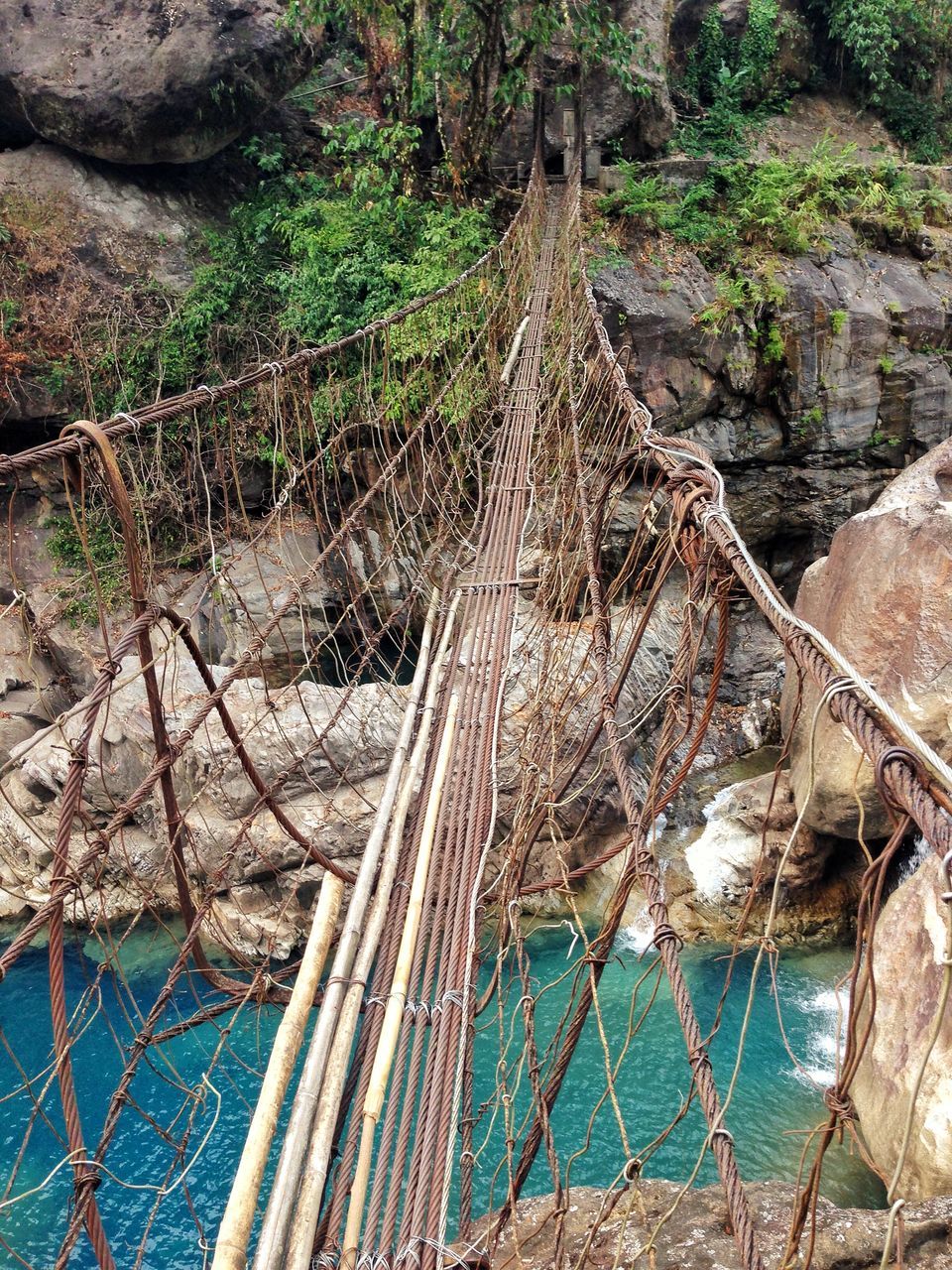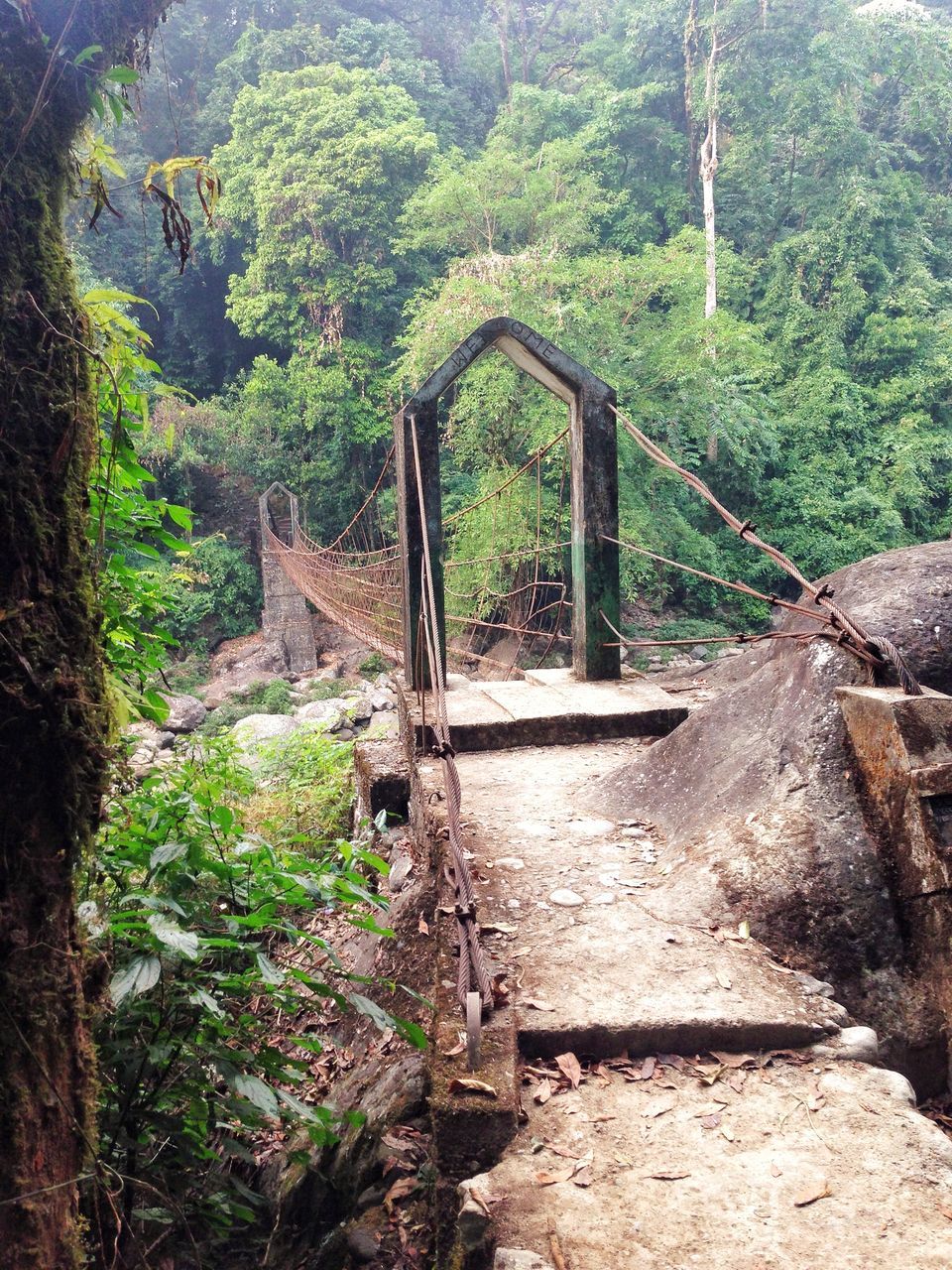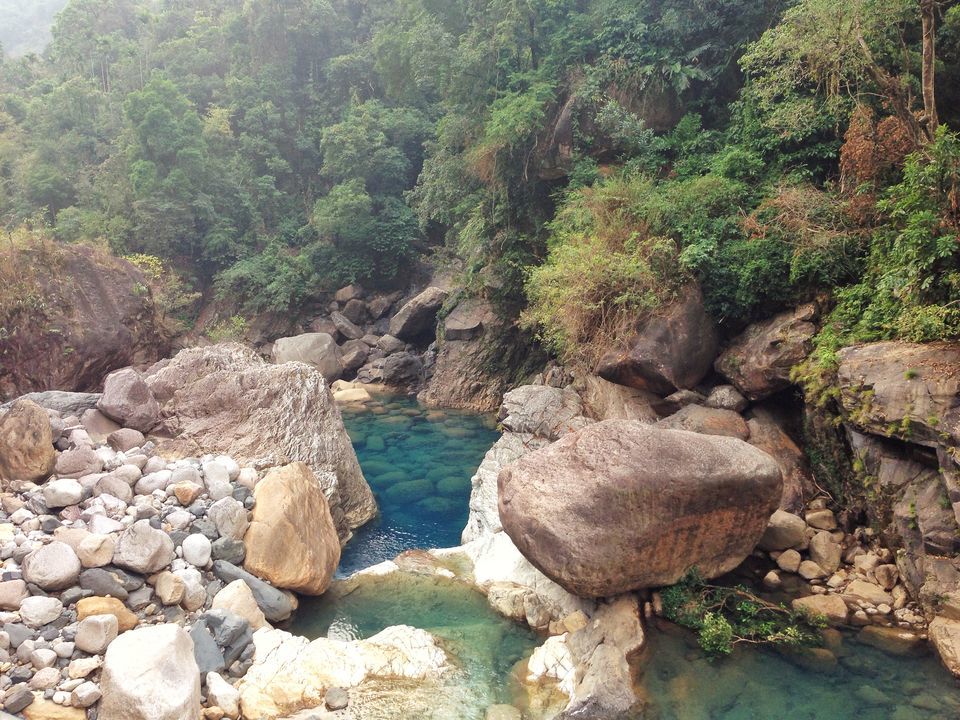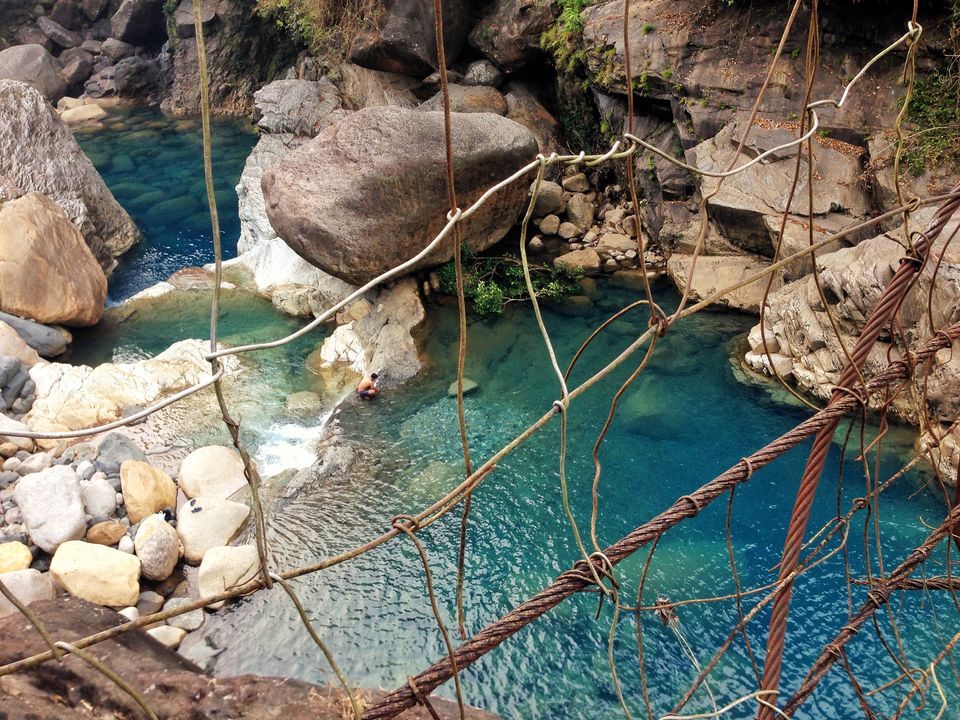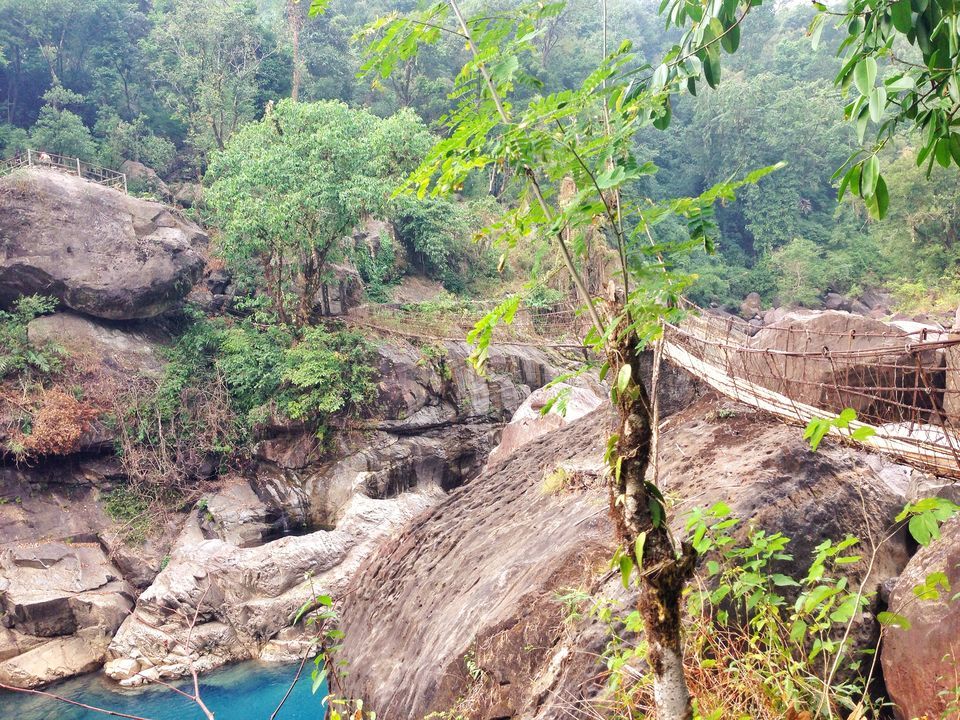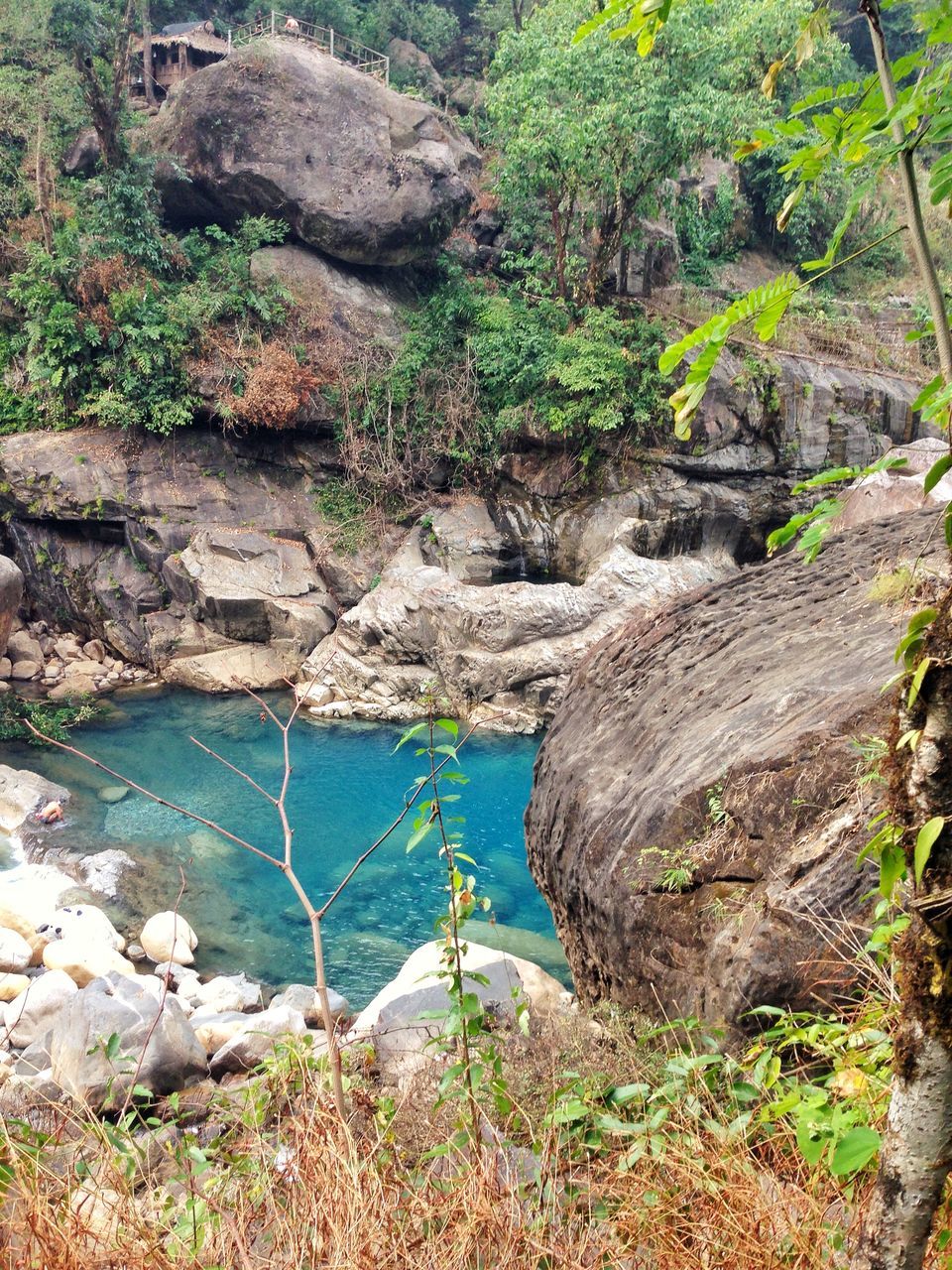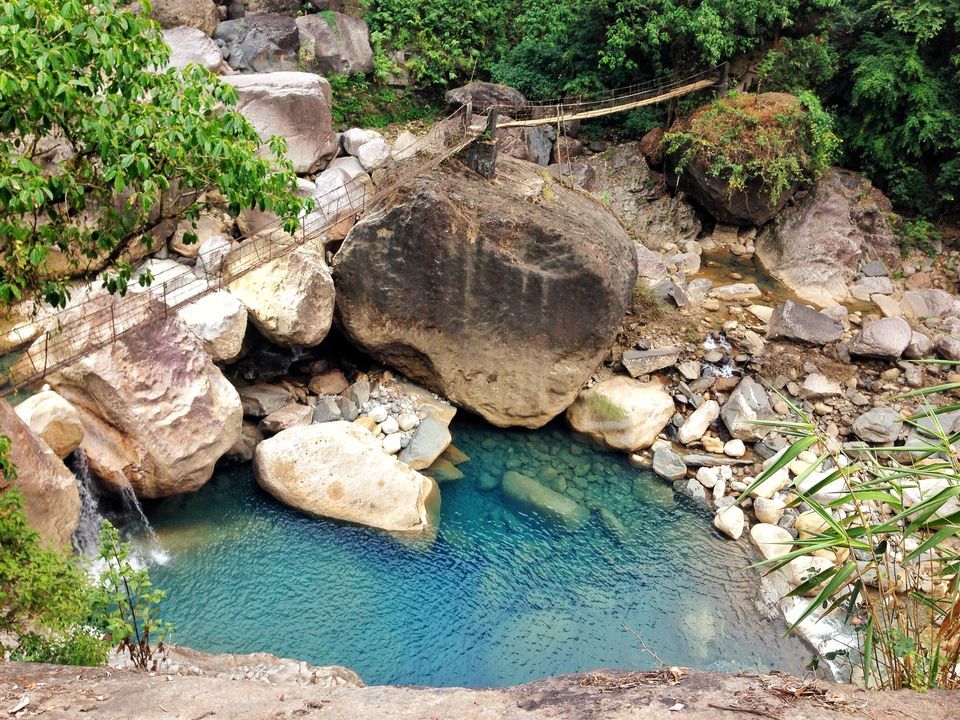 It's a very small village and you can easily locate a couple of homestays. We settled ourselves in Serene Homestay. After having tea we decided to go to the double decker living Root Bridge. It was around 4:00, alreadydark, but we just couldn't convince ourselves to wait for the next day so we made a quick visit to the bridge and cameback by 4:30.
There were quite a few trekkers staying in the village, most of them were foreigners. The evening was well spent with everyone sitting in the open area and sharing our experiences. After having dinner, a simple homemade meal, all of us sat together and Byron, owner of the homestay, who lives there with his family, started telling us his stories and experiences of the place. He told us about the legal fight against the government, to avoid the construction of motorable road till the village, their concern being,the place getting commercialized and eventually losing its beauty. It was quite heartening to see how the villagers encouraged responsible tourism while protecting nature. You can't spot even a piece of polythene for miles. Instead of a road, their demands are of ropeway trolleys to carry the luggage, their daily needs & goods. Before hitting the bed around 9, Byron sang a few songs for us and we slept peacefully in the calmness of that heavenly place.
Day 3
Our plan was to visit rainbow falls first and then leave for cherrapunji via Nokalikhai Falls from the other side of the hill, a 1-1.5 hour uphill trek from the village to Rainbow Falls. After a walk of 20-30 minutes, trek diverts in two directions – one for the Rainbow Falls & other for Nokalikhai Falls. We started late as usual and left for rainbow falls at 9:30AM after a healthy breakfast. We left our bag at the homestay and after briefly stopping at Double Decker living Root Bridge, started hiking in the thick rain forest cherishing all the surrounding green woods. After crossing a few root bridges and steel wire bridges, we reached rainbow falls around 11 AM. And it was a sight to behold.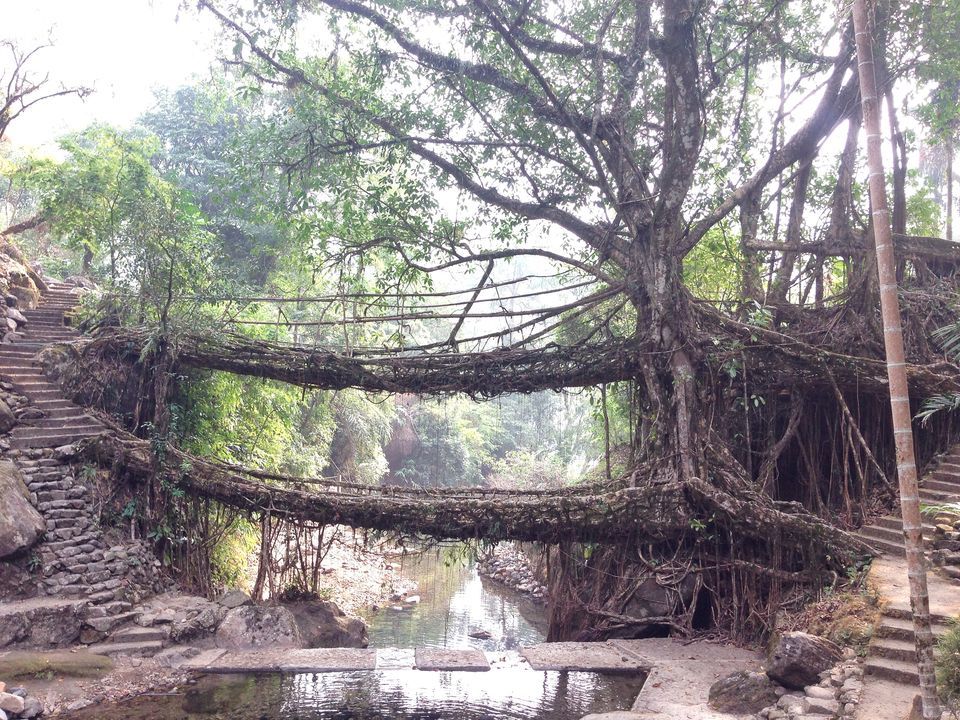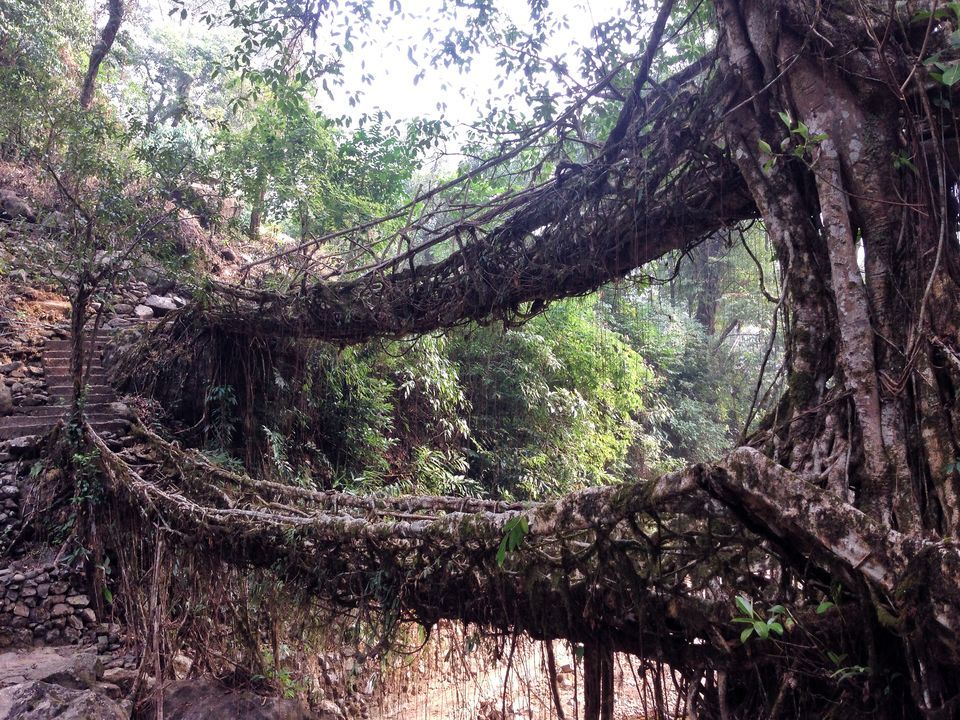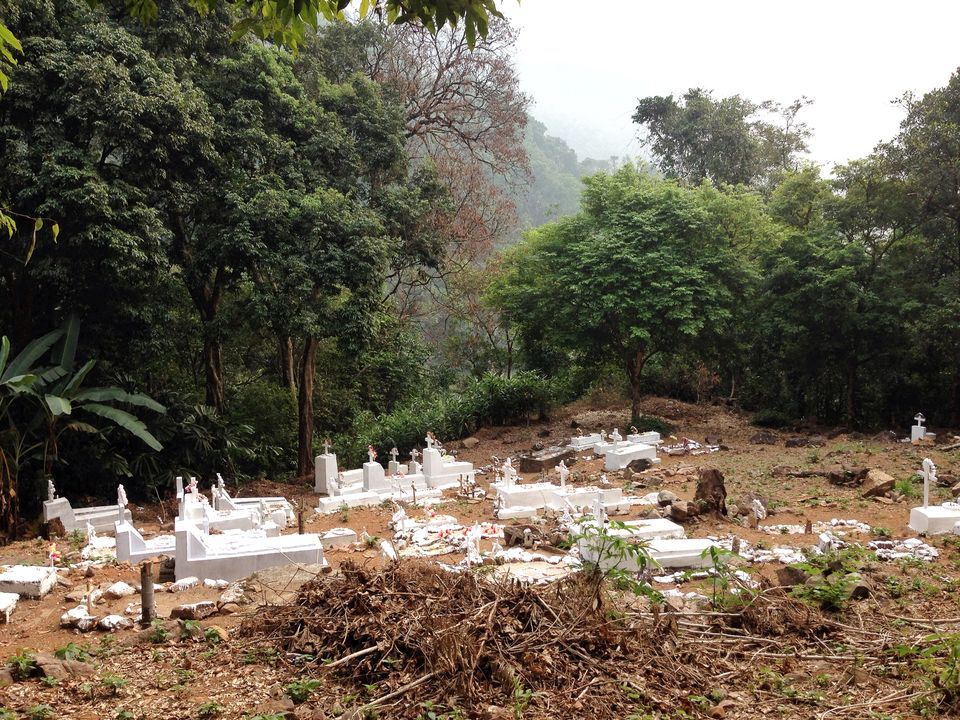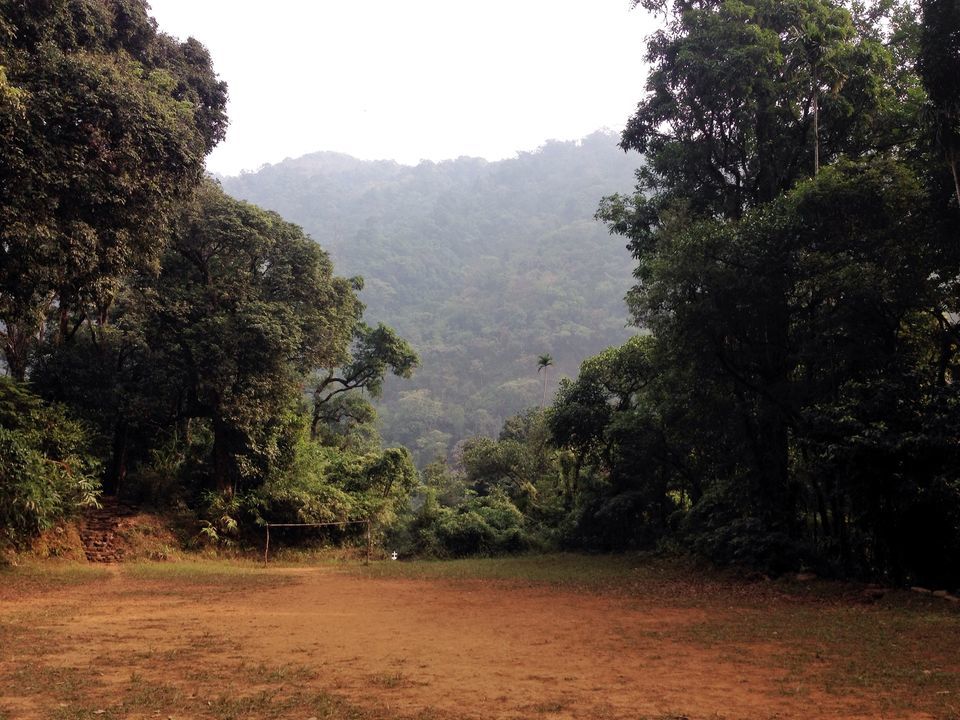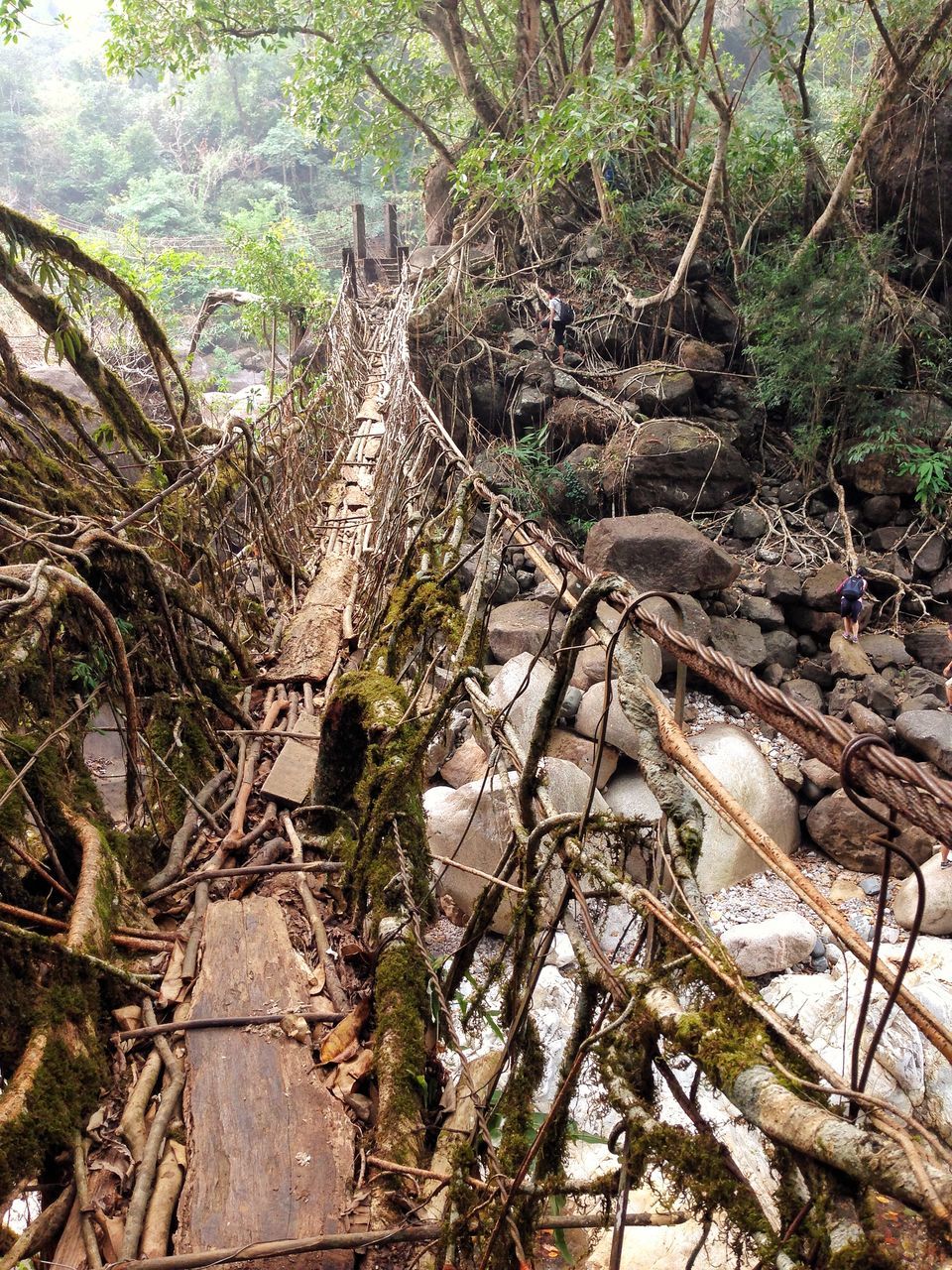 A moment ago, you will be walking in a thick jungle with no one around and suddenly you start hearing this sound of water against rocks and as you keep walking, you will reach an open area where you will see a huge stream of water gushing from a cliff into a deep pond. It's the most awe inspiring, breath taking heavenly experience. No words, no photograph can do justice with this place. You have to be there and experience it yourself to believe it. If you are lucky enough, you can spot a rainbow above falls but unfortunately we weren't. After spending an hour, still not wanting to leave, we had to head back to Nongriat because of time constraints.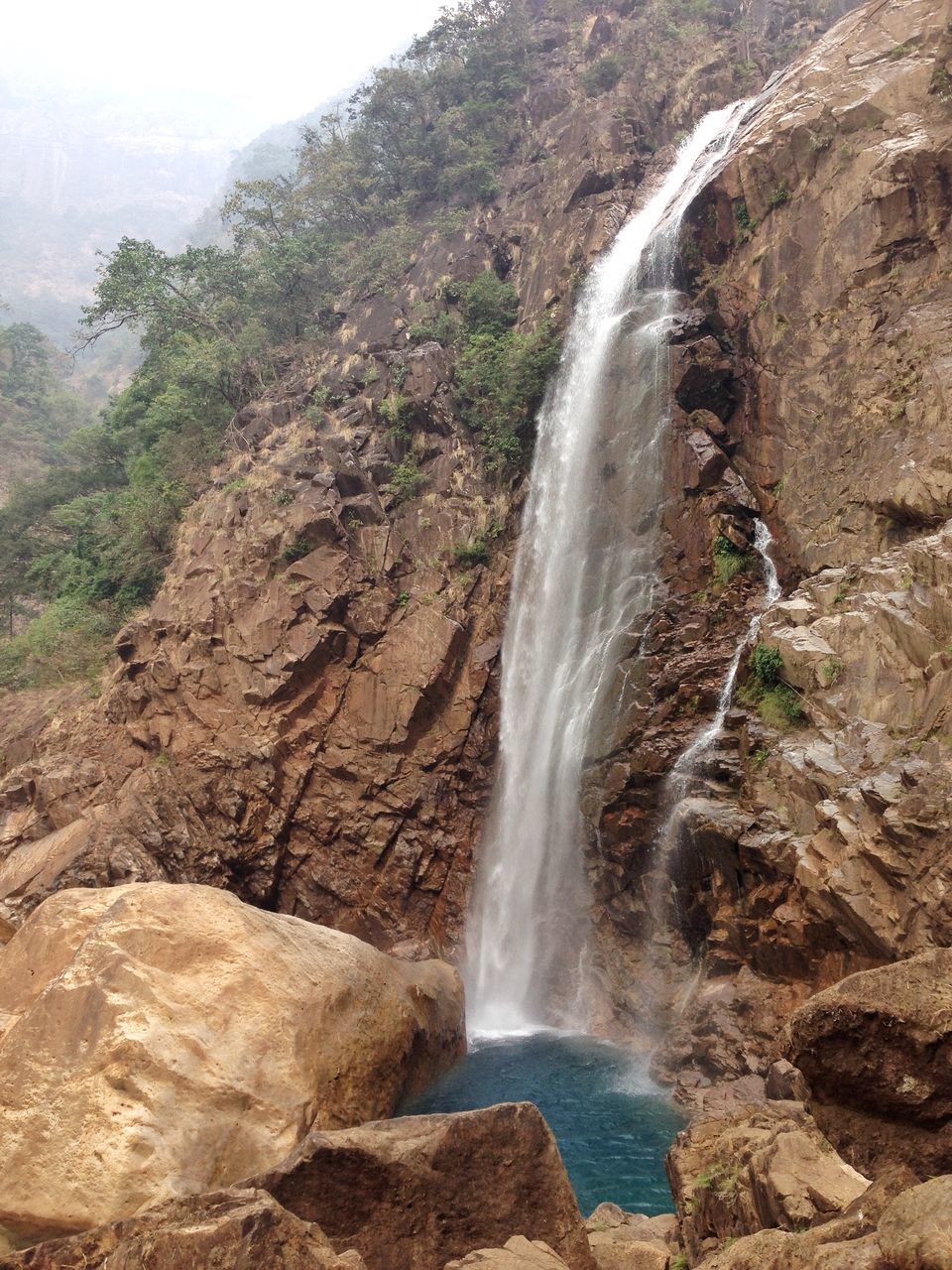 After making peace with our stomachs, we again started walking uphill for Nokalikhai Falls around 2:30 pm. It's was a 2-3 hours uphill trek, mostly with stone cut uneven steps at a very steep slope. In last 24 hours we had already trekked 6KM and even though we were a little tired, it still was somehow rejuvenating.
All of a sudden, it started to rain for which we were not prepared. We neither had raincoats, nor torch and within 15-20 minutes it became dark. We were all wet, couldn't use our phones, so climbing up using the small light of our power bank was the only option.
As we moved further, the situation became worse. The steps became slippery, we were wet and sweating because of high humidity and our legs also started wobbling. There was no one except us, and we could hear the voices of animals and insects in the jungle which was quite scary.
It was really hard to find our way in the dark and at every 5 meters we had to stop and look for steps, so we had to pace slow while taking breaks. And after two and a half hour of tedious walk, we reached a flat hill top around 6 pm, which was supposed to be the Nokalikhai Falls. We knew that the trek ends at Nokalikhai falls and there's a motorable road nearby from where one can get a taxi, but because of darkness and dense clouds, we couldn't make out the way. We literally couldn't see anything. We didn't know which direction to go, we were at the hill top and only one direction has the way to cherrapunji, to our guest house, to our beds, to a warm cup of the, to And the dry clothes, to warmer place, which we needed very badly. So we literally crawled the area in circular movement searching a cow path with that tiny light of power bank. luckily within 10 minutes we found a tar road. We didn't know where it was going to take us but it was our only hope. After walking for some distance, we saw a vehicle coming and with all the energy left in us, my friend shouted "hello"and the reply felt like coming from God Himself, "Hello". That was the first human sound we heard in the last 4 hours other than ours and that too when we desperately needed it. As per his instructions we reached a village after a walk of 15 minutes. A family helped us out by lighting us a fire to warm ourselves, and arranged a carrier van for us. We went straight to a restaurant in Cherrapunji, had a hot cup of tea and some food to keep our bodies warm. We got dropped at our guest house and after a hot water bath and a good dinner, we revisited the picturesque rainbow waterfall in our dreams.
Day 4
Since we were really tired after two days of trekking, we woke up late andleft our guest house at 12 noon. We planned to do site seeing in Cherrapunji and were particularly excited to go back to Nokalikhai falls to see how the place looks like in daylight.
We started with Seven Sisters falls, followed by Mosmai Caves and then to Eco park. Due to bad weather it was all cloudy and visibility was not that good so, we took the advice of the locals and decided to stay back for one more day and visit Nokalikhai falls the next day.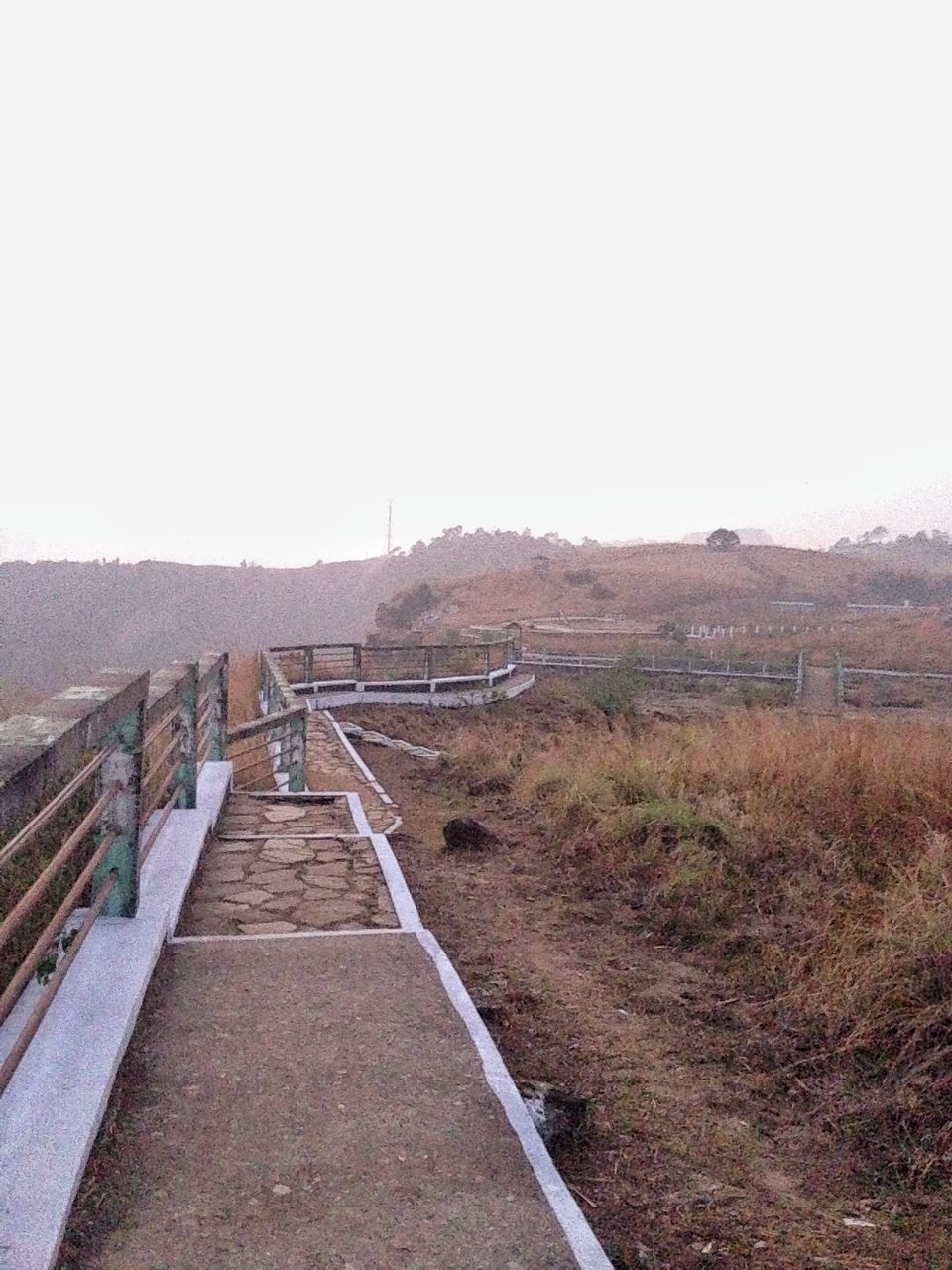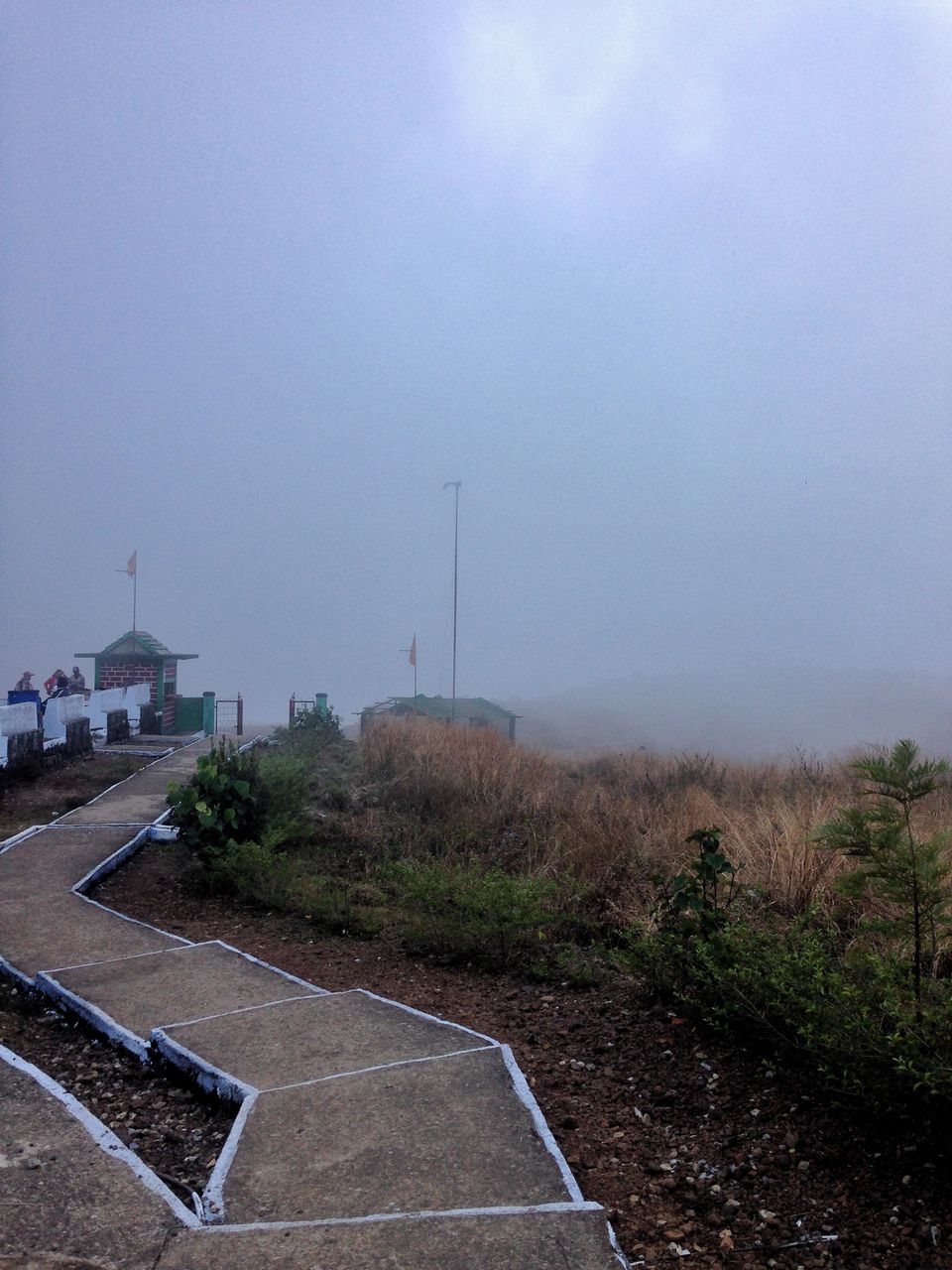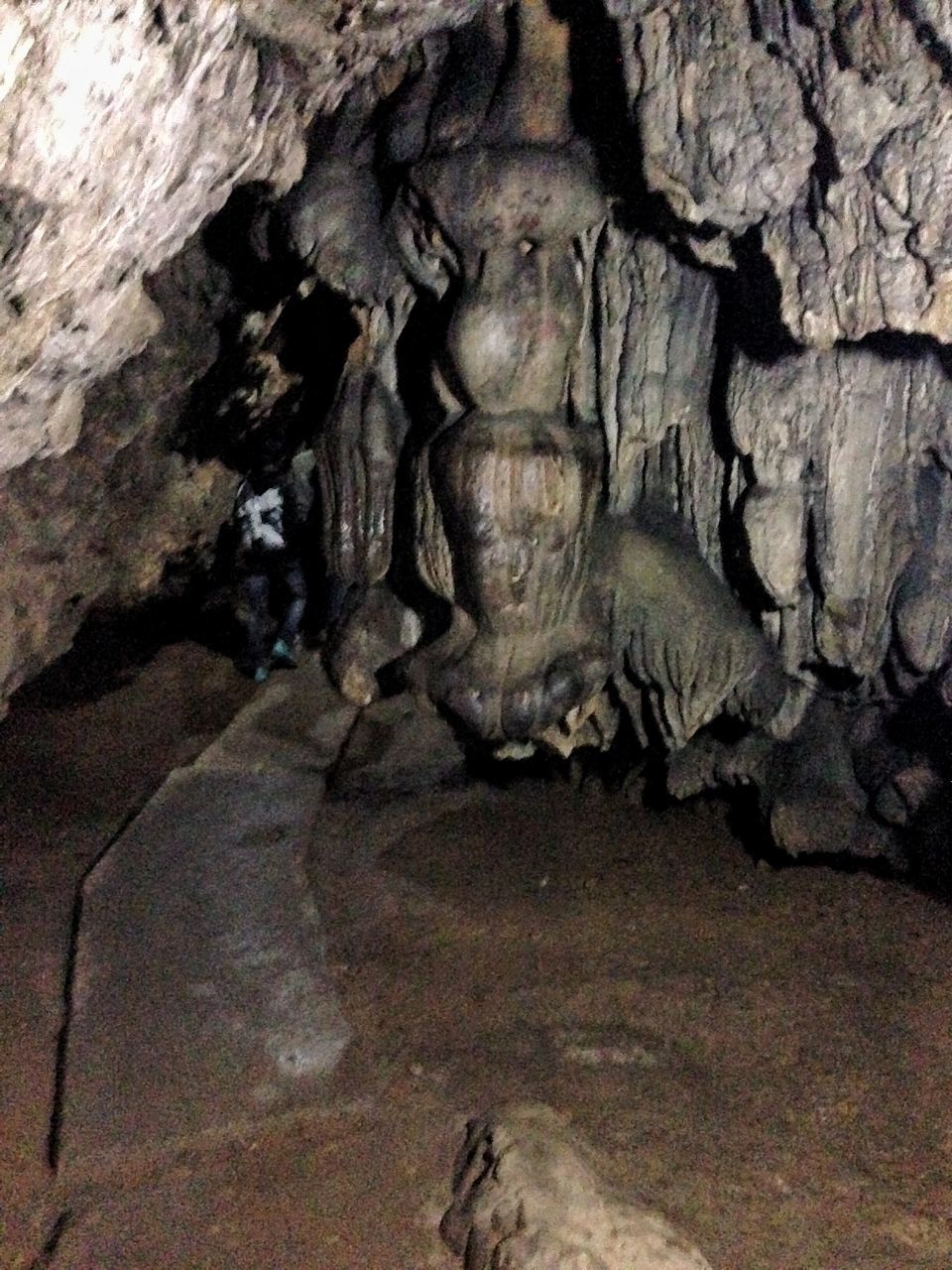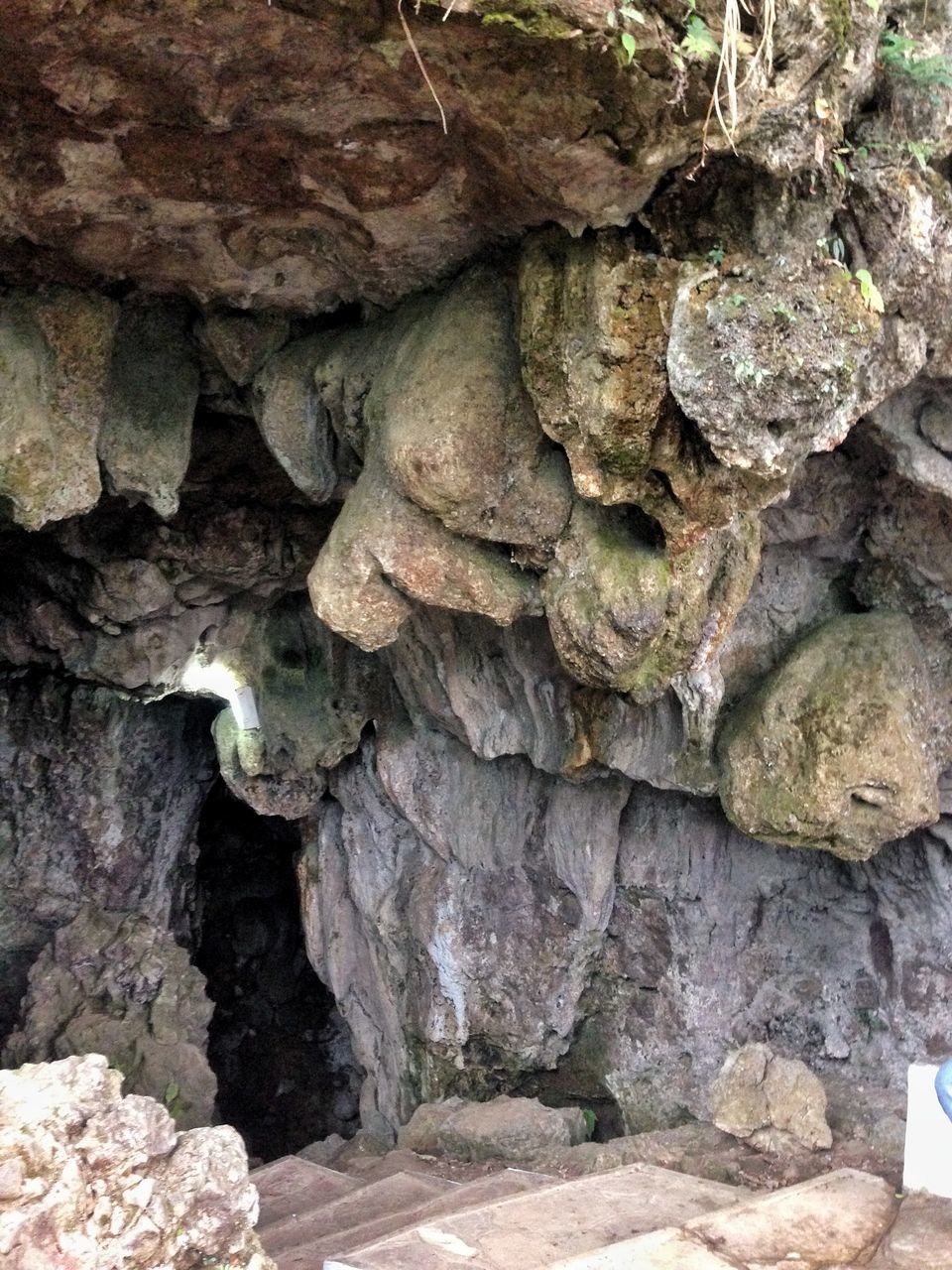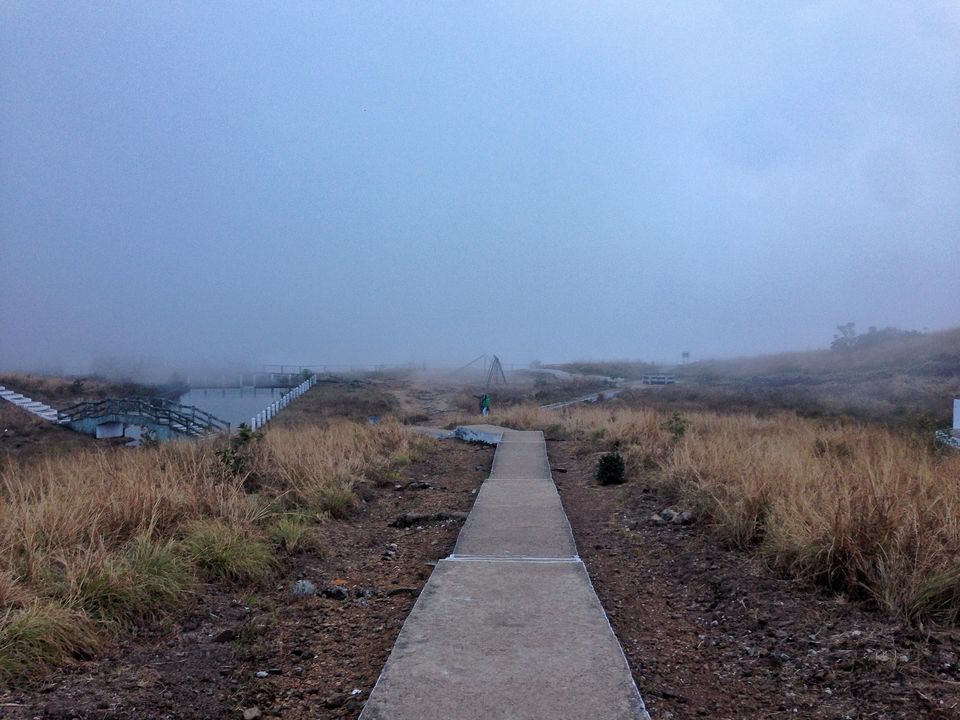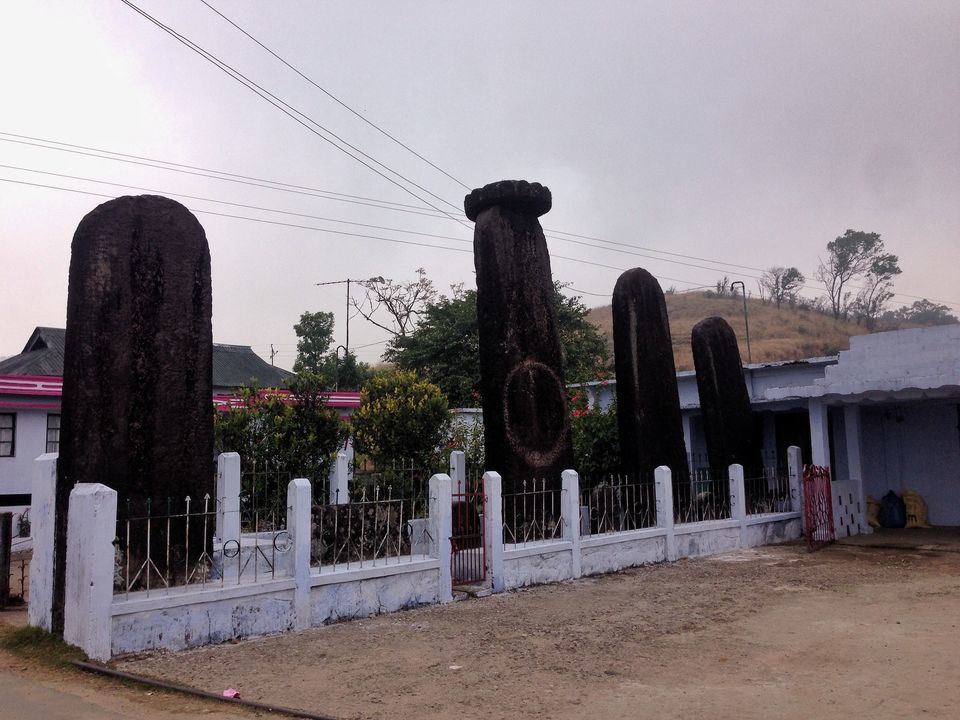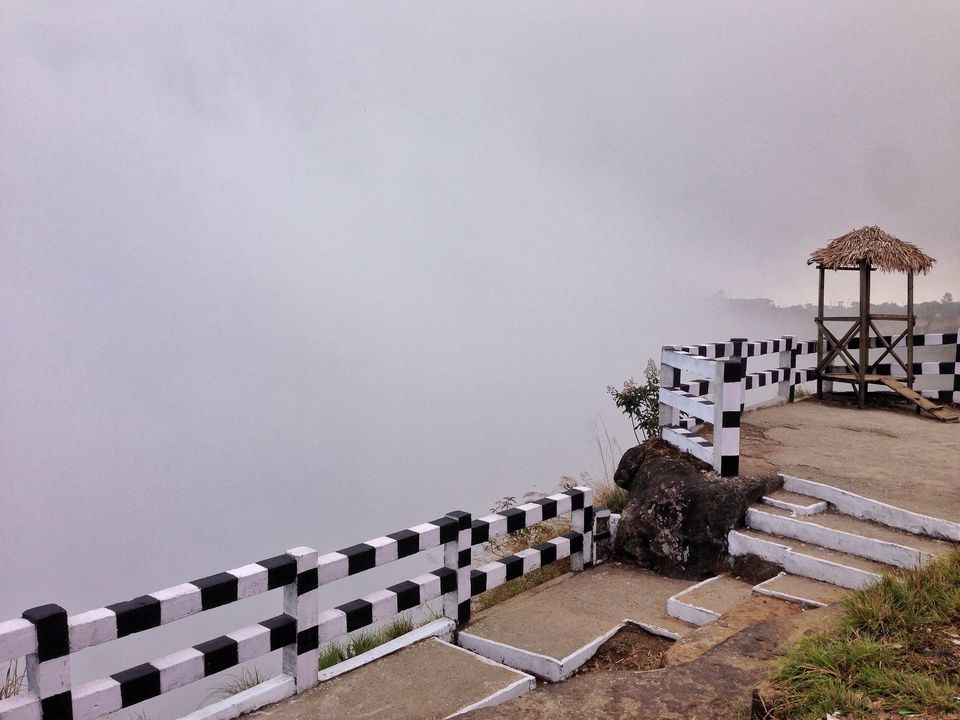 Day 5
We started early as we had to reach Guwahati by night and had planned of sightseeing in Shillong as well. We got up just in time and after breakfast we left straight for Nokalikhai falls in a taxi at 9. We took our luggage with us as our plan was to leave for Shillong from there to save time.
After reaching Nokalikhai, we realized that the hill top where we had reached the day before was basically the view point (platform) for the falls. The view was majestic. There are concrete steps which goes down till the dropping point of the falls. We went down and spent some time but had to pullback because of time constraints.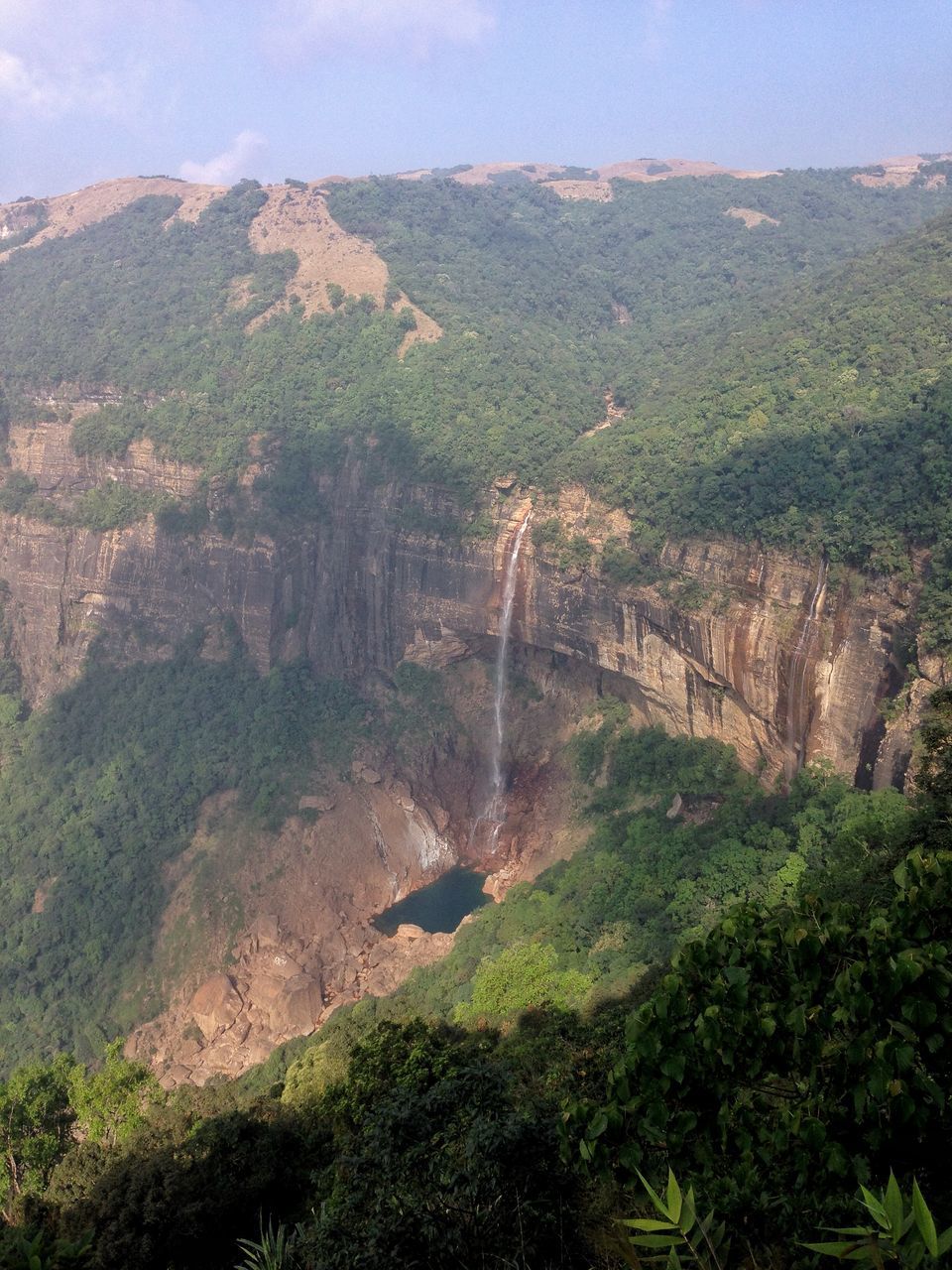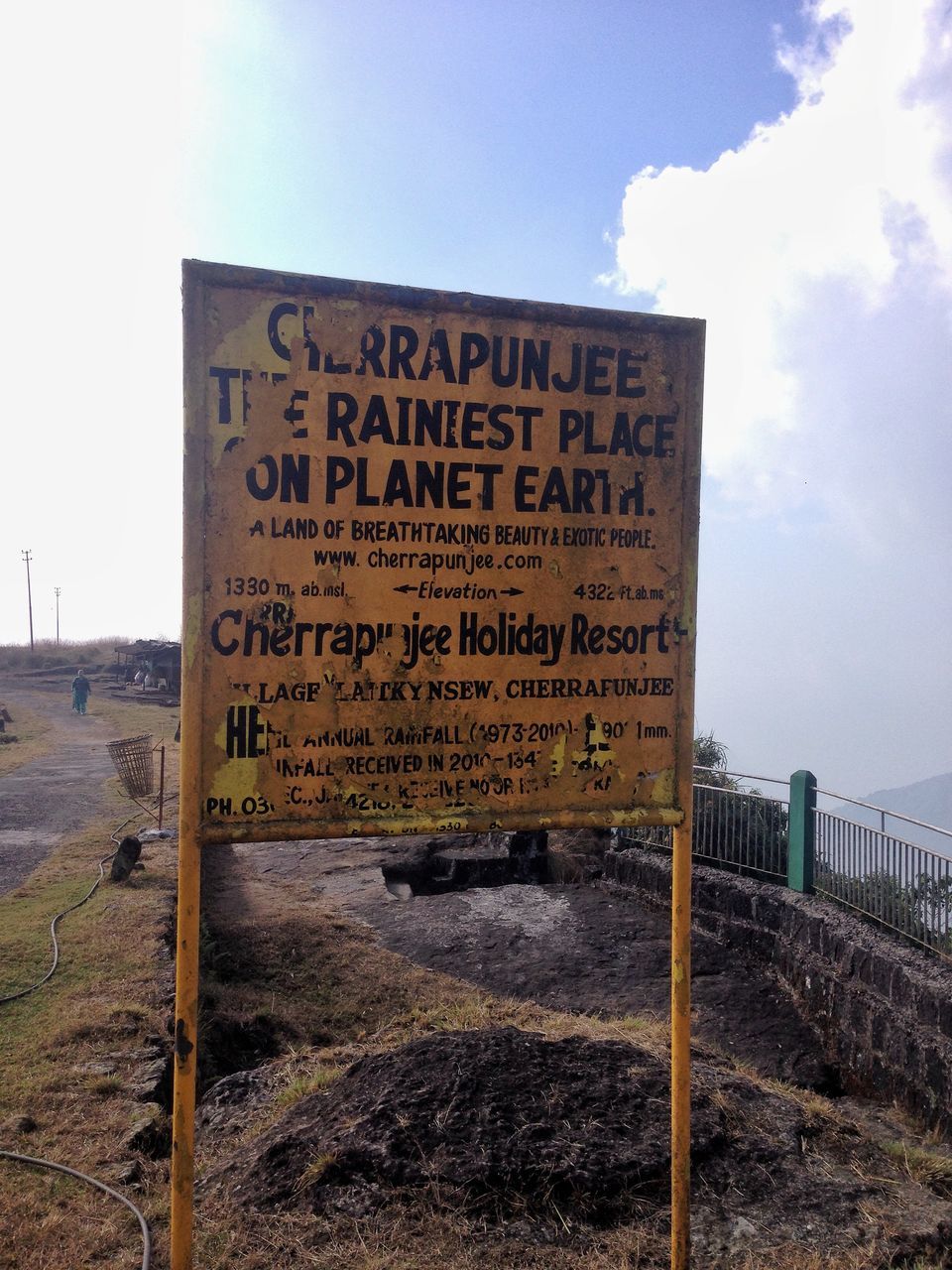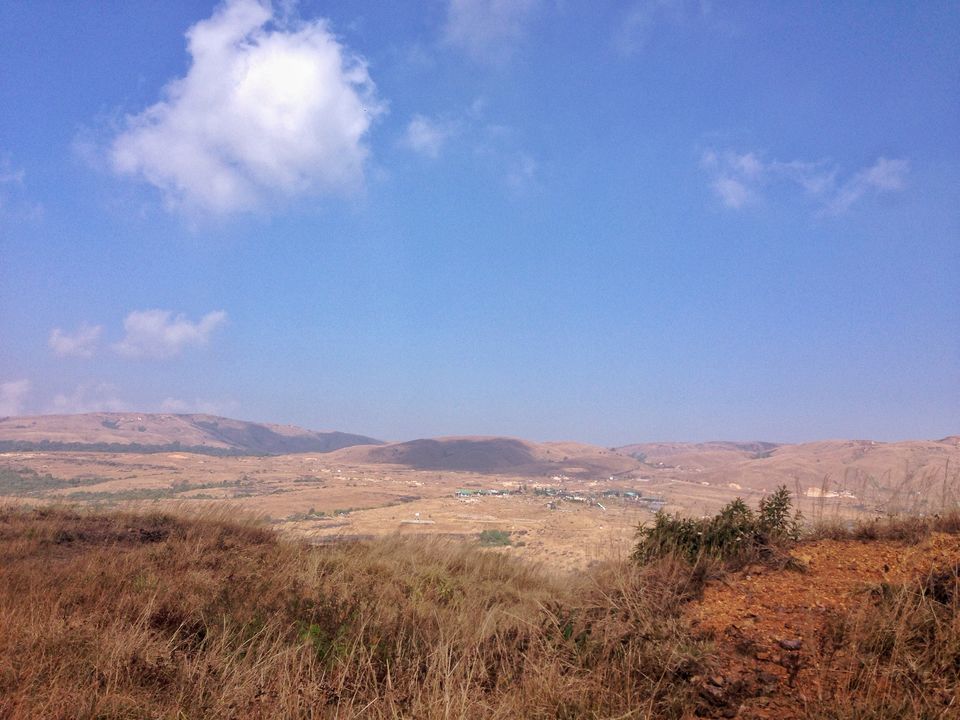 We took a shared cab from Cherrapunji taxi stand to Shillong around 12 noon and reached there at 2 pm. After booking a taxi, we went to Shillong view point, Elephanta falls, Wards Lake and by 6pm we came back to Shillong taxi stand. After some shopping we boarded a shared cab to Guwahati and by 10:30 we were at our friends' place.