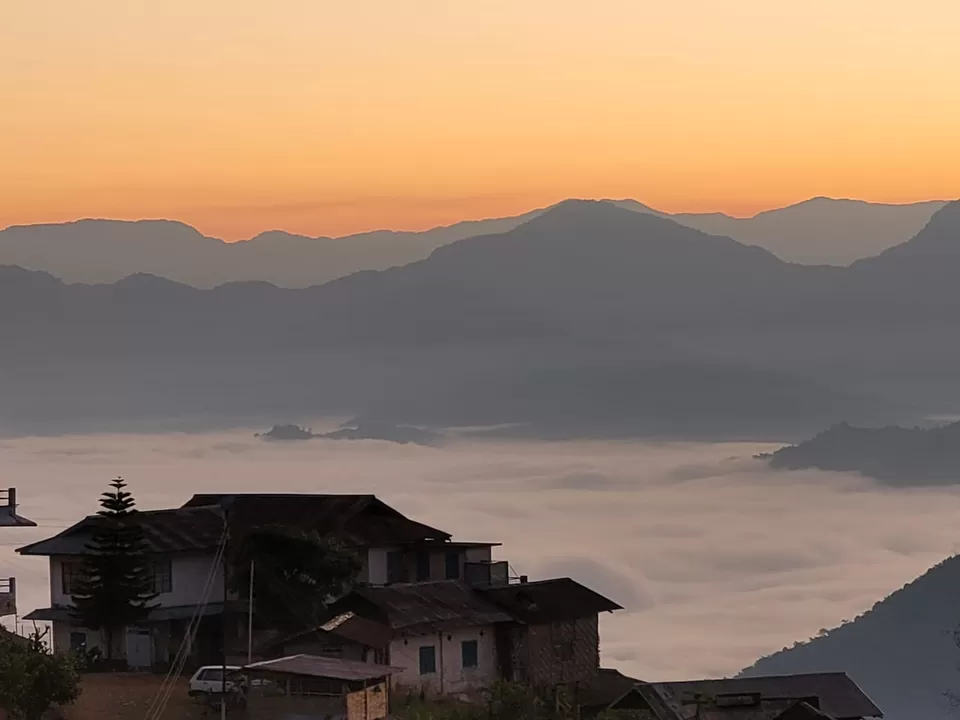 Mokokchung is the name of a district in Nagaland as well as its head quarter. This district is the home to Ao Nagas and is known as the cultural and intellectual capital of Nagaland. Mokokchung, known for its natural beauty was another place both Sanjay and I were yearning to visit. Sanjay's Engineering class mate Meren Jamir belongs to Mokokchung. But we lost touch with him for many years and could not reconnect even after coming to Jorhat in spite of trying a lot. Finally we could get his contact number with help of my Engineering class mate Kemvu Elah. He is presently living in Dimapur and we met him on our way to Kohima to attend Hornbill festival. That time he offered to take us to Mokokchung. So, on 17th December, he along with his nephew Sunep, came to our ONGC Jorhat colony residence and we started for his village Chuchuyimlang near Mokokchung town at around 6 in the evening. We passed through the township of Tuli which was gloriously decorated for Christmas. It felt as if we have entered a dreamland! Then began the ascent to hills through forests in moonlit night and it was a very lovely experience though bad road made it a bit uncomfortable.
Chuchuyimlang is situated at a hill top and it looked like a place from fairy tales with its cottage like houses glittering with Christmas lights. It was 9:30 pm when we reached Meren's village and we went to his younger sister Lanuinla's house. From the balcony of the house we enjoyed the fabulous view of mountains and the moon appeared so close it felt like as if it could be plucked up! Lanuinla's family consisted of her husband Pangjunglemba, two sons and her daughter Rongsennungla aka Anung. The pretty, very pleasant Anung who is doing her post-graduation from TISS, Guwahati became my constant companion throughout our stay. After a hearty welcome complete with a warm hearth and a delicious dinner consisting of several dishes cooked in traditional Naga style we went to Meren's parental house to retire for the night on the cosy beds kept ready for us.
Next morning when we came out to the balcony at around 5 am, the sight awaiting us was surreal! The sunrays were slowly painting the mountains red and clouds below looked like white rivers! I don't have any words to describe the scenery and our feelings! After the sun came up Meren took us for a round of the village. The name of Chuchuyimlang village came up in all net searches I did about Mokokchung for its beauty and we understood why. It's like a picture postcard with its winding roads, profusion of colourful flowers, plants laden with oranges and lovely youngsters! I have touched clouds in Meghalaya earlier and witnessed snow fall gradually covering the surroundings with a white sheet in Arunachal, but here I was looking at the sea of clouds below like we see from aeroplanes! Were we on earth or heaven?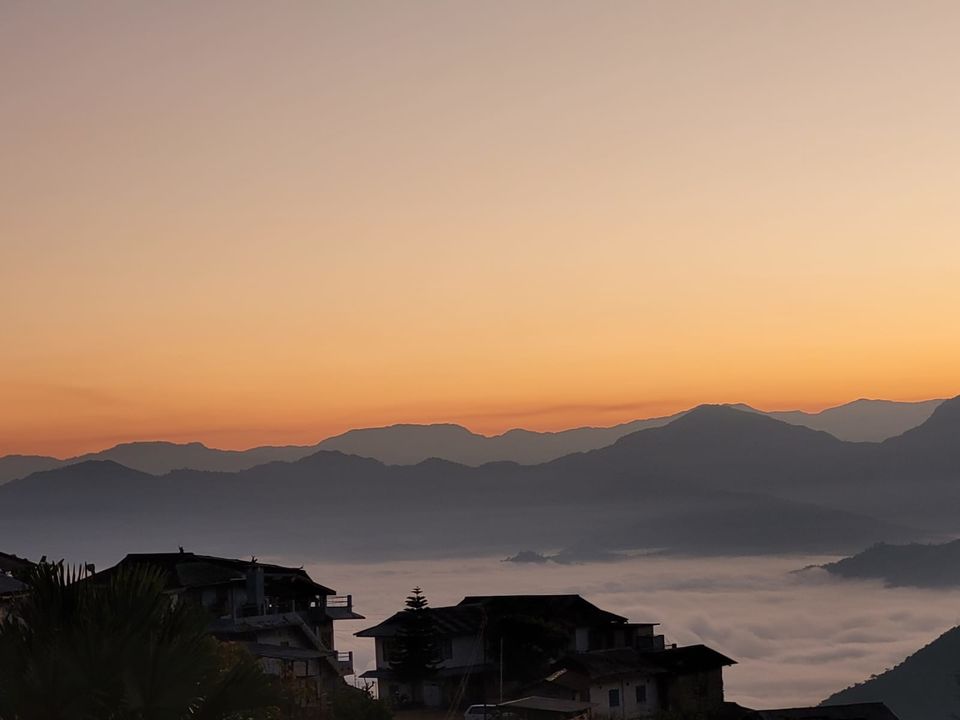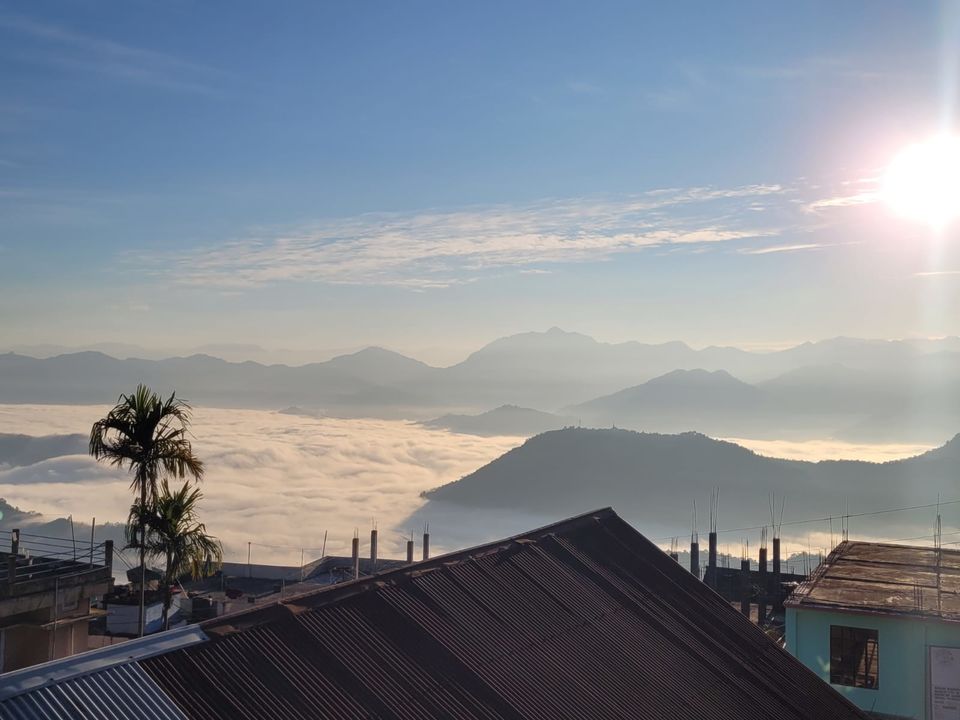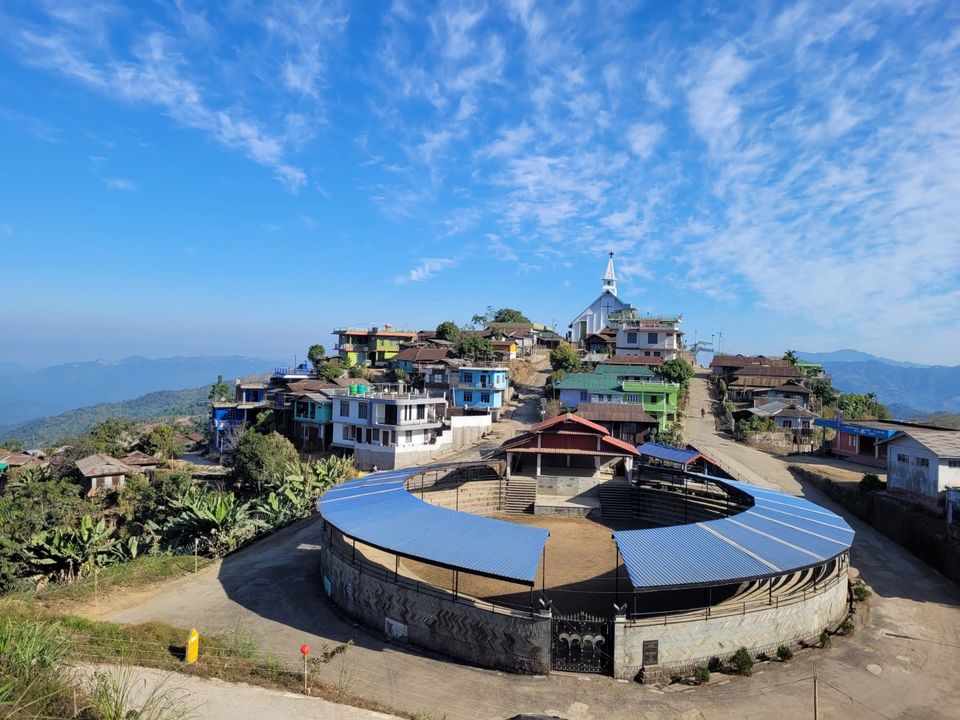 Meren's parental house is inhabited by his elder brother Lanumatong and elder sister Yarlemla. Previous night we did not meet anyone as it was late. So we went to meet Odi (Elder brother in the language of Ao Nagas) Lanumatong and his family. Odi Lanumatong lives there with his wife Toshi and a daughter Sentisola. They all greeted us warmly. Odi Lanumatong showed us old family photographs and the family heirloom of weaponry. He gifted one dao to Sanjay. I got a beautiful traditional stole. The kitchen was quite interesting with a hanging structure for smoke-drying and utensils similar to ours. Meren and Sentisola took us to see the weaving of traditional Naga shawls. We also met a cheerful group of School girls doing community work of cleaning the village with much merriment.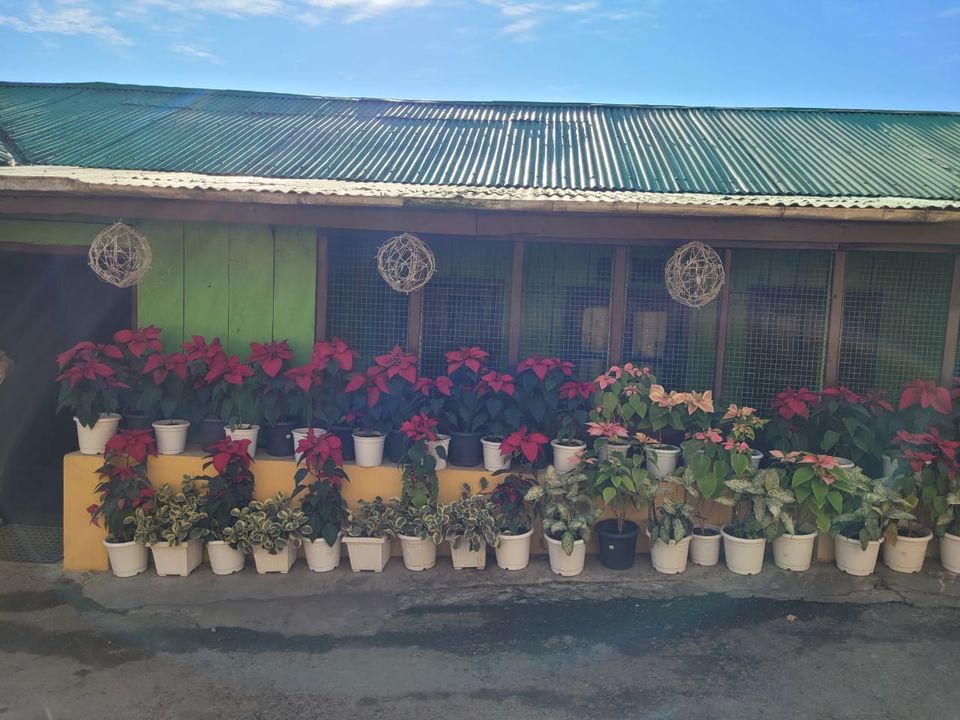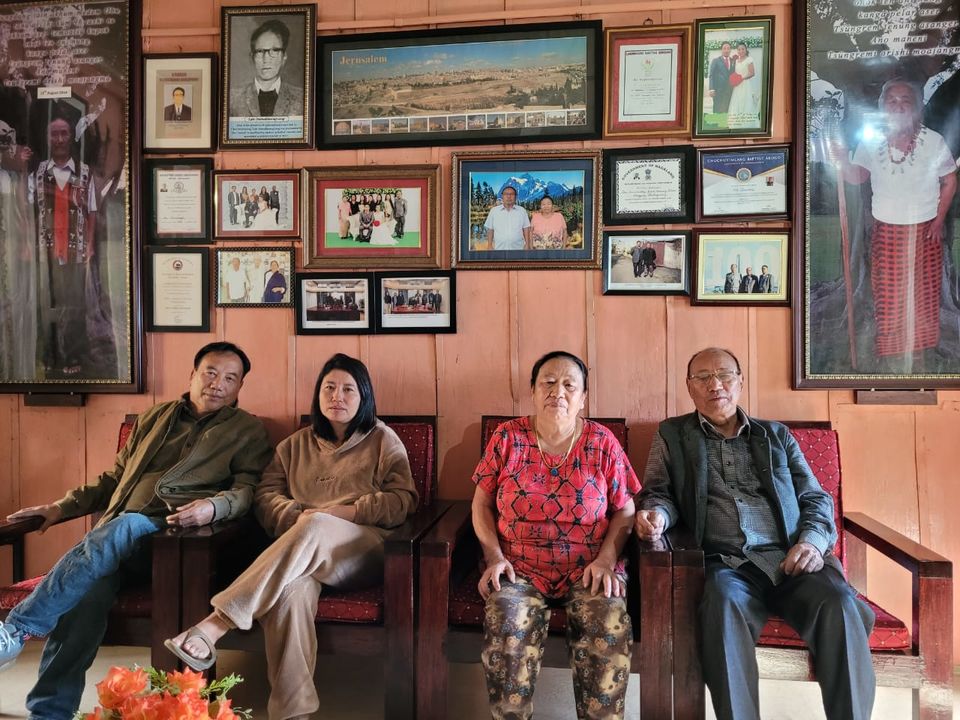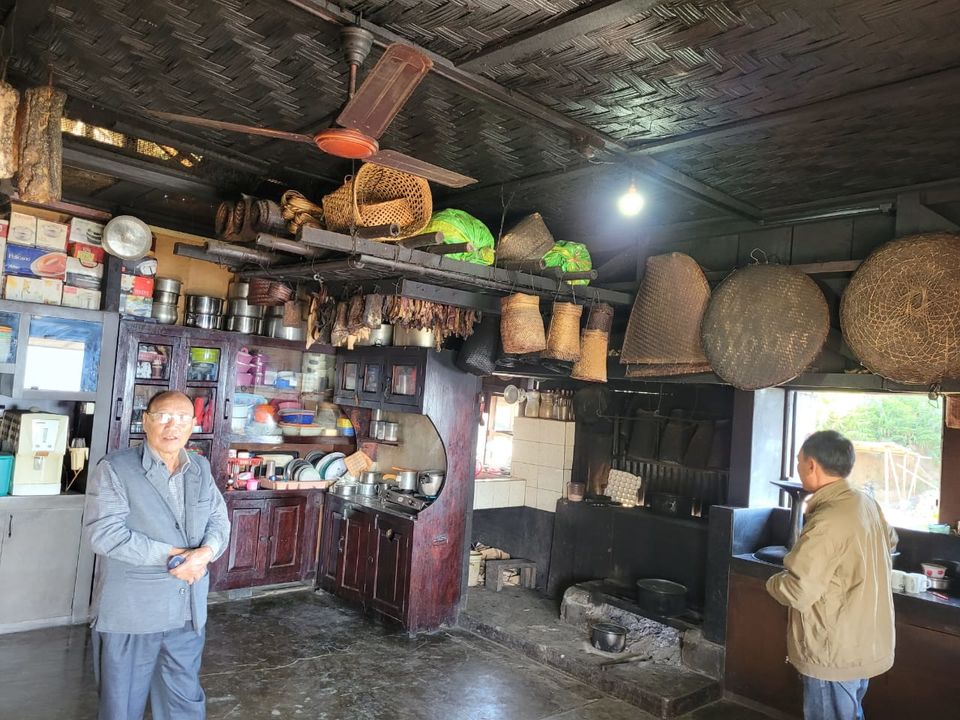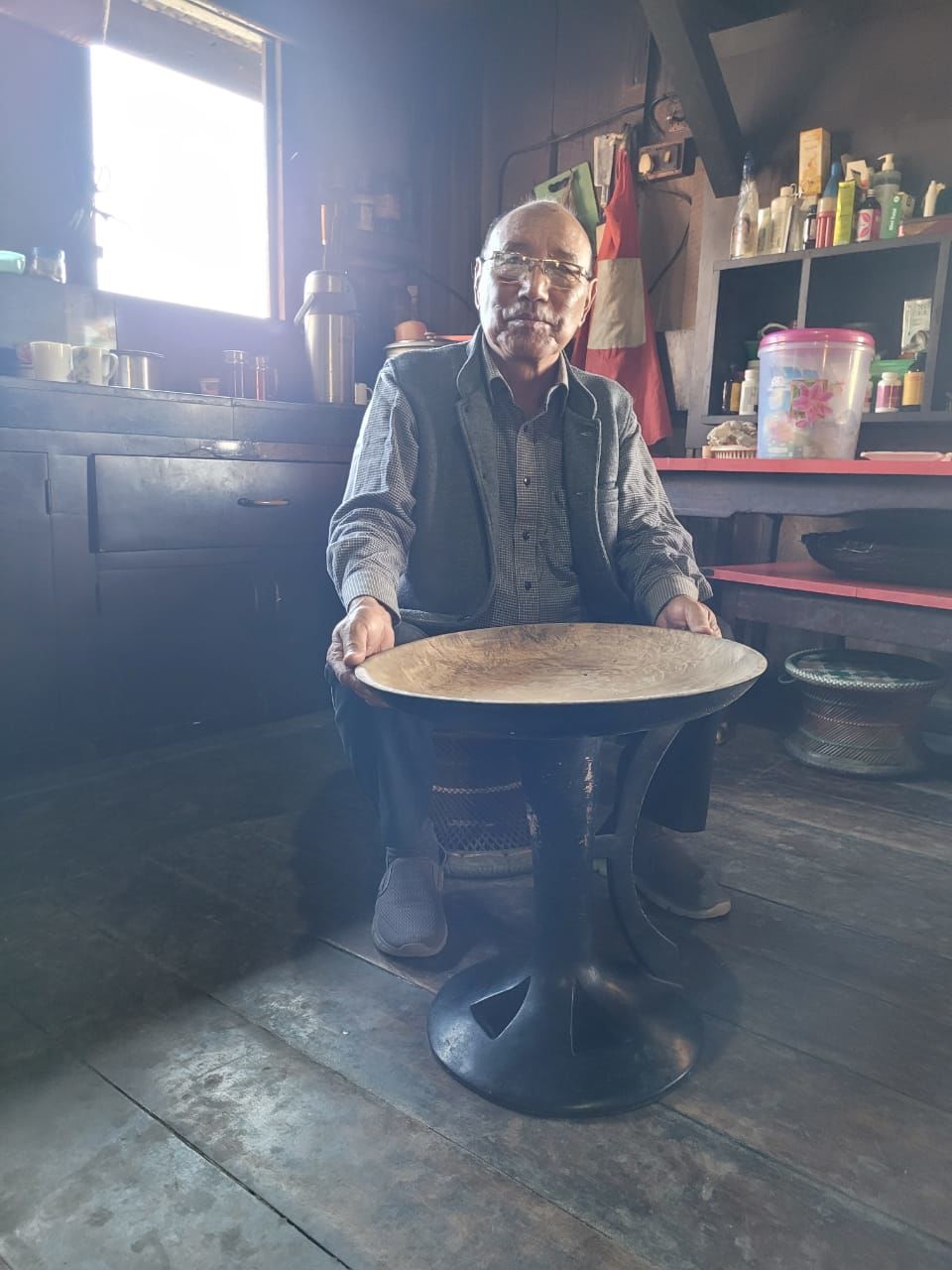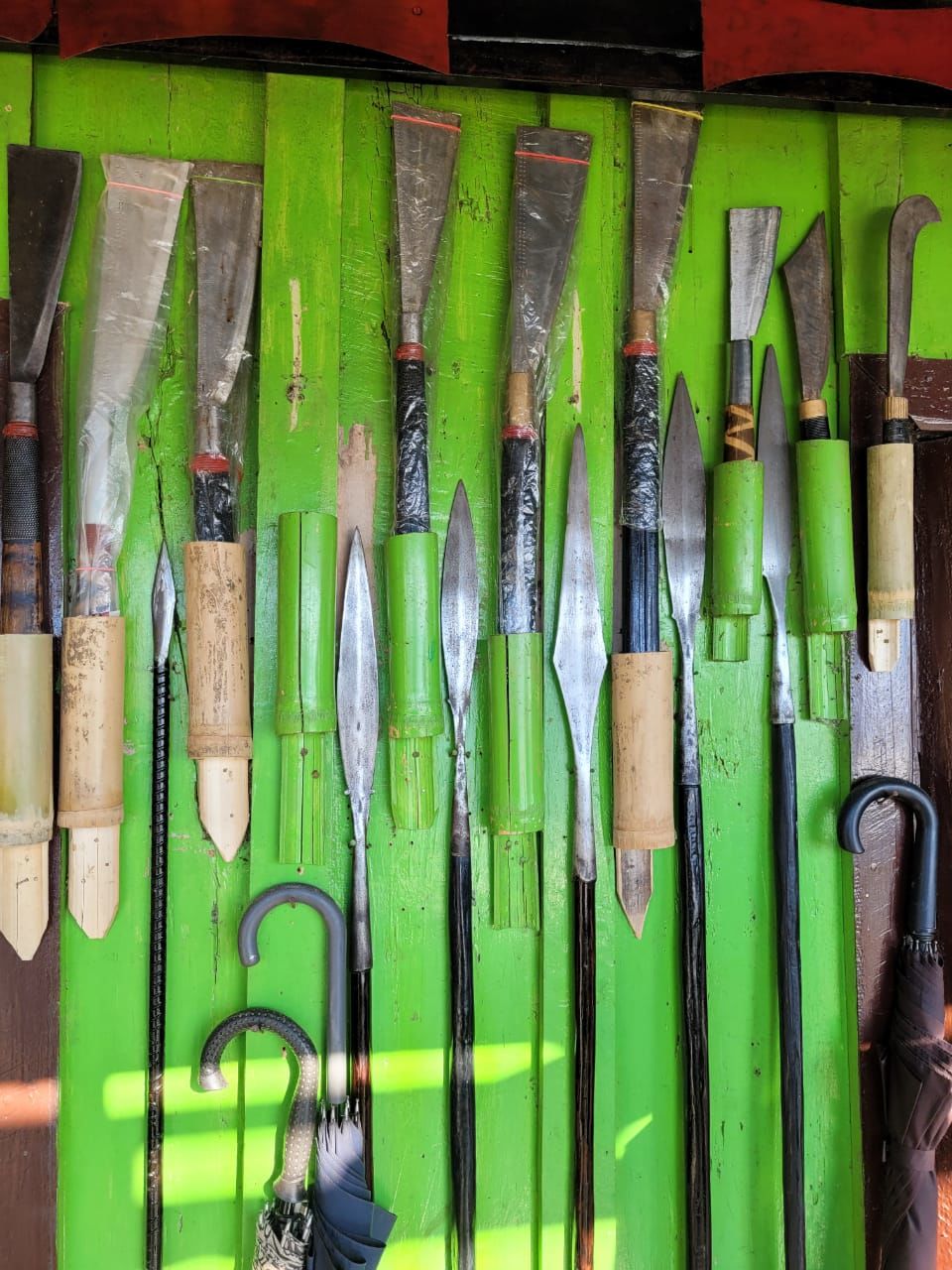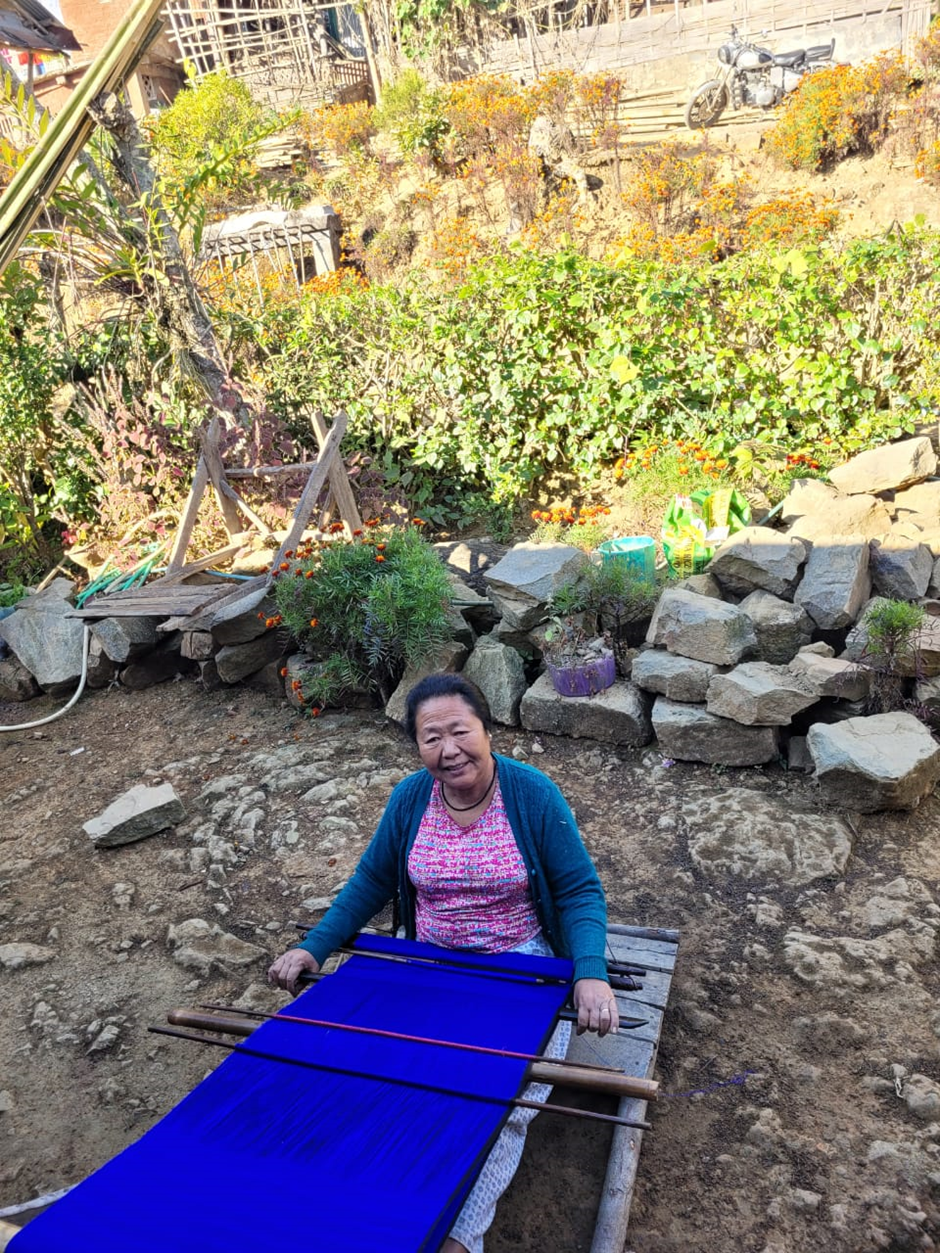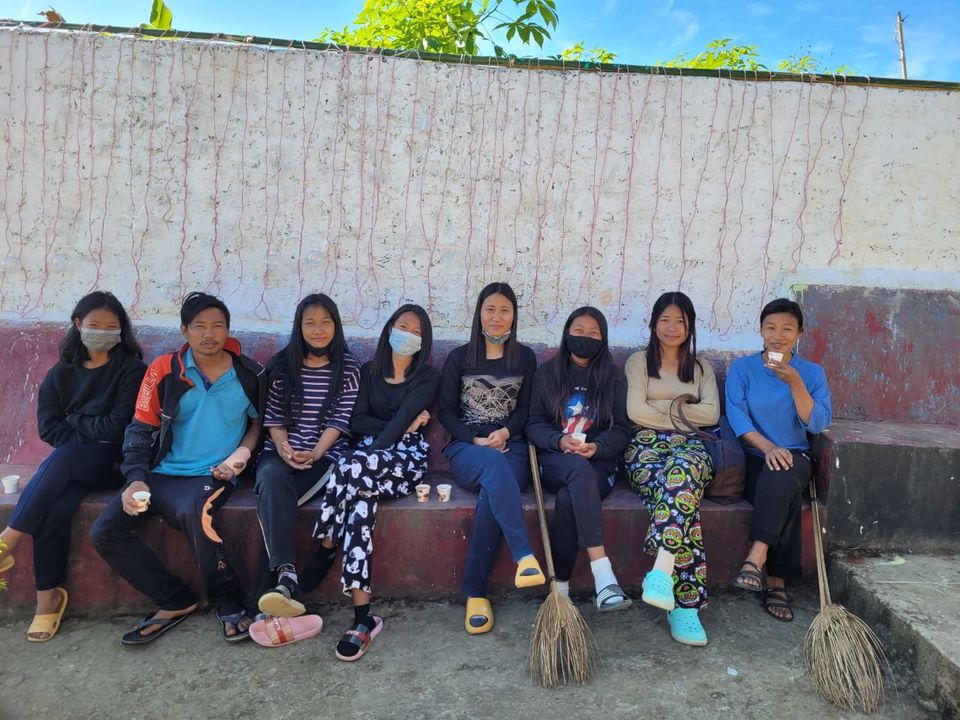 We came to other part of the house where we slept last night and met Oyala (Elder sister) Yarlemla. After taking breakfast prepared by Anung and Sunep, Oyala Yarlemla so lovingly offered prayer for us. Then we took off for Mokokchung town with Meren, Sunep, Anung and Nungshieba – Anung's youngest brother. On the way we saw the first Gandhi Ashram in Nagaland established by Natwar Thakkar. Cherry blossoms and Christmas flowers lined the road to Mokokchung like Christmas decorations.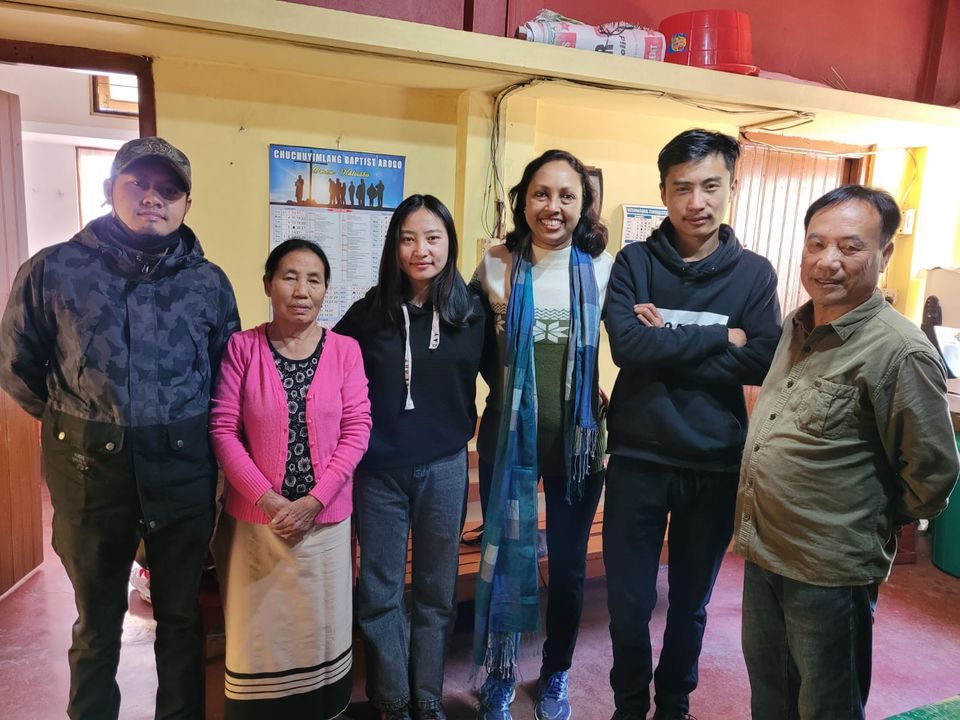 Meren already talked to another friend Shashi in Mokokchung. Shashi and his wife, Eyim were waiting for us. Sanjay met Shashi after thirty years and for us it was first meeting. So there was much excitement and exclamations of delight! They took us to Longkhum, the highest altitude village in Ao region. The Ao's believe that Longkhum is the resting place for the spirit of dead on their onward journey to paradise. It is also said your soul stays back on your first visit to Longkhum and you have to go back to retrieve your soul. Longkhum is also called as the 'Vegetable Capital' of Nagaland (as declared by the Department of Horticulture, Government of Nagaland in 2004) its most bountiful produce being tomatoes and cabbages. We first went to Jubilee Tower, the highest point in Longkhum to take in some breath-taking views. Here we got some more gifts from Shashi and Eyim. Then we went to 'Memorial Site of Imkongmeren' – one of the earliest Naga freedom fighter. There Eyim opened her lavishly organized picnic basket and we had lip-smacking lunch in a picturesque location. That was the first picnic for us after the breakout of Pandemic Covid. Afterwards we had a little trek down Longlangba or Stone Bridge which is a ridge of stones that passes through the Rhododendron woods.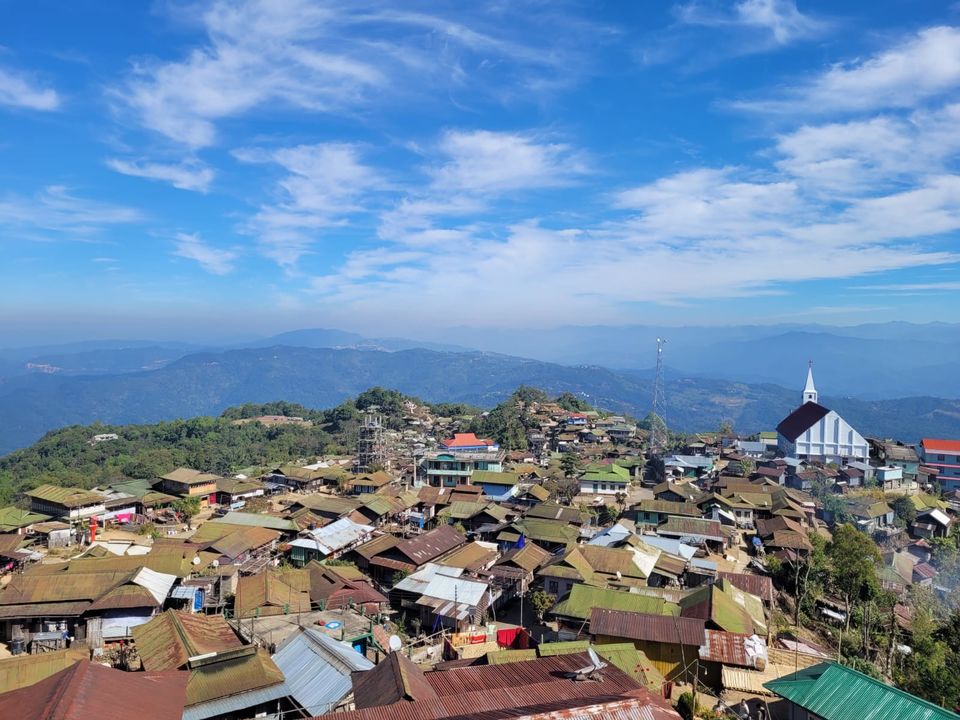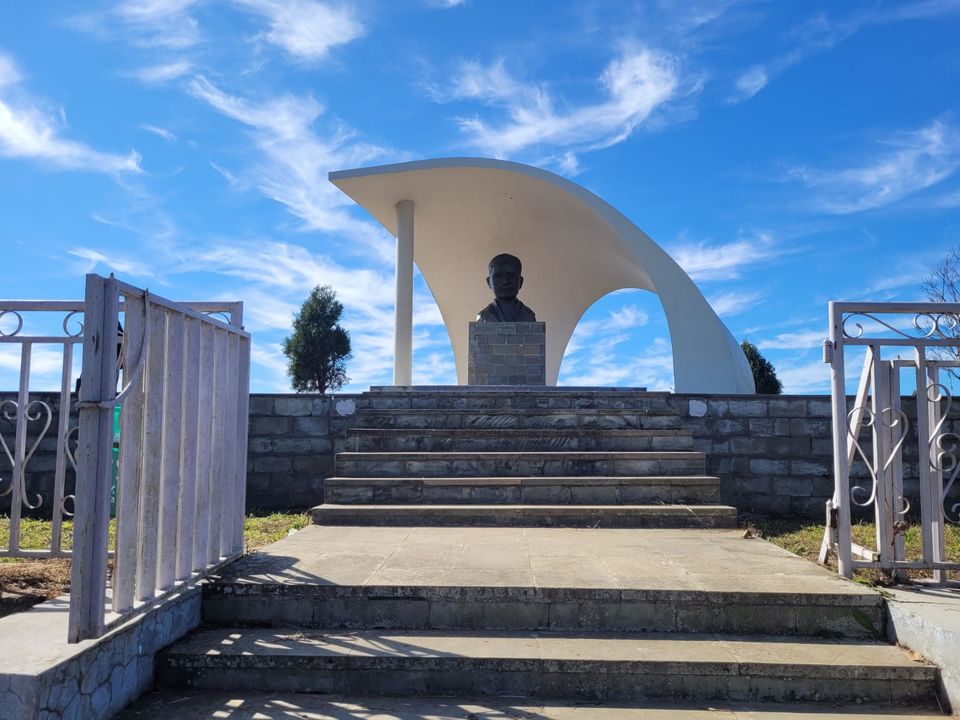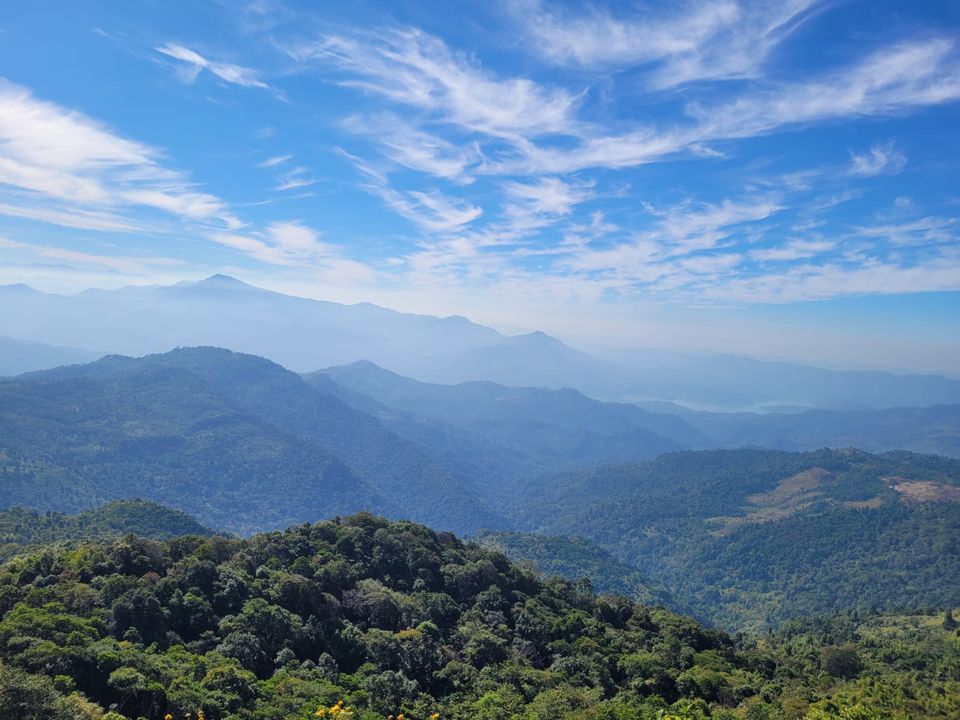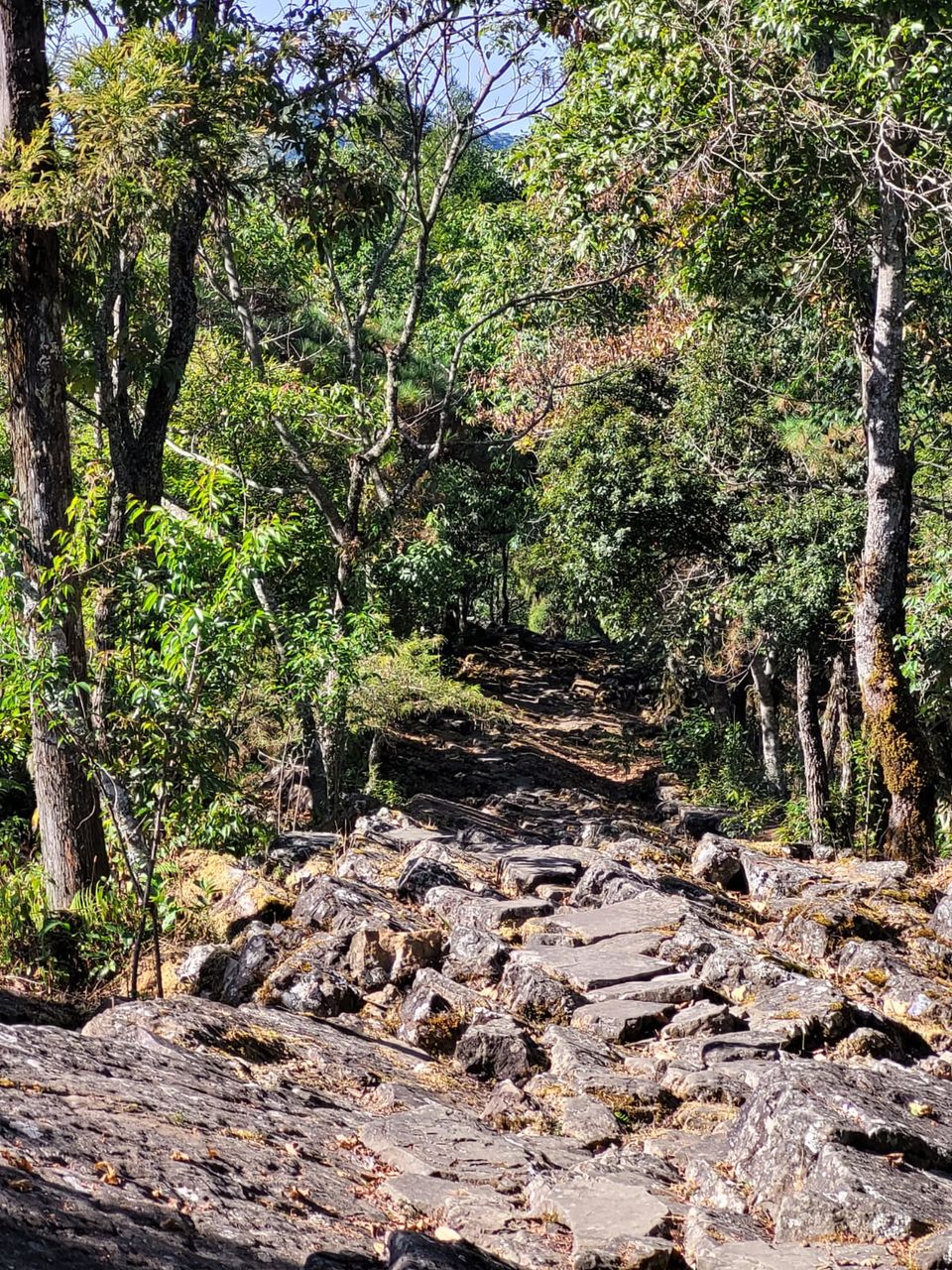 Then we headed back to Mokokchung passing through Ungma village. After a quick stop at classic bakery to buy some famous Mokokchung biscuits and brownies we headed to Mopungchuket, recognized as one of the cleanest villages in Nagaland. Mopungchuket is also famous for the legendary love story of Jina and Etiben, regarded as "Romeo and Juliet" of the Ao Nagas. In Mopungchuket we first went to visit Süngkotenem Park. With the Süngkotenem Lake, a deer park, an amphitheater, wooden sculptures and towering trees it is one of the most beautiful parks I have ever visited. Then we visited Mopungchuket Museum. Established in the year 1956, this museum could be the oldest museum in Nagaland. There are many memorabilia exhibits and artefacts put on display in this museum including some from Assam.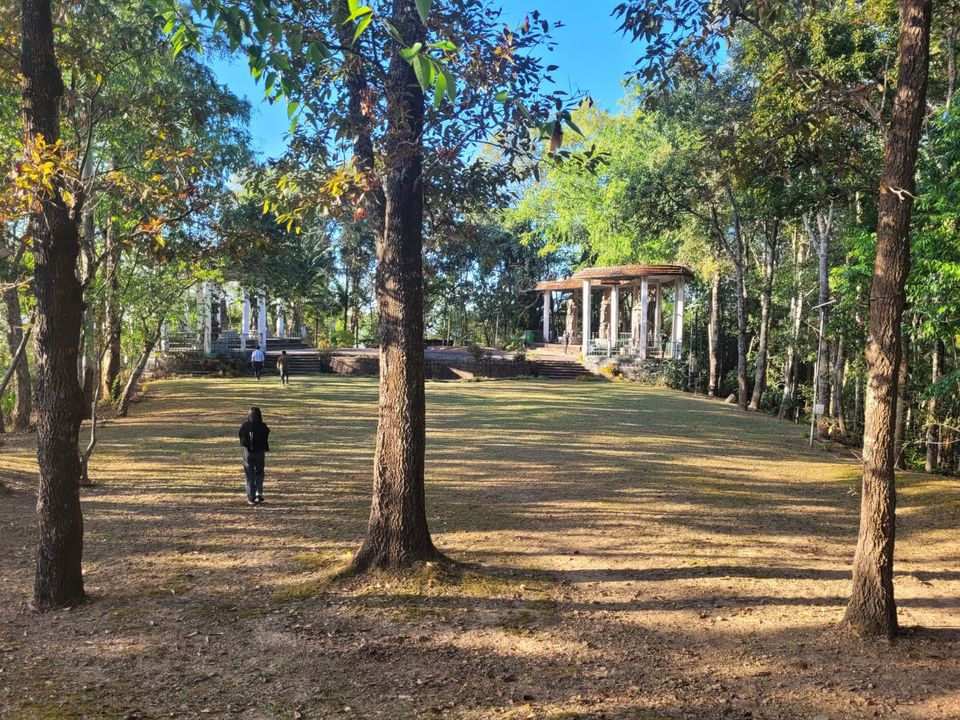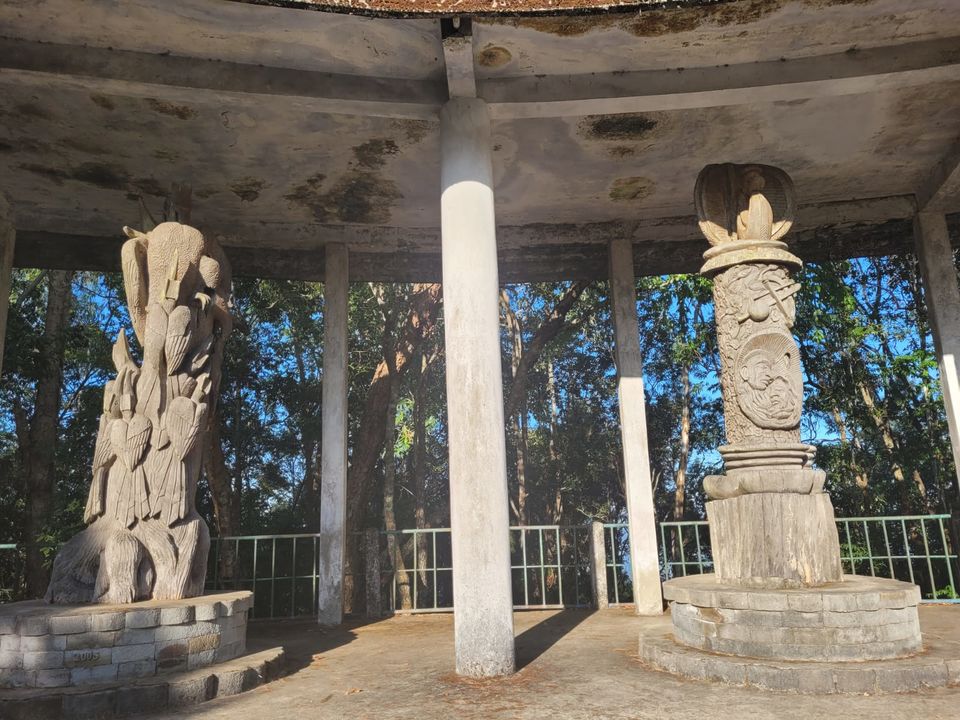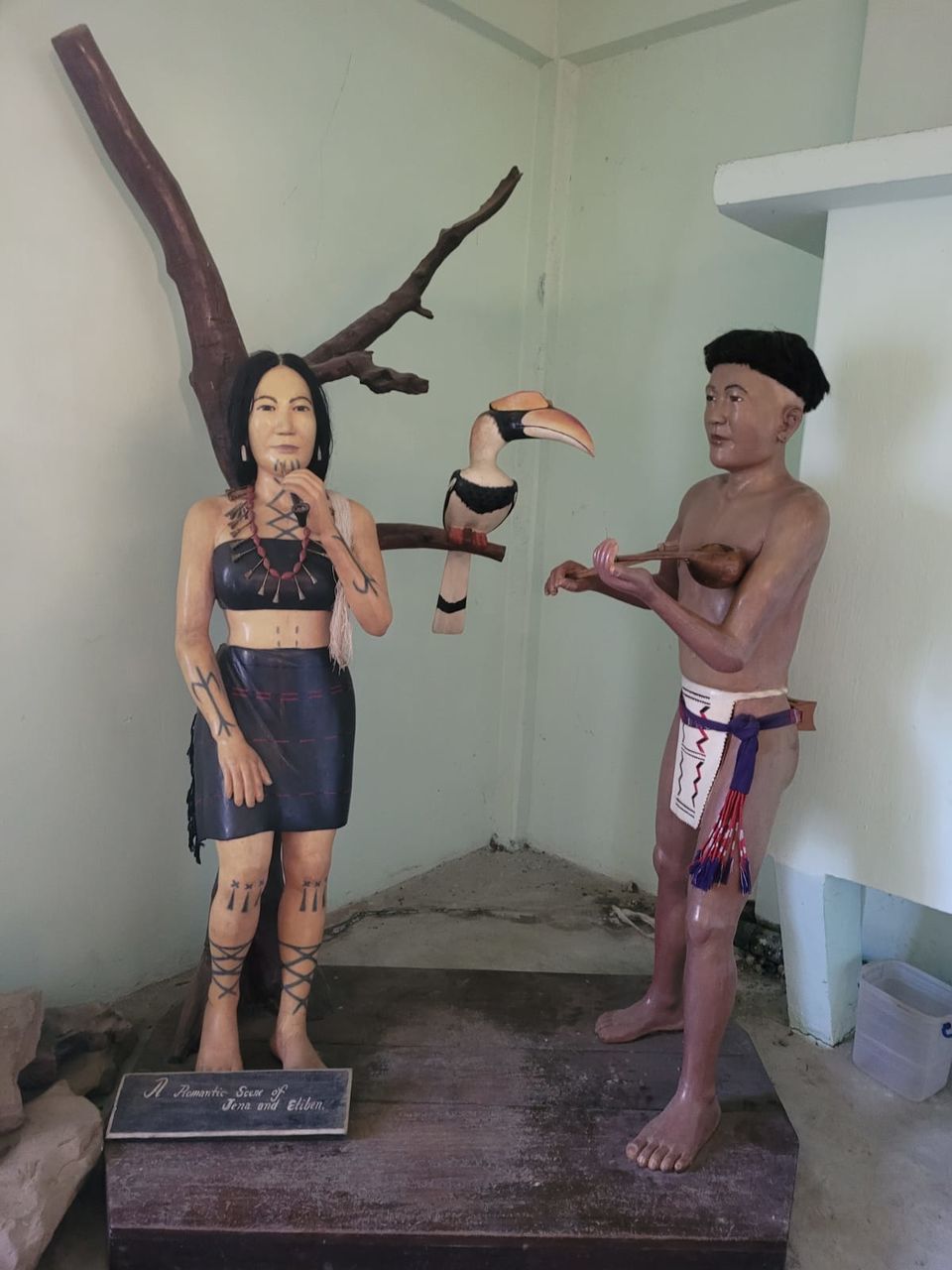 By the time it was late afternoon and we took leave from Shashi and Eyim. They went back to Mokokchung and we came back to Chuchuyimlang. Anung prepared tea for us. Lanuinla had to leave for Church to participate in inter colony chorus competition and we could not meet her again. But she packed orange, banana, squash and ginger from her garden for us with a message that I can take any number of flower plants from her garden that I adored so much. I picked a Christmas flower plant. After saying good bye to all with a heart filled with gratitude and joy at receiving so much affection, we embarked on return journey.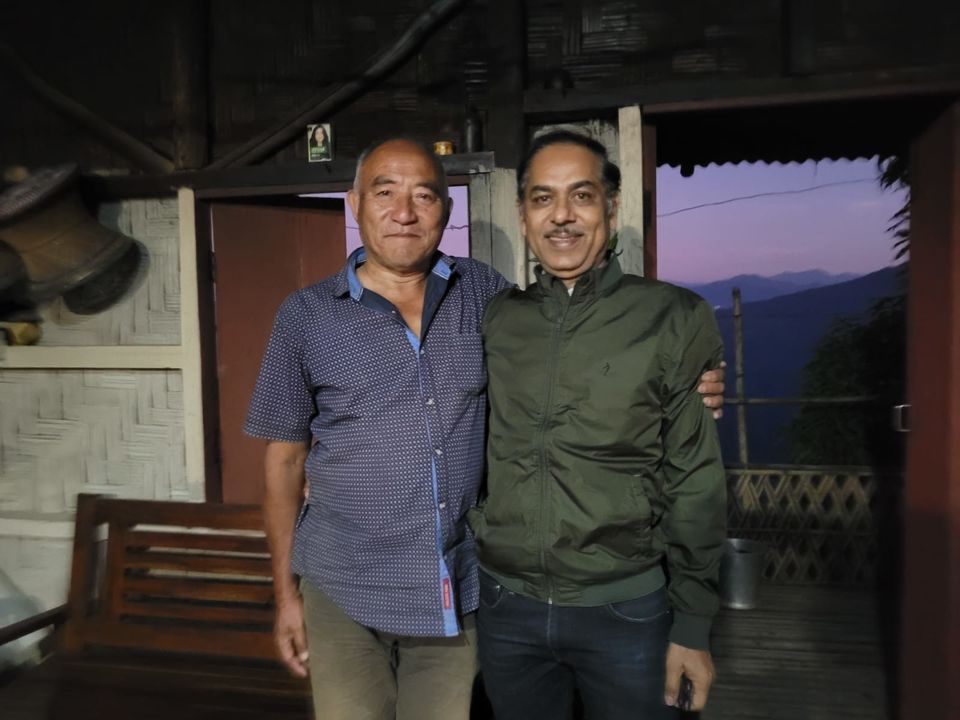 We love travelling, especially to offbeat places. Since coming back to Assam after sixteen years on our transfer to Jorhat we have tried to explore the North East overcoming constraints posed by Coronavirus pandemic. Every trip has been very satisfying due to natural beauty and rich culture of this region. However, Mokokchung trip is more special as this time we were guests in friend's home and all our activities were planned and executed so lovingly by them. I have surely left behind a piece of my heart in Mokokchung and will have to go back to retrieve it.