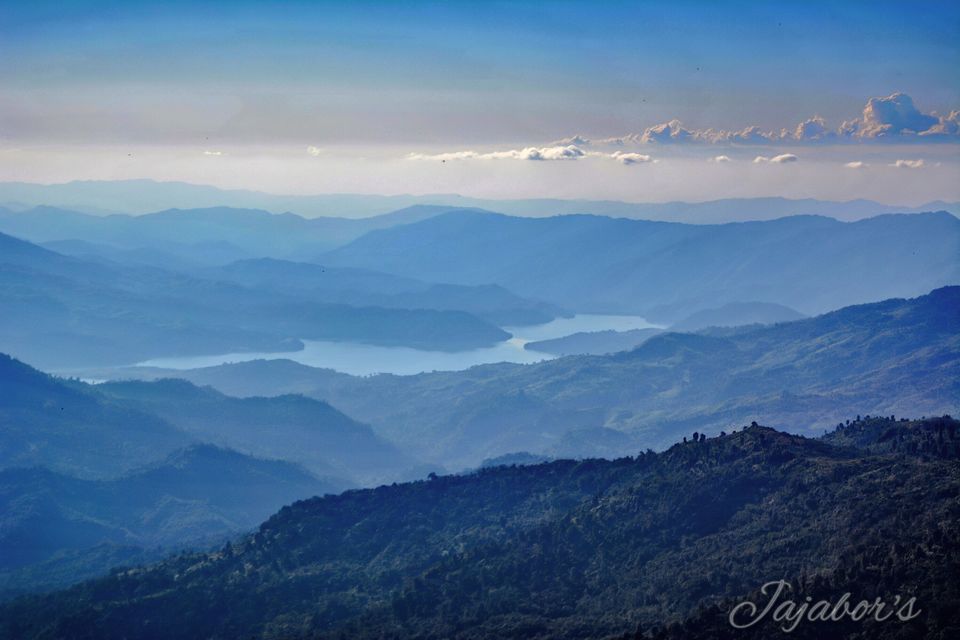 What to do in a PSU job on an Off Day in a location as serene & soothing as North East India???? Why, you go on a Day trip of course!!! Same stuff happened on 22/11/2016. Being my Off Day, me and two of my friends decided to go on a road trip to Mokokchung, Nagaland, popularily known as "The Cultural Capital of Nagaland".
We started around 07:00 hrs from our Township in Dibrugarh for our 5 hr onward journey to Mokokchung sleepy eyed (after Night Shift) and disheavelled. I was wondering whether I shall be able to enjoy my trip as I was tired after night shift & what if I doze off and miss out on all that Mokokchung has to offer. But traveling & exploring new locations is in itself and aphrodite & it kept me awake with a dogged determination that come what may, I shall sleep only once am safely back in my Officer's Quarter.
Nagaland is a restricted zone state and like most of the states of NE, requires a permit to enter. Since permits are issued from Dimapur and Mokokchung is almost 5-6 hrs from Dimapur, acquiring the same for our day long trip was not possible. A little bit of coersion & polite words on our part was enough to let us entry into the Hiil State of Nagaland on a "Single Day Return" basis at the border check gate of Assam & Nagaland.
The very first thing you notice on entering Nagaland is that it is nothing but dense hilly jungles all around. Roads snaking through the hills and making its way through the dense foliage makes it a landscape photographer's paradise. The roads offered some mesmerizing views of the green hills. As we started early, we were faminshed & desperately needed our breakfast. We finally found a road side shack offering Pork Curry & Rotis for breakfast. For an avid pork lover like me, on an empty stomach, the very idea of a breakfast of Pork Curry & Roti was pure bliss!!!! Let me say here, the food was very tasty & dirt cheap!!!! Finally post breakfast and trying the Nagaland version of Kwai (Betel Nut and Paan) we drove towards Mokokchung.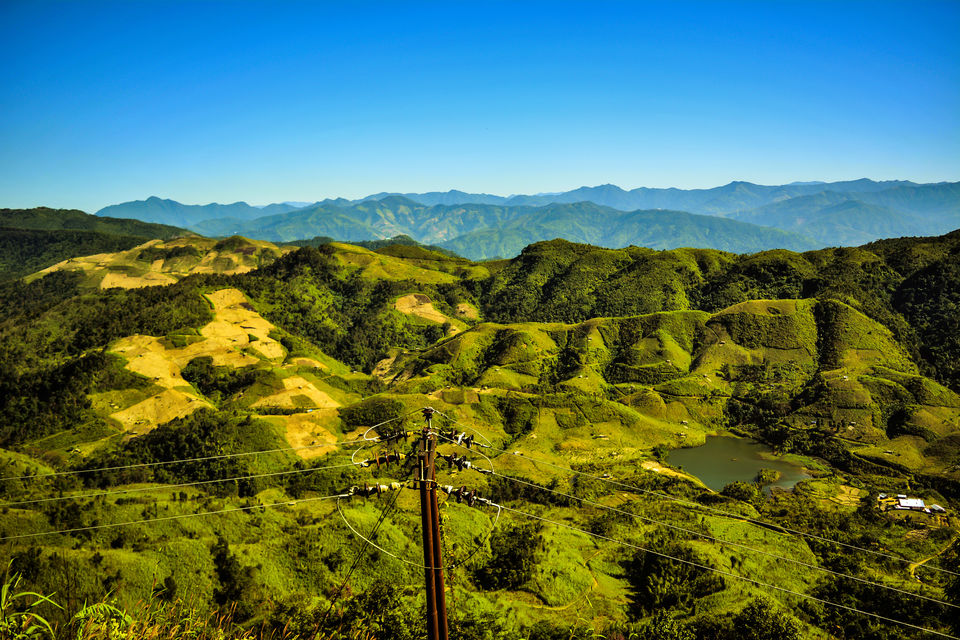 Landscape as such can give Dzhuko Valley a run for their money.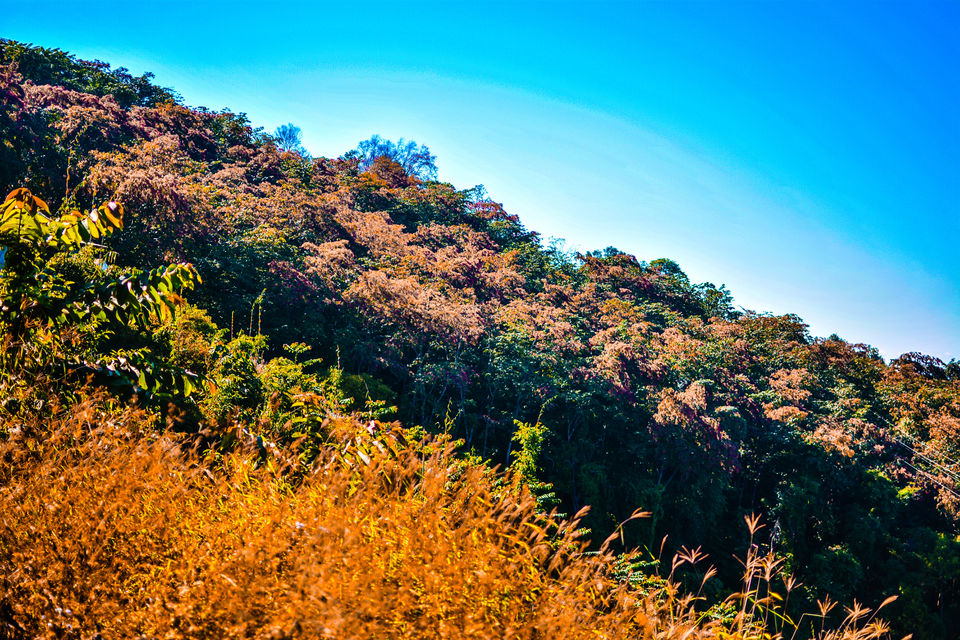 Cherry Blossoms on a cliff side enroute Mokokchung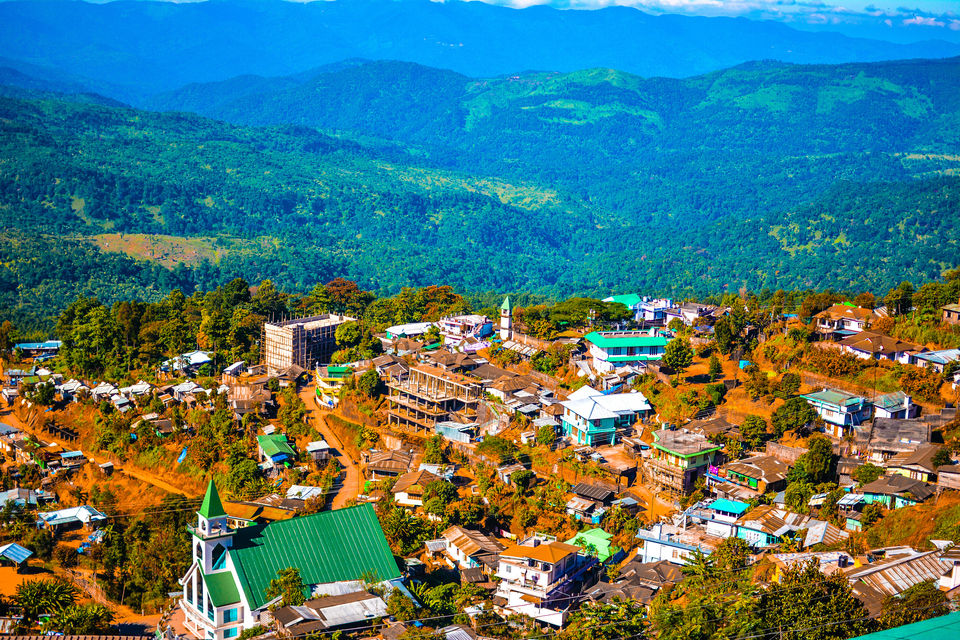 Quaint town of Mokokchung.
Mokokchung is know as The Cultural Capital for a reason. It is the second biggest city of Nagaland & is home to the largest concentration of the "Ao Naga" tribe. It is a city caught in between the remnants of the past and blessings of the modern world, a city caught in between the best of both the Ages. Though most have converted to Christianity, their connection to their roots can still be seen in their day to day lives in terms of their dressings, their cuisine & their dialect.
Located almost at a distance of 20 kms from Mokokchung is the quaint Hamlet of Ungma which holds a dubious distinction as Ao Naga traditional village. There we got to meet a few locals and interacted with them regarding their culture & their way of life. I have to say, Nagas are a unique tribe and their Folklore is as mystifying as Hindusim. On talking with the locals we got to know that almost half an hour drive leads to yet another village named Longkhum which is though lesser kown than Ungma, but is famous for offering panoramic views of the surrounding mountain ranges. Longkhum is also known for worshiping aan animist form of religion called Limapur. Though we didn't get to see the ritualistic practices, we did definitely see the garbs and instruments used for the ritualistic practices.
As sunset was almost upon us, we made a quick return to Mokokchung Town & had a sumptuous lunch of Pork delicacies with rice & steaming plates of juicy pork momos. Finally we bade goodbye to this mystical land of the Nagas making a solemn oath, I shall be back once again not as a day trip, but for definitely a longer duration.
Apart from Ungma & Longkhum, you can also visit Chuchuyinlang Village famous as The Festival Village of the area, Mopungchuket, Yisemyong & Impur village- The seat of Christianity in the area. Almost 12 kms from Mokokchung Town lies the Langpangkong Caves which is definitely worth a visit & needs a good 1 hr hike up a steep stony path. Best time to visit Mokokchung is October to April when the season is dry & the weather is bitingly cold. The festivities of the Town includes Christmas & New Year's Eve which is celebrated with much pomp and grandour. Apart from Christmas, the local festivals celebrated are Moatsu (May) & Tsungremong (August).