I have been putting off writing this blog since I came back from a memorable trip to the pristine state last month. This is because I usually like to come back from trips, gather all my memories - mental and digital (ofcourse), go through the moments and then write about my experiences. This helps me in two ways: it brings back memories of the trip taken sometime ago, and it helps me write an honest blog about the trips without the added rush of hormones that memorable trips often lend to the body and mind.
I will start with saying that visiting Nagaland was one of the best travel experiences we have had in a long time.
Although I was born in and have lived in Assam for the first 18 years of my life, we have travelled to just a couple of states in the North East and I would ideally like to cover the entire region soon. I had always wanted to travel to Nagaland because it held for me a very different charm and the lure of seeing a place that I was completely clueless about made the desire even stronger. The added attraction of the Hornbill festival in Nagaland just made us seal the deal. We travelled there in the month of December for ten days along with our daughter Arianna. Here is a go to guide for parents and travellers who wish to travel to Nagaland with their kids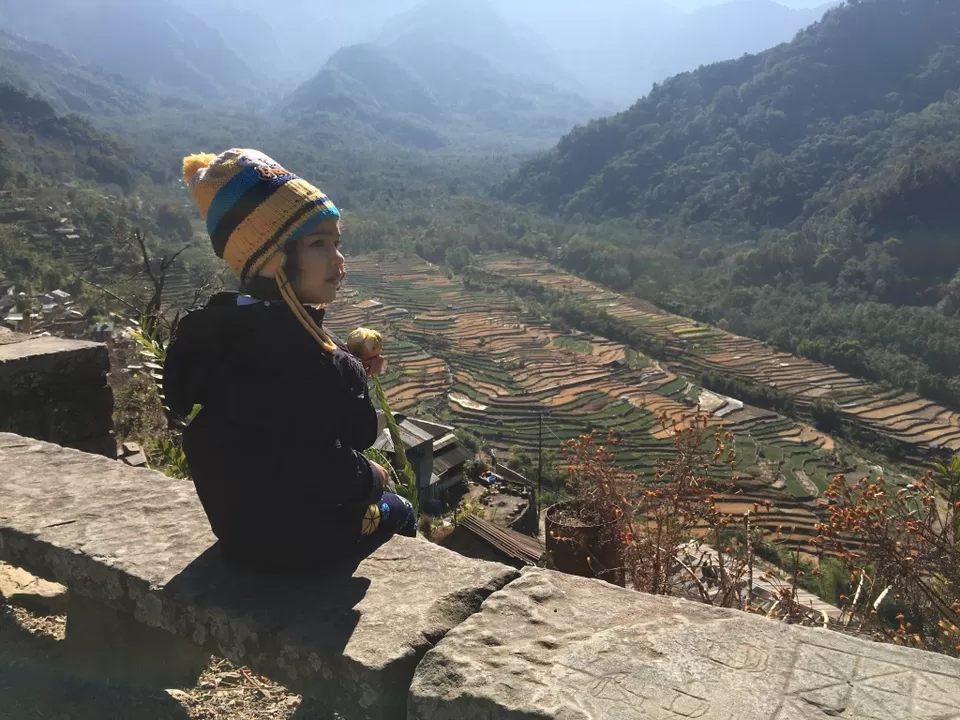 Travelling to Nagaland
We travelled from Jaipur to Nagaland and we did this with transits in between. We took the Shatabdi express from Jaipur to New Delhi, spent a night in New Delhi and flew to Guwahati the next morning. We stayed for a day in Guwahati (home) and travelled to Dimapur by the BG Express train the next day. This is a superfast train and would ideally take around 5.5 hours to reach Dimapur. Guwahati is connected to all major destinations in India by flights and trains, so reaching there is not a problem. There is another way to travel to Nagaland that is straight to Dimapur or Imphal but not every city has connecting flights to it, so Guwahati is the safest bet. If you wish to reduce your travel time, getting off at Imphal or Dimapur would be a great option.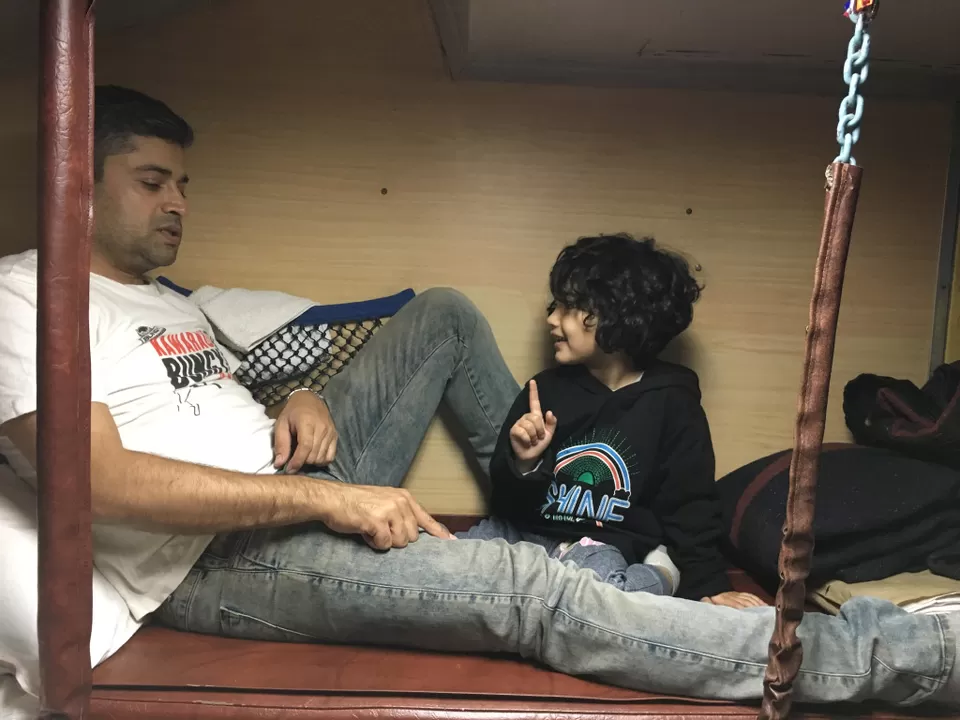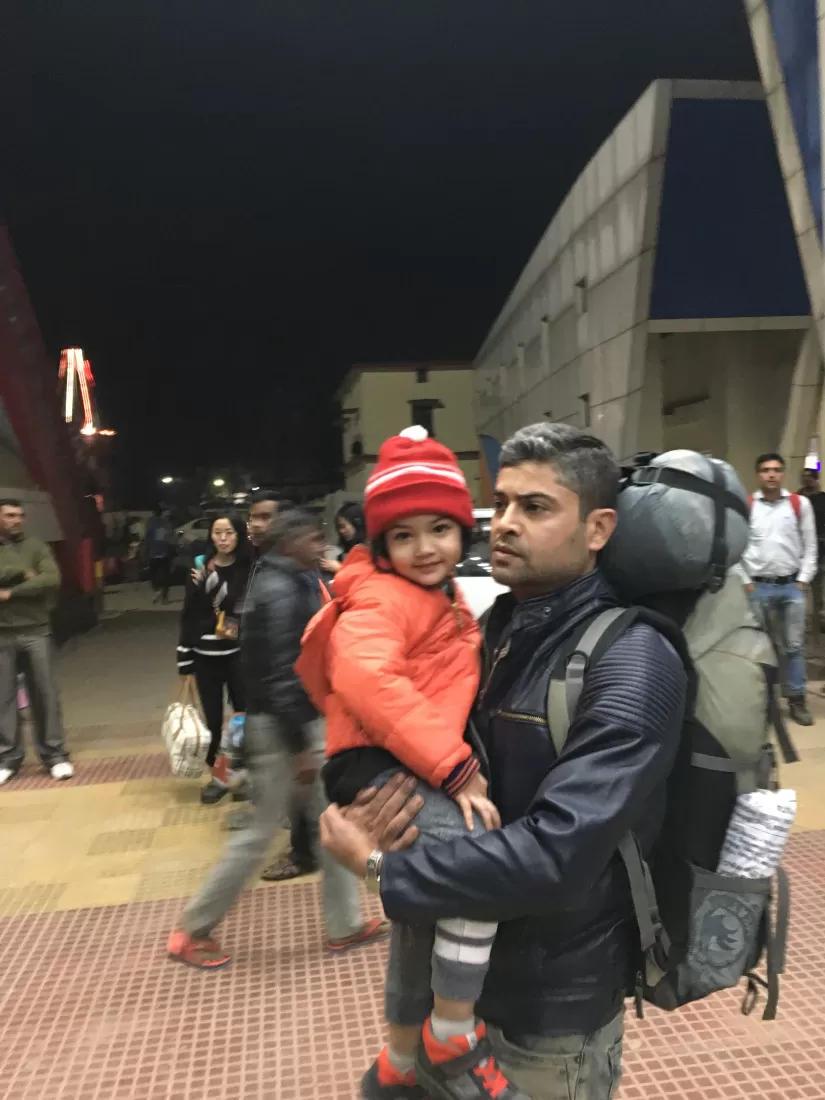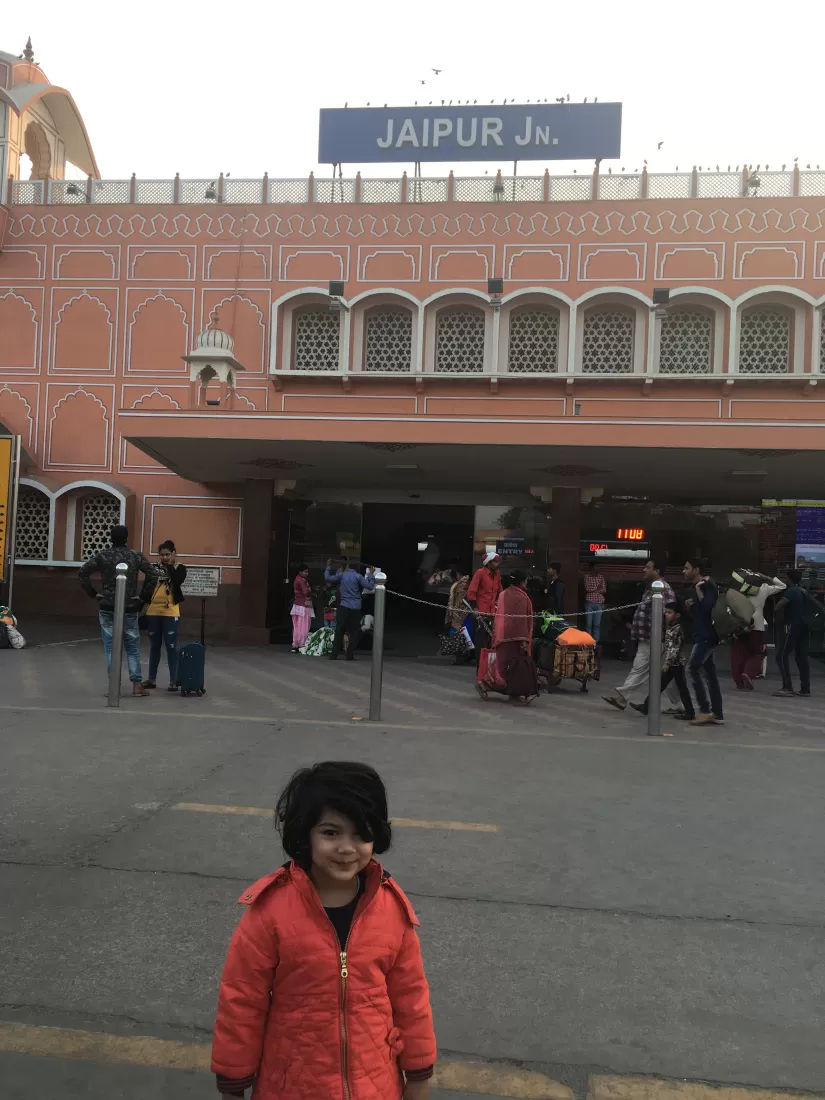 Travelling within Nagaland
The toughest and most uncomfortable part about planning a Nagaland holiday are the roads. Almost all highways across the State are in very poor condition and in some stretches, it feels like you are on an offroading adventure. If you are up for some serious road tripping that involves a lot of bumpy terrain, then this one would suit you. However, a sturdy SUV will help you navigate these roads without shaking you to the bone. We had borrowed a Mahindra XUV500 from a friend and were self driving it throughout the trip, so that gave us more time to drive at our own pace, taking stops and navigating bumps. Since we wanted to travel to more places besides the capital city Kohima, we started our journey through a different route.
Our Route
We travelled from Dimapur to Wokha followed by Wokha- Mokochung and Mokokchung - Kohima and finally Kisama, and on our way back, we drove from Kisama to Dimapur and took a train back to Guwahati.
Day Wise Experiences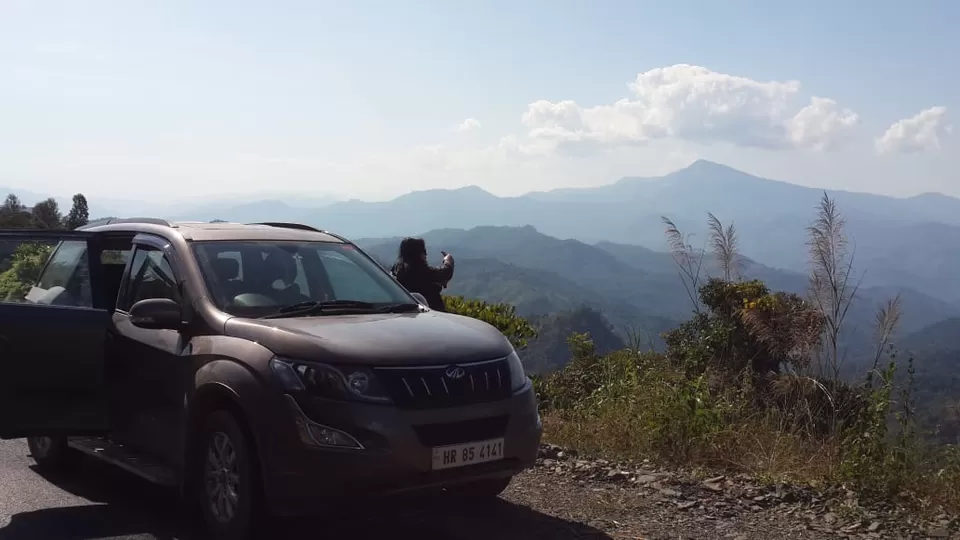 This is one of the bumpiest rides you will experience during your introduction to Nagaland. we drove on the route via Karbi Anglong, Assam and the road although flat (which we purposely chose to avoid a broken mountainous route through Nagaland) was equally full of broken roads and poor terrain. However, once we left the highway and took the narrow interior roads to Merapani and then ahead to Wokha, the roads were better and full of pretty scenery on both sides. Vast stretches of open paddy fields and houses in the typical Assam style occupied our car windows on either side, and the initial uncomfortable feeling of driving through inhospitable roads soon disappeared and the feeling of seeing something unique engulfed us including Arianna who now seemed very excited to see the greenery around.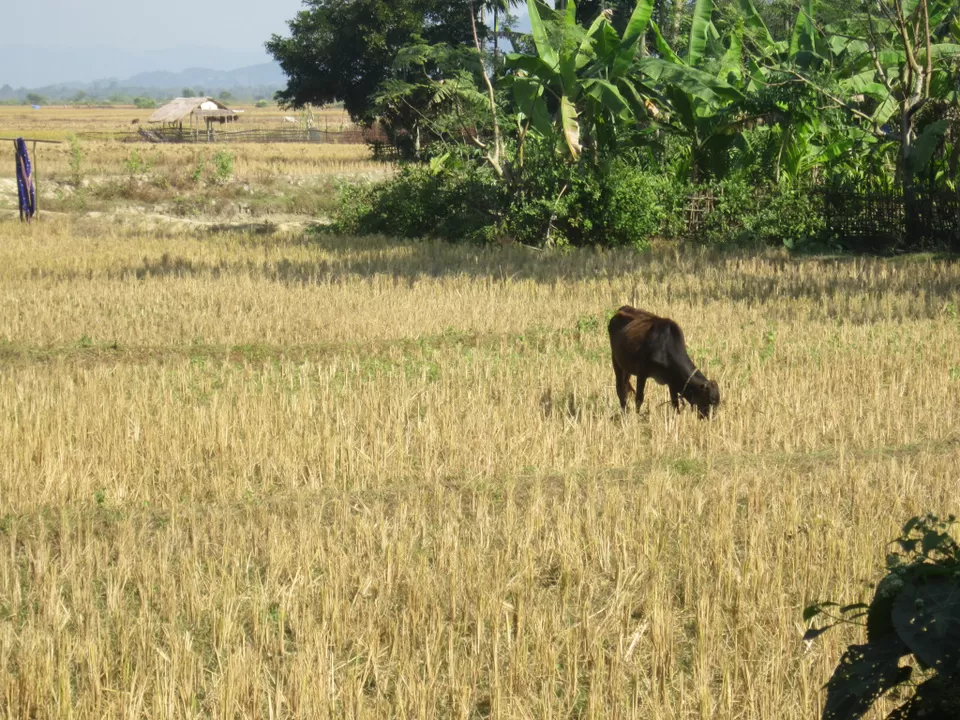 As you are entering the town of Wokha, you will be greeted by open stretches of highway roads with plenty of little houses on the hills. Wokha is famous for the River Doyang and the hydroelectric project that is situated on it. The feel of seeing the houses reminds you of crowded hill towns in North India, with the exception of pollution and minimal garbage. This is one of the major highlights that stayed with us through our trip to Nagaland: its cleanliness. Wokha has one of the largest tribal populations in Nagaland - The Lothas.
Wokha is mostly considered a stopover on the way to Mokokchung as travellers halt for breaks or for the night at this location. Though we did not really sightsee in Wokha as we halted only for the night, here's what you should see if you happen to stay there for a day or two: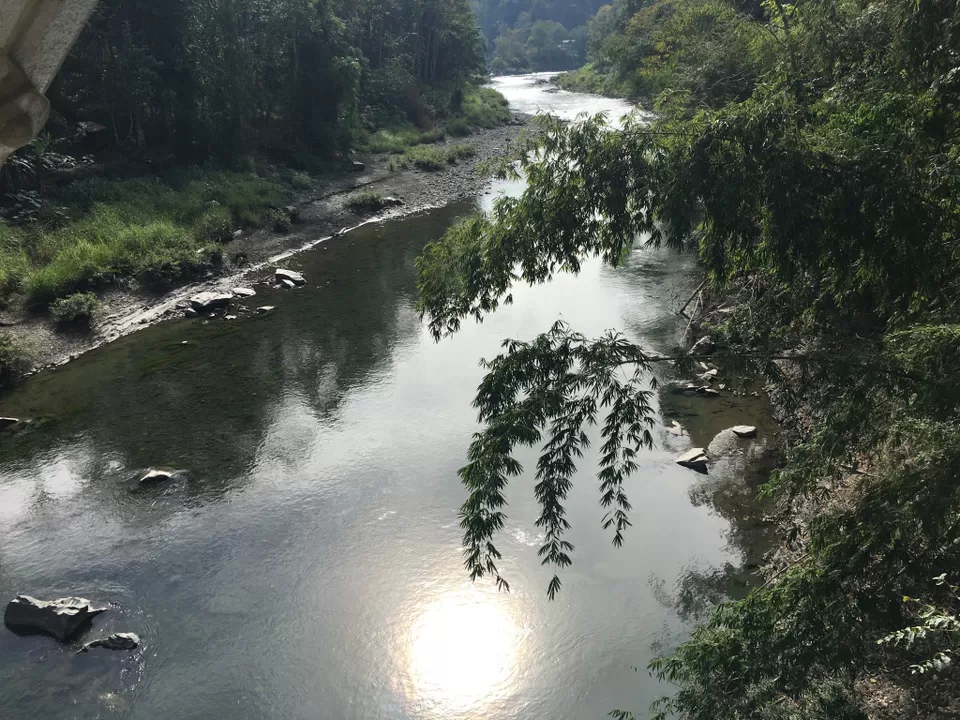 1. Doyang Hydro Project – The Doyang River is literally the lifeline of Nagaland. Its also called Dzulu or Dzu by the locals and is outside the town of Wokha.
As you pass by the river on the way to Kohima from Mokokchung you are reminded of how rivers become synonymous with the life they give to the states they run through. Much of Doyang river supplies water for sustaining Nagaland's green cover and vegetation.
The famous Hydroelectric project on the River Doyang is also a tourist attraction as one can trek to spot the reservoir surrrounded by some beautiful flora and fauna.
2. Mount Tiyi – Mount Tiyi has quite a mystical charm for the Naga people and they call it 'ethchui li (land of the dead). You can read about the mystical history of Mount Tiyi in this blog by Dr.Eyingbeni Humtsoe – Nienu
3. Mount Totsu – also called "The Grand Canyon of Nagaland", this place is ideal for camping and trekking. The village of Phiro lies around it and is around 60 kms from Kohima accessible by NH61. It has a large number of Morungs (traditional Naga houses) to see.
4. Vankhosung village: This is a tiny village very close to Wokha town. It is said to be the birthplace of Christianity in Nagaland.
Where we stayed
We were hosted at the Hammock Resort which is on the way to Mokokchung by a tour operator from the North East called Greener Pastures.

Day 2: Wokha to Mokokchung
It was really cold in Wokha as it was the beginning of December, so after a good rest at the Hammock resort, we started our journey to Mokokchung.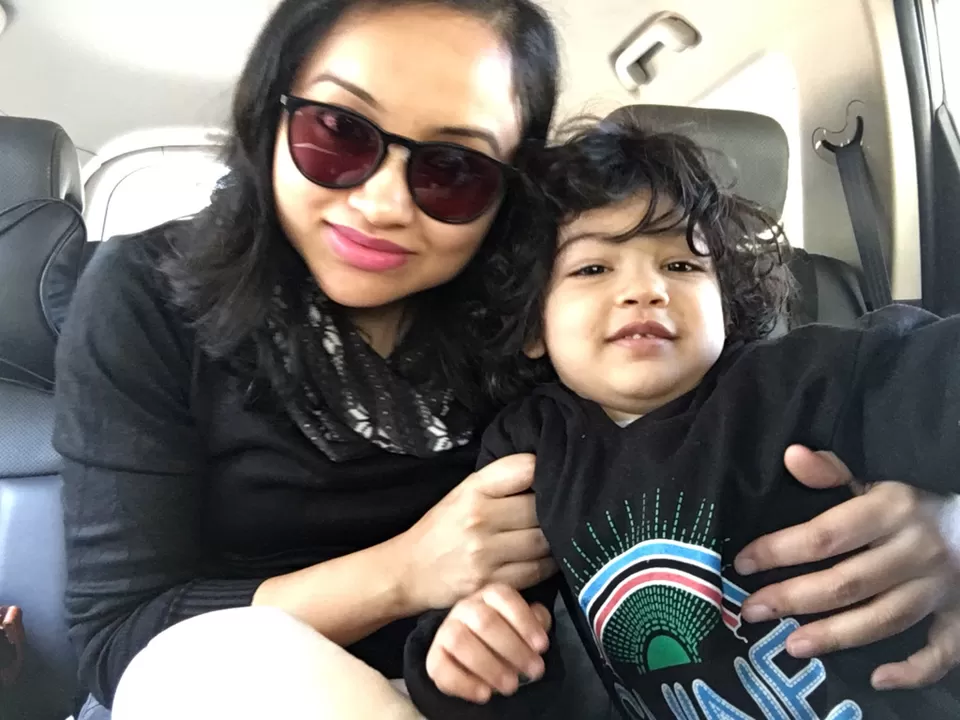 Mokokchung: Basic information
Mokokchung is one of the prettiest places I have seen in North East India. It is known as the fashion capital of Nagaland and is also one of the biggest towns after Kohima and Dimapur. Home to the Ao Naga tribe, it is a pristine town filled with fresh landscapes, gorgeous sunsets and sunrises. You suddenly feel like you are travelling through a foreign country as you pass by the cherry blossom trees, and get some fresh mountain air in your lungs after rolling down the windows. We took a few breaks just to take in the spectacular views. The road condition from Wokha to Mokokchung is pretty decent, and we were taken by surprise as we zipped through the roads in no time. Our radio was playing local music from Nagaland and we never even bothered taking out our pen drives as the choice of music played in the radio stations completely aligned with our tastes and mood. Mokokchung is an entire district, but the primary town there is also Mokokchung.
How to get there
The only way to get to Mokokchung is by road as there is no airport or train station due to the terrain. The nearest airport from Mokokchung is Jorhat at a distance of 112 kms. The nearest railhead is Mariani station (Assam) at a distance of approx 88 kms. Dimapur to Mokokchung is around 8 hours by road. Since the condition of roads gets better as you reach Mokokchung district, driving is a convenient option although you will have to brace yourself for the previous journey I wrote about.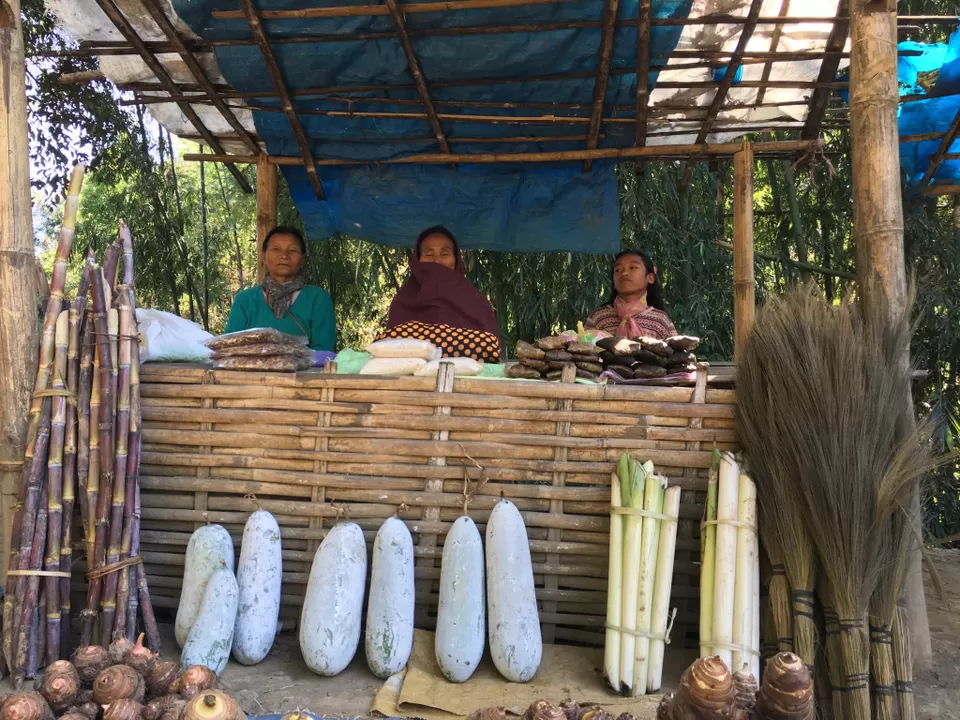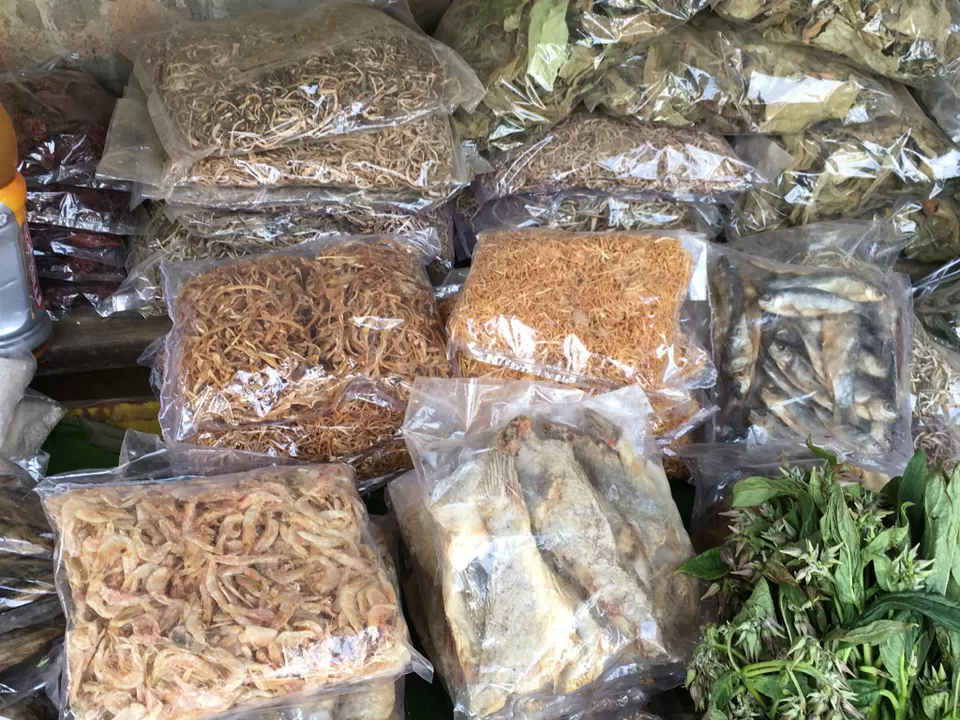 Mokokchung: What to see
- Ungma Village
- Mopungchuket Village
- Longkhum Village
- Mokokchung Eco Park
- Mongzu Ki Caves
Among all of these places, we chose to visit Ungma village (the oldest and largest village in Mokokchung), the Mokokchung Eco Park and Mokokchung town. You could choose to take a guided tour to a few of the villages in Mokokchung. They are all accessible by road and have a car park area.

Ungma
Ungma is a beautiful clean village on the way to Mokokchung. It is about 10kms south of Mokokchung town, and is easily accessible by cars, buses and taxis. It is home to the Ao Naga tribe and is a great way to introduce yourself to the customs, traditions and culture of a typical Naga village.We were greeted with a huge entry sign, giving us an immediate feeling of a village that has developed with the times, also owing to the tourist influx. It is rather nice to see the way the villagers have cooperated in making this village a tourist spot in Nagaland. We took a nice slow drive around the village, went to the Baptist Church which was preparing for Christmas and we spotted a huge installation of baby Jesus just outside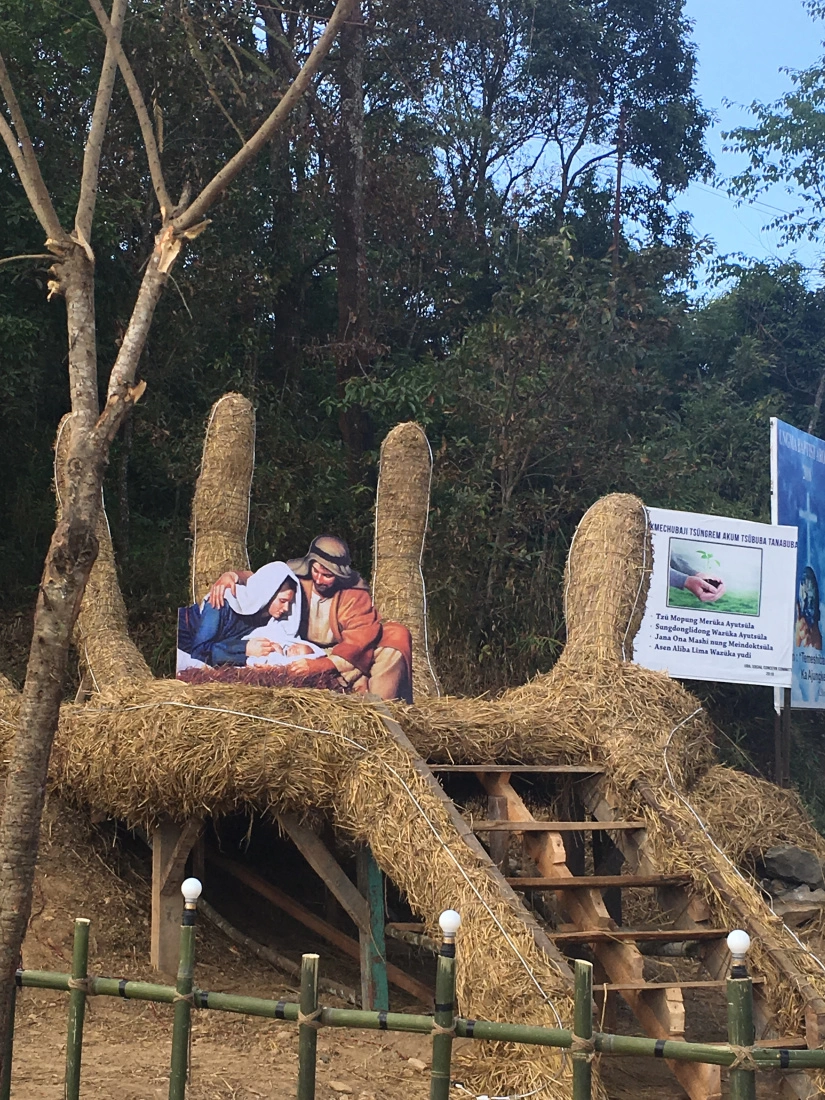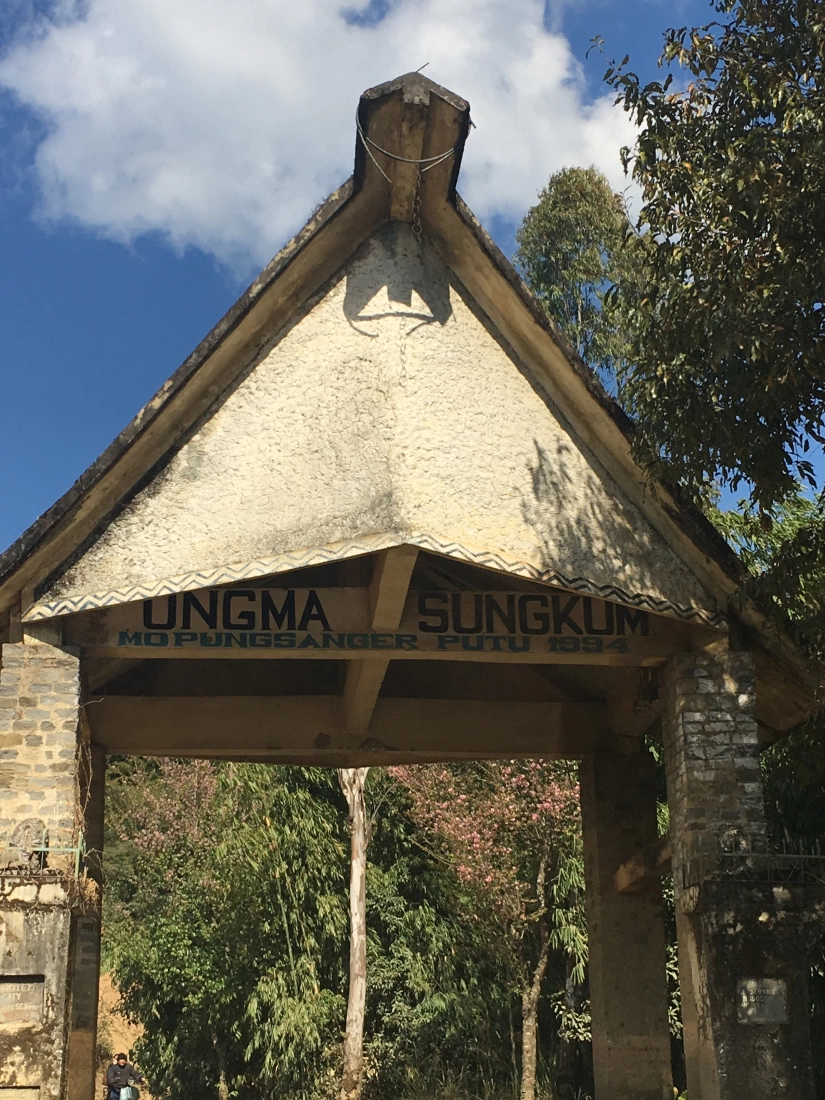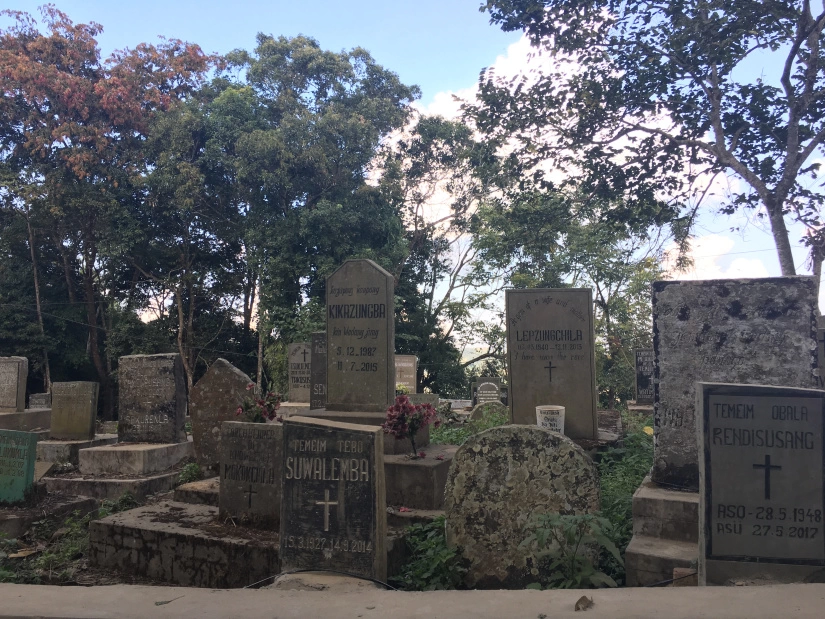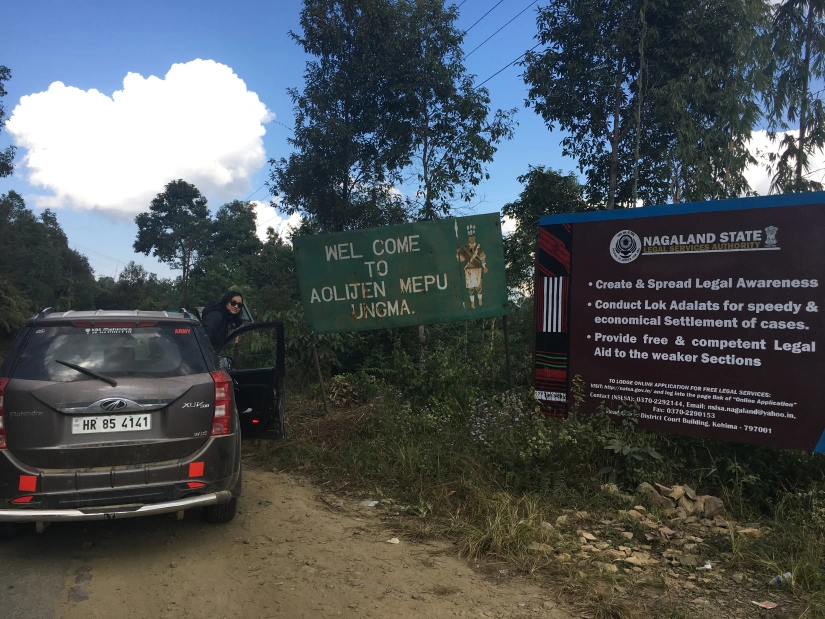 We passed by school children walking back to their homes after a school day, and villagers hard at work; some sawing logs, some weaving but mostly all at work. The pretty little houses with tin roofs adorned with colourful flower pots and smiling women made this visit very memorable. Make sure you visit this village for a similar experience. You can also hire a guide who will be able to take you into the interiors and probably a local home as well.

Imagine being laid to rest in the same vicinity in a pretty little cemetery just outside the village. One thing I always stopped by to look at were the cemeteries as each of them (in the places we visited) were made and maintained with such love and care by family members or the village that it warmed my heart each time
Mokokchung Eco Park
This is a great place to visit if you have kids that are just waiting to pounce out of the car after a long drive. This park has all the right nuts and bolts (read swings, see saw, slides, tire swings) and lots of open spaces for them to run around while you catch the gorgeous views from the top of the park.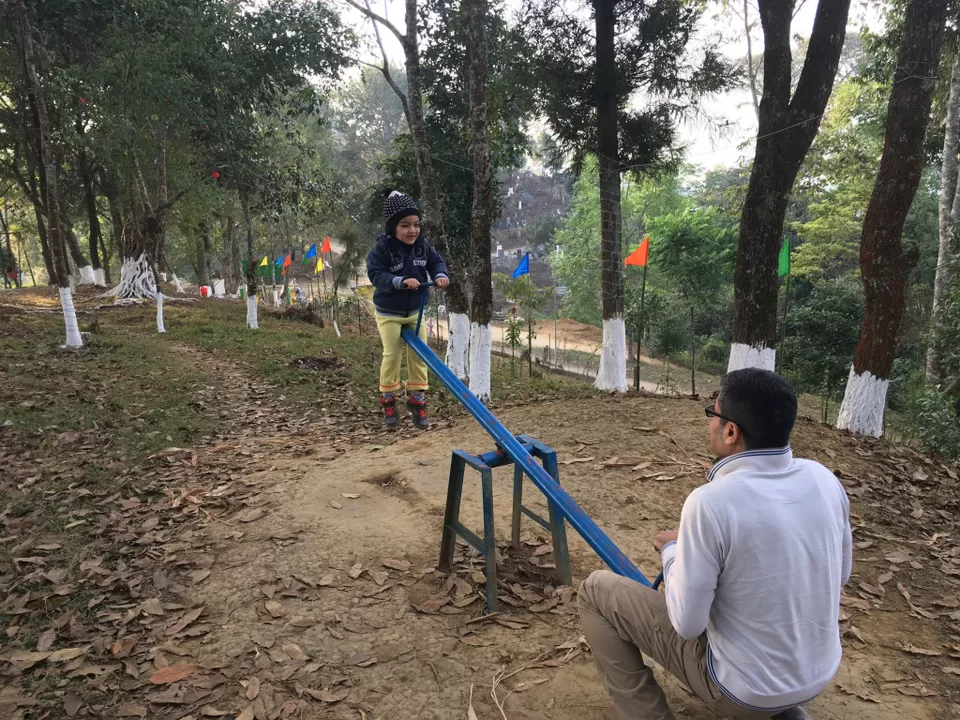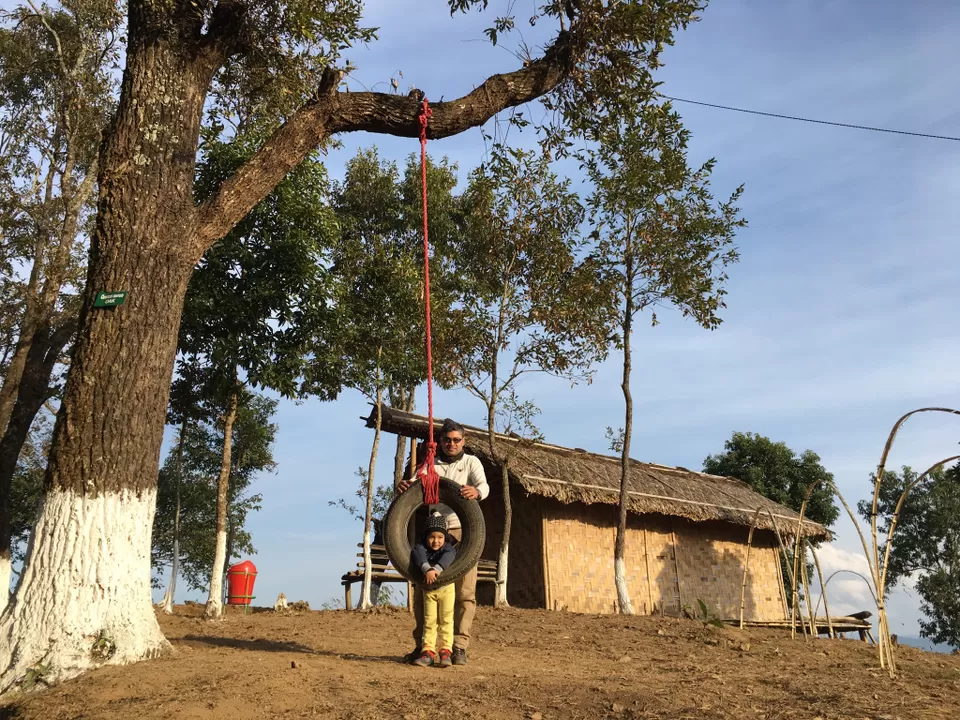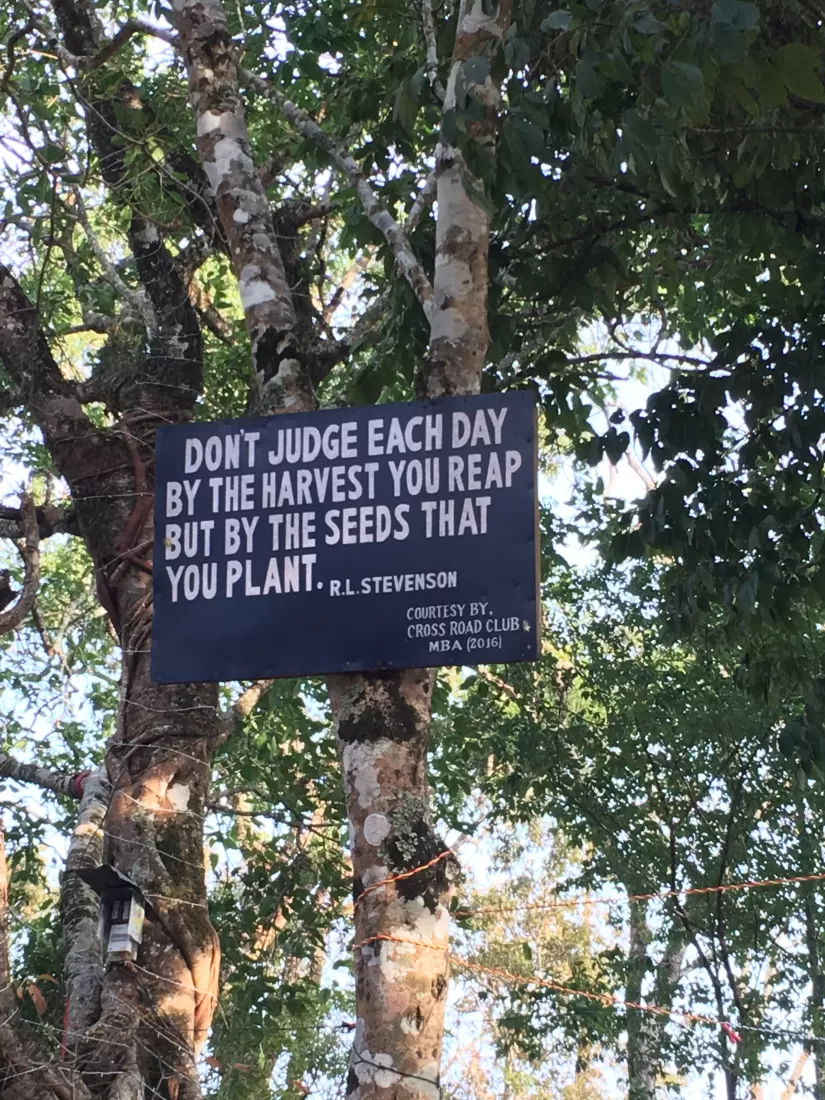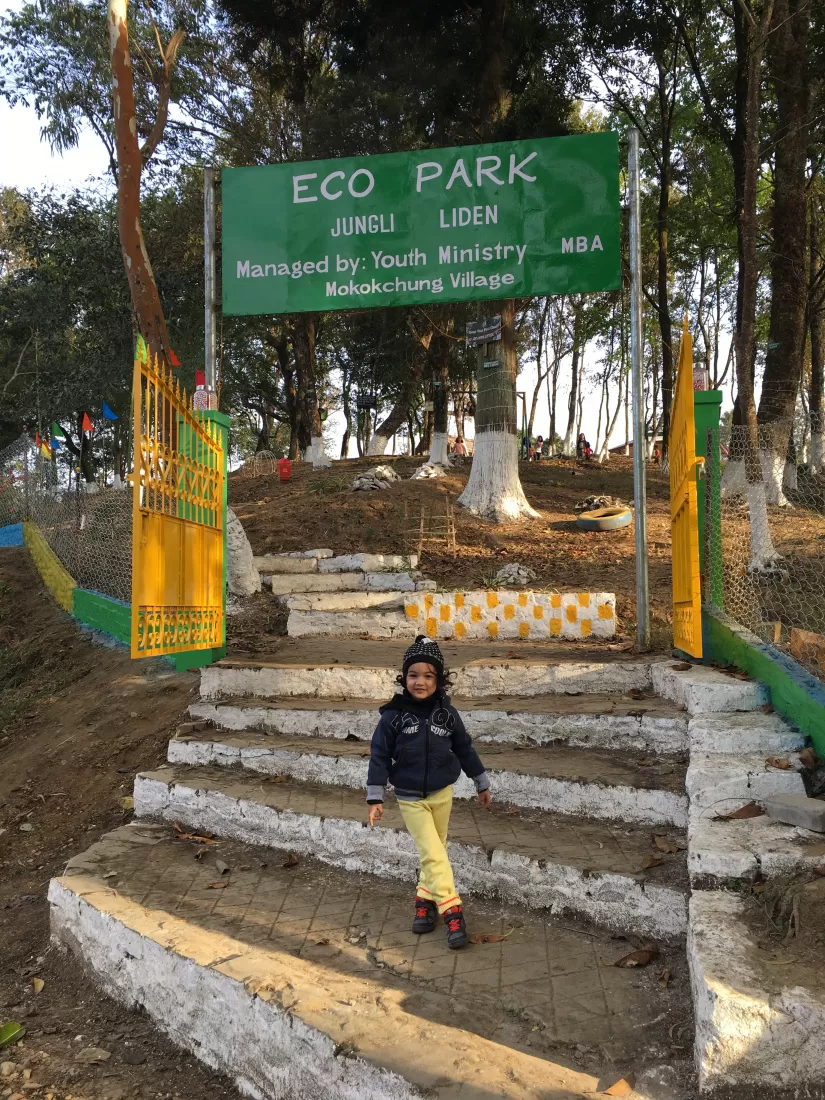 Mokokchung Town

We strolled around the heart of Mokokchung and it was just like another little hill station town full of vehicles, roadside shops, eateries and people. We ate at a small restaurant suggested to us by the name of 'The Restaurant', which served some delicious soup, Naga chutney (a pungent side dish made of tomatoes, onions and chilli), fried rice and chicken to go with the weather.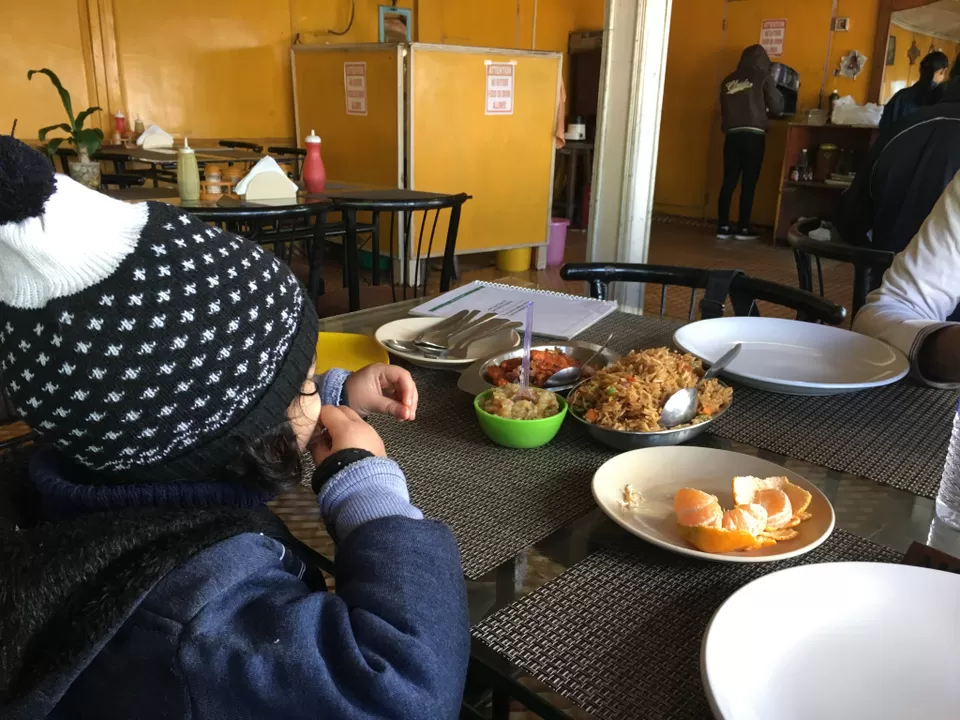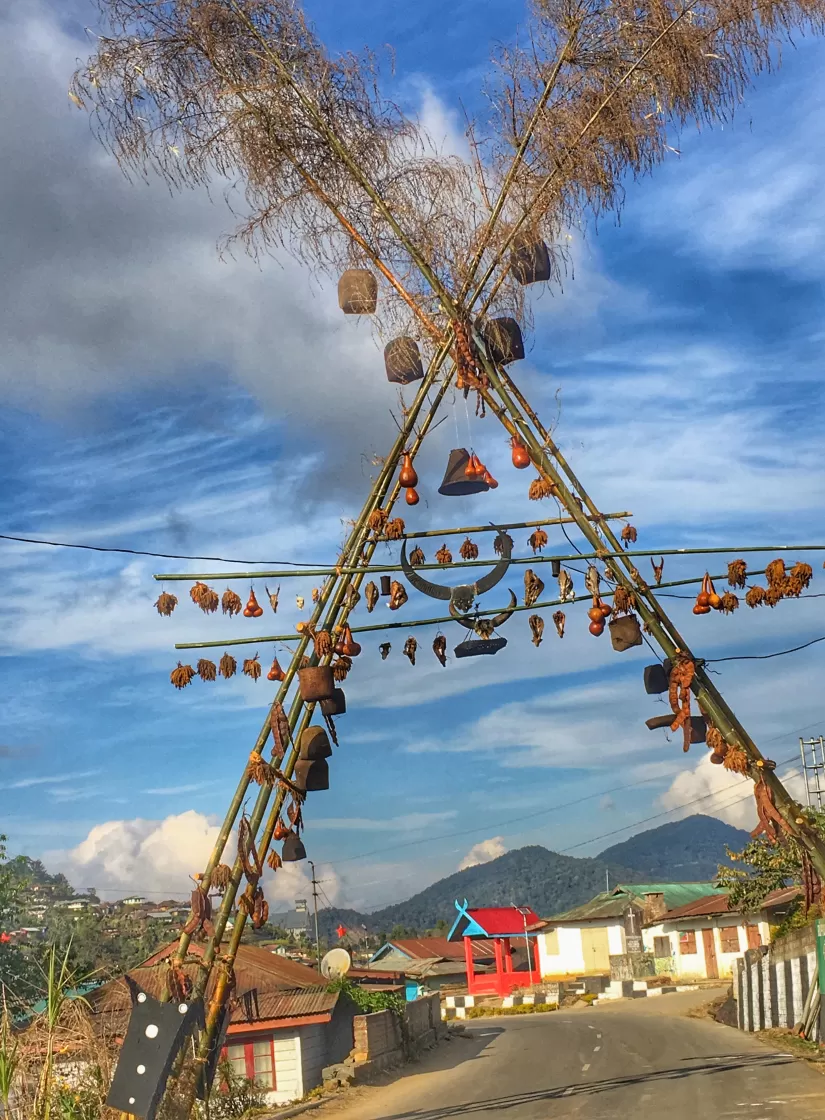 Where we stayed:
We stayed at a pretty homestay called 'Abode in the Mountains' with Dr.Longchar and his family from Mokokchung. We were hosted by Greener Pastures for this stay.
Key Takeaways:
- To travel to Nagaland, visitors from other states need an Inner Line Permit. This can be obtained on in advance by making an application online. Here is where you can download it. Visitors from Delhi, Guwahati, Shillong or Kolkata can obtain the ILP application form from the Nagaland House. Dimapur is the only city in Nagaland that does not require an ILP to visit.
- Foreigners no longer require a protected area permit to travel to the State. They will however be required to register themselves at the local Police Station upon arrival.
- Travellers with kids must carry medication along for this trip as well as warm clothing. The roads are not in great condition, but the scenery more than makes up for it.
- You can choose to fly straight to Guwahati, Dimapur or Imphal if you wish to visit Kohima first. In our case, we wanted to cover the other parts as well, therefore we took a different route.
- The nearest railhead from Mokokchung is Mariani(Assam) and airport is Jorhat(Assam).
- Hiring an SUV with or without a driver is the best option, if travelling independently by road. The other option is to book a certified tour operator and travel with them to this State.
This blog was originally published on Backpacking Indian Mama.