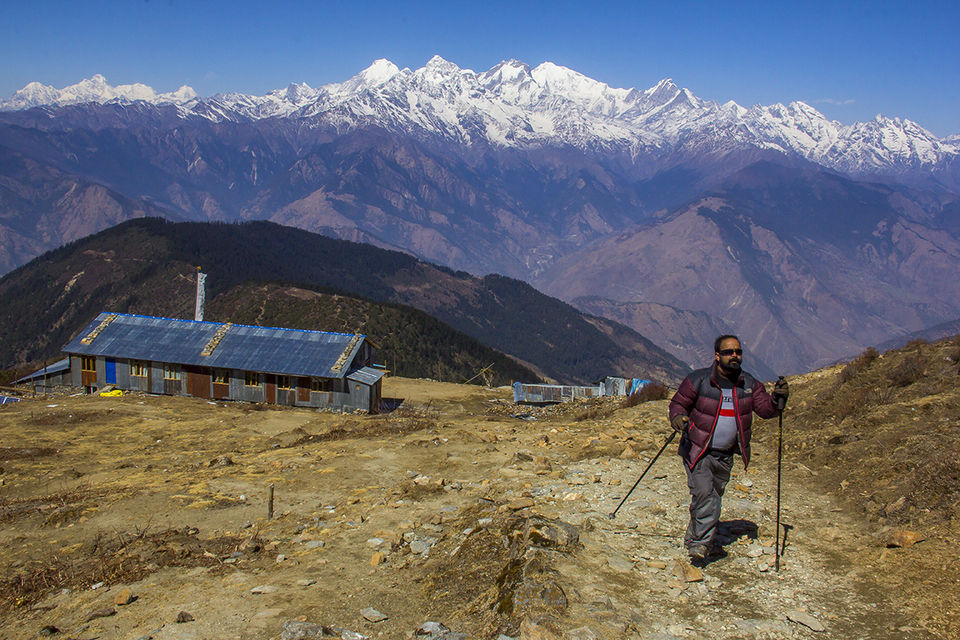 Gosaikunda or Gosainkunda or गोसाइँकुण्ड is an alpine freshwater sacred lake located in the Langtang region of Rasuwa district, inside the Langtang National Park, at an altitude of ~4380m. It's one of the popular places for high altitude trekkers as well as divine and religious destination for Hindu pilgrims. The area consist of many (believed that there are 108 lakes of different sizes) holy lakes. It is thought that the holy water of Gosainkunda washes off the sins ;). Surrounded by high mountains on the north and east, this lake is grand and picturesque. Every year during one of the Hindu festivals - Janai Purnima in August, thousands of pilgrims visit the lake. Visitors get wonderful reflection of surrounding hills in very clear water of Gosainkunda lake during the summer season where water is iced during the winter. People trek to this amazing place to fulfill their cultural as well as natural hunger as the trail passes through different landscapes - subtropical to alpine environment, terraced fields, waterfalls, streams, hills and the most importantly super scenic majestic mountains.
Hindu mythology attributes Gosaikunda as the home of the Hindu deities Shiva and Parvati. It is believed to have been created by Lord Shiva when he thrust his Trishul (holy Trident) into a mountain to extract water so that he could cool his stinging throat after he had swallowed poison that was generated after Samudramanthan and saved the world from possible destruction.
You can start the trek to Gosaikunda from the place of your choice - Dhunche or Syabru Beshi or Thulo Syabru or Sundarijal. The latter option takes more days to reach the lake, I had trekked to Gosainkunda from Sundarijal in mid 2007 . Most people prefer Dhunche or Syabru option from where one can reach Gosainkunda in second day of the trip. With private vehicle you can reach Dhunche via Galchhi (Dhading) or Tokha (Kathmandu) as the road via Kakani is closed for maintenance purpose. If you choose Dhunche option, you have to follow multiple highways : ~46 KM of Prithvi Highway (Kathmandu to Galchhi), ~26 KM of Galchhi - Trishuli Road (Galchhi to Nuwakot) and ~54 KM of Trishuli Highway (Nuwakot to Dhunche). If you opted to travel via Tokha road, you have to drive through ~70 KM of rough road inside Shivapuri National Park for some distance then passing Chhahare until Battar, where you reach Trishuli Highway to Dhunche. Syabru Beshi is ~18 KM far from Dhunche (Pasang-Lahmu Highway). From Syabru Beshi you need to trek through Thulo Syabru - Mul Kharka - Cholang Pati - Lauribina - Buddha Mandir to reach Gosainkunda or directly to Foprang Danda - Buddha Mandir then Gosainkunda. You can also skip the trekking trail from Syabru Beshi to Thulo Syabru by directly following the road to Thulo Syabru, which goes via Thulo Bharkhu and Brabal leaving the Trishuli Highway and follow the above mentioned trek route. The road to Thulo Syabru is still under construction, so not yet opened for public vehicles but you can drive private vehicle. Road condition is good.
63 Hours : Kathmandu - Gosainkunda - Kathmandu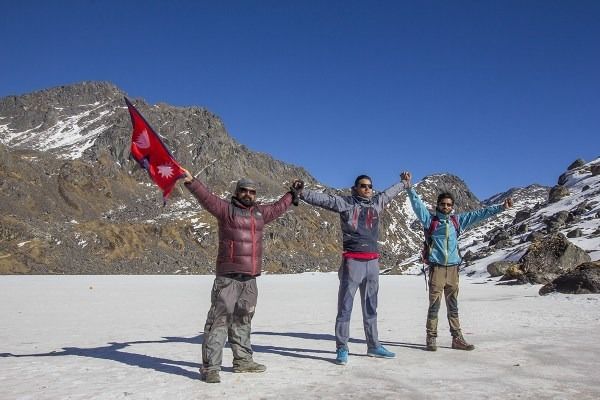 Somebody said somewhere "Don't think too much, just do what makes you happy" and we did the same - Peace, Freedom and Happiness were what motivated us for this trek. Here, 'we' is referring to three guys whose desire was to get rid of the 'Dustmandu' and spend few days in the lap of Himalayas - Sunil, Prachesh Dai ;) and myself. Before a day, bike was serviced, bag was ready, camera was charged and most importantly mind was already starting to feel the thrill. All required things were set and we were ready to move early next morning.
Day 1: Merciless Ride and Walk
23rd February
We got wake up call from Prachesh at 6:00. That didn't matter most as we were already up. He said to get to our place (Lokanthali) from Pepsicola within 30 minutes. After being fresh, we dressed up and checked for any forgotten stuffs and I went to receive Prachesh in Lokanthali Chwok as he was waiting there. We got back to room at around 6:45. We left Lokanthali at 7:00, I was pillion rider to Sunil's bike and Prachesh was riding alone. The plan for that day was to have bike ride till Dhunche following 'Tokha - Chhahare - Battar' road then start the trek and reach Singh-Gumba (Chandanbari - a place popular for Cheese factory has a very famous monastery) till the evening.
As we crossed Koteshwor, Sunil realized that the 'Bill Book' was on another Jacket and we had to return to get it. In no time, he turned the bike towards the room, reached there, took the missed small book and we were immediately back on track. Prachesh was waiting in Anamnagar. It didn't take much time for us to reach there as early morning traffic of the capital was low. We continued the ride till Goma Ganesh Petrol Pump passing Gairidhara, fueled our bikes as well as had light breakfast in nearby cafe. From there we continued the ride through Maharajgunj, Dhapasi then followed the Tokha road passing Tokha bazaar. Rough and bumpy road inside the city was making the ride torturous. The condition of roads after leaving Tokha bazaar was even worse. Our ride passed through the dusty countryside road and if any bigger vehicle overtook, we won't get any option rather than wait on the roadside for the dust to settle. I can't even imagine what will happen if it rains.
After crossing that dusty road, we entered to the Shivapuri National Park through the Army Check Point (luckily we were not stopped for any park formalities), from there the road was paved one for some time. We got out from the city chaos, the air cleared up and beautiful nature was ruling the area. We followed nice uphill road till some unknown point inside the National Park from where we had the awesome view of 'Ganesh Himal Range'. We started descending on the bumpy and winding way up to Chhahare, Nuwakot. We stopped there and had black-eyed peas with black-tea. We still had to travel for at least an hour to meet the Trishuli Highway in Battar that leads to Dhunche through Bidur, district headquarter of Nuwakot.
Playing favorite songs with full sound on JBL Clip hanging on the bag, the bike's acceleration was stopped only after reaching Battar. We felt some relief as the highway for some time to come was nice one. We followed the upward highway from Bidur and went pass the places such as Betrawati and Kalikasthan. There was a security check point after crossing Kalikasthan and the process didn't take much for motorbike. Police officers said that the road condition from there till Dhunche is the craziest one and need to drive very carefully. It was more crazy then told, we realized. Varieties of road condition in various sections, you need to keep all your concentration on the road. After crossing some portion of adventurous road we stopped in Ramche for some rest as extreme section was yet to come; beside the crazy road the view of rivers, forest, terraced fields and mountains (some parts of Ganesh and Langtang Lirung mountain range) were awesome. The narrow and winding single-lane road in the landslide area with few passing zone is real challenge for big vehicles. While looking up from the road it feels like the hanging rocks can get down at any time. Even small rainfall or snowfall was enough to obstruct the road section, stranding the passengers. We were happy that both were not in weather prediction for few days. We crossed that road clinging to the edge of a steep mountain very carefully. During the crossing we passed through local places such as Grang, Thade etc. and reached the Army check point from where Dhunche was just a KM far. Completing the security check we continued the bike ride in much easier track, shortly we reached Dhunche - the headquarter of Rasuwa and now developing as a gateway to China. We were tired as hell after fun mixed adventure, body parts were aching but that didn't change that day's plan. It was 13:00 O'clock and we were still to have lunch.
We went on the nearby Hotel and had some rest before being fresh. We washed the dust with ice cool water and had awesome lunch. As our bike ride was till Dhunche, we parked the bikes in the backyard of the hotel and be ready for the first day of the trek. We were to begin the trek from the altitude about 1950m and will be reaching ~3300m by the evening. It was pretty challenging but we need to do it at any cost. We booked a room for three of us in 'Hotel Yak & Nak, Singh Gumba' and started walking through the city until the roadside sign showing the direction to Gosainkunda, then we followed the easy and motor-able trail for about 20 minutes passing a mineral water factory. After a while we left the wider road and followed the narrower downhill path until a suspension bridge over Trishuli Khola, which originated from the same place where we were heading. Few minutes after crossing the bridge we reached Ghattekhola - it was so easy trail till. And from that point onward it was steep jungle trail and the board suggested it will take 2 hours to reach Deurali. The trail continuously went up through the dense forest of Langtang National Park. Sound of flowing river, chirping birds and barking deers were beautifully adding music to the silent jungle song and beside that, the JBL Clip was acting wonderfully. We enjoyed trekking through lush green forest but we didn't get chance to see any of the wildlife except few birds. Red Pandas also inhabit this forest but I never had any hope to see those though. In an hour or so we reached a tea-house, which was not open. As we were still feeling like jumping on a bike, we preferred to rest on the outside chairs for a while. After short rest we continued the upward trail till Deurali. It took little more than an hour and sun was painting the western horizon as the clock ticked 17:30. We had WaiWai noodles and warm water separately so that stomach will mix it to its own taste... HaHa ;). We spent 30-45 minutes in Deurali and was almost dark when we left. The trail from Deurali to Dhimsa was more steep than the trail we just came through. It was pitch dark inside the mid jungle, which was no more silent - various sounds from barking deers to night insects and flow of Trishuli Khola far below were hitting our ears. Along with all those, music never left us. Thankfully no one among us remembered the Ghost of MaHa Tele Serial when the song 'Ghans Katne Khurkera ...' was being played; I later remembered it only after watching the video. We only had single head lamp so walking in the pitch dark became more challenging. Conquering the fear and walking continuously in tough trail we reach Dimsa in 19:35 and had few minutes of rest. As per the commitment with ourselves, we began final and comparatively easier trail in the thick forest to Chandanbari. Locals in the nearby hotel said its about 30 minutes far and that was some sense of relief. It was dark all around but view of sky was more than brilliant. Twinkling stars far above made us realize how spectacular and magnificent the universe is.
After relaxing walk, clock was ticking 20:20 when we reached 'The Yak & Nak Hotel, Chandanbari'. We unloaded our bags in the dining hall before taking them to room. After being fresh we had black coffee and waited for the dinner (Dal, Bhat, Tarkari, Achar) to get ready. Immediately after nice dinner we were in the bed imagining more awesome tomorrow.
Starting from the headquarter, the first day involved long, steady and merciless climb as we were halfway to Gosainkunda.
Day 2: Wilderness of Langtang
24th February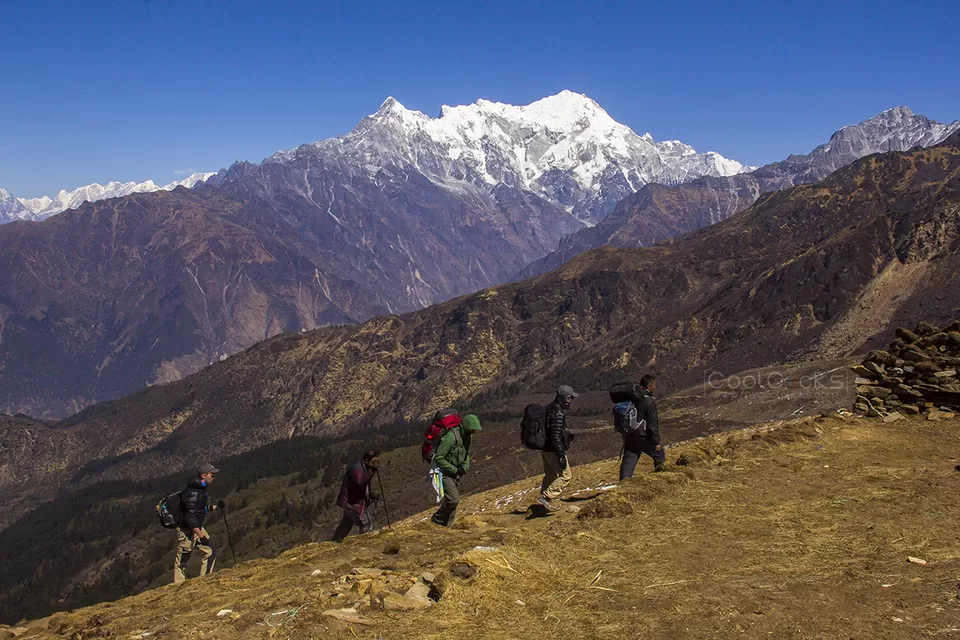 We woke up at around 6:00 and became fresh. As the water in the bucket was freezing cold we asked for some warm water to wash our faces. Sunrise rays were hitting the hills around but mountains were not visible from the hotel area. We had black coffee in a big cup but local breads were not ready so rather than waiting for it we decided to move towards Cholangpati thinking of having breakfast there. It was 7:00 O'clock.
The jungle trail was relatively flat except for few places. It was easy start of the trek inside dense forest. Majestic mountains were playing hide and seek with the trees. We kept on climbing and traversing through the forest. Meanwhile we heard the sound of Helicopter flying en route towards Gosainkunda as some travel companies were advertising Heli-Tour to the sacred lake few days back and we guessed of getting the chopper sound for whole day.
The upward trail inside the forest was covered with snow, which was not fresh so making the way little slippery. As we gradually climbed for 25-30 minutes and reached the flat way, Langtang Lirung welcomed us. It looked like posing for the photograph so I fulfilled its wishes - from closeup to scenic landscape. Immediately after, we reached Cholangpati, clock ticked 9:00. We stayed in the first hotel, ordered noodles soup, some boiled potatoes and tea, It was the fixed menu by the way. As the order took more time than expected we spent it by playing with camera and surrounding beauty. After 30-35 minutes we had the ordered stuffs, potato was not in good condition but getting things to eat in the high hill was important than its taste. As it was already 10:15, we started going up the hill to Lauribina. The trail was steep and few portions were covered with slippery snow. It was getting windy too. As we were gaining the altitude, mountains became more and more beautiful - from Manaslu in far to near and dear Ganesh Himal and Langtang range - I thought this trail gonna take much time to cross ;) not because that was steep but because I need to capture whatever I see as making the camera happy was also the part of the trek. If you want to capture Himalayan range, don't say later as you don't know when the floating clouds will come to cover them.
The landscape with mountains soaring into the blue sky was simply spectacular. Following the trail with such beauty in the backdrop and mesmerizing ourselves we reached Lauribina at 11:45. The climb was nice and the surroundings became more picturesque from an altitude of ~3900 m. Laurebina provides sunset and sunrise views of the Langtang and Ganesh Himal, don't miss if time favors you. After very short rest we continued to walk steep hill towards Buddha Mandir. Mountains and even the hills around were looking amazing. There were not much snow on the trail but road sides and hills were white. We kept on climbing for little more than an hour and hit Buddha Mandir at an altitude of ~4200m. The statue of Buddha was intact but the surrounding structures were almost down to zero due to '2015 earthquake'.
This is the best station to admire the charming view of Langtang and Ganesh Himalayan ranges. From that height, lands and mountain ranges of Tibet, China were also visible to some extend. The speed of wind was increased as well as the number of Helicopter flights. We stopped there for a while, fueled ourselves with chocolates watching the panoramic Mountain view - thanks to the cloud, which was still nowhere in the scene.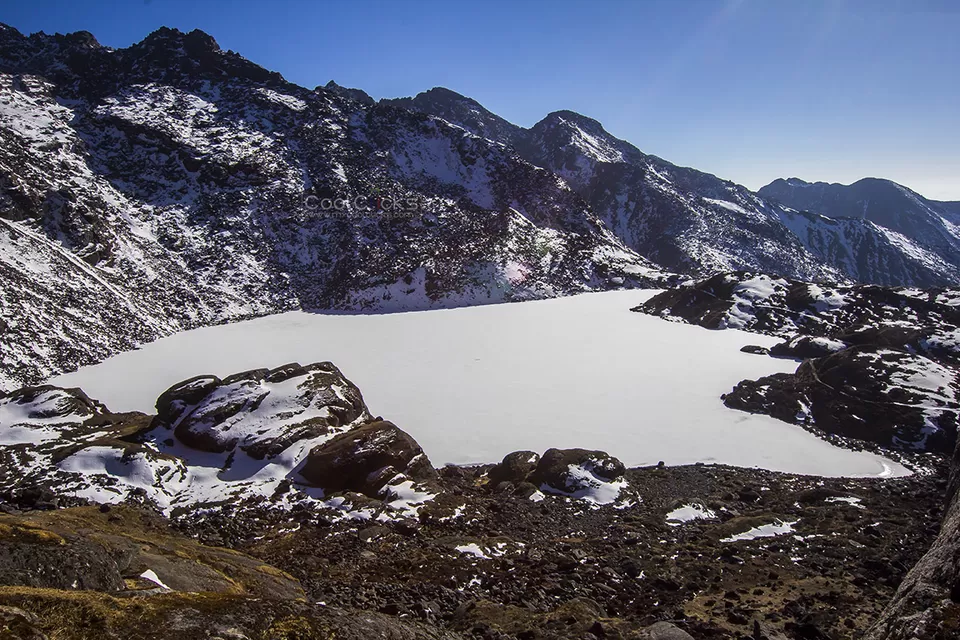 Okay! we were almost in the holy place in the beautiful day of Shivaratri. We went through the side of the ridge overlooking the Trishuli Khola and the trail became much narrower than it has been up to but was easy. The hill was full of BIG stones and sometimes need to pass through the natural gate of stones ;). After walking for around 15 minutes we saw a small and half frozen lake and map suggested it as Saraswari Kunda. We continued the trail for another 15 minutes and got the glimpse of big frozen lake - the Bhairabhkunda. The main point was yet come on the scene, we kept on ascending the gradual upward path and in 10 minutes or so we got the awesome view of the FROZEN Gosaikunda, clock ticked 14:30. It was a "I want to trek to every hills of the world and never look back" kind of day. We spent one and half hours traveling around, walked and jumped over the iced lake and kept our cameras busy (Sorry God Shiva for our steps over you). We were feeling lucky and happy to be in the sacred place of Shiva on Shivaratri - the celebration day when Shiva saved the world by drinking the poison emerged from the ocean, which was capable of destroying the entire world. Helicopters were still busy carrying the pilgrimages that continued till 16:00.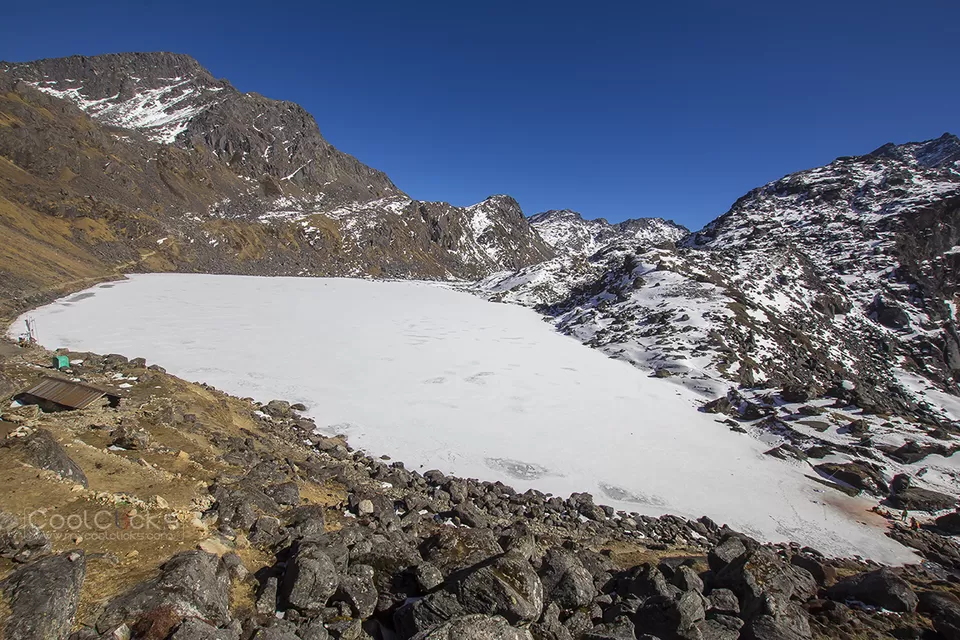 After capturing the beauty in our mind we started descending through the same trail at around 16:00. We followed the same route till Cholangpati. We kept on walking down to Buddha Mandir. It was extremely windy as well as cold. Thankfully there were no dust to blow, otherwise it would have been Kathmandu. After having short photo session with the wind and mountains ;), we continued our steps down to Lauribina. As we skipped lunch for that day, our plan was to fuel ourselves with whatever available there. Luckily, we had local bread (lets say it - Lauribina Bread), hot and sour potato curry and black coffee. In the meantime, sun was painting the western sky as well as northern mountains.
After the food break we moved towards Cholangpati, it was almost dark and we reached there at around 25-30 minutes.
Without any delay, we took the downhill and snowy track to Mulkharka in the pitch dark inside rhododendron forest. We had no idea how long will it take to reach there. With only one small headlamp, and no spare batteries we continued to walk in the slippery dark trail. Cell phones were also almost dead so no chance of lighting their flash too. We were barely seeing the trail. In places, the route was too slippery as hell. Mind started feeling some tension but we had no choice except going down anyhow. Similar kind of trail continued for long time. After nearly an hour or so we saw few dim lights around the hills but no idea where were that. We continued the trail following the horse's toe and compass app in mobile.
Following the path to Mul Kharka that combines two local words, 'Mul' meaning main and 'Kharka' meaning a pasture, we were searching for the similar landscape as the name suggests but not able to see anything like that. The route continued through forest of oak and rhododendron. After some time, a small pasture like area came to scene with a destroyed house like structure on the side but to our dismay no human settlements were found in the area. We kept on descending, some time via nice flat route, sometime snowy slippery downward and sometimes muddy track as well. Clock was ticking 21:00 and we were still in confusion on 'where the hell are we in?' In the meantime, we heard some barking dogs and had funny thought that the villagers may knew some crazy people are trekking in the jungle. Trekkers normally say 'Getting down is easy part' but the same thing was becoming hard for us. We were happy with the adventure and at the same time wishing for no wildlife movement around us :P. After 10-15 minutes we saw prayer flags and large open space that matches with the definition of 'Kharka'. We went near to it and saw an area with wooden bar and wooden door tied with some clothes. Wow! it was the hotel we were looking for - 'Laligurans Guest House, Mu-Kharka.' As the person from the hotel heard our voice he showed a flash light, asked about us and told to get inside opening the wooden door. We followed as he said - It was 21:30. The hotel was almost closed but we requested to prepare rice and curry. Thankfully they followed the village principle - Guests are God. We waited till the dinner to become ready, drinking hot water as it was freezing. After around 35-40 minutes we had dinner that was far better than our situation few hours back, then we went to bed hoping for some good sleep.
We will be going to Thulo Syabru from there tomorrow morning.
Day 3: Missed truck, Container and Dustmandu
25th February
Despite of wild and tired last day, I woke up at around 6:30. I was surprised to get the awesome view of Ganesh and Langtang Himalayan range from the window creating perfect first scene for the music video of the song 'Bihana Uthne Bittikai... Himal Dekhna Payiyos... '. I immediately grabbed my camera and went outside, it was freezing. After few shots I get back to the room, changed the dress and went outside again. Sun was about to get out from the hill as rays spread over the sky making the surrounding Himalayan range more awesome. After spending 10-15 minutes alone, I called friends too. As sun got out, the freezing village started getting some life.
We were yet to wash our faces, which was difficult to do with cold water. So we asked for a bowl of warm water and ordered 3 black coffees. After being fresh, we sipped the coffee, packed up the bags and ready to move in the easy trail to Thulo Syabru. The trails from Mulkharka to Thulo Sybru was towards down. We had gentle walk inside the forest where group of Langur Monkeys were playing in the big trees, in some places we crossed small pastures. With the fun, we once missed the main trail and kept on walking in the narrow trail inside the jungle that luckily later joined the missed route. There were thick dust in some portion of the trail. Despite there were no one on the route except us, I rushed to be in front of two friends and as I walked, the dust got spread around the trail, in the shoes and in the lower section of trousers ;). During the walk we crossed few places with human settlements such as Dursa, Garta village etc., where the trails were stone paved. As we got down, the snow capped mountains started fading and Thulo Syabru came to the scene. Rhododendron trees full of flowers welcomed us in different sections and it was ~10:30 when we reached Thulo Syabru. The descent was real fun.
We had delicious lunch in nearby hotel before following the wider trail to Dhunche. Thulo Syabru - Dhunche road was not yet opened for public vehicle as it was still under construction in few sections. During dinner, the hotel owner uncle told us that there is a blue truck that could take us till almost half way to Dhunche but as soon as we got out of the dining hall it moved and never stopped - that means we had no options left except walking almost 20 KM to reach Dhunche. Without worrying much we begin final trek in the wide, dusty and winding road, which went up for around 20-25 minutes then started descending. Rhododendron flowers were the major attraction of the trail as it was making whole forest beautiful. We took the shortcut whenever possible. We had tea in roadside tea-house after reaching Brabal. It was kind of boring as nothing exciting things around - we were down to ~2200m so no glimpse of mountains too. Few KM after crossing Brabal we completely left the motor road and took the short way to Sano Bharkhu. Continuously following the similar track, we stopped after reaching Thulo Bharkhu, where we met the highway that leads to Rashuwagadhi and China. After having 200ml mango juice we waited in the road side to jump in whatever vehicle that comes. After around 10 minutes two containers came and we climbed in the second one that came from Kerung with more than 13 tons of Apple. Dhunche was about 5 KM far. Even that short ride was adventurous enough due to narrow and winding road in the edge of hill, we reached Dhunche after about 15 minutes.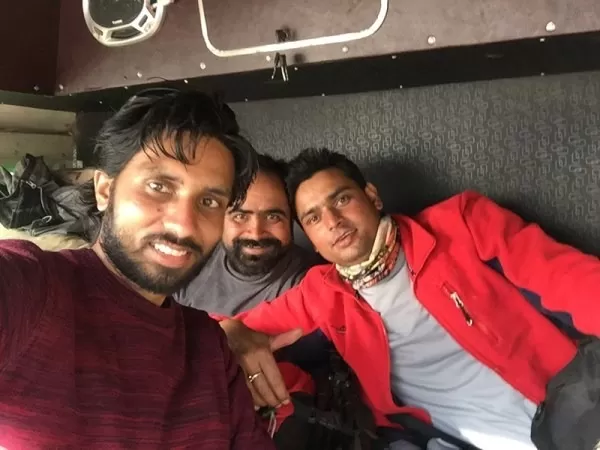 We directly went to the same hotel where we had lunch before starting the trek as our bikes were also parked there, rested for some moments, washed our faces, had some food and be ready to move to the capital. Clock was already ticking 16:00 and we at least needed 5 hours to reach Kathmandu.
We crossed the nearby Army Check Point after around 10 minutes and continued to the extreme road crossing Ramche, Grang, Thade etc. We reached Kalikasthan safely from where the road condition was comparatively good. It was almost dark. Our ride continued passing Laharepauwa, Betrabati, Bidur then Battar of Trishuli Highway, we had brief chocolate break. As our plan was to reach Kathmandu through Galchhi-Naubise - Thankot then Kathmandu so we turned right after reaching Pipaltar of Nuwakot as the roadside board suggested, which is few KM from Battar. The way till Galchhi was completely with the Trishuli river. We reached there at around 19:45 and without much delay we continued following Prithivi Highway with Kathmandu still ~45 KM far. Experiencing the damaged trails of Nepalese Highway we reached our place at around 9:30 PM. The highway ride was normal except for Thankot - Kalanki section, which was dustiest and torturous.
The trek to Gosainkunda area of the Langtang Region is perfect combination of exotic villages, striking landscape, majestic mountains, sacred lakes and wilderness. It is one of the shortest treks that starts right in the edge of the capital city - Kathmandu.
Thank You.
See You Again.
Frequent Searches Leading To This Page:-
Gosaikunda nepal trek, gosaikunda trek cost for nepali, gosaikunda trek detailed itinerary, kathmandu to gosaikunda by bike