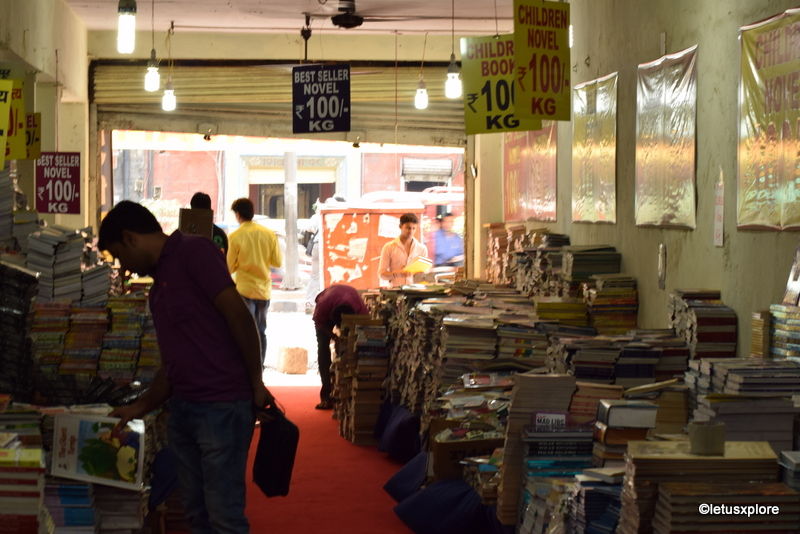 I was roaming around Darya Ganj area in search for some good portraits and I ended up discovering this amazing place on my way back to metro station. Big Book Bazar secured a precious space in my heart as they were selling books with a unique concept. They sell books by weight. Isn't that amazing? I know half of the readers will be in a great trauma that they've wasted so much money on those new books when they could've actually visited this reader's paradise and get their favorite book in cheaper unimaginable price.
How it Works?
Big Book Bazar deals in various types of books like Children Books, English Novels, Coffee Table Books, Travel Journals, Recipe Books, etc. Books were divided into certain categories like Children Books, English Novels, Best Selling Novels & Coffee Table Books, etc. And they were priced like Rs 50, Rs 100, Rs 200 respectively per kilogram. You can also buy Files & Folders there and they were priced as Rs 300 per kilogram.
What I bought?
I was searching for a Travel Journal at first but I was unable to find any Indian travel journal. So my friend suggested me a Novel from their Best Selling Novels counter and I picked The Da Vinci Code written by Dan Brown. The book had a weight of 300 grams and their Best Selling Novels had a price tag of Rs 200 per kilo so that book cost me Rs 60 only. Just imagine that! After buying that book, I did check the original price of that book on Amazon which was Rs 395 without any discount. And I was clearly going on Monkey mode for getting that pretty decent quality book in just Rs 60/-. I know that wasn't a brand new book but who cares if pages are clean & clear to read. I never mind any book with such situation. All that matters is the content of book.
Where to find Big Book Bazar?
Address: 3531, Netaji Subhash Marg, Darya Ganj, Delhi-110006
Nearest Metro Station: Delhi Gate Metro Station
Other Details
Nearby Monument: Delhi Gate (Hardly 5 minutes walking from Delhi Gate)
Timings: 10 am to 8 pm (Monday to Saturday)
Timings: 8 am to 8 pm (Sunday)
More interesting blogs on -
www.backpackerindian.com
Comments
comments