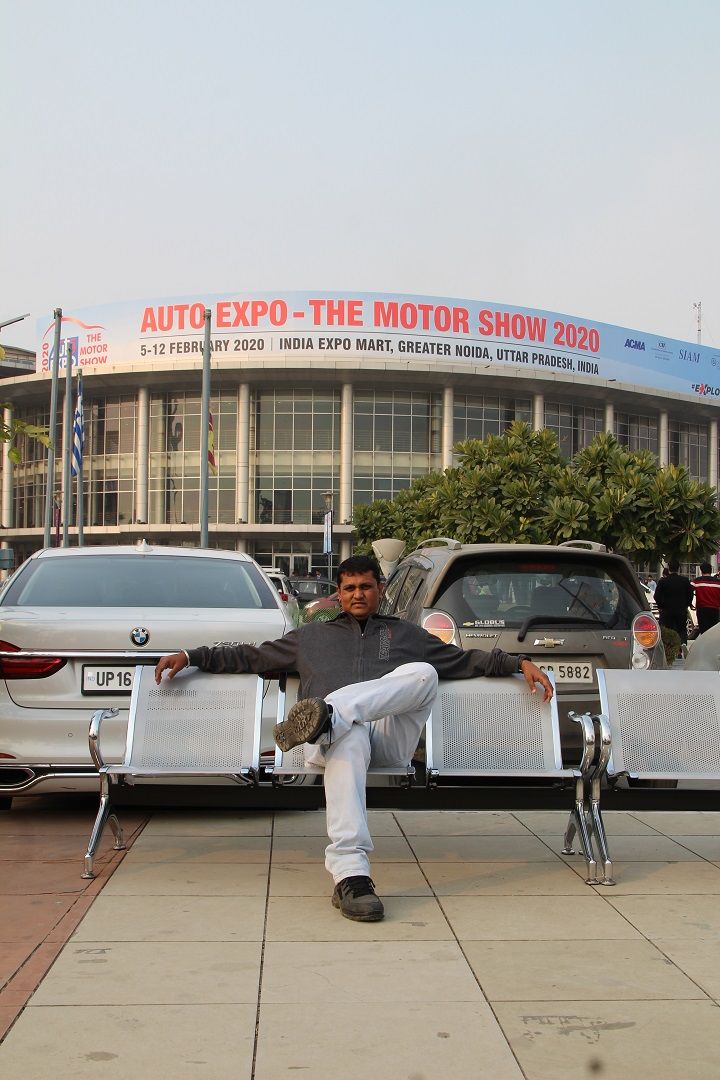 Delhi...
Delhi, One of the country's largest urban agglomerations & the national capital of India. Delhi is of great historical significance as an important commercial, transport, and cultural hub, as well as the political center of India. Delhi's cultural life exhibits a unique blend of the traditional and cosmopolitan styles.
I can go on and on about Delhi. We may be far from Delhi, but persistent news of different kinds of events & incidents in Delhi always keep Delhi virtually very close to our minds.
And hows my experience of Delhi?
Back in 1995, we had a family tour of North India and had a three days stop in Delhi. We covered almost all major tourist sites in Delhi.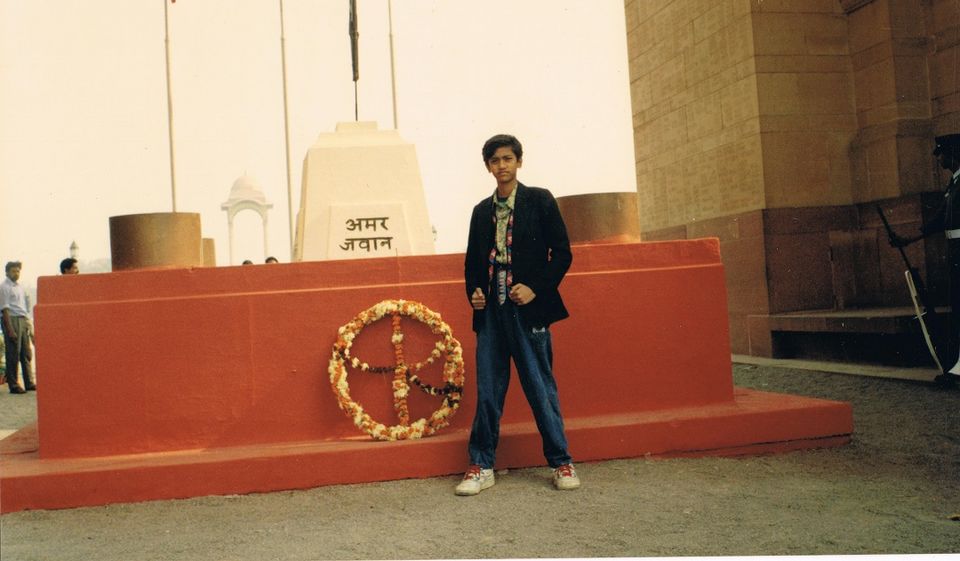 After that, I have never been to Delhi to see Delhi. Delhi was just a transit point for me to go to the Himalayas. Land in Delhi (Railway station or Airport ) and go to Pahadgunj to catch a Volvo. Or Land in Delhi and go to Railway station or Airport. During my driving days, I always used to take a diversion from Rohtak or Manser. which always Kept Delhi far from me.
As a traveler and a foodie, I was always curious about Delhi. But then that curiosity was never that powerful to inspire me to pack my bag and go to Delhi.
Back in Jan2020, my marketing guy informed me that there was a two or three-hour job In Delhi and he is going to send one of our SE to Delhi. I seized the opportunity and informed him that I would go to Delhi instead of SE. It was perfect timing. Auto Expo 2020 was planned from 06 to 12 Feb. My appointment was on 7th Feb and it was the weekend. It was possible for me to have my official job done, visit the auto expo and spend the weekend in Delhi. I asked my wife to join me but she had some other commitments. So, It was me. I asked my travel desk to do the necessary bookings.
My flight tickets were booked, I specifically asked my travel desk guy to book an early morning flight. So, I can spend the maximum time in Delhi. Auto Expo tickets were bought by BookMyShow for 7thDec.
After all the bookings were done, I informed my Delhi based cousin that I am coming to Delhi for two days. He asked me not to go to any hotel and stay with him. Moreover, he gave me some valuable advice like usage of the metro, tourist cards, and basic understanding of the metro's color-coding. He asked me to install DMRC (Delhi Metro Rail) android app on the phone and asked to study it before landing in Delhi. That was very helpful. I informed him that I"ll visit his home at the end of the trip.
On 7th Feb, Early Morning I reached the airport and parked my car at one of the relative's basement parking in Ahmedabad.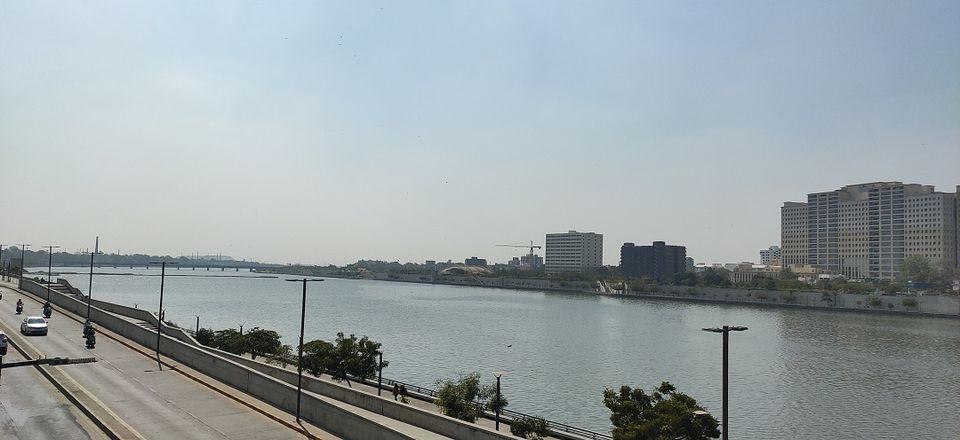 What to do in Delhi? ( Apart from my official job and Auto Expo)
Nothing was planned.
The basic idea was to rush to Auto Expo after finishing my official job. The food scene in Delhi always fascinated me. Parathas, DahiBhalla, Chaats, Chole Bhature, Chole Kulcha and what not. Interestingly, Chandni Chowk is the main area to see and experience almost all the above dishes. I wanted to experience one more famous dish called Daulat ki Chat.
I landed in Delhi at 0600 and the first thing I did was to buy a DMRC Tourist card. Card cost was 500/- for unlimited access to "Delhi" metro for a week.
My cousin's tips to use the DMRC app was very helpful.
You just need to feed the source & destination station. The app will give you all the details like the route, color code, interchange station, and metro map. I was using Delhi Metro first time and the app made it very easy. I didn't have to ask anything to anyone. Information in the app and on the signboards at the stations was enough for me to use the metro effectively to reach my destination.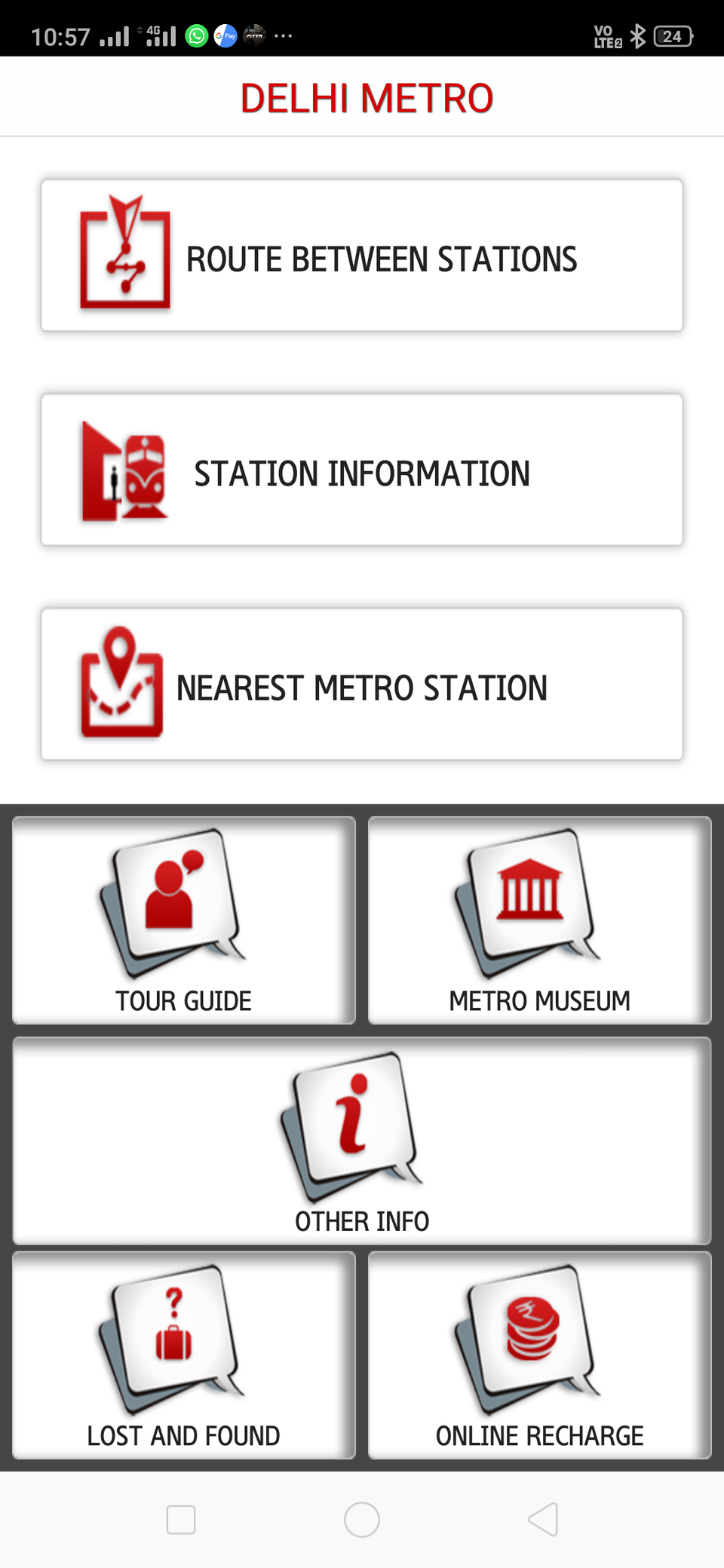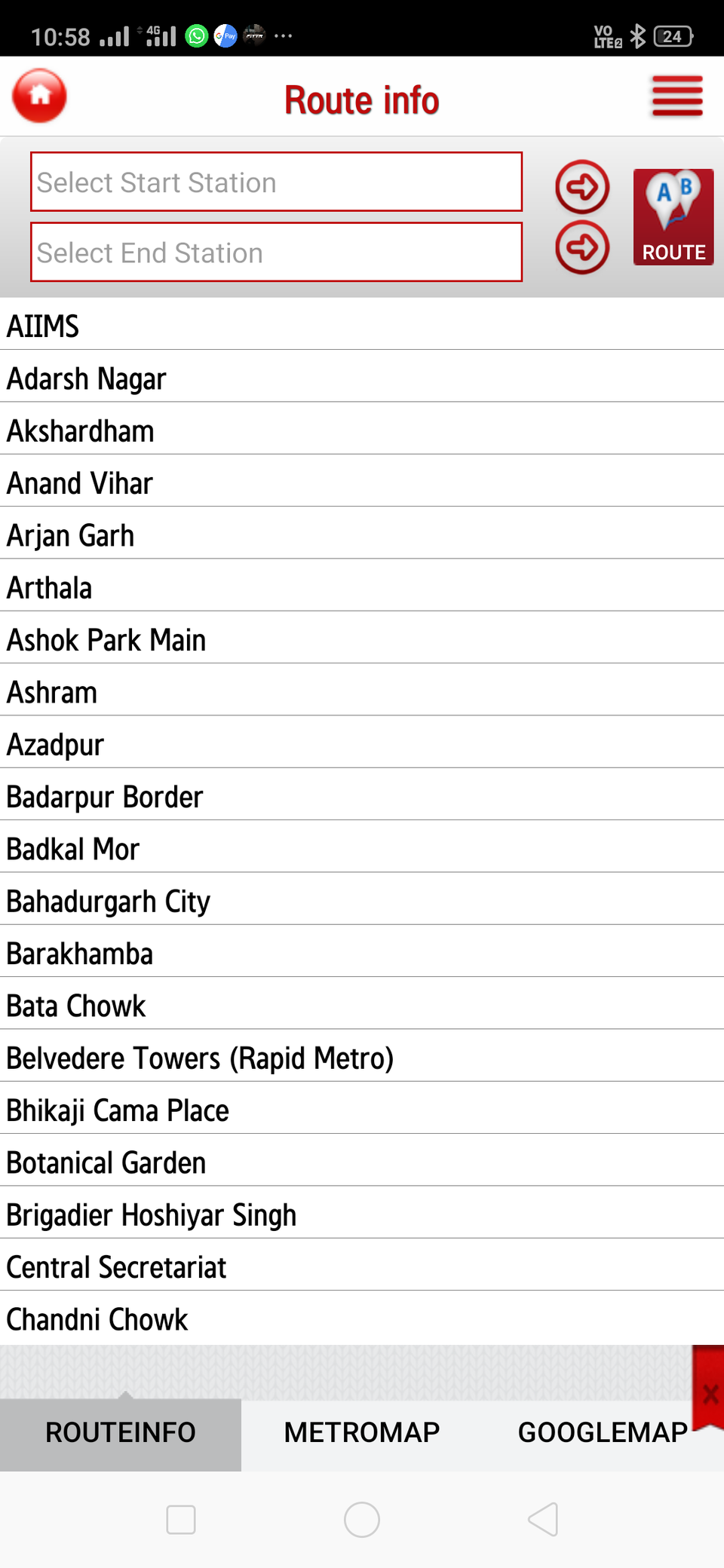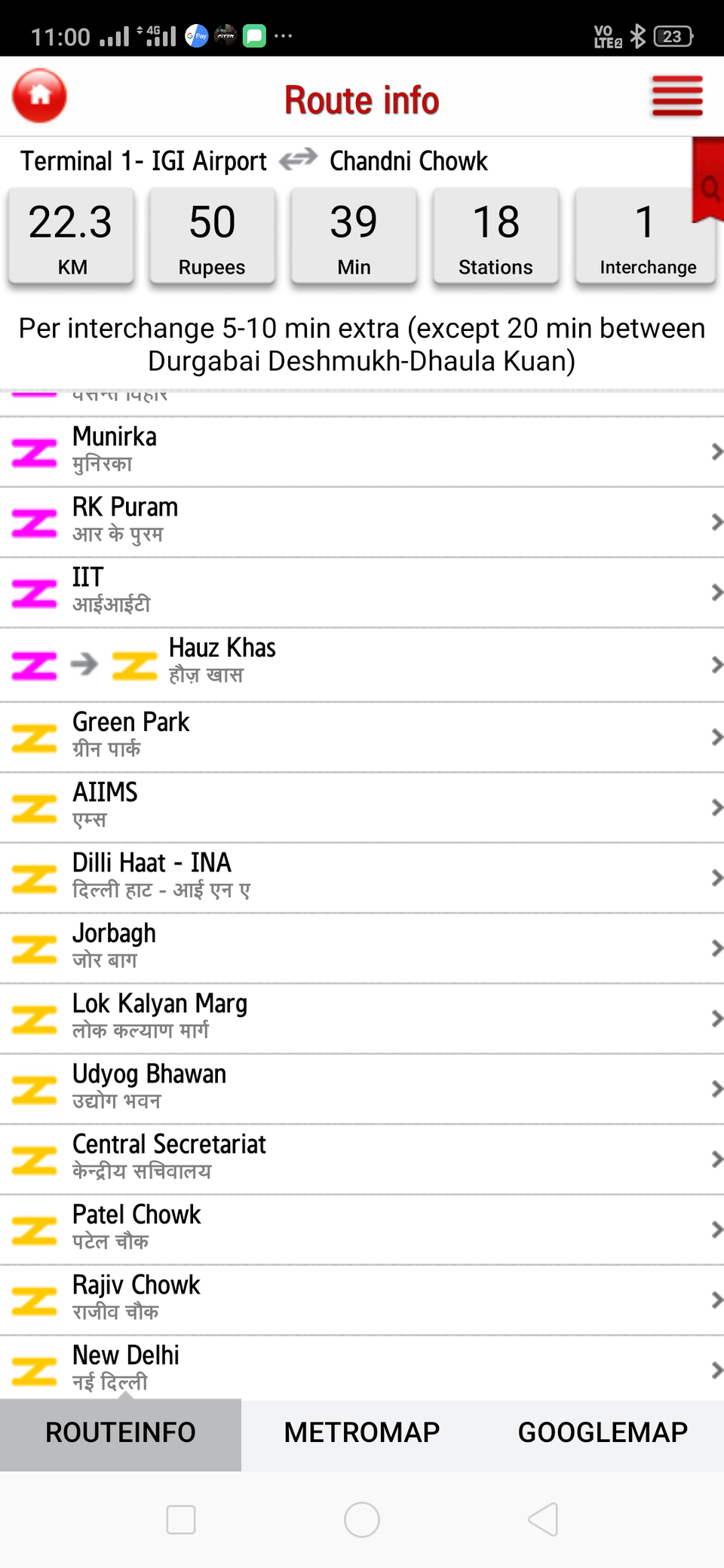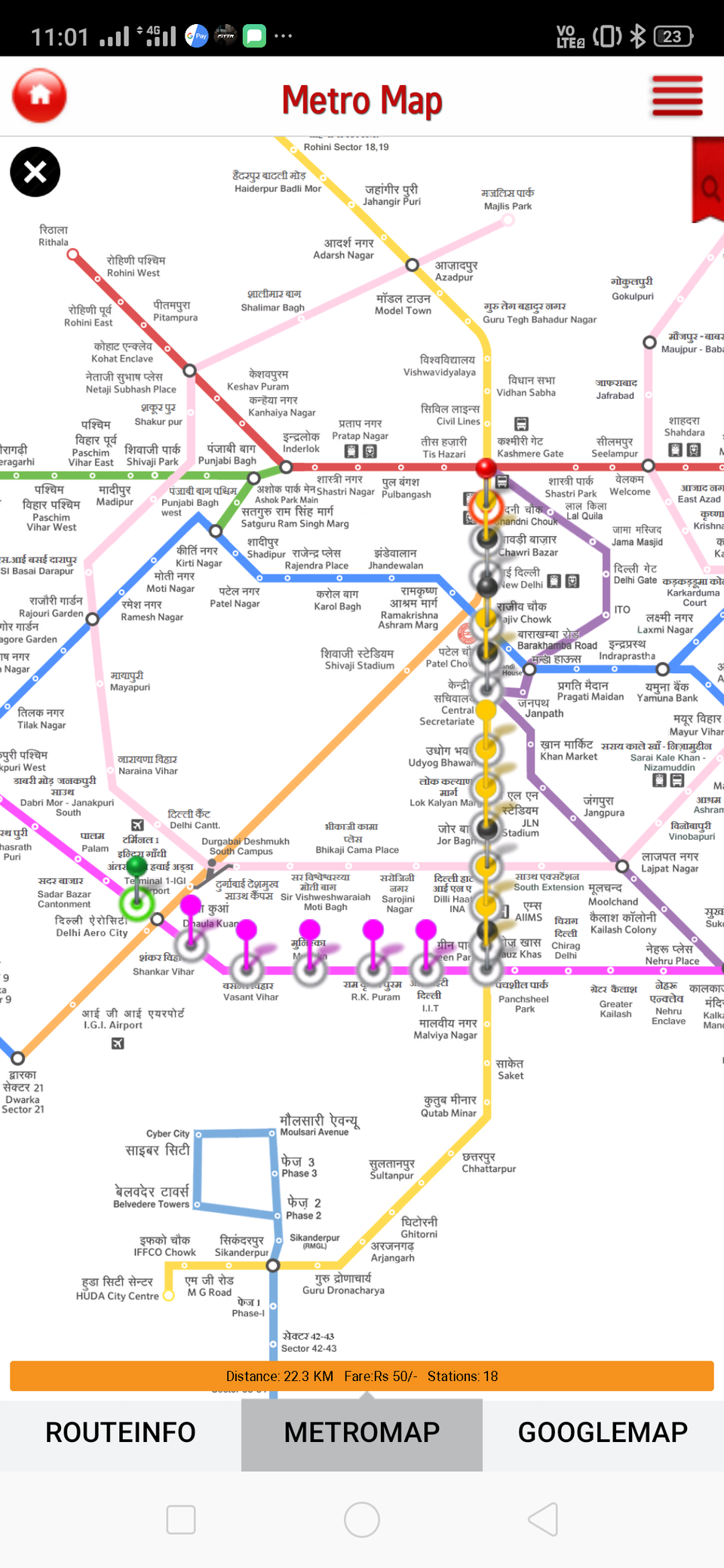 It took me some 55 minutes to reach Chandni Chowk. It was 0700. As per Chandani Chowk's standards, I was very early. Once upon a time, I used to be a solo traveler. I used the wisdom gain from my solo trips and tried to search nearby Gurudwara to get freshen up.
And there was one big and famous Gurudwara in the center of Chanani Chowk named Gurudwara Sis Ganj Sahib Ji. Later I came to know that it wasn't just a big but historically very important Gurudwara.
Situated in the Chandi Chowk area of Old Delhi, Gurudwara Sis Ganj Sahib is one of the nine historical gurudwaras in Delhi. Built-in 1783 by Baghel Singh (military general in the Punjab cantonment), the gurdwara is the martyrdom site of the ninth Sikh Guru- Guru Tegh Bahadur. The Sikh Guru was executed on the orders of the Mughal Emperor Aurangzeb on the 11th of November 1675 as he refused to convert his religion to Islam.
Sis Ganj Gurdwara is a revered place of worship by the Sikh community and is especially important because the Sikh Guru's beheading stands as an example of defense and religiosity quotient of the community as a whole.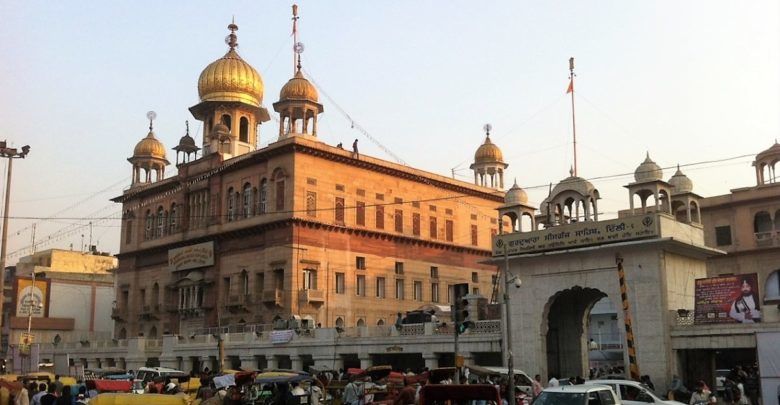 So, unknowingly I went to one of the historical Gurudwara, got freshen up and got out on the streets of Chandi Chowk.
We have a visiting card floating around in the WhatsApp groups and other social media travel forums. A visiting card with Name, number, and location of Khemchand Daulat ki Chat. I was in touch with this guy before starting my trip.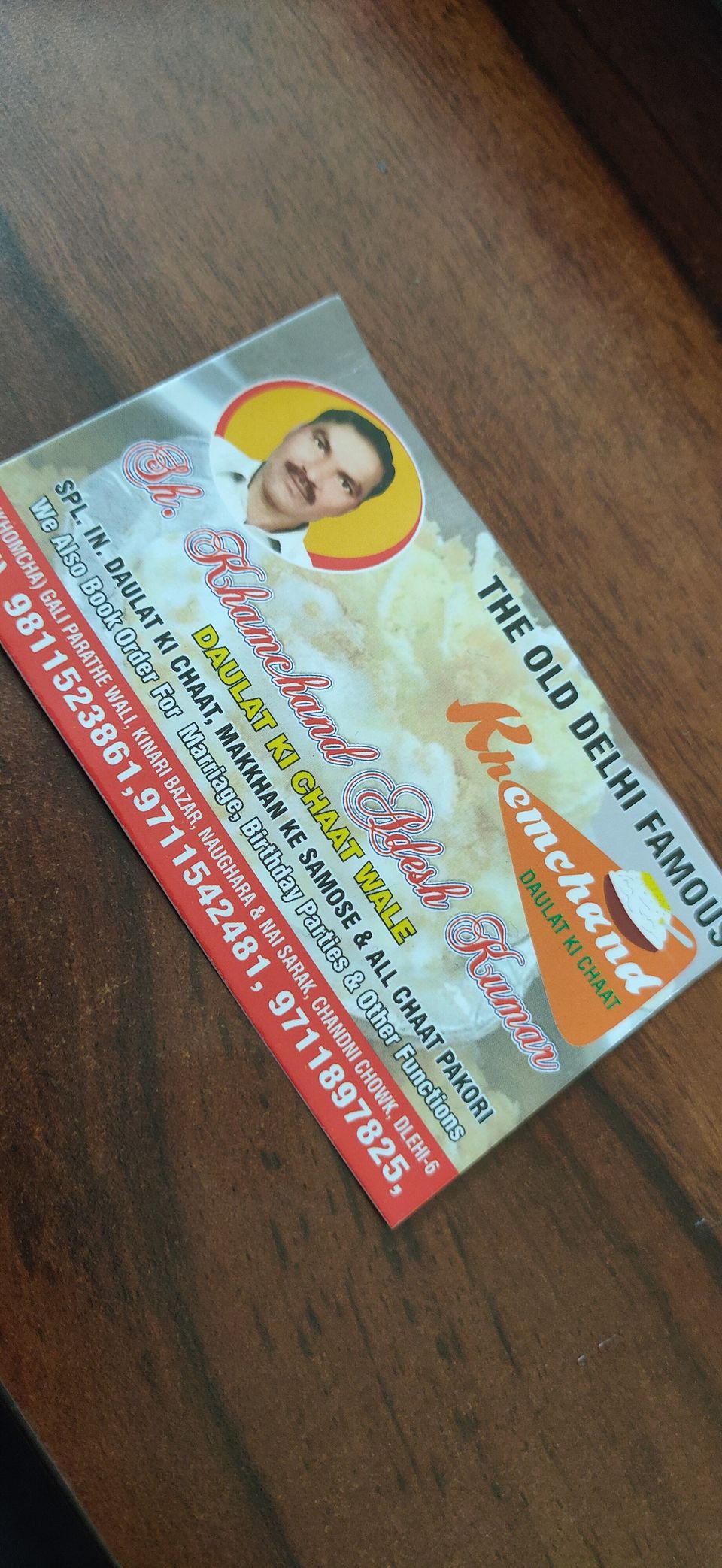 I kind of took an appointment from him. The place was one of the streets of Paratha Gali and time was 1030. It was 0815. It was early.
I googled things around me and came to know that the famous Lal Qila ( Red Fort) is just within walking distance from me.
I tried to walk under the guidance of Gmap but it was confusing. I hired one of the cycle rickshaws. After a 3-minute ride, he dropped me in front of Red fort and asked 100/-. That was my first taste of the other side of Delhi ( which is also very famous). I paid him and walked to the majestic Lal Qila.
I had my fair share of solo traveling during my teenage and youth. It used to be fun. But then came the era of group rides, drive, and treks. I almost forgot the art of solo traveling and I started found it boring. Yeah, it's all true about finding your self and enjoying your own company but then you always need someone to talk. With this kind of confused thoughts, I walked to Red fort. After all, After so many years, I was going to visit one of the well-known tourist places alone. The major part of myself asking my other part who will click your photo?
It was 0830. The front campus of the fort was empty. I clicked some photographs and approached the ticket window. It was closed.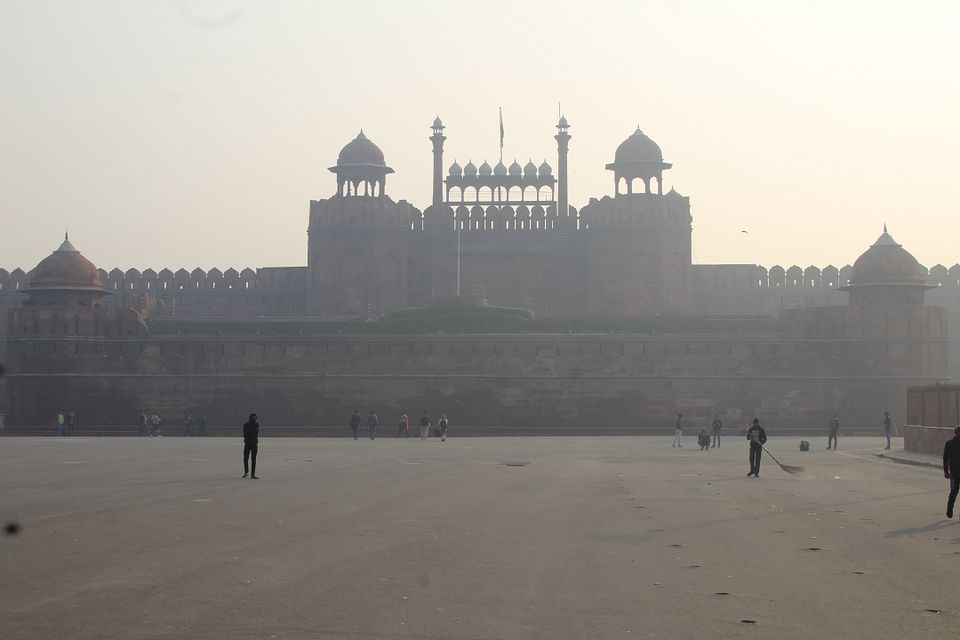 I decided to have a walk with the mighty wall of the fort. The climate was very(as per Gujarat standard) cold. I didn't bring any warmers. I wanted to keep my self warm by walking as much as possible.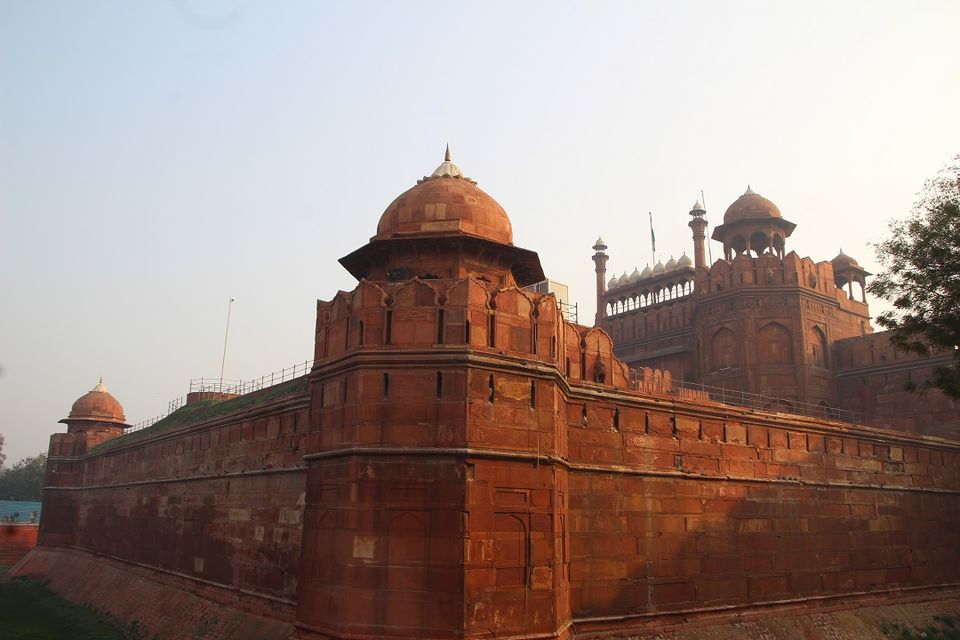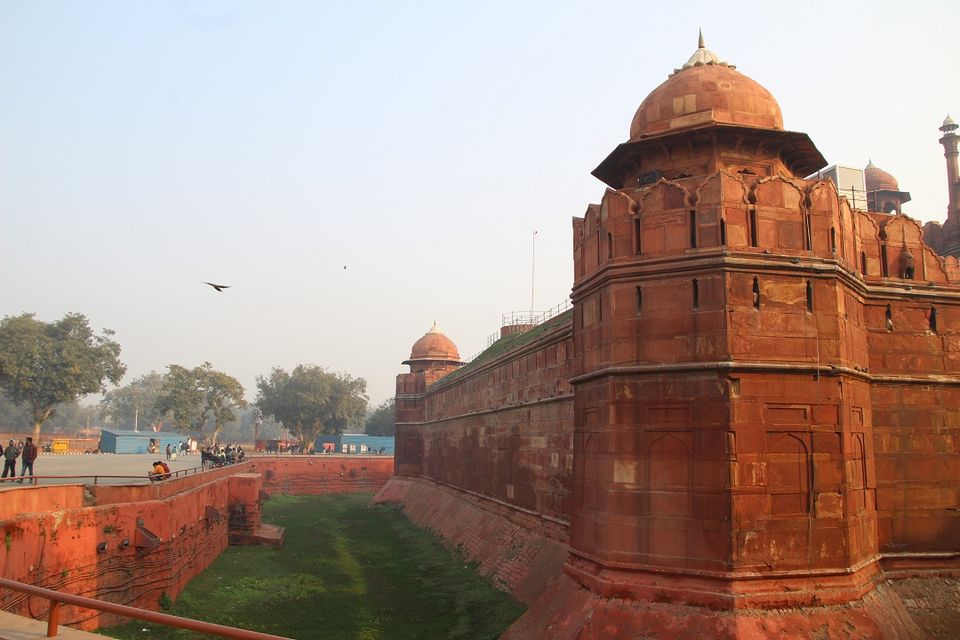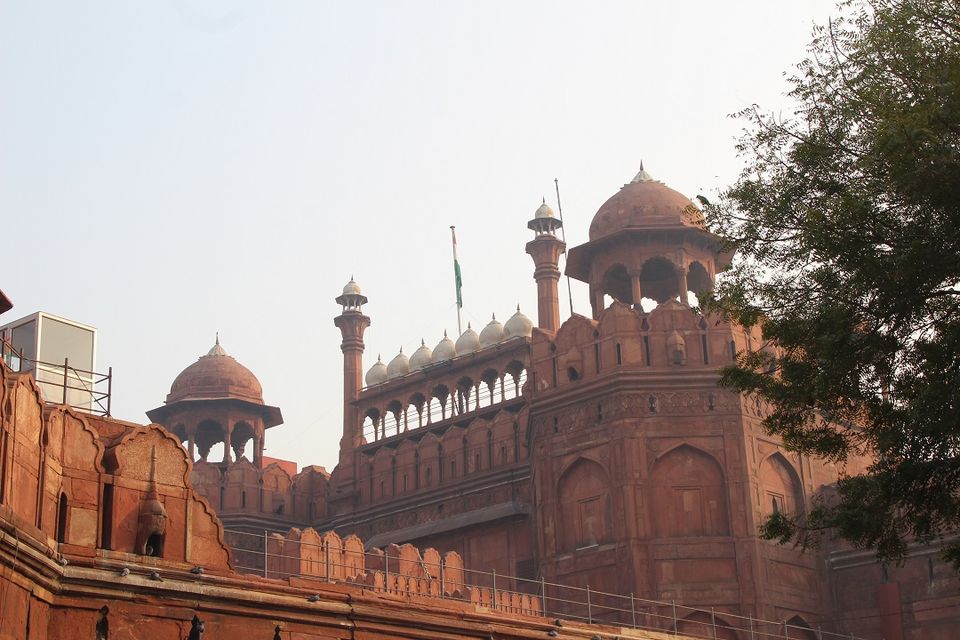 Formerly known as Quila-e-Mubarak or the Blessed Fort, the Red Fort lies along the banks of the river Yamuna. With so much history and heritage associated with it, the Red Fort is one of the most popular monuments in India and a major tourist attraction in Delhi.
One can get to know too many pieces of information like above by simply googling Red fort. But to understand and experience the real charm and aura of this amazing fort, one needs to visit it.
As far as forms of architecture are concerned, this fort is completely different from those amazing forts in Rajasthan. But then, it is a subject for architectural students and hardcore historians. I was there as a solo traveler. I did things that solo travelers do, clicking a lot of photographs and finding someone to click my photograph.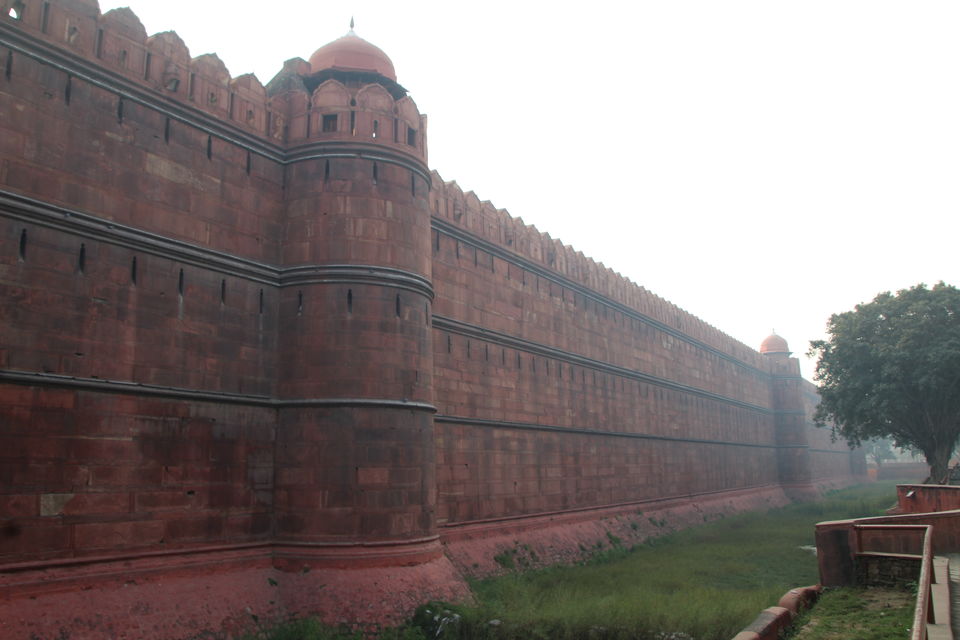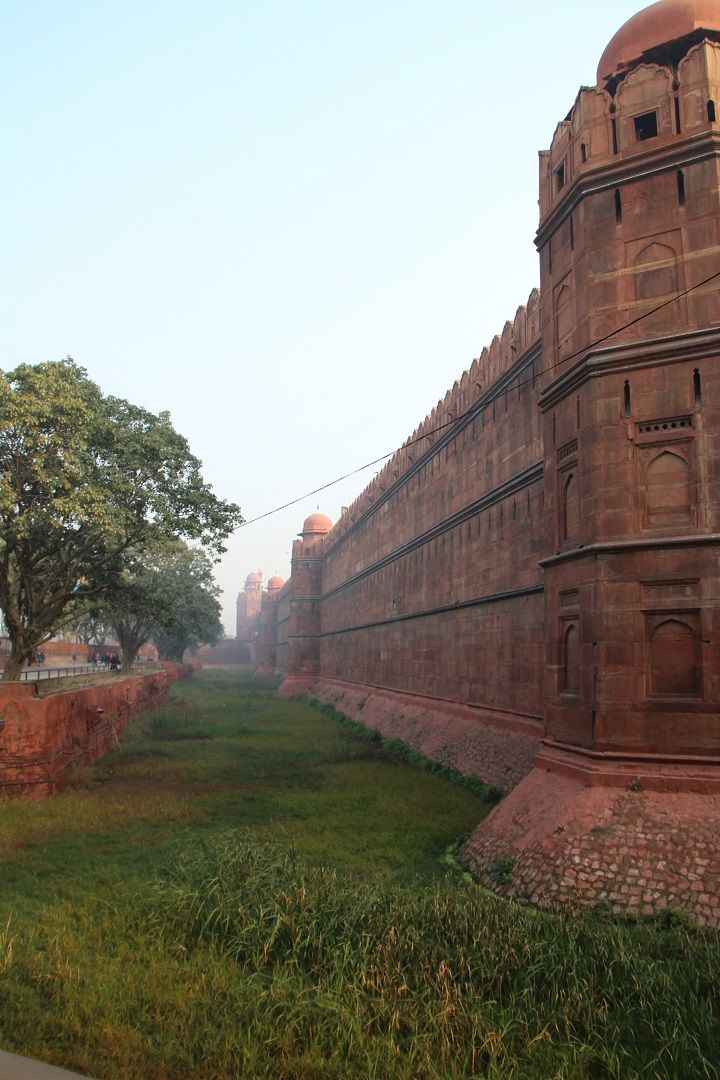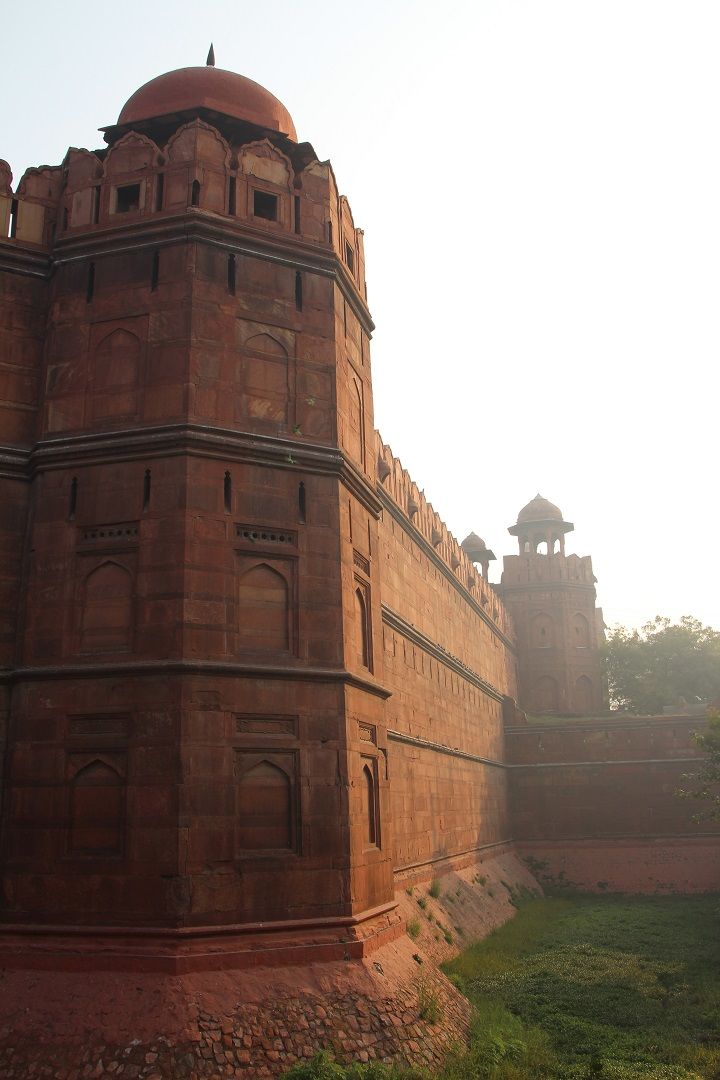 Finally, I found someone who can click my photographs. I got clicked and got inside the fort.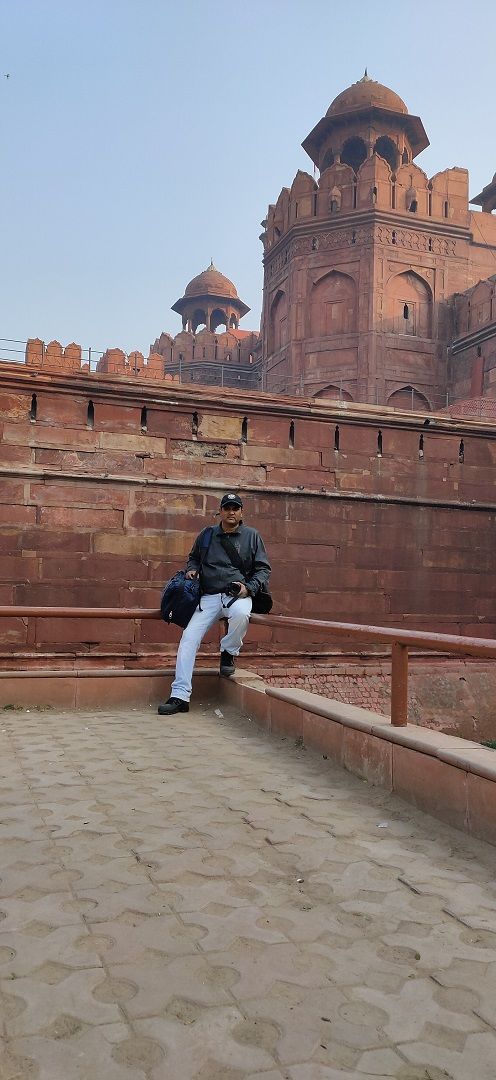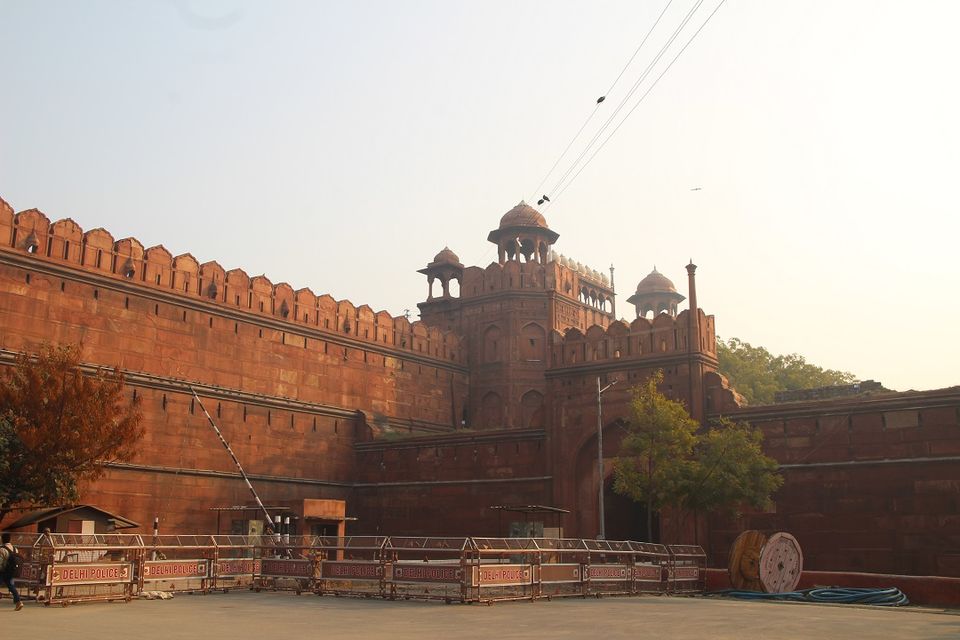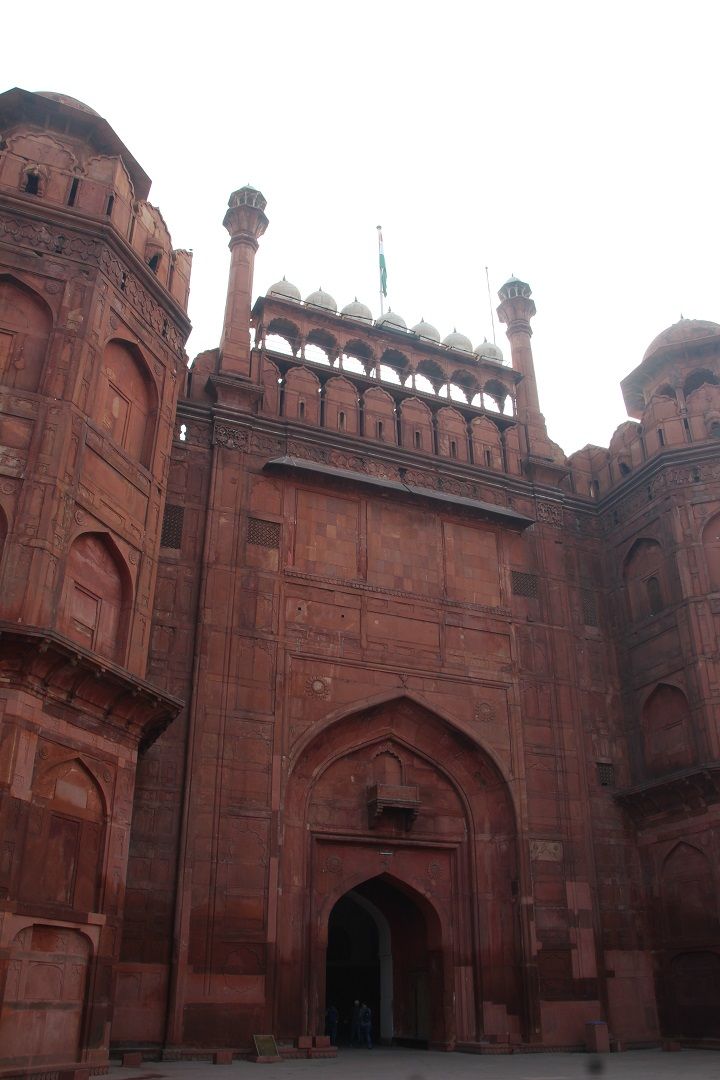 Red Fort was the main residence of the emperors of the Mughal dynasty. In addition to accommodating the emperors and their households, it was the ceremonial and political center of the Mughal state and the setting for events critically impacting the region. Today, this monument is home to several museums that have an assortment of precious artifacts on display.
Practically, I didn't have enough time to visit museums in the Fort Campus. My aim was to have a walk on the campus and see the basic things of Red Fort.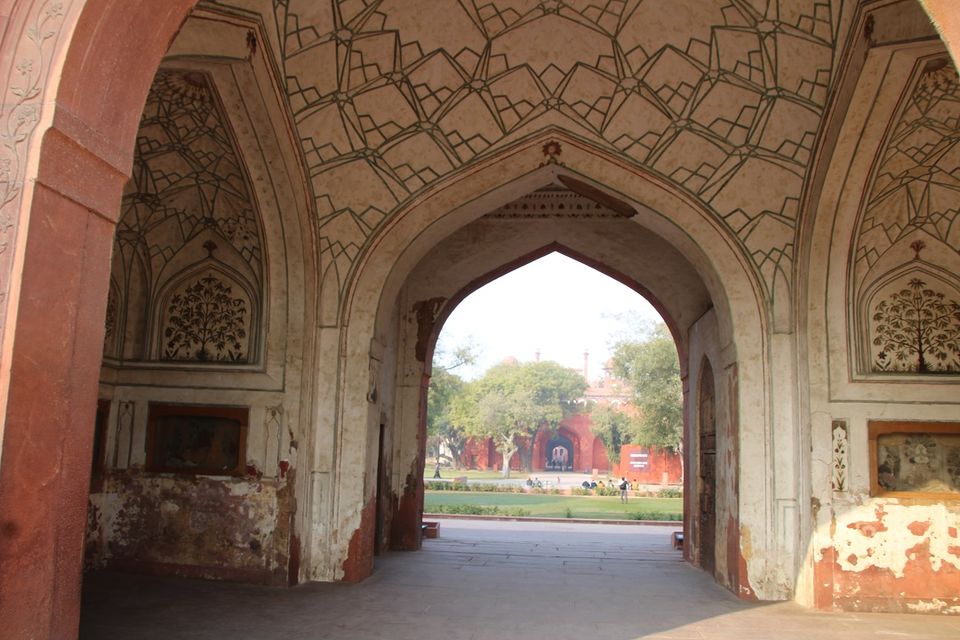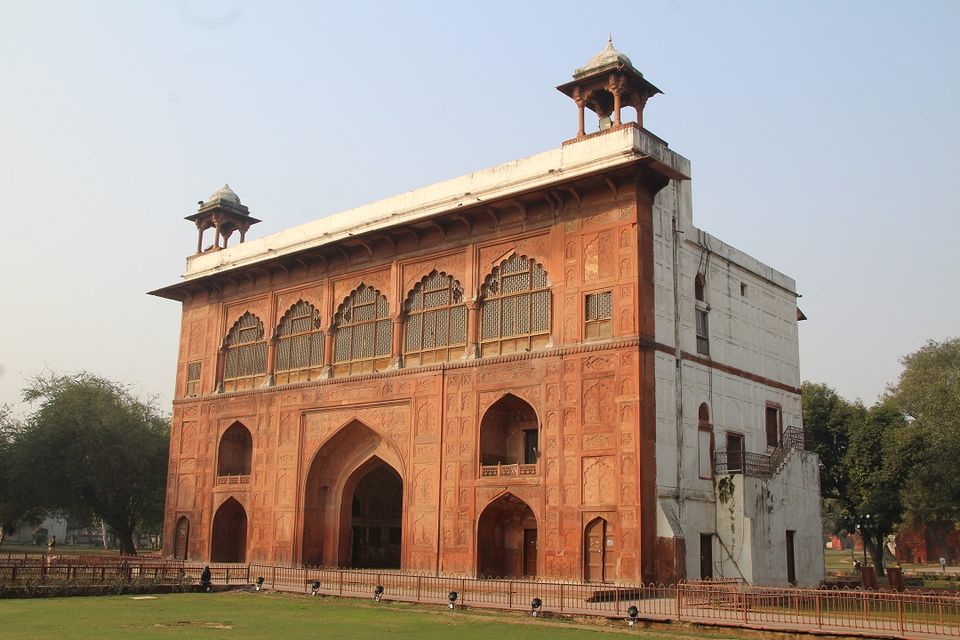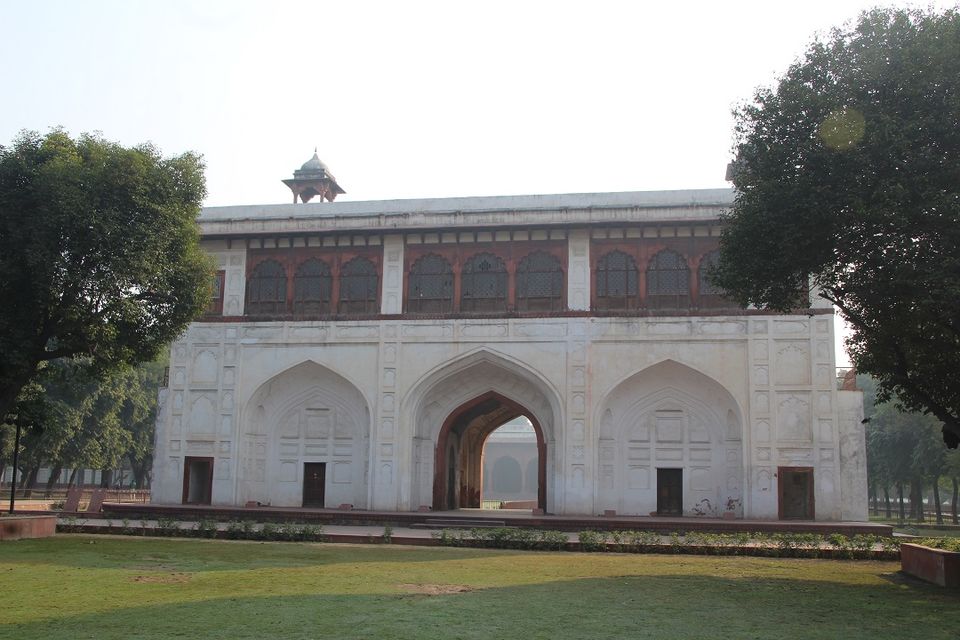 The Red Fort houses several structures inside its premises. The most well known among all these are the Diwan-i-Aam, the Diwan-i-Khaas, the Moti Masjid and the Nahr-i-Bashisht (the stream of paradise).
The 'Diwan-i-Am' also known as 'Hall of Public Audience' is a rectangular hall consisting of three aisles, with a façade of nine arches.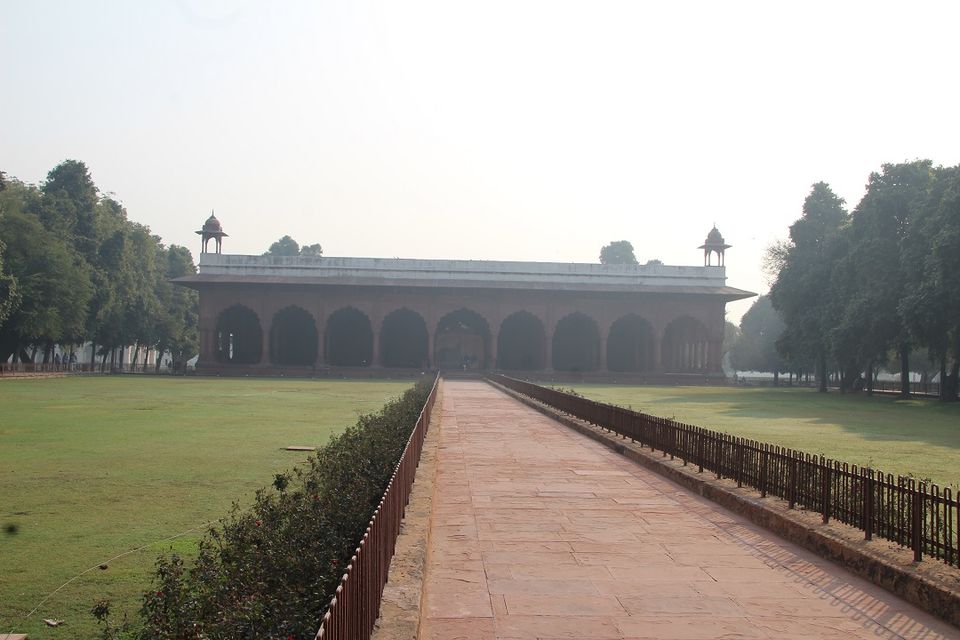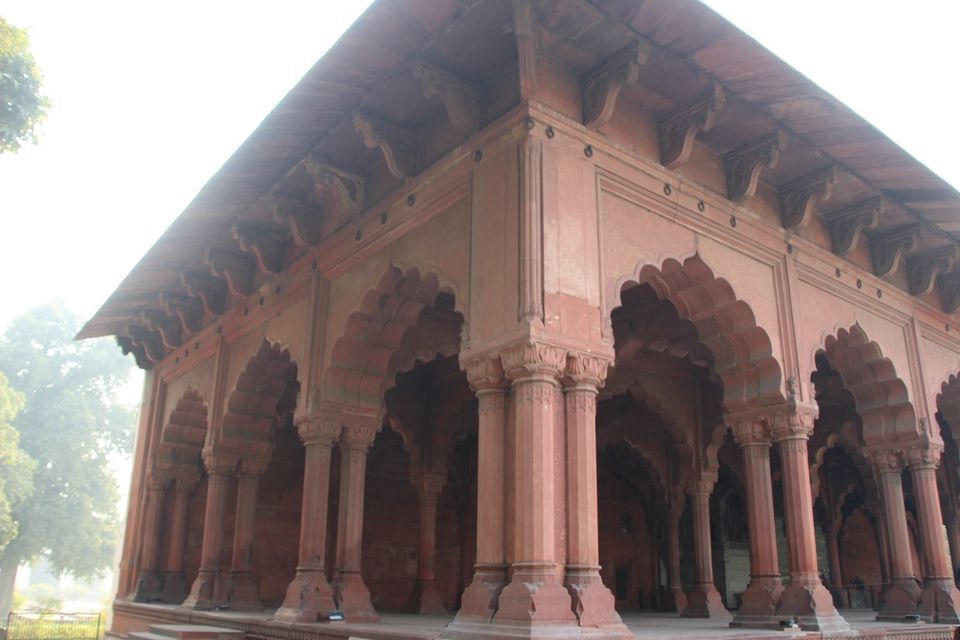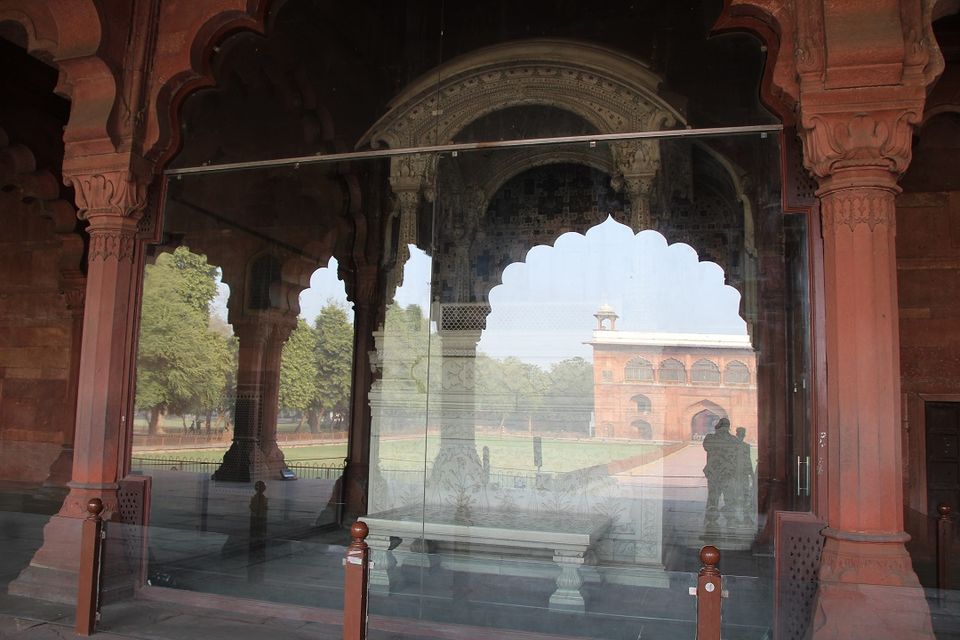 The Diwan-i-Khas ('Hall of Private Audience') is a beautifully decorated pillared hall, with a flat ceiling supported by engrailed arches.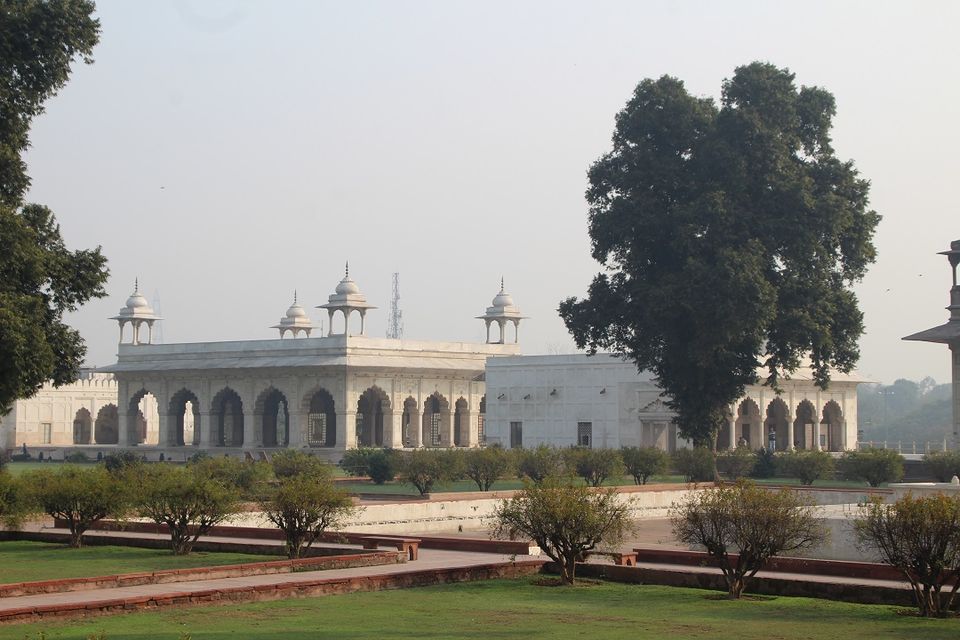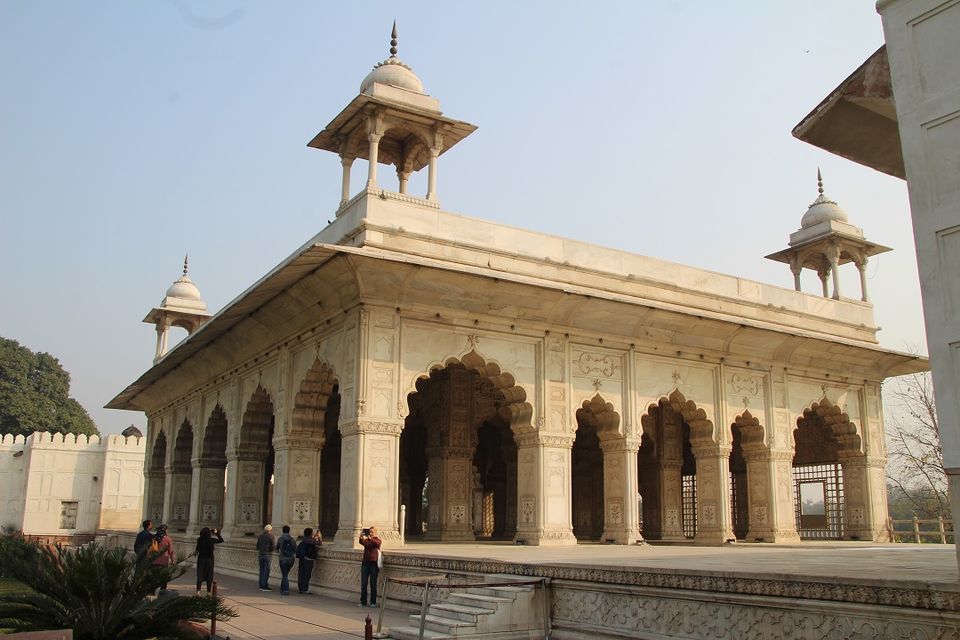 A water-channel, called the Nahr-i-Bihisht ('Stream of Paradise') runs through it, with an ivory fountain fitted with a central marble basin.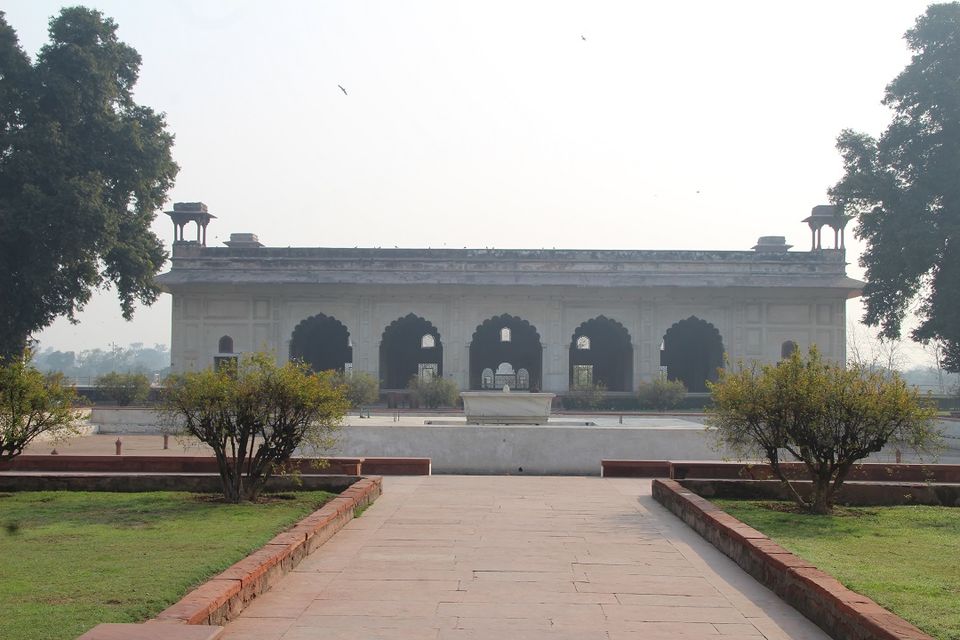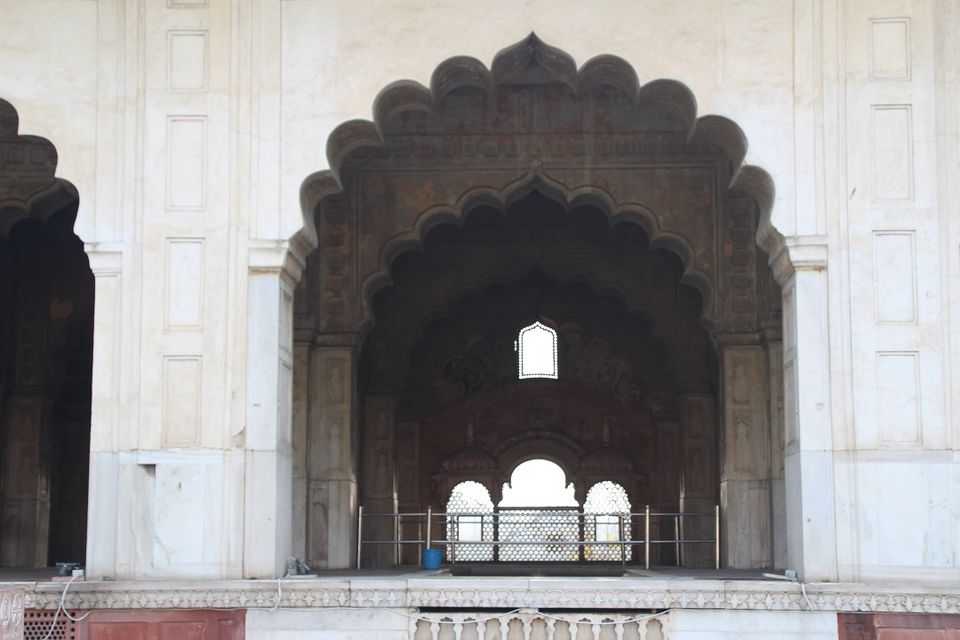 The Red Fort is majestic, imposing, and quite astounding. The market at the entrance is magical selling everything from antiques to Persian rugs. The monument requires long walking to truly enjoy it. However, if you have a lot of time in hand, I'd recommend spending at least half a day exploring all the places within the Red Fort.
That's exactly, I didn't have, time in hand. In had a 1030 appointment with Khemchand Bhai at Chandni Chowk. I clicked some more photographs and walked out of the fort.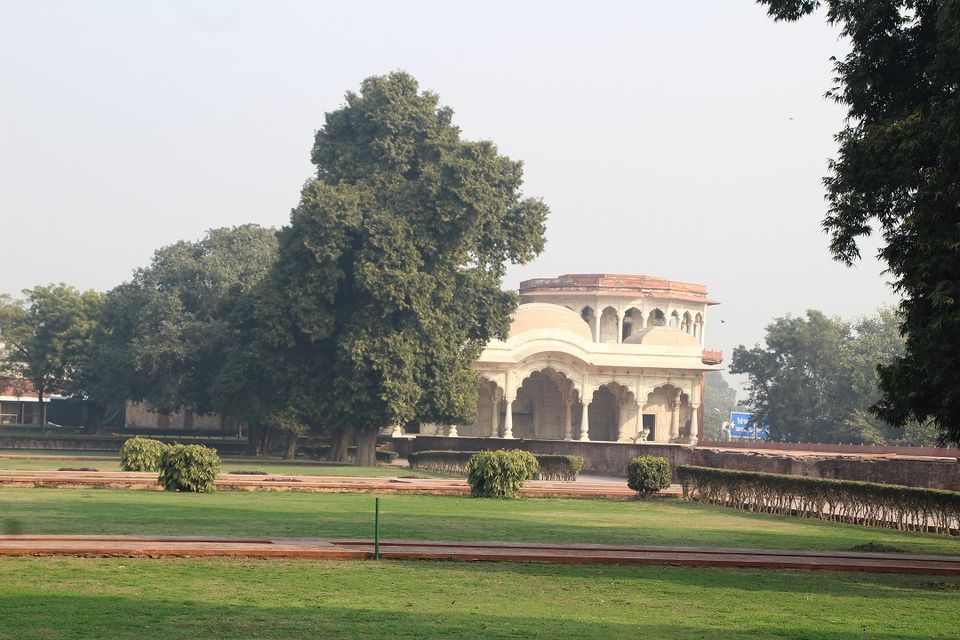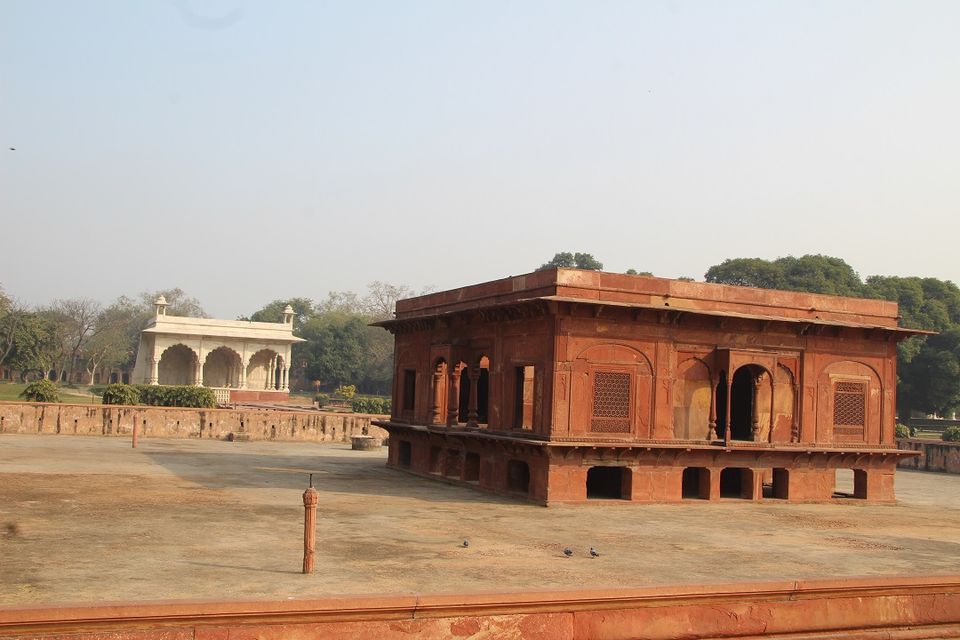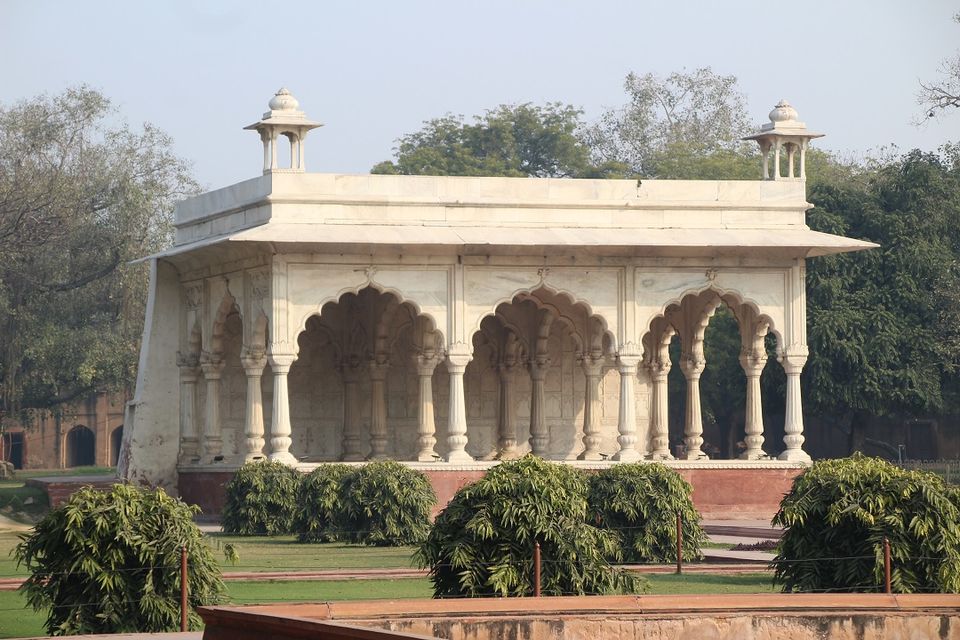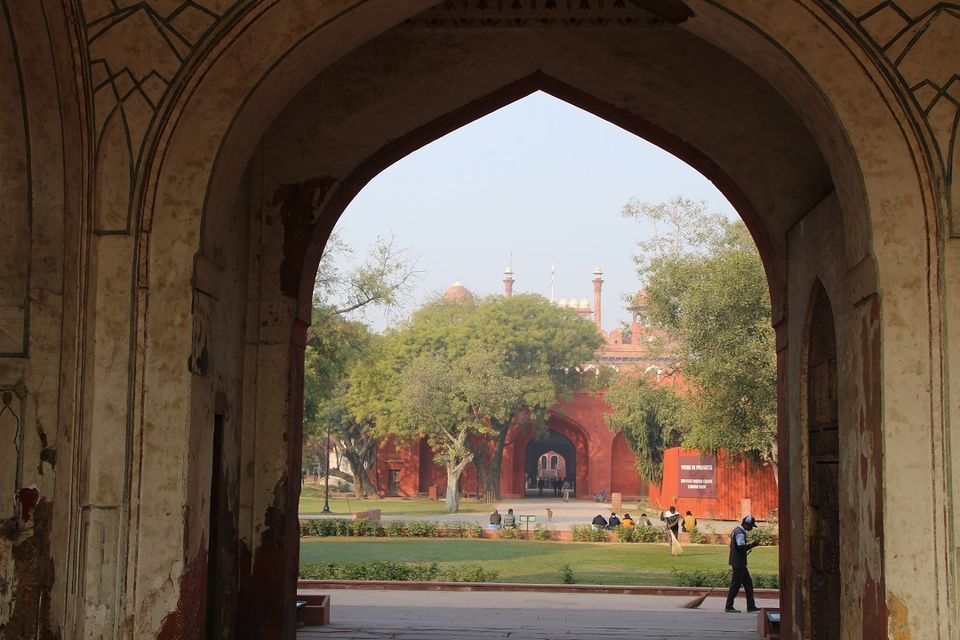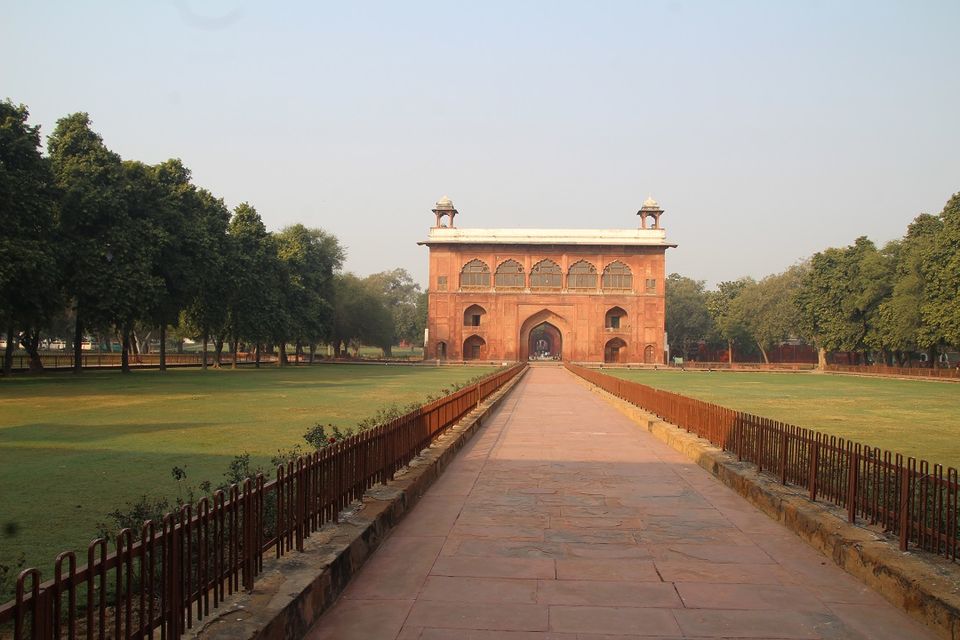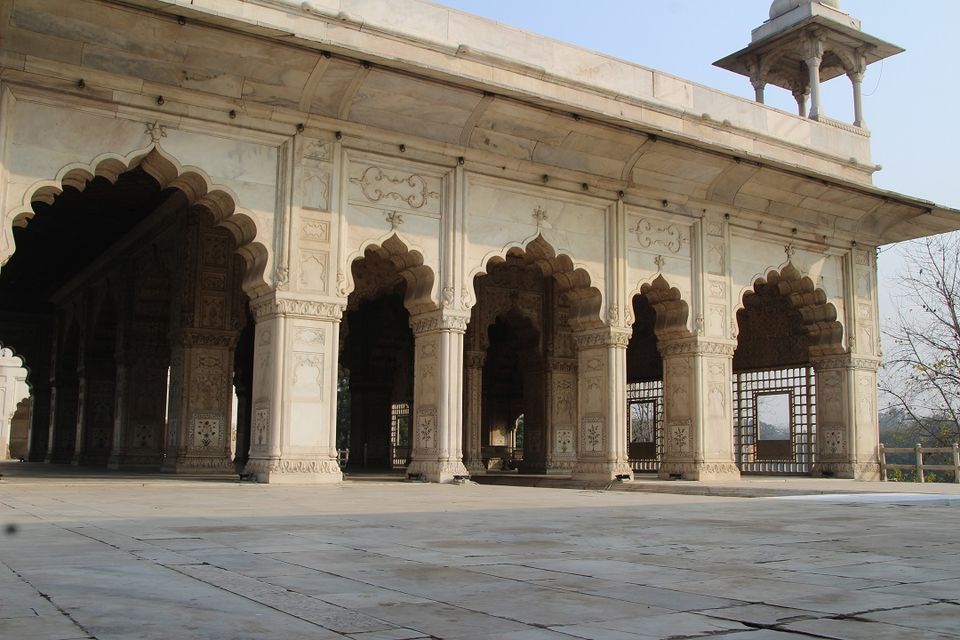 Once again, I found someone who clicked my photograph with the fort.
My re-attempt to solo tourism was not that dull and boring. I actually enjoyed my company. Maybe I try once again in the near future.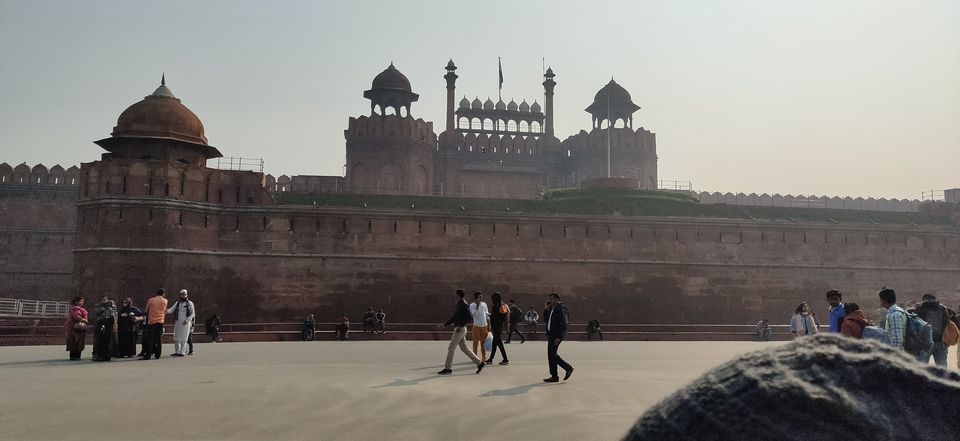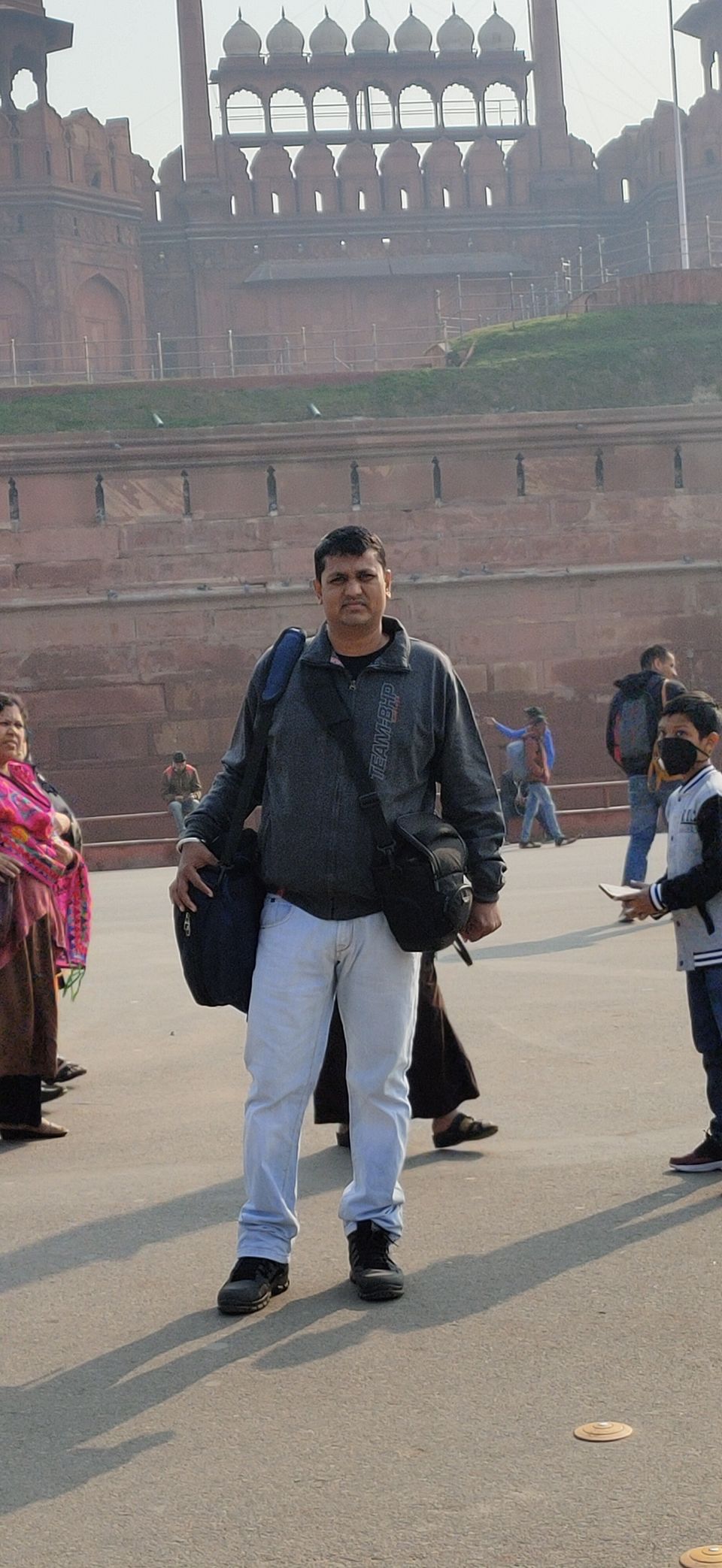 It was 1000. I was done with Red Fort. I got out of it and I was able to see the Gurudwara from where I paid 100/- to reach Lal Qila. I called up Khemcchand Bhai. As per him, he would be there at Paratha Galli within a half-hour.
I started walking to Partha Gali from Red Fort. It was just a five-minute walk. However, it was a morning of a working day and the lanes of Chandi chowk started getting crowded. Chandni Chowk is Old Delhi's main thoroughfare which is a chaotic shopping street lined by hawkers and porters with narrow lanes offering full medieval bazaar experience.
I reached Paratha Gali and welcomed by the aroma of hot oil and sputtering spices. The food trail of Chandni Chowk begins and ends at Gali Parathe Wali. You can't miss the sight of stuffed parathas laden with oodles of butter. This "Gali" is visited by many celebrities and food bloggers and Vloggers. It was now my time to go for it.
I made myself comfortable at one of the Paratha Shops. I was the first customer and the owner was in a good mood to welcome me and discuss the history with me. As per him, there were more than 25 Paratha shops established here, and only three are still surviving. I ordered three types of Parathas and tried to google about Paratha Gali, he was right.
Out of the 20 paratha shops established here, only 3 remains today - Pt Kanhaiyalal Durgaprasad Dixit, Pt Gaya Prasad Shivcharan and Pt Baburam Devidayal Paranthewale.
I was sitting at the shop of Baburam Devidayal Paranthewale. I wanted to try something new so I ordered Khurchan Paratha, Banana stuffed paratha and usual Aloo Partha. There was an entire list of available Paratha which include stuffing of lemon, chili, Kaju, Badam, carrot, radish, paneer, aloo, cauliflower, rabri, matar, khoya, etc.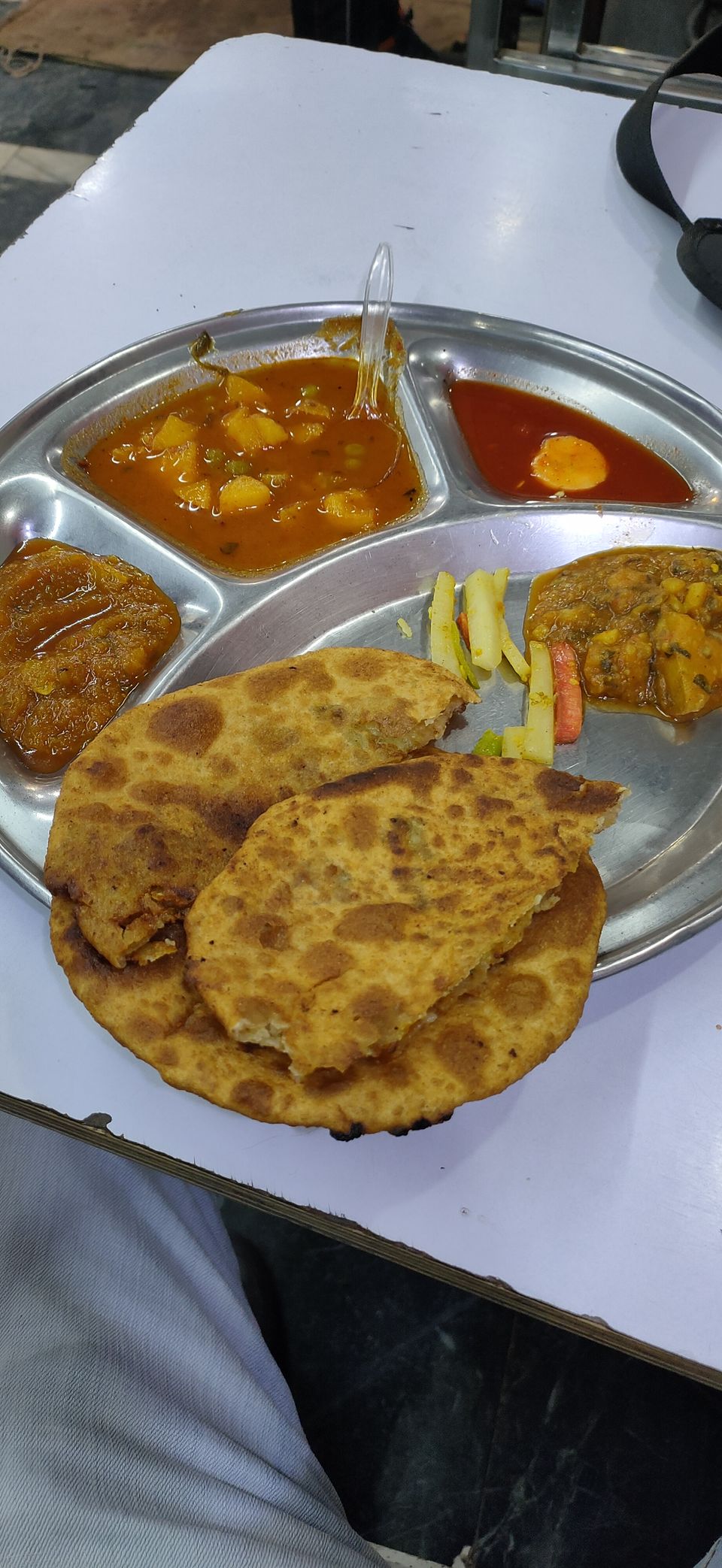 Khurchan was something new to me. The owner tried to explain Khurchan to me. This is what I understood, boil the milk, take the scraped cream and mix it with "buru" Powdered sugar. And the same thing can be consumed as a sweet dish or can be stuffed in Paratha. Eating those different kinds of parathas was an amazing experience that can't be described in words.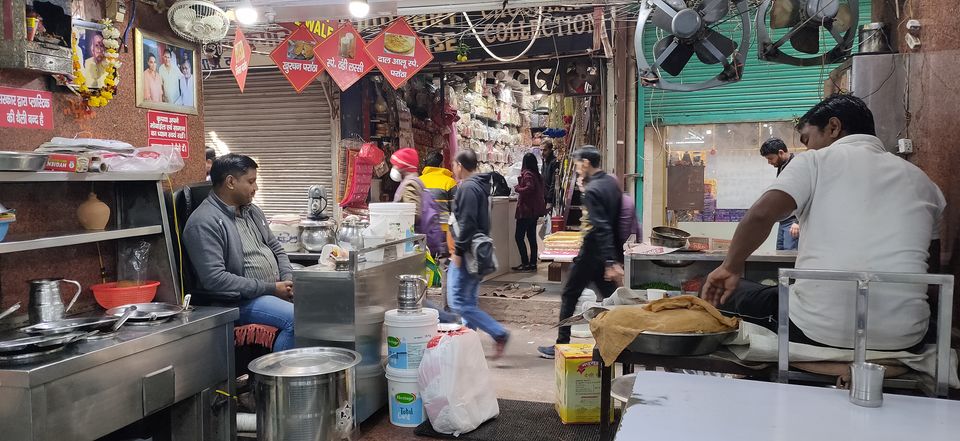 The Partha shop owner asked me to try other delicacies of Chandhi Chowk which were within walking distance like, Dahi Bhalle, Falooda, Dalbiji, jalebi, chat, and different kinds of sweets. However, I didn't have time to do so. I bid farewell to that talkative shop owner and once again called the Khemchand Bhai. He was ready with his Khomcha and asked me to come near Jain Mandir at Kinari Bazar.
I thought that's a perfect landmark and started walking. After some time I realized that the entire market was Kinari Bazar and there is Jain temple after every three shops. I walked for more than 10 minutes but I was not able to find Khemchadbhai's Khomcha.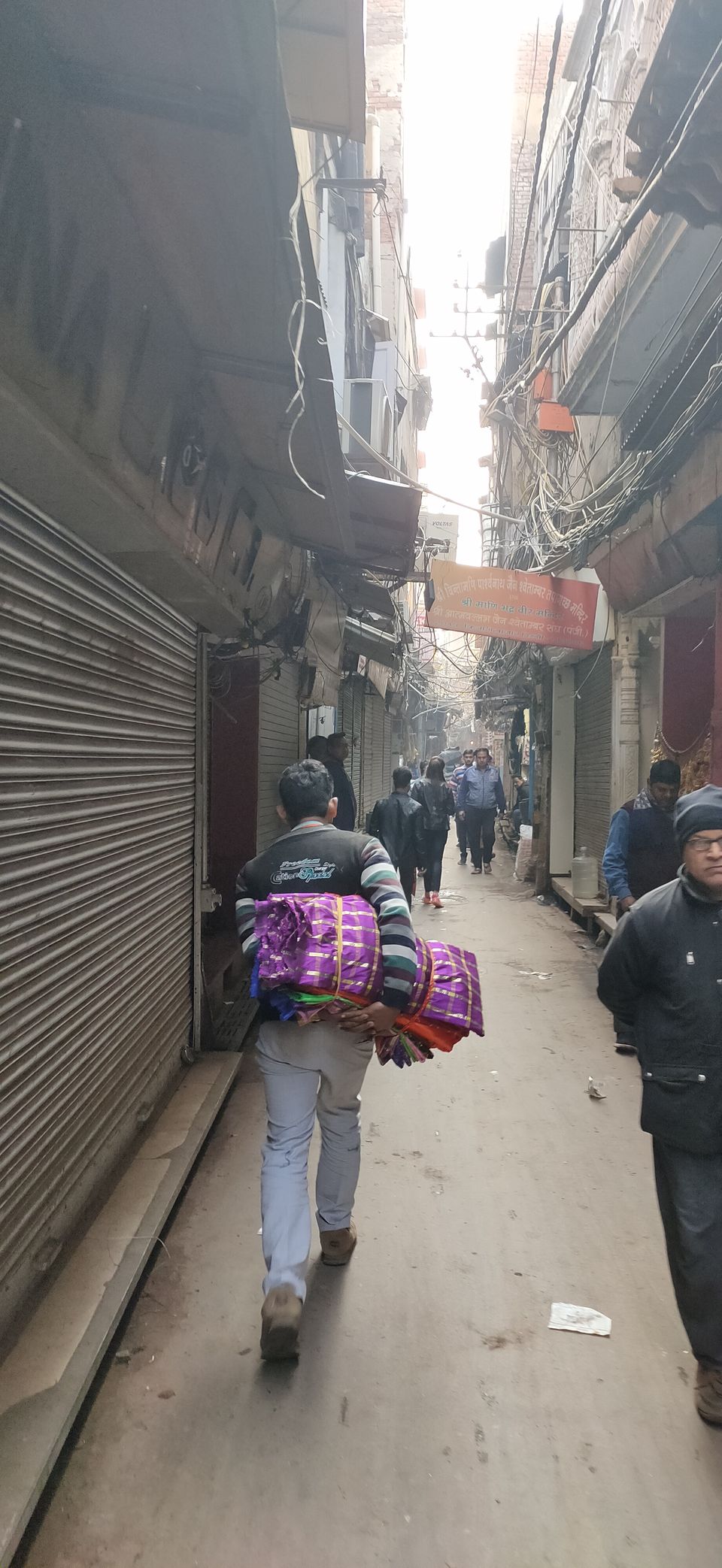 Finally, I gave up and called him and explained that I have come from Gujarat and I am not able to find you. He gave me some shop's name as landmarks. I followed that and reached Khemchandbhai's Khomcha.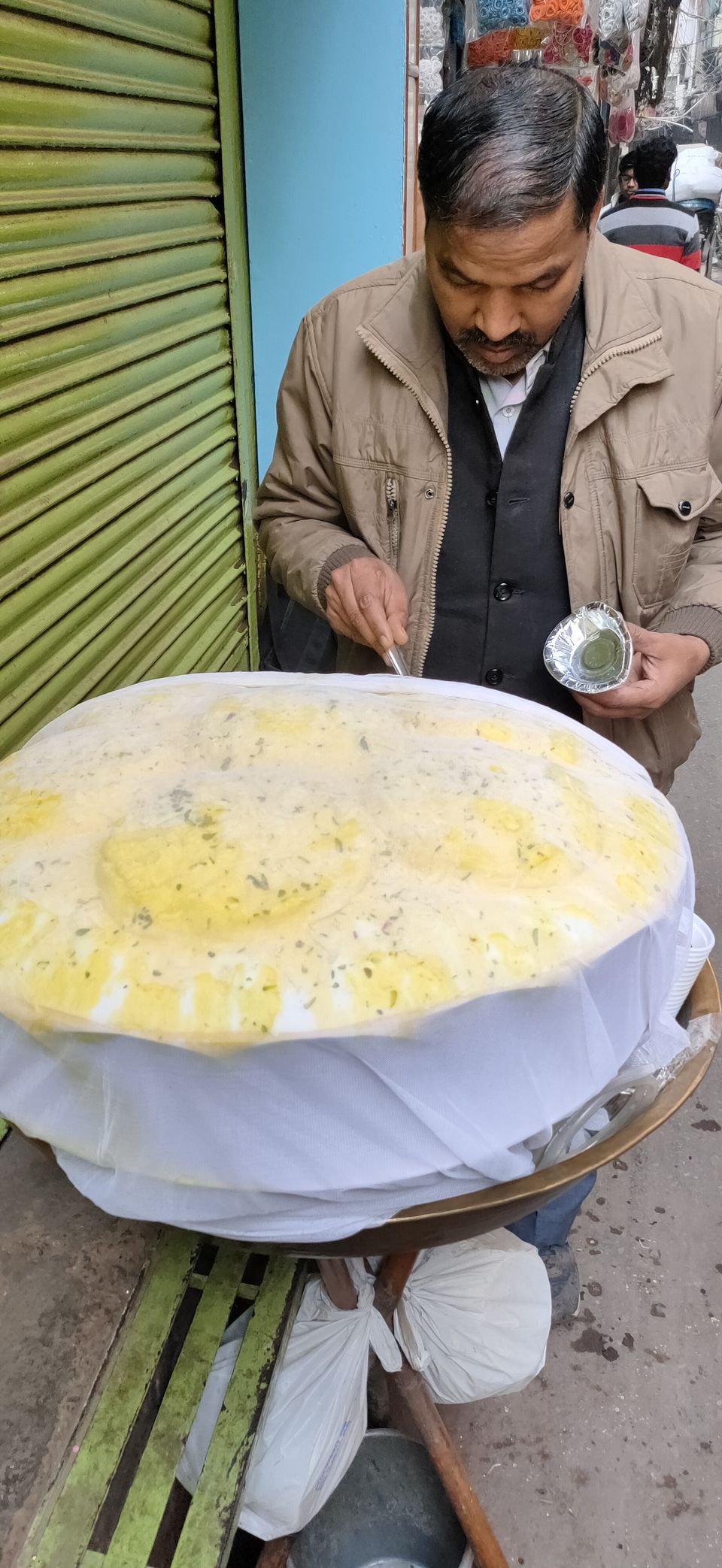 Why I took all the trouble to reach this Khomcha?
What's so special in Daulat ki chat?
Here is the answer...
Old Delhi is known for the rich market to dishes out delicacies that one cannot forget for life. And, one of those dishes is 'Daulat ki Chaat'. The name might confuse you, but it's actually a dessert that's melt-in-your-mouth and can warm-up-you-heart. Available only during the winter season ( November, December, and January). The special chaat uses milk as the main ingredient and if you want to taste the best version of it, you can visit Kinari Bazar of Chandni Chowk between 9 am-2 pm or Nai Sarak between 4-6 pm.
Power-packed with flavors, Daulat ki Chaat is like a small landscape of foam, light as a snowflake blended with sweetened mawa and topped with a saffron mixture and dry fruits. The perfect blend of crunchiness and sweetness that this dessert dish offers is nothing less than a fresh breeze of flavors to the taste buds.
How is it made?
All thanks to Khemchand Adesh Kumar of Moradabad, This iconic dish comprises raw milk that is mixed with cream and cooled over an ice slab overnight. After 8-10 hours of cooling, a portion of this is removed and whisked by hand until light and frothy. This sweetened milk mix is then blended with khoya and chenna. Served in 'donas' or 'kulhad', this nutrient-rich dish is topped with extra khoya and a pinch of a saffron mixture.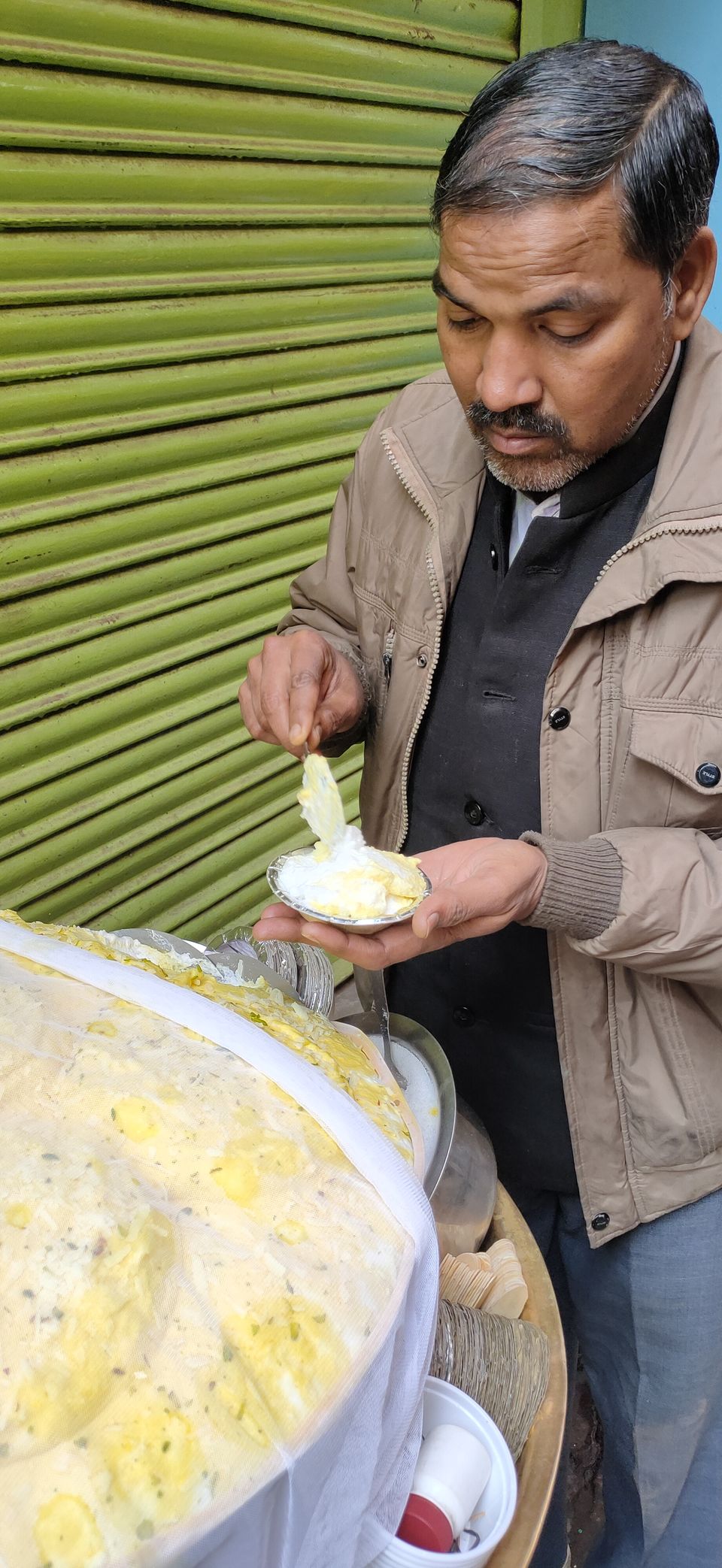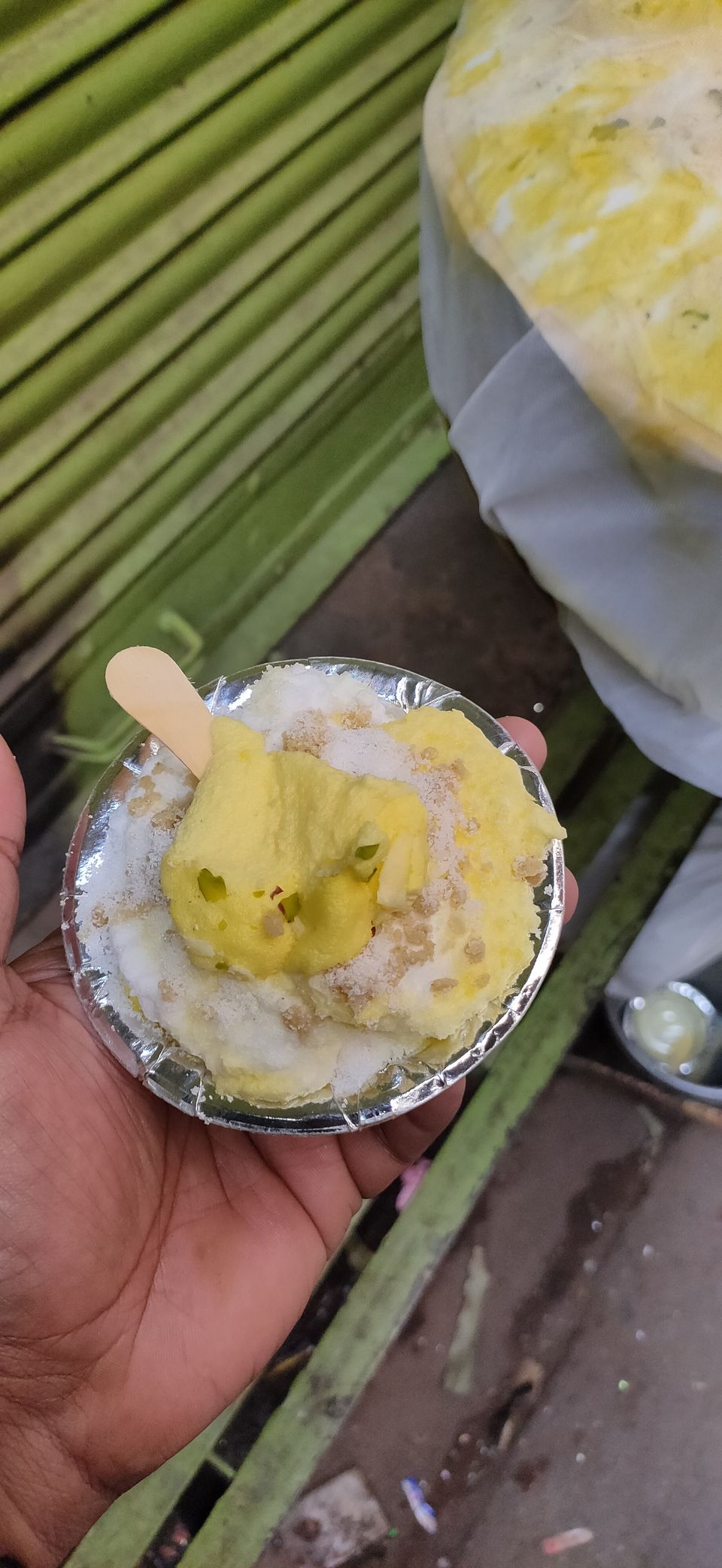 I read many articles on this dish and read many reviews of Daulat ki chat. Finally, I was there standing with the man himself and waiting for my Katori of Daulat ki Chaat. The taste of this dessert was blissful and subtle. It melts down in your mouth once you put it on your tongue. Your tongue keeps asking for more and more. You can not stop at one plate. I went for three plates which cost 50/- per plate.
I had some chitchat with him. As per him, earlier he used to start his business around 0700 in the morning. However, due to very low demand, now he starts his khomcha at 1030. He told us people come to eat this chaat from faraway places after reading online reviews but locals from the NCR region are not even aware of this kind of dish. I clicked some photos with him, wished him all the best and left Parathe wali Gali.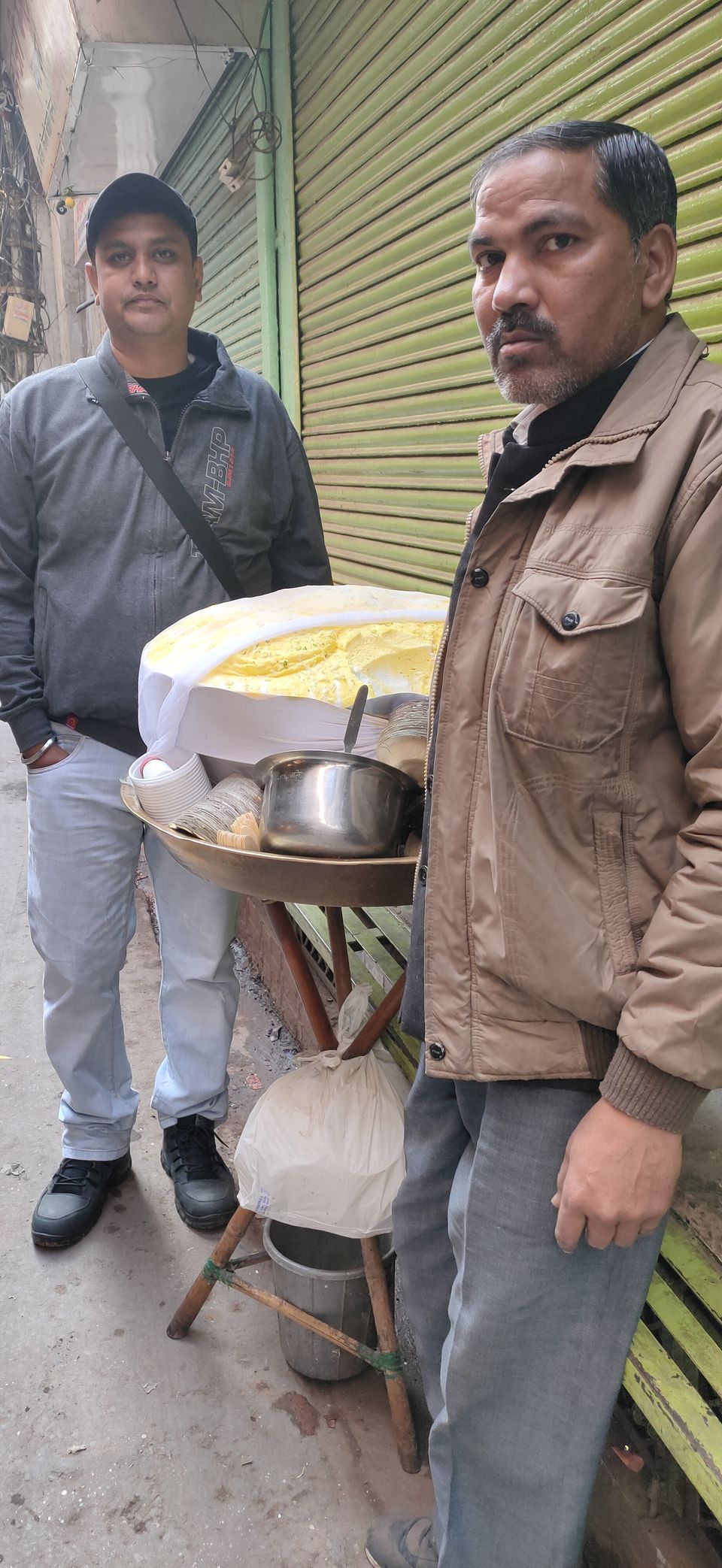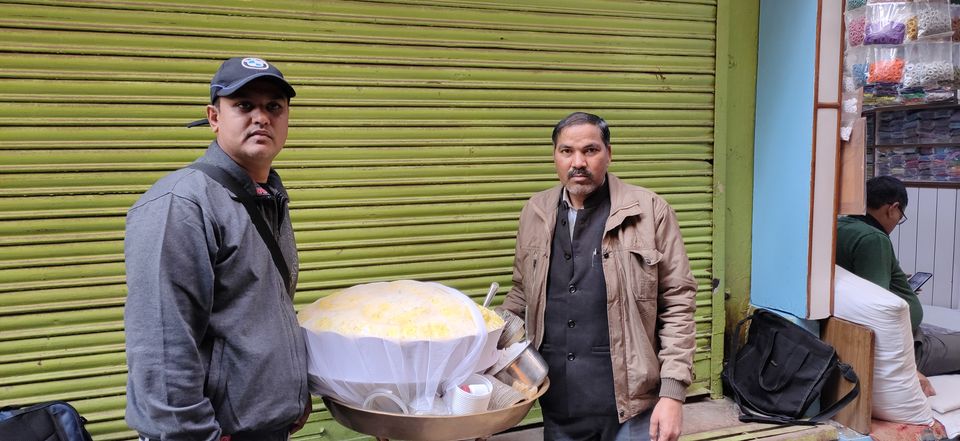 It was already 1100. I rushed to the nearest Metro station and caught a metro for my destination. I finished my official work within an hour and got in the metro again to reach the Auto Expo venue.
My job was done.
It was time to go for Auto Expo. I tried to study the route map to reach Knowledge Park-2. As per the route map, I had to change the train four times during the entire route. I even had to change the metros across different color codes. It was not that confusing. However, the lazy guy inside me was insisting me to higher a cab and reach knowledge park comfortably. I even downloaded the Uber app. Yes! we don't have uber or ola in my home town. So, I didn't have the uber app on my phone.
However, the re-born solo traveler inside me ruled out the uber option and I got in the metro. My metro route was showing the map up to Noida Sector 52. There was nothing after Noida Sector 52 on the map. There was no option of Knowledge park 2 in the blue line route. It was confusing, What after sector 52? How to reach Knowledge Park 2 from Sector 52?
I tried to ask some locals. All of them were Noida guys. They were not aware of whats after sector 52. Google came to my aid. I read all the things about Delhi Metro and came to know that I"ll have to get on Aqua line from sector 52 to reach Knowledge Park 2.
I reached Noida Sector 52. There was a 400 mt walk to reach the station of Aqua line. I reached the Aqua line and tried my DMRC tourist card at the entrance and it didn't work. I tried it at all the gates, it refused to open. Now what?
One customer care girl was observing me from the window of the CS counter. She called me up and asked what happened. I told her that my DMRC tourist card is not working. She explained to me that I am out of Delhi metro and I"ll have to buy a new token or tourist pass for Aqua line which belongs to NMRC (Noida Metro Rail Corporation Ltd.). After that, I came to know that NCR has a different metro corporation that doesn't have anything to do with National capital. I asked is it ok if I buy a single ticket and don't buy a token. She laughed at my ignorance and explained that we at Metro call it token and not tickets.
I bought a return "token" for Knowledge Park-2 and boarded Aqua line metro. The entire compartment was full of people going to Auto Expo. All of them were discussing Auto Expo. I got involve in one of the groups and started discussing Auto Expo. Team-BHP jacket helped me to get accepted in that group.
We reached Knowledge Park-2 metro station. We got out and a big national flag welcomed us. Finally, at 1330, I was at the gate of Auto Expo 2020.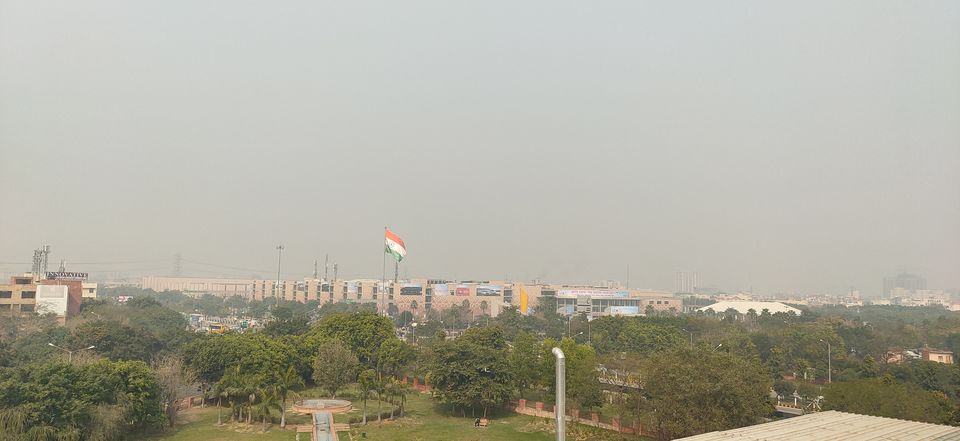 I booked my Auto Expo tickets from BookMyShow. We deliberately selected the costliest (750/- ticket) day thinking there won't be much rush on the business day and we would be able to spend maximum time with the cars. The Plan was to meet a friend at the gate and put my bag in his car. However, I was late and his car was parked at some faraway parking space. I collected my tickets from gate number 2 and entered the Expo.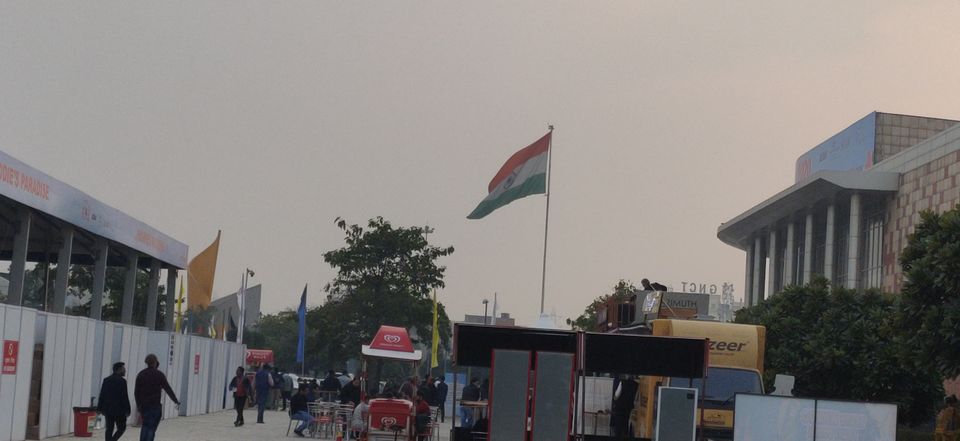 I entered the expo and realized that the assumption that on a business day the rush would be lower was wrong. I called up friends, they were busy exploring other parts of the Expo. We decided to meet at one of the center halls which belonged to TATA.
The Auto Expo 2020 is amazingly covered by Team-BHP, So I"ll not go into details and specifics.
This was my first Auto Expo visit and I wanted to enjoy it at the fullest. I was carrying my SLR but the same way I had to carry my backpack with me. So, overall It was irritating for me to click photographs. I decided to give full attention to the cars and started exploring the Expo. Here are some pics.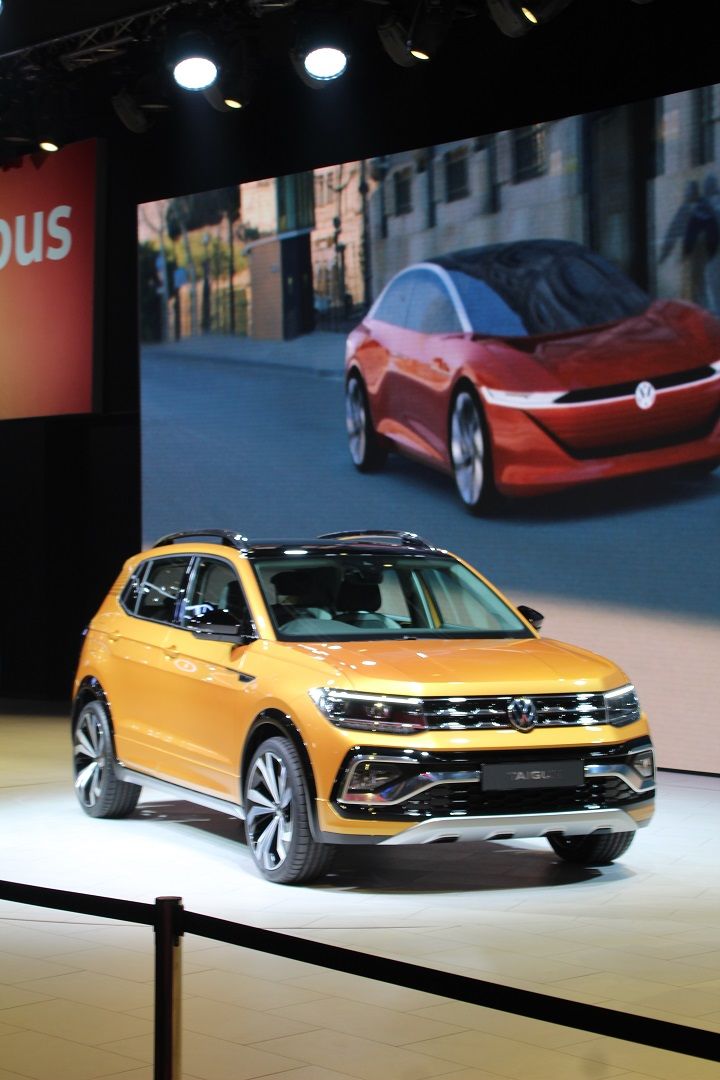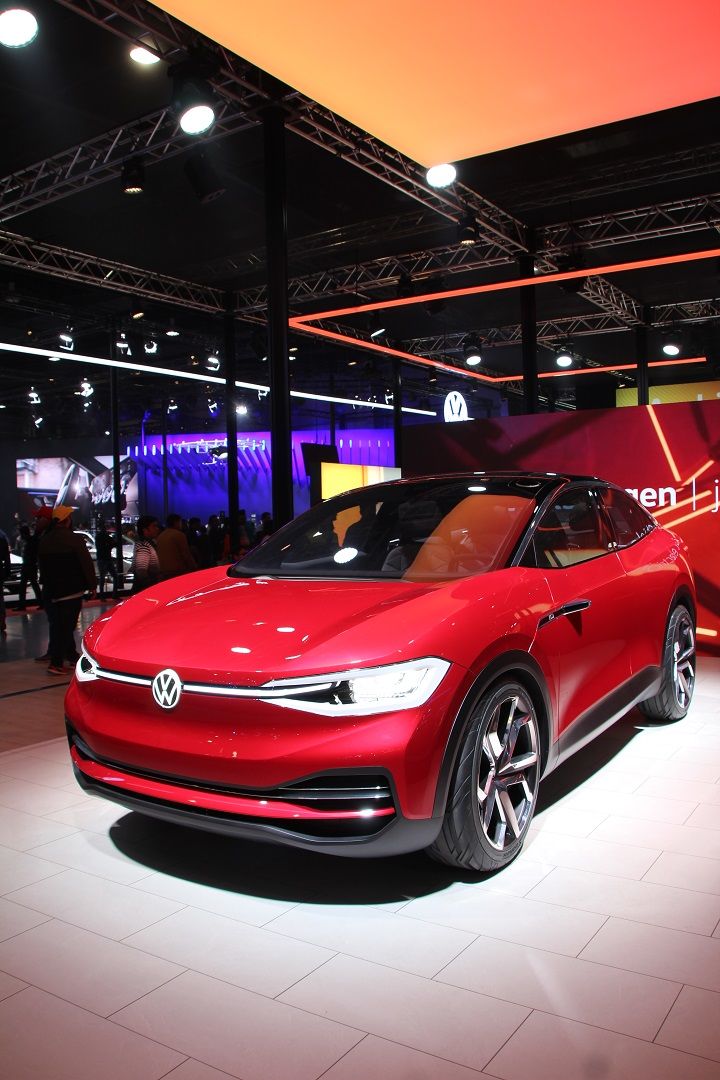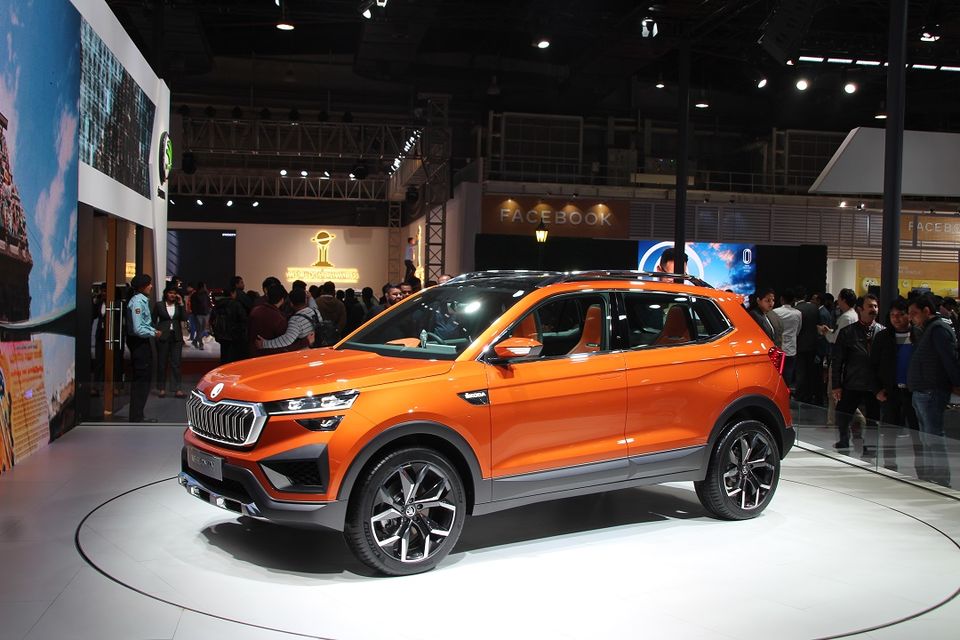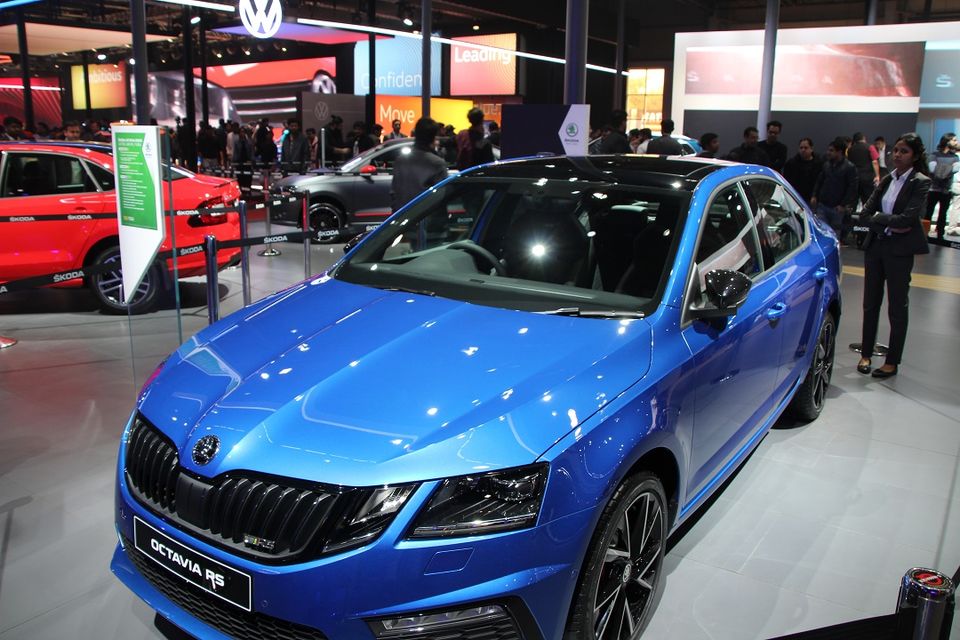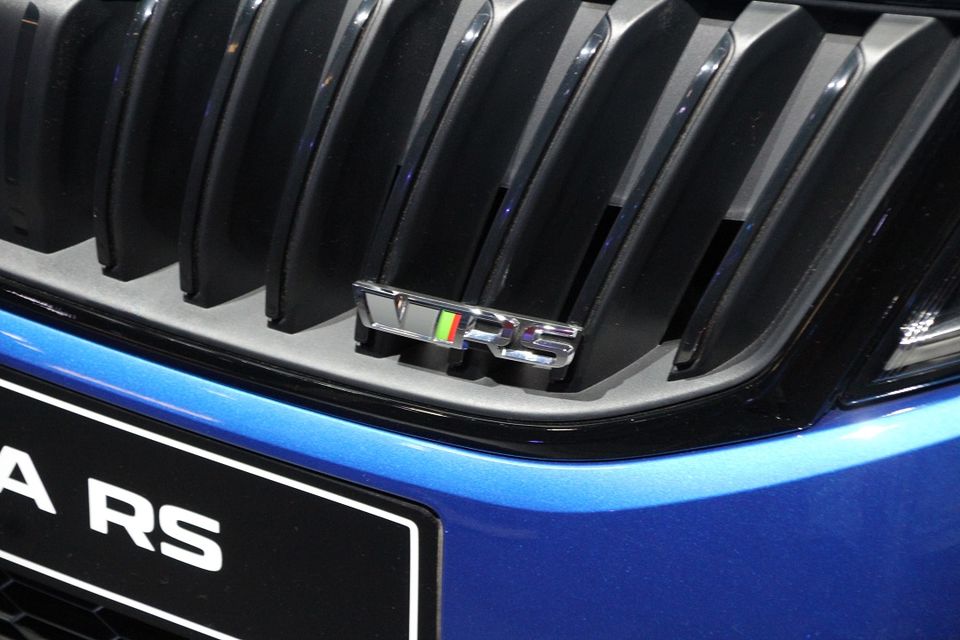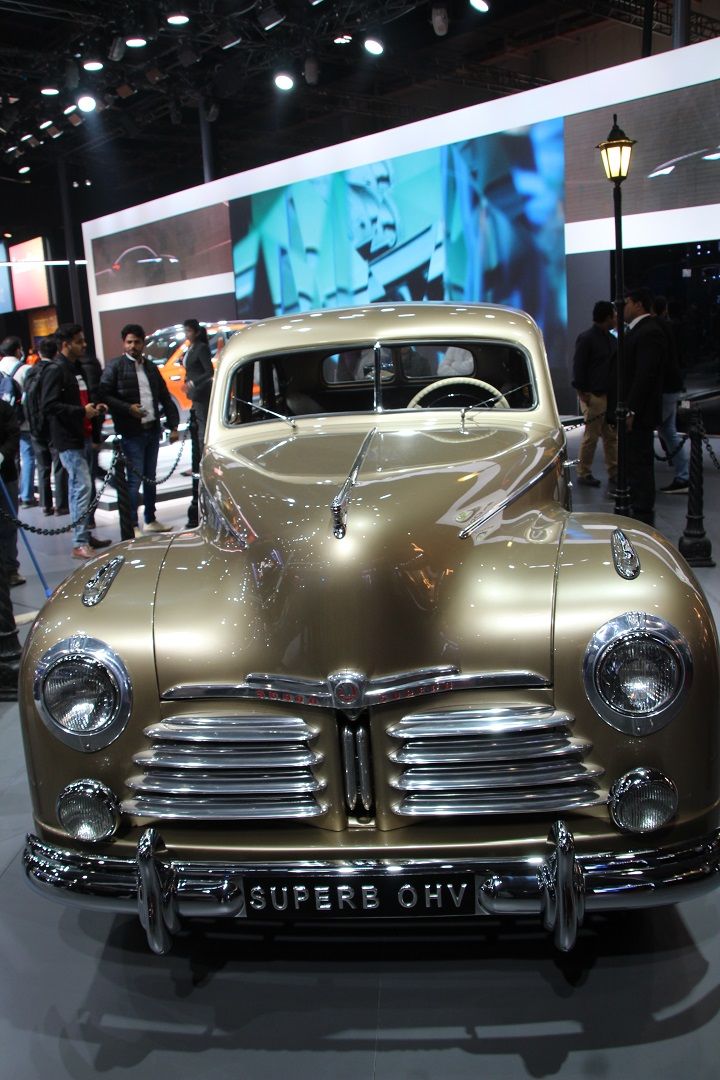 The models standing with cars were beautiful. I noticed most of the people were interested to click those models and if possible some selfies with them. However, the same beautiful models sometimes blocking the views of cars.
I met my friends at TATA hall. After a formal Hi and hello, we started discussing the cars. Both of us were excited and at some moment, we ask the models to get away from the car to get better photographs.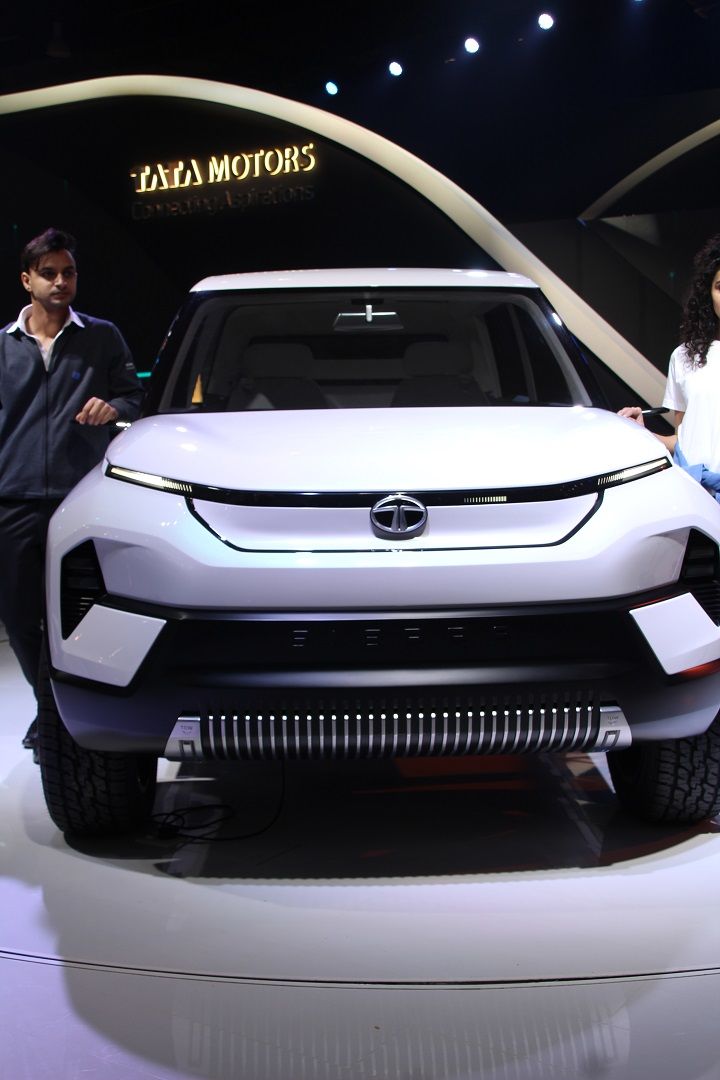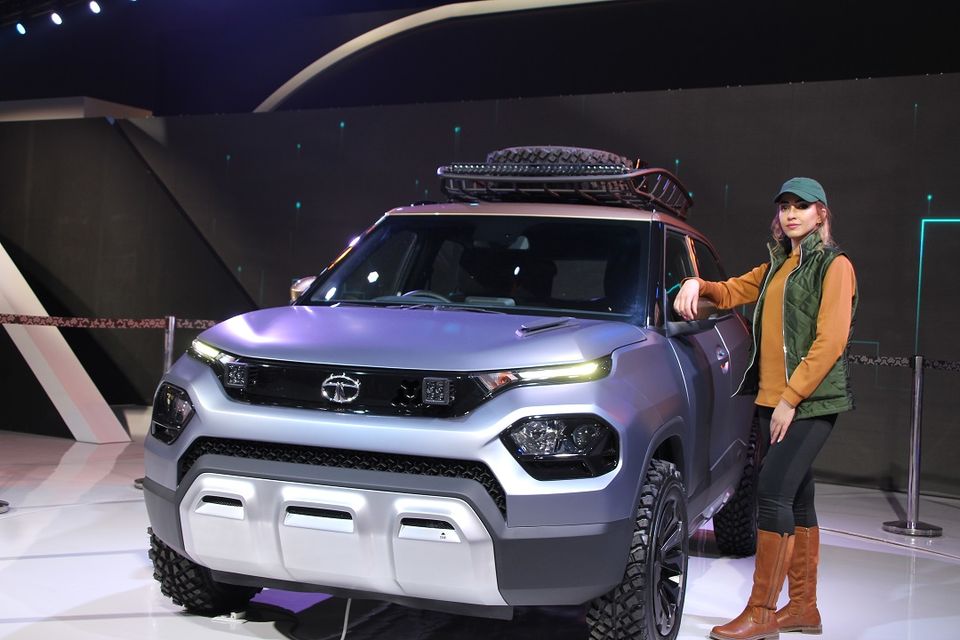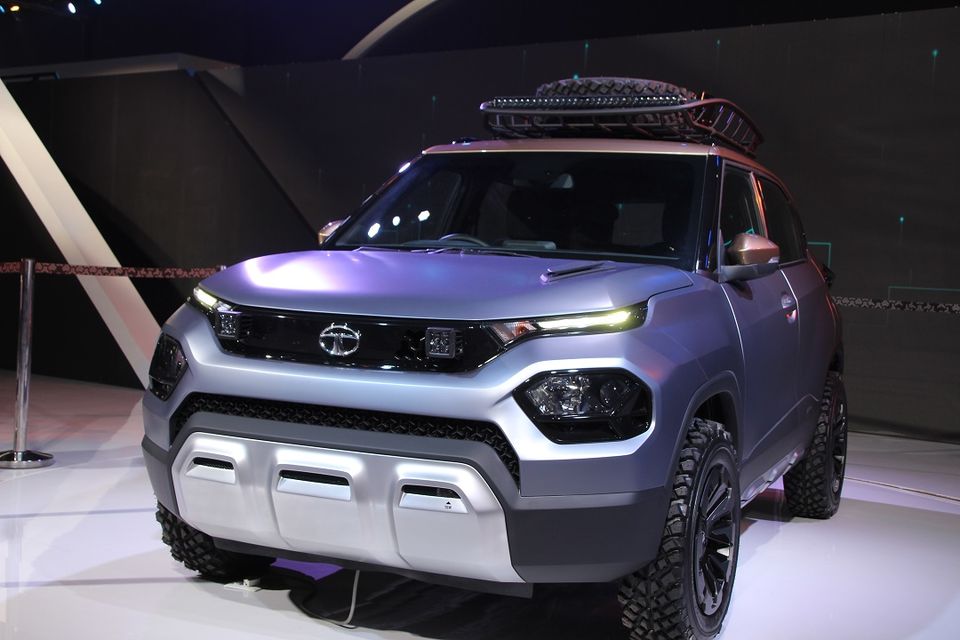 We were having fun. TATA had the biggest pavilion with too many cars including concepts, EV and commercial vehicles. The Mercedes pavilion was way too small and due to that, it was overcrowded. The super-car pavilion was also overcrowded with selfie seeking crowd.
Some more pics.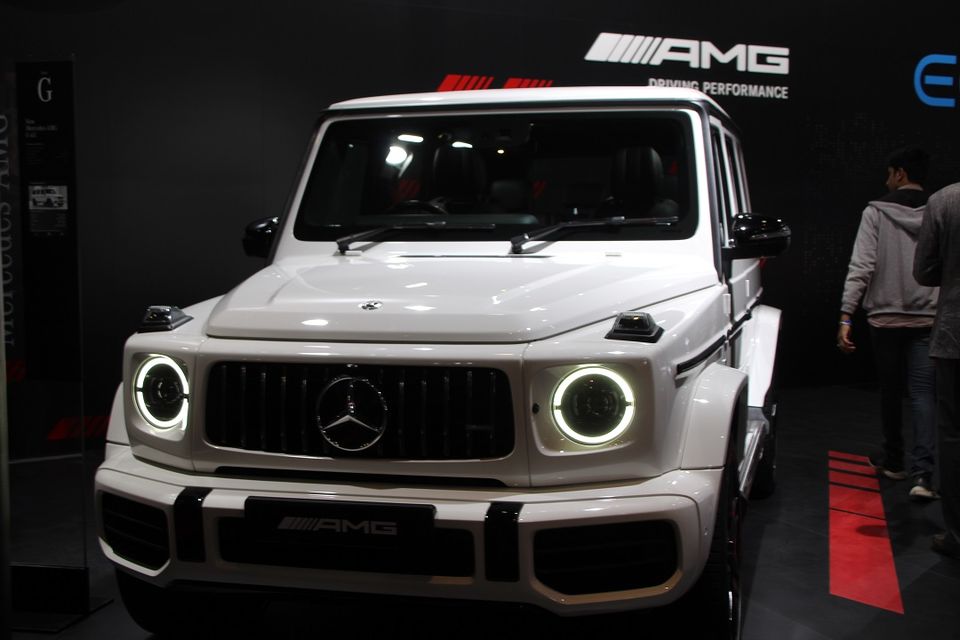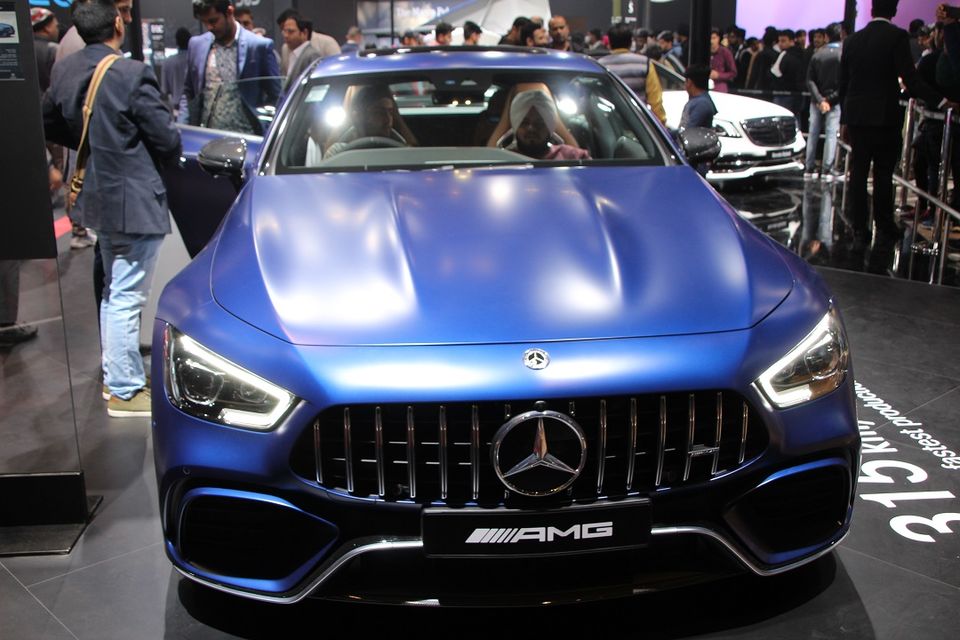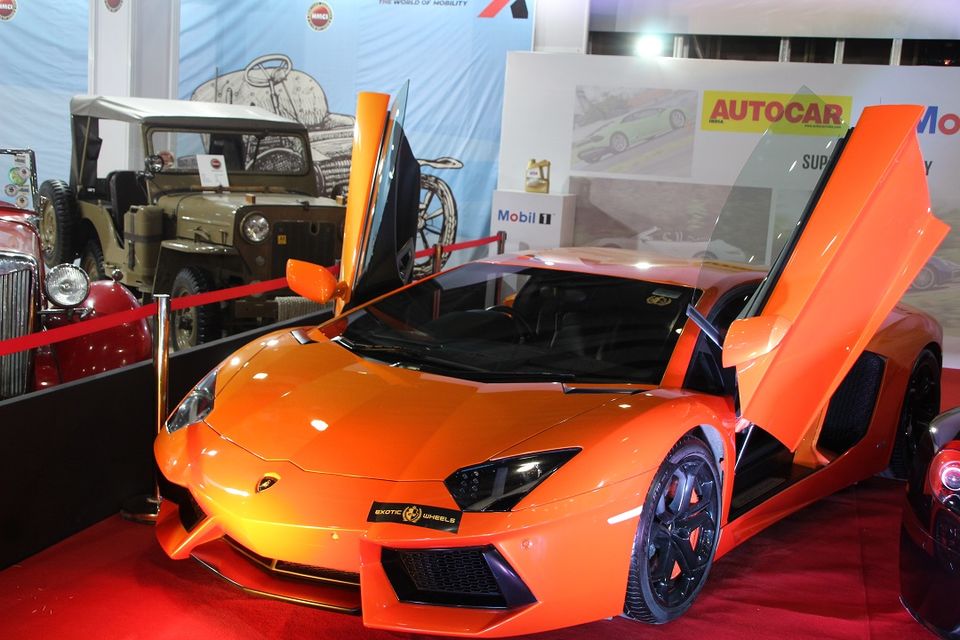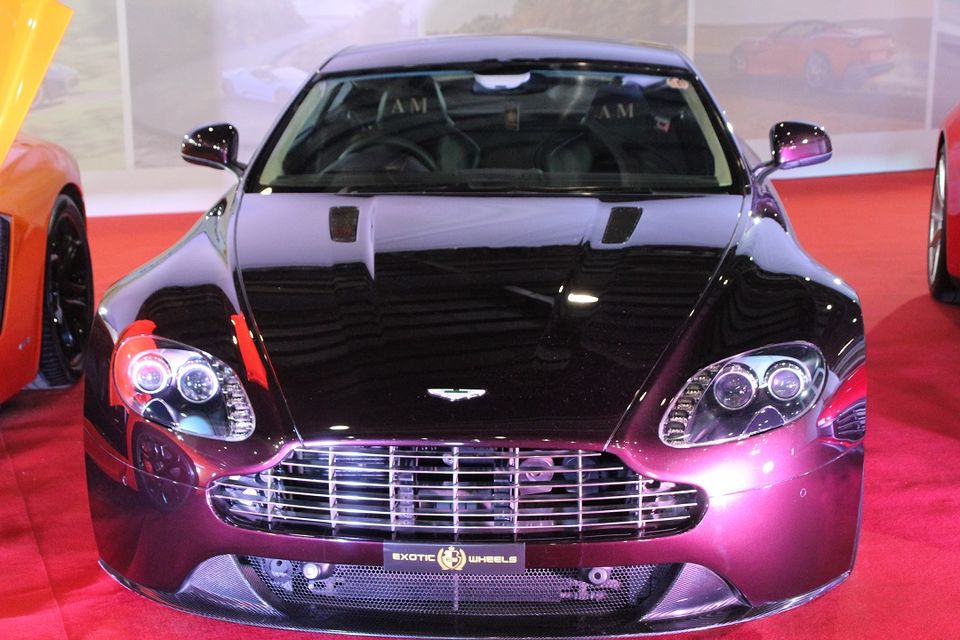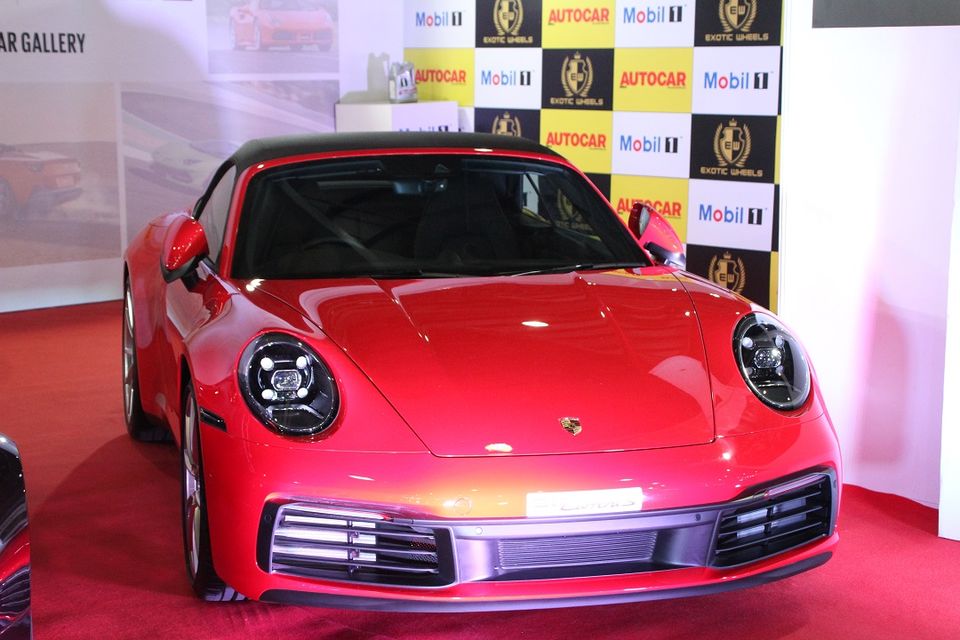 Force Gurkha was looking amazing with all the mods. We reached the MSIL pavilion. As MS Brezza owners, we wanted to observe the changes in Brezza's facelift. There wasn't anything exciting. Ignis facelift was just launched, they changed the grill, added some cladding and started calling it Urban compact SUV. They even had WagonR and Dzire in the display.
Why!! Maruri why?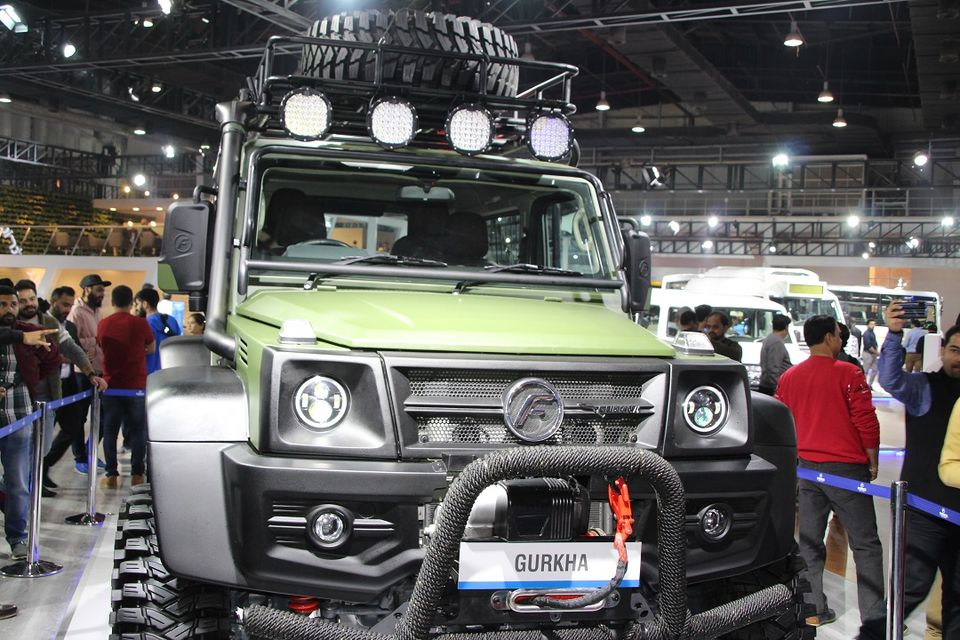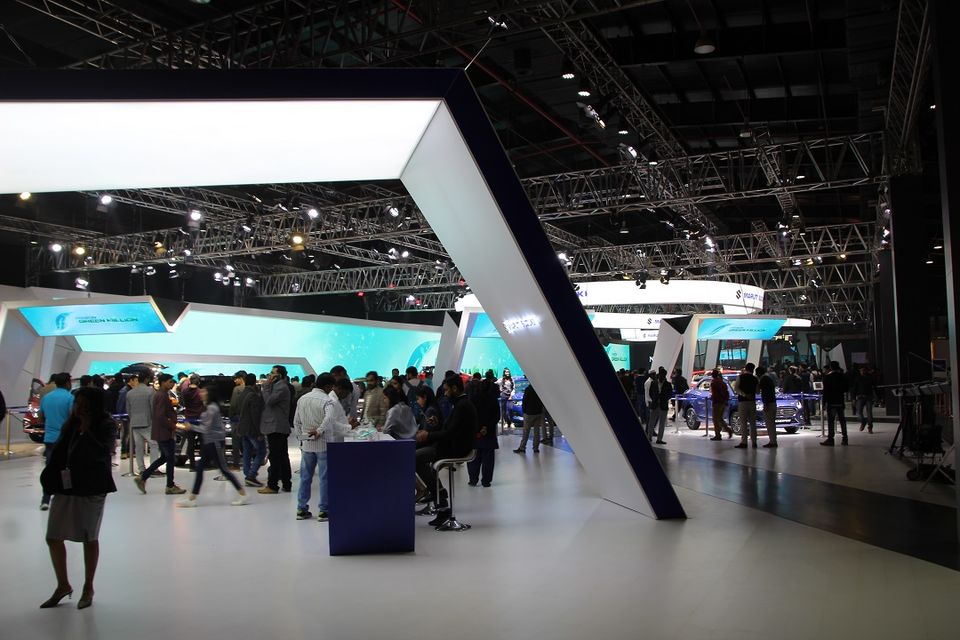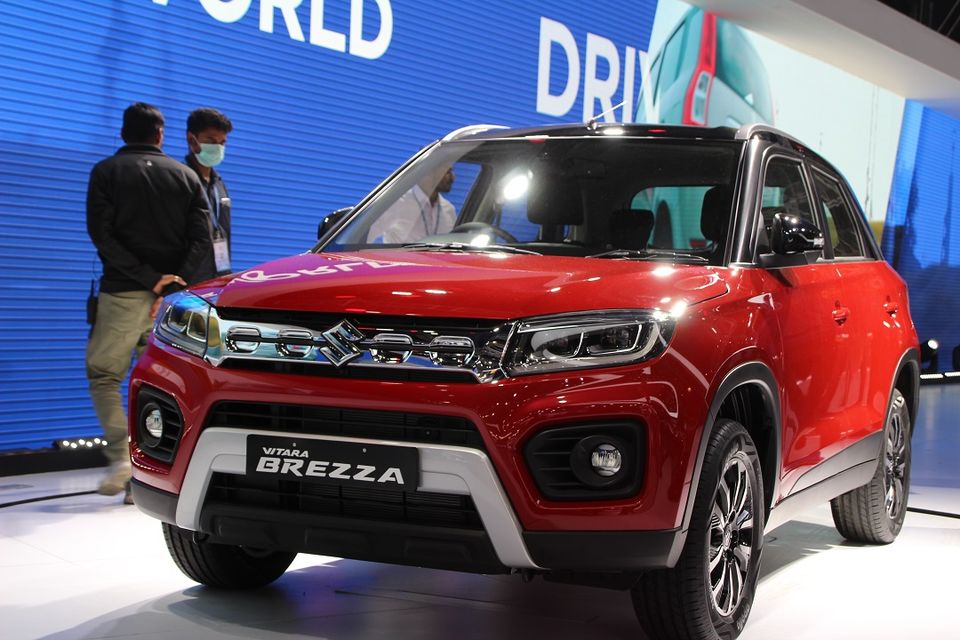 We wanted to see the Kia Carnival. We reached Kia pavilion and I must say Carnival was a stunner. Now, We have the Innova rival in true sense.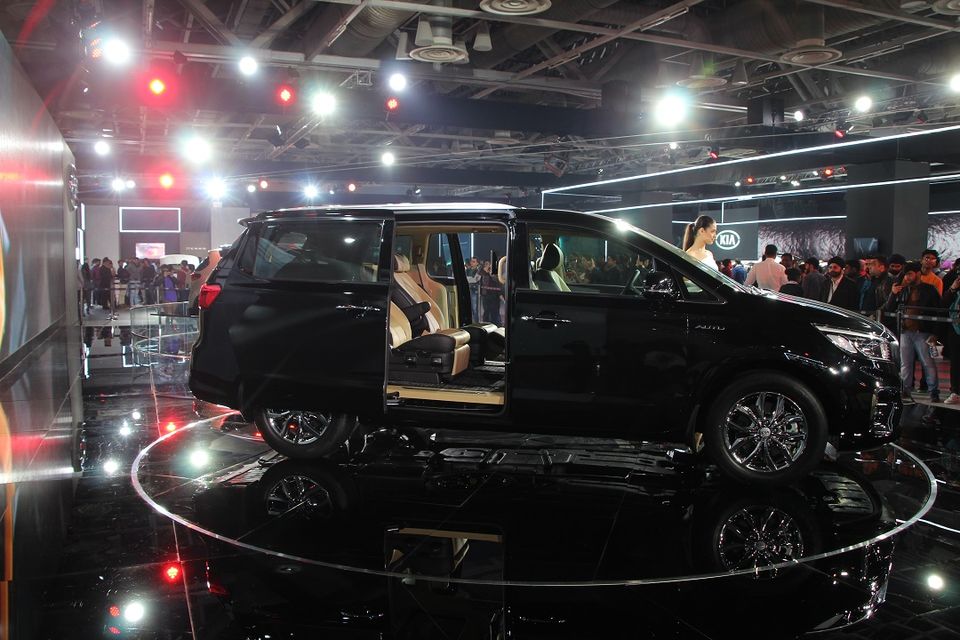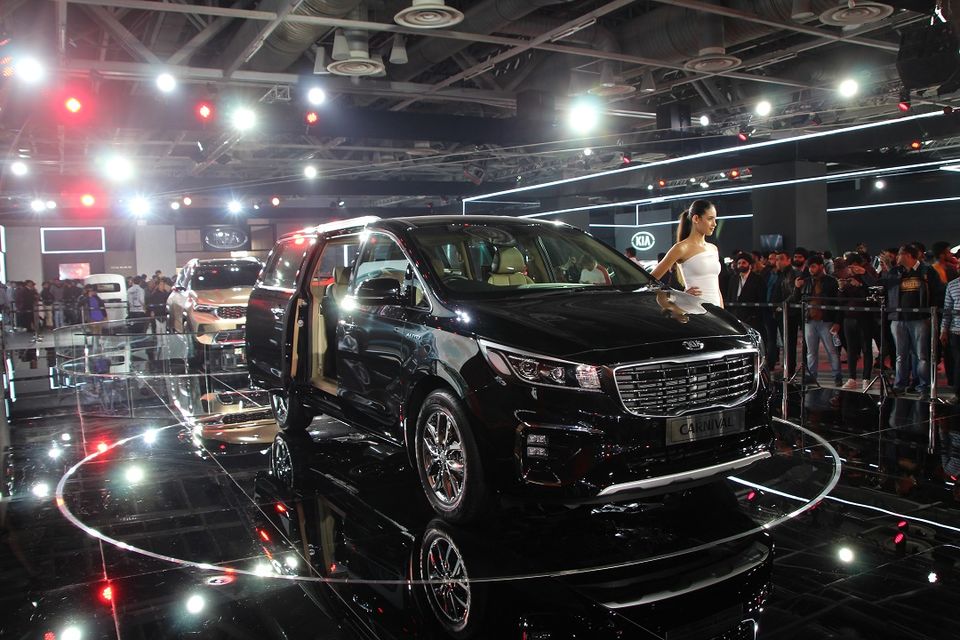 MG and GWM pavilionS were the most happening parts of the expo. These Chinese companies were aggressive and excited for the Indian market. Too many cars and concepts were on display. MG's 360m didn't excite us but Gloster was looking great.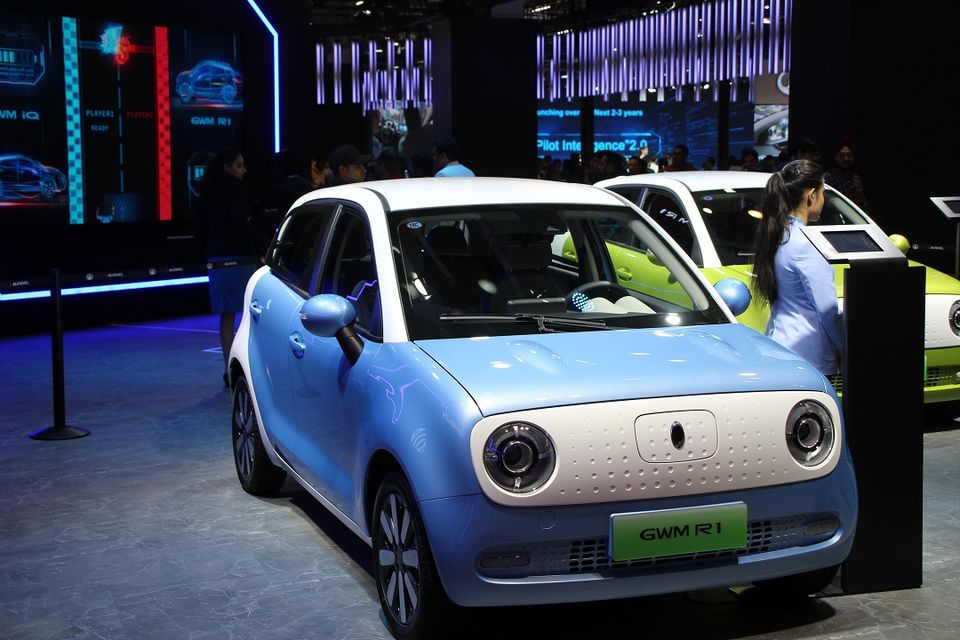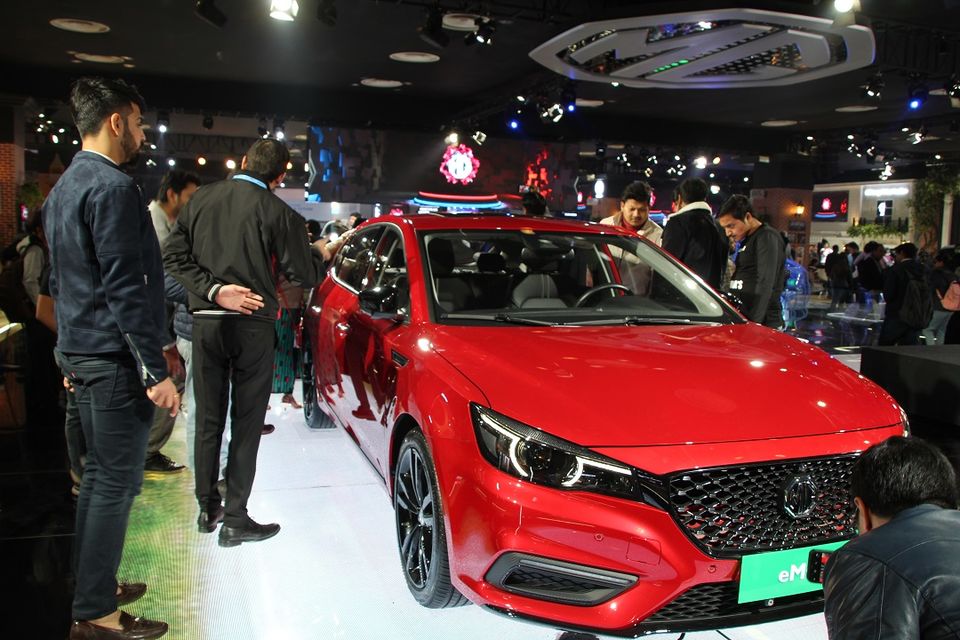 GWM had all the similar-looking cars with different sizes and colors.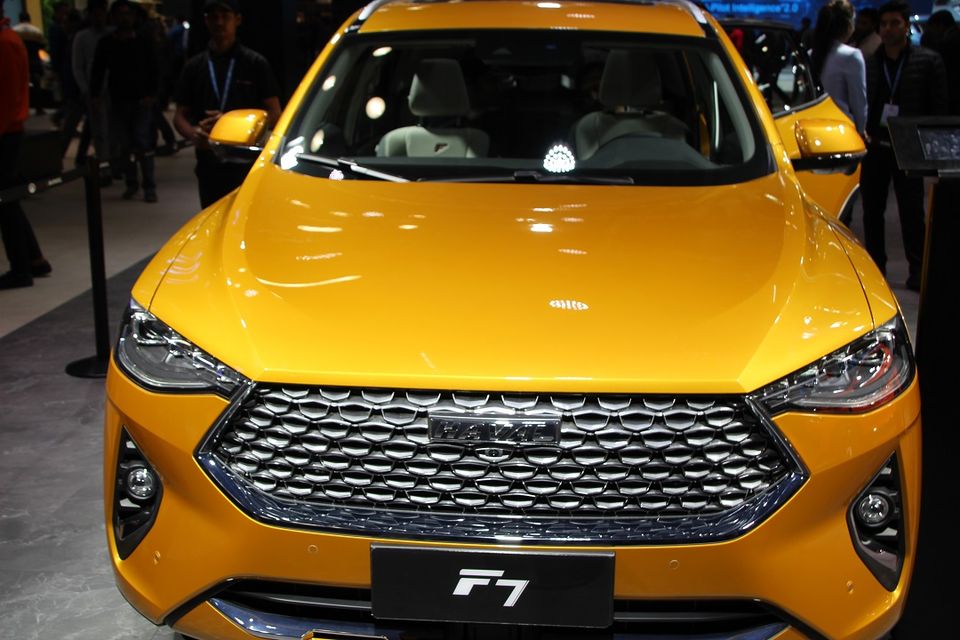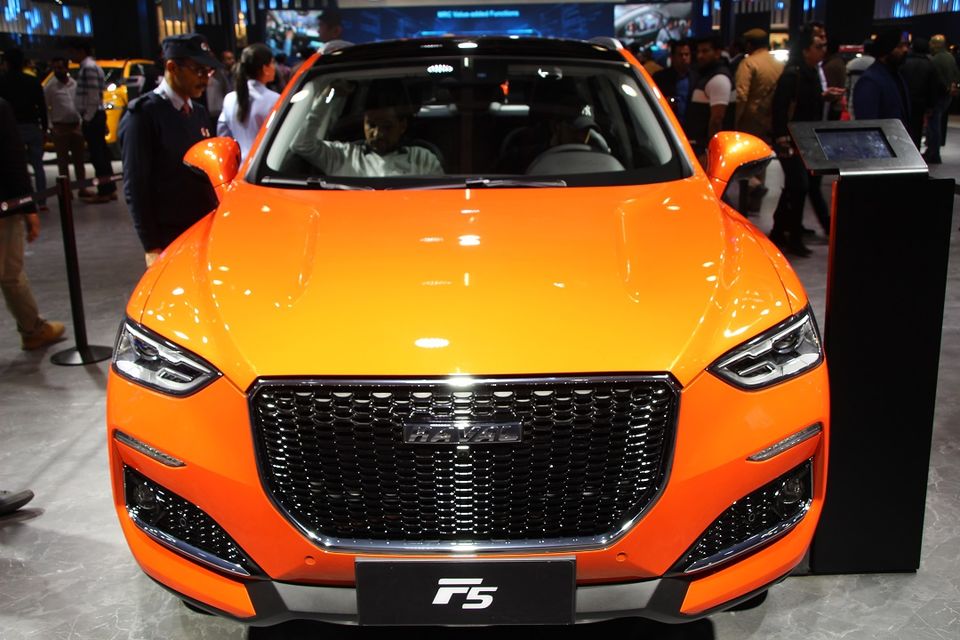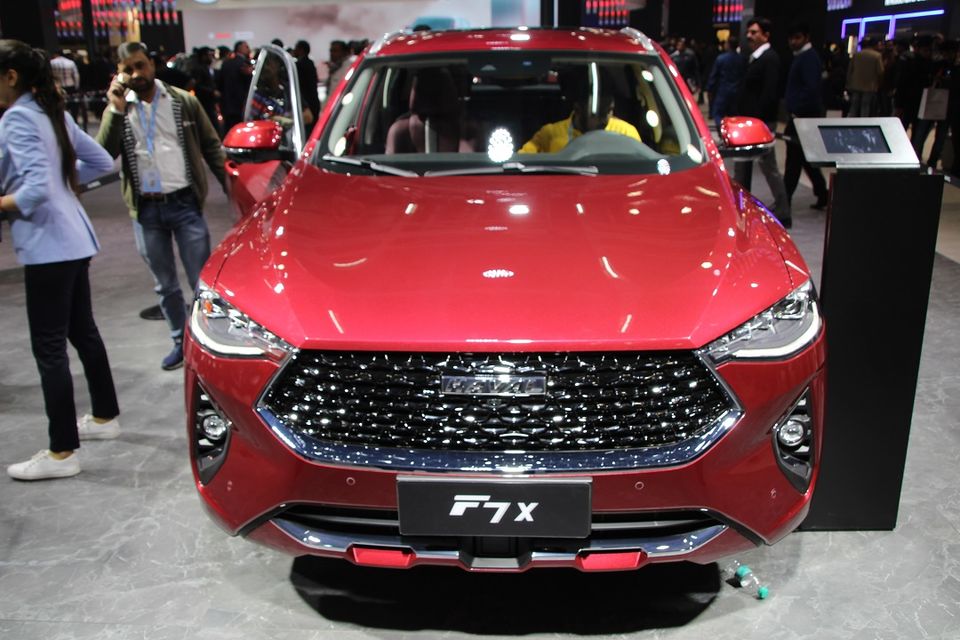 We walked a lot. I was irritated because I had to carry my bag. We went to the food court and ordered some food. I convinced the stall owner to keep my bag at his stall. Cartist area was just next to the food court we spent some time with them.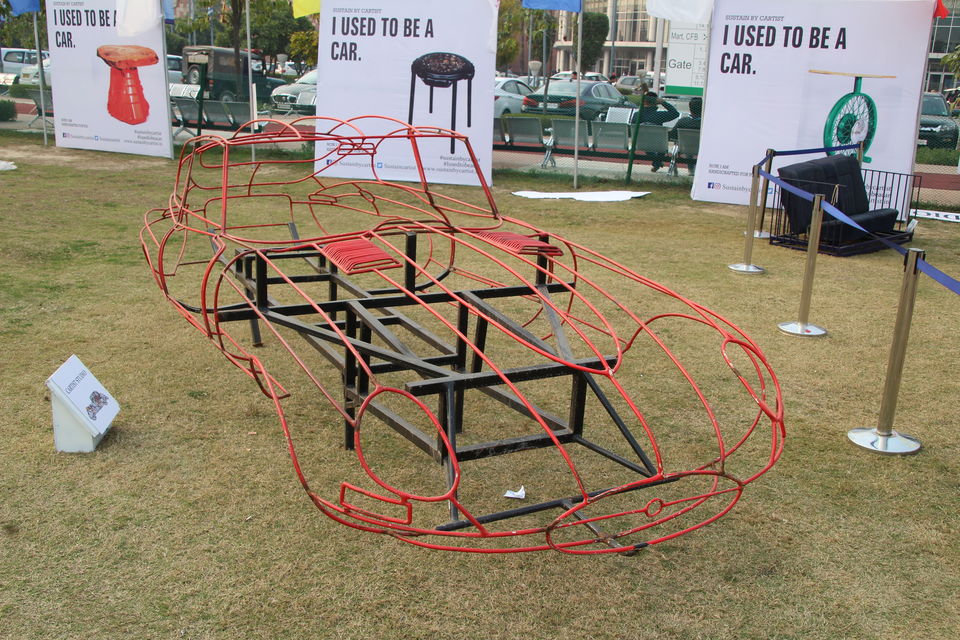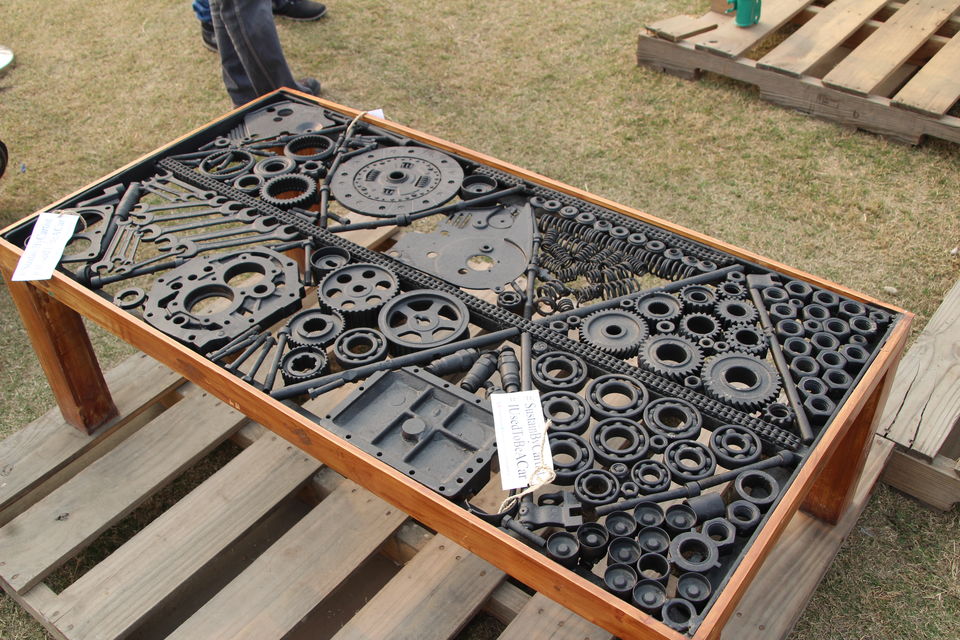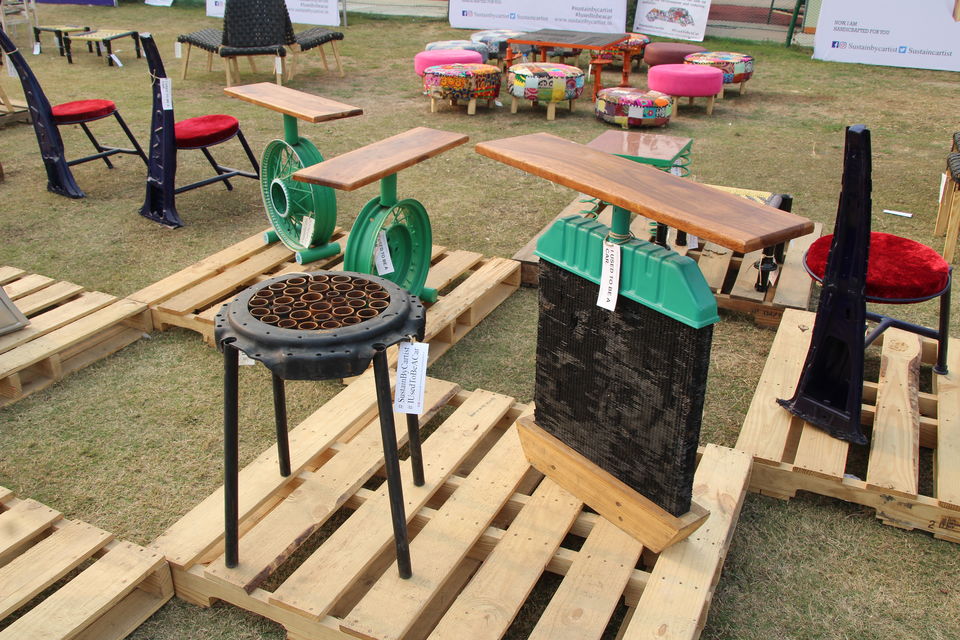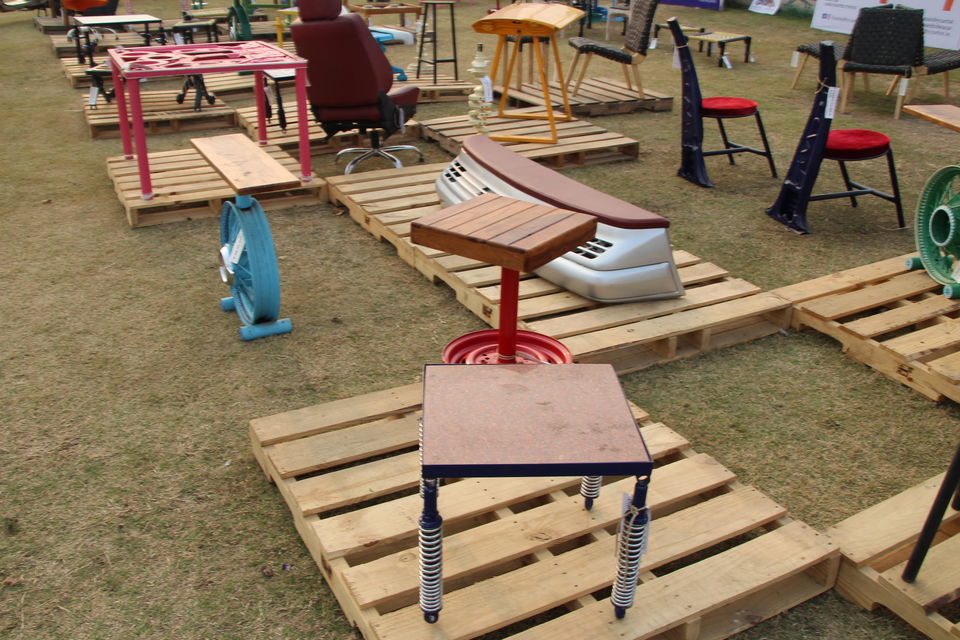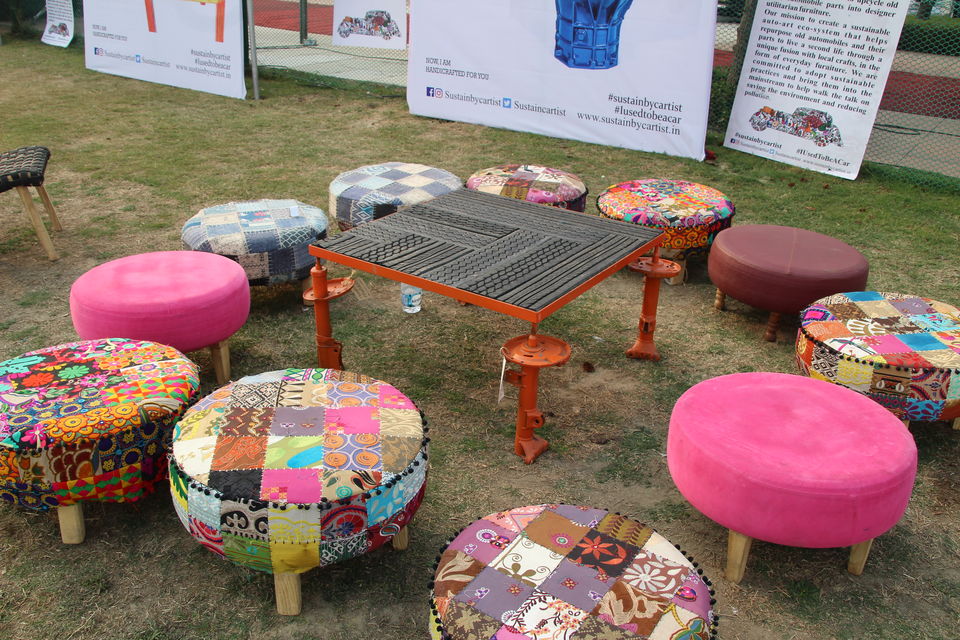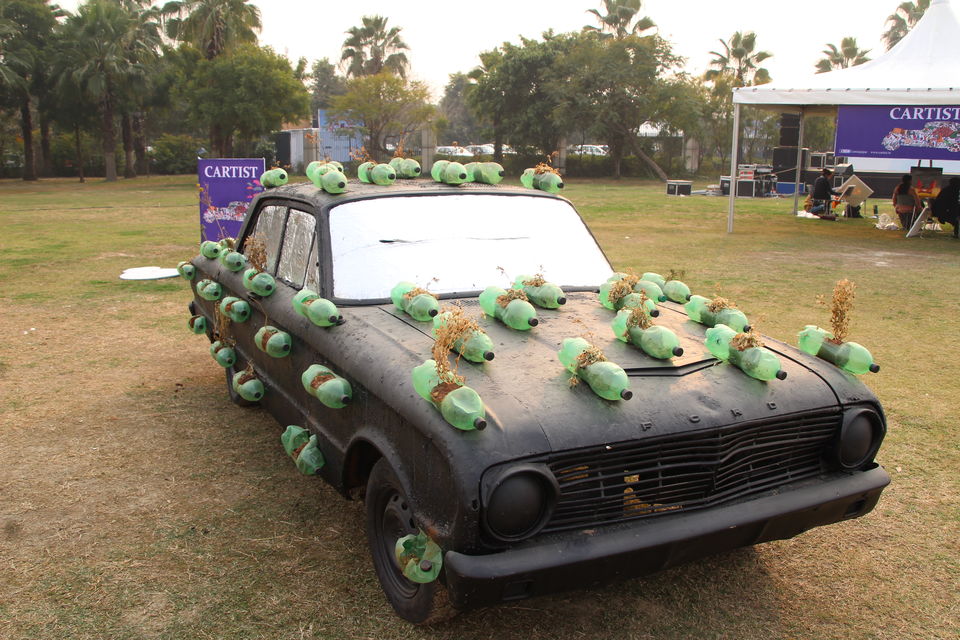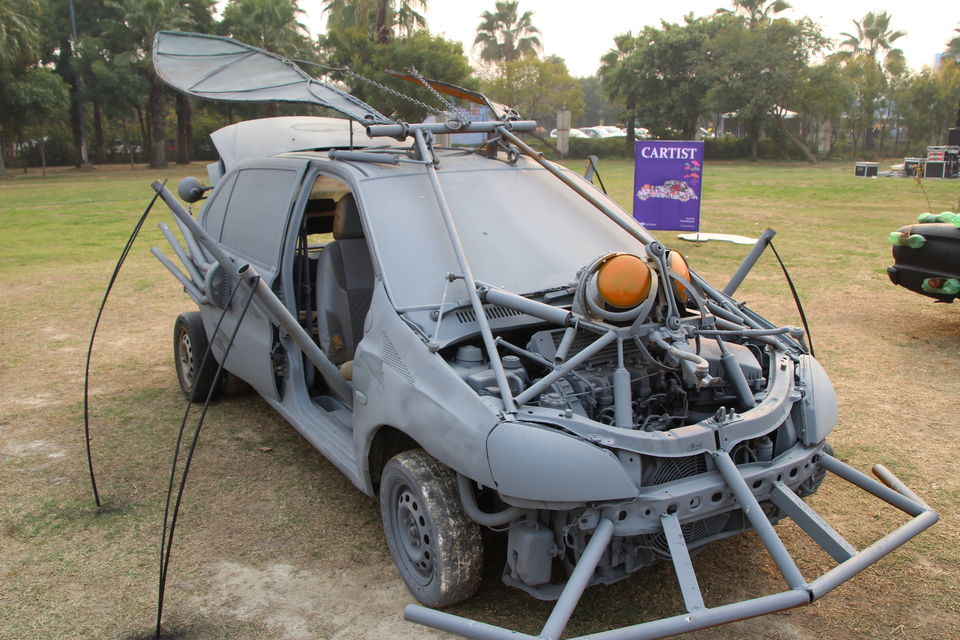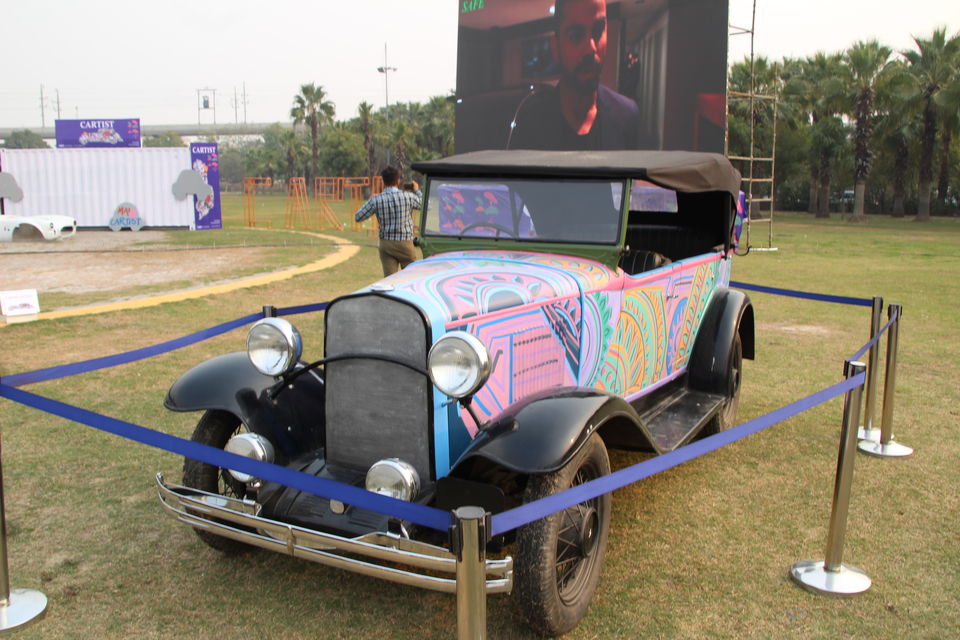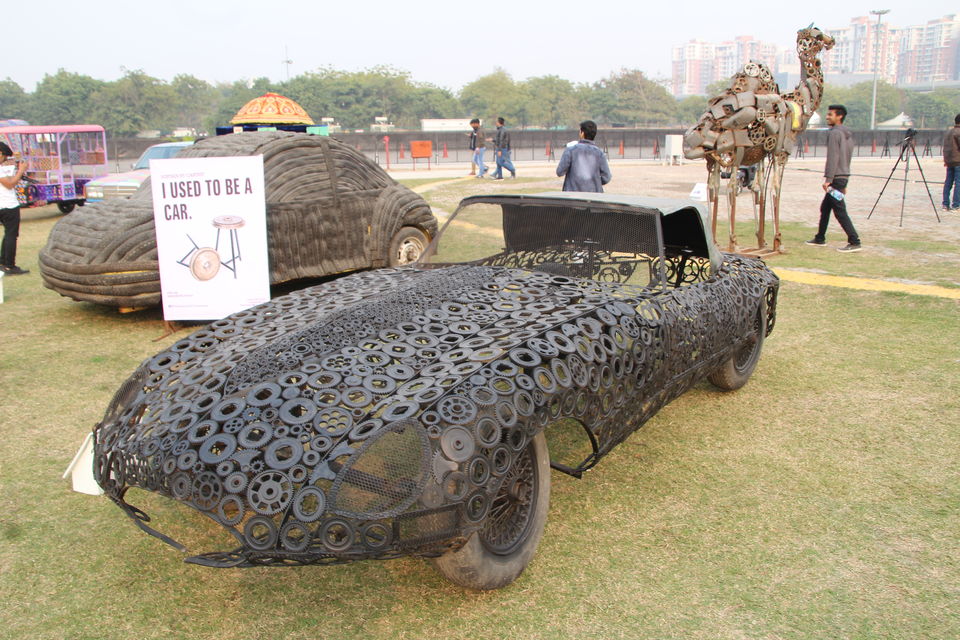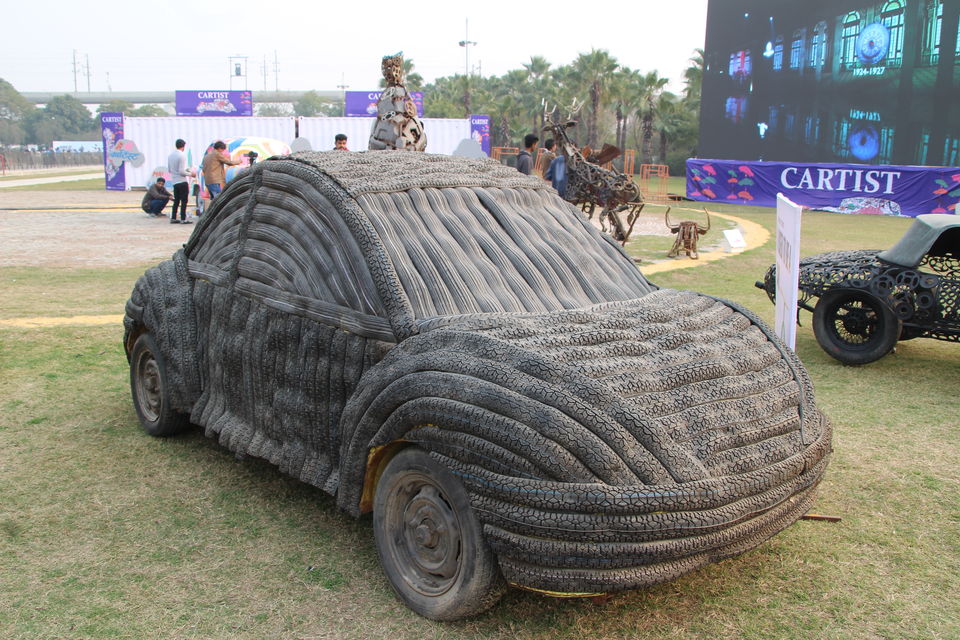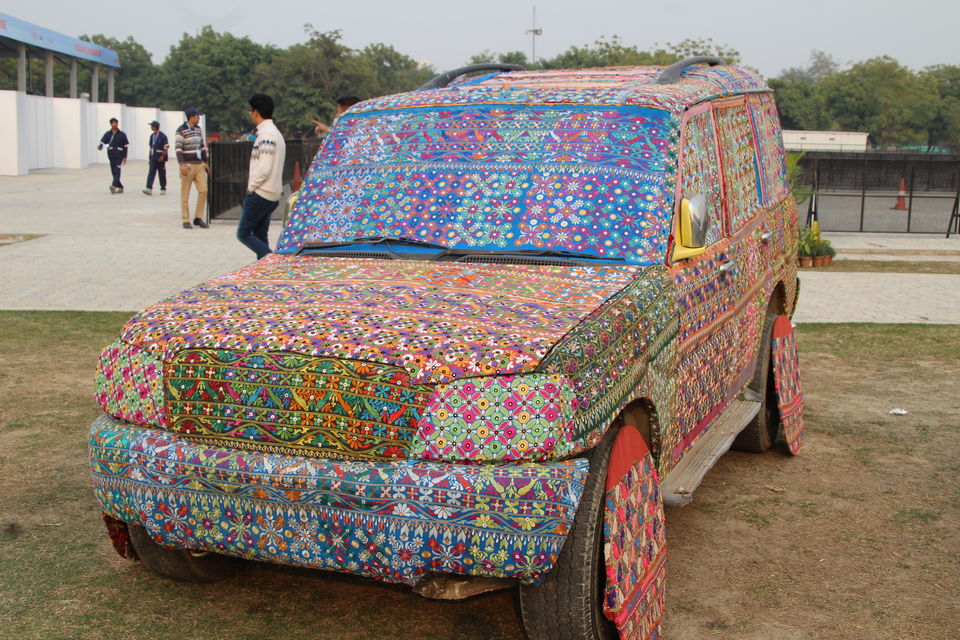 We were aware that half of the major two-wheeler companies skipped the expo. There weren't any exciting motorcycles in the expo. I got rid of my SLR (Put in my bag) and got completely free. Once again we entered the arena and covered the two-wheeler part & other counters. Once again we visited the entire expo and communicated with the OEM officials. We collected all kinds of brochures, marketing stuff, and magazines. The second phase of the visit was amazing for me as I didn't have to carry my backpack with me.
At 1845, we got out of the arena.
We spend some time in the arena. We did some photography and bid farewell to Auto Expo. I wanted to explore the nightlife of Delhi. My Delhi based cousin wanted me to come to his place, so we can explore some pubs and discs in Delhi. However, the attempt of being a solo tourist took its toll. It was a long day for me. I was exhausted. We drove up to Gurgaon. I checked in a hotel and called it a day.At 1845, we got out of the arena.
We spend some time in the arena. We did some photography and bid farewell to Auto Expo. I wanted to explore the nightlife of Delhi. My Delhi based cousin wanted me to come to his place, so we can explore some pubs and discs in Delhi. However, the attempt of being a solo tourist took its toll. It was a long day for me. I was exhausted. We drove up to Gurgaon. I checked in a hotel and called it a day.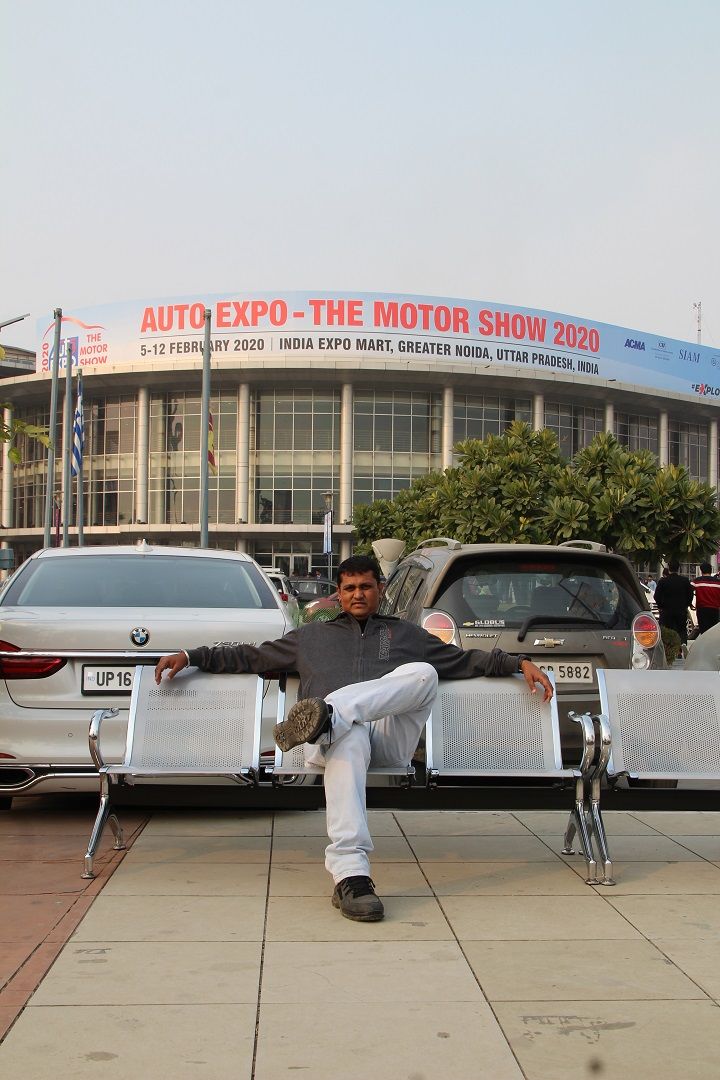 On 8th Feb, when I woke up at 0900, my phone was full of WhatsApp message saying "Jimny Launched ho gayi" (Jimny is Launched). What? "Aise kaise launch ho gayi?" I checked around and came to know that it was not launched but it was displayed at MS Pavilion. It was also amazing news.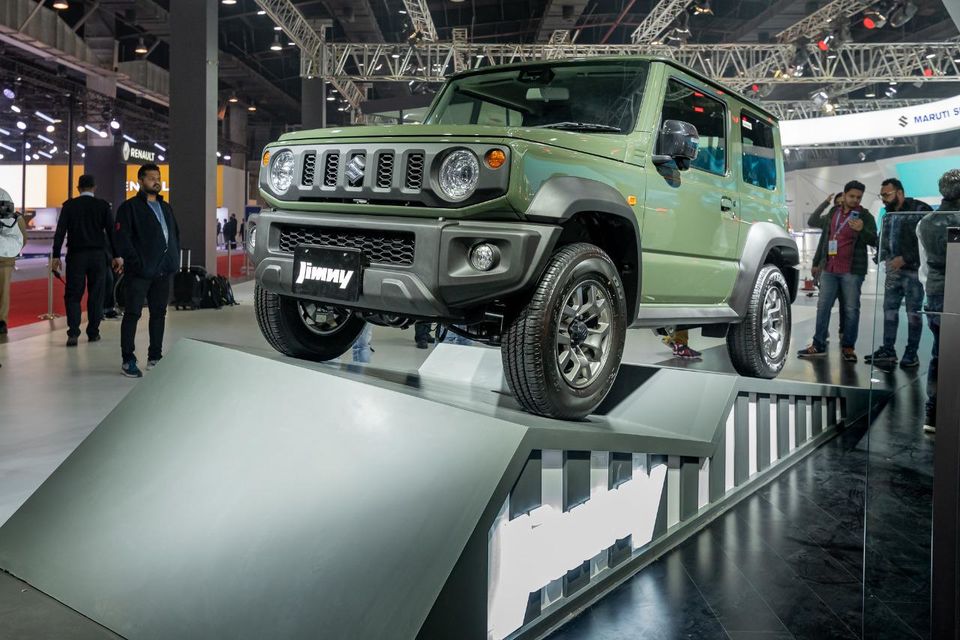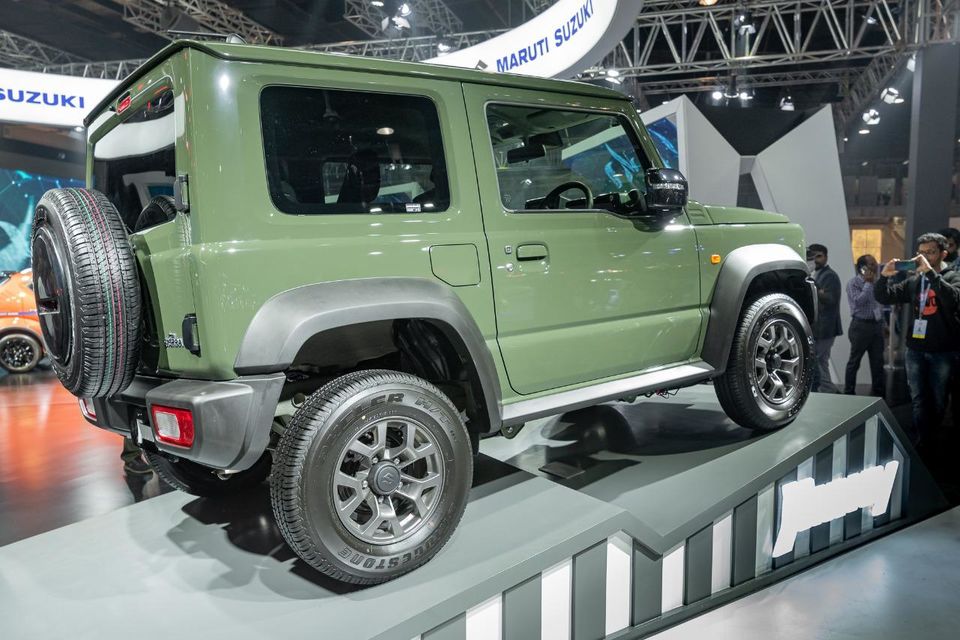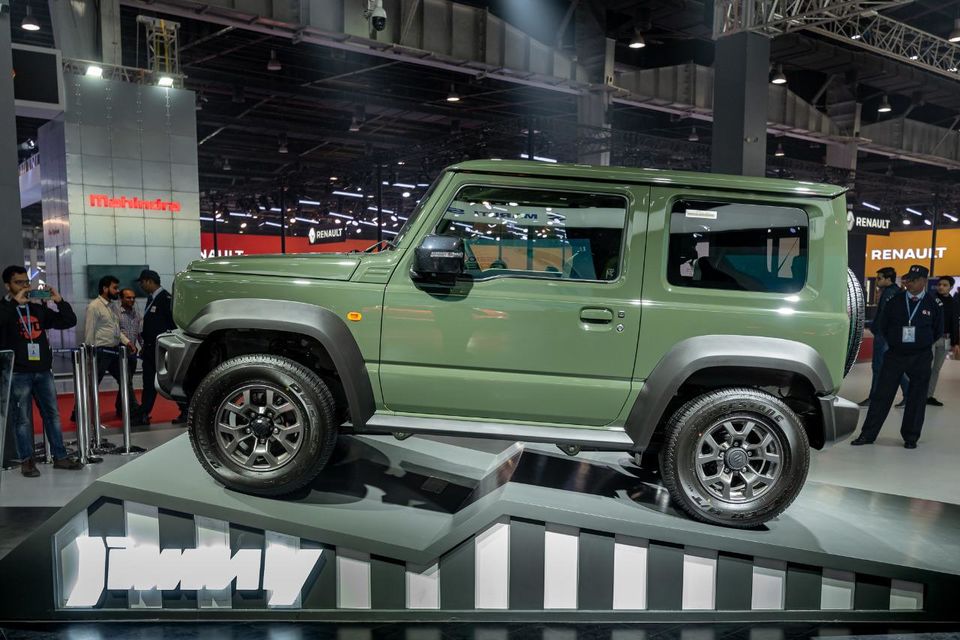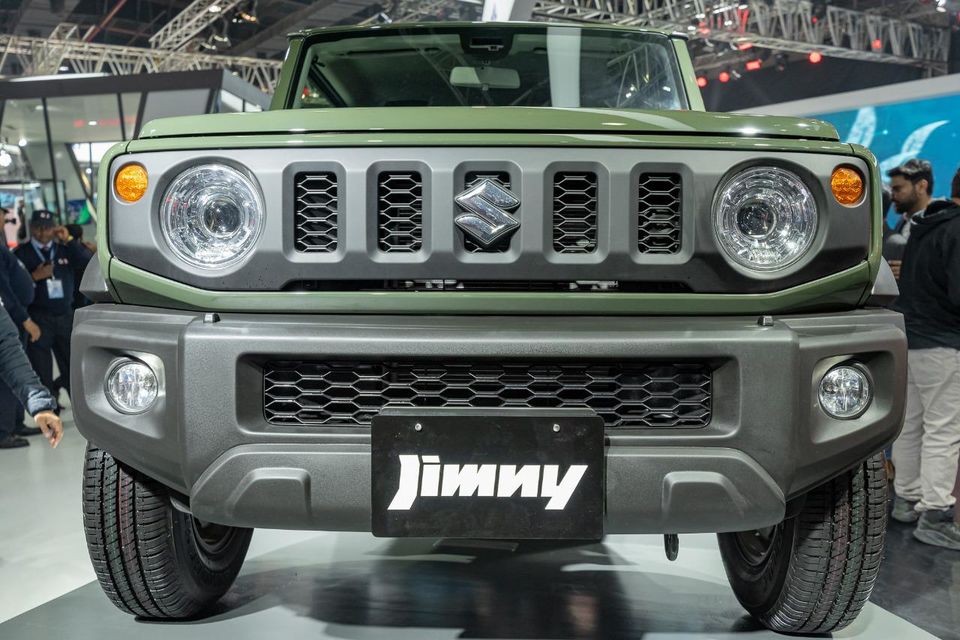 When my friend came to pick me up at 1000, he was also excited for Jimny. He proposed to visit Auto Expo once again to have look at Jimny. It was a mouth-watering proposition. However, we had a meet to attend. We drove to DND( Delhi-Noida Direct) toll Plaza. We were excited to meet Brezza owners from Delhi and NCR. I was eager to see Yamuna Expressway (aka Taj Expressway).
We reached DND toll plaza at 1100 and after a formal hi and hello session, we started our drive to Highway Masala on Yamuna Expressway.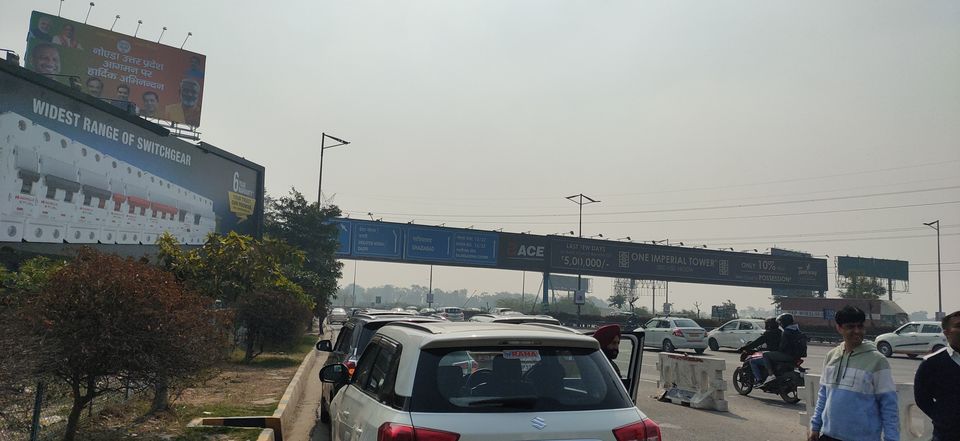 My friend is from Noida. We talked a lot about property scene in Noida, traffic in Delhi and NCR, cars and many other things. It was my first time on Yamuna Expressway. Yamuna Expressway has amazingly maintained 8 lane roads. I liked the idea of keeping an extra lane( left side) without a tarred surface. The vehicle can stop on this lane in case of an emergency. Many boards were saying "yaha picnic ke liye rukna mana hai" (no picnic on left lane). We need those kinds of boards on our highways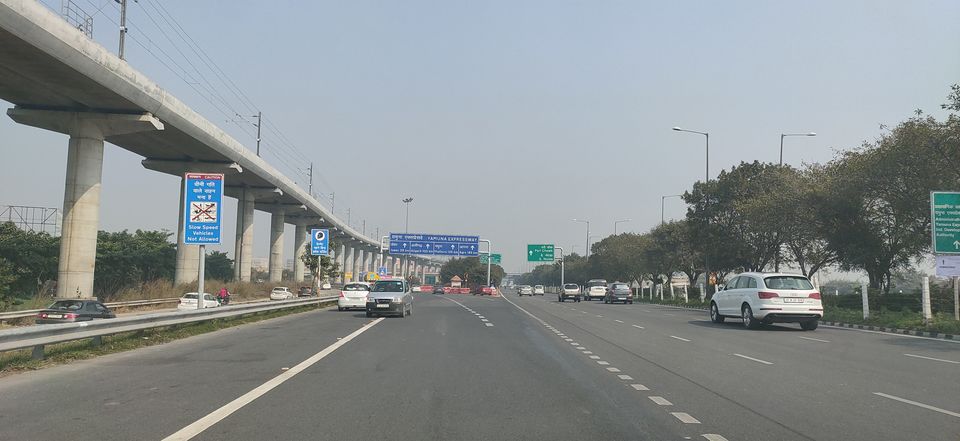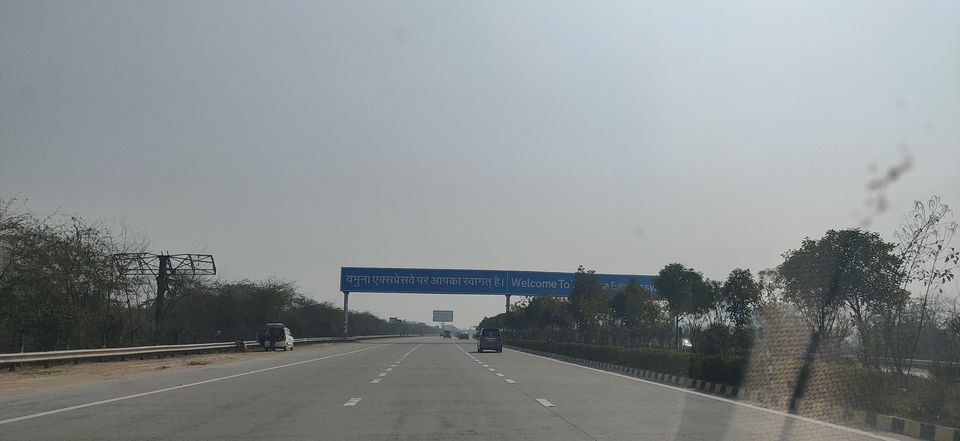 He told me many horrible stories of fog and accidents due to that. At one point he stopped the car and asked me to look at the right side of the car. It was a big sports stadium kind of pavilion. I asked whats that and to my surprise, he told me that its BIC ( Buddh International Circuit.) Wow, I didn't know that we were going to drive that close to BIC. After a 40 minutes drive, we reached Highway Masala.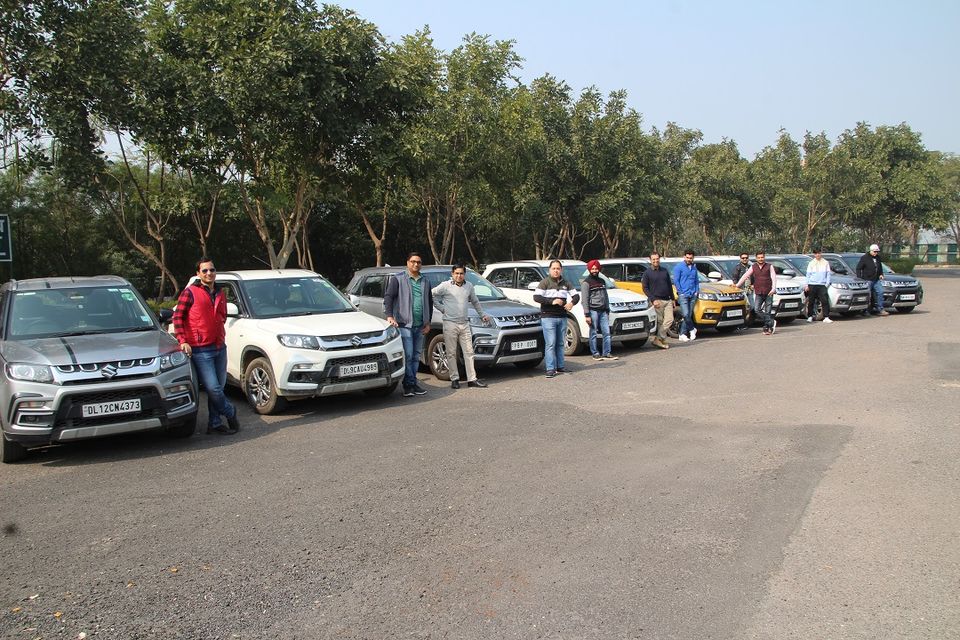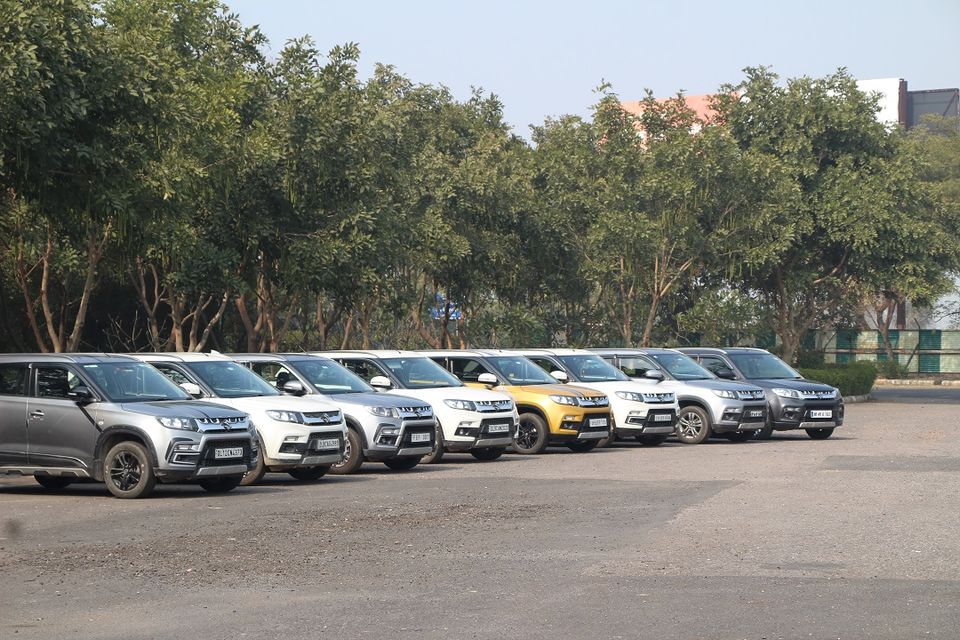 After the meet, friend dropped me at my cousin's place. The plan was to spend last night at my cousin's place. However, before that, I had to explain to him that where was I for two days and why I didn't visit them even I was in Delhi for two days.
Late that evening, we had a small drive-in Noida and its concrete jungle by his new Nexon. I had too many questions about Delhi and NCR. Cousin answered all of them patiently. We had a good family time that evening. Lately, I came to know that my cousin is also an old BHPian but not that active.
The next day, we visited the Connaught place. I did some shopping for family and they dropped me at the nearest metro station.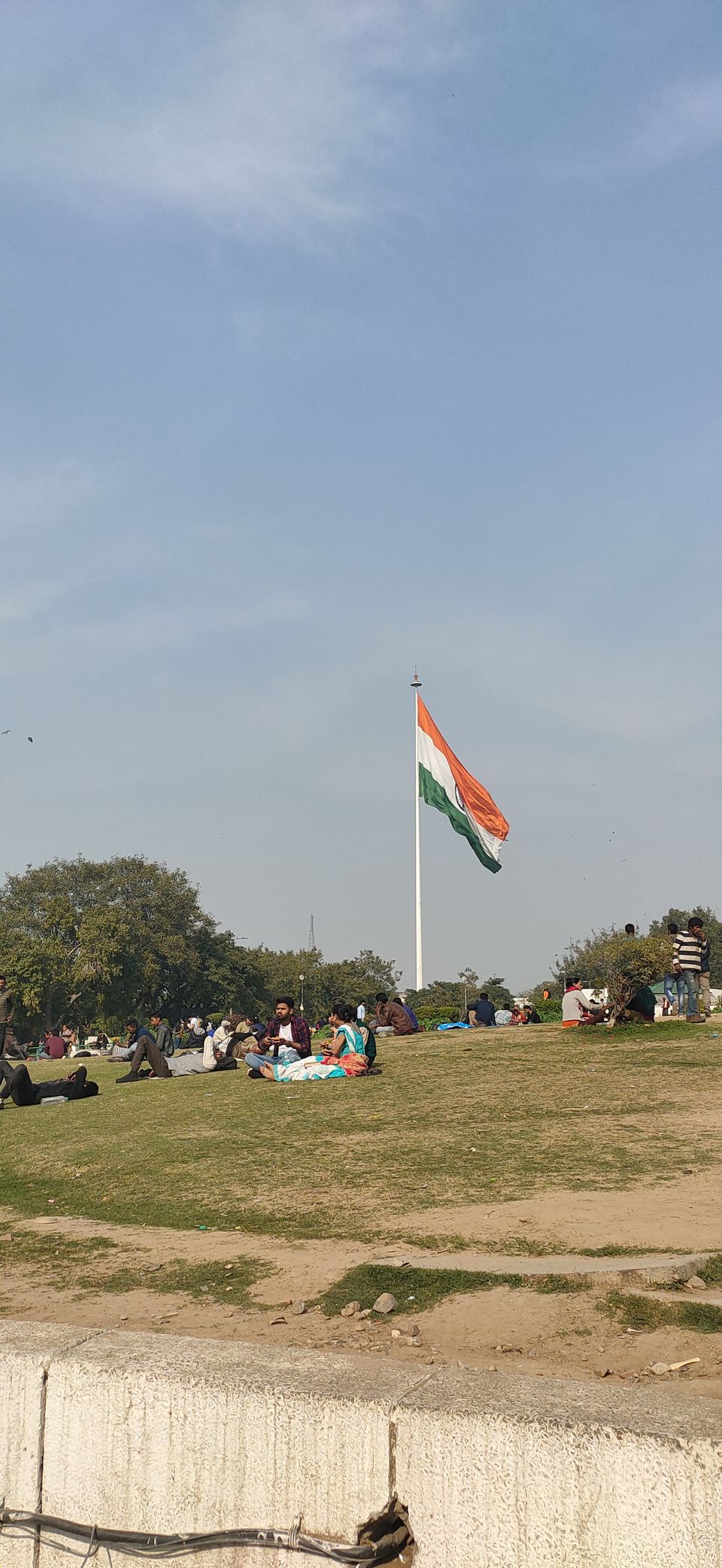 Overall, it was an amazing trip. Where in, I was able to experience some well-known dishes, visit the auto expo, meet other BHPians & Brezza owners and had amazing family time.