Like India, China has a lot of regional cuisines to offer for the die hard foodies. And their love for snacks is incomparable. Every city has a pedestrian street offering tasty and inexpensive street food. The streets come alive in the evening, and worth a visit to try some of the local regional cuisines. I would also like to break the myth that you can't find vegetarian in China, I do agree it is tad bit difficult, but China does have a buddhist population so not impossible.
Beijing:
No trip to Beijing is complete without trying the Peking Duck. We tried the one at Siji Minfu on Dengshikou Street, the roast duck is carved in front of you and you can order half a duck, if you wish. Create your own pancake with the roast duck and the condiments provided. The crackling skin and juicy meat with the sweetness of the sauce and sharpness of the sugar crystals is worth the hype. It is known to get busy at this restaurant, so visit early and maybe on a weekday. For the vegetarians, there are many options, you can also try Zha Jiang Mian, which is the soya bean paste noodle. A more expensive alternative to Siji Minfu is Dadong Roast Duck.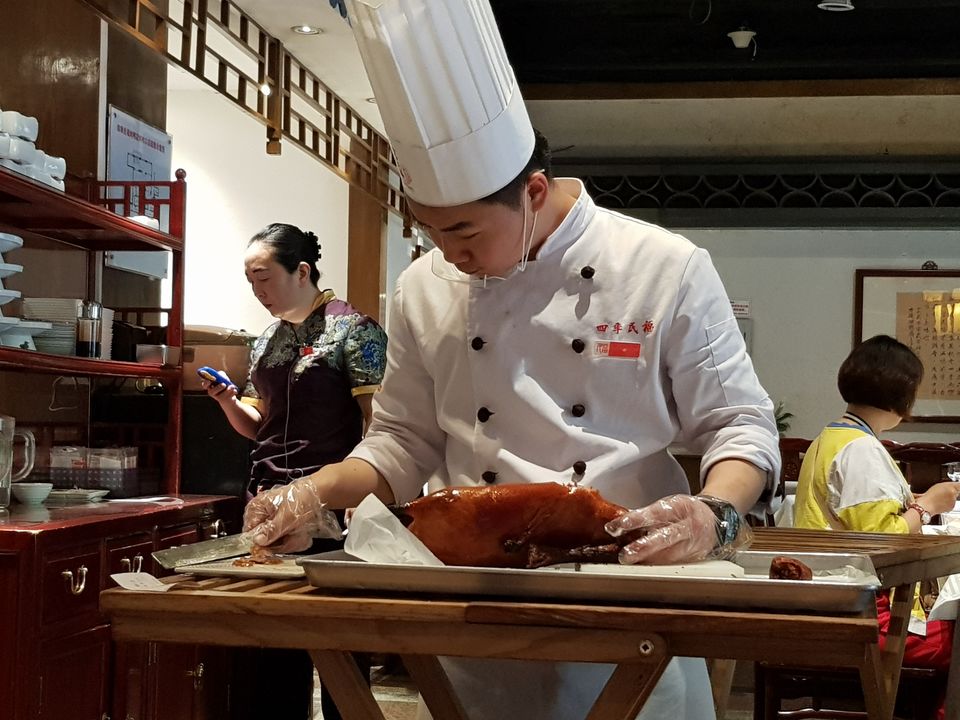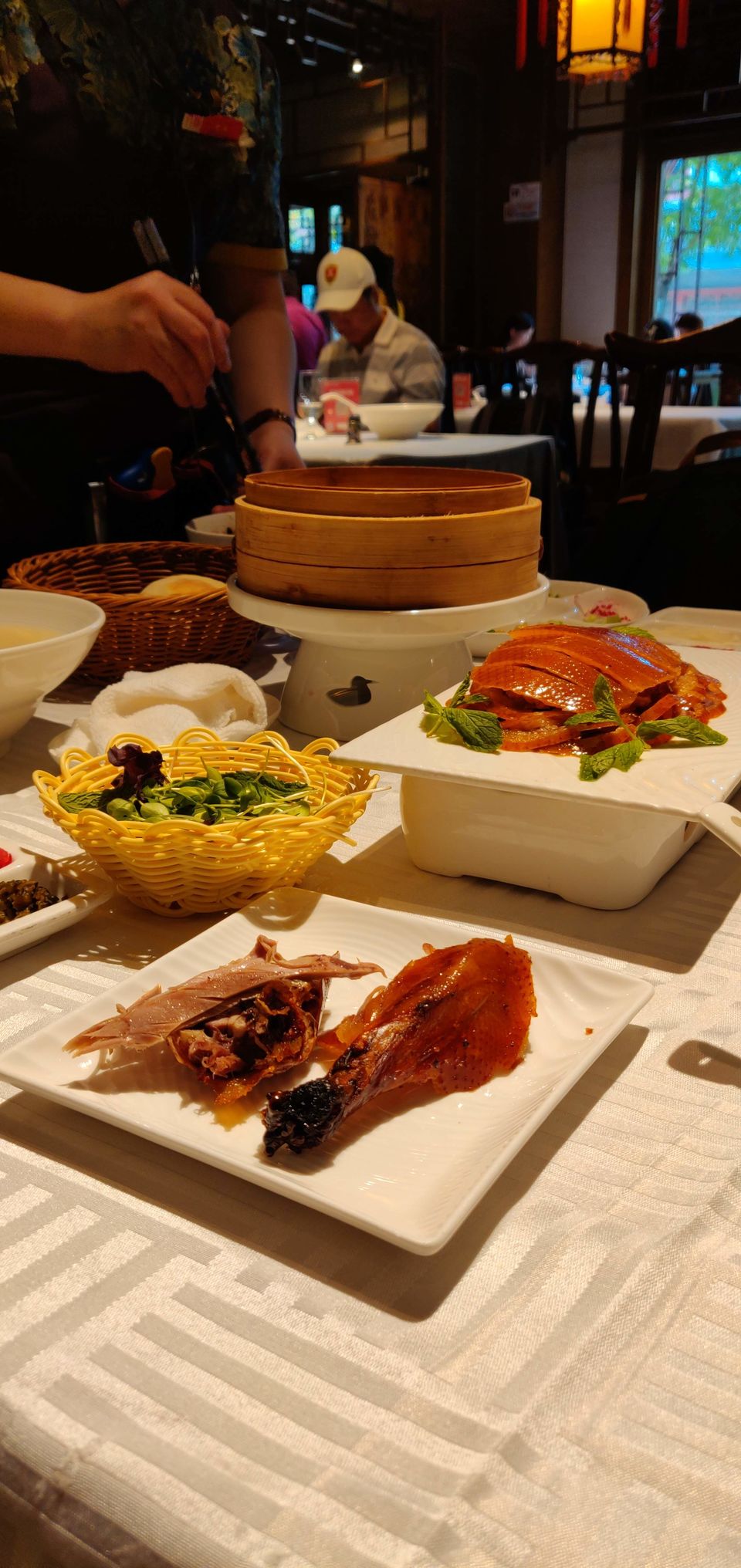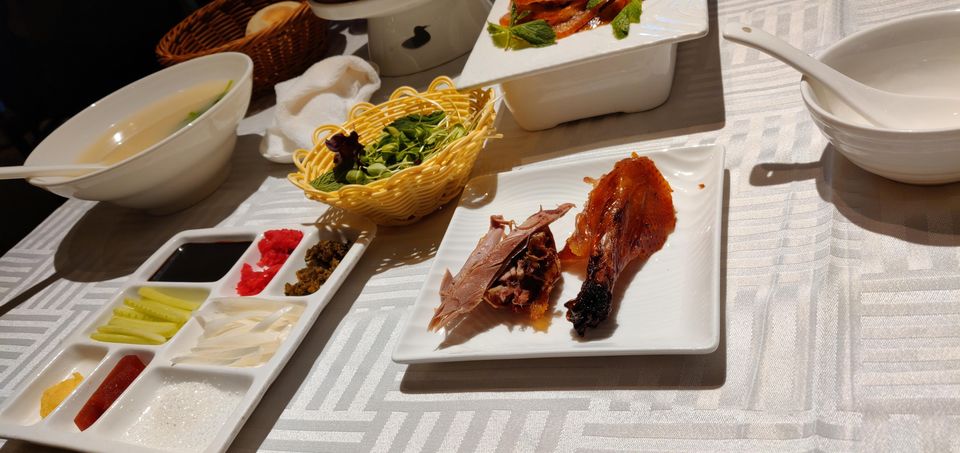 Besides the Wangfujing street, you will also find many street food options near Houhai Lake. With some skepticism, we tried the Durian Cheesecake here. I was not expecting much, since the taste and smell of the Durian fruit can be overpowering, but combined with the cheese and the crusty dough, the cheesecake was actually good.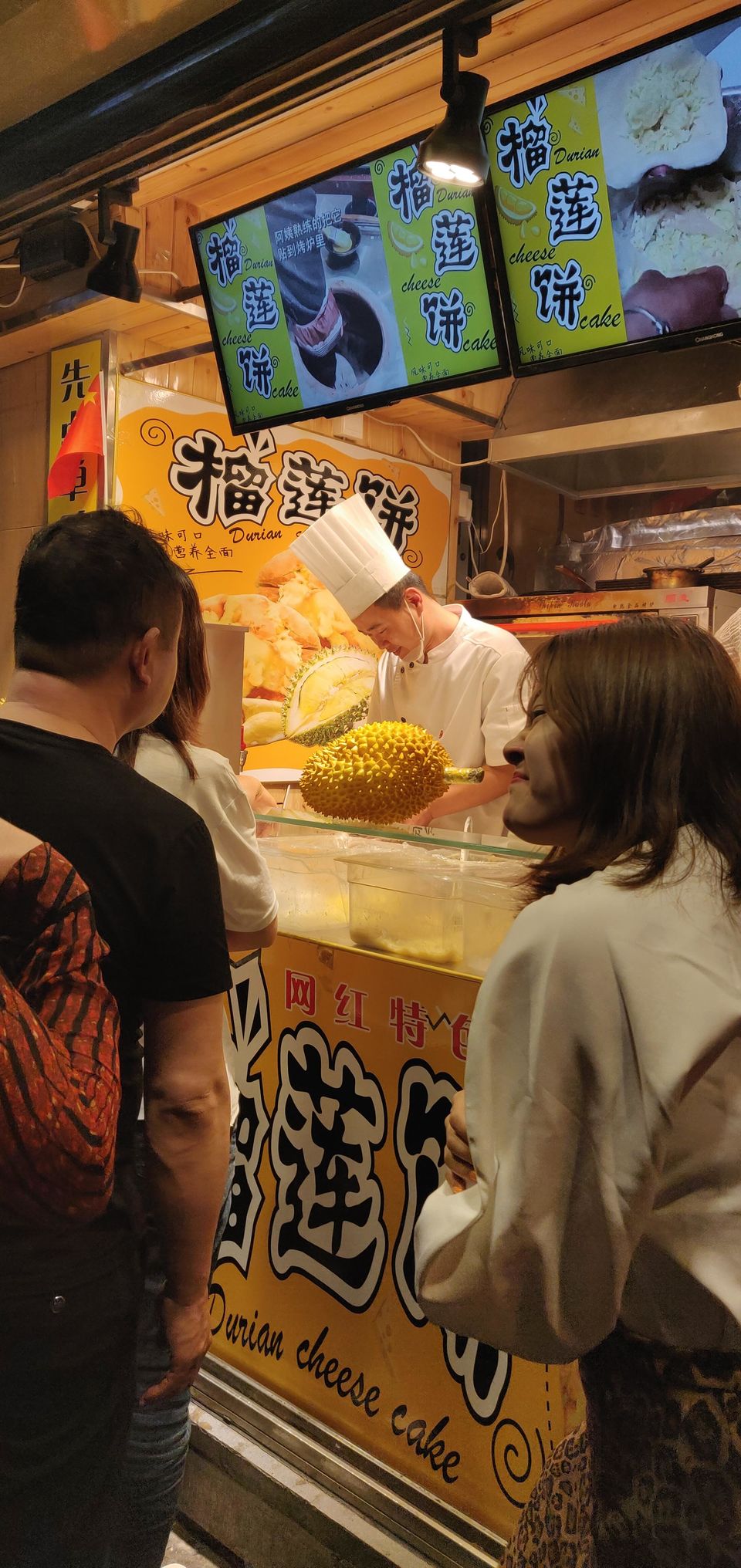 For dinner we went to Mr Shi's dumpling, our very first dumpling in China. Mr Shi was difficult to find, mostly because the map location is wrong both on google and map.me. If you are using the map, go to the location on the map and start walking towards Gulou East Street to find the restaurant. There are varied options for both veg and non-veg dumplings along with an english menu. They even have desert dumplings. The dumpling wrappers were thinner and the meat inside really juicy. The dumplings were freshly made and the minimal ingredients really enhanced the flavors. The chocolate and fruit filled dessert dumplings were also an interesting dish to try.
For the vegetarians, a must visit restaurant is the Suhu Vege Tiger, the one we visited was close to Tiananmen Square. You can find the locals queuing up here. We had to wait for around 20 minutes to get a seat, but it was worth it. The buffet had a lot of options from main course, drinks and deserts. The scallion pancakes, although oily were quite tasty.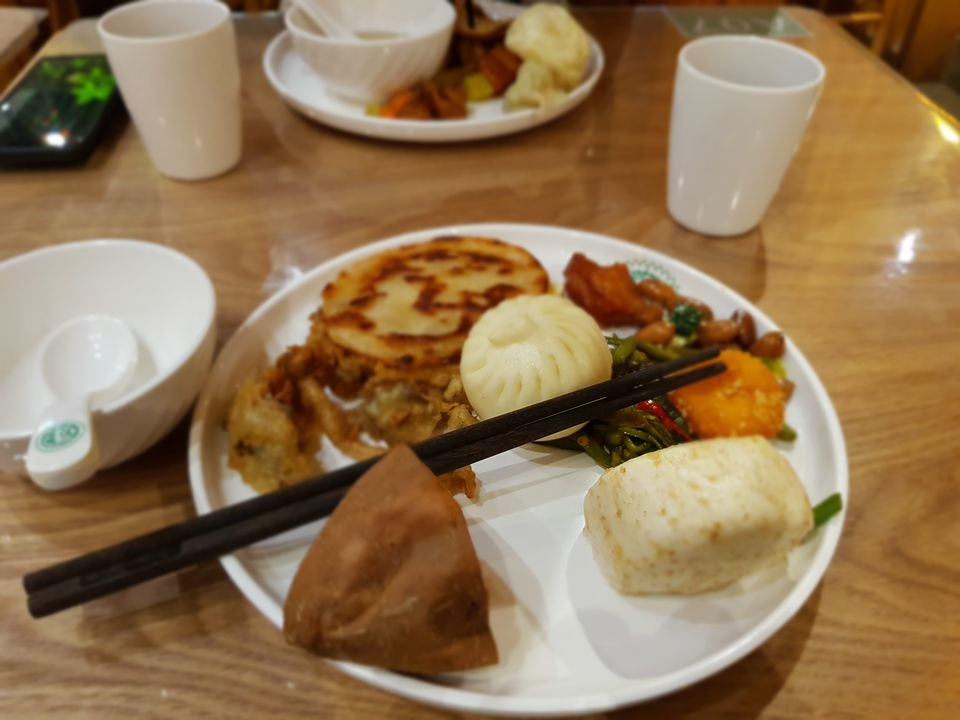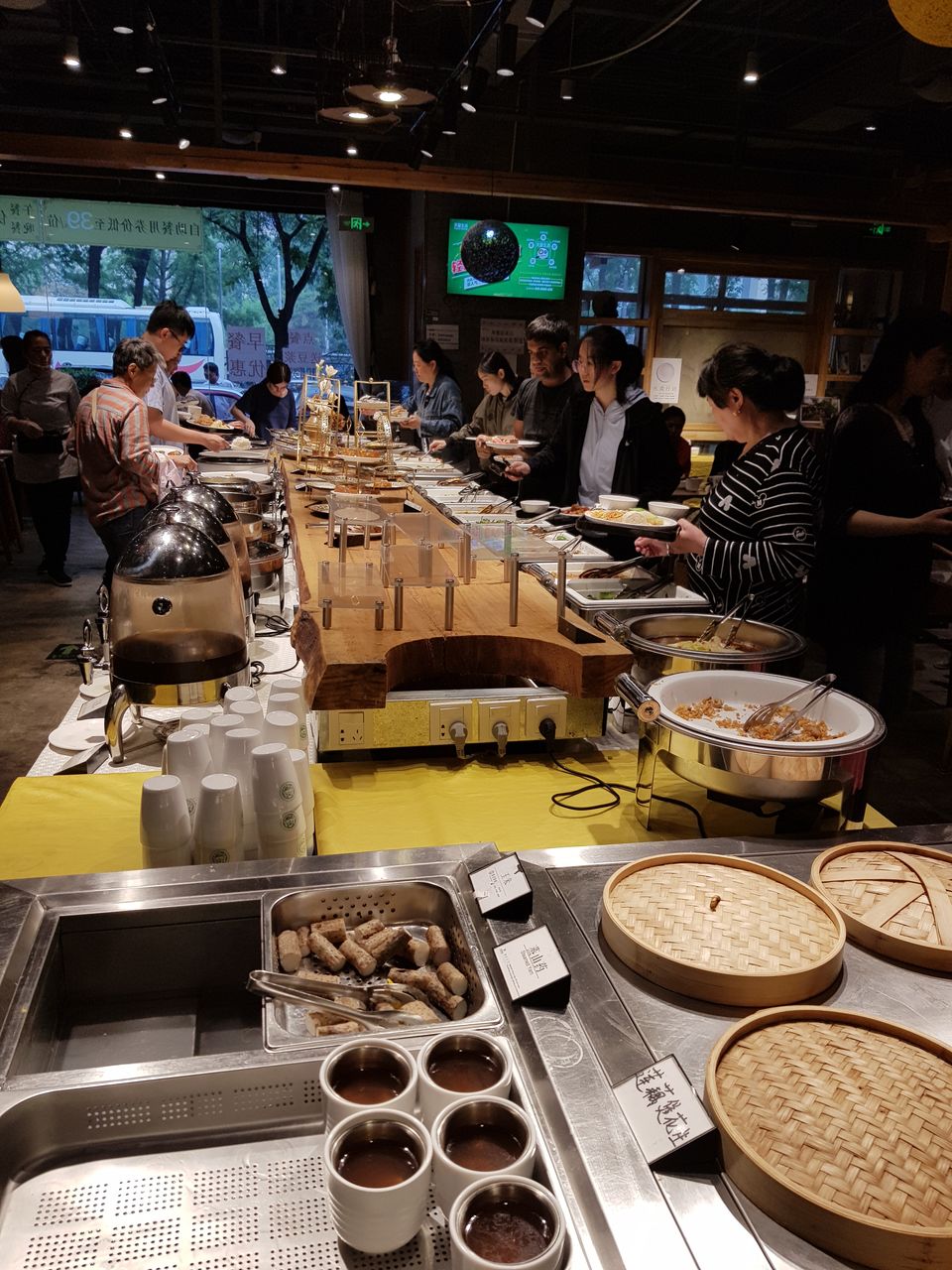 When in Beijing, if you would like to try some traditional snacks or sweets, you can visit Beijing Daoxiangcun (稻香村) snack shop. You will find many chains of this store all across Beijing, the pastries with the chinese stamp on them are usually the old traditional ones. If you want to try some particular snacks, you can always show this article to the salesman, he will pick the ones that look interesting to you.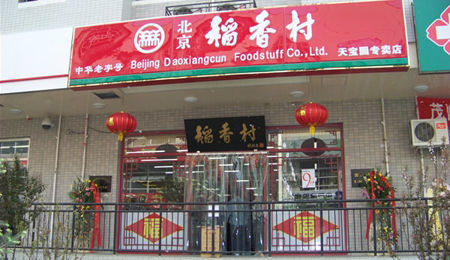 Xi'an
Another must try in China is the Hot pot, there are variations even in the hotpots according to the regions, these are available in roadside eateries as well as fine-dine restaurants. We went to HaidiLao Hotpot (Jiefang Road), it is chain of hotpot restaurants, known for its service and food. During peak hours waiting time can be upto 1hr. What exactly is a hotpot? You pick 1-4 base sauces, and then the ingredients you want to cook in them. When the sauce gets heated, put your meat or veggies in it and wait for them to cook. You can also create your own custom dipping sauce. When the meat or veggies are cooked, scoop them out, dip in the sauce and enjoy. Do try their beer brand, it was actually much better than the local TsingTao beer, don't forget to mention you would like it cold, since the locals have their beer warm. The chinese believe that drinking hot liquids is good for health, that is why you will see a lot of locals carrying tea tumblers with them even while travelling.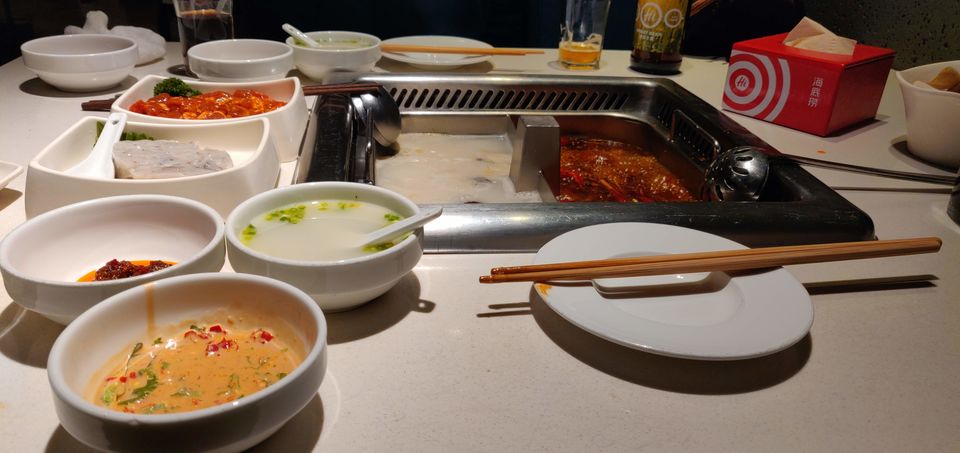 Note for vegetarians, the mushroom sauce is non-vegetarian, you can go for the spicy sauce and tomato sauce. The tomato sauce can also be had like a soup with some coriander garnishing. 
For other local food, walk down the muslim street behind drum tower. If you see a huge queue, it probably for the Rou jia mo, the Xian Hamburger (Pork burger). Get in line and grab your Rou Jia Mo. 
For vegetarians and non-vegetarians, a must try is the Liangfen, this a cold rice noodles with vegetable and sometimes sesame paste. A good place to try the same is Sheng Zhiwang, Dapiyuan Road. They also have some local drinks, one tasted like plums and another was made of rice, I wasn't a huge fan, but the locals seemed to be gulping them down.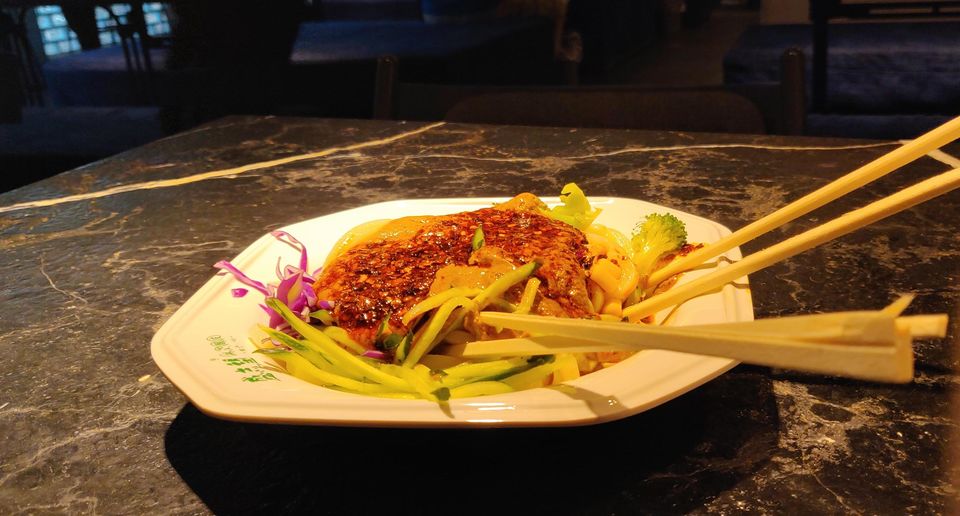 The street also offers vegetarian options like spicy potatoes, and spicy tofu if you like.
Chengdu:
We tried the Lost Plate food tour in Chengdu, you are taken around in a Tuk-Tuk with unlimited local beer and unlimited food. The first stop was a mini-crepe sort of place, where we tried different fillings from spicy, sweet to mixed. We also tried a soupy dessert dish made with jelly, sesame seeds and some hawthorn.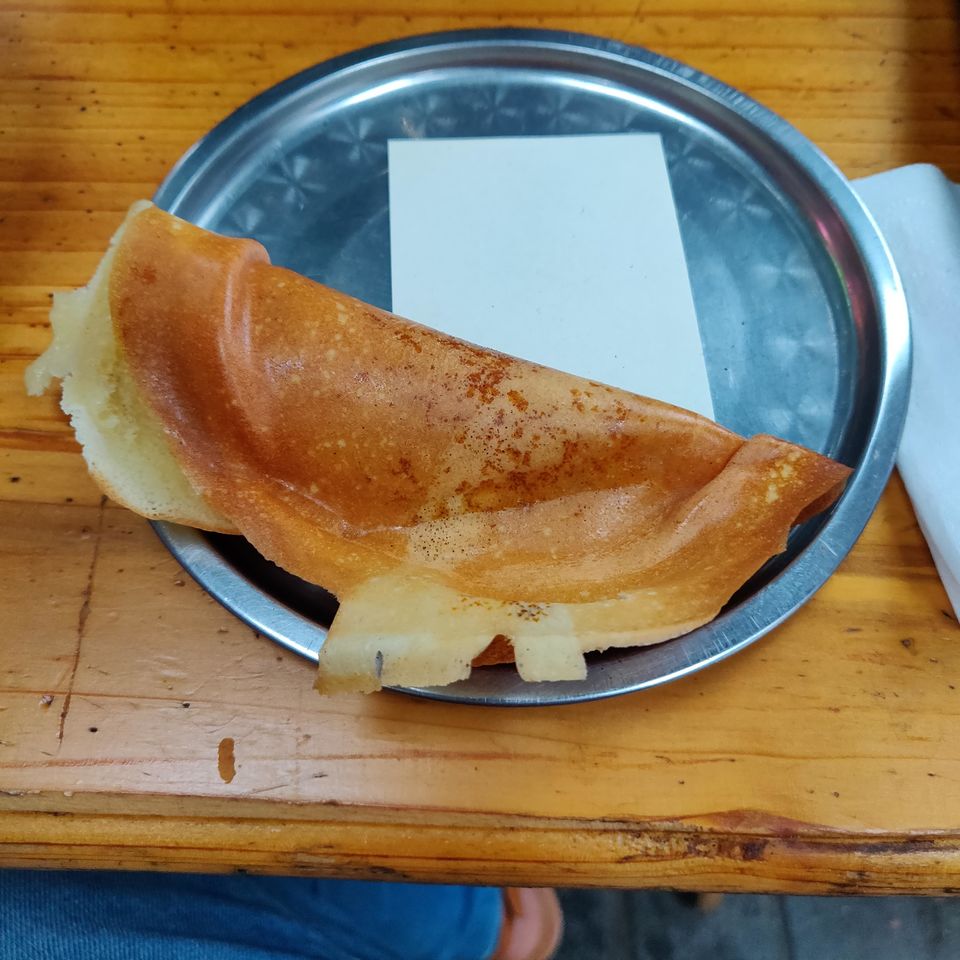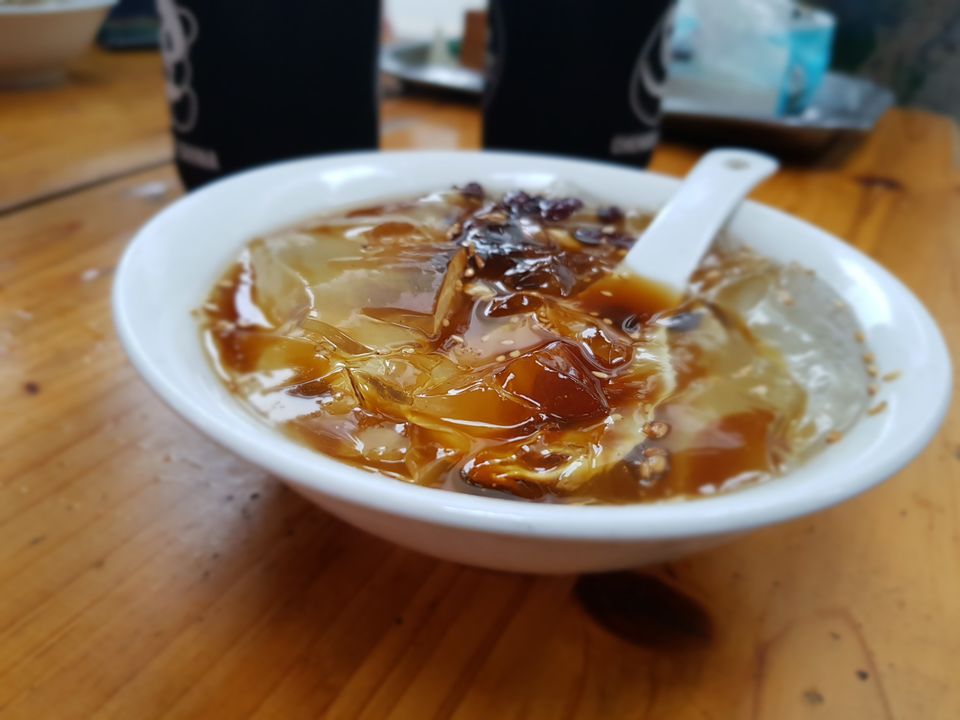 Next stop was a dumpling place in a residential area, here we tried 3 different types of dumplings called Chao Shou, all of them yummy.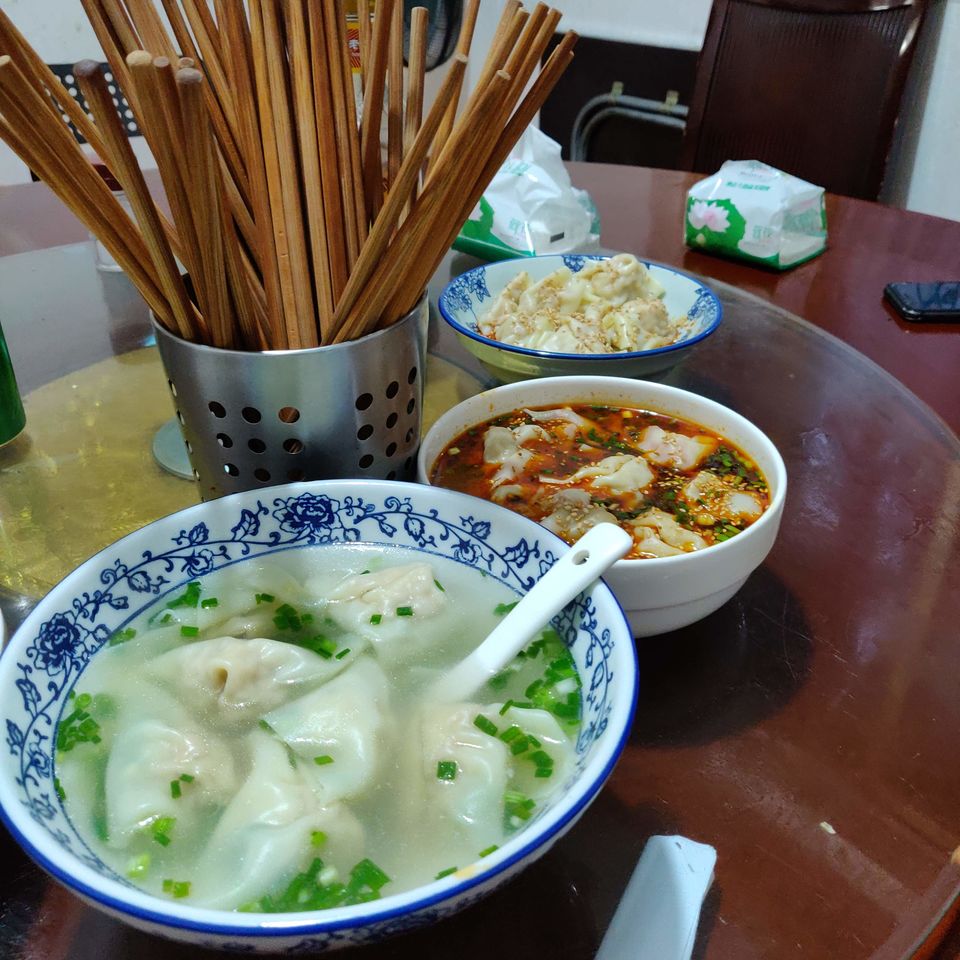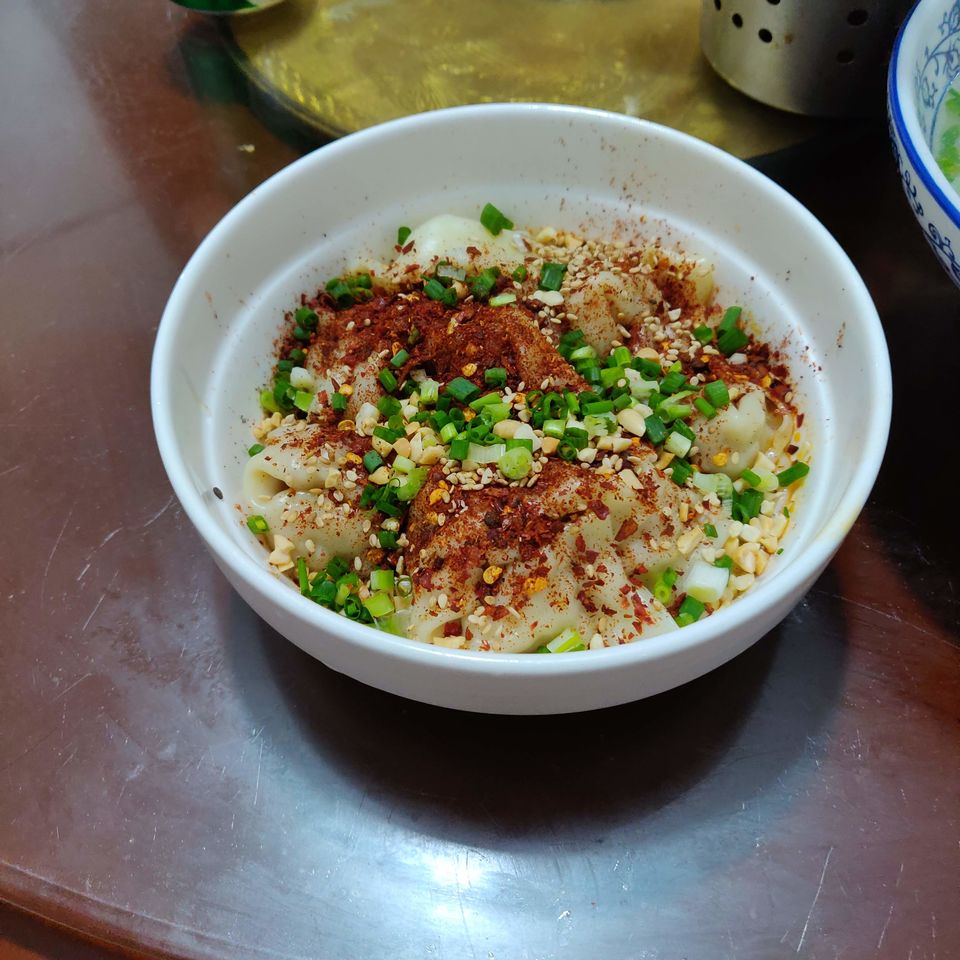 The 3rd place we visited we tried the famous Dan Dan Noodles (担担面)and the sweet water noodles, Tian Shui Mian (甜水面).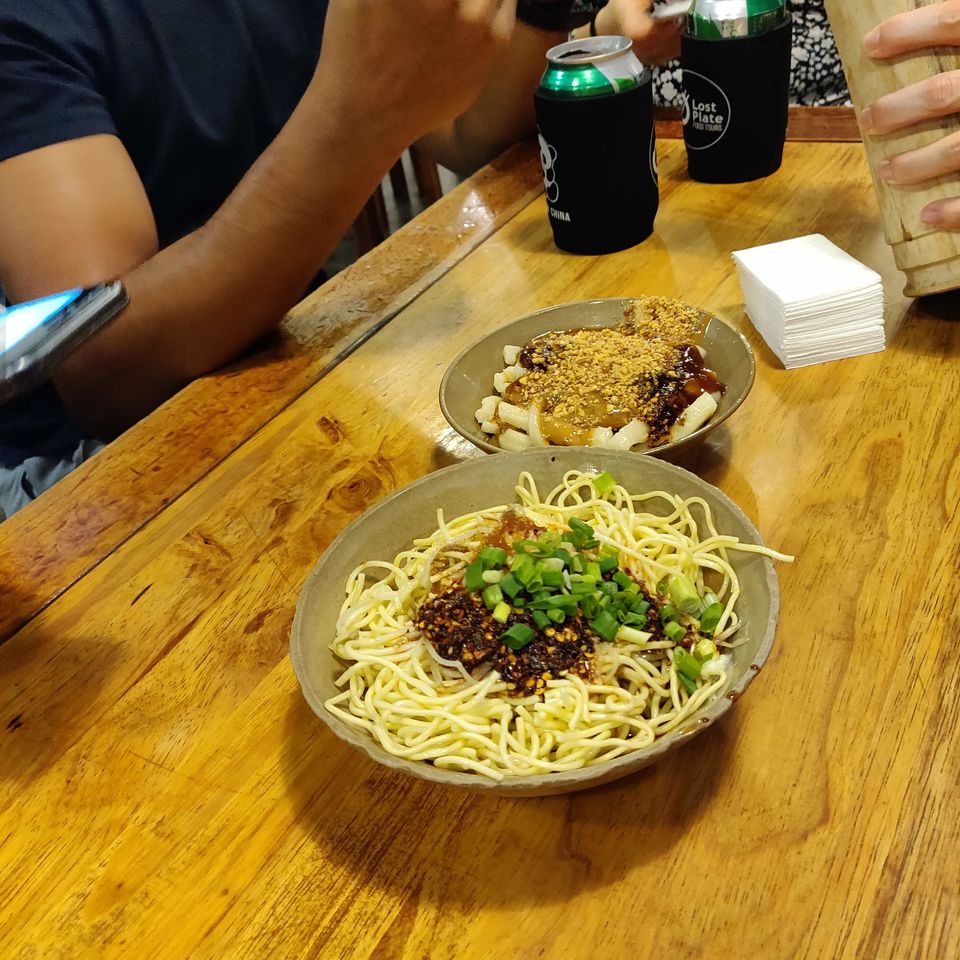 Next up was a sit down Sichuan Cuisine Restaurant. Here we tried many dishes, unfortunately I was too busy eating to take any photos. The tour ends at a bar, with a great view of Chengdu and a final drink. 
If you get a chance, do visit the Wenshu Temple, an old buddhist temple. They also have a buddhist kitchen serving vegetarian buffet as well tea. 
Chengdu, part of the Sichuan region, is known for its spicy sichuan pepper, if you want to get a real taste of the spicy pepper, try the Mapo Dofu. This dish will leave your lips quivering because of the heat, I tried this famous dish at Chen Mapo Dofu at Luomashi and it is definitely recommended.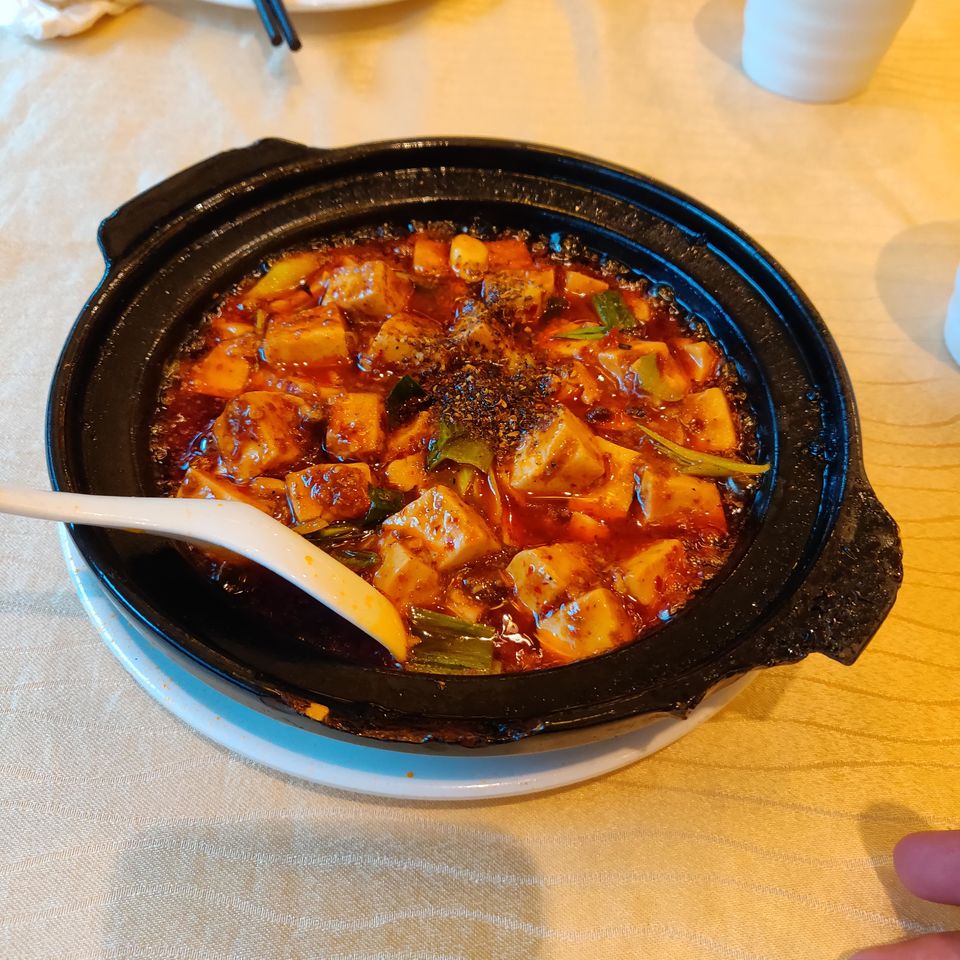 Guilin
Famous noodles in Guilin is the rice noodles, found almost everywhere. In fact most hotels will serve the regional specialities even in their breakfast buffets. We went to Rice noodle pub, mostly because they had an english menu and vegetarian options. But the food was okay.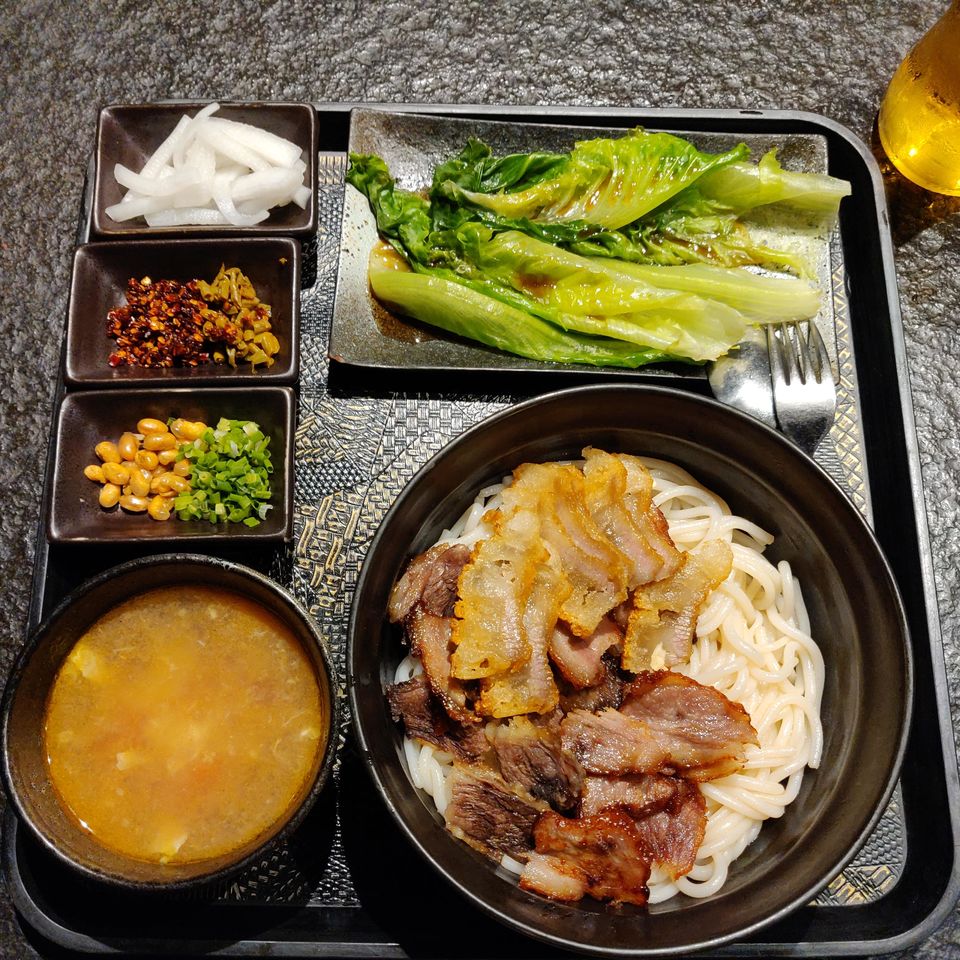 A must have in Guilin is the Roast Goose At Chunji Roast Goose Restaurant, my favourite meal in China. Even a 1/4 portion is quite a lot for one person. But the meat was juicy, and the gravy which was sweet and sour was delicious.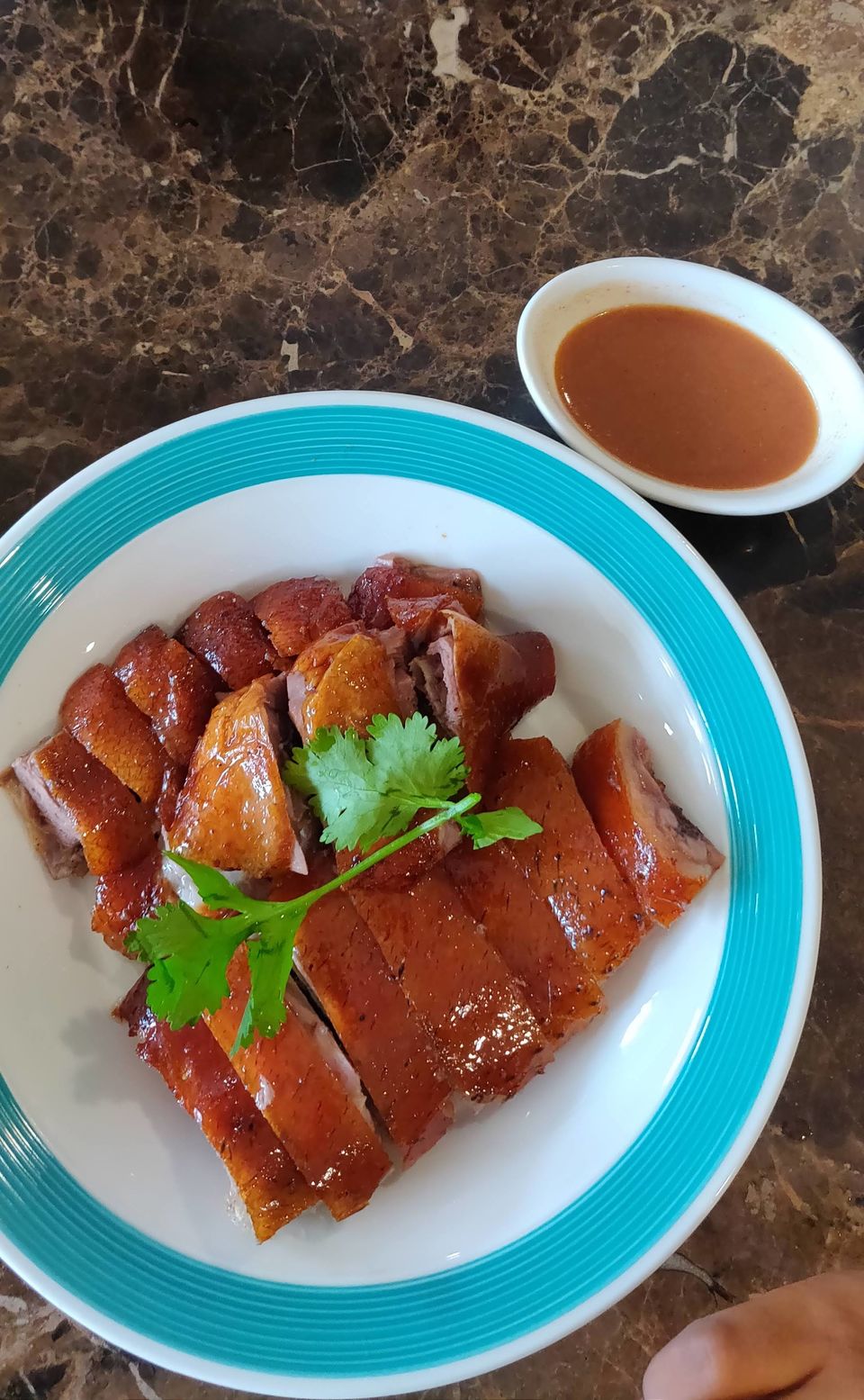 For vegetarians, some good options are the Kali Mirch Indian restaurant, and the Nengren Temple Kitchen. The Buddhist kitchen offers a vegetarian buffet with a lot of variety. They even have multiple type of tea, vegetarian sushi and live noodle counter. 
When in Yangshuo or Guilin, do try the local fruit Kumquat. They are like little oranges and some people have them with the skin.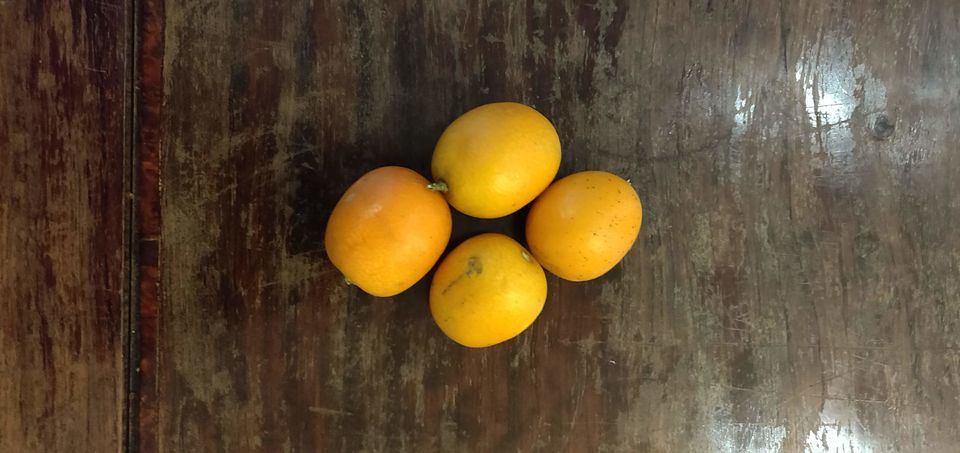 Shanghai
For our last city, we opted for another food tour with Lost Plate, this time it was a walking tour in the French Concession Area.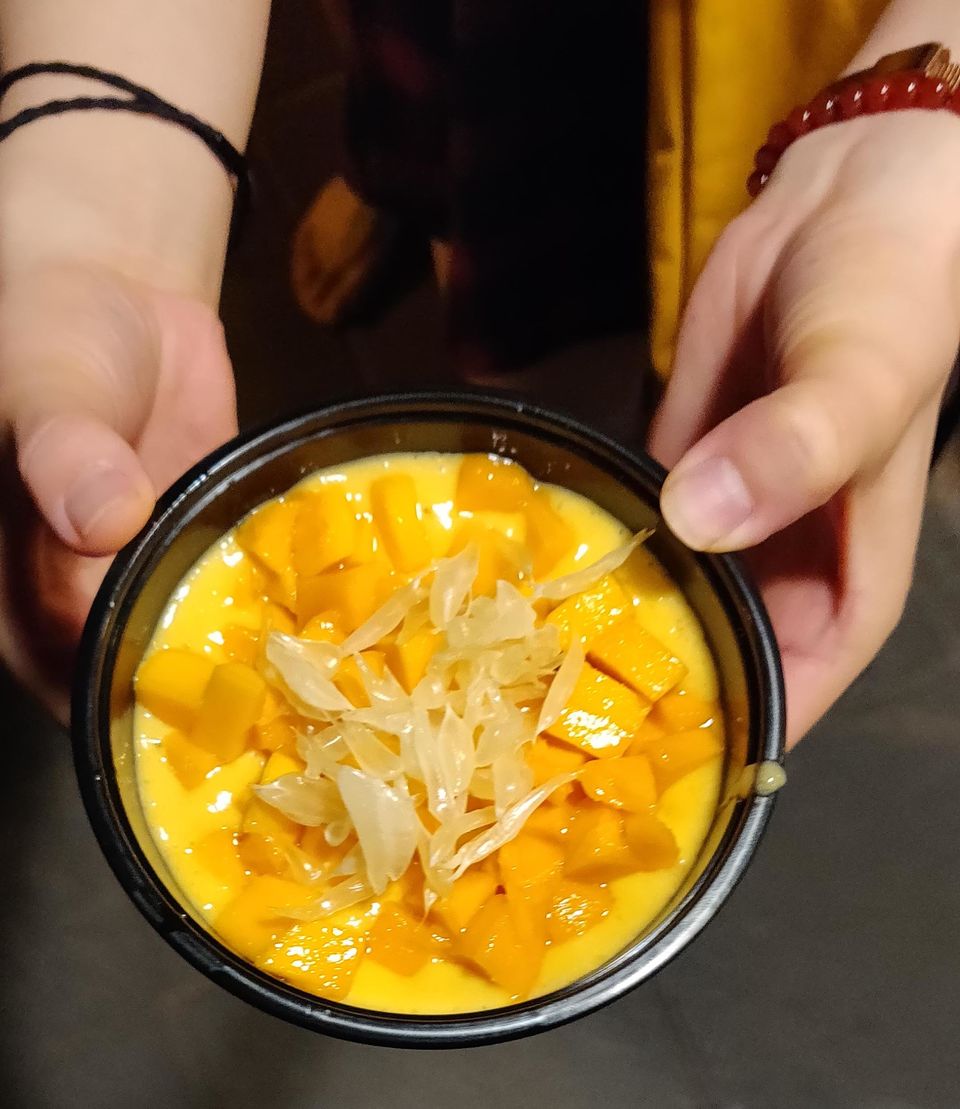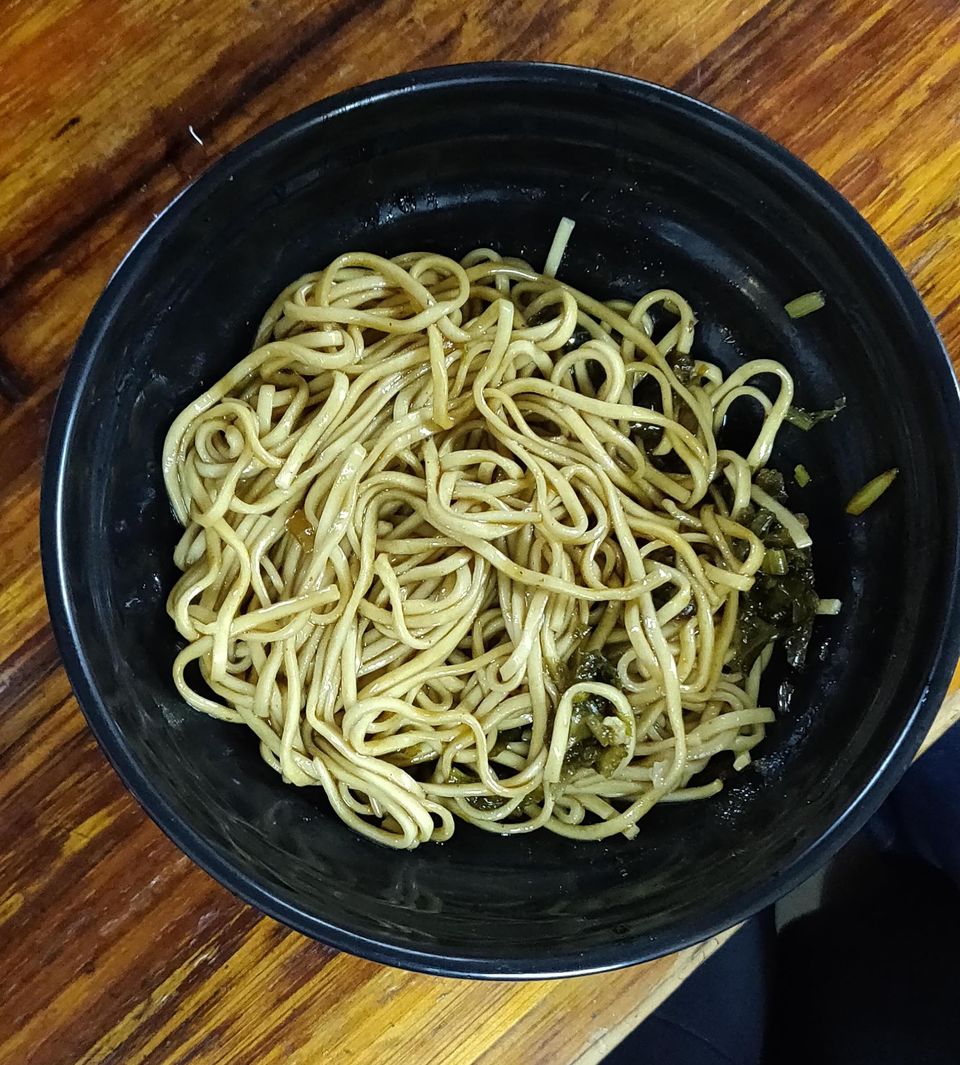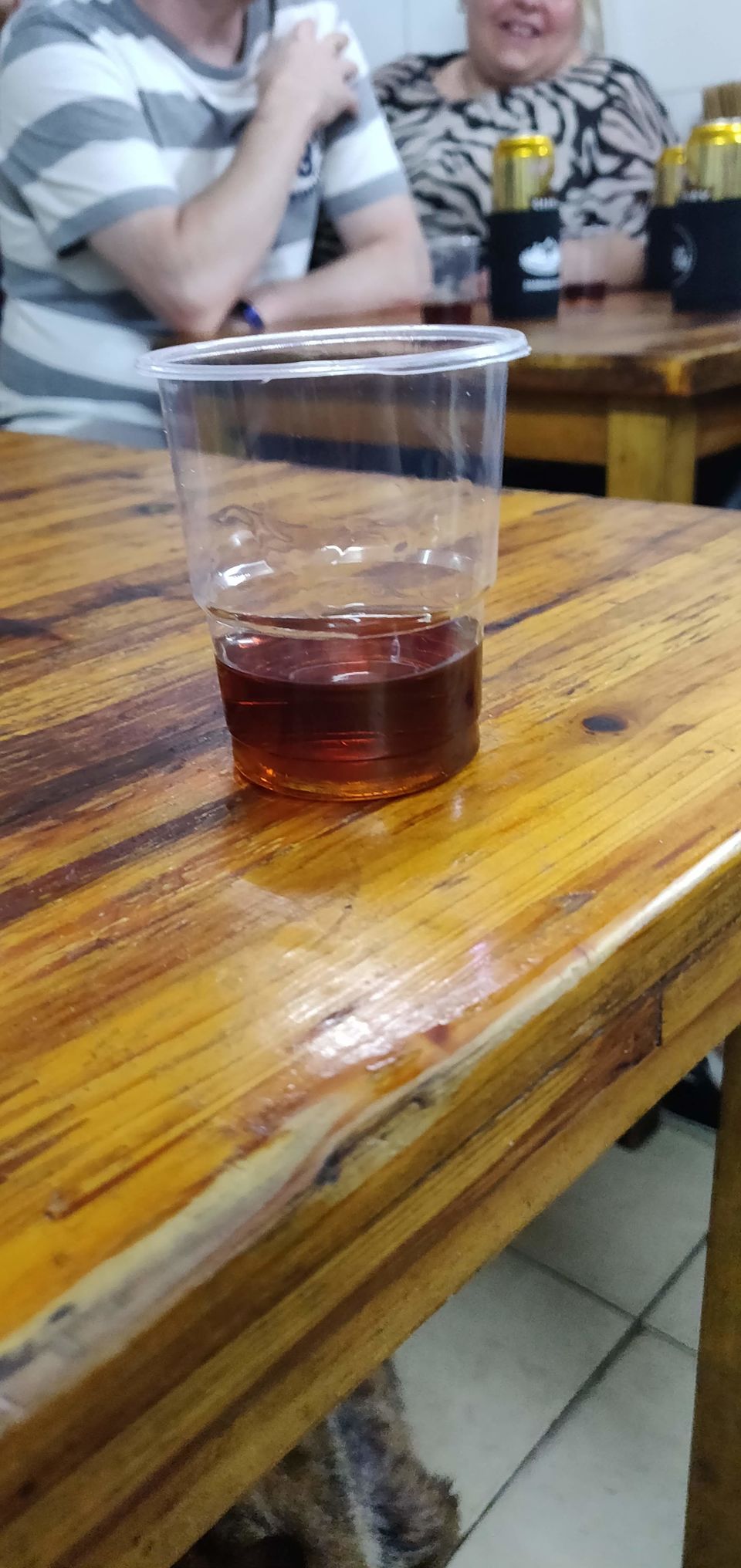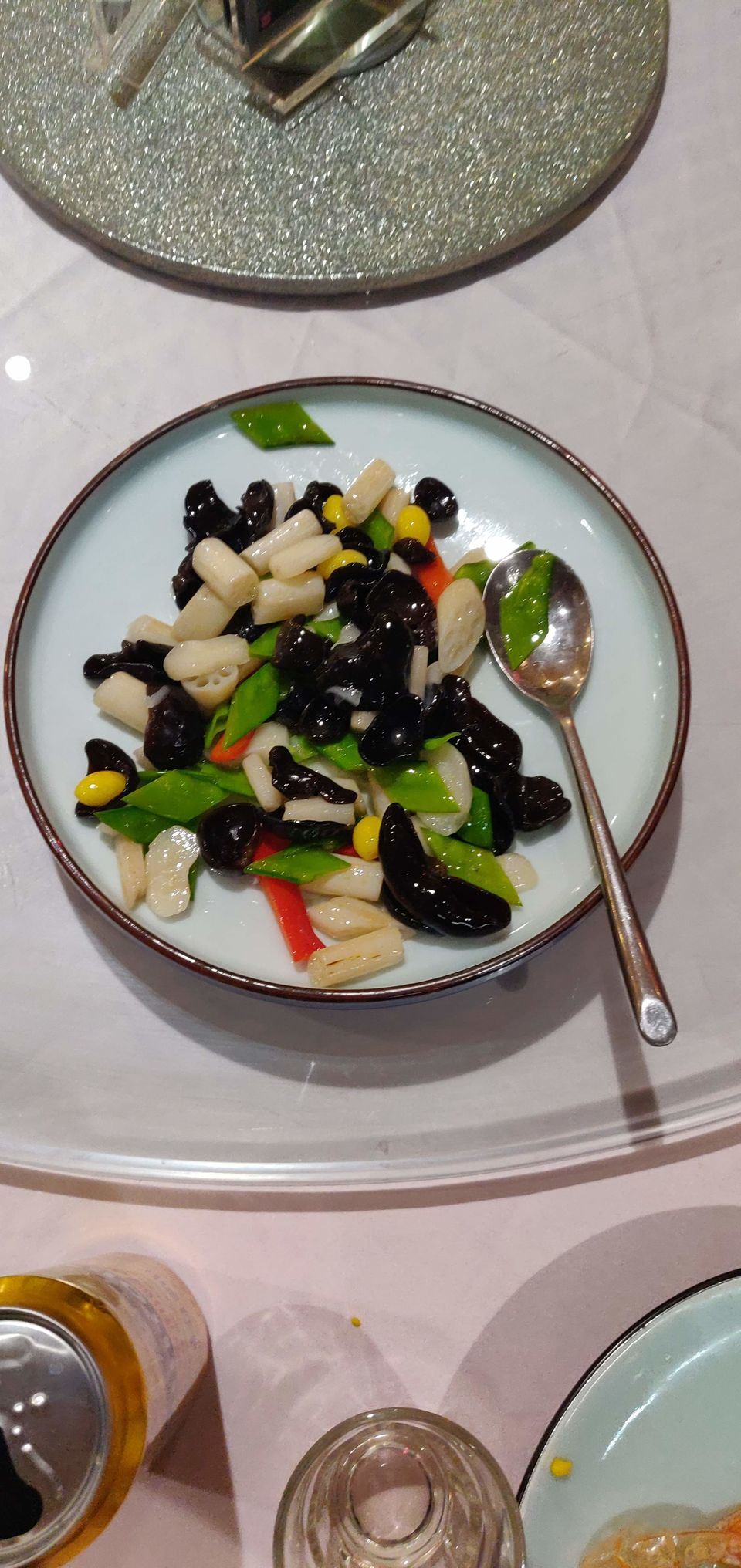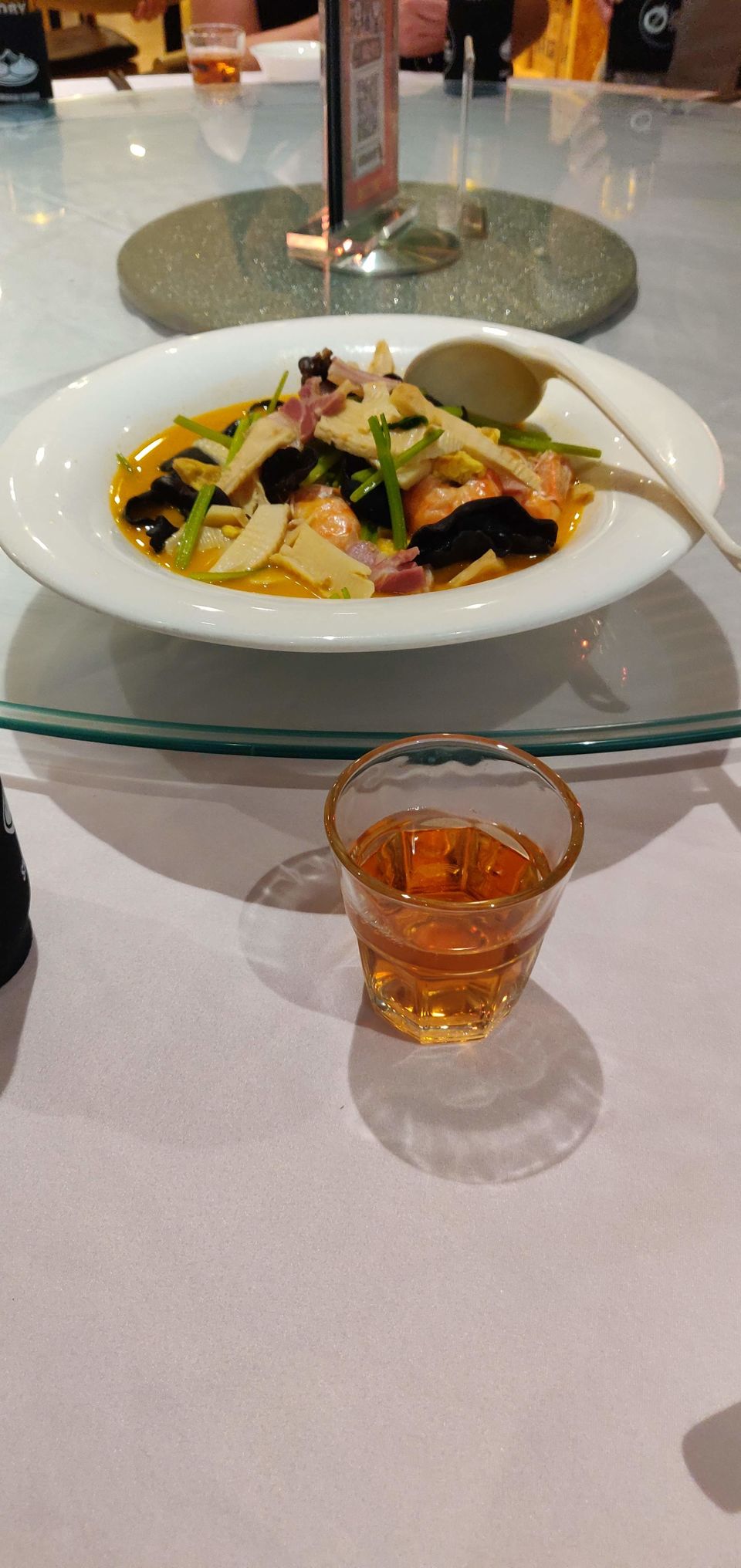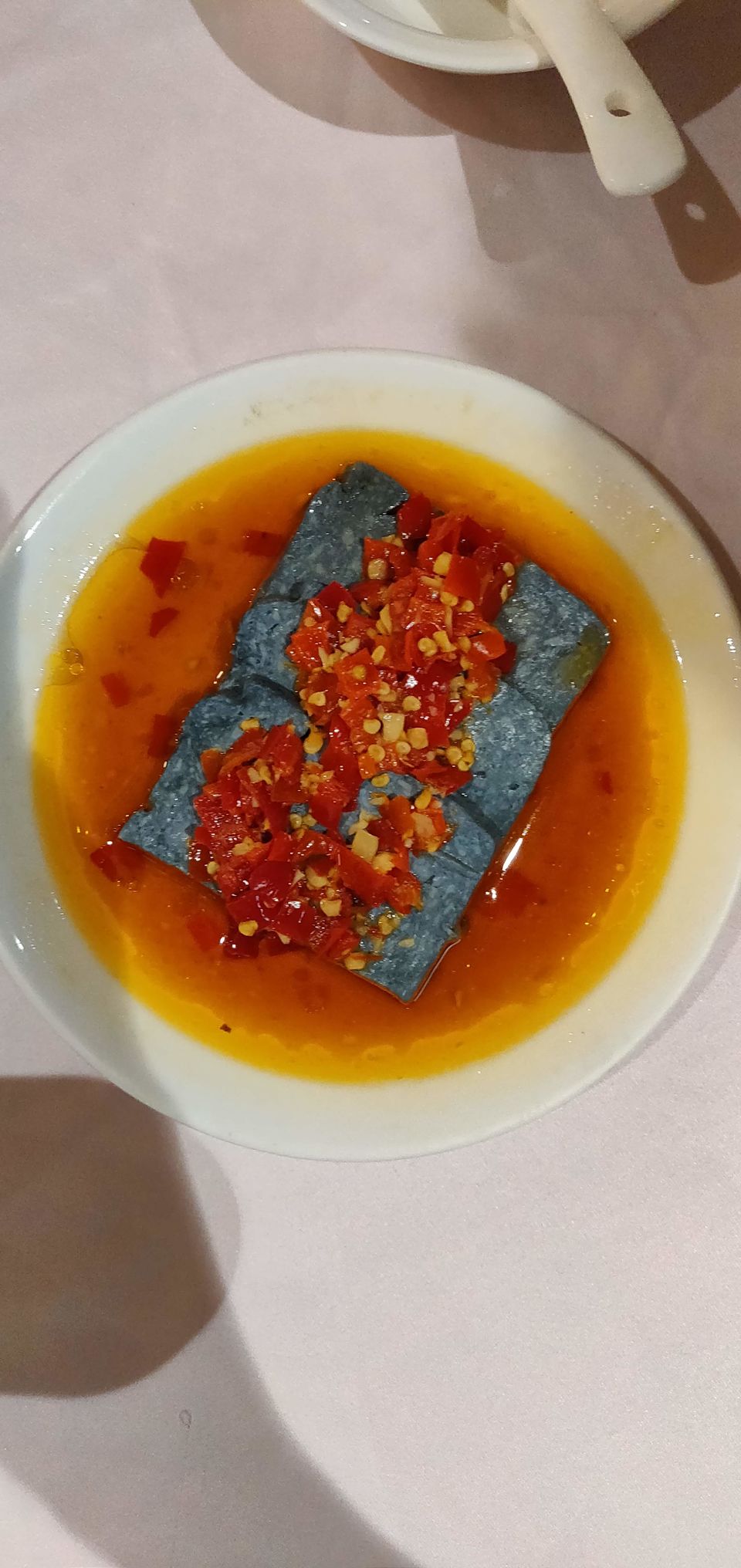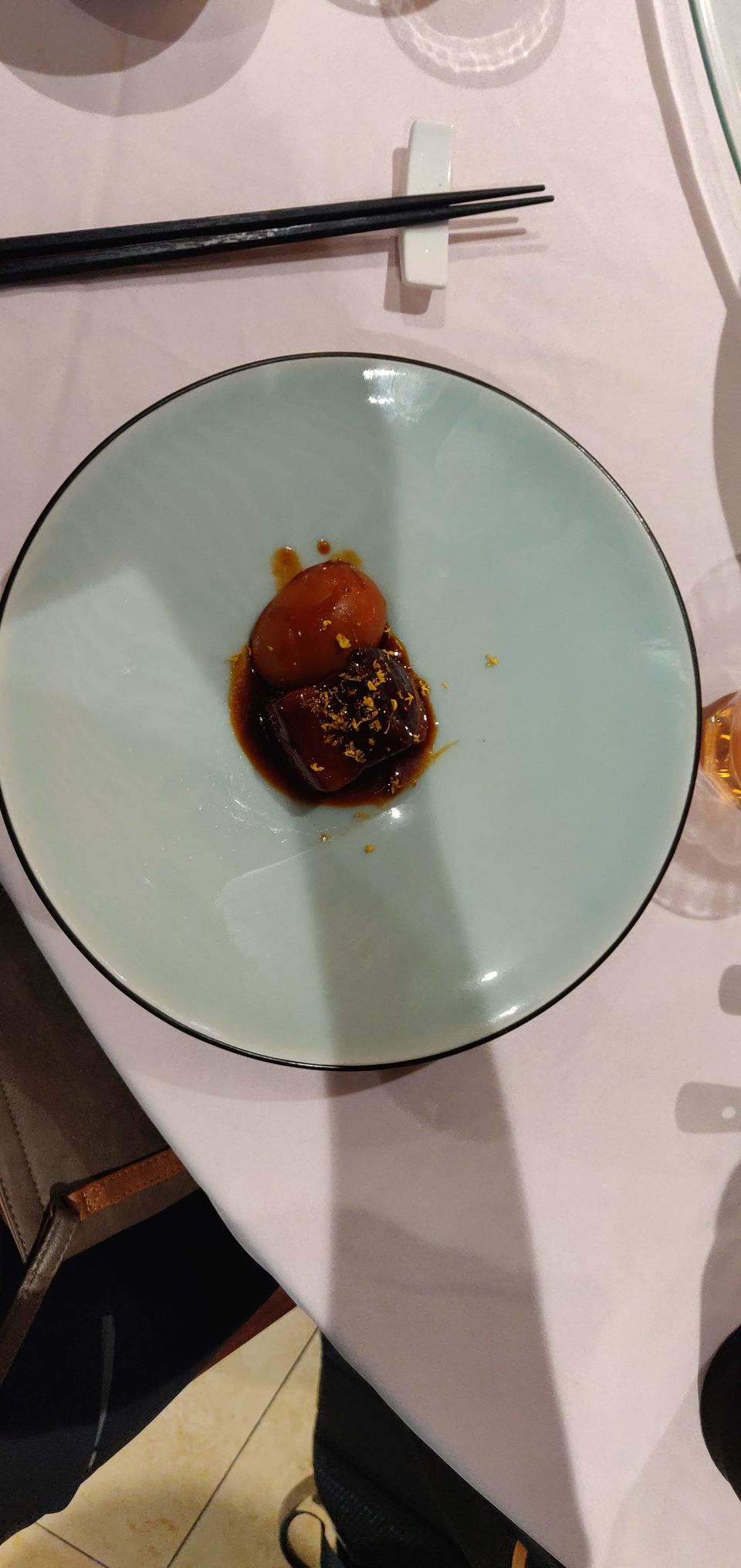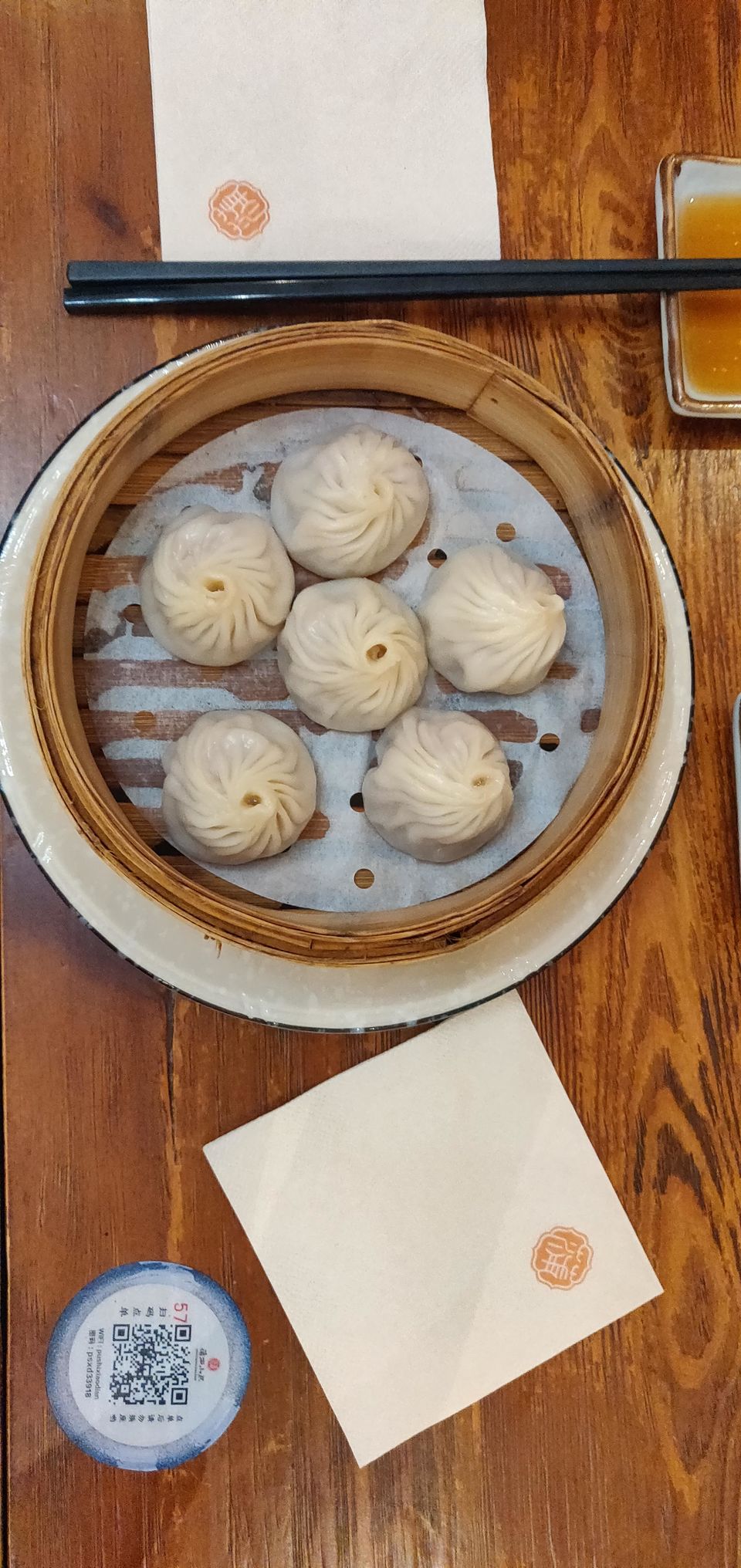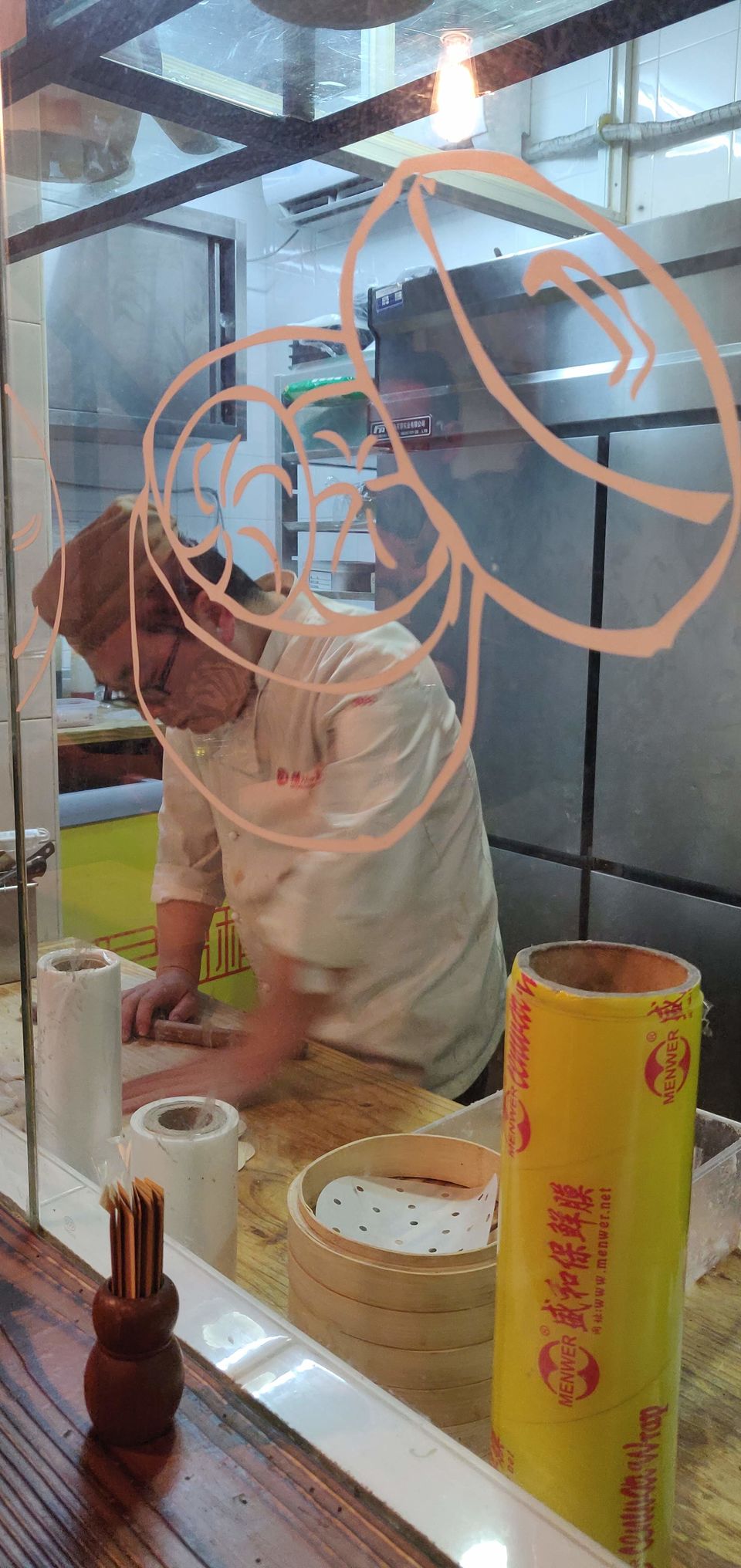 You cannot miss the soup dumplings in Shanghai. These little dumplings are filled with soup, which is the tasty meat broth, use the soup, take a tiny bite, drink up the soup inside and then devour the dumpling. It doesn't get better than this. Pot sticker dumplings are slighted toasted and crispy on one side, as they stick to the pan when cooked. The twice cooked pork belly was also delicious, which we tried in a farm to table type of restaurant. We had the mango dessert at the end, which was refreshing, since in China there is no concept of after meal dessert. They usually have fruits after their meals. 
As far as drinks are concerned, tea is widely available, so are little bottles of yogurt. Do try the fruit tea wherever possible, very refreshing and tasty.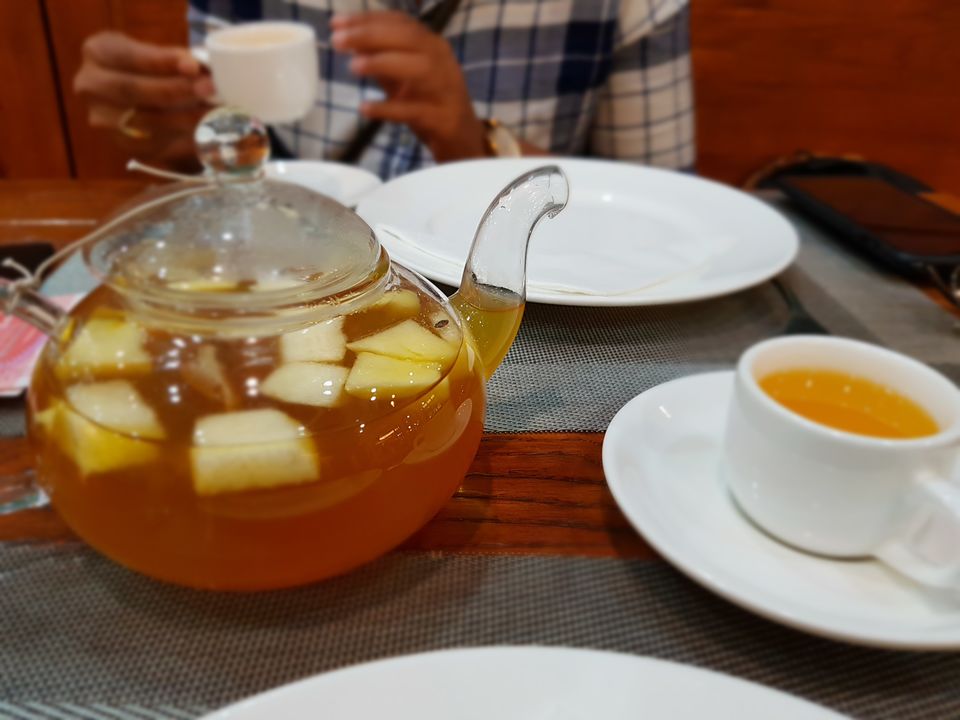 The list of dishes you can try in China is endless, so feel free to explore and enjoy. 
If I had to recommend by personal favorites: roast goose in Guilin, mapo dofu in Chengdu, soup dumplings in Shanghai and peking duck in Beijing. 
Tips: Keep the name of restaurants, their address and dish names ready in mandarin, it is easier to ask for help. You can drink alcohol in public, so feel free if you feel like it. Maps.me is far more accurate in China than Google maps, so download an offline version on your phone.