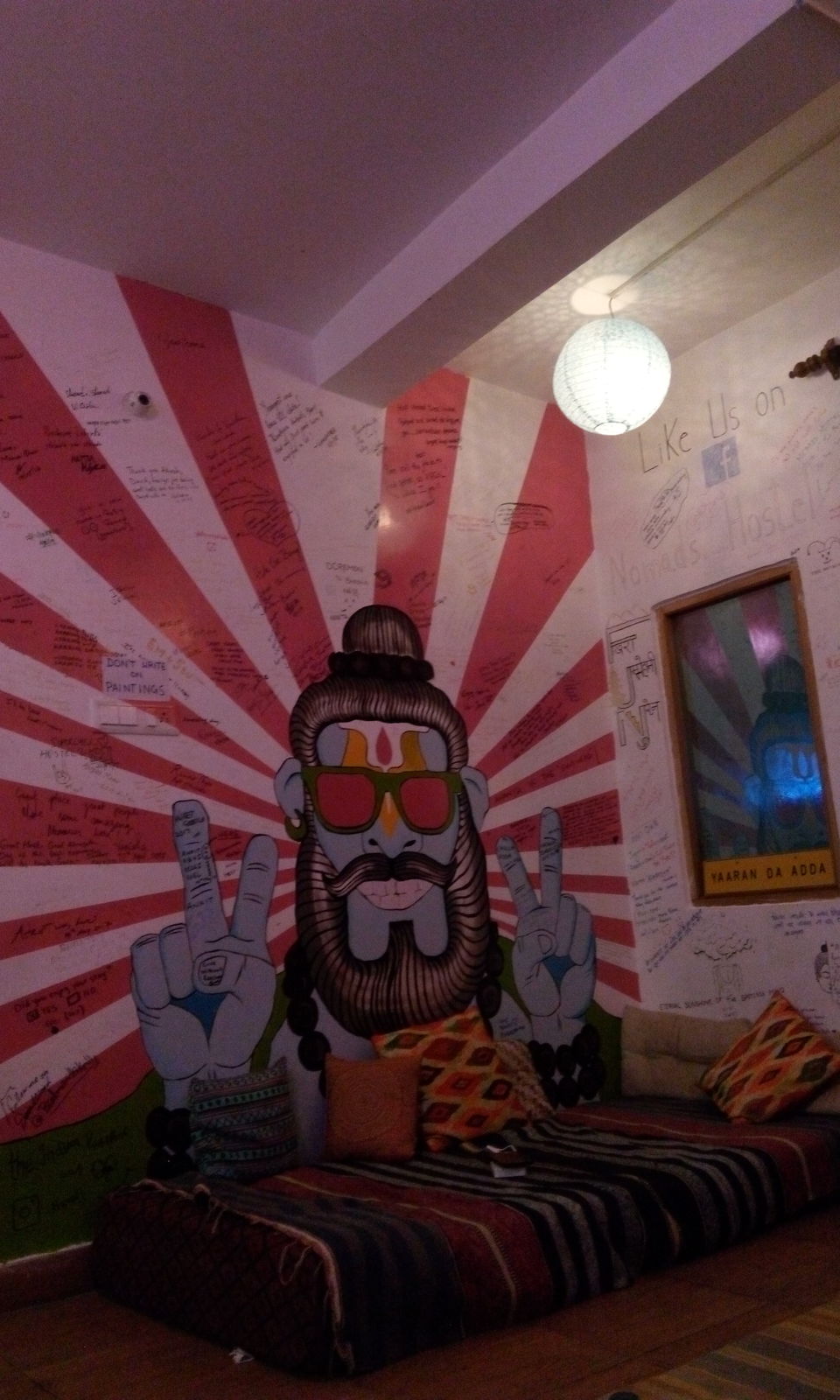 DAY 0
New Delhi
I was planning for my first solo trip and the hardest thing is "where to go?" after doing a lot of research on web i have sorted out some 4 places and i could not pick one from them.So i have packed my bag with no knowledge of where i am going i left to Kashmere gate ISBT at 9:30pm from my room in a metro.The 4 places are running in my mind, 1.kasol 2.varanasi 3.Ladakh 4.jaisalmer, continiously.Then i have decided to get in that bus which i will see the first in these four i was just getting out of the metro and there came a guy shouting "bhai Bhuntar-manali volvo"(we need get down at bhuntar to reach kasol) and so i was like"Yay..I am going to kasol"and inquired about the price he said 1200,my total budget for the trip which i have decided was only 5000 so i just walked in to the bus stop.As this is my first solotrip i thought to get a book so that i dont get bored after purchasing a book,i got in to a HRTC bus and the ticket for bhuntar was only 611/- ive got a seat behind the driver and i asked the guy beside me "at what time i reach Bhuntar" he said 8:00am, the guy to my left said "NO!around 10:30am" listening to this the driver turned back with a smile and said "12:30pm"and there was some awkward silence for some seconds because the guys next to me were travelling to manali(its 2hours from Bhuntar).After the bus took off we have talked for a while and slept.
DAY1
Bhuntar-kasol
I woke up around 9'oclock when the bus halted for break fast,after that the bus took off and the road was exactly beside the beautiful Parvati river i was just starring out from my window all the time until the conductor shouted Bhuntar and i got down there at 12'0clock in the afternoon,there itself ive got a bus to kasol and the charge was only 50/- the road was very dangerous that i thought of thanking the driver when i get down at kasol and i didnt later (i totally forgot about that :p).With a tired face and my bag i got down at kasol bus stop,but i have no idea where to go and what to do all i have known is that there are a couple of hostels so i started walking towards the bhuntar road and stopped at this beautiful running water just after 200 meters .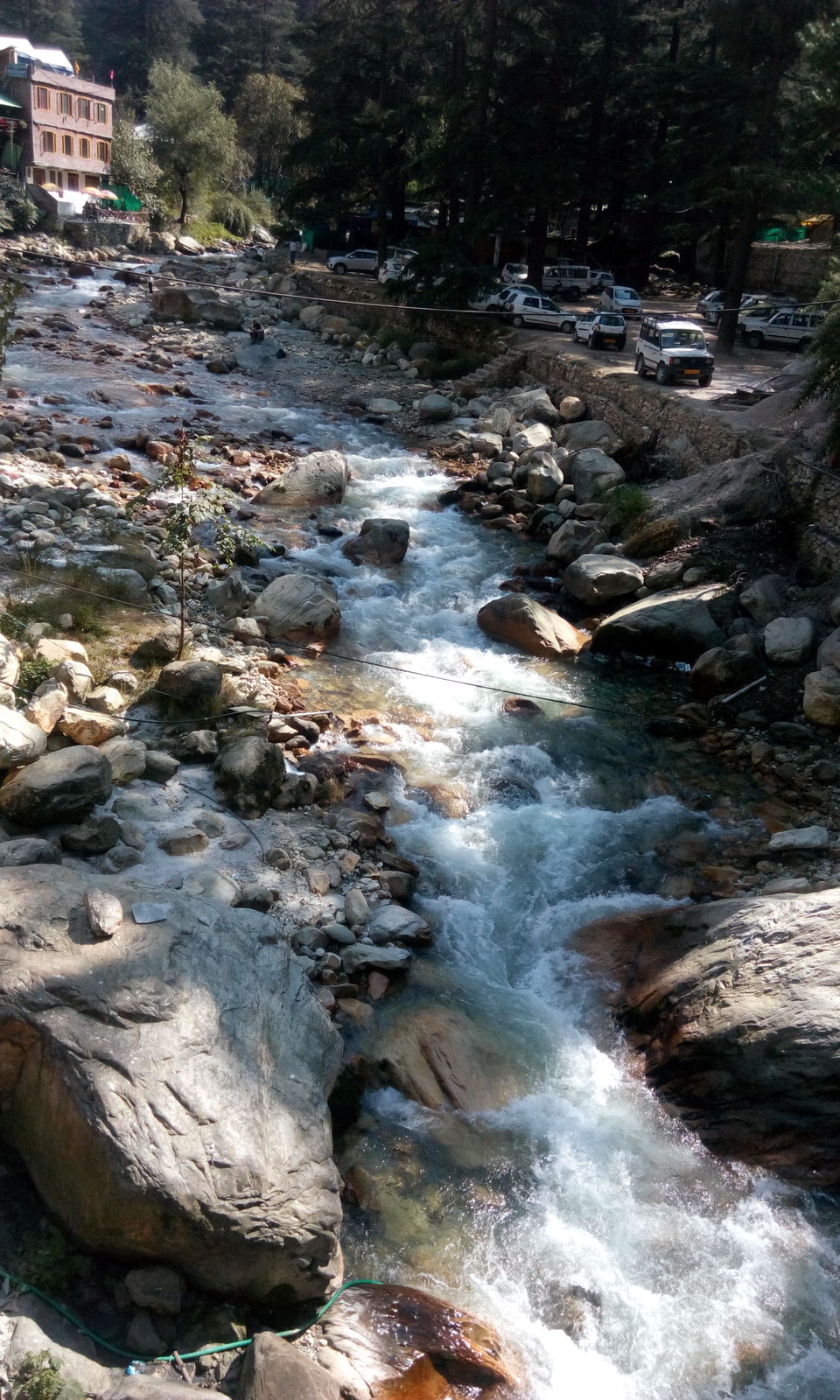 So after spending some time there i decided to eat first and started my walk again and there were many cafes on the way all i did was just walked to and fro to the bus stop ,i was really happy that no one are there to decide where to eat and which cafe to go for thats the best part of a solo trip,finally ive got in to a cafe just by seeing a Bob marley poster inside i have decided to go inside.Every one where too busy with their joints and literally everyone in the cafe where smoking up(I am not a Stoner :p).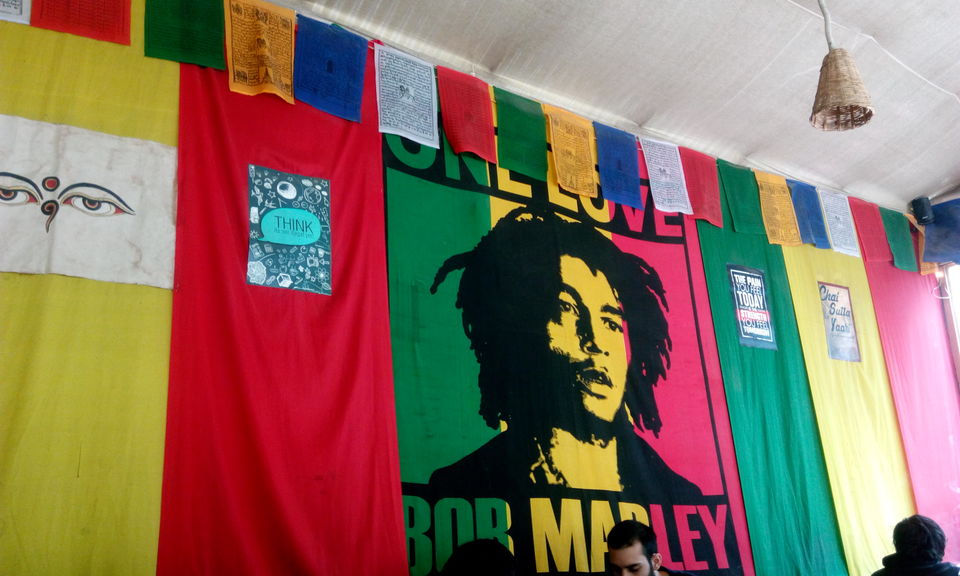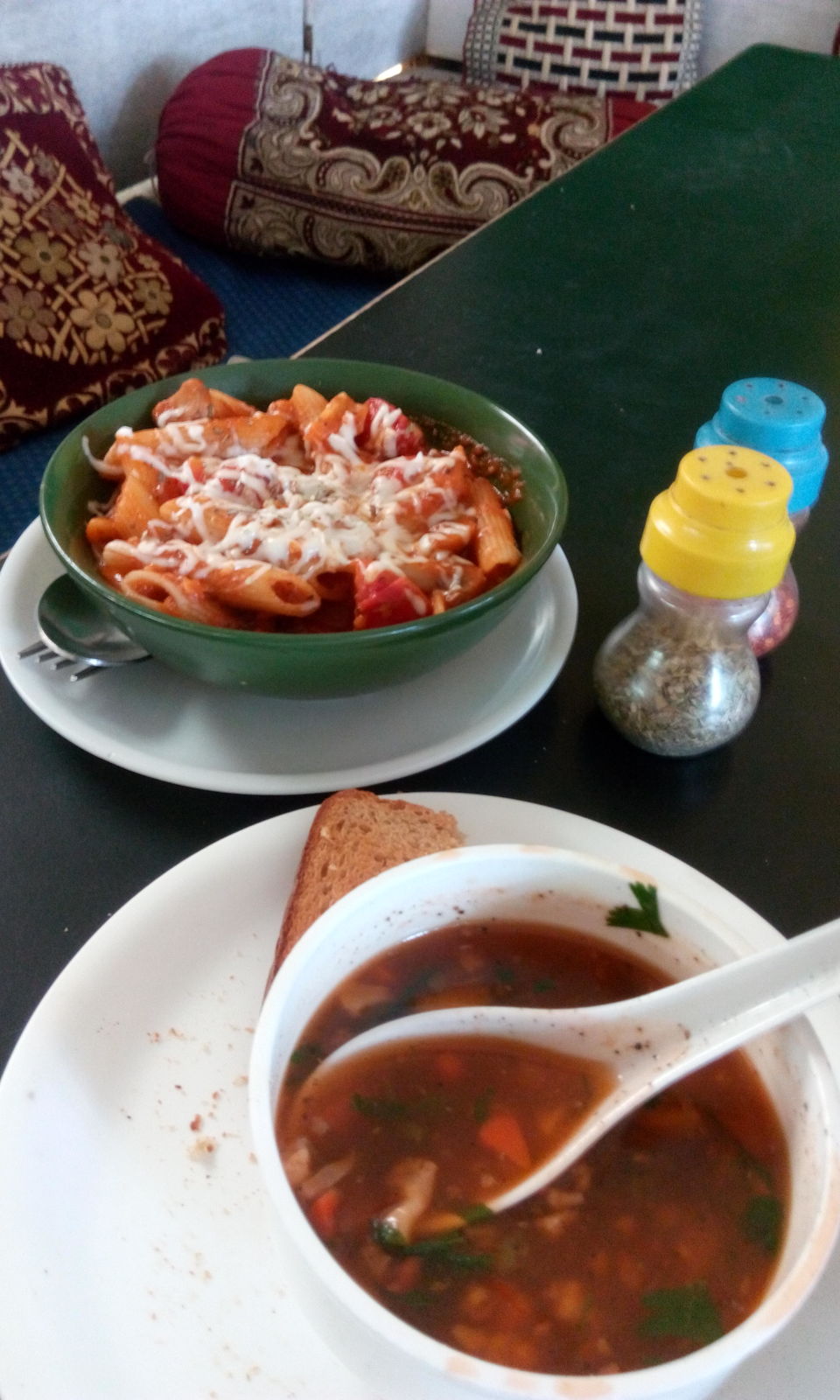 I dont remember this cafes name now, but the staff where very friendly and the food was also good.Now i was searching for a place to stay so i have googled the hostels nearby and the first name was of NOMADS HOSTEL and ive called them up to find about the vacancies and price the said its 350/-per night which was super cheap and when asked about the location he said"just walk 1.5km towards manikaran and you will come across a small bridge,you can see the hostel from there" though it was noon the weather was perfect for a walk so i started walking slowly searching for the bridge after walking for some 30mins finally i can see the bridge.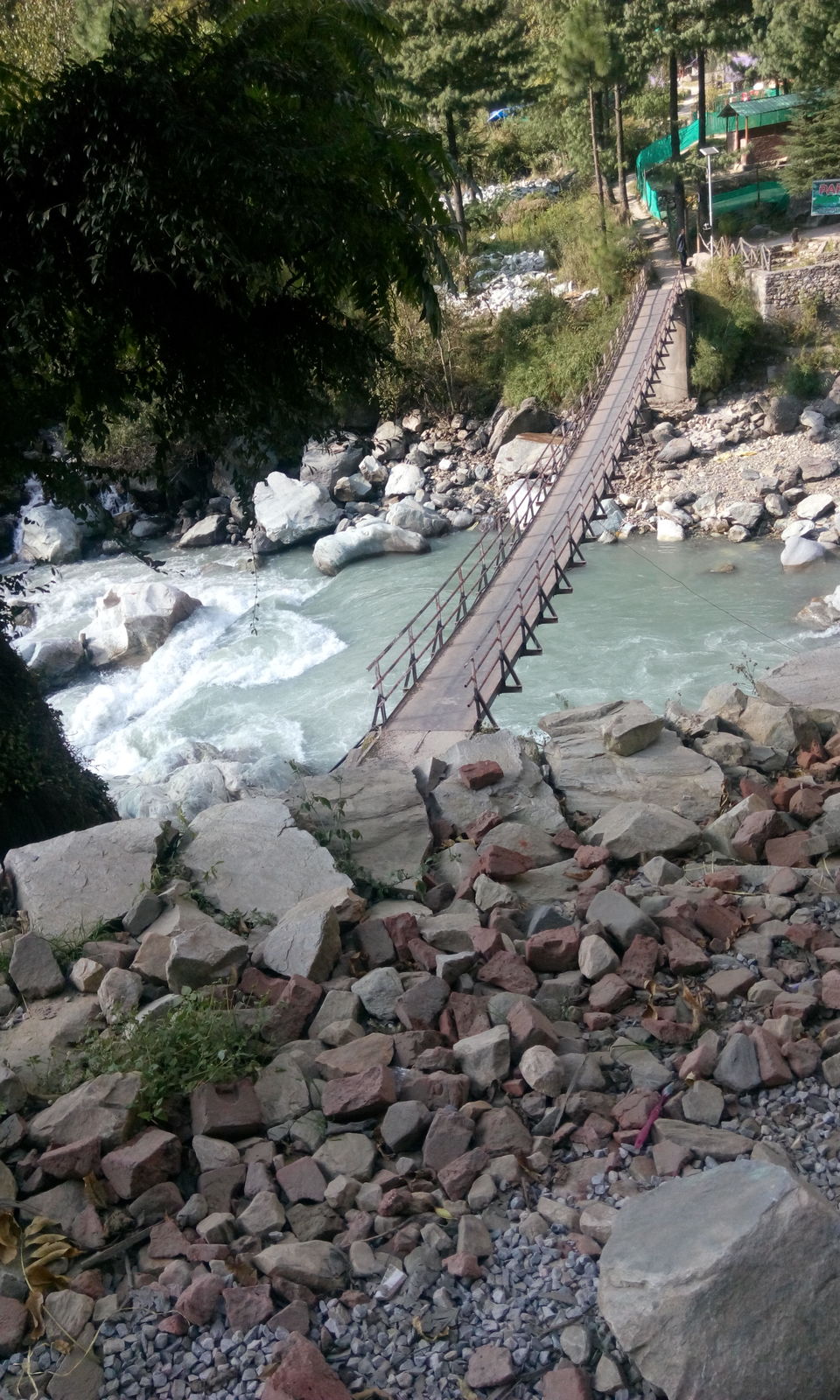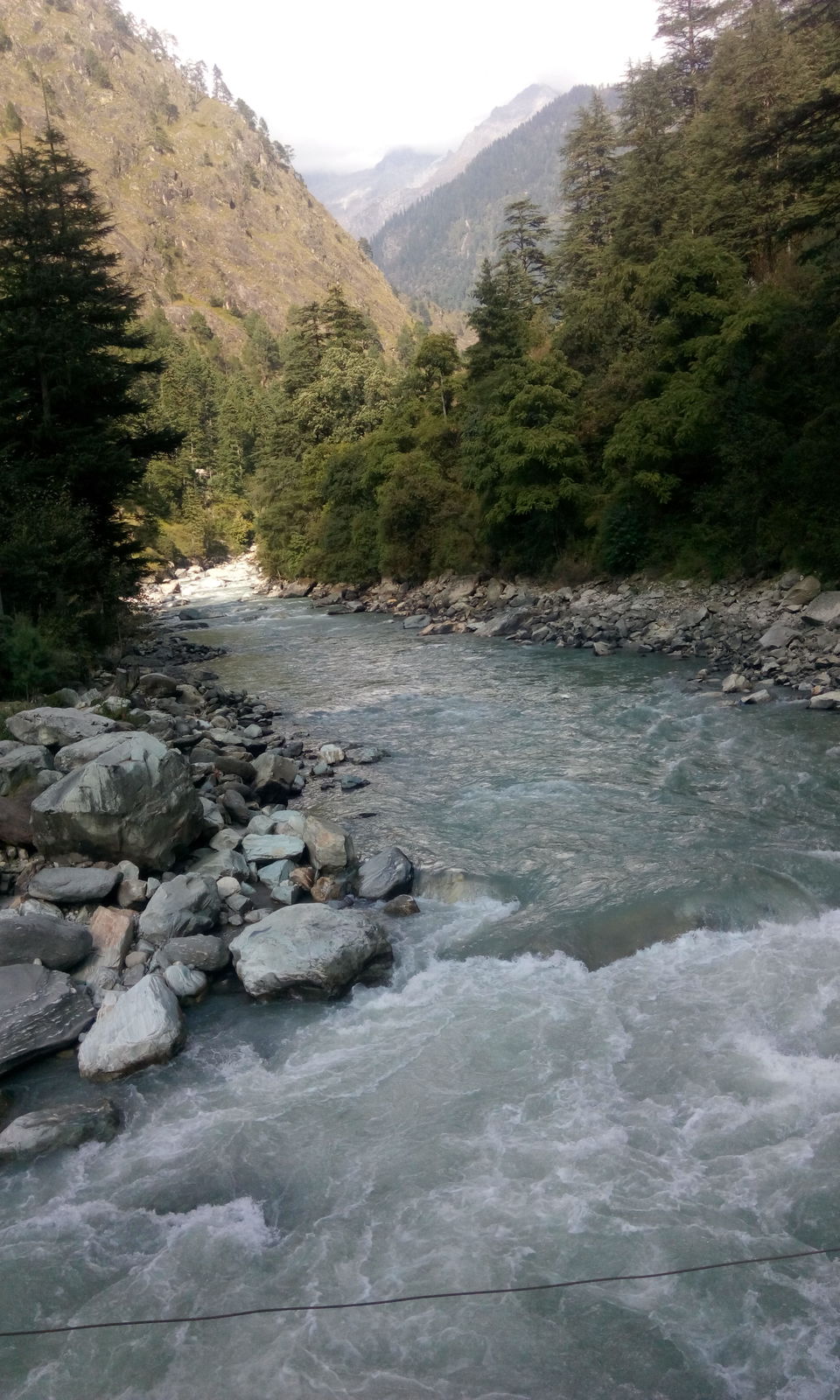 After crossing the bridge,it took me some 20minutes to reach the hostel as the road was not good.I need to mention a loot about this hostel, i totally loved the place it is far from the town and very peaceful and neatly maintained the owner Akash was very friendly and guided me through out the trip.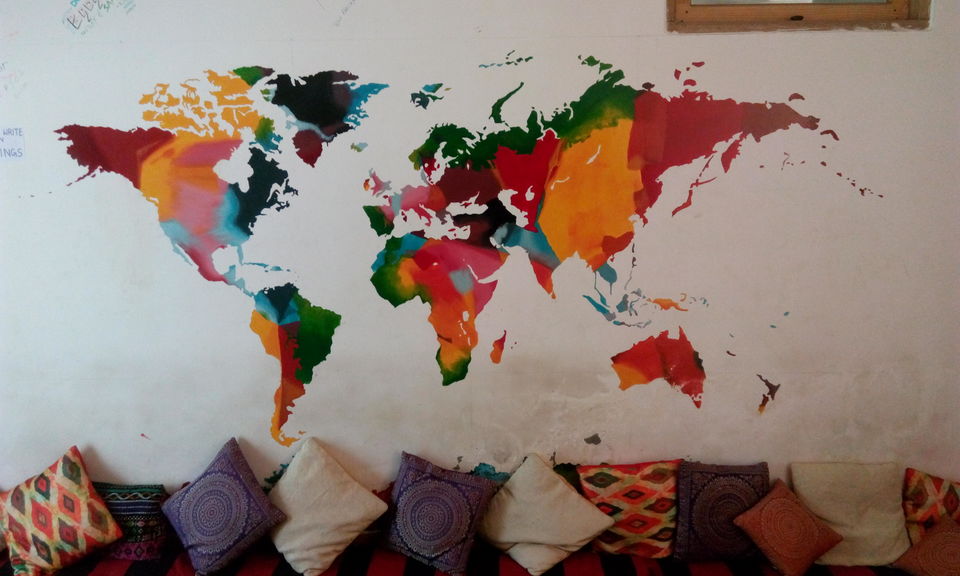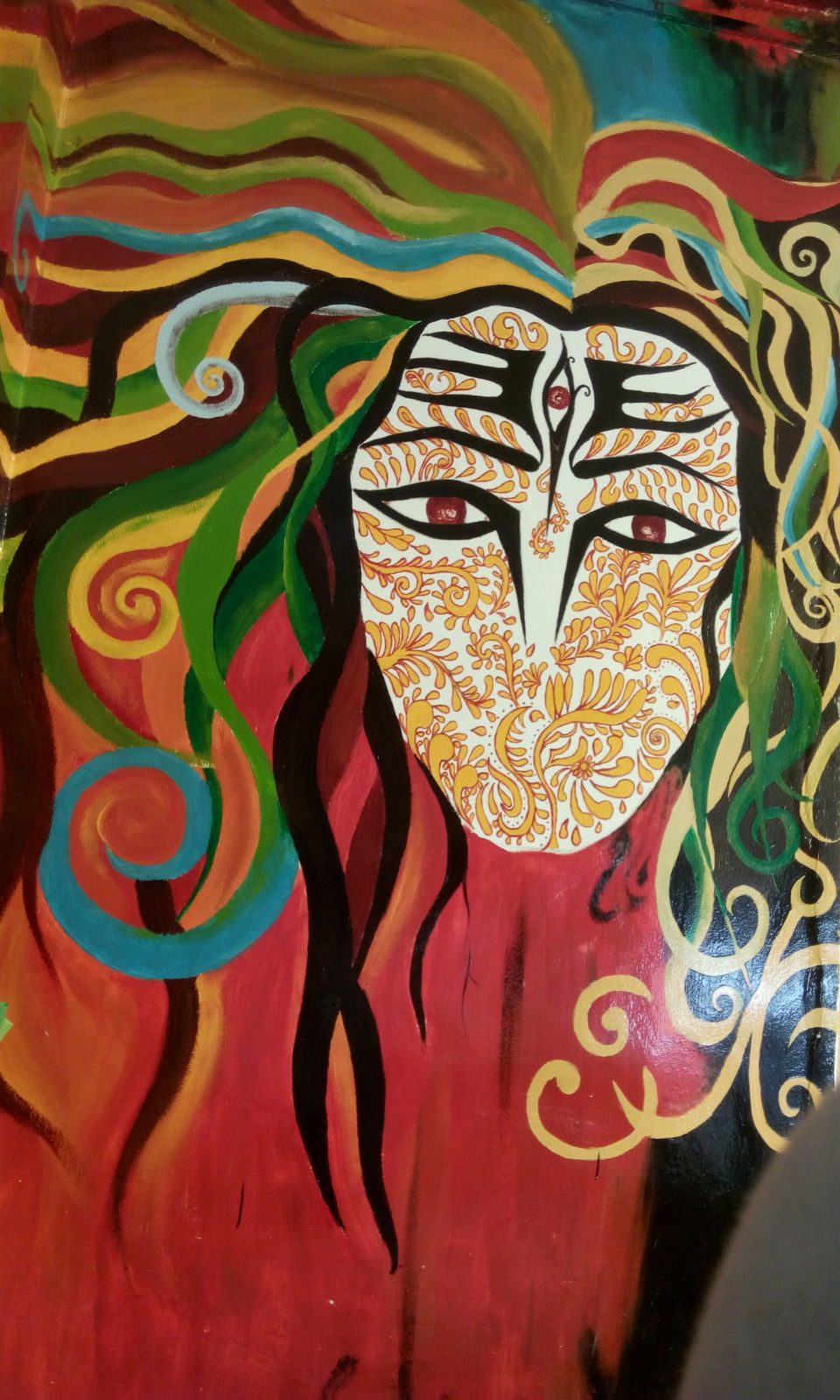 The time was 4pm already and i was very tired so i have decided to take rest for some time. Around 6'0clock i woke up and decided to look around the hostel ,Akash guided me to take a walk towards the forest,so i started moving towards the hills ,i hardly see anyone all i can see are the tall trees,mountains and the sound of the River beside me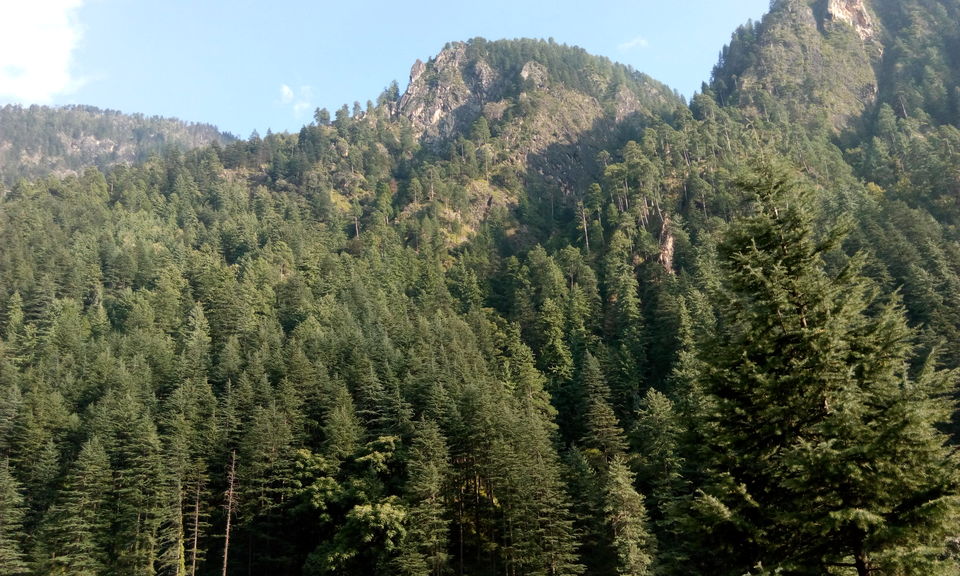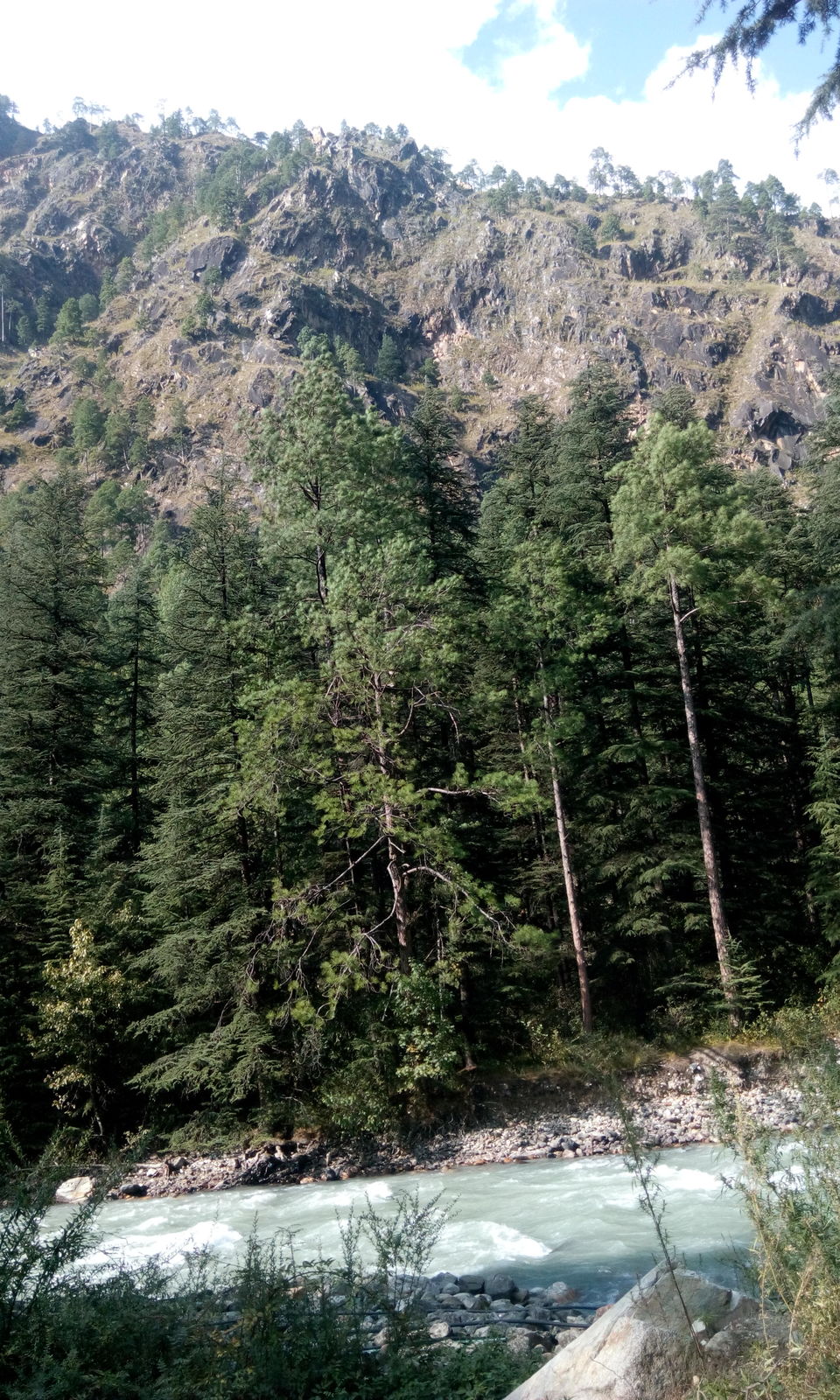 After walking for some 40minutes i came back to hostel and started playing cards and ping pong with Akash with in no time we were friends already and it was 8:00pm and we moved in to the common room and all the travelers started coming back to the hostel slowly and the common room in this hostel is the best place with all the fun happening here.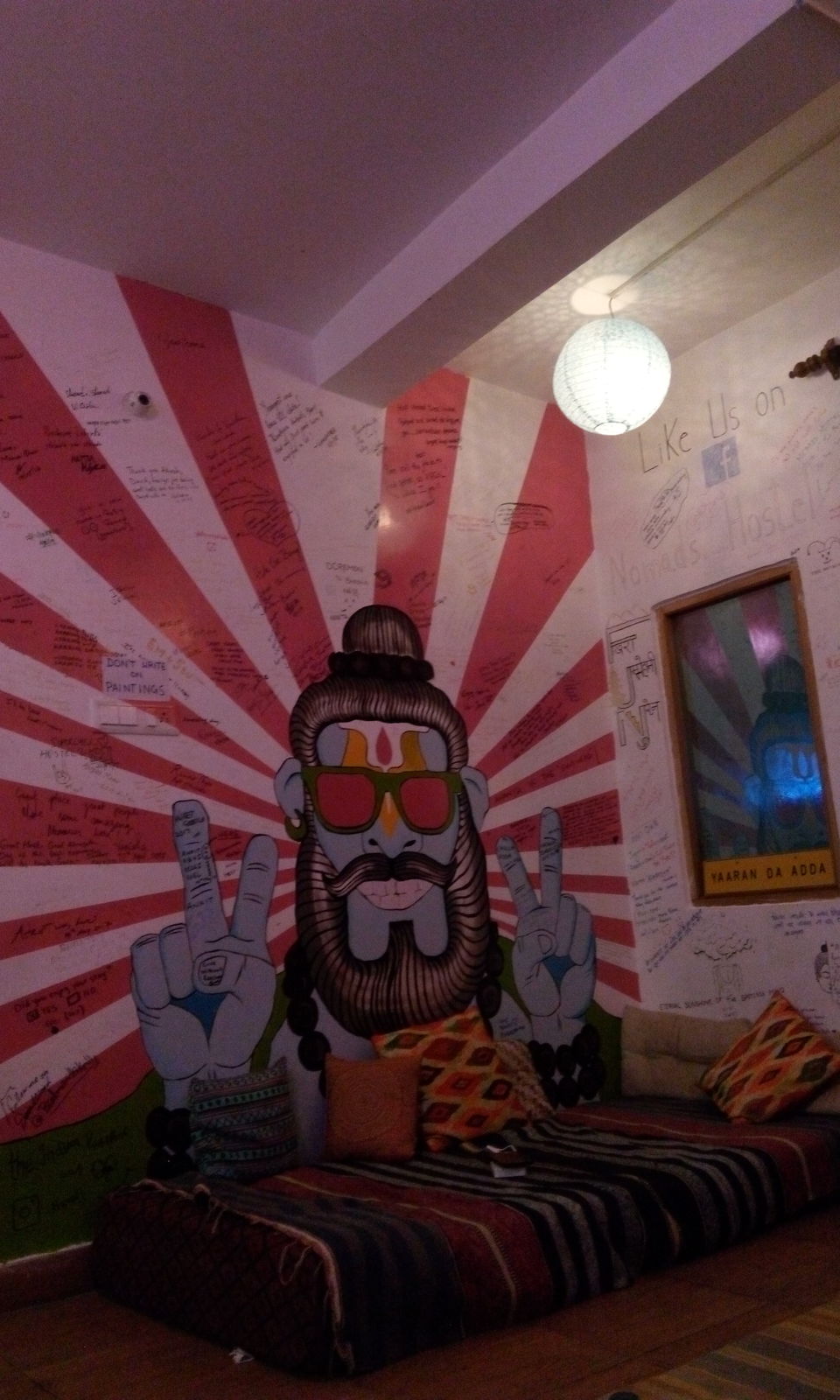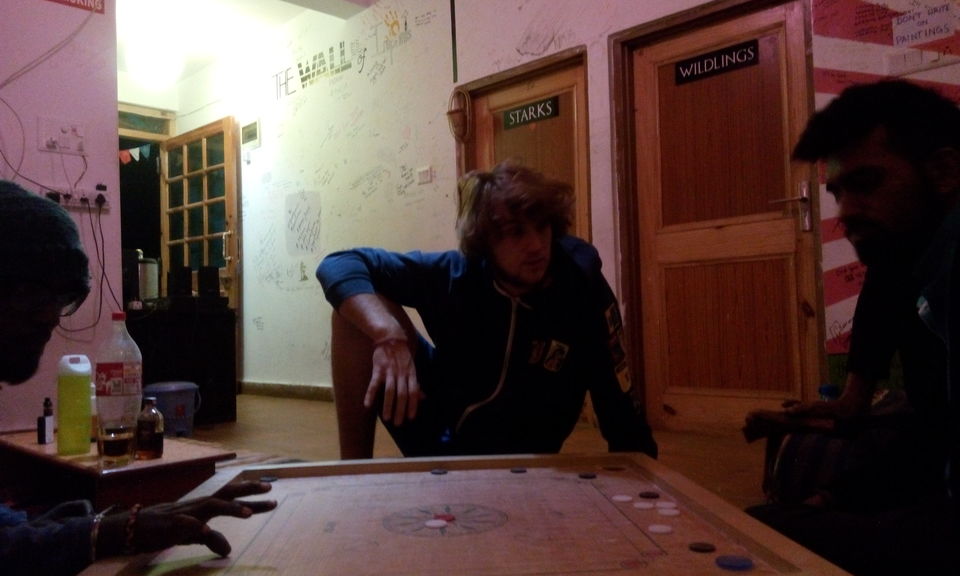 We started playing carroms and the game was new for the foreigners we have played many boards that it was already 2:00am and i have made a lot of friends so 6 of us decided to leave for famous Malana village the next day.
DAY2
In the morning ,after every one were ready,we started walking towards kasol and decided to stop at Evergreen cafe for breakfast and the food there is to die for,but they take too long to serve you food(Writing this post,i miss that food now too:( ) so it was 1:00pm already and we hired a cab for 6 people which costs 1800/- to and fro to malana and 3hours waiting time there.we reached the entrance of the village at 3'0 clock.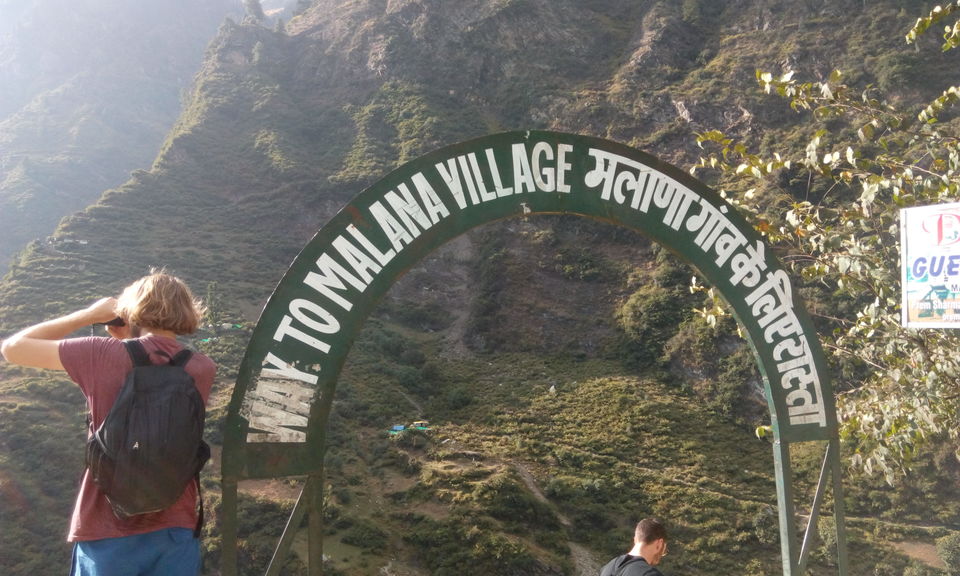 From the entrance we need to trek for 45minutes to reach malana village,we were speaking about the strange village culture through out the trek and about the famous malana cream available there,the stay now is prohibited for tourists and the most important thing you should not touch anything there in the village including the people and remember "you can not sit in the village too" ,There was a girl from Italy in our group when we were waitng for a guy from canada who was busy purchasing the cream she just sat on a rock and with in seconds every one rounded up our group of 5 and started shouting "pay fine of 10000" "pay fine of 5000" "pay fine of 8000" and it took 15mins to convince them that we didnt know that one can sit there,after this we decided to leave the place quickly and after walking 200meters there was a guy with a sickle in his hand coming towards us shouting "BC!!!!! MC!!!!!",everyone were shocked and frightened all that i understood was he doesnt want people from other countries visiting the village,some how we managed to get out of there but the buildings in the village were very beautifully built and even the small 5yrs kid came to us asking"Bhai mall chahiye?"so those who want to get some stuff dont worry you will find it easily ;)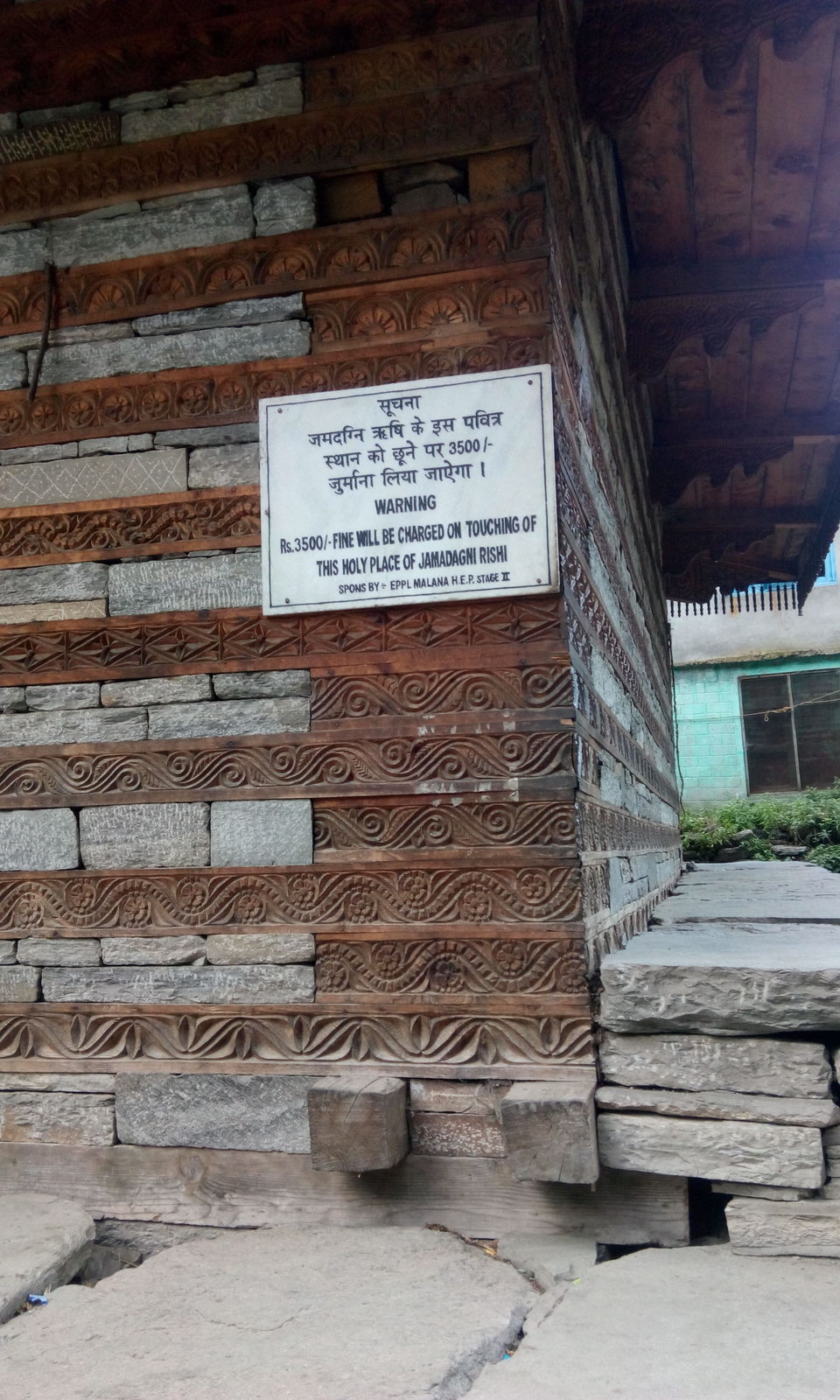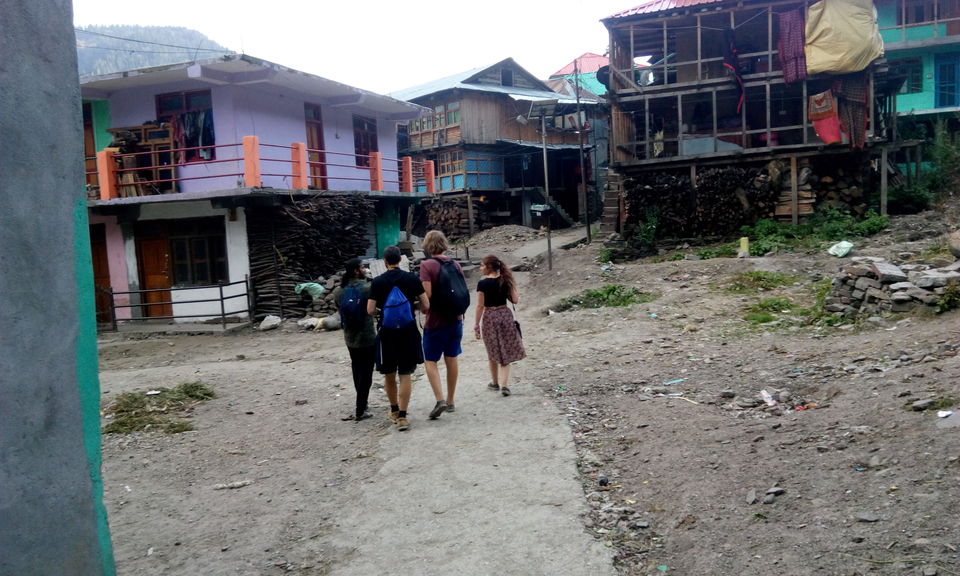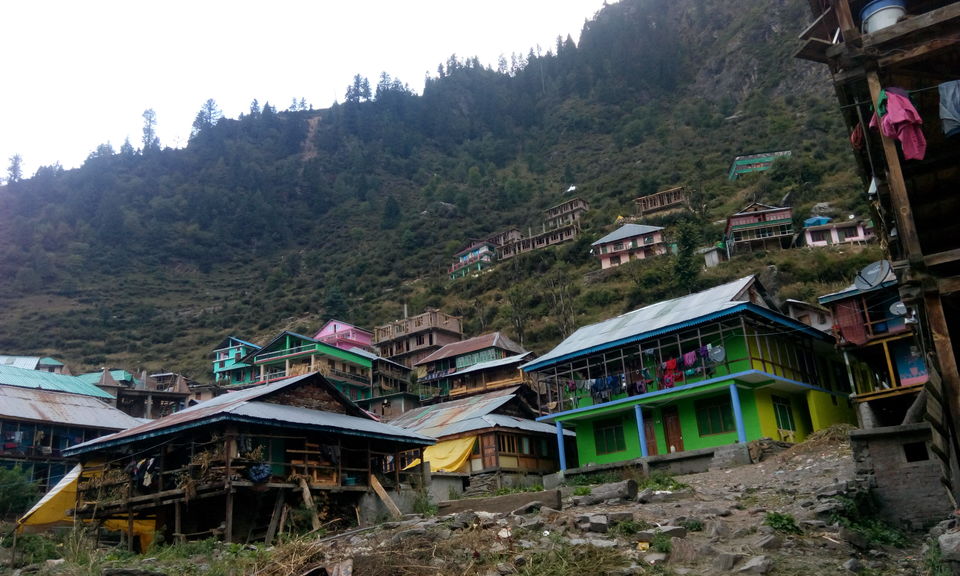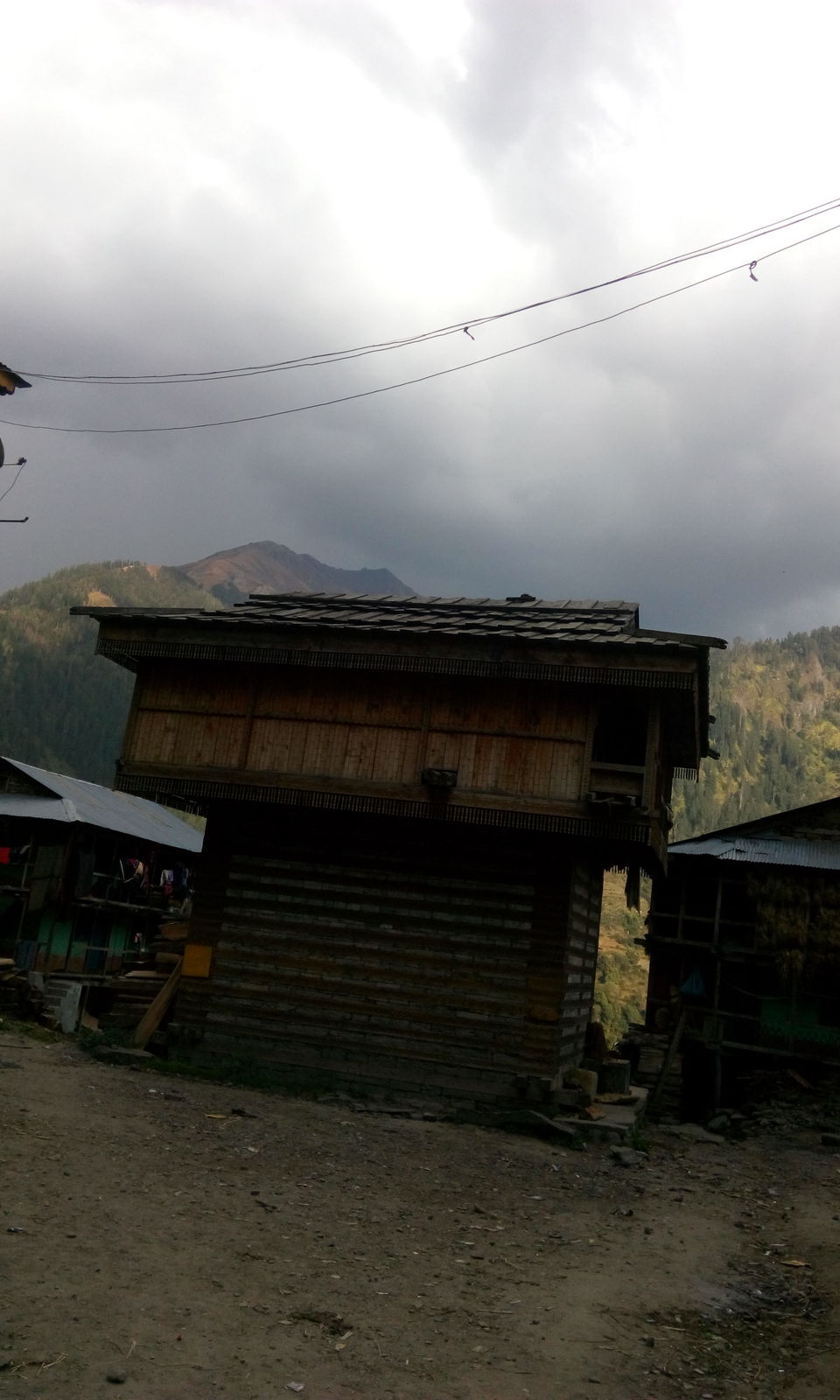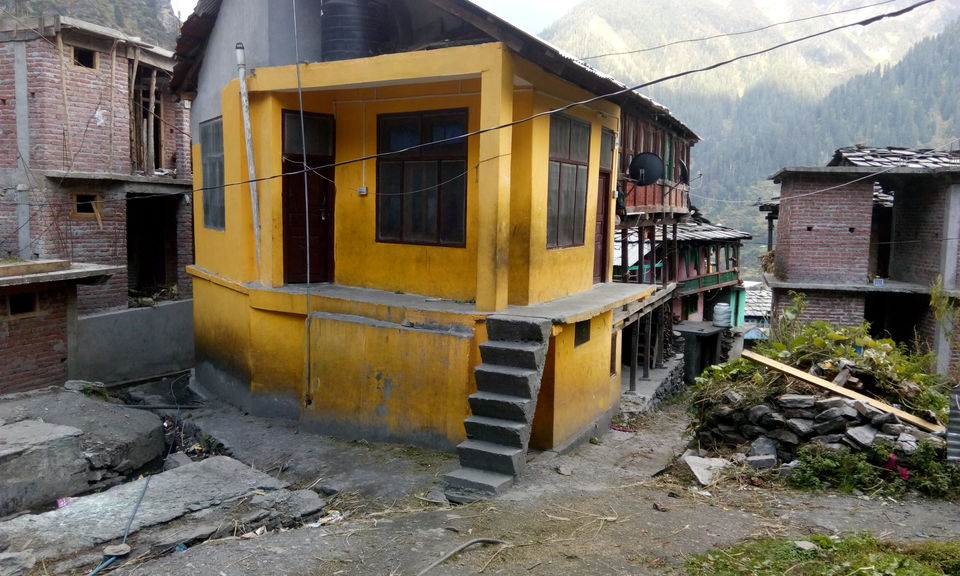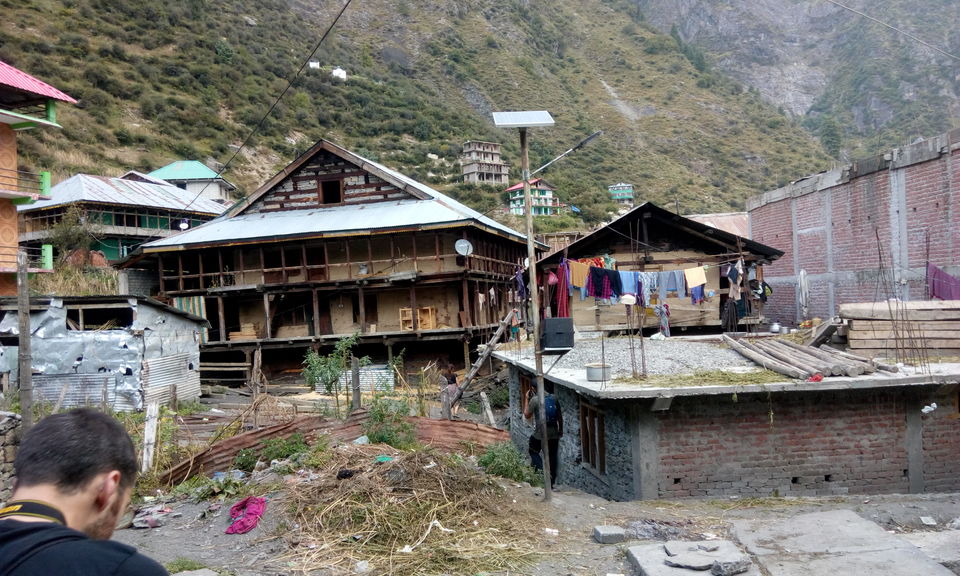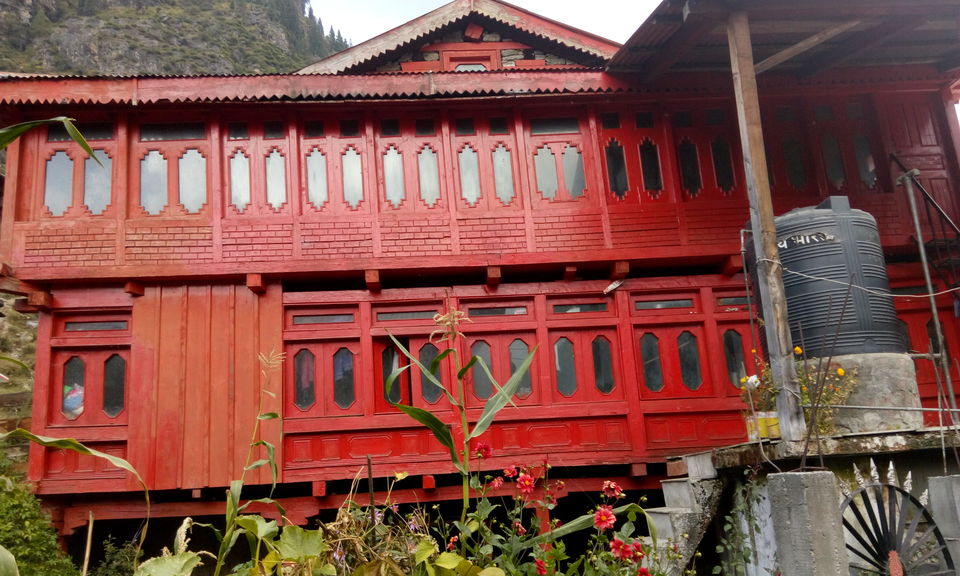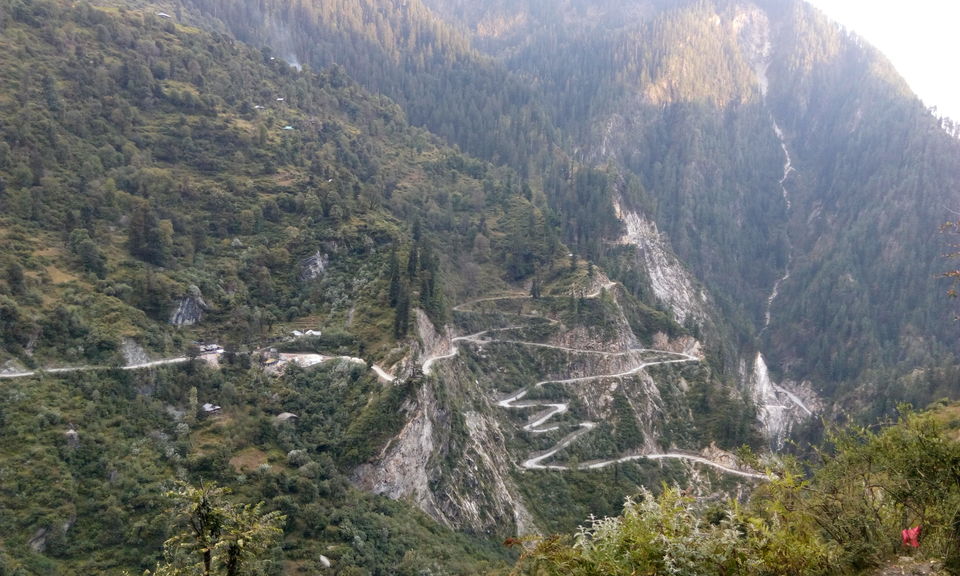 Finally we reached the hostel in the night after having dinner at some beautiful cafe(sorry i dont remember the name)in kasol. four of us decided to trek to kheerganga nextday
DAY3
Kasol-Kheerganga
We started early around 8"0 clock in the morning to Barshaini from where the trek starts we had break fast at Barshaini and started trekking around 12:30pm , there are two routes to reach kheerganga one was the easy trek which takes through some villages and the other one through mountains and forest so we decided to trek through mountains and take the other route in the return,you need to carry only water bottle and a pair of clothes everything else is available through out the trek,we came across many beautiful water falls and lovely bridges through out the trek and stopped at many cafes in the middle.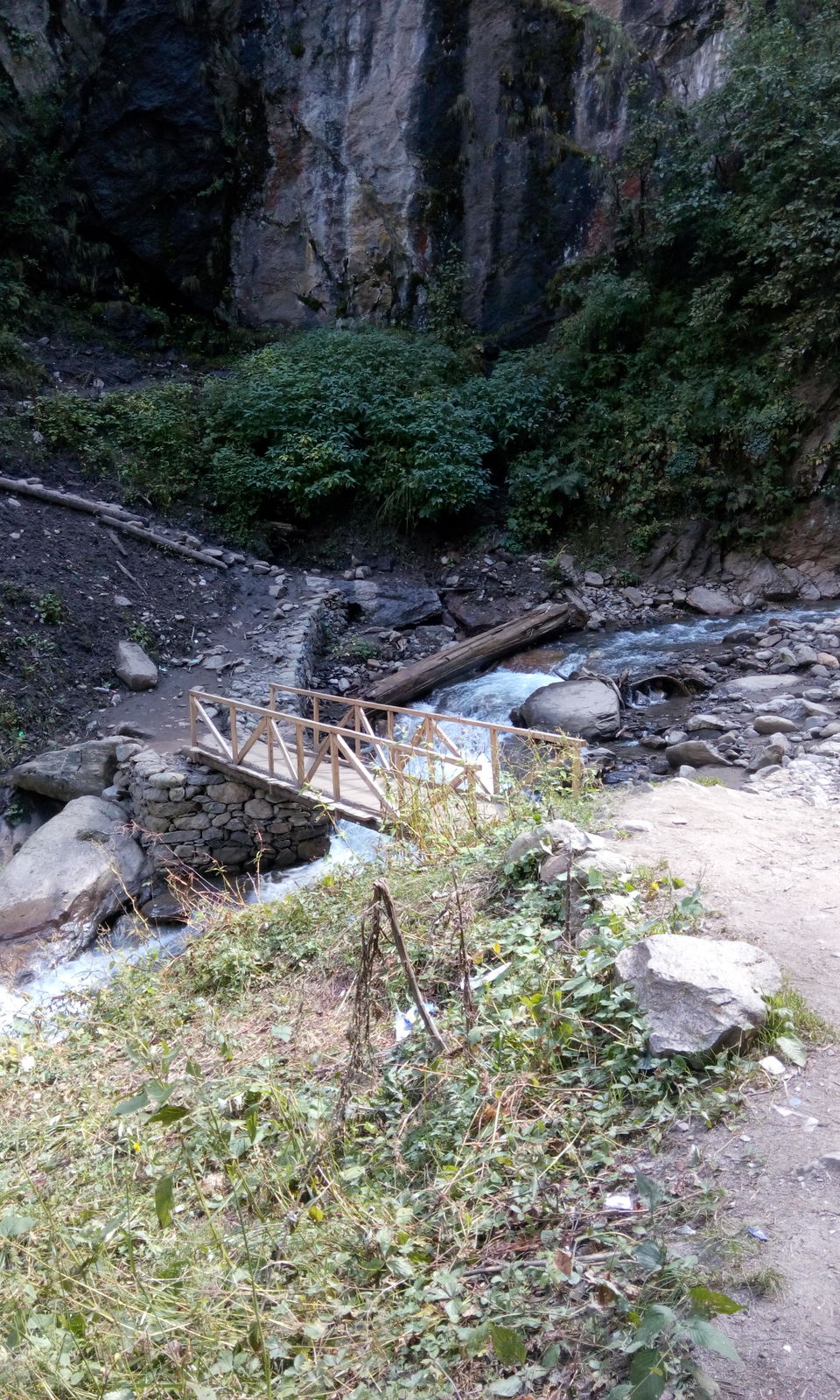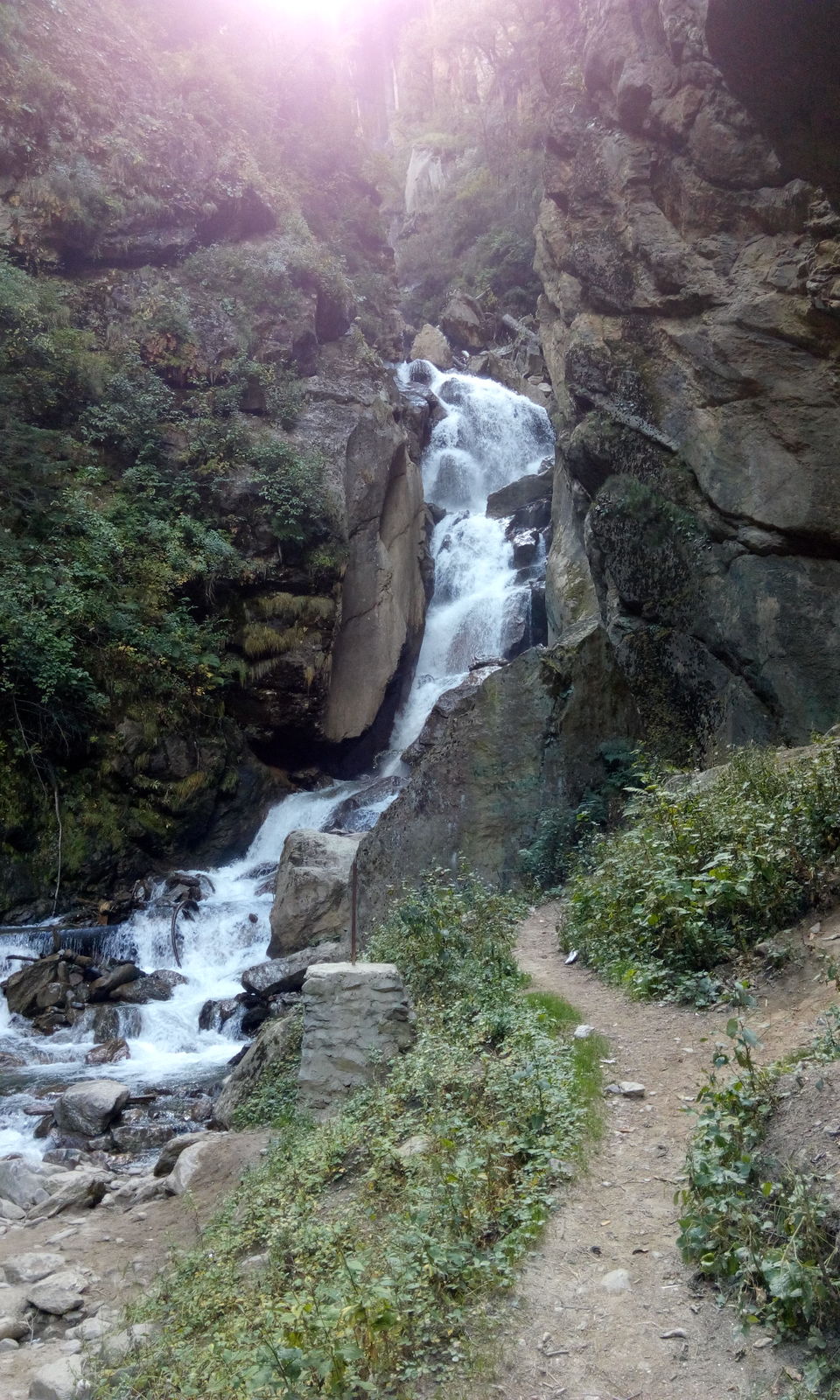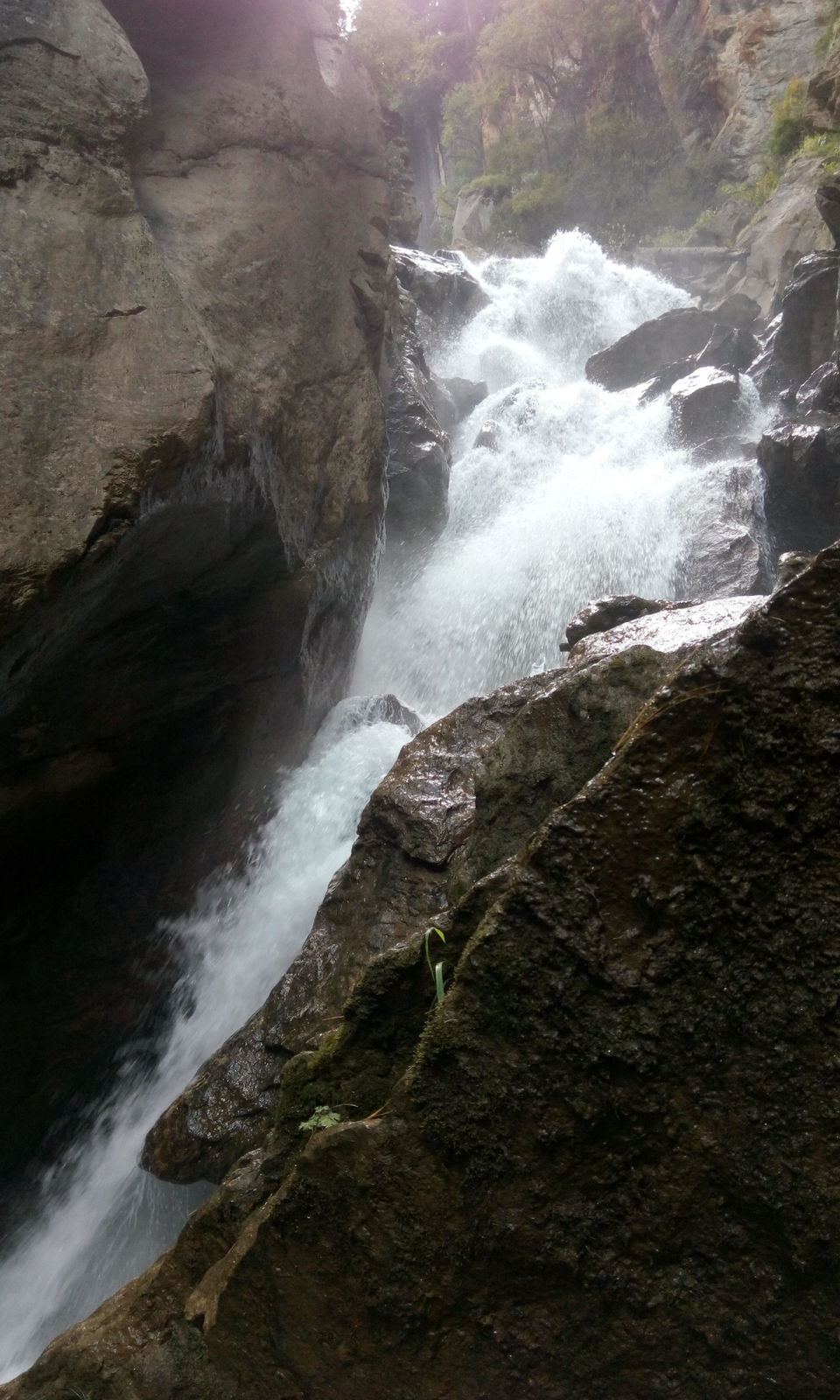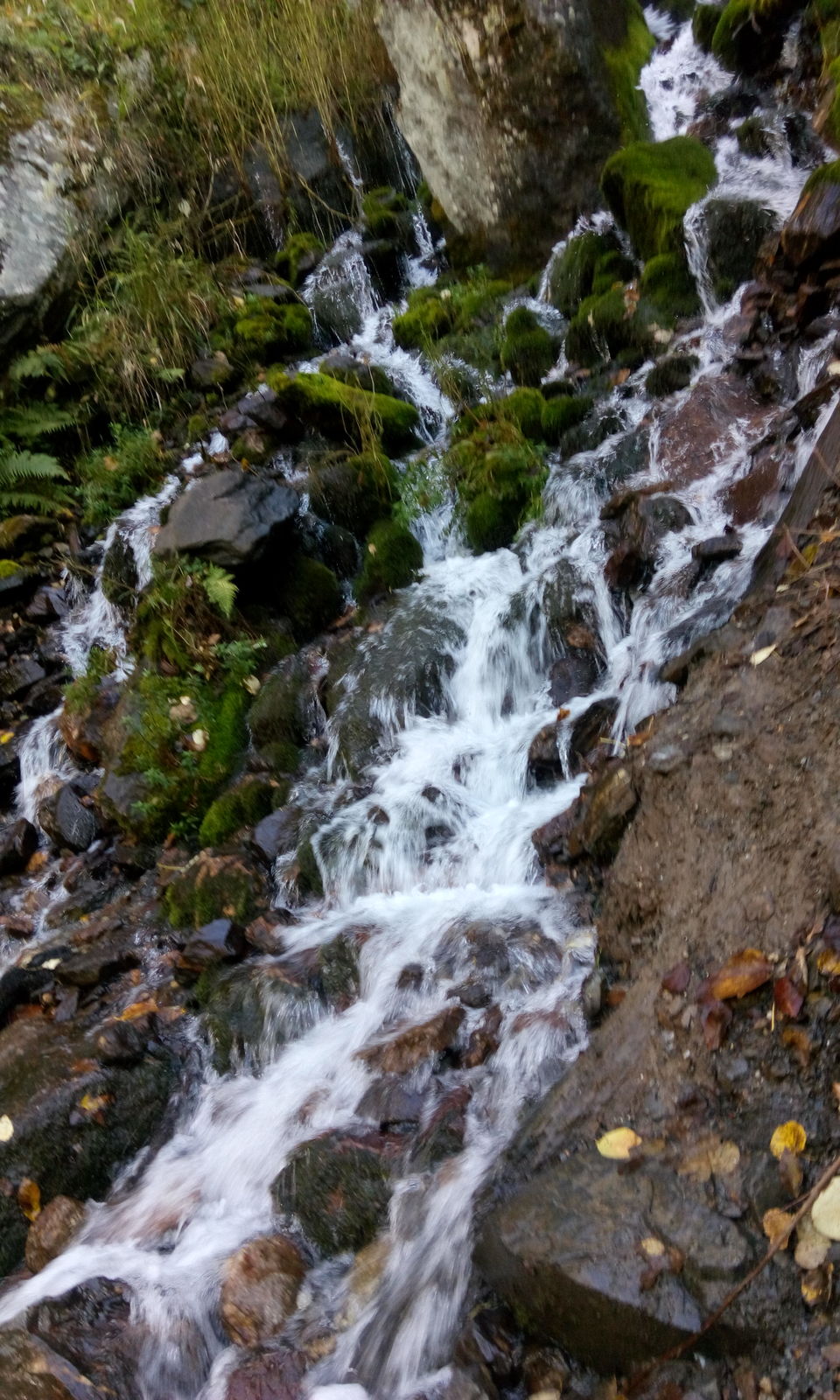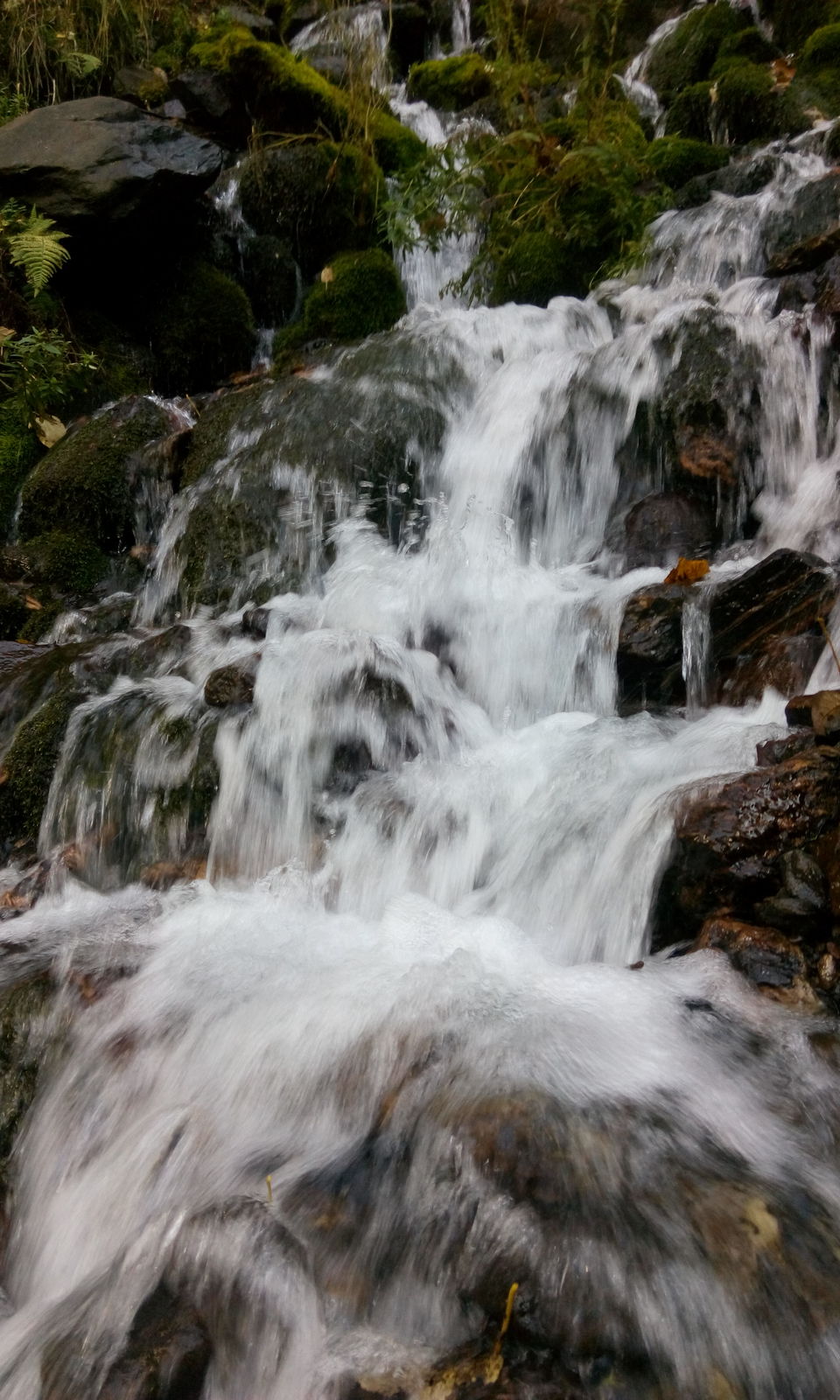 Finally we reached Kheerganga around 5:45pm and started searching for the place to stay as we were very tired and we have found a very good tent which fits 4 for 600/-only and it includes campfire too :)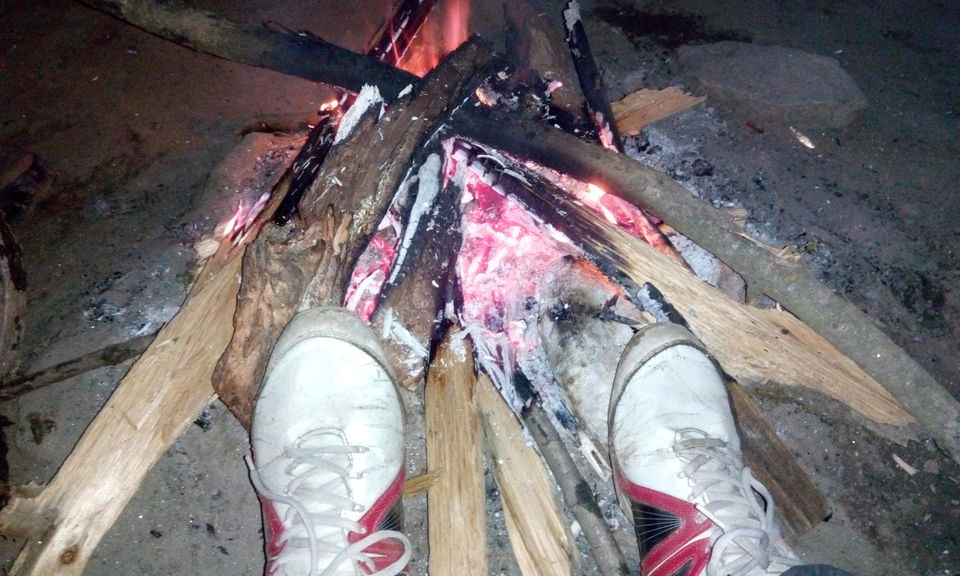 After relaxing for some time we had our dinner ,again it was cheap too an aloo paratha for 40bucks,and we were back in tents with in no time we were in deep sleep and we woke up for the noises outside and everyone were staring at the sky and that was such a beautiful view that no one who visit kheerganga should never miss,it was like a blanket of bright stars we just came out of the tent and started watching the stars everyone calmed down within few minutes and lost in their own thoughts looking at the sky after some time we all went back to sleep.
DAY4
"Wakeup!Wakeup! Hotsprings!Hotsprings!" shouted the Germany guy (toni)i was still in sleep i didnt want to get out of the sleeping bag.Till then i didnt know that there are hotsprings in India and that too exactly where i am , i was pretty much excited and we had our bath in the hotsprings they were perfectly maintained and females and males have different pools to use.The water was very clear and warm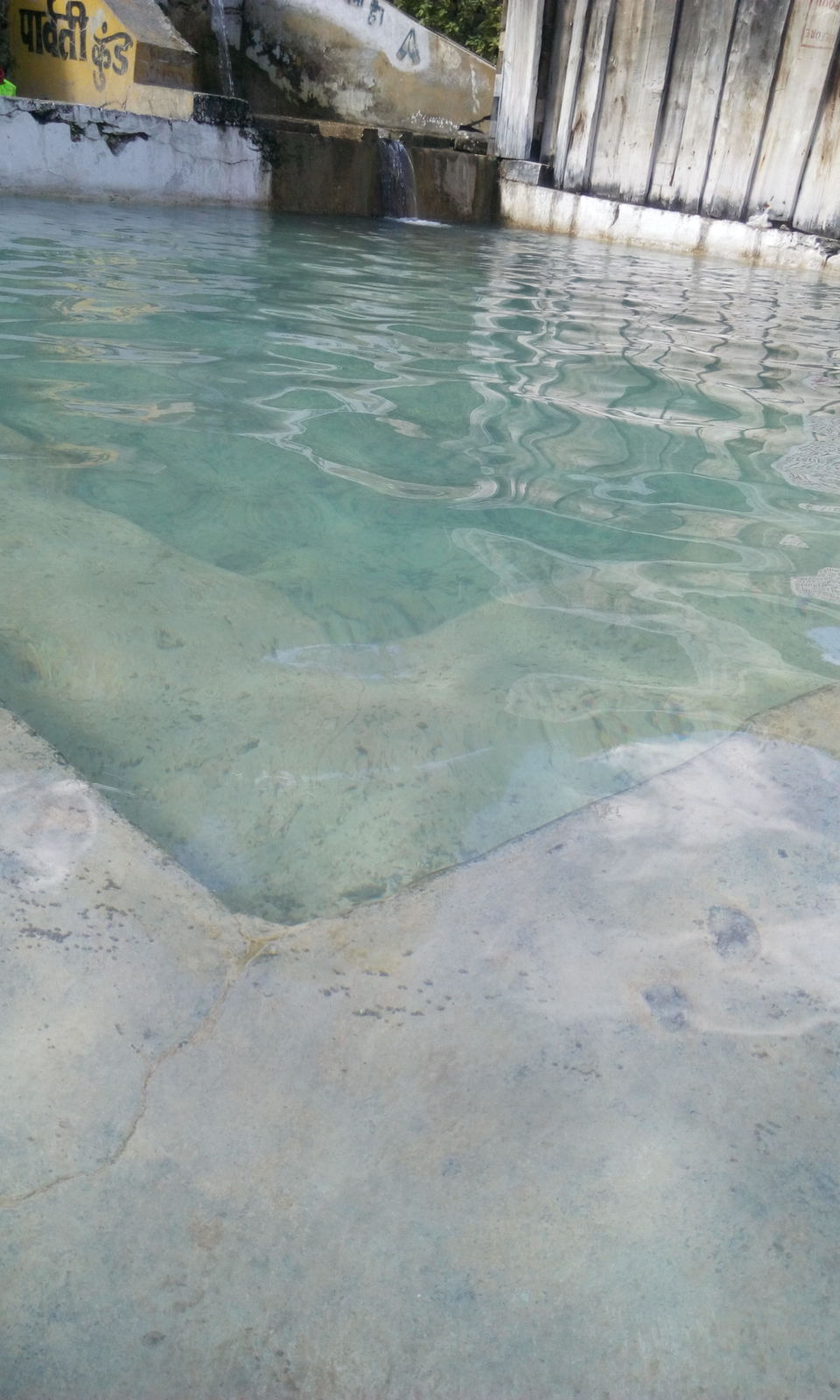 But we didnt know where the water is coming from and how come they are warm in that cold weather.Discussing that we reached our tents after the bath , had breakfast and started trekking down in the another way. To my surprise this way was also very beautiful with some little villages in the middle.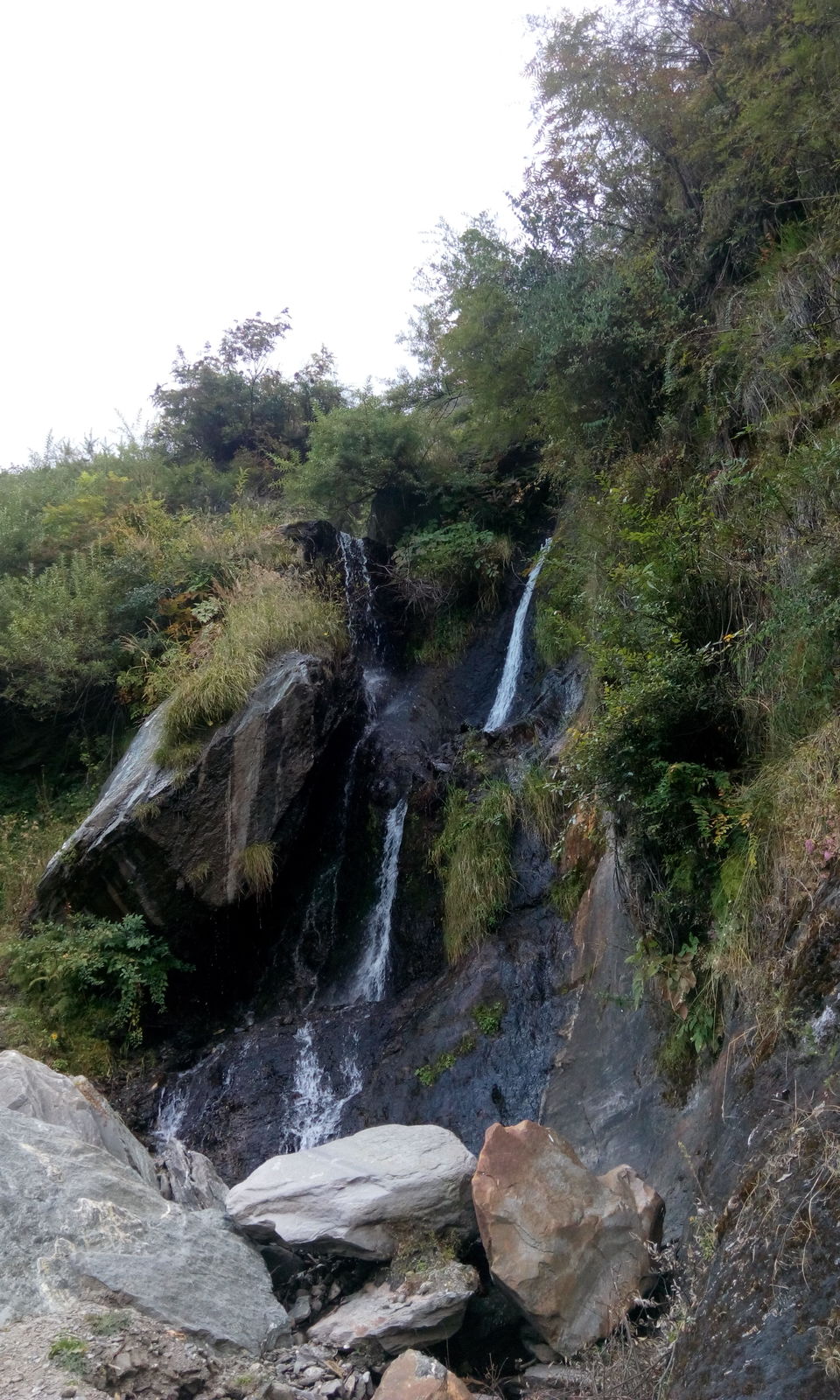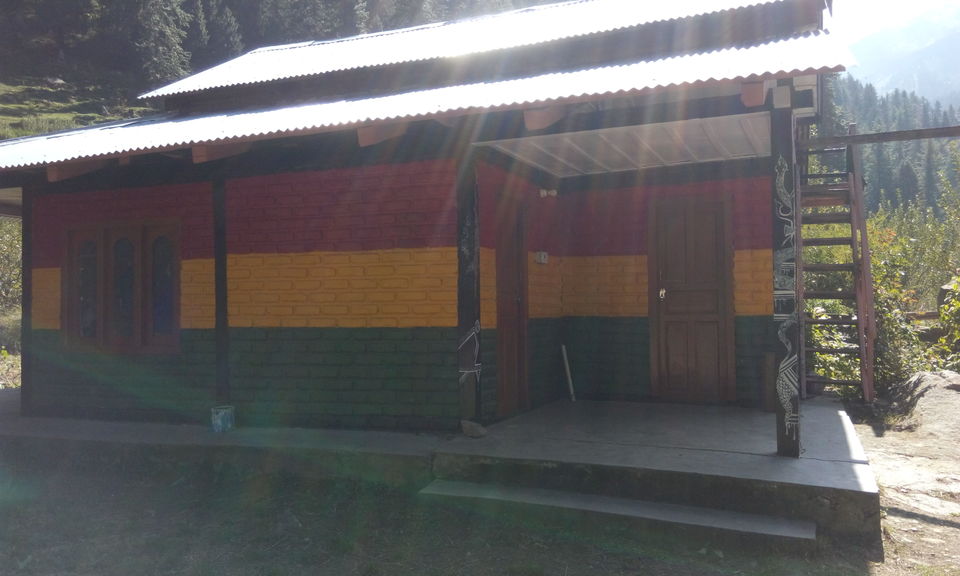 After reaching Barshaini , three people with me decided to leave to Tosh another beautiful village and it was around 4'0 clock in the evening already and i had my bus to delhi from Bhuntar at 10:00pm so i decided to leave to Bhuntar ,from barshaini it took 4hours to Bhuntar and ive got my bus to delhi .
Finally,when i returned back to my room,while unpacking the bag i found a Book in the bottom of my bag and that was the book which ive purchased before getting into the bus in New delhi and i had a huge smile on my face because i totally forgot about that book from the first minute of my trip i was never bored there were someone all the time to accompany me and to talk to me may it be the guy in the bus or the travelers at the hostel .
There are many places in kasol which i missed out like chalal village,tosh,manikaran etc.. which i want to cover in the next visit till then "Stay High!! "
PS:There are wonderful blogs ,here in tripoto,providing a lot of information about how to reach kasol, where to stay,what to do and where to visit.So i have decided to share my first solo travelling experience with all of you:)