credits: blogspot.com
The India Railways has clocked in miles for more than a century and has been counted upon by millions who continue to use it to ferry themselves across the length and breadth of this enormous Sub-Continent. Historians are divided on whether the railways was a boon or a bane to begin with because at its inception it was used primarily to transport raw materials such as iron ore and coal to the ports of India, from where they were shipped to England. The Railways a necessary evil that it was soon got appropriated by the roving masses of the country who used it to not just connect with places they had never seen but also to fight one of the great freedom struggles of the 20th century. Today, the railways despite all the brickbats it receives continues to do its job around the clock taking in its stride the many allegations of corruption and inefficiency that are brought up frequently. To me it has been a courier of memories for all the trips that gave me new acquaintances and the debts I have accumulated to it for the many experiences it has given me.
 The other day I was travelling in a sleeper coach on my way to Delhi from Hyderabad, and it is anybody's guess how light I was on the wallet. Keeping me company were a mixed bunch of people, people whom only the railways can bring together. There was me the historian, the attendee from the Ac coach who had his own reasons for being there, and two individuals who happened to be engine drivers. The drivers were from Bihar and Tamil Nadu named Salim and Ravi respectively -their north- south animosities aside they made an enviable pair. They came together only recently and worked in shifts manning an engine that ran down breakneck speed along dark and desolate tracks in India. Break neck speed? Indian railways? Sounds like news? -Well there are a host of trains that run at reasonable speeds often clocking over a 100kmph and yet end up running late mainly due to the number of halts enroute, and also the inability of stations to deal with the increasing number of train that get announced in the Railway Budget every year by the end of February.  


The train I am on is said to be a super fast train called durronto which translates into 'the end of distance'
Making a conversation in the midst of the cacophony that a rumbling train causes is difficult, and one uses intuition and hand gestures to make up for the words that are lost to the world outside. The sun is setting on us when we greet and meet each other in the middle of the rice fields of central India. It baffles me how a nudge here and a request to pass a belonging can lead to a conversation that can turn the journey ahead into a productive Endeavor.
It started with me asking them to hand me a bag that lay next to them and while I acknowledged the gesture I queried why they both were wearing matching uniforms on a train. They smiled and one of them told me that they both were returning from duty and that they were engine drivers who worked for the Indian Railways. Impressed with what I heard I probed further- They were in the middle of filling their logs books when I interrupted them with a few questions. What better way of knowing about a life in the day of these individuals who were literally responsible for keeping this monolith of an enterprise on its wheels.
As much as they loved the railways they chided the Babus who managed it. They spoke despairingly about the way a budget  brings  cheer to the middle class when a new train is announced while bringing longer hours of work to not just them but also the Karamchari's who work on stand by mode to ensure trains run without a hassle. The drumbeats that announced new technology to improve the railways mattered little to these individuals who had work hours that were unforgiving by Human standards.
….Ravi and Salim were on a break from a 19 hour duty. A day and night in their life involves- running the train keeping an eye on the tracks and giving the OK signal to oncoming trains. So they achieve a super human feat of staying awake while also performing other chores which by now should have been done automatically.


When a driver falls asleep leading to an accident it isn't an aberration but a dangerous proof of what an engine driver's routine looks like. The trains that connect India are responsible for so many travel experiences, moments and memories made possible because men like these (no clue if women are employed as drivers yet) keep an eye on the tracks ahead. I was further told about their working conditions which to my horror involves putting up with intense heat in the engine room while the train moves along. The idea of an Ac does exist in the railway manuals but the authorities have not paid attention to this necessity. To add to this are the full length gaps in the engine which allow for the drivers area to be ventilated  Imagine trying to get away from the heat emitted from the engine, and exposing your self to all that dust the train swallows along its way. Ghost of the famous phrase "caught between the devil and the deep blue sea" come calling.
Now, sitting here making a log entry in their books they wonder when their work will  get the respect it deserves, and until then they will tire on doing what it takes to keep this monolith of an enterprise on its wheels. As I mentioned earlier we had in our midst an attendant named Jawed who would other wise be found seated outside the air conditioned compartments and where the toilets are. Aware that he was missing from the AC coach he shared with us the curse words that were perhaps being hurled at him by passengers who expected him to be their man Friday on the journey. His presence in the sleeper coach is explained by the few empty seats that he plans to shuffle between to escape the stench of his job. Fed up with working overtime and with little rest he refuses to spend his spare time smelling human excreta. Instead he chooses to rest in a place that allowed him to catch up on some sleep before nightfall. What he endures at his work place is according to him worse than the ancient caste system which kept people considered untouchables outside the town. For now he is happy to be absconding from his duty albeit for a couple of hours before he is back attending to the chores of his grumbling passengers.
Through the lives of the attendant and the engine driver I saw a call for help, there was a sense of betrayal that they felt towards their fellow citizens who were too keen to ask for cleaner toilets and spruced up platforms but showed no curiosity towards the working conditions of those at the bottom of the pyramid who made all the promises of the government possible.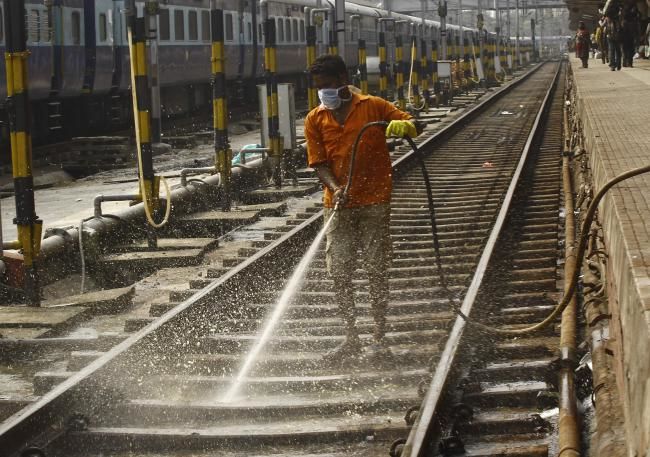 Credits: Prothom
Jawed left us after a couple of hours and the by night fall the three of us retired to our births. The next morning we were at Delhi, and while the train crawled its way through the outskirts  it made me uneasy thinking about Salim and Ravi my new friends. They would get off and head out to a place where they could log in some sleep before they were back in their uniforms and in the engine room. Their parting words told me about the little value we attach to Human Life and emotion. Javed smiling as we moved our way to the entrance told me "Admi ko Har cheej ki Aadat Lag Hi Jati hai, Hamari naukri mein izzat kum milti hai par jab train station par Rukhti hai aur Hum in Khush Chehro ko Dekhte hai, tho kuch der Ke liye Zindagi Haseen Lagne Lagti Hai" which translates into " There is little respect in being an engine Driver but the joy lies in seeing the many happy faces when a train reaches its destination, Life feels good at these times"