Isn't it fascinating that how so many people from different parts of the world, including you and me, have one thing in common – the urge to keep visiting new places? It is because the rush that we feel when we go to a strange land is addictive, and one can never get enough of it. And thankfully, our world is so vast that we cannot run out of new places to go to, at least not in a single lifetime!
Now, a few months back, I and a bunch of my friends suddenly experienced this urge. One evening, we were just sitting and talking about how everybody we know is either going to or returning from a trip. After the end of that conversation, we just looked at each other and knew that we also had to go somewhere, and soon!
It was the last week of February and winter was just about to bid adieu to Delhi. Being a sucker for the cold season, I convinced everybody that we should go to somewhere in Himachal Pradesh (pretty obviously).
But, the issue was that not all of us could afford to take a leave of more than two days from work. So, with that constraint, we had to choose a place that could be visited over a weekend.
We had a few places in mind such as Kheerganga, Prashar Lake, Jibhi and Jalori Pass, and after several rounds of discussions, we finally zeroed in on Prashar Lake.
After reading a bit about the place on the Internet and speaking to a bunch of travellers whom I got in touch with via Instagram, I learnt that camping was not allowed at Prashar Lake at that time of the year because the place was all covered in snow. I also got to know that there are not many guest houses or hotels nearby the lake. So, we decided to book a package tour and we found one which included Delhi to Delhi transportation, accommodation and meals at a reasonable price of Rs. 5000. (Just Google and you will find a list of such package tours to Prashar Lake)
Now, all we had to do was wait for the first weekend of March to arrive, which was 10 days away. Unable to contain our excitement, we brushed up our knowledge about the place. We learned the significance of the Prashar Rishi Temple and also found out that the depth of the lake is unknown and that it has a small floating island. Now, we were even more excited and fortunately, the 10 days had passed.
And thus began our trip to Prashar Lake!
We departed from Delhi at 10:00 pm on Friday and reached Mandi by 7:00 am on Saturday. Apart from the 5 of us, there were 8 more people, 1 trip leader and 1 guide.
The distance between Mandi and Prashar Lake is roughly 50 km. After a hearty breakfast, we left for Bagi village which is around 30 km from Mandi. It took us almost 4 hours to reach the village as the condition of the roads was not ideal, courtesy the snow.
We checked into our guest house in Bagi village at around 2:00 pm and spent the rest of the day having maggi and chai amidst the snow capped mountains.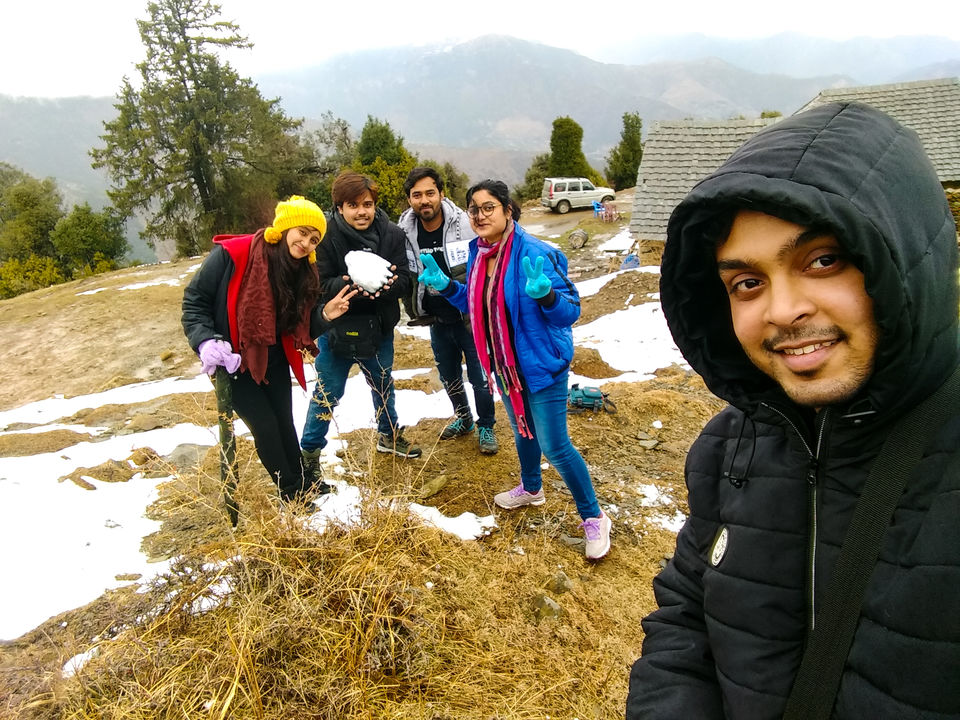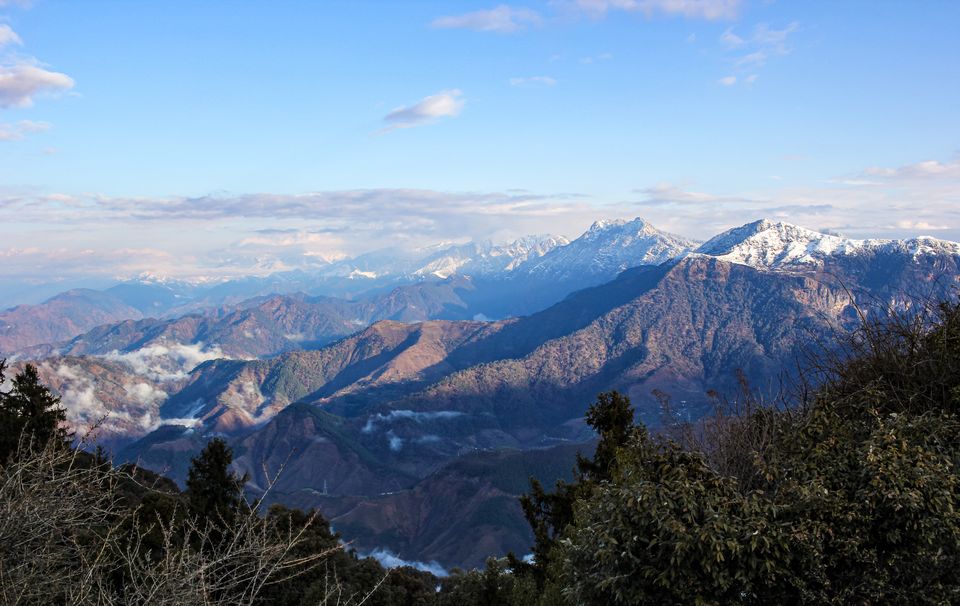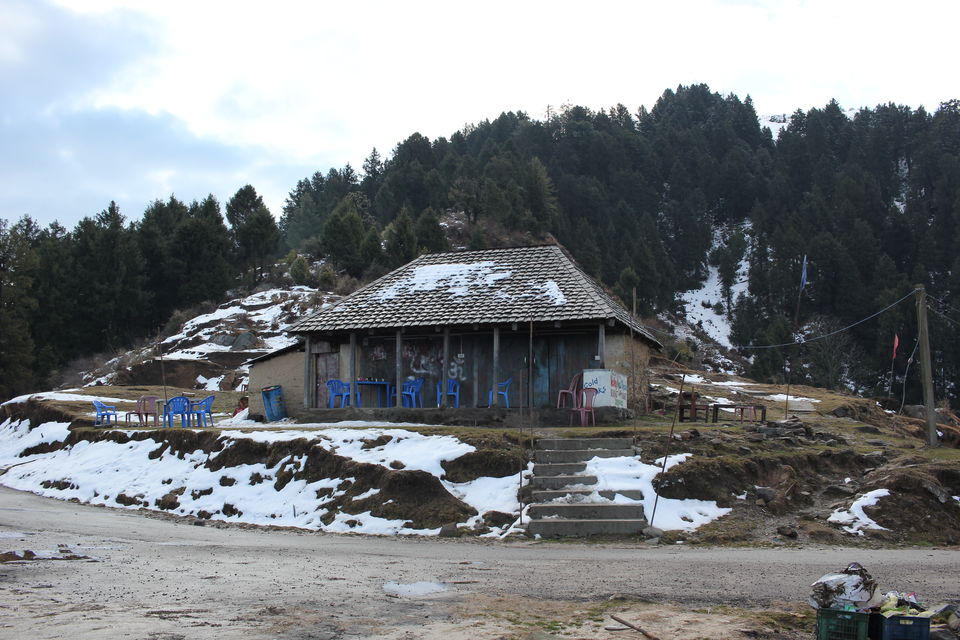 Now, if you are coming to Prashar Lake without a package tour in winters, you will have to arrive in Mandi pretty early in the morning. From there, you will have to take a cab till Bagi village, find a guide and start the trek to Prashar Lake. As camping is not allowed at the lake in winters, you will have to return to Bagi village and head back to Mandi the same day. Alternatively, you can stay in Mandi the first day and leave for the village and the trek next morning.
In summers, it becomes a lot easier. You can directly reach Prashar Lake from Mandi as the road from Bagi village to the lake starts to function. Plus, you can spend the night at the lake as camping commences too.
Coming back to us, we had to stay in Bagi village the first day. What added thrill to the stay and certainly made it unforgettable was the fact that the village didn't have electricity. As it had snowed heavily there, the village wasn't getting electricity since the last 25 days. The people of the village had moved to some other place for the time being.
So there we all were, in an almost empty village with no electricity, not being able to use our electronic gadgets, as we needed to save the batteries for the next day. We lit a small bonfire and sat by it till late at night, getting acquainted with each other. The ever so efficient workers at the guest house had cooked us a heavenly dinner, under the light of just 4 candles. I still wonder how!
The trip had already become so exciting and we were yet to trek to Prashar Lake. With the thought of next day being even more adventurous, we all went to sleep.
We started the trek at 08:00 am from our guest house. We were told that it would take upto 4 hours to reach Prashar Lake, which was frozen at that time. All pumped up, we were following our guide as we made our way through the snow laden hills.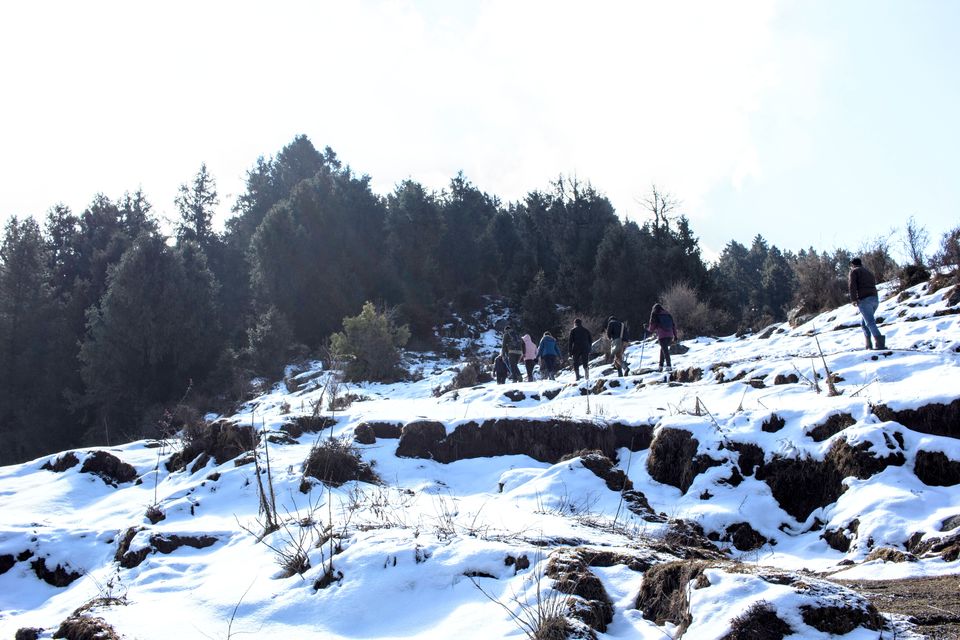 At the start, the 4 hours were looking long but half hour into the trek and we began to enjoy it so much that we actually forgot about the time and even our destination.
Have a look at it yourself!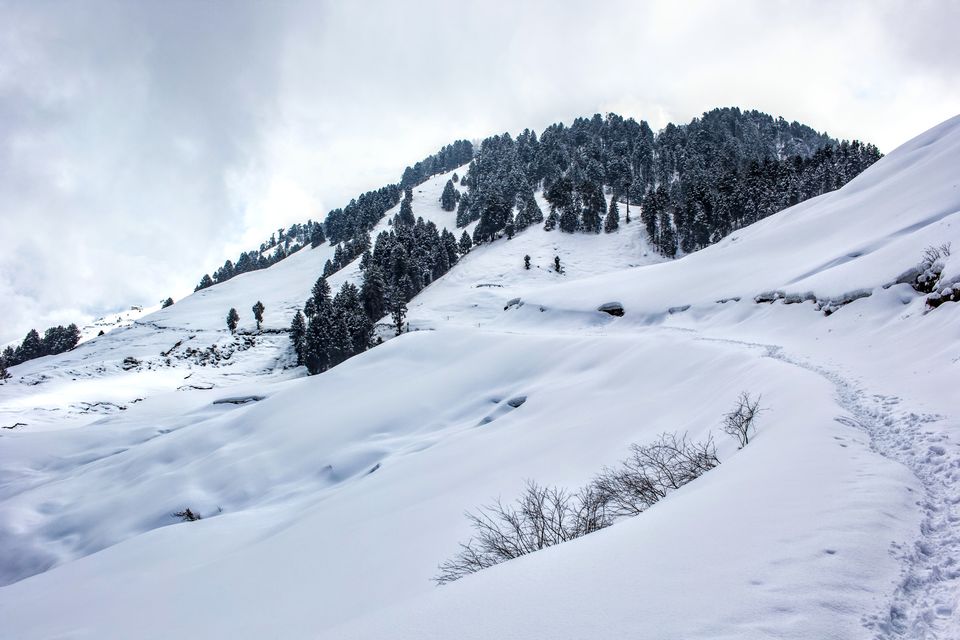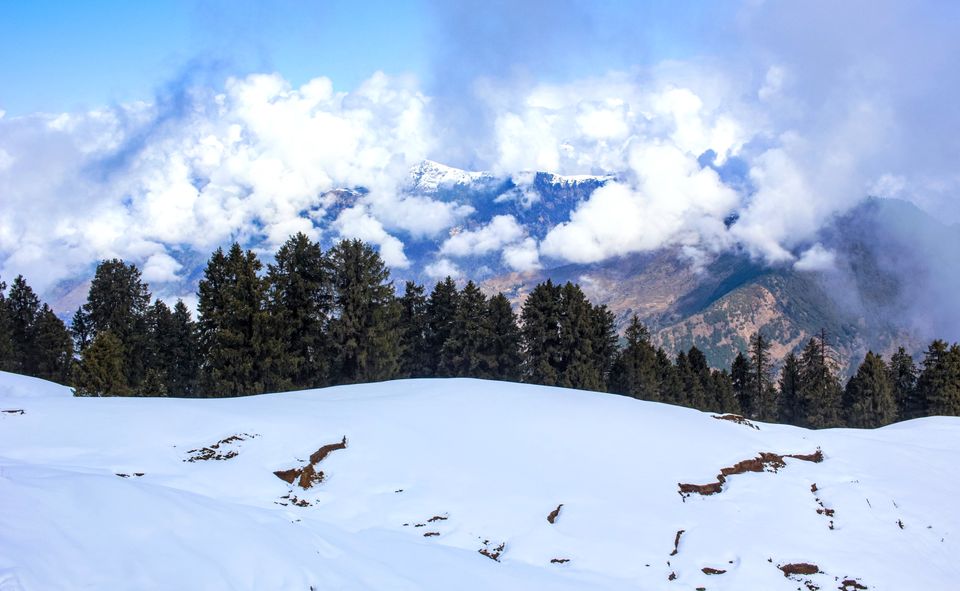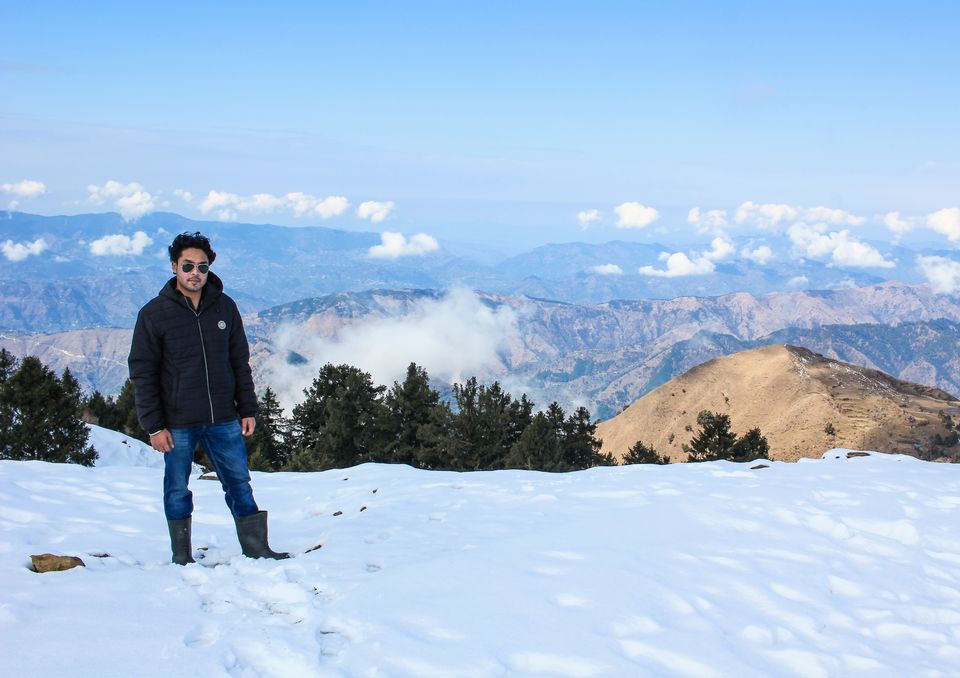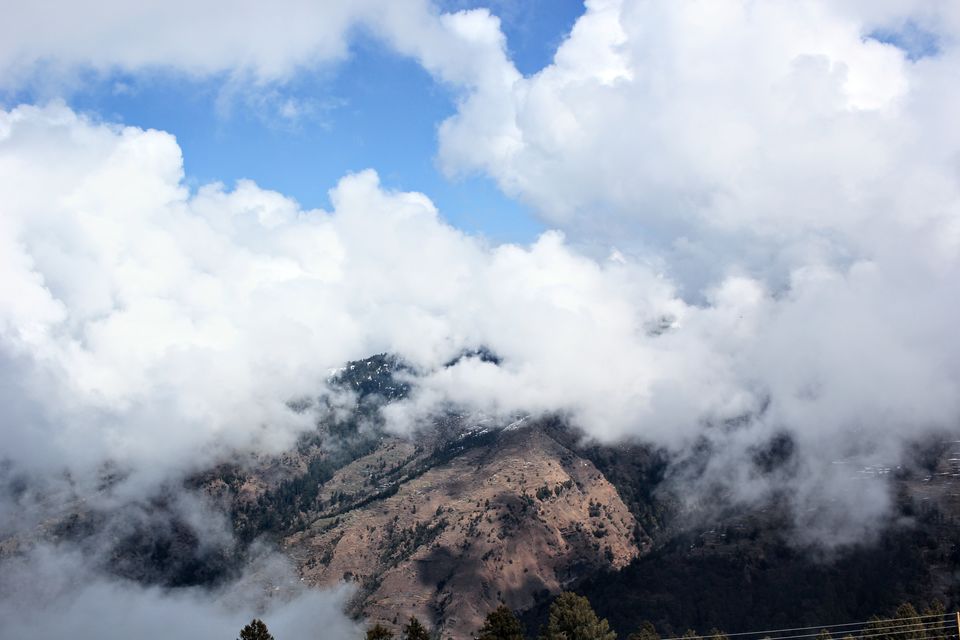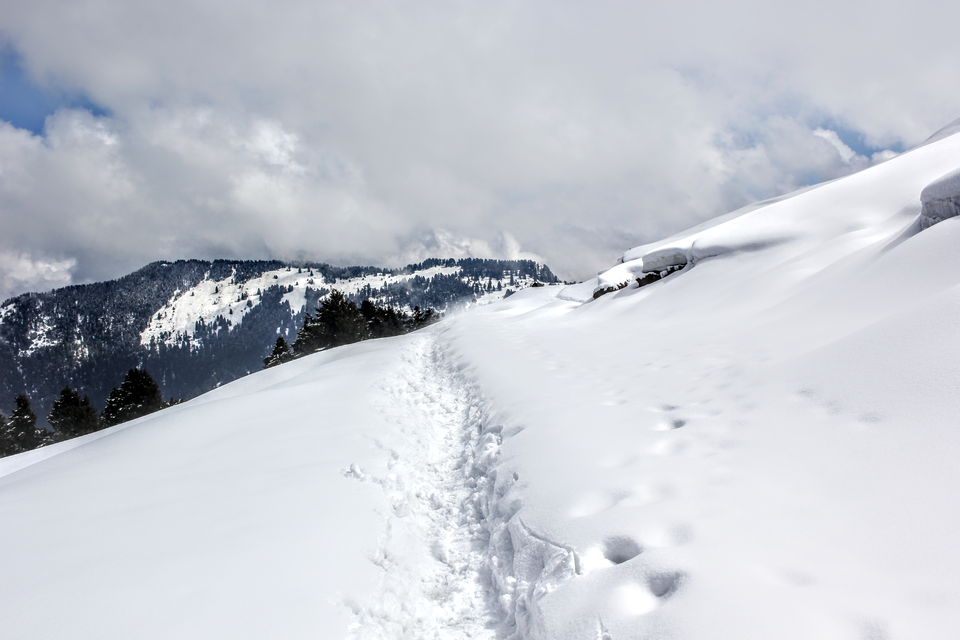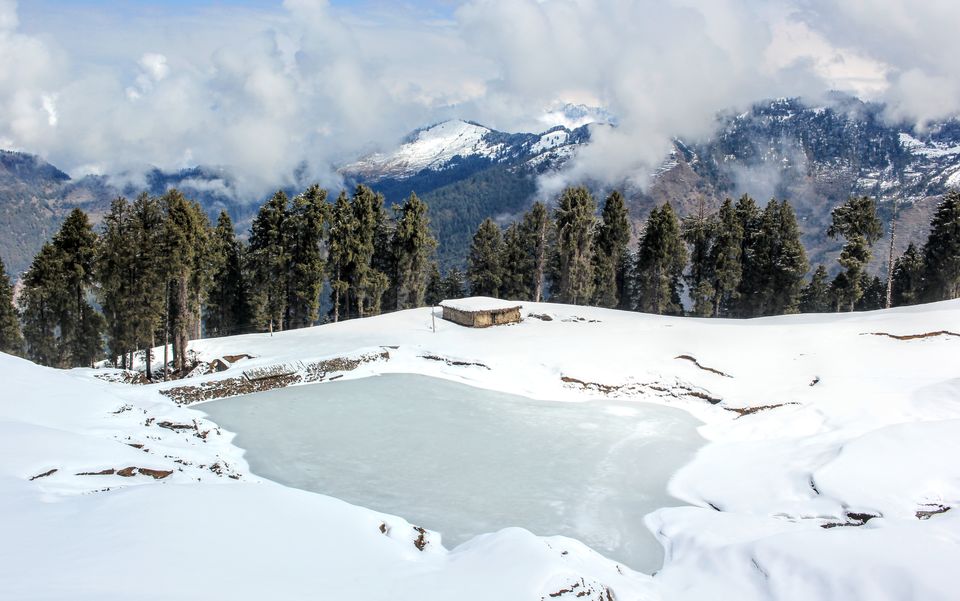 As we moved up, the path became narrower and we had to be a little more careful towards the end.
This is what the last leg of the trek looked like!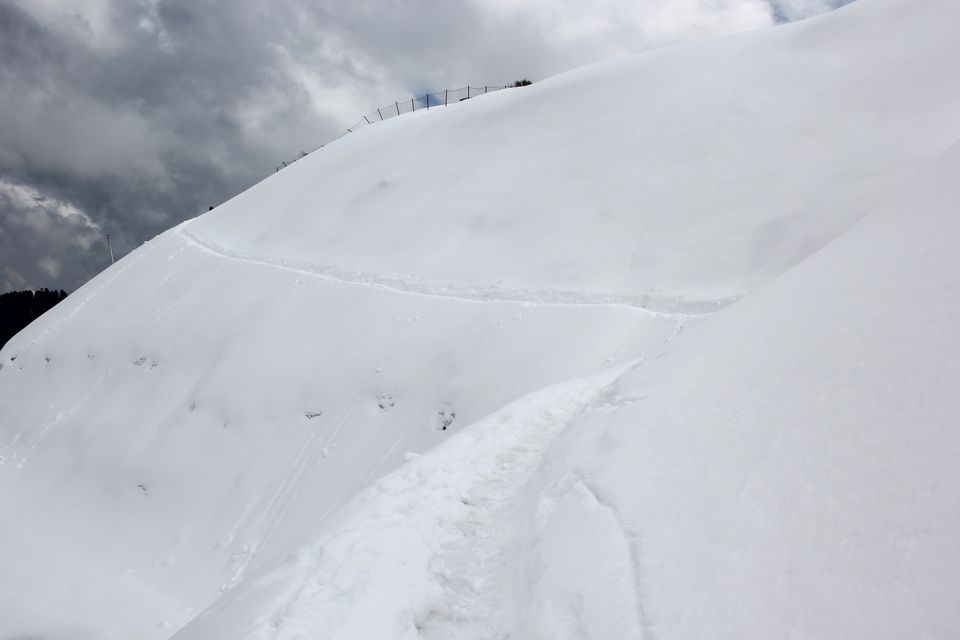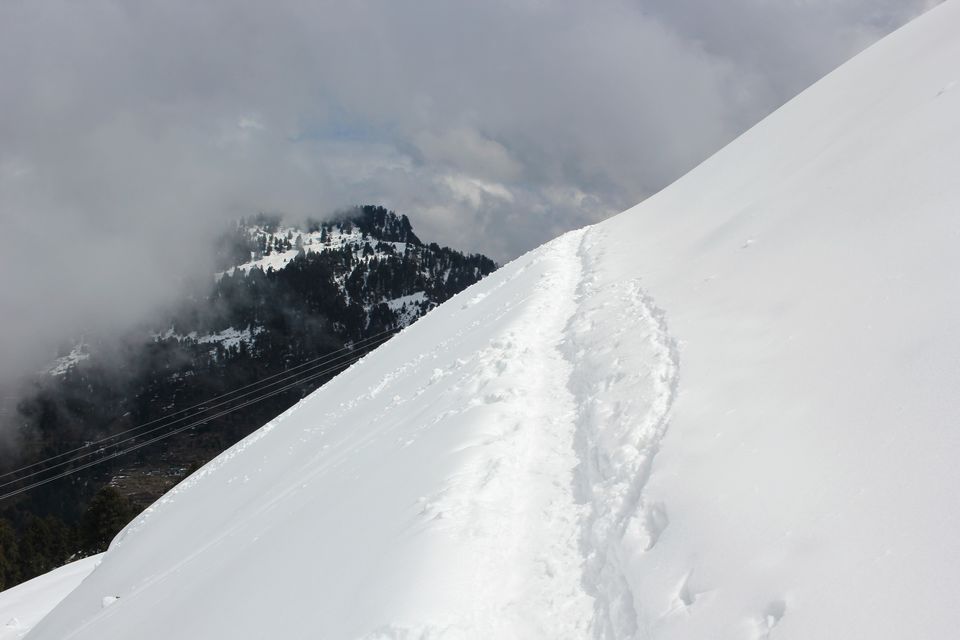 Seems exciting na? The feeling I had is inexplicable in words.
So, after walking, falling, running and climbing for 4 hours, we finally reached Prashar Lake and it was SURREAL! The rush that I was talking about in the beginning had filled me up completely. We sat at a point which offered the full view of the lake and just kept looking at it for several minutes. Mesmerized and amazed by what we were witnessing, we didn't talk for a while. As if all of us were deep in mediation.
Here, this is what Prashar Lake looked like from where we sat!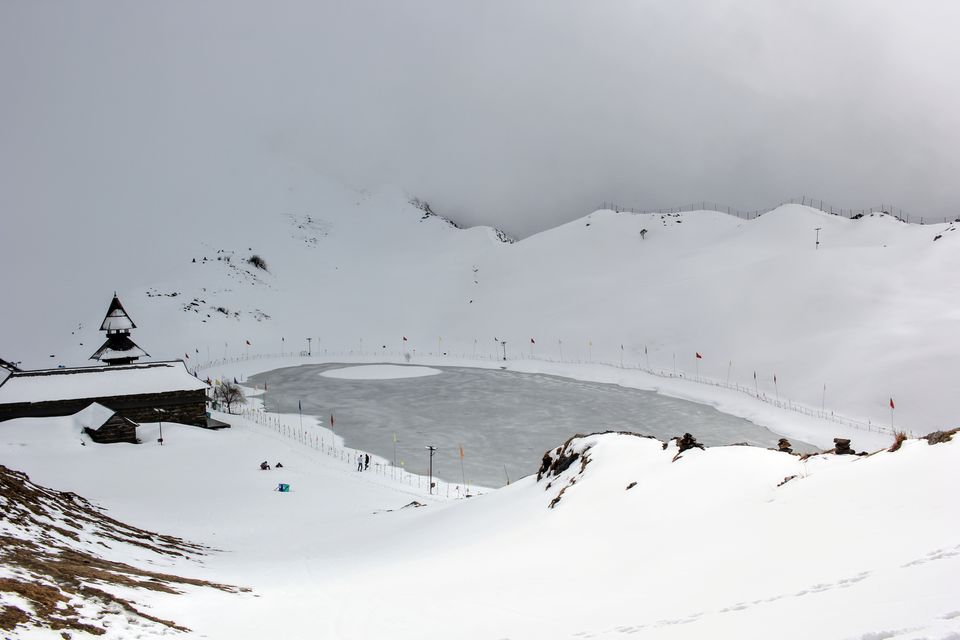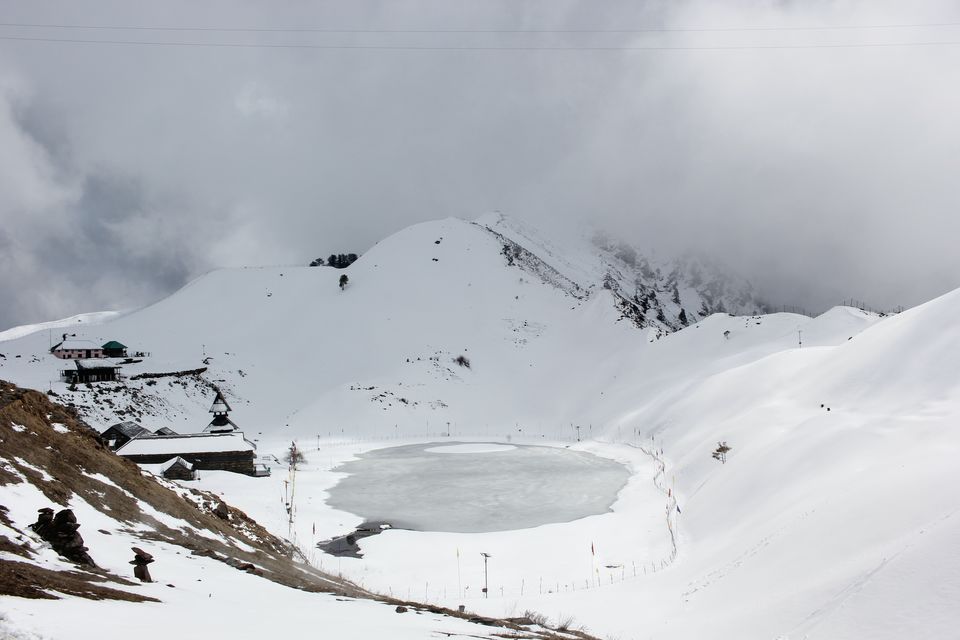 Then, after taking lots of lots of pictures, we visited the Temple where Sage Prashar is regarded to have meditated, and then had maggi and chai at a small eatery.
We spent around 4 hours at the lake and when it seemed like it was about to snow, we rushed back to the guest house to avoid getting stuck. We returned in about 2 hours and prepared to leave for Delhi.
Overwhelmed with the entire experience, we headed back home with a huge smile on our faces. The trip was such that it satisfied both the tourist and the traveller in me and in the rest of the bunch.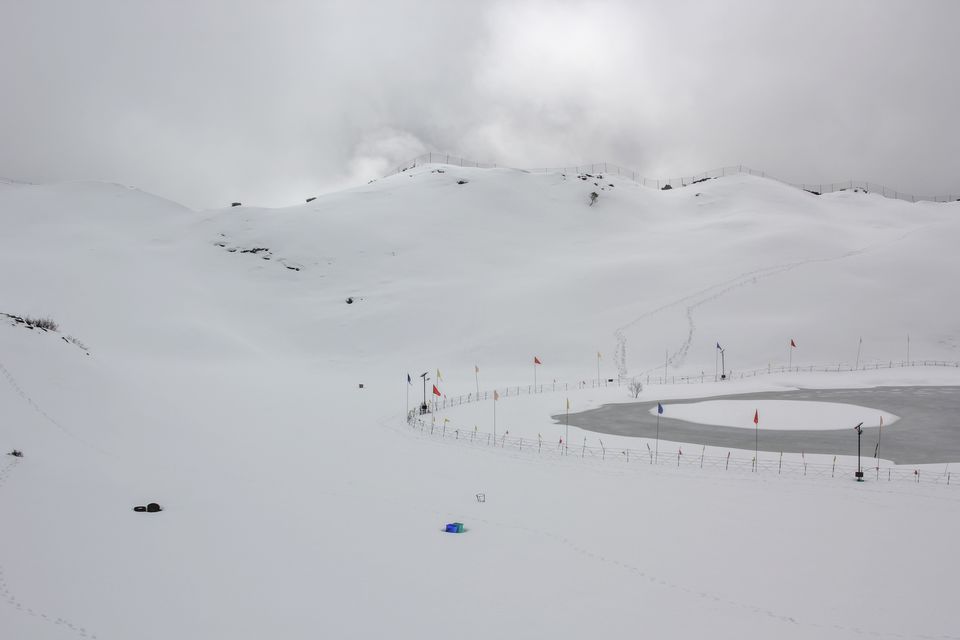 So, when are you planning to go to this magical place? And if you already have, how was your experience?