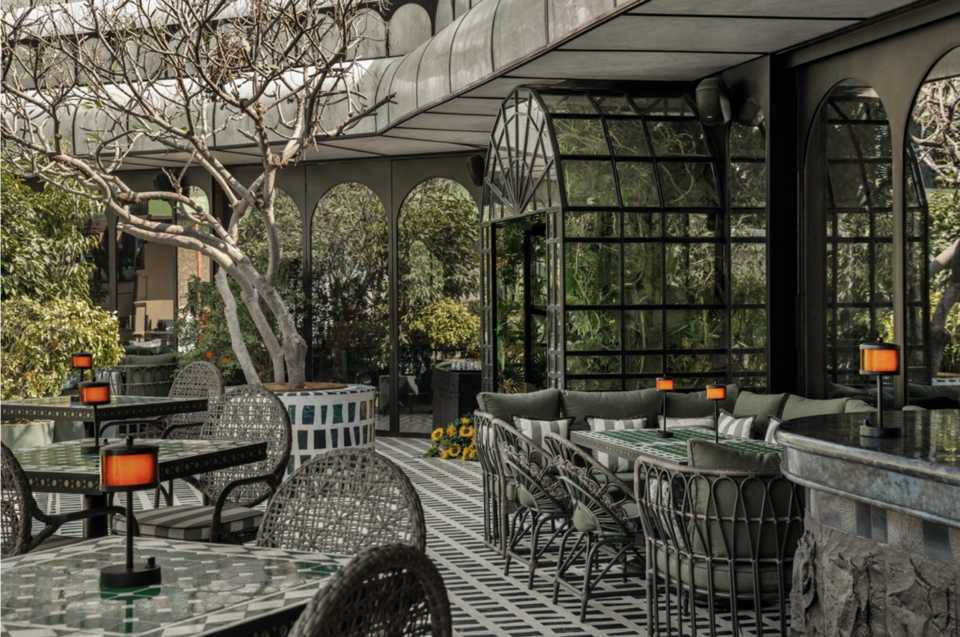 In India, alfresco dining is best reserved for winters that speak of long lazy lunches under the mild winter sun, where wine and good food make up the table and conversations lead to the golden hour, i.e sundowner. Come evening, open-air dining would mean great views, live music, grills, meaty plates, single malts, and snuggling down to cozy corners or fireplaces that fan the flames to good memories. The capital city, Delhi has some of the best open-air cafes, offering soulful winter jaunts, closer home, and lets you enjoy entirely the winter's chill.
1. Qla
With the weather so fine and under the shadow of the Qutub Minar of Delhi, Qla is a perfect open-air dining where a European-style bistro meets the haveli courtyard setting. Slow-braised and pressed pork belly paired with carrot mustard puree, sweet and sour plum date ketchup and Sous-vide chicken breast, olive tapenade, black bean relish, smoky garlic hummus, hazelnut with paprika amalgam are some of the unique plates to indulge in. Don't forget to browse through the beverage menu of craft beers, gins, and single malts. Mark your calendar for a weekend brunch at the Q'la courtyard.
Address: 4-A, Seven Style Mile, Kalka Das Marg, Near Qutab Minar, Mehrauli, New Delhi. Call 8527098766/933766.
2. Baoshuan, The Oberoi, New Delhi
If steaming hot dim sums, brothy soups and hot and tangy Chinese has an all-time appeal to you then Baoshuan's contemporary Chinese is your go-to winter dining. Baoshuan at Oberoi with views of New Delhi's skyline and vistas of the forested Golf course sets a perfect celebratory lunch for couples and families. The must-have is the infinity brunch curated by the Michelin star chef Andrew Wong who brings up a variety of handcrafted dim sums, bottomless pours to mains that speak of the regional cuisines of China, and a selection of his signature desserts would leave you asking for more.
Address: Dr Zakir Hussain Marg, Delhi Golf Club, Golf Links, New Delhi, Delhi 110003
Make reservations for Infinity Brunch at +91 11 2430 4454.
3. Diggin Cafe
Arrive at brunch and stay until nightfall to watch the garden setting change into a lit-up leafy terrace, exuding glamor and charm. With lush green decor, outdoor seating swings, winding staircases, and lanterns, Diggin Cafe feels like the perfect romantic venue to spice up the love affair with that special someone. Over lively conservation, dig into their classic Italian salami pizza, cheese calzone, and zucchini fries, rosemary fettuccine. End the evening with chilled strawberry cheesecake gelato. And the good news is you can bring your furry friends here too.
Address: Bikaner House, Pandara Flats, India Gate, New Delhi, Delhi 110003
4. Olive Bar & Kitchen
Whether it's a party of two or plenty, Olive Bar and Kitchen's all-white decor, and gazebo-like seating alongside soft armchairs around the giant banyan tree promise a beautiful sun-dappled winter lunch. The setting exudes sassy, casual dining. With clean Mediterranean flavor at its core, Olive has delighted its patrons and now the head chef Dhruv Oberoi's 'ingredient of the month' initiative has pushed ingredient-forward plates. Dinner by candlelight is an excellent option to tick on. Alongside innovative specials like braised scallop & fried anchovies, the familiar dishes — mezze platters, hand-rolled fresh pasta, and super thin Italian pizzas are reasons first-timers turn to patrons of Olive. That said, reserve your table for your Christmas eve, brunch, and dinner and soon you'll know it celebrates the best of seasonal produce.
Address: Mile 6, One Style, 8, Kalka Das Marg, Seth Sarai, Mehrauli, New Delhi, Delhi 110030
5. FIO - Country Kitchen & Bar
Nestled under frangipani trees amidst the rustic setting of a garden of six senses in Nehru place, Fio Country Kitchen and Bar is ideal for a family get-together in winter. Patio tables and umbrellas scattered among the beautiful garden sets the mood for a memorable winter feast. Dive into the flavors of rustic-style dishes but with a chef's modern twist. We recommend don't miss the succulent, smoky flavor country chicken featuring parmesan baby potato, ginger cilantro pan jus, and wash it down with your favorite cocktails. Note, Sunday calls for gourmet grills and live music too.
Address: The Garden of Five Senses, Gate 1, Saiyad ul Ajaib, Saket, New Delhi, Delhi 110044
6. Tara, Roseate House
Tara — A roof-top lounge by the infinity pool is an area spread across 133 square meters, designed for luxe seekers who want to sit back in style and savor some chef's handpicked dishes. It is an evening place and the elegant setting calls for Roseate House's signature cocktails and pairs best with the webber grills. Its signature grills are rosemary and mustard-rubbed NZ lamb chops, Chermoula jumbo prawns, and butter garlic sea bass. The menu also boasts sliders, served fresh and flavourful. Caprese, chickpea & quinoa, and the Indian mutton chapli are served in a modern avatar. Intimately sit next to the infinity swimming pool, take a wine, and enjoy the perfect date night.
Address: Asset 10, Northern Access Rd, Aerocity, Hospitality District, Indira Gandhi International Airport, New Delhi, Delhi 110037
7. Swarn, Qutub
This Patio furniture-fitted terrace dining is the most sought-after place now in Delhi, the brainchild of Zoravar Kalra. With Swarn, Peruvian cuisine first showed up in Delhi. The menu also boasts the finest Japanese and Italian delicacies. Chard lobster & corn is one of the Peruvian specialties with slow-cooked corn purée and don't miss the grilled lobster served with lobster hollandaise. The menu reflects the philosophy of Swarn — a mix of traditional food blended with a diversity of ingredients from various regions. Food lovers can choose from handcrafted pizza, salads, and kinds of pasta to seafood delicacies such as soft shell crab to the grilled Norwegian Salmon served with spinach quinoa sauce vierge. One who experiments with food will love Swan's unique serving — mushroom cappuccino, a creamy mushroom soup with truffle oil, perfect for a wintery night.
Address: 1st Floor, Kharsra No 1501, Kalka Das Marg, Ward Number 1, Mehrauli, New Delhi, Delhi 110030
8. Fig & Maple
This rooftop cafe garden has blue-pea flowers and other edibles growing. Started by chef Radhika Khandelwal, an evangelist of zero-waste practices, has curated a produce-forward menu aiming to bring the best flavours from India's regional specialties. The cafe promises seasonal menus that spotlight a wide variety of ingredients and produce from India. Once you look closer at the dishes, you know the USP is the chef's modern take on indigenous Indian ingredients. Sol Kadhi inspired Ceviche, Chef's special lamb with Beet dosa, and soft methi thepla with spicy sweet potatoes/ goat's cheese mousse and a sprinkle of mulgapodi are the must-haves from the menu, alongside their gin infusions. There are healthy and flavourful bowls that make the place popular among weight watchers and health freaks.
Address: M 27, Greater Kailash (GK) 2, New Delhi. Call 9971174576
9. Fab Cafe, Sunder Nursery
Delhi is full of green spaces like parks, farms, and nurseries, and imagine a cafe in the middle of a large nursery by the lake. The charming Fabcafe by the Lake is all you need for an ideal winter lunch. The regulars would stop by to order Ladakhi thukpa, a broth with zucchini Noodles and chicken chunks. The patrons don't miss the piping hot chicken momos wrapped in jackfruit flour. For sweet tooths, the gluten-free hazelnut tart is a must-have, made of whole wheat, hazelnuts, walnuts, and soft millet dough wrapped in decadent chocolate. Bringing clean eating and comfort food is their motto, and they are set to promote Indian produce with their creativity.
Address: Sunder Nursery, Delhi' Heritage Park, Bharat Scouts and Guides Marg, adjoining Humayun's Tomb, Nizamuddin, New Delhi, Delhi 110013
10. Cosy Box
A dreamy terrace setting decked in indoor glass dining and featuring an outdoor green foliage deck, fountains, and water bodies, Cozy Box stirs up a zen calm and cozy feel with its design aesthetics. Cosy Box has been a part of the Cannes Film Festival. Now Fernandez-Versini wants to expand the concept into a 'global party destination,' with locations in London, Los Angeles, and this one is its latest Outpost. Everything on the table is fresh, contemporary, and seasonal. It's a sort of place where you could have wine with breakfast and the mere thought of it transport you to France. The mouth-melting dim sum, sourdough toasts, and robata grills are some of the best servings plus wines from a wide range of world-class selections making it a popular place for intimate diners, casual gatherings and party goers.
Address: One Golden Mile, Block A, Netaji Nagar, New Delhi
Layer up your winter clothes because it is that season of the year that calls for outdoor dining. If you love good food, breezy cabanas, garden cafes, and roof-top -lounges with stunning vistas of the city's skyline, you will really love this list.
Find out the best cafes and culinary experiences in India at Tripoto.
Plan Your Next Trip Using Tripoto's Complete Destination Guides
Look at the Exclusively Curated: Tripoto's Mindful Retreats
Follow me in Instagram for Unique Travel stories and Inspiration.