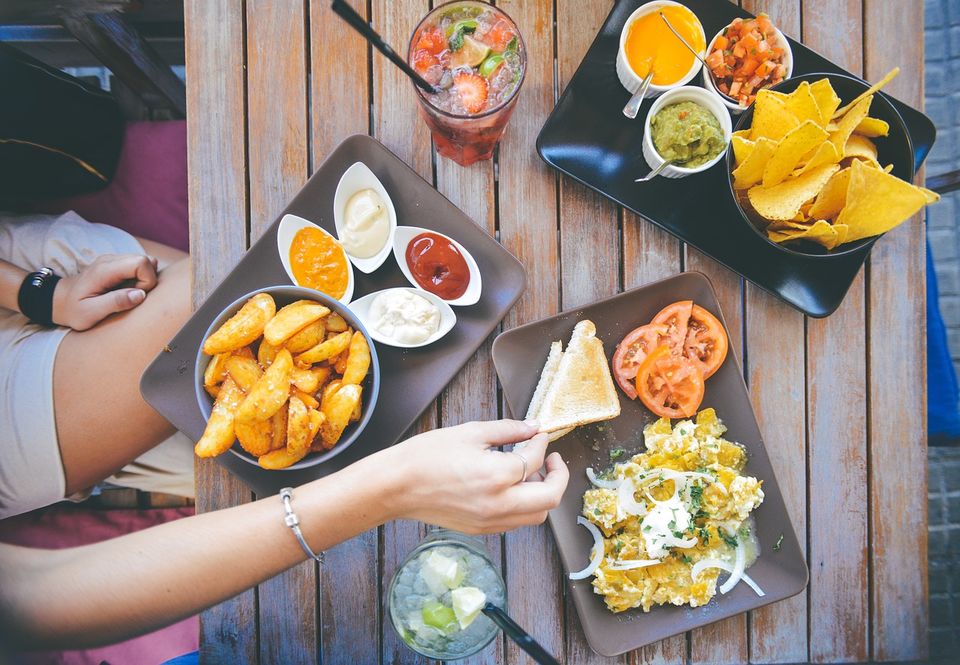 From butter chicken to wood fired pizzas to exotic varieties of sushi—there just cannot be a city like Delhi when it comes to taking its food seriously. A city that houses people from all parts of the world, Delhi's metropolitan nature has affected its culinary scene in a big way. In order to cater to these varied tastes, the city has eateries dishing out almost any cuisine you can think of, making it a foodie's paradise, to say the least.
While exploring new food joints is something that is fun nevertheless, the joy increases severalfold when you do it with your gang of girls. Gear up ladies, because Delhi has some super exciting gastronomical adventures in store for you. As they say, why should boys have all the fun? Get down to making those plans because here are the city's ten best spots for your next ladies luncheon:
Located right in the heart of South Delhi, Diggin is a name that has become synonymous with quality dining in this part of the city. The cafe is a favourite amongst women of all age groups, ranging from young college students to the who's who of Delhi's social circle. With a setting that looks straight out of a fairytale, Diggin combines the charm of an authentic Italian eatery with that of a sinful bakery. Interesting conversations, picture perfect spots, cute doggos and lip-smacking food—its all happening here!
Cost: ₹1,500 for two (approx.)
Cuisine: Italian, Continental, Salad
Standout dishes: Pepperoni pizza, lamb lasagna, spaghetti aglio olio, homemade gelato
Timings and location: 11AM to 11PM; Anand Lok Shopping Centre, Opposite Gargi College, Anand Lok, New Delhi
Contact: 011-33105376
Olive Bar and Kitchen has for years continued to headline the city's food culture, establishing the fact that you never go wrong with the classics. Seminars, group discussions, chef's tables, organic produce tasting et al—there's always something brewing up at Olive over lunch. To add to that, the warm hospitality will make you feel no less than a queen! Drop everything ladies and head to this one right away because there's never a dull moment here!
Cost: ₹4,000 for two (approx.)
Cuisine: Mediterranean, Italian, European, Salad, Seafood
Standout dishes: Cuttlefish in beer broth, saffron risotto, grandma style orecchiette, sticky fig pudding
Timings and location: 12:30PM to 12:30AM; One Style Mile, Haveli 6, Kalka Das Marg, Mehrauli, New Delhi
Contact: 011-29574444
Celebrating the rich history and culture of India, The G.T. Road offers guests a memorable ride back in time. The themed restaurant is one of the newer entrants to Connaught Place's ever-growing food scene and is the best place to satiate your craving for authentic Indian food. The G.T. Road also hosts special ladies luncheons, or as they call it, 'Her Highness' Retreat' everyday starting at just ₹325 per person! A taste of royalty and indulging in mouth watering food at throwaway prices—we wonder what more one could ask for!
Cost: ₹1,500 for two (approx.)
Cuisine: North India, Mughlai, Afghani
Standout dishes: Dal makhani, chicken biryani, chicken burrah, rasmalai
Timings and location: 12PM to 3:30PM, 7PM to 12AM; M 39, Outer Circle, Connaught Place, New Delhi
Contact: 011-33105443
If you're in a mood to experiment with your gang of girls, Pa Pa Ya is where you should be heading to next! One of the finest Asian eateries in the city, Pa Pa Ya brings authentic oriental flavours right on to your plates. The modern bistro also boasts of a well-stocked bar offering some great cocktails that will keep your spirits high. A special mention for the friendly staff who always goes out of the way to recommend the best delicacies according to your palate. Also, miss the 'chocolate ball on fire' at your own risk!
Cost: ₹2,500 for two (approx.)
Cuisine: Asian, Chinese, Thai, Japanese
Standout dishes: Sushi tree, shashumi, honey barbecue pork, chocolate ball on fire
Timings and location: 12PM to 1AM; Dome, Level 4, Select Citywalk, A-3, District Centre, Saket, New Delhi
Contact: 08800002881
Chit-chatting with your girls, endless refills of sangria, relishing world cuisine and enjoying scintillating bird eye views of Delhi—well, that's pretty much what you should expect if you're planning a lunch at Taksim. Everything at this rooftop eatery, be it their expansive food menu or irresistible selection of cocktails, is curated to spoil you for choice. And as if that isn't tempting enough, they also offer special deals if you're planning a proper kitty party starting at just ₹599 per person!
Cost: ₹2,500 for two (approx.)
Cuisine: Indian, Continental, Italian
Standout dishes: Chilli basil fish, veg mezze platter, Pakistani balti gosht, blueberry cheesecake
Timings and location: 12:30PM to 1AM; CG 01, Ansal Plaza Mall, Khel Gaon Marg, New Delhi
Contact: 09999223792
A friendly disclaimer to start things off, if you are a wine aficionado, you just won't be able to stop yourself from falling in love with Perch. With a fine selection of wines from around the world, Perch is the perfect place to head to with your girl gang if you're in the mood for some wine and cheese. A special shoutout to their coffee sangria, which is simply to die for, and also a personal favourite! On the other hand, non-drinkers can try their hands at freshly brewed coffees while savouring artisanal varieties of cheese.
Cost: ₹3,000 for two (approx.)
Cuisine: European
Standout dishes: Potato gnocchi, mushroom risotto, bean salad, chocolate parfait
Timings and location: 8AM to 1AM; 71, 1st Floor, Khan Market, New Delhi
Contact: 08373976637
Ever since its launch in 2014, Farzi Cafe has managed to create a storm of sorts in the Indian food industry. The chain of successful cafes seamlessly blends the flavours of India with delicacies from around the world to result in a unique gourmet Indian culinary experience. Complimenting a menu that's all about experimentation, Farzi Cafe also boasts of a classy setting and amazing presentational skills. Oh, and did I mention how they frequently host some of the best musical acts to pep up your lunch? Ladies, what are you even waiting for?
Cost: ₹2,500 for two (approx.)
Cuisine: Modern Indian
Standout dishes: Chocolate dome, chicken tikka tart, milky way, chicken curry
Timings and location: 12PM to 1AM; 7-8, Ground Floor, Cyber Hub, DLF Cyber City, Gurgaon
Contact: 0124-4922273
With both indoor and outdoor seating spread across three floors, Marine Drivve is a massive eatery located in the heart of bustling Rajouri Garden. However, as soon as you set food inside, the welcoming staff and peppy ambience sweep you off your feet and take you on a gastronomical adventure. A paradise for foodies, Marine Drivve has an unbelievably expansive menu that boasts of just about everything—right from butter chicken to thin crust pizzas to authentic momos and the list is just endless! If you happen to be planning an out and out kitty party, the folks at Marine Drivve's have some crazy deals and special gift hampers for all you ladies out there!
Cost: ₹1,700 for two (approx.)
Cuisine: Continental, Italian, North Indian, Chinese
Standout dishes: Banarasi mirch ka paneer, shredded crispy lamb, tandoori momos, Italian melting chocolate torte with Irish Baileys cream
Timings and location: 12PM to 1AM; A-2, Vishal Enclave, Opposite Metro Pillar 412, Rajouri Garden, New Delhi
Contact: 011-33106388
Pretty white walls lined with fine artwork, a pristine ambience, real Italian flavours and a great selection of spirits make Smoke House Deli a favourite amongst women from all walks of life. In addition to the infectious vibe, the all day cafe and delicatessen also has a team of skilled chefs that even curates dishes according to your preferences. Be it a long overdue reunion or a spontaneous mid-week lunch scene, Smoke House Deli is just one of those places that you can trust blindly!
Cost: ₹2,000 for two (approx.)
Cuisine: European, Italian
Standout dishes: Grilled chicken and lemongrass skewers, olive and mushroom pizza, old school steak and chips, tiramisu
Timings and location: 10:30AM to 1AM; Ground Floor, DLF Promenade Mall, Vasant Kunj, New Delhi
Contact: 011-46075646
Craving a trip to the hills with your girl squad? Well, Music and Mountains gives you a taste of the mountain life right in the heart of Delhi. The cafe brings the peace and calm of the mighty Himalayas while the wooden interiors only add to the authenticity factor. The quaint little eatery also has some of the most unique and delicious cocktails that you can find in the city. But in the end, the star at Music and Mountains is its wide range of Italian and Continental delicacies that will leave you wanting more.
Cost: ₹2,000 for two (approx.)
Cuisine: Cafe, Italian, Continental
Standout dishes: Homemade lamb chilli nachos, December sunset ricotta pizza, Woodstock tender chicken burger, magic mountain carrot cake
Timings and location: 11AM to 12:30AM; M-23, M Block Market, Greater Kailash (GK) 1, New Delhi
Contact: 011-33105361
Ever travelled with your girl gang? Write in here and share all your crazy stories from the trip with the Tripoto Community. And while you're at it, head to our YouTube channel to check out some crazy travel videos.
Frequent Searches Leading To This Page:-
places to hangout with friends in delhi, best restaurants in delhi, special cuisine of delhi, Food Tour in Delhi, Old Delhi Street Food Tour, weekend getaways from delhi