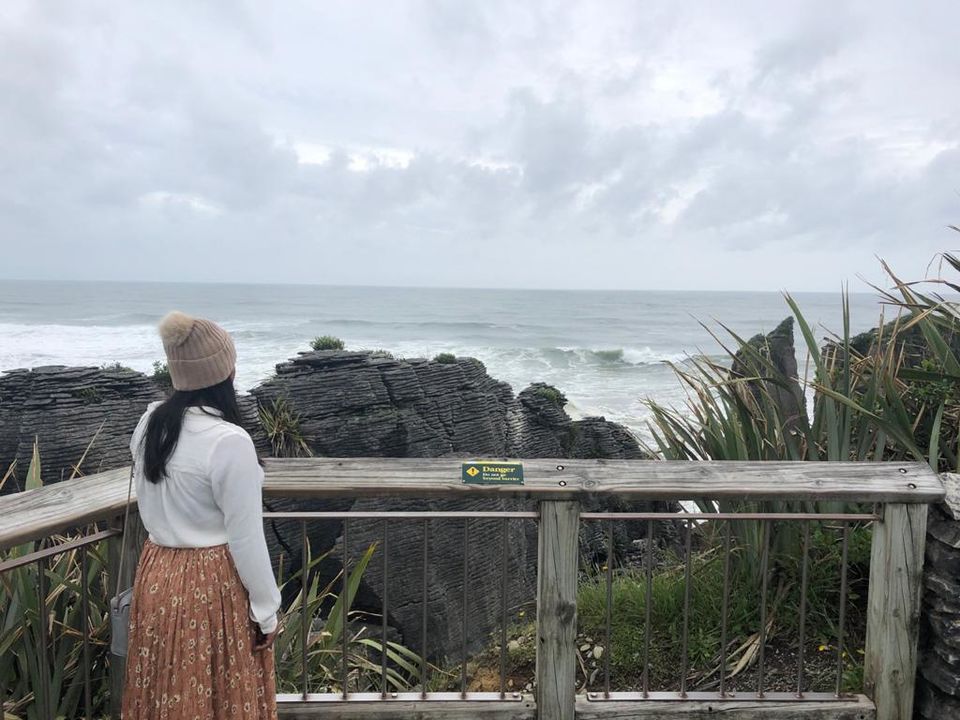 We landed at Christchurch at about 11 A.M. and after a long detour and a tiring hike at the scenic Kaikoura Peninsula we reached Arthur's Pass National Park. We had planned to go to Franz Josef next. Greymouth dint make it to our initial itinerary but later on we decided on it as it makes for a nice relaxation between Arthur's Pass and Franz Josef. On digging a little bit more we came across this fascinating place called Punakaiki which is famous for Pancake Rocks and Blowholes. After reading a bit about this place we knew we had to visit it.
The best way to explore New Zealand is by hiring a car and that's how we chose to explore the country. Punakaiki is a 45 mins drive north of Greymouth and I must say what a scenic drive it was. We fell in love with the journey even before we reached the destination. We parked our car at the car park and walked towards the park. (It's free so no tickets are required). When we reached there, we realised there were just about 5-6 people other than us. We literally had the entire place to ourselves. It was windy and the sea here was vigourous. The waves crashed against the rocks like it would devour them all. It is about a 45-60 mins walkway and there are a number of lookout points to admire these marvels of Nature. Do not forget to wear comfortable footwears and carry something warm even in summers, as this place tends to get super windy.
The rocks here are limestone formations that began about 30 million years ago, when alternating layers of fragments of dead marine creatures were deposited on the sea bed and then overlaid by weaker layers of soft mud and clay. This created rock of multiple layers of hard limestone and soft sandstone. Because of earthquakes the seabed rose over the sea level leaving these rocks exposed to the open air. The sandstone got eroded with time, because of the rain, sea and wind. Thus, the rock that was ultimately formed resembles a giant stack of pancakes. The locals claim that the sea has been trying to claim what is its and takes with it a minute part of the rocks with every wave.
In many places, deep inside the cliffs, narrow vertical air shafts created by the rain met with horizontal tunnels created by the pounding ocean. Today, around high tide, the ocean swells rush headlong through ever-narrowing tunnels and force large amounts of water and compressed air to race upward through the vertical shafts. This results in a spectacular sight of water shooting up like geysers from within the holes layered with beautiful pancake rocks.
The wind blowing in our hairs, sound of the waves trying hard to claim back what is it's, the sight of Blowholes, showers of rain and the vast expanse of sea made this place a sight to behold.!!
See for yourself in these pictures.!