Though late than never! It has been two years since we visited the very beautiful islands of Andaman and now we have got some time to write about it. We'll share our experiences here as well as advice the readers on the do's and do not's. You can consider this a travel blog.
November to March is the best time to visit this place, considering its nearness to equator. And you need to book your flight tickets, ship tickets and hotel two to three months in advance. And yes, since you are going in the so called honeymoon season, do not under any circumstances, leave the bookings to the last minute.
According to us, if you are visiting these set of islands, it is better to go for a week and a half. Why? Because this is one place you are not going to visit again (talk about burning a hole in your pockets). And when you do visit, try to explore the islands which are allowed to be seen by tourists. We went for 4 days and we regret not visiting some islands.
There are three routes available for reaching Port Blaire through flight. Direct flights from Kolkata, Chennai and Delhi are there so you can first reach these cities according to your convenience and plan accordingly. We went from Delhi to Chennai and from Chennai to Port Blaire. And yes, these flights are not flying with every day.
Here is our day wise breakup of the places we visited :
Day 1 : We reached Port Blaire at 7a.m. in the morning. Port Blaire is a mountainous island, so you will experience slightly winding roads which are well maintained. The morning has a fresh airy feel to it because of the maritime influence. The people here are welcoming and polite and they will advise you to go here and there.
We stayed in a government guest house because it was a family trip. After resting for two to three hours, we went to a nearby South Indian restaurant Annapurna. You will find a host of South Indian restaurants here and can expect some amount of authenticity in the dishes served.
While roaming down the streets, you will feel the warm sun and the swift moving sea breeze. This is to be cherished.
During the day, we visited the Cellular Jail which housed the brave freedom fighters exiled by the Britishers. We saw the Light and Sound show, which depicts the saga of the heroic freedom struggle, in the evening. This place is a must visit, considering the historical factor associated with it and the ease with which the show is presented. The show will surely move one's heart and is presented in such a beautiful and heart wrenching way that one is left emotional. The tickets are available from 3pm and it is better to grab them before they are sold out.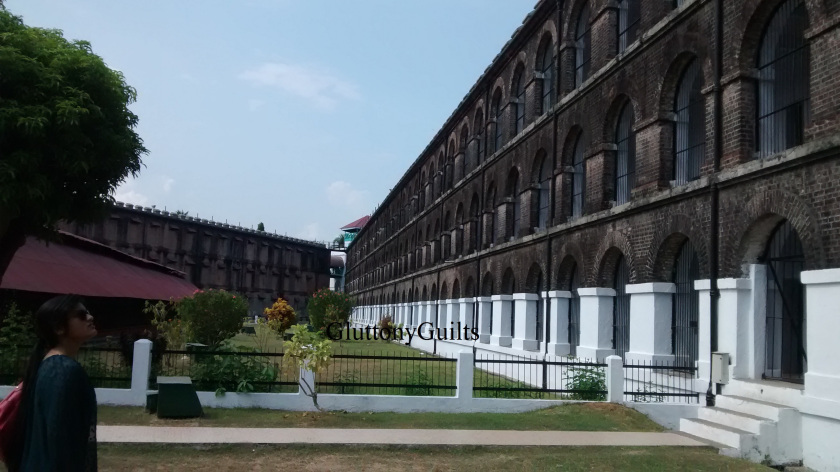 Day 2: Havelock is one island that should be on your go to list. Why? Because the pristine beaches there, are on the third number in Asia. And the ocean side resorts are soothing to the core.
Ships - private as well as government ones ply between the different islands of the archipelago and you need to carry the necessary belongings. Our ship was in the morning and it took 3.5 hours to reach the island. For a city dweller, the ship moving swiftly in the waters of Bay of Bengal is a treat. The ship is travelling at 20 knots, so do expect flowing winds and water splatter. There are different sections in the ship where you can keep your bags and sit. And yes, there is no nauseating feeling.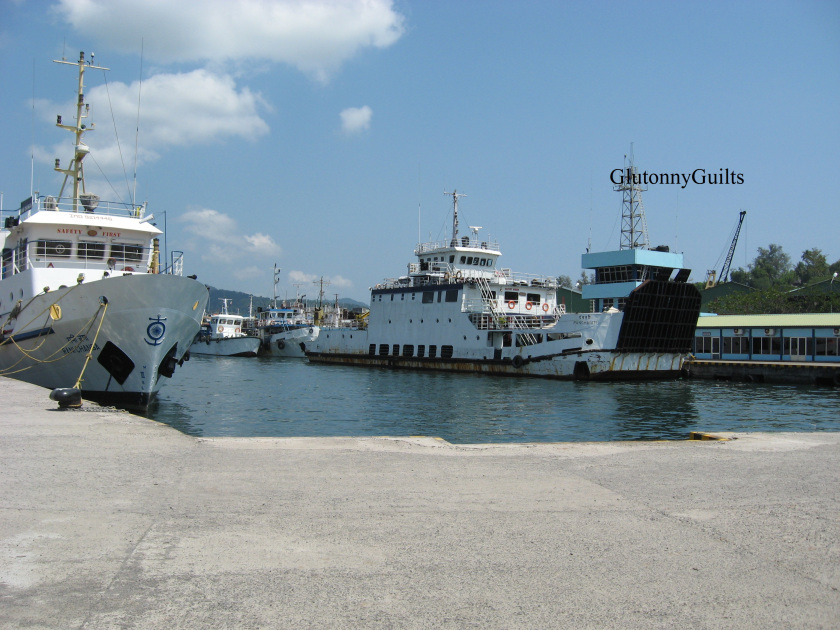 Havelock is a lovely island and has a host of beach and water facing resorts. Ours was the Dolphin resort at Vijaynagar beach and was a government one. It is available to government officers only. For private ones, the starting range is 4000-5000 INR.
The ocean facing resorts are a sight to behold. They are constructed a few inches above the ground so that periodic flooding of ocean waters does not damage the structures. Each resort has its own restaurant and bar and you have to pre-order your preferences because every dish is freshly made. We ordered prawns and fish and the whole course took 1.5 hours. Pre-orders are to be kept in mind while travelling here.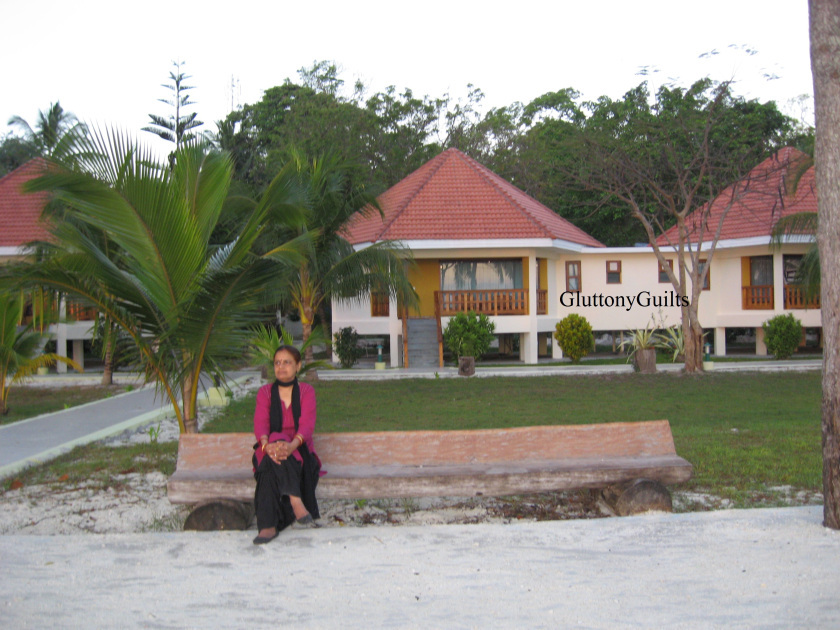 Our evening was spent at the Vijaynagar beach and it was not as good as the Radhanagar one but still serene. You can spot a host of dead corals on the beach and it is better to be careful while dipping your feet in the clear ocean waters. The sand is as white as it can get and the occasional white coloured crab will take your breath away.
Since we went on a full moon day, the high tides were pretty ravaging that day. A chilly breeze kept on blowing making the nights cooler than the day. You could hear the waves for the whole night if you wandered the resort. Walking at the beach in the night is not recommended as the waves bring poisonous snakes to the high tide line - we saw one and were relieved that there was an embankment to protect the resort from high waves.
Day 3
We woke up early and saw the sunrise which should definitely be on your list. Because of the eastern location, the sun rises pretty early here - 4:30 am to be precise, around March. Sunrise is a beautiful and peaceful spectacle and should not be missed at any cost.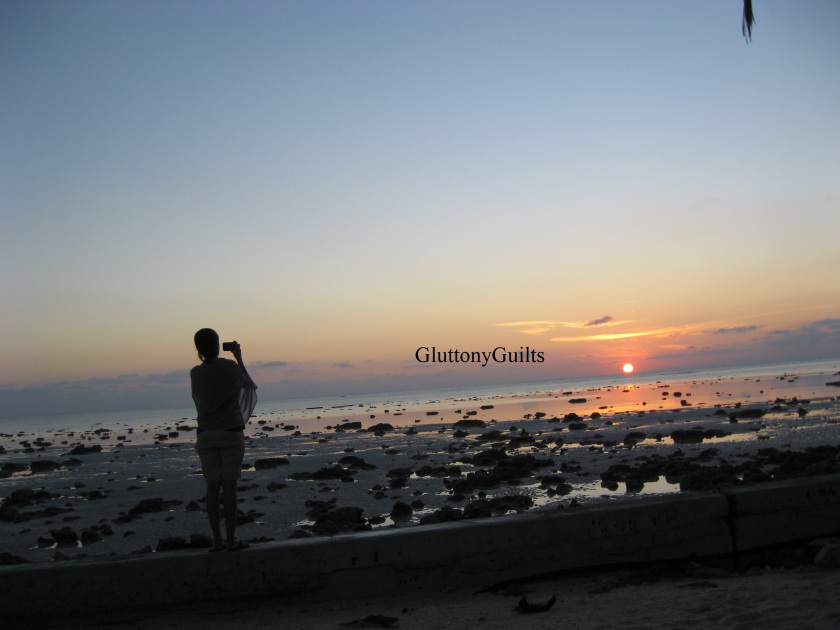 The morning was sunny and we packed our stuff for our sojourn to the famed Radhanagar beach. This is the best beach of India and is the third best of Asia. The endless glistening white sand is a sight you will never forget in your whole life. The waters are so clear that you will wonder why you never visited this place before, and after visiting this place you would never want to visit any other beach. And since the moon was in its full bloom, the waves were humongous - the pressure of the ocean waters enough to disturb your balance if you are not careful. The beach is well maintained and clean to the core. They have separate washrooms and changing rooms which are chargeable. We spent around three hours there and were wishing to spend more.
We had plans to visit the Elephant beach but it was closed because of Holi. It should be on your visit list as the beach has elephants swimming in the ocean waters. How often do you see that?
We boarded our ship at 3:30pm and reached Port Blaire at 6:30pm. Since we were tired, we called it a day.
Day 4
It was our last day in Andaman, so we planned to visit North Bay island and some other attractions at the capital, museums being one of them.
North Bay is a coral island, so the boat will stop a few metres before the shore and a small glass boat will take you to the lands. There are no boat/ship docking points/jetty as their construction can destroy the corals which are a treasure here.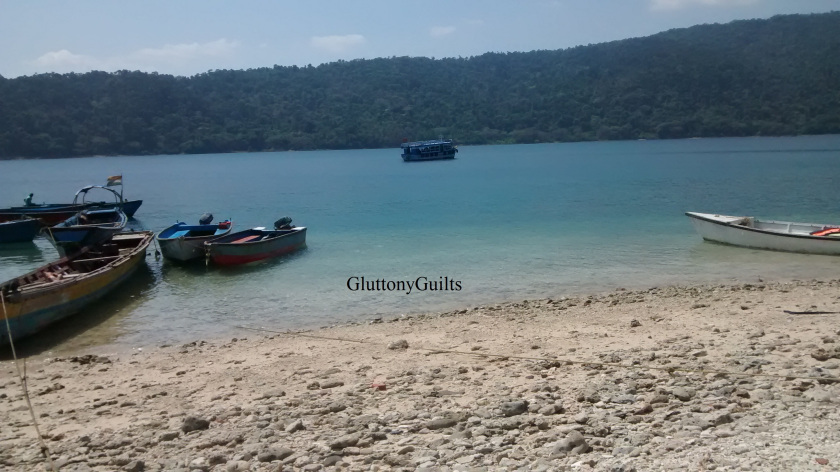 An early morning motor boat to North Bay is preferable as you will reach early and will be able to relish the myriad activities there. I decided to go for snorkelling, my sister went for scuba diving and my parents preferred glass boat. There was sea walk as well but we were not able to experience it as there was a long queue already present and we were short on time.
The island has trained scuba divers and snorkelling instructors and they are competent enough to handle you even if you do not know swimming. So do not be scared about venturing into the water as this is a once in a lifetime opportunity.
The glass boat is a good option for the elderly but it has its own disadvantages, one being that the glass fitted in the boat is not clean, hence making it difficult to view the corals.
Scuba diving is an ethereal experience. It was priced at 3000 to 4000 rupees but trust me it is worth every buck as you can see the corals and the beautiful and colourful fishes up close, which cannot be done through any other activity. Yes it is costly compared to other activities but in scuba diving they not only click your pictures when you are inside but also make a video, which will be a beautiful memory for you to hold on to. My sister was a little afraid about going into the water but even after spending one hour there, she didn't want to come out. Scuba diving should definitely be on your list!!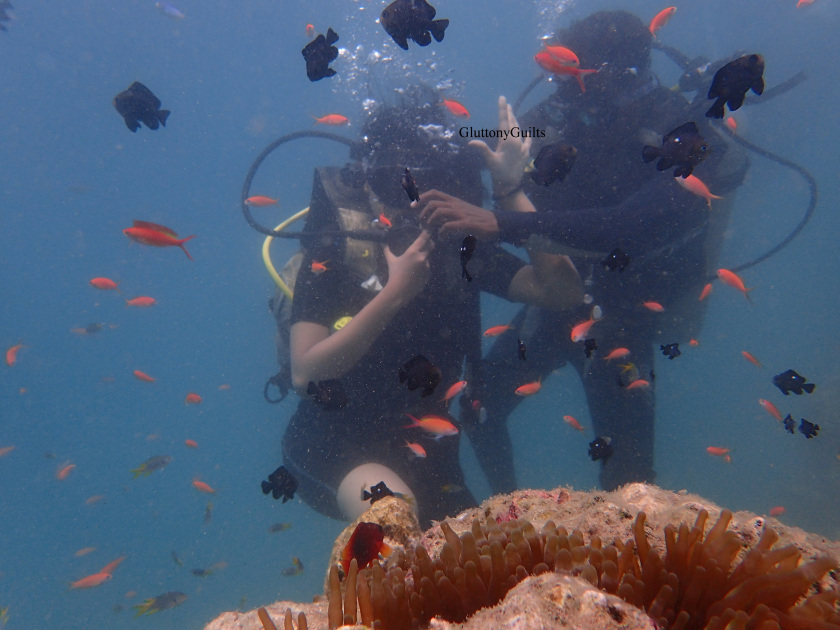 Because most of the corals are already dead, it is better to do all these activities on other islands like Havelock and the Neil island as they have a rich coral deposit.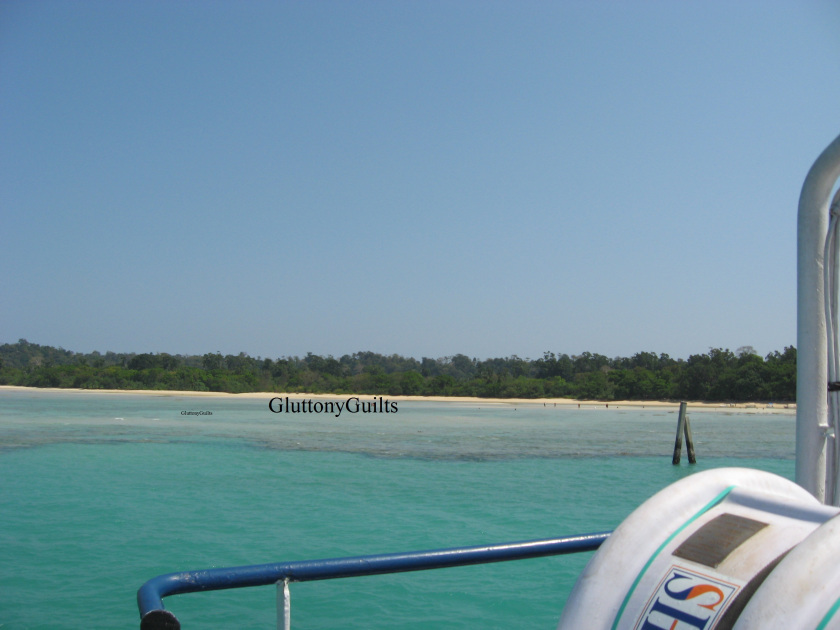 You can buy jewellery and souvenirs from the North Bay island. There are a number of shops selling pearls and sea shells. The pearls come in a variety of colours (pink, white and black) and sizes. Grab loads of them as they are a little bit on the expensive side at the emporiums.
Port Blaire has so many museums themed on sea creatures and history of inhabitants (original and migrants). The Samudrika Marine Musuem houses a variety of fish, crab, corals and other marine life. It is run by the Indian Navy and offers insight into the archaeology and marine life of the islands. We also visited the Fisheries museum which houses more than 300 species of the marine life which are endemic to this region.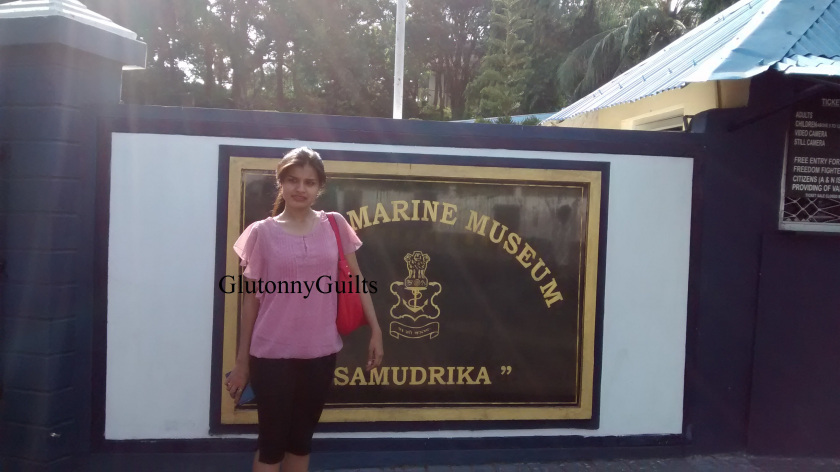 The Anthropological museum offers an insight into the lives of the indigenous tribes of the Andaman and Nicobar islands like the Nicobarese, the Jarawas, the Shompens, the Onges, and the Sentinelese.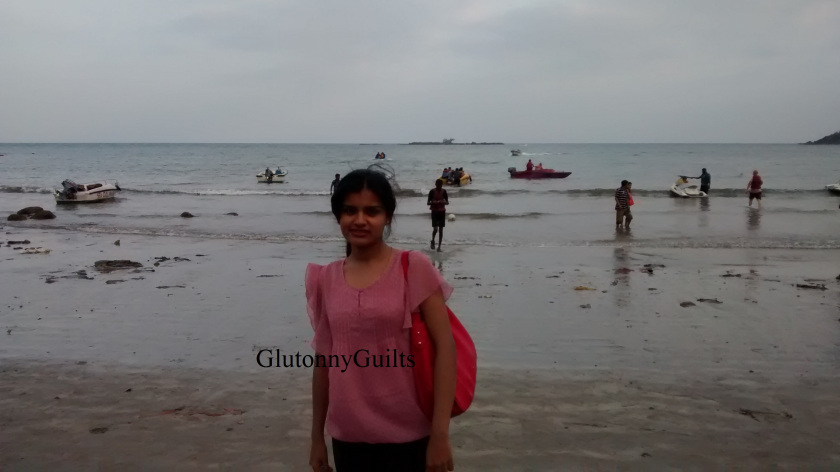 We visited the Corbyn's Cove beach in the evening as well. The beach is not as clean or beautiful as the beaches that are there in Havelock. You can indulge in water sports also but it is too much chaotic here.
The gluttonous devil in me is always looking for new food experiences, be it at my home or in restaurants or at food festivals. View All Posts