Planning a trip to Andamans is no easy feat. The islands are far away from the mainland and there is so much to see that the information online can be overwhelming. Earlier this month, when I booked tickets to the islands on a whim, I scouted all possible blogs and guides. I soon realised that this was going to be a difficult itinerary to plan. So with a rough idea of what I wanted to do, I headed to Port Blair and decided to improvise as I went. After spending 10 days in the island, I've returned with the perfect 7-day itinerary. With this itinerary, you will discover the gems of Andamans and return rejuvenated.
Day 1: Reach Port Blair
Early morning flights from Delhi, Kolkata or Chennai are ideal as they are usually direct and also the cheapest. Moreover, you get the entire day in Port Blair, so you won't be wasting one day travelling.
Where to go:
1. Port Blair's only beach, Corbyn's Cove is a tiny beach strip that will satiate your thirst for a dip into the salty sea. Like everywhere else in Andaman, the beach is spotless clean and the water is clear blue. You can spend time lounging by the beach or spend hours taking a swim and playing with the waves.
2. Have Lunch at The Waves, the only restaurant situated in Corbyn's Cove. The food options here are satisfying and the preparation is decent. The restaurant's bar opens only at 4pm.
3. Take a walk towards Marina Park, a gorgeous stretch of road by the ocean that will remind you of Marine Drive, minus the crowd. This sea-side route is perfect for an evening walk.
4. Grab a quick bite at the food trucks situated opposite the park. The trucks are quirky, will let you play your own music and the quick bites are delicious. Pile on because you are sure to be hungry after a dip in the ocean.
5. Head to New Lighthouse Restaurant that lies at the end of the same road. The restaurant comes highly rated, however, it is average at best. Do not expect a vibrant atmosphere, just grab a few drinks (they are very cheap) and head to the next spot for dinner.
6. Seashell Restaurant is a rooftop bar and lounge facing the ocean. The ambiance is relaxing and luxurious, with scrumptious meals and delicious cocktails on offer. The restaurant also has live music to add to the experience. Don't forget to try their Chilli Crab as well as Fish and Chips.
Day 2: Jolly Buoy Island
Today you must head out of Port Blair because you've seen almost everything that it has to offer. Book your tickets to Jolly Buoy here. Overnight stay at Jolly Buoy is not permitted so you'll have to return to Port Blair for the night.
Located an hour's ferry ride away from Wandoor (19km from Port Blair), Jolly Buoy is an uninhabited and highly protected island. It is also the highest rated island in the area. There are no underwater activities available, but you can opt for a glass bottom boat ride. The boat ride will give you a peep into the corals and sea-creatures underneath. You can also ditch the ride and simply spend the day swimming in the island's crystal clear waters.
Click here to read more about Jolly Buoy and the guidelines that you need to follow on your visit.
Return from Jolly Buoy by 3 pm, and head to:
1. Wandoor Beach: This is a beautiful beach, however, you can't enter the water because it is crocodile infested. Do sit under groves on the beach or purchase souvenirs from the shops.
2. Head towards Port Blair and have a hearty meal at Lush Green Resort, located about 20 minutes from Wandoor Beach. Their Cowboy Bar is the perfect refuge after a day of splashing in the sun. Grab a drink and try some prawns and noodles. You can choose from their variety of cuisines on offer.
3. You should now visit Chidiya Tapu for sunset, located 17km away from Port Blair. Ensure that you reach before 5:30 as the beach on Chidiya Tapu closes by this time.
4. Head back to Port Blair and visit Sinclairs Bayview Restaurant for dinner. This is an ocean-front restaurant that you will love. You can head to 'The Terrace', designed to make you feel like you are sitting on the deck of a ship. They also offer other dining options such as 'The Bayview' and 'Alto Espirito'. Apart from the food, do try the Pina Colada here, it was a personal favourite.
Day 3: Off to Ross Island
Located 3km away from Port Blair, Ross Island is tiny but one that you surely must not miss. The island served as the Administrative Headquarters of Andamans, until 1941 when an earthquake left the island in ruins. Soon after, Ross island was occupied by the Japanese who controlled it till 1945. Today, one can see remains of British settlement and Japanese bunkers on the island. Overnight stay at Ross is not permitted so you will have to return to Port Blair for the night.
You have to explore Ross Island on foot, don't be surprised if you find deer and peacocks roaming around freely and nudging you for treats.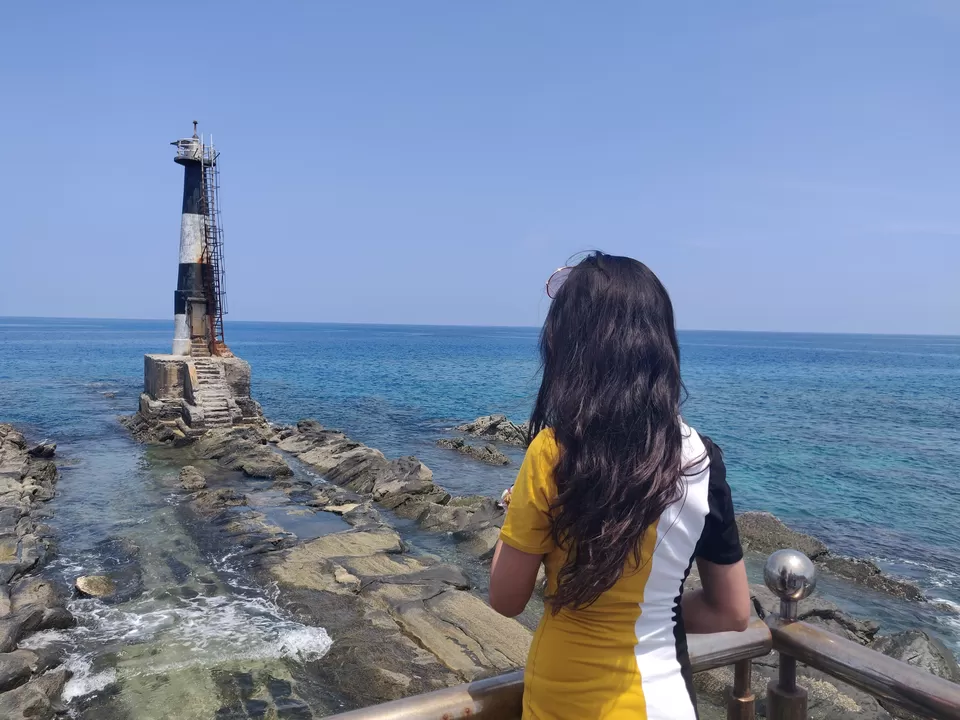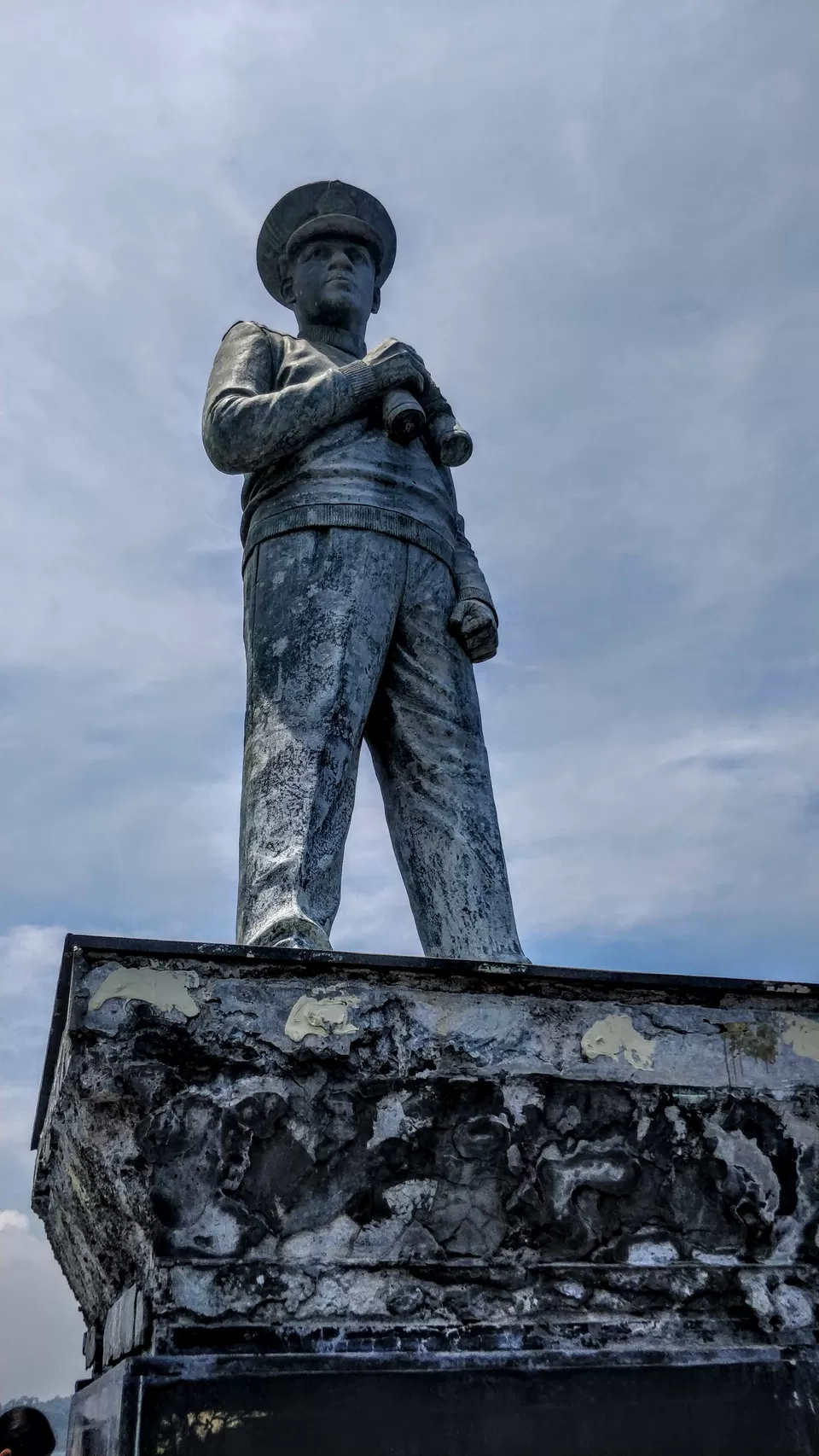 This statue is a tribute to those who perished to provide peace and security to our country, a salute to the brave ones who are now serving, and to those who will follow the tradition and join the forces. It overlooks the lighthouse of the island, and is a sight to behold.
Don't forget to visit the island's beach which is situated on the other side of these attractions. You'll have to climb a few steps and walk a fair amount, but the view is worth it. We were told not to enter the water because it is frequented by crocodiles, so we just sat on the beach and enjoyed the stunning view.
Return to Port Blair for the night or leave for Havelock Island if a late afternoon ferry is available.
Where to stay:
In Port Blair, you can stay at Ocean Terrace (rooms start from ₹2000) or at Kokari Guesthouse (rooms start at ₹4,500).
Day 4: Head to Havelock Island
Havelock Island is known for its pristine beaches and dive sites, and no doubt, it is the ideal place to spend your vacation. The atmosphere of the island is extremely chilled out. You can while away your time at its many cafes, sunbathe on its white-sand beaches or take a diving course.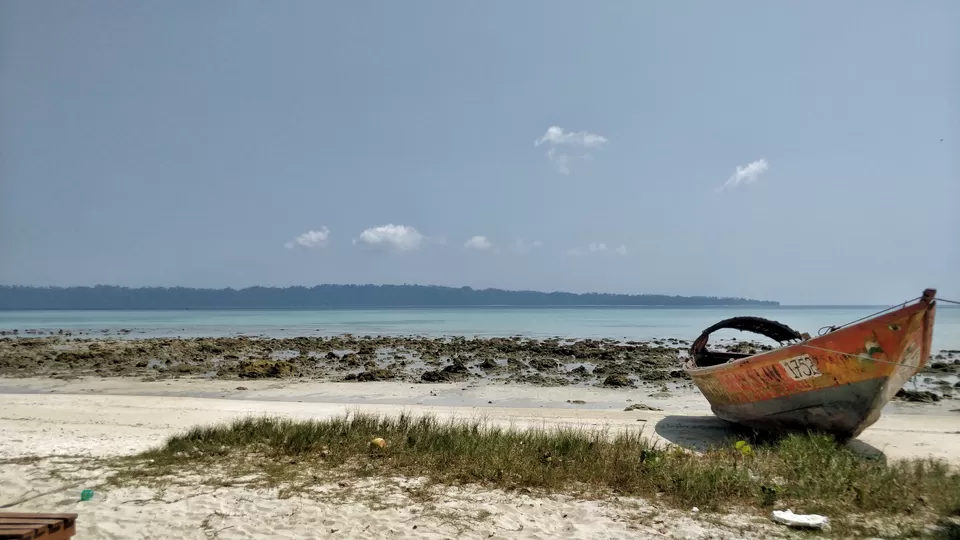 1. Visit Full Moon Cafe, a place which became my favourite in Havelock. The variety of cuisines on offer is so wide that we had most of our meals here. More than the food, it was the cafe's vibe that I really enjoyed. There were books one could read, two adorable golden retrievers who'd be playing around and even a pet snake called Tristan in their garden! Located right on the beach, you can take a quick dip or relax on hammocks.
2. You can then opt for an afternoon dive with DIVEindia, a diving school that is located within the premises of the cafe. There are a few diving options that you can choose from. If you don't want to learn diving or don't have enough time to, you can opt for their 'Try Diving' package where you can take a:
- Half-day introductory Discover Scuba Diving session, consisting of in-water training, one guided dive with an instructor, dive log and registration with PADI (Rs. 4,500)
- Half-day boat trip and Discover Scuba Diving session, consisting of in-water training, one guided dive with an instructor, dive log and registration with PADI (rs. 6,500)
You can check out more diving options with PADI here.
If you're opting for a dive, expect to spend at least 3-4 hours involved in the activity.
3. For lunch, you can check out Anju Coco restaurant located near DIVEindia and Full Moon Cafe.
4. For sunset, head to Kala Paththar Beach, which, as the name suggests is lined with black rocks that offers a stark contrast to the blue sea and skies.
Day 5: At Havelock Island
1. There's an experience at Havelock that not many know of – Kayaking to witness the night sky and bioluminescence. This is a once-in-a-lifetime experience where you kayak over the ocean in the middle of the night and enjoy magical sights. This experience is offered only on specific days, depending upon the phase in which the moon is. In case you're interested, you can drop me a message and I'll help you with the contact details.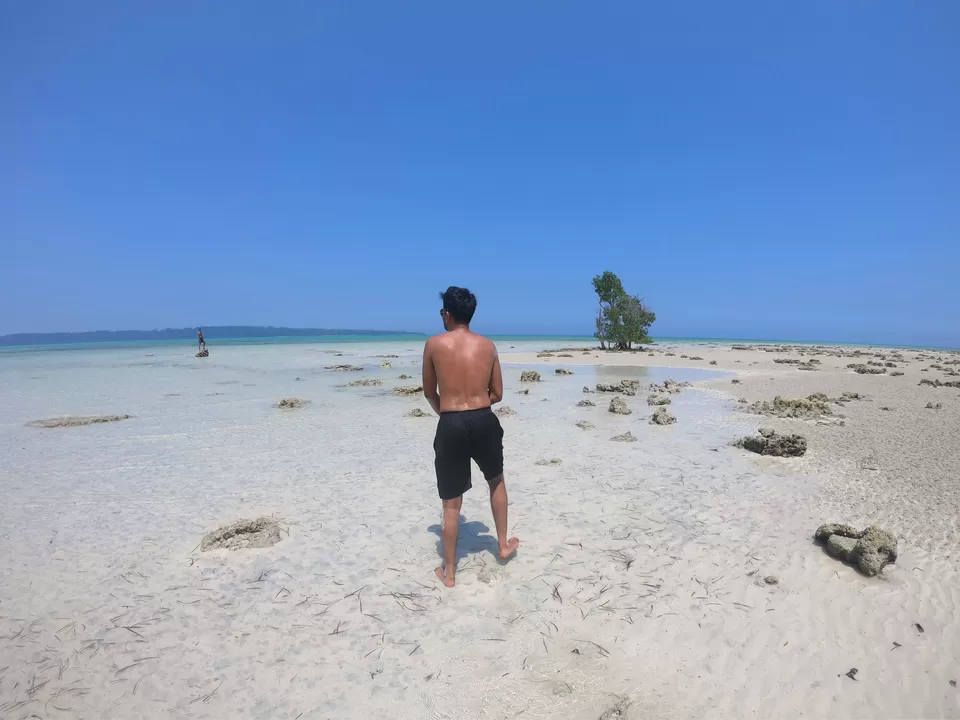 2. Spend your afternoon chilling at the beach. An interesting aspect about beaches in Havelock is the fact that they are extremely shallow because of low tide. We were about 500m into the sea and still casually walking! Against my better judgement, I spent 3-4 hours in the water, got terribly tanned but every minute was worth it.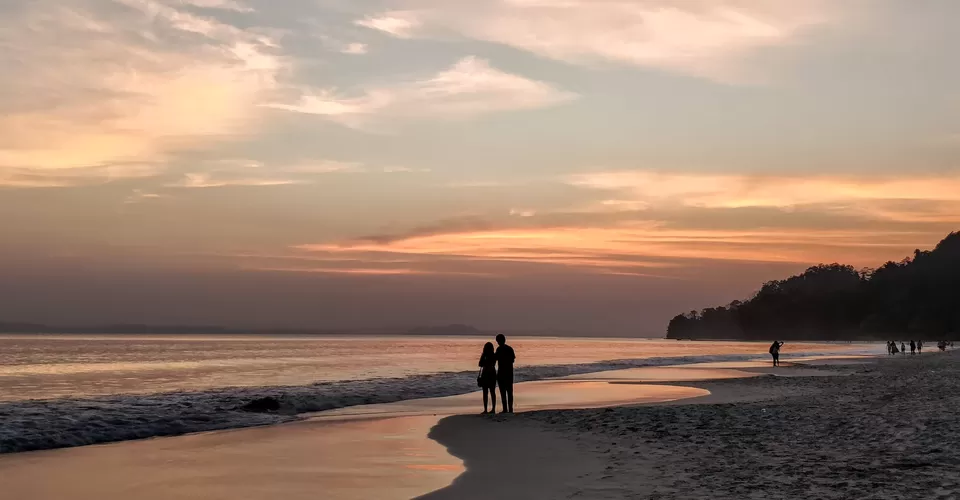 3. Head to Radhanagar Beach, renowned as Asia's best and world's 7th best beach. Although Radhanagar was crowded with tourists, it was beautiful nonetheless. The soft white sand felt like cotton under the feet, and the water was sapphire blue. Everything got even more picturesque as the sun started to set. There is a strict rule that once cannot stay in the water beyond sunset, so ensure that you reach the beach well in advance.
Where to stay:
I stayed at Dolphin Resort. This is a government property, however, you will be shocked by its beach-front location, exquisite rooms and excellent service. I have never seen a government-run resort that could easily pass off as a four-star hotel. A room here will cost you ₹6000 onwards. Other options that you can choose from are El Dorado, Green Valley Resort and Shangri La.
Day 6: Neil Island
Take the 8:30am ferry to Neil Island. It takes only an hour to commute between the two islands. You can book your tickets here.
Although I couldn't visit Neil Island due to lack of time, it comes highly recommended. You can visit Laxmanpur Beach, one of the most famous beaches on Neil Island. While it is famed for its clear blue waters, it is also popular for all the sea life that you can witness there. You can take guided tours where you will be shown corals, sea cucumbers and star fish. Another highlight of the beach is a natural bridge that has been formed over years due to erosion. Sitapur Beach is a tranquil beach that will mesmerise you with its tranquility.
Return to Port Blair by the evening ferry. You could also leave the next afternoon if you have an extra day in hand.
Day 7: Back home
Reach Port Blair, head back home with lots of memories and beach sand! I guarantee you that this will be one trip that you will never forget. Andamans is a slice of paradise, so you must plan a trip there soon!
All photos have been clicked by me and cannot be reproduced without permission. You can also head to my Instagram account for more stories and photos from my trip!
Need travel inspiration for the new year? Click here to go around the world in 2020!
Frequent Searches Leading To This Page:-
andaman nicobar trip for couple, places to visit in andaman nicobar holiday, andaman nicobar best hotels, andaman & nicobar tour package from mumbai, andaman and nicobar trip by ship, andaman trip with college friends