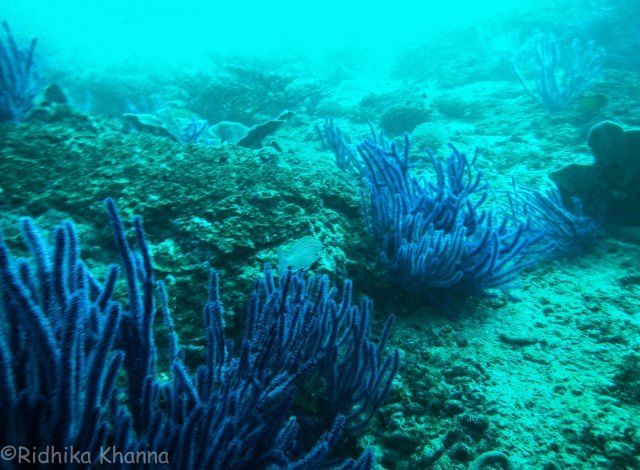 Hi All,
My name is Ridhika Khanna. I am an Advance Open Water diver. This blog is about my scuba diving experiences in Oman during January 2015.
First let me start with Oman itself.
Oman or Sultanate of Oman is an Arab country in the southeastern coast of Arabian Peninsula. The coast is formed by the Arabian Sea on the southeast and the Gulf of Oman on the northeast. This is particularly a country or as I like to call it "Land risen from the sea". It is astonishingly true that this country was in the sea for a long time. Due to climate changes, this amazing mountainous area rose. The mountains are barren and Oman is basically considered a desert. But you will hardly feel so. This country is highly developed with all amenities, school, universities, hospitals, super markets, restaurants, eat outs and world class shopping malls. You can find all the international brands here easily.
Muscat is the capital of Sultanate of Oman. This place has come up with very good adventure sport and related activities, most famously Scuba Diving. Then one can enjoy snorkeling, sea swimming, rock climbing, canyoning, caving, dune biking/bashing, dolphin watching, bird watching and much more. You can choose between day trips or weekend trips. Weekends being on Fridays and Saturdays.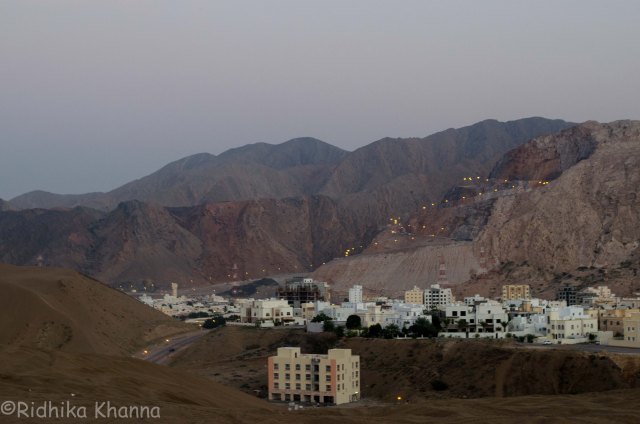 DIVING AREA AND DIVE SITES
Dimaniyat Islands: It is a string of small, rocky islands with a lot of coral reefs. It is a natural reserve and by visiting and diving there, I can see why it is. It is also an important turtle nestling site and is approximately a 45 minutes (18-20 kms) ride from the Batinah coast. It is a group of nine small, uninhabited islands and is under the protection of The Ministry of Environment since 1996. There are about 12 dive sites here but only a few are very famous. This place is often regarded as the Jewel of the Gulf of Oman. It is also known as a nestling place for migratory birds. One can spot them easily in huge groups while they are lazing around in the white sands of the beaches. It is a Nature Reserve site protected by the government. My diving experiences are mostly ffrom this island.
Bander Khayran: The dive sites at Bandar Khayran are very close to Muscat. The diving here is on shallower reefs but it also offers an opportunity to dive at a very famous ship wreck Al Munnassir which is approximately 30 meters deep. It is a vessel sunk by the Oman government and is thus an artificial reef. I did not get an opportunity to dive here but I have heard that because of the reef, many schools of fishes and moray eels are now prospering and nestling here. I could relate to this as I had seen an artificial reef in Pondicherry and I saw that many aquatic species inhabited the place and were growing in population. I feel it is an excellent way to preserve aquatic wildlife.
Fahal Islands: Fahal Islands is just about 4-5 kms from the coast. It is a small limestone island which offers good diving and also swims through around coral rocks. It is also referred to as the Shark Island but unfortunately I did not spot any shark here.
Other sites: The other dive areas lie at Musandam and Salalah. I will not be able to comment on these as I did not dive here and have no knowledge on the same.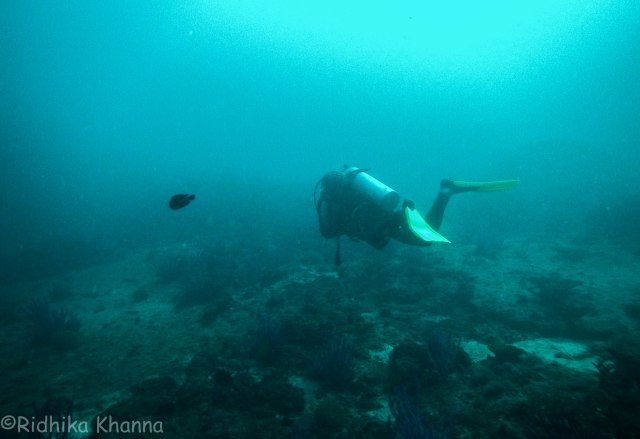 GENERAL INFORMATION
1. The depths range from 12 meters to 30 meters. There are some tech diving centres which go upto 40 meters.
2. The overall visibility at Dimaniyat Islands has been excellent. As for Fahal Islands, it was not very good. I had a word with the instructor regarding it and he explained that dive sites will have better visibility if they are farer from the coast. Also, for Fahal Islands, the visibility of one dive site is completely different from the other dive site which is hardly 300-400 meters away.
3. Water temperature here varies from 16 o C -28o C. It depends on whether you are diving in winters (mid October to March) or summers (March to September).
4. You can dive all the year round in Oman.
5. Many divers are faced with the dilemma of diving at Dimaniyats or not. Very few dive shops are available which offer diving at Dimaniyats as it requires special permits from the ministry and is a little far from the coast. Since I have dived both at Dimaniyats and Fahal Island, I can say without doubt that there is no comparison of diving in Dimaniyats to any other place. The kind of marine life, corals and visibility you can see here is absolutely stunning. In case you are putting up at hotel near to Fahal Islands and are low on time quotient, you can dive at Fahals as well. They too have an artificial ship wreck and offer a decent diving experience.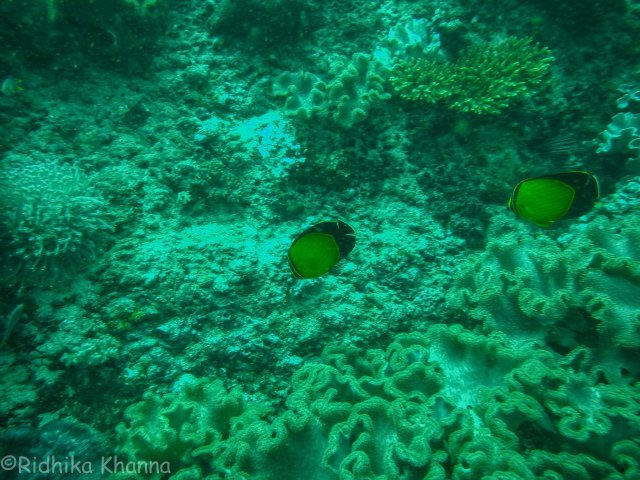 DIVE SITES AT DIMANIYAT ISLANDS

HAYUT
Depth: 18-21 meters
General Visibility: Very Good. Approx. 18-20 meters.
It is situated at the starting of Dimaniyat Islands. The boat takes you upto a wall that descends down to 21 mts. You swim towards the rocks a little and then descend down. As you descend, you see beautiful purple corals. I have done 3 dives here on different days.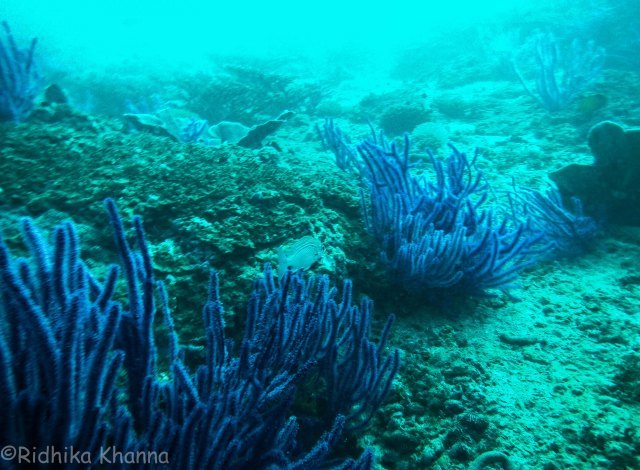 1 st dive: It was amazing to see corals of other colors like pink and blue as I had watched them only in pictures and movies. The main highlight of this site is purple corals. It feels like swimming in a garden of corals. I also saw a sea snake for the first time. I was quite close to it and it stared at me from the corner of its eye and hurriedly swam away from me. There were not many fishes in the first dive but I was amazed by the corals there.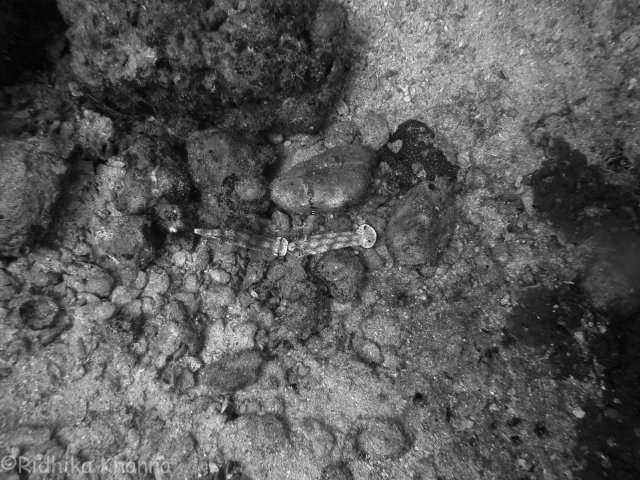 2 nd dive: Like the previous one, I dived down the wall and swam through purple corals. Saw some fishes and identified lion fish and angel fishes. I also saw a turtle and swam along with it for a few minutes. I somehow have the knack of following sea animals where ever they go. I saw a lot of moray eels in this dive. Later, I swam along the wall and was lucky to spot a leopard shark resting on the sea bed (21 mts) with small school of tiny fishes swimming underneath. Sadly, the camera I hired only clicked till 18 mts. I was quite close to the shark but my camera gave up. So, I ascended a little and took a photo.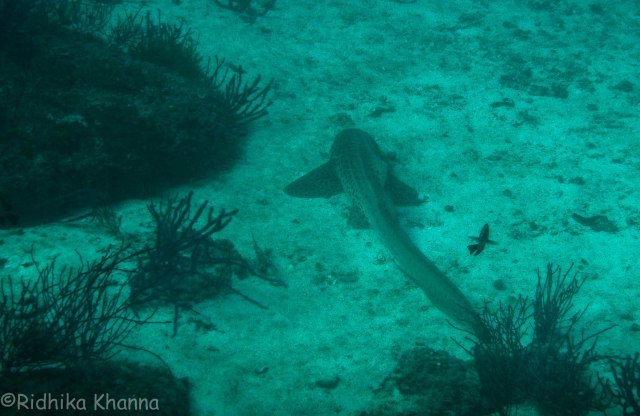 3 rd dive: I dived down the wall and swam through the beautiful corals. While swimming through, I saw a small cave in which 3 sting rays were resting. Later in the same dive saw some fishes and one turtle. I also saw 2 sting rays mating in another small cave. It looks like it was the mating season as I saw many turtle fishes also mating.
AQUARIUM
Depth: 16-21 meters
General Visibility: Quite Good. Approx. 15-18 meters.
It is situated very near to Hayut. It takes hardly 7-8 minutes of boat ride to get to this place from Hayut. For this dive site, the boat has to be anchored to the dive site first. Also, it serves as a good reference line for divers. This is one of the most amazing dive sites in Oman. Sometimes, you see gigantic schools of fishes and it is difficult to ascertain the path ahead. It is surely a wonderful feeling to swim with them as a part of their group. I have done 5 dives here on different days.
There are two sides to this dive site. One is where you swim to a rock a little far from the boat and spot sea horses. The other one is near to the boat where you swim with different varieties of fish.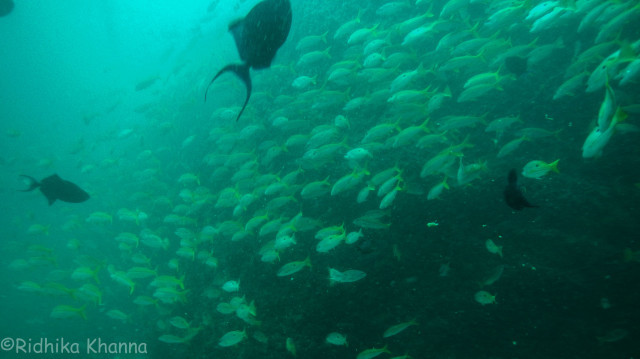 1 st dive: It was relatively a shallower dive. As I dived, I saw bubbling corals and among them were moral eels in their own relaxing mood. We saw quite a lot of them during this dive. We saw many fishes and swam around the place. I wish the dive could have been longer.
2 nd dive: After setting the anchor, we dived in and were greeted by many small fishes. As I have mentioned earlier, this dive site has a lot of marine life and you just can't get enough. I swam through many schools of fishes. I also saw turtles and followed them for a few minutes. The variety of species is large. You sometimes spot a whole school of snappers, scorpion fish, etc. There are so many moray eels and sting rays that it is difficult to count!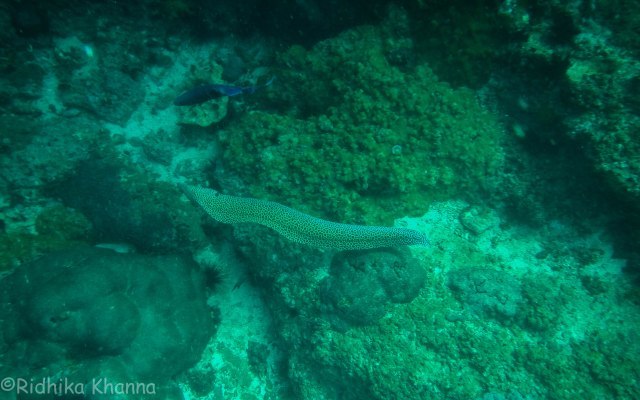 3 rd dive: Apart from swimming with fishes, in this dive I saw 2 huge eagle rays matting. We were a group of 7-8 divers and a few of them were taking pictures. We were at quite a distance from them but I guess one of them got disturbed and literally fled towards us. We all ascended a bit and had a good laugh at it while we were back on the boat.
4 th dive: This time, I dived to visit the other side. We swam far from the boat and saw a huge rock with wide cracks in it. There were many plants inside these cracks. The dive instructor removed a few of those so that we could spot the sea horses. They were cute tiny little brown creatures and seemed like we disturbed them while sleeping. Most of them had their eyes half-shut and were looking at us with curiosity.
5 th dive: This dive was one of the most amazing dives I have done till now. It is hard to believe but I saw perpetual schools of fishes. At a point of time it became a little difficult to see the landscape ahead. I just followed them and didn't think much. It was an exhilarating experience. Later, I ascended and swam around the boat for a little while.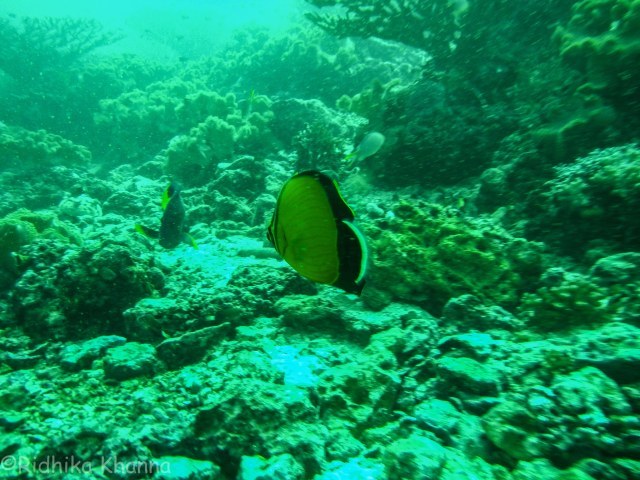 GORDON STREET
Depth: 18-21 meters
Visibility: Good. Approx. 18 meters.
I have done only 1 dive at this site. It was not a very spectacular site as compared to Hayut and Aquarium. It is quite close to a snorkeling site. Since the divers were outnumbered by the snorkelers. We did a dive there.
The boat left us near the dive site. While we were descended we saw a leopard shark right beneath us. We swam along with the deadly creature for a while and then moved ahead.
GARDEN OF EDEN
Depth: 19 meters
Visibility: Good. Approx. 15 meters.
This dive site has a pretty landscape and has huge blocks of rocks and corals. It was a delight to swim through such rock formations. As I did only 1 dive, I can't comment much on it. During this particular dive, I again saw many schools of fishes and many moray eels. I found it to be an interesting dive site and would have loved to dive here again.
3 SISTER DIMANIYAT
Depth: 17-21 mtrs
Visibility: Excellent. Approx. 15-20 meters.
It is a beautiful and colorful dive site. The corals are stunning and multi colored. There also an island nearby this dive site with the same name. I have done only 2 dives here.
1 st dive: The visibility while we dived in was amazing and we saw some fishes. After a while, the visibility got poor and we were not able to see much. In this dive, my dive buddy was not feeling very well. The diving instructor asked me if I will be alright if he ascends with her to leave her to the boat and I agreed. While he was gone, I swam around a little and saw multicolored rocks. At first, I could not believe but then I realized it must have been corals. When the instructor joined me after a few minutes, we went to the bottom and saw a cave there. We tried to enter the cave but were set aback because of the darkness at the snout itself. My instructor gesticulated that it is not safe to enter such dark areas without the aid of torch and knife. Hence, we dropped the idea. He took me to a different area within the same dive site and I again saw a lot of multicolored corals and moray eels.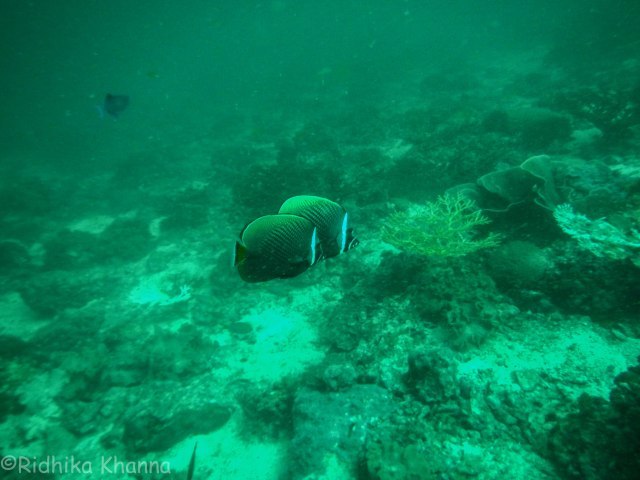 2 nd dive: This one was one of the most rewarding dives I have ever done. While we descended a bit, we saw 3 leopard sharks resting on the white sand sea bed. The visibility was excellent today. As we could see 20 meters below us and spotted the sharks from quite a distance. We floated high above the sharks for some time and savored the sight. It was difficult to leave them behind but we had to continue our dive. Later we saw a turtle nestling in its small rock home. We also saw many moray eels and sting rays in this dive. It is very difficult to get such good visibility and so many leopard sharks and sting rays in one go.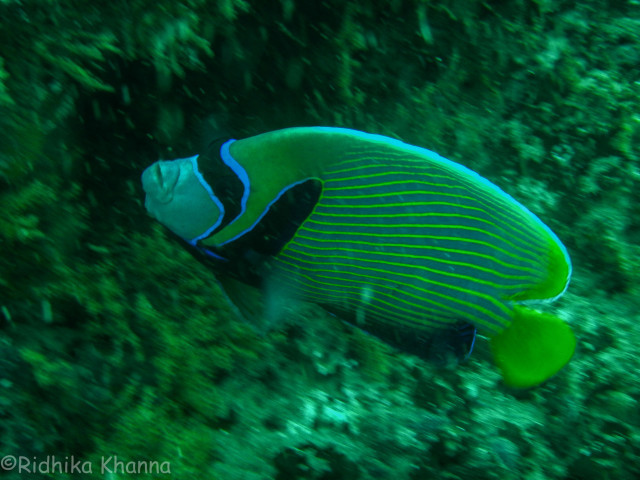 DIMANIYAT ISLANDS BEACHES
There are many small beaches within Dimaniyat Islands. Like the islands, the beaches are remotely located and out of reach for non divers and general public. Very few people apart from divers and snorkelers visit these islands. Hence, you can find pristine and untouched beauty here. All of the islands are covered with white sands which add to the beauty of this gorgeous place.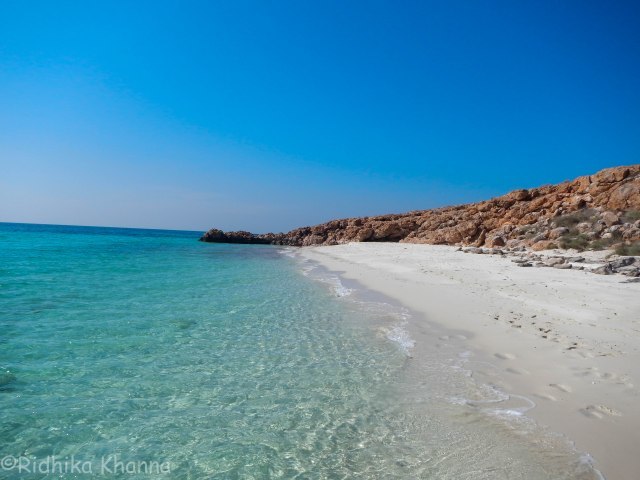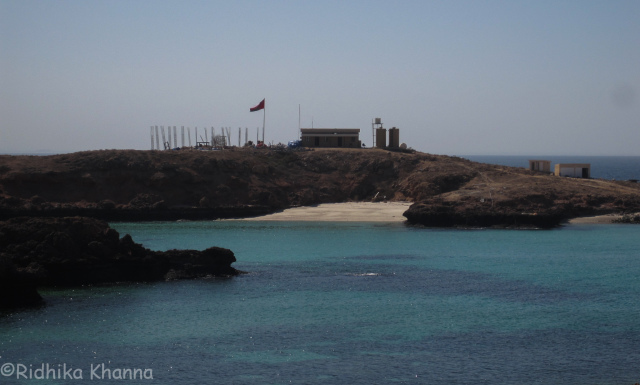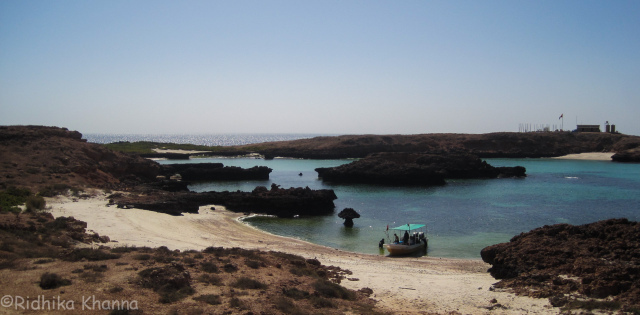 DIVE SITES AT FAHAL ISLANDS
The boat ride to Fahal Islands was a short one and we were briefed about the stunning limestone rock area. I visited these islands only once and hence saw only 2 dive sites. The dive sites are pretty average but the landscape of the islands itself is stunning.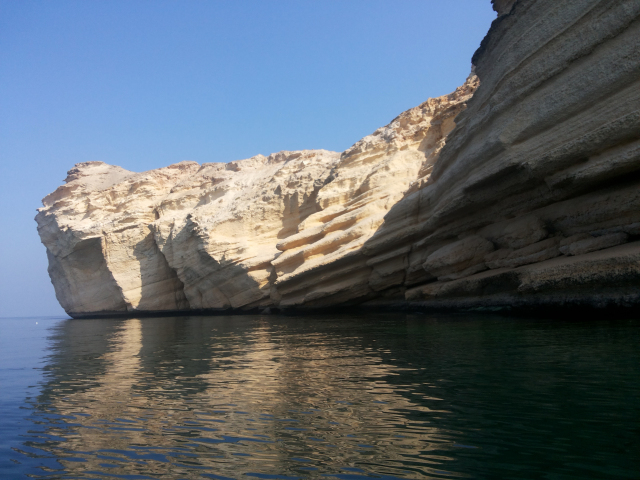 FAHAL WRECK
Depth: 26-28 meters
Wreck length: 32 meters
Visibility: Good. Approx. 15-18 meters.
Dived in and descended with ease. The wreck is a little away from the place you dive in from. It is a small and an artificial wreck sunk by the Ministry to enable growth of marine life. I have seen artificial sites before and find it to be a good idea. There are many fishes around here. We swam through the length and breadth of the wreck. I found it to be quite an ordinary dive with nothing much to see. The wreck's bottom is at 28 meters and we dived deep till there.
FAHAL WEST BAY
Depth: 21 meters
Visibility: Average. Approx. 12-15 meters.
There are a lot of algae in the waters of this island. We were told by the instructor that as you descend, the visibility will get better and it surely did. This is a much better site than the Fahal wreck. There are huge boulders and rocks of corals. We swam through a lot of them and saw many turtles. I believe there is a turtle nestling place nearby and hence we saw many turtles here. I was told by the instructors that this is commonly known as the Shark Island but I did not spot any. Maybe today was not the day to meet them.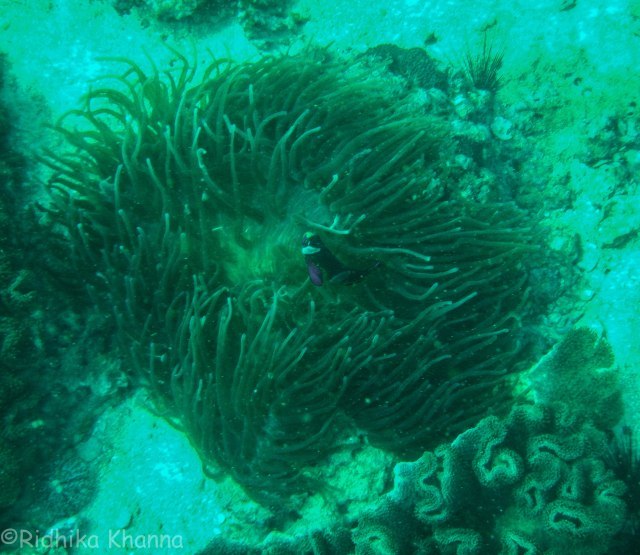 After these 14 dives, I absolutely fell in love with Oman. It has amazing dives to offer and many other adventure activities. The people here are very helpful and make sure you are comfortable and safe all the time. I would like to thank the owners of Global Scuba- Keith and Monique for treating me so well and helped me in every possible way. I really appreciate their professionalism which I got to see on the last day of my dive. There were many divers booked for the day but unfortunately did not turned up. Monique knew that I had to catch my flight after 2 days and hence it was the only opportunity for me to complete my dives. She went out of the way by not cancelling on me and sent Youssef and Ali with me for diving. I was the only one on the boat that day and I must say that no dive company can do what they did. I really thank Monique for taking this decision and standing by her word. Also, the instructors- Ali and Youssef were friendly and professional. It was a delight to dive with them and I look forward to diving with them again sometime in the future. For all those who need a review on them can visit http://www.tripadvisor.in/Attraction_Review-g1940497-d2149443-Reviews-Global_Scuba-Muscat_Muscat_Governorate.html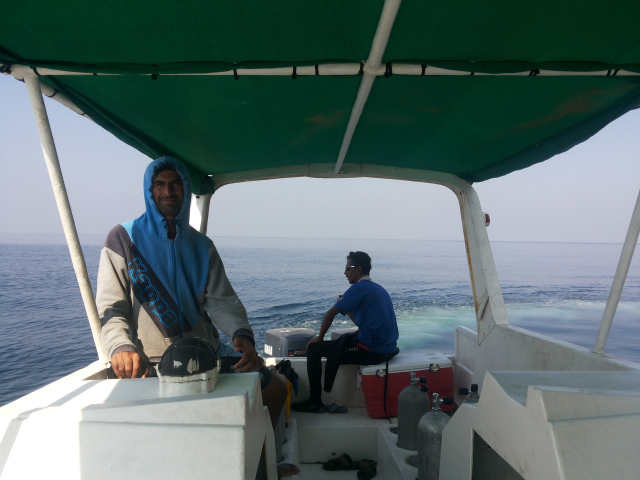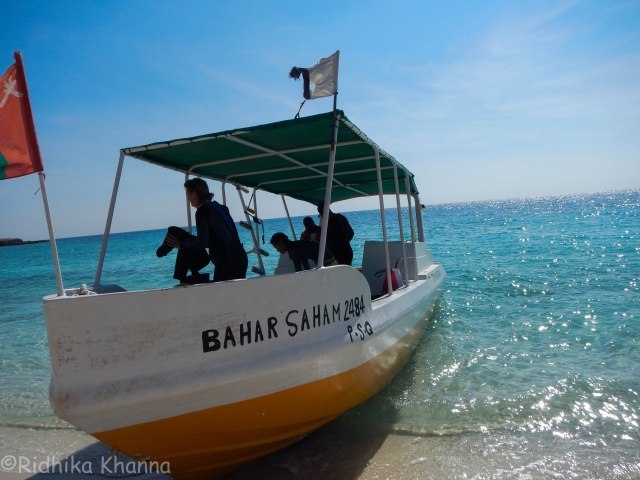 In the end, I would like to conclude that Oman is believed to be risen out of the sea and after completing many dives here, I could imagine how it all became possible. The rock formations and boulders inside the sea are quite familiar to the mountains of Oman
Diving is a beautiful feeling and an unforgettable experience. For me it is not less than meditation. With these thoughts, I am now ending my blog with a few quotes.
"The sea, once it casts its spell, holds one in its net of wonder forever." - Jacques Yves Cousteau, Oceanographer
I just learned how to scuba dive. I'd been scared to rely on one little air hose for oxygen, but swimming with all those fish is exhilarating. - Cheryl Hines
"A lot of people attack the sea, I make love to it."- Jacques Yves Cousteau, Oceanographer
" For the rich, there is therapy. For the rest of us, there is Scuba Diving."- Anonymus
"The best way to observe a fish is to become a fish."- Jacques Cousteau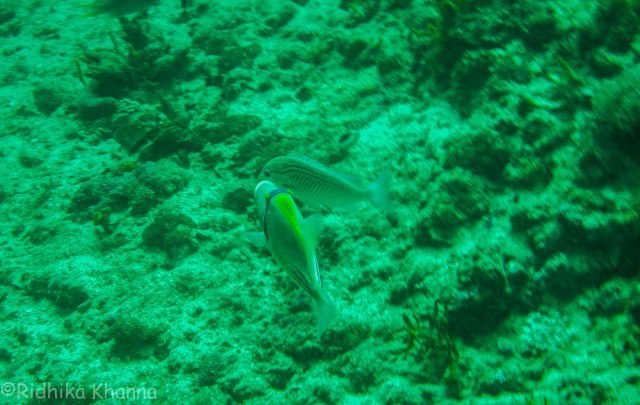 "I do an awful lot of scuba diving. I love to be on the ocean, under the ocean. I live next to the ocean"- James Cameron
Thanks for reading through the blog.