A place that is surreal to humans, a territory where a man can only survive with an oxygen tank and a world far away from human touch, is the place all of us should experience at least once in a lifetime. Diving underwater lets you witness the beauty of nature that lies below the ground. With colourful aquatic creatures of different shapes and sizes moving around you, you will experience a part of the world that you always knew existed but never imagined it existed this way.
Mauritius, an Indian Ocean island nation, is known for its beaches, lagoons and reefs. The island has some breathtaking lagoons and reefs to go scuba diving and get a glance of marine life of the island. The island is home to sponges, sea anemones, fishes such as Damsels, Trumpet, Boxfish and special Mauritian scorpion.

Scuba is short for Self Contained Underwater Breathing Apparatus. It is the equipment that allows you to breathe underwater. This adventure sport is all about taking a dive into deep water using compressed air tanks. Armature divers are allowed to go only 30-40 meters of depth, only a trained diver is allowed to go deeper.
Skill and gear
A person doesn't have to be trained in swimming for scuba diving, but if you want to explore the deeper parts of ocean, then formal training is required. Mauritius has several training schools that provide certified courses to become a trained diver. Scuba diving requires a scuba regulator and tank to provide the air you need, Fins to swim efficiently, a wet-suit to help you stay warm in the water and a mask to cover your eyes.All these will be provided by the guide or company you hire.
Scuba Diving Schools in Mauritius
PADI and SSI are the most trusted scuba diver training organisations in the world. So you can choose any of these four training schools suggested by the Mauritius tourism department which is also certified by the standards of PADI. Blue Water Diving Center, Dive Passion Mauritius, Maritim Diving Center and Easydrive Mauritius are scuba diving tour operators that you can opt for.
Types of Scuba Diving in Mauritius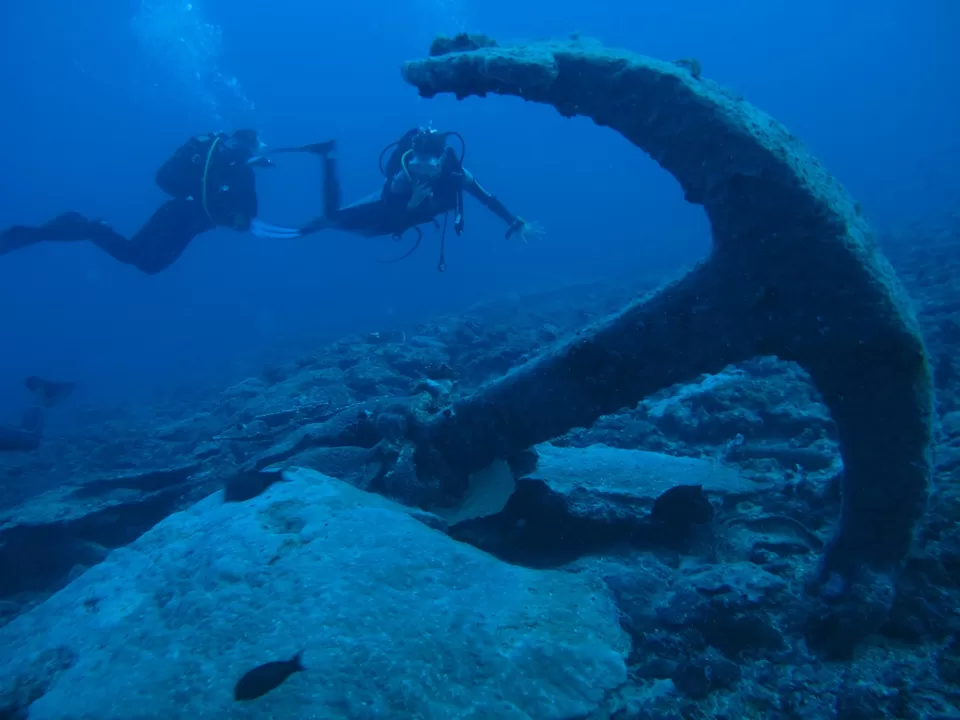 Night Diving: Night diving is practised all year round in Mauritius. The darkness allows you to focus on the unique marine life that comes after sunset and differ from those during the day. The divers use torches to see and communicate with each other.
Wreck Diving: Wreck diving involves exploring the wreckage of ships, aircraft and other artificial structures. These structures provide a habitat for sea creatures. These sites also offer an exciting history for all the divers, who are looking for a rich experience on their journey to explore the wilderness of the water.
Deep Diving: Deep diving is underwater diving to a depth beyond the norm accepted by the associated community. It is ideal for exploring coral reefs and wrecks of the diving site.
Cost
The cost of this adventure sport varies, it depends on the centre you choose and what kind of dive you want to opt for and how many dives you wish to take.
One recreational dive will cost ₹3,582
Introductory dive (with a private instructor down to 6 m) will cost ₹5,096
Night Dive (on demand) - Diving lamps not included will cost ₹5,096
Best time to Scuba Dive in Mauritius
Mauritius is open all year round for diving holidays, but the time from November to March is considered to be the best time for diving. During this season, warm water attracts marine life in abundance. You can catch a glimpse of some exotic fishes such as the parrot fish, angelfish and clown-fish. The place attracts tourists from all over the world during this period.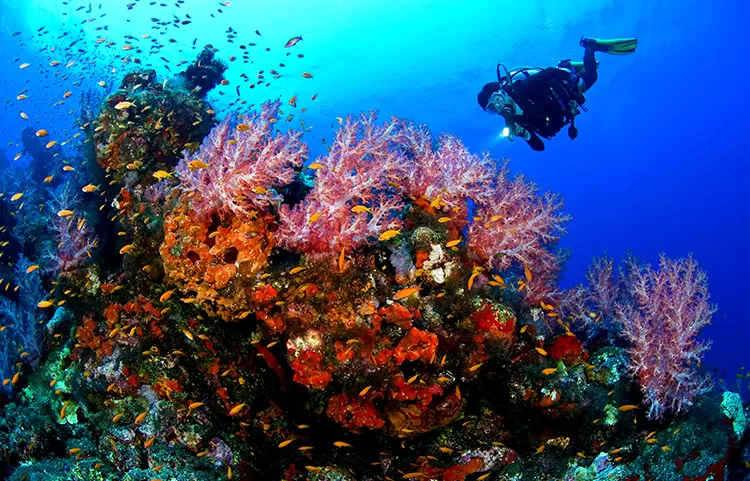 Diving Sites
Mauritius diving sites offer a lifetime experience to all the divers. There are enough diving sites for everyone. The island has almost 30 famous sites for scuba diving and you can choose any. All these sites are up to 40 meters. Some of the most well known of them all the diving sites are the Cathedral, the Whale Rock and Roche zozo 2that is an underwater rock pinnacle.
Frequent searches leading to this page:-
Mauritius honeymoon package cost, Mauritius tourism honeymoon packages from India, Mauritius tourism cost, Mauritius holiday packages for family
Flic en Flac is a resort town located on the west coast of Mauritius. The sites around are generally protected from wind change which makes your dives more fun and has most exceptional rock formations.
Tug: The site is known for wreck diving, as at the depth of 20 meters one can find a tugboat sank. Its history goes back to 1982 and the shipwreck provides a home to sea creatures.
Cathedrale: This is the most famous diving site on the island and has a depth of 17 to 30 metres. The site is known for its coral reefs, caves and a variety of marine species.
Rempart Serpent: Located a 15-minute boat trip from Flic en Flac, Rempart Serpent gets its name from the sinuous rock lying about 25m below the surface.
The Whale Rock is located in Grand Baie on the northern coast Mauritius. It offers opportunities for snorkelling and diving in its crystal clear water. Whale Rock is a large dive site with an abundance of marine life to sight.The site is covered with hard and soft coral and is a good site for beginners.
Roche Zozo Mauritius
Located on the south-eastern side of Mauritius, the site is known for tunnels and canyons. The site features a cluster of jagged rocks stretching up from the ocean bed to about 12 meters, providing hiding zones for all manner of marine life. The dive here is 40 meters deep.
Have you been to Mauritius and tried this cool sport? If yes, tell us about it here.


What is Scuba Diving?