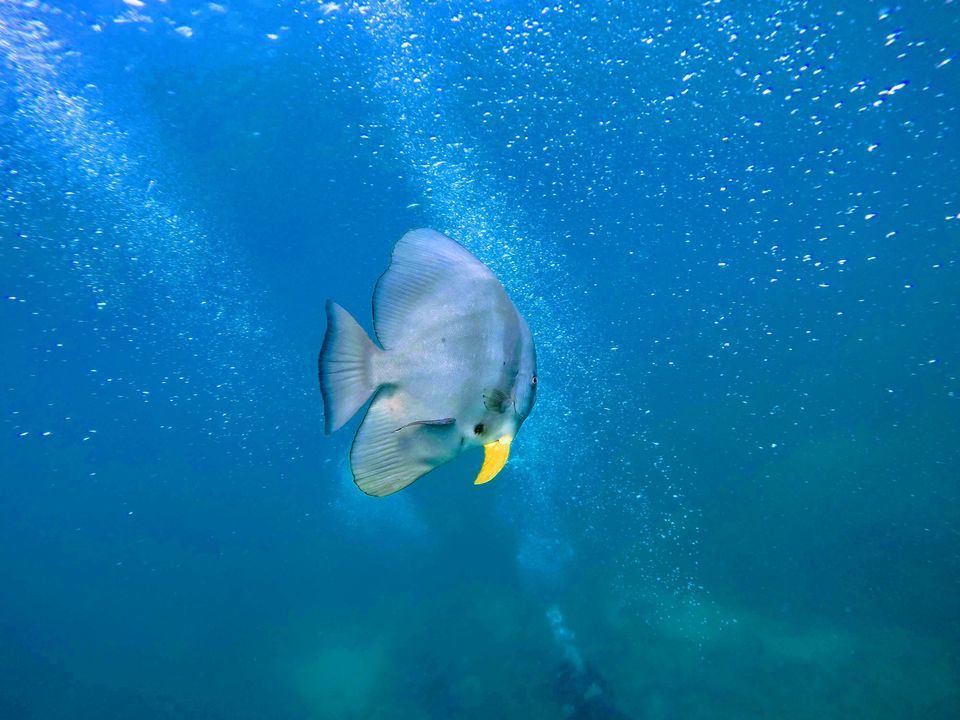 I spent my last weekend at Visakapatnam and decided to go for scuba diving at recently explored ship wreck with Subhash and team. The ship wreck is located at Chintapalli village in Vizianagram district and is nearly 70 kms from Vizag. The training session for first time divers would happen the day before in a swimming pool.
The trip started early morning at 4:40 am by car and we reached Chintapalli around 7 am. We halted at a small village shop for breakfast of freshly made idli and dosa. Once we reached Chintapalli we changed into wetsuits for diving and boarded the fishermen's boat which would take us further to our dive site.
The boat started its journey and for nearly an hour we went into the sea. Once we reached we got a briefing from our instructor Subhash about the site. We were given our equipment and we jumped into the sea.
The visibility was amazing and at par with world class dive site and so was the fish life. The ship wreck gave the location unique landscape and looked full of life of its own. Saw electric ray and various school of fish.
The dive went on for almost an hour and I enjoyed every bit of it. This is a good weekend destination for people in and around Vizag. I also enjoyed the company of other divers who joined for the trip. We also had a brave kid of age 12 with us for the dive. According to his words, he saw a live animal planet during his dive!
For this trip one has to be medically fit and may or may not know swimming. There are variety of courses for swimmers and Trydives for non-swimmers and beginners. They have regular TryDives or Discover Scuba Dives of one day duration for inexperienced people which are conducted regularly at Mangamaripeta beach in Vizag. Chintapalli shipwreck dive is done occasionally and needs a minimum of 5 people for arranging a dive trip to the site.
I have dived mostly in Andamans and this was even better than most of the dives I did there. It was much beyond my expectation and totally worth it! So just go for it!
Sharing photos and videos for you to get a better grasp of the trip!