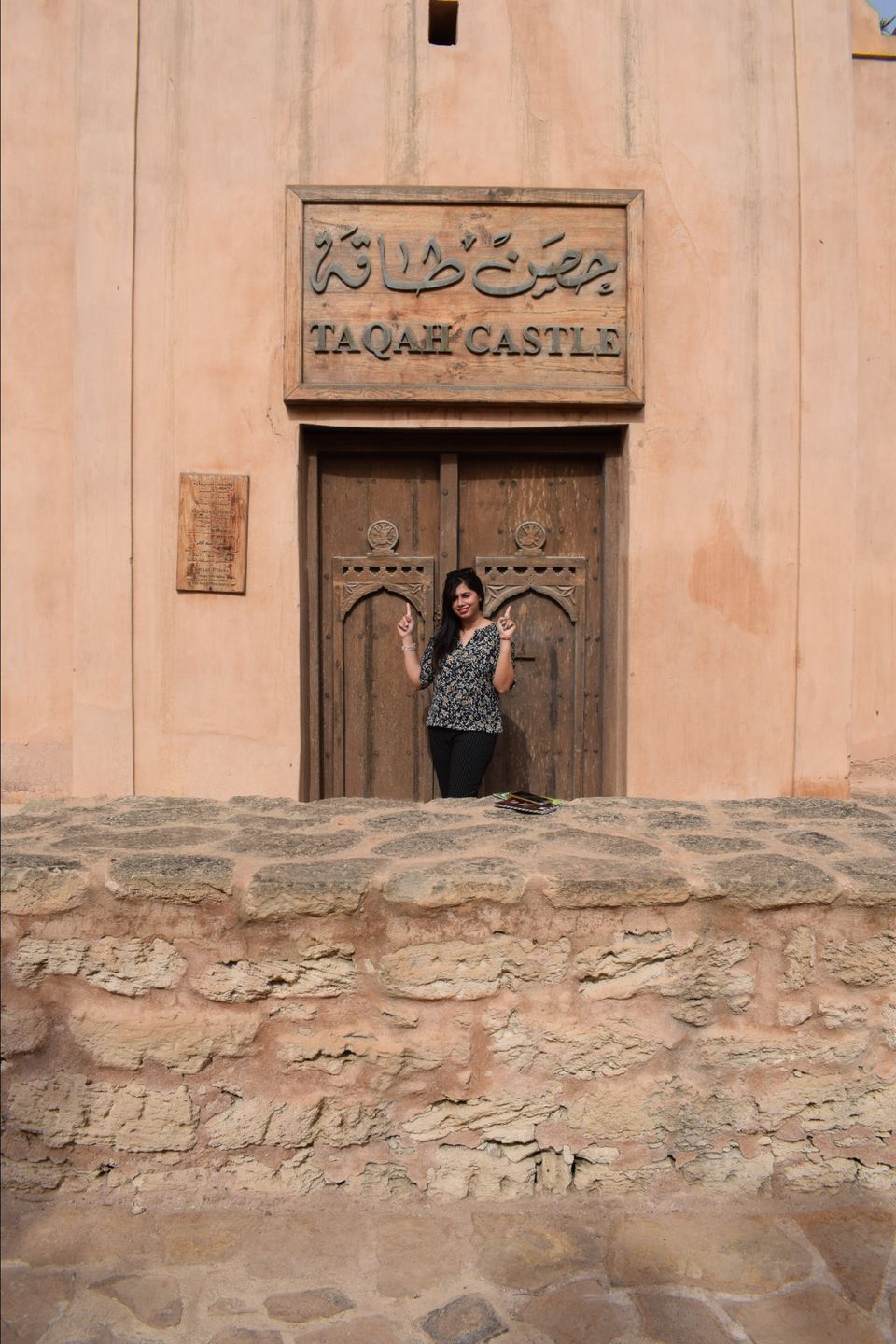 Taqah castle is located in the main city of taqah, dhofar (southern Oman). It takes around 30 minutes to reach from the main city of salalah.
Taqah castle was built in 19th century and is relatively new as compared to the other castles located in northern Oman like nizwa etc.
It is also different for the fact that it was used as a private residence of Sheikh Ali bin Taman Al Ma'shani, grandfather of grandmother of Qaboos bin Said Al Said. The castle was later in the year 1970 was used as an office and residence by the Wali(governor) of taqah.
Later in 1994 taqah castle was changed into a museum showcasing old Omani's way of life.
The castle has two floors and a terrace.
The ground floor has a reception area, guards room, household, weapon storage area and prison area. It also has a small garden in the atrium, in which an iconic palm tree is present.
You can purchase tickets from the reception area and take a tour of the castle.
The guard room area has a huge sitting area filled with colorful cushions and you will also see many antique rifles displayed on the wall.
The second section of the castle has on its left side exhibiting household stuff like bread basket, food mattress, cooking pots that were used during wali's time and on the right side is the weapon storage area. In this area sacks made up of camel skin, goat skin have been displayed, these sacks were used to store milk and carry water.
Moving further ahead is the fire wood storage area and you have stairs going the first floor.
On your way up you will find a food storage area in which storage pots that were used to store honey, grains etc have been displayed.
The first floor was used by Wali and his family as a private residence. On entering on your right will be Wali's bedroom. The room has been preserved really well showcasing wali's bed and colorful paintings.
The common corridor was used for having tea, so you can spot teapots and casseroles. The children's room is also very vibrant and depicts authentic Omani's way of living.
At the end you will find a private room which was maily used for inviting guest and holding important discussions. In this room the antique crockery has been displayed.
Then you will enter to an open balcony which was used as a night time resting area by wali's family. The staircase going to the terrace has been closed. The terrace was maily used during war time to check for the invaders.
It takes around an hour or less to take a thorough tour of this place.
Few meters behind there is a watchtower which has been closed now. But you can still climb up and get a view of whole taqah city. The place looks amazing during sunset.
Entry fee to taqah castle is 500 baiza for adults and 200 baiza for children's upto 12 years.
Timing : Saturday to Thursday 9 am to 4 pm
Friday : 8am to 11 pm.
It is a lovely vibrant place depicting lifestlye of Omani. Do visit this place if you are travelling to salalah or staying in dhofar.
You can watch full video of taqah castle on my youtube channel: "upasana venaik" https://youtu.be/hzdF1xKNGzU
Instagram : upasana_2407
Happy Reading !