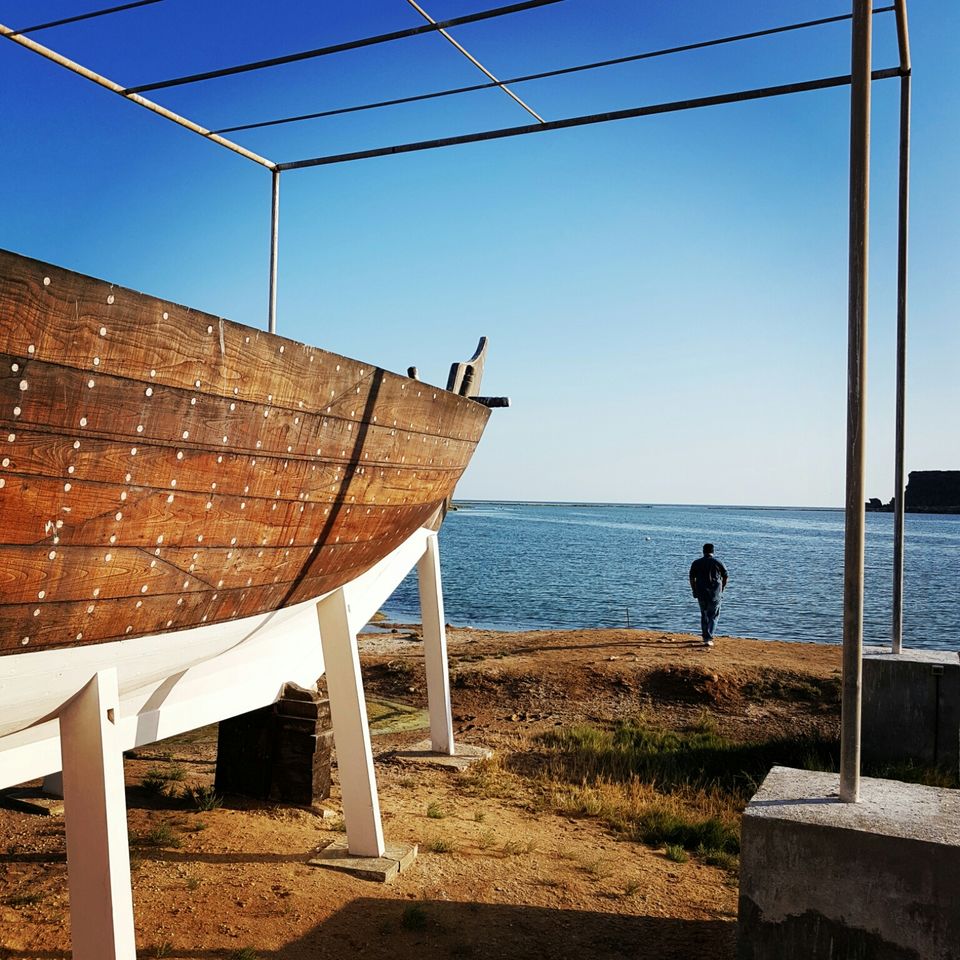 Khor Rori is an early south Arabian archeological site near Salalah in the Dhofar region of modern Oman.
Khor Rori/ Sumhuram was first discovered by James Theodore Bent and his wife Mabel during their travels in the region in the late 19th century.
This was an important and wealthy settlement. Sumhuram was a small fortified city with a huge city gate,
A monument building with inside a well and a stone basin connected with a drain channel,
A temple dedicated to the God Syn(moon), storehouse and workshops.
The port of Khor Rori is located 40 km to the east of Salalah on a hilltop on the eastern bank of a sweet water outlet ( khor).
Khor opens to the sea and served as a natural harbour.
It was a hub of the trading settlements on this coast at that time, which included copper and various other metals.
They have also preserved two old boats, one of which you can see in the picture.
The town called Sumhuram was founded on royal initiative and settled by Hadramite emigrants.
Dhofar was the main source of frankincense in the ancient period ... this place is around 2000 year old !!!
The city was easternmost outpost of a Hadramawt frankincense kingdom on the trade route between the Mediterranean, the Gulf area and India.
This is UNESCO world Heritage site "land of frankincense".
Frankincense is an aromatic resin used in incense and perfumes.
Frankincense was one of the most important luxury items in the Old world in Antiquity.
Frankincense trade dates back to 5000 years !!!
And you can also see the frankincense tree here, in the picture as well. :)
Khor Rori is still under excavation. The history depicts it was double storey building.
In the pictures you can see that they also had a temple at that time. That is the time before Islam was established.
This place is famous for its stories of Queen sheeba and how she controlled the export of frankincense all around the world.
Place offers panoramic beautiful view of the sunset. has a museum and overlooks sea so you can just sit near the beautiful backwater side and watch huge flamingos.
The ruins of Sumhuram overlook the Indian Ocean.
The area is open to public in the morning and in the afternoon after 4 pm.
Tickets can be bought at the access gate from the gaurd.
If you are interested in the history , you can enjoy your day studying the ruins, or else can enjoy a picnic spot.
The site is well maintained and the ruins are accessible, so you can take great pictures as well.
The place is must to be seen along with AL Baleed museum as well if you are planning to visit Salalah, Oman.
The place Brought back the memories of my history lessons, how I wished to study the famous civilization like Harappan or Mohenjo Daro.
This place according to locals is haunted by spirits and djinns.
So do Visit this place to witness the history