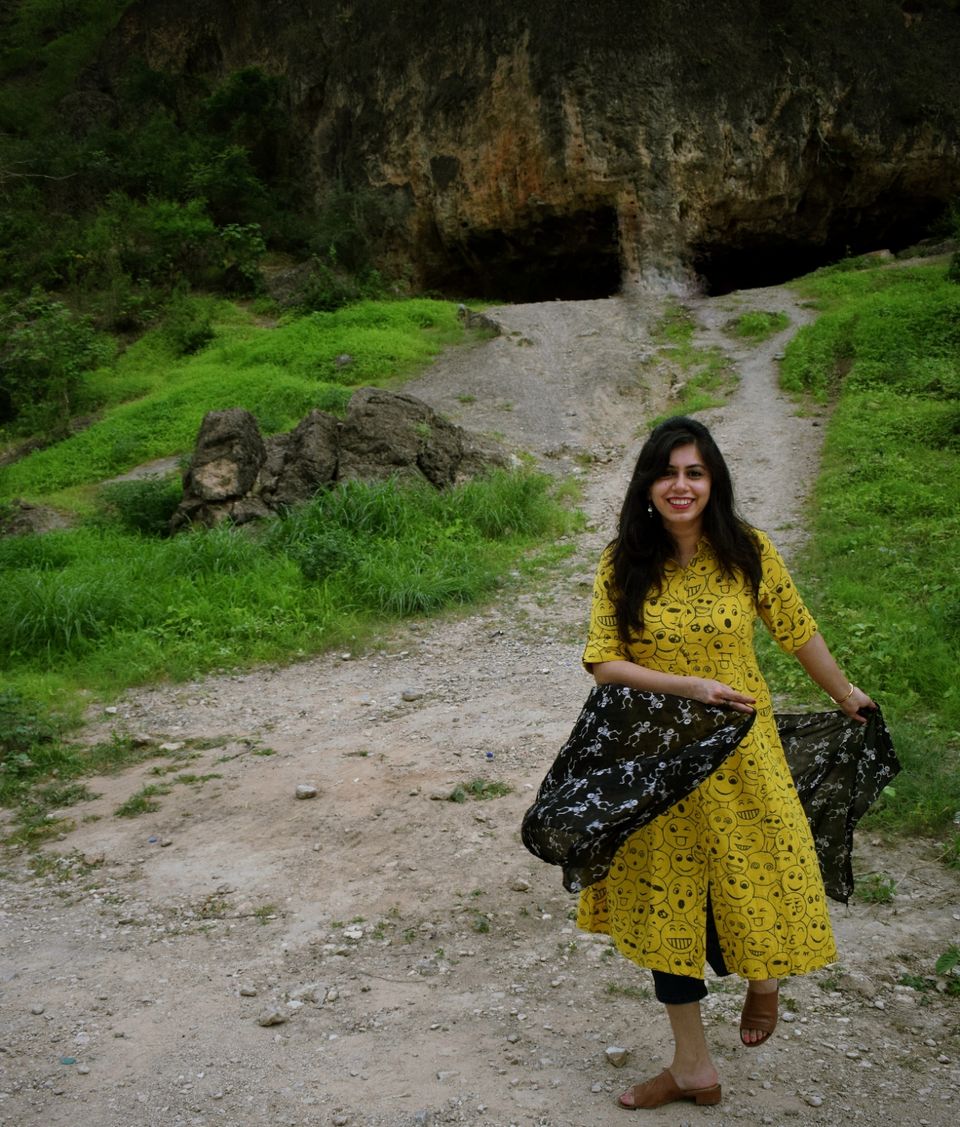 Ain Razat is located in dhofar region of southern Oman.
It is a famous tourist spot. Located at a distance of 23 kms from the main city of Salalah, in north eastern direction. It takes around 20 mins to reach here.
Ain means waterfall and Razat means in the shape of eyelid. This place is famous for the natural cave formation you get to see here. These caves are actually accessible to public. The main cave has been made accessible via a staircase that has been constructed for the public to enjoy the view of this place.
Sometimes you might also find people doing barbeque here.
You can visit this place anytime of the year, entry is free. It is a must see destination if you are travelling to Salalah during khareef season.
Khareef season is a monsoon season in Dhofar, starting from mid june and lasting till mid September. During this season the barren mountains turns into lush green and valleys get covered with thick fog, making your drive to these places even more beautiful.
The rain is in the form of perfume spray, yes, a kind of rain which doesn't get you wet.
You will thoroughly enjoy your visit.
During khareef season you also get to see beautiful springs making their way through the crevice in the mountains.
A reservoir is present which collects this spring water. You might also get to see tourist taking dip in the water and swimming.
This fresh water reservoir remains filled with water throughout the year and you can see many variety of fishes.
This place is surrounded by huge mountains covered by lush dye colored green flora. The water is so clear that you can clearly see the reflection of the trees in the water.
The place is also famous for the migratory birds which travel 1000 of miles during this season. So this place also offers opportunity to people who are in to bird photography.
This place has a good parking space and you can actually sit anywhere along the long stretch of reservoir and spend some memorable time with your family.
Near the entrance there, on your left side there is a beautiful garden which stays open for the tourist throughout khareef season. You can also sit in the garden and enjoy your surrounding filled with different colors of flowers.
What makes Ain Razat a must visit destination is also the mesmerising drive. The highway will be surrounded with lush greenery setting your mood absolutely on a right note.
The amazing thing about your visit during khareef season is that, when the Temperature in rest of the middle east countries will be reaching around 50 degrees Celsius, here in Salalah, temperature will be around 20 degrees. So this will be the nearest hill station you can visit to if you are staying in middle east or any other Asian country.
Perfect getaway from the scorching heat.
You can also follow me on instagram @upasana_2407, for more pictures and information.
Happy Reading !