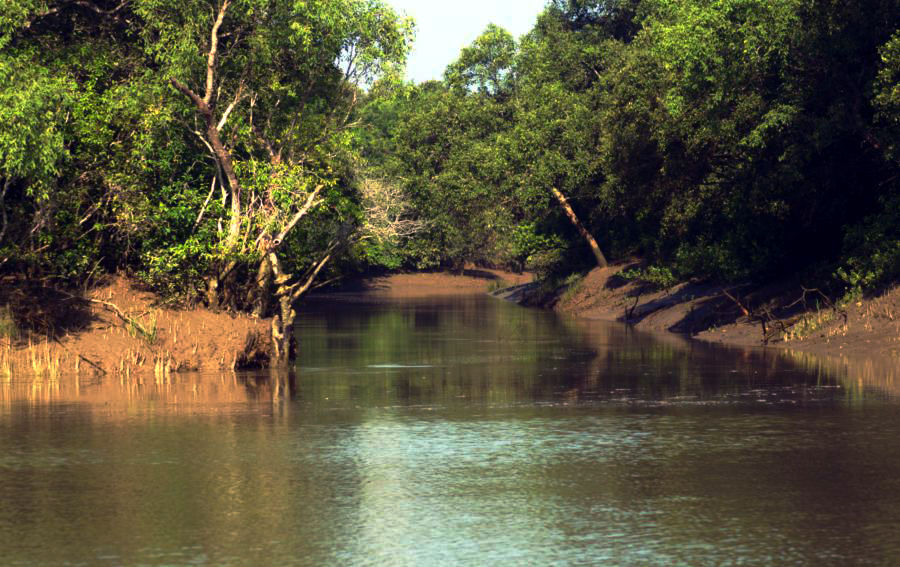 The Bhitarkanika National Park in Odisha's Kendrapara district, which was closed due to the COVID-19 situation, is now open
Bhitarkanika Wildlife Sanctuary and National Park is known as the "Mini-Amazon" of India. Lying on the coast of Bay of Bengal, it is the second-largest Mangrove of our country after Sundarbans. The land of lush green mangroves, migrating birds and olive ridley turtles, the dangerous saltwater crocodiles, tranquil surroundings by the chirping of birds, and the lush green nature, entrails visitors from near and far off places to witness this unique place of tourist importance. This ecosystem harbors the highest number of saltwater crocodile population in the Indian sub-continent of about 1600 estuarine crocodiles. Sighting of Crocodiles, Deer's, Wild pigs and thousands of colorful birds including winter migrants from central-Asia and Europe is a very common view here in Bhitarkanika. More than 10 species of Herons are seen nesting on hundreds of trees. Most of the Birds are Asian Openbill, Black Ibis, Cormorants, Darters, etc. The Hawksbill and leatherback turtles, King Cobra, Sambar, Chital, Fishing cats, Leopard cats, Mudskippers, Limulus crab, etc. are common to the landscape. Bhitarkanika is Bird's paradise. More than 170 species of resident and migratory birds are found here every year, six species of Kingfishers and many more also are seen in large flocks. The beauty lies in its unique natural surroundings. Tide marks on the sand, footprints of animals under the unbroken canopy offers a splendid view of nature. It is the only Marine Sanctuary of the state and is the world's most important nesting location for Olive Ridley Sea turtles. View of Bottle-Nose Dolphin's, Irrawaddy Dolphin's and Finless Porpoise Dolphin from different beaches of Bhitarkanika is worth watching once in a lifetime. More than ninety varieties of mangroves and its associates are found in this Sanctuary. Surrounded by rivers on the three sides and the sea on the fourth, Bhitarkanika is crisscrossed by numerous creeks and canals which finally meet the sea and make the estuarine delta. Entry to the national park cost 40 per person.
Visitors can have a unique experience every month of the year, whether you are a naturalist or wildlife enthusiast or a bird watcher, Bhitarkanika is all set to entertain and enthral you as it's a spectator's paradise. Also do not forget your cameras for those Instagram pictures that you may showcase it to the world through social media. Staying in Bhitarkanika is a once in a lifetime experience that you will cherish for the rest of your life.
Dangamal Nature Camp, Habalikhati, and Gupti Nature Camps are located inside Bhitarkanika providing luxurious accommodations and all the amenities you require. Also, they provide different choices of cuisine and delicacies which are famous in Odisha. Habalikhati Nature Camp, a beach resort, offers you 9 comfortable rooms facing the sea with all modern facilities which make your stay pleasing and comfortable. Visitors can make night stays in these luxurious rooms at a minimal cost. Habalikhati is one of the pristine, untold, and unexplored beaches of Odisha and most of the people in India are very unfamiliar with this mysterious glowing beach.Gupti Nature Camp, inside the forests of Bhitarkanika and on the banks of river Patasala has up to 6 luxury accommodations for night stay. It is the Entry Point to Bhitarkanika Wildlife Sanctuary. All Nature Camps have their catering and also serve food which is included in the package also try the plates of seafood which are mouth-watering if you're not a vegan. Wildlife sighting is done on boats impanelled with Forest Department licenses.
However, the visitors will not be allowed to enter the national park during day time. Those opting to spend night at Dangamal by booking rooms will only be allowed to visit the national park, informed Rajnagar DFO Bikash Ranjan Das.
The rooms can be booked online through the website www.ecotourodisha.com
How to Reach:
By road: The area accessible by road is via Rajnagar & Chandbali.
By Train: 117 KM away from Cuttack Junction Railway Station almost 169 km away from Bhubaneswar railway station. Bhadrak is the nearest railway station near Bhitarkanika which is almost 55 km's away from the national park.
By Air: Bhitarkanika is 146 KM away from Biju Patnaik International Airport. You may book a cab from the airport itself through ola or uber.
Notably, Bhitarkanika National Park has been closed since March 17 due to the COVID-19 outbreak.