Bioluminiscence – Yes, you have heard about it, and seen it in movies!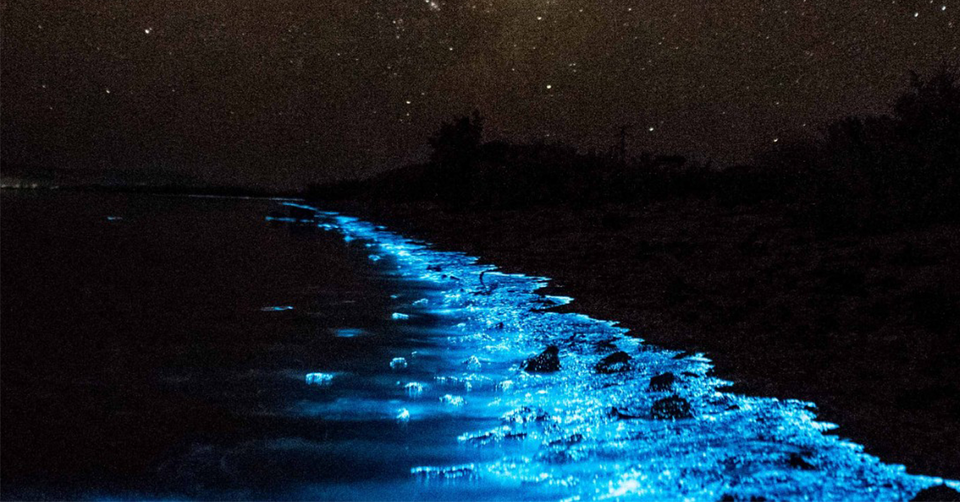 Bioluminiscence is the phenomenon in which living organisms produce light. Fireflies are an example of bioluminiscent organisms. But there are many more creatures in the sea which can do the same. When tiny creatures floating on the shore produce neon blue light late in the night, the sight is magical, and it feels like an extra-terrestrial affair.
And while you have heard of such lit beaches in Maldives and Lakshadweep, there is one in East India, very close to Kolkata.
Bhitarkanika National Park
The beach in Bhitarkanika National Park at Habalikhati is a sight to behold at night. The phytoplanktons at the shore make the waves glow in the dark. It is a marvellous phenomenon which is not known to many people.
Apart from the bioluminiscent creatures, Bhitarkanika National Park also hosts a variety of wonderful flora and fauna that includes mangroves, huge salt water crocodiles (that grow upto 23 feet in length), monitor lizards, fishing cats, spotted deer, kingfishers and more than 300 species of migratory birds.
How to reach?
By Air: The nearest airport Bhubaneswar is 160kms away from Bhitarkanika National Park. You can book a cab from here and reach the park in 3 hrs. Kolkata is 400kms apart, and a 7hr drive via Kharagpur and Bhadrak will land you here.
By Railways: The nearest major railheads are Bhadrak and Paradeep. All major trains run from Kolkata (Howrah) and Bhubaneswar to Bhadrak. You can find the trains here. Howrah to Bhadrak | Bhubaneswar to Bhadrak | Bhubaneswar to Paradeep. From Bhadrak or Paradeep take a cab/ shared vehicle to Chandbali.
By Road: Take a cab/bus from Bhubaneswar (130kms), Cuttack (120kms), Bhadrak (50kms) or drive from Kolkata (360kms) or Jamshedpur (310kms).
Where to Stay?
Choose to stay at any of these properties on the islands of Brahmani river and Bay of Bengal:
Get travel inspiration from us daily! Save and send a message at 9599147110 on Whatsapp to start.
Frequent Searches Leading To This Page:-
lakshadweep tour packages from kerala, silver sand package lakshadweep, lakshadweep Silver Sand Package, Cruise based package Lakshadweep, Samudram package of lakshadweep