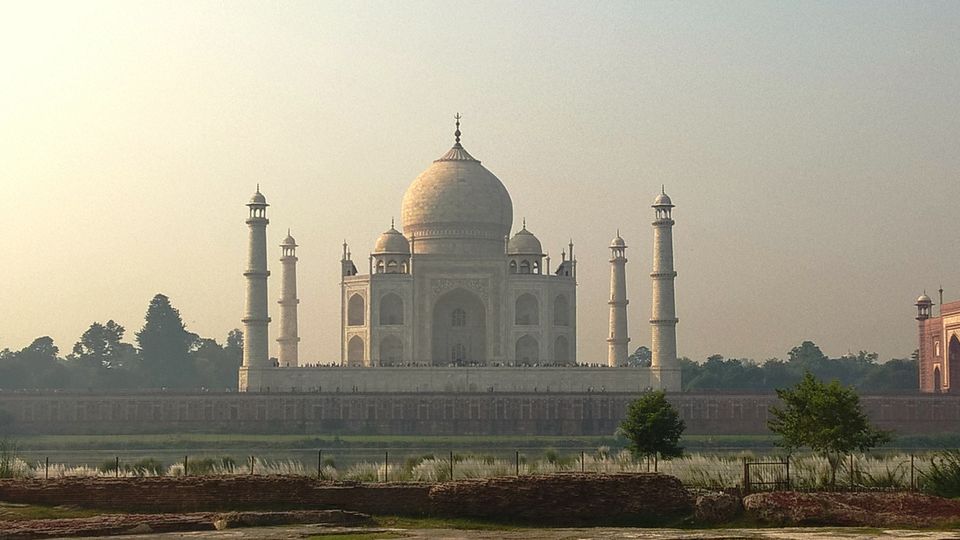 If you have visited Taj Mahal a thousand times and have come to believe that that there's nothing more to discover, wait till you see Mehtab Bagh on a moonlit night. Tourist guides and popular travel books will rarely tell you about this hidden treasure of Agra, simply because it's difficult to locate among the winding by-lanes of the city. But once you find it, you get a chance to enjoy a panoramic view of Shah Jehan's beloved Taj Mahal.
'Wah Taj!', you will say to yourself.
Romantic retreat:
Shah Jehan built this garden during 1631 to 1635 A.D. as a part of his grand mausoleum, the Taj Mahal, dedicated to his wife. Its name sounds supremely romantic: the moon garden. Shah Jehan planned this bagh as an ideal place to enjoy the beauty of Taj Mahal on moonlit nights. As if two lovers decide to meet under a full moon sky to have a quiet time of their own. Death doesn't matter. Time doesn't separate them. Their love remains eternal, to be relived again on the banks of a moon-bathed Jamuna.
Mughal Garden-art
Mehtab Bagh is planned according to the famous Mughal garden-craft invented by Babur. After the Battle of Panipat, when Babur came to Agra to settle here, he was annoyed by the heat and dust and lack of water. He complained that there was no pretty garden in Agra, like the ones he had established in Samarqand and Kabul. He needed something in Agra to remind him of his distant home in Timur Lang's (Tamerlane) Samarqand. So he started building 'baghs' or gardens which will later go down in history as the finest examples of Mughal style of gardening. The names of the gardens which Babur founded on both sides of River Jamuna sound magical (and what's more, their original sites still scatter around Agra): Bagh-i-zar afshan ('the gold-scattering garden'; present Chauburj), Bagh-i-hasht-bihisht (the garden of eight paradises), Bagh-i-gul afshan ('the flower-scattering garden'; present ram-bagh)
The typical features of these gardens are pools, fountains, corridors between rectangular patches of green and perfect symmetry. Everything here is trimmed and shaped. These gardens largely follow the style of medieval Persian gardens.
Mehtab Bagh fits this design to a T. It has beautifully trimmed alleyways between rows of low shrubs. If you stand at one end of an alley, the other end will offer you a full view of the Taj Mahal.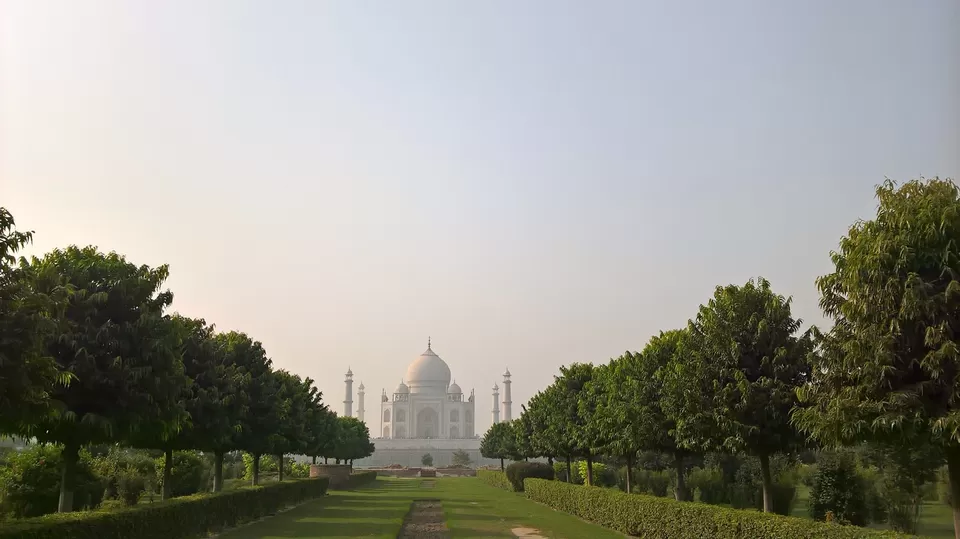 The garden to be honest is not maintained properly. But it still gives you the opportunity to enjoy the brilliant beauty of the Taj. Plus, with its pretty flowering shrubs, it surely is an ideal place for picnic.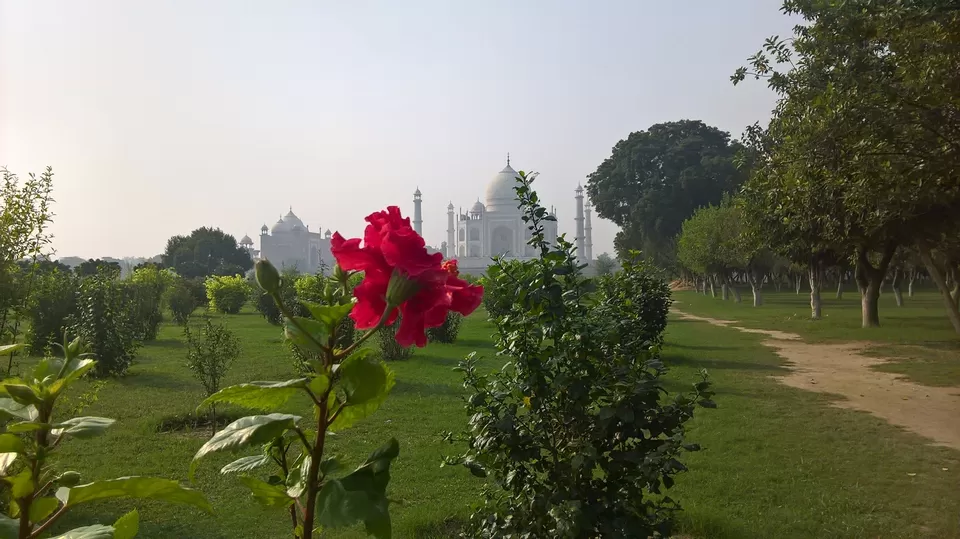 As part of the original plan, there was a huge, octagonal water tank, having 25 fountains, at the centre of the garden. Its ruins still remain there.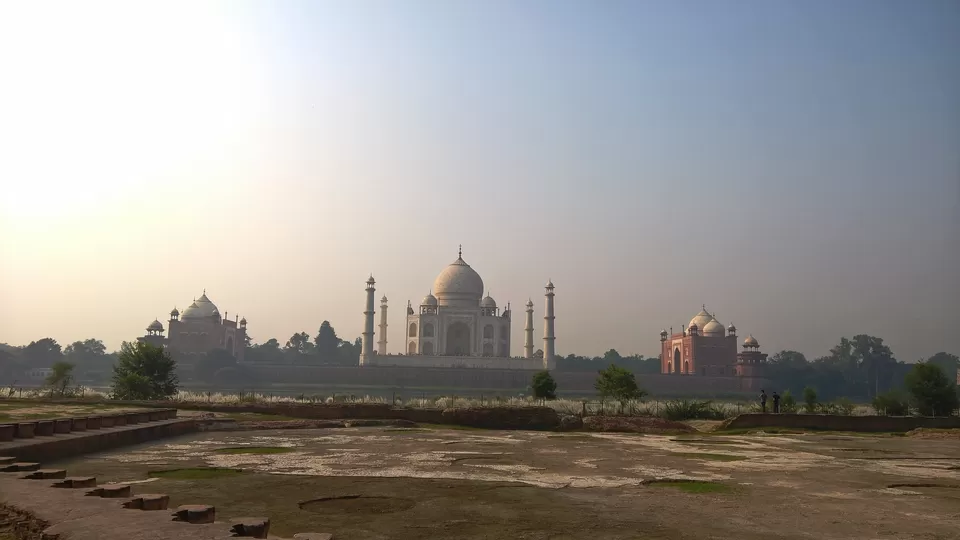 Why visit Mehtab Bagh:
Mehtab Bagh allows you to enjoy the beauty of Taj Mahal in peace. If you are planning to make a day trip to Agra, this garden is an ideal destination for you. You can enjoy your quality time with family and friends. Drive down to Agra and reach Taj Mahal. From Taj Mahal's Western Gate, drive through Taj Ganj to reach Mehtab Bagh. The garden remains open from 6 a.m. to 7 p.m. everyday.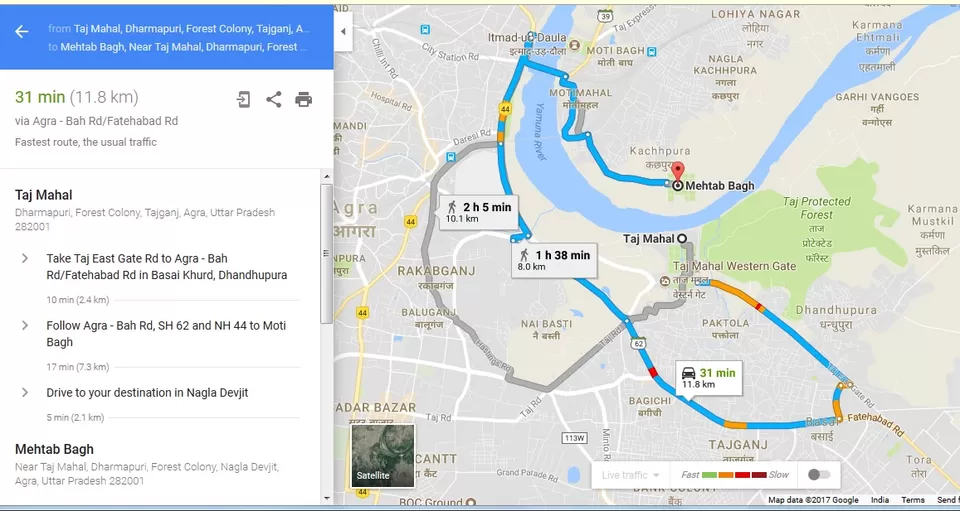 Best time to be at Mehtab Bagh:
Winter is the best season to visit Mehtab Bagh. Enjoy a blissful time here with friends and family under a pleasant winter sun.
The best time, of course, is during a clear, full moon night. But never mind if you are not looking to spend a night at Agra. Early morning, just when the garden is let open, is another great time to be at Mehtab Bagh. The cool breeze from Jamuna will fan your cheeks. Walk down the green alleys and as you turn the corner you'll come face to face with Taj Mahal, standing majestically on the other side of Jamuna.