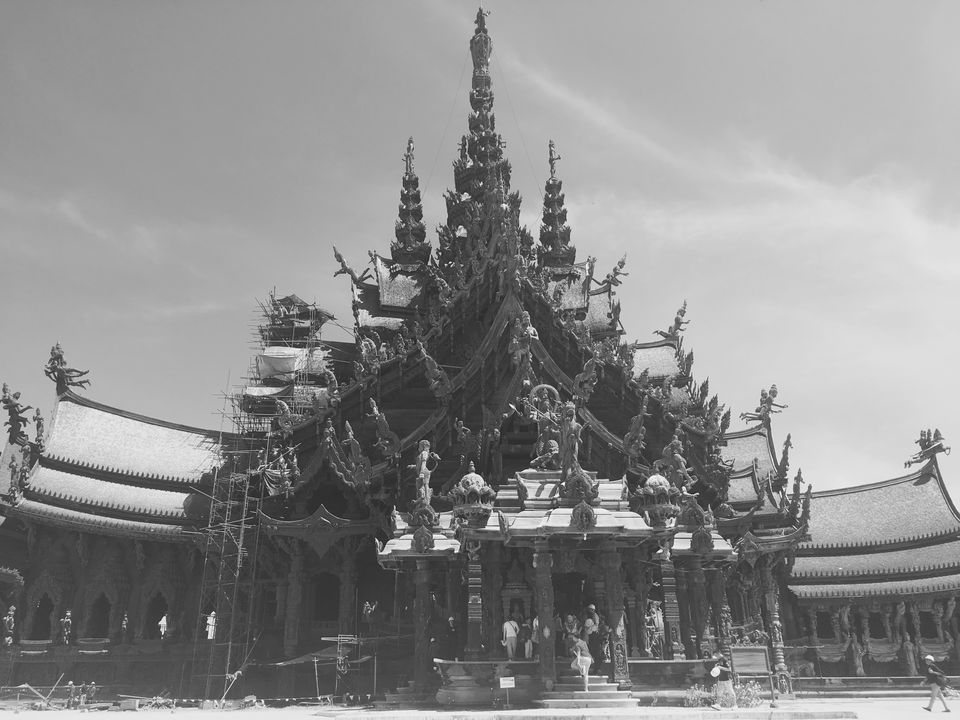 After watching the glorifying sunset, it was time for me to head back to Bangkok for another exigent working week. As I was there only for a day, I could not visit some of the places which are also worth visiting like the Sriracha Tiger zoo, floating market, Nong Nooch Botanical Garden, Hat Jomtien beach, etc. This time I made sure that I would definitely board a bus which turned out to be a wise decision. The ticket fare was only 107 Thai Baht for an AC Volvo bus. I reached Bangkok within just 1.5 hours in a much comfortable state. On my way back, my thoughts were hovering around as why this place is infamous for all wrong reasons? You do have lot of things to explore & plenty of places to visit if you want to and if you are a true wanderlust.
"Pattaya" renowned as Bachelor's Paradise & quite an eminent place for tourist attractions from all around the globe, had always been there in my bucket list.
I was on an official trip to Thailand for a fortnight in the month of June, 2017. My trip to Pattaya was never really planned; it was spontaneous to an extent that I decided to go just a night ago, which was a Friday night of course & I was enjoying the city lights of Bangkok on 20th Floor at Sky 20 with a mug of brewed beer. Just when I was in sync with the ambience of the place, a sudden & late realization of having a weekend in hand before another wearying week ahead aroused the spunk of my travel bug within & I decided to explore Pattaya the next day itself.
I had my breakfast at the hotel & started to stroll towards Asok, the nearest BTS station from my place. At 07:00 am, I boarded the train & reached Ekkamai BTS station within 15 minutes. I just followed the trail of local people with travel bags & reached the bus terminus which was just beneath the BTS station in no time. I got totally baffled at entrance of the bus station where there were many tempo travellers & lady chauffeurs yelling on top of their voices to board their conveyance promising to reach Pattaya faster than the buses. This scene resembled to India in every manner barring the lady chauffeurs screeching. I negotiated the deal in 120 Thai Baht and decided to give it a shot.
Post to 15 minutes, I realized that I had taken a bad call & had fallen terribly into the trap of the false promises made. Nevertheless managed to place myself somehow in the flock of people there, did some basic browsing about Pattaya, binged some web series & reached Pattaya after 2.5 hours where the lady dropped me in the middle of a highway.
Clueless as I was, wandered to and fro for a minute & found a two wheeler taxi, a stylish black Bebek with an old cute rider. The next & the biggest challenge was to make him understand where exactly I wanted to go. Mumbling and fumbling attempts to make him understand in sign or broken language failed miserably. Just in time my tubelight had lit and I instantly took my mobile browsed "Truth of monastery" to show him the place. He immediately recognized the place and with his smiling face gave me a pink helmet and pointed me the pillion seat. I was so much elevated to get that pink helmet which was kind of complementing my peach coloured top that I could not resist myself to take a live video of the ride in Instagram.
At 10:45 hrs, I reached the monastery. Bought tickets for 500 Thai Baht and treaded towards the entrance of the monastery. Unlike all other monasteries in Thailand, the entrance of the monastery was not grand at all. It was rather amidst nature with trees, birds, horses and elephants around giving a very rustic feeling about the place. The first glimpse of the monastery at a distance was surreal. As I went closer to it, I was all the more mesmerized with the gargantuan black sculpture surrounded with blue waters in all three directions. Intrinsic detailing of the sculptures was very interesting to see as it had many Hindu Gods & Goddesses crafted along with the rich heritage of Buddhism. After taking a troll inside the temple, I decided to watch the folk dance & Traditional Thai fight show which was a complimentary entertainment for the 500 bucks I paid. After the much entertaining and comical parody of the Thai shows, I headed towards the 3D art gallery of Pattaya with another two wheeler taxi. By this time I had known the trick of communicating with them by the "google image" language.
Now it was time for me to visit the most renowned art gallery in Thailand – The 3D art gallery, Pattaya. I bought entries for 400 Thai Baht. I was awestruck at the creativity and the efforts that they had put in to make this place a complete experience. All the arts done were picture perfect and some were masterpieces. My only regret here was to come alone as I could not take as many pictures as I wanted to. My only advice would be: Please don't go solo here. You will definitely die to be in the 3D frame if you are a photo fanatic.
By the time, I came out from the gallery, I realized that my hunger pangs were at its brim & I had to hog now at any cost. I headed towards Pattaya beach road. I could see a line of restaurants before me. Without doing much googling I walked into the restaurant of the beach Front resort, because apparently I liked the name and it had an open view to the sea, as the name suggests. I ordered Panang Gung, Gai (nothing but roasted prawns) which was amongst the chef specialities & sea food rice & I must say I had the best shrimps of my life. It was so delectable that I was almost high on food and I did not mind licking all my fingers in contentment.
After the scrumptious food, it was time now to pamper myself a bit. I decided to rent out a hammock in the beach (for 40 baht) and relax myself with a coconut drink. It is a heavenly feeling indeed to get a foot massage done while taking a sunbath. I deliberately skipped visiting the world famous walking street, as I already had a feel of the ambience in cow boy street, Bangkok and it was not my cup of tea ;).