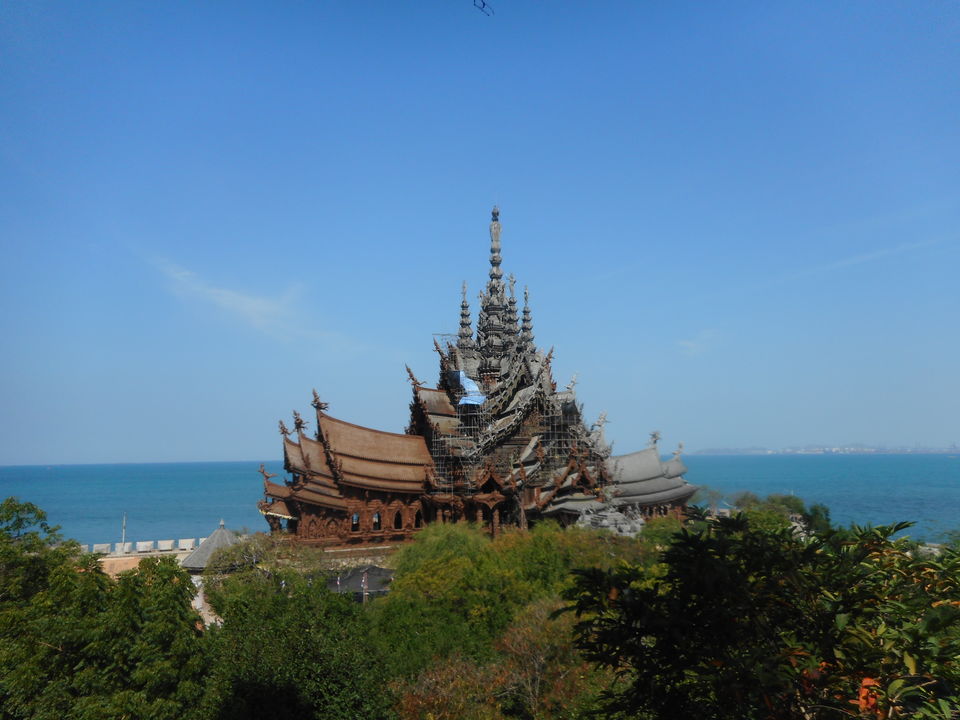 I have been doing solo travel since 2015 and each and every trip has been exciting. But these were all domestic trips and I realized that the time has come to go overseas. I had my eyes on Singapore but it seemed a bit expensive. I then reluctantly chose a place that I wasn't sure of exploring – Thailand. But it fit in my budget and so I got my tickets booked in October 2019. The trip dates were January 2 to January 6, 2020. I took return flight from Bangkok as well – I was sure I don't want to explore Phuket in this trip as that place is quite away from the two other hotspots I was keen on discovering – Bangkok and Pattaya. At first, I thought not to go for the usual Pattaya and instead explore Hua Hin. But I was told that Pattaya is worth it.
For research, I relied on my usual Wikitravel. 3 other sources came to my rescue – my friend Goral who also went solo to these places in July 2019 and the YouTube channels Wandering Minds and Pratik Jain. Through them, I got more or less the idea about the visa procedure, hotels, estimated cost, how to get from one city to another and so on. Goral also gave me her leftover Thai currency and these were lower denomination notes. And it helped in the beginning of the trip since from the forex guy, I had only got 1000 Thai bahts (THB).
On the first day of the year (January 1), I took the cab late in the night towards Mumbai's Terminal 2 airport. As luck would have it, I began feeling nauseous for some odd reason. Yes, I had a bad stomach but it was a week ago and there were minor complaints which I ignored. The check in and immigration was a smooth process. I flied in Thai Smile, a low cost carrier of Thai Airways, and it was fine despite the absence of in-flight entertainment. The food seemed different but tasty. Sadly, due to my condition, I couldn't have much.
Day 1
Bangkok-Pattaya
I reached Bangkok at 8:25 am and to see the sight of a foreign country from up in the air for the first time is a memorable experience! The immigration form no 1 is given in the flight itself and I filled it up in my seat as I didn't want to waste time after reaching the terminal. I had heard of serpentine queues at immigration. Moreover, visa is free for Indians till April 30, 2020 and I was geared up to shell out THB 200 for Express Visa. Thankfully, there were hardly 8-10 people ahead of me in the ordinary visa queue. The procedure took around 20-30 minutes and was a smooth affair.
I had booked my DTAC Sim Card from Klook, a very helpful website. I got my card from the airport premises itself and also the bus to Pattaya. The road was smooth and for the first time, I saw toilet inside the bus.
The journey took around 2 hours and it left me at the last stop at Jomtien. I got a songathew aka baht bus till a point from where I had lunch at Madras Darbar. I then walked to my hotel – Golden Pattaya. It was a lovely room and the first thing I did was hit the bed.
In the evening, I toured the Big Buddha Temple. Sadly, it was under renovation but the view was great. I then walked to Pattaya View Point where the view was even better. After returning in my room and chilling, I then went out again, this time to catch the Alcazar Cabaret Show. Again, the tickets were booked on Klook and I was lucky to catch the front row in the balcony. The ladyboys put up a grand one-hour-long show and I was pleasantly surprised to see them perform on a Hindi song too. After the show, one can also click pictures by them, provided you shell out THB 100.
My nausea was just not leaving me and I was told chemist shops out there might not give me a pill without prescription. I still tried my luck and thankfully, got one. I then headed to Govindam restaurant where I had Dal Khichdi. The owners there were kind enough to give me medicine after knowing about my sickness. I was in no condition to explore Pattaya's nightlife and I went to sleep at 11 pm.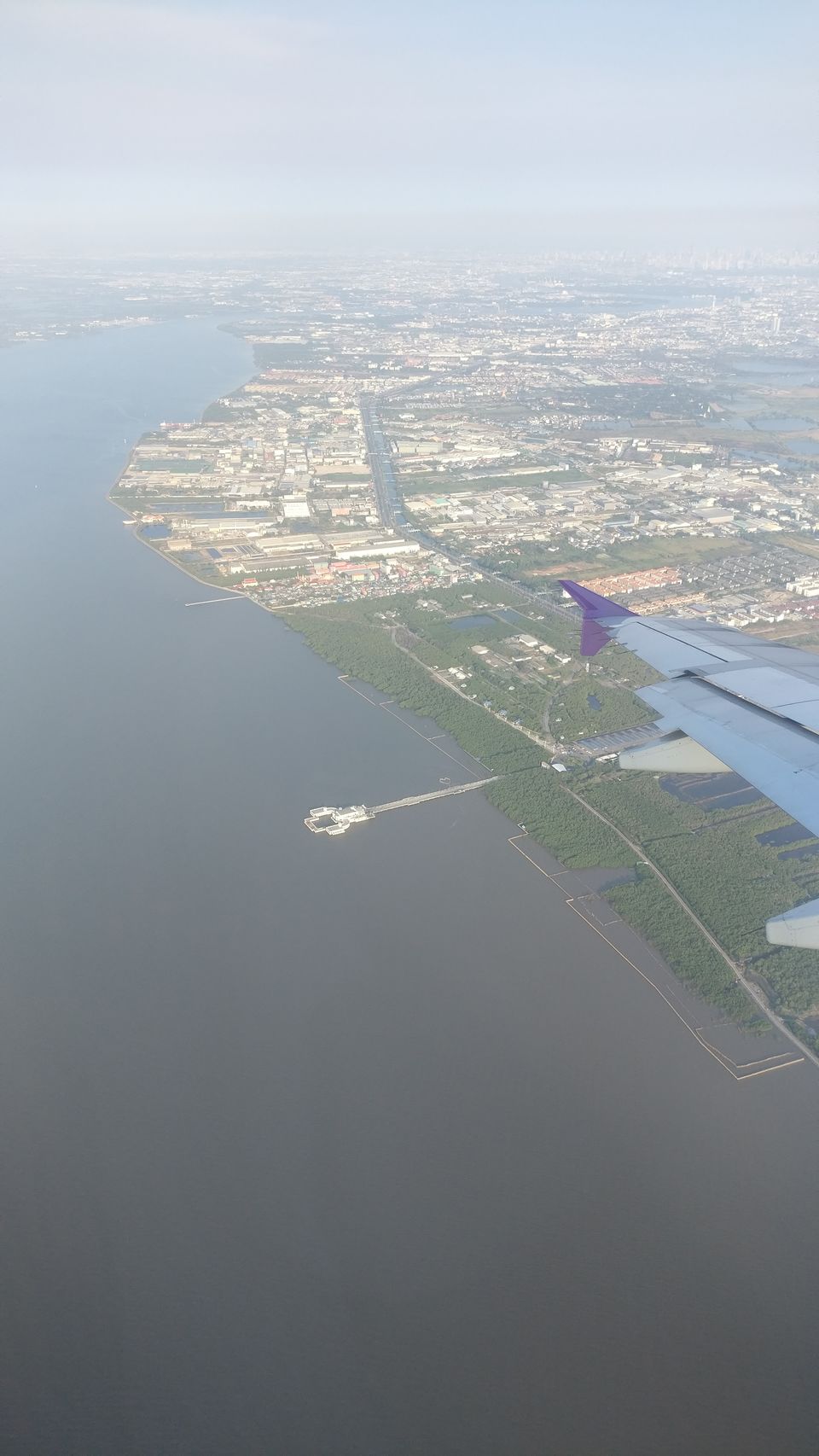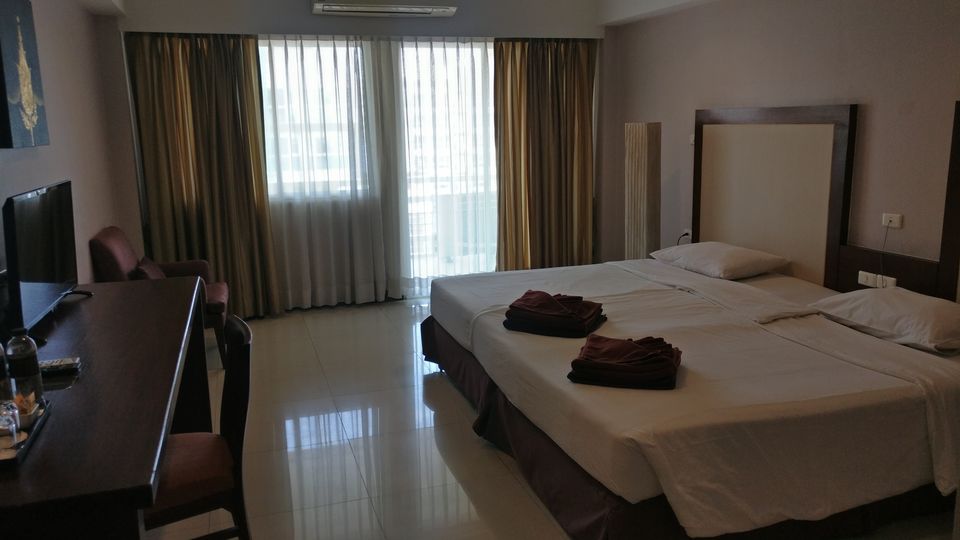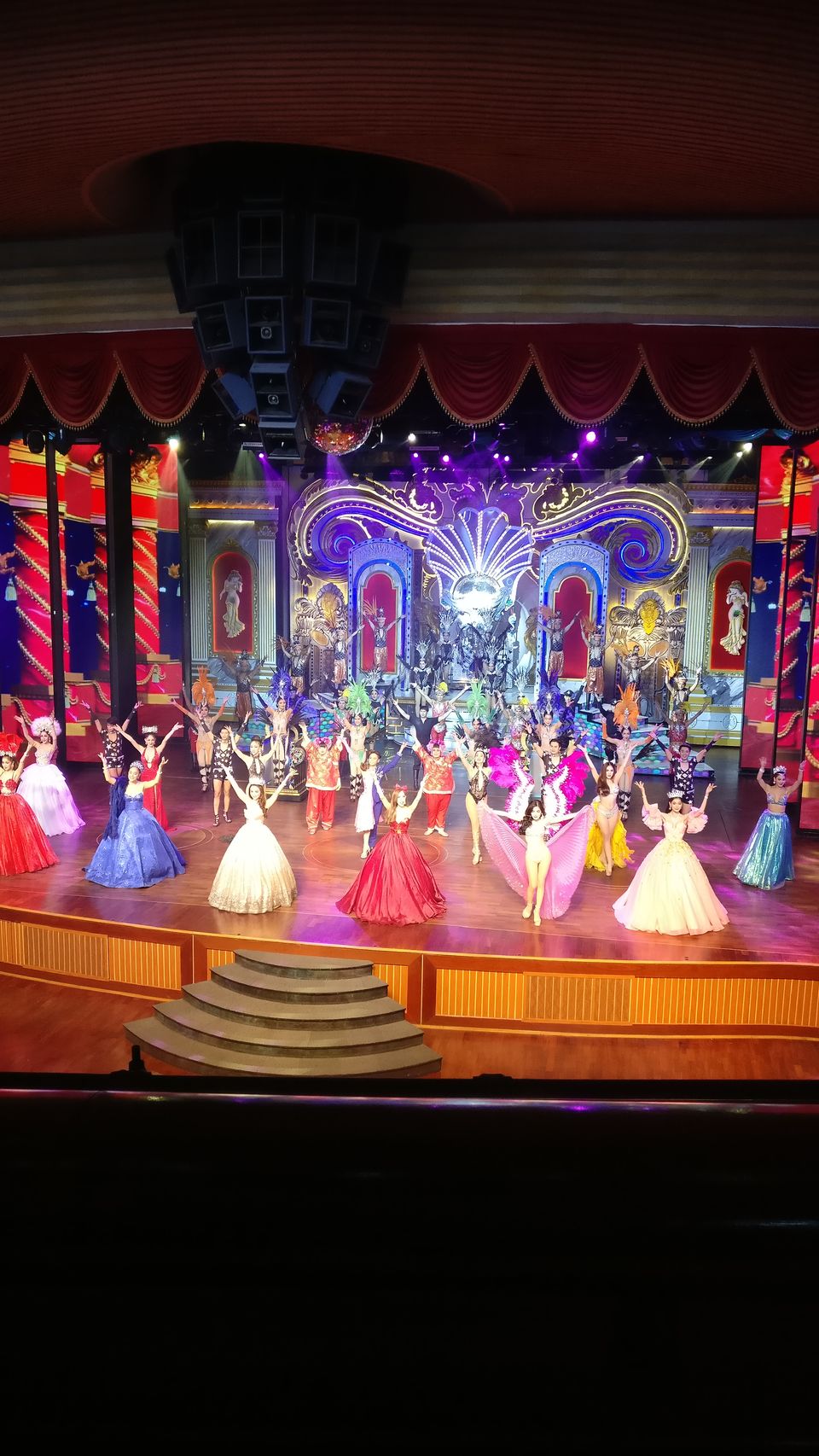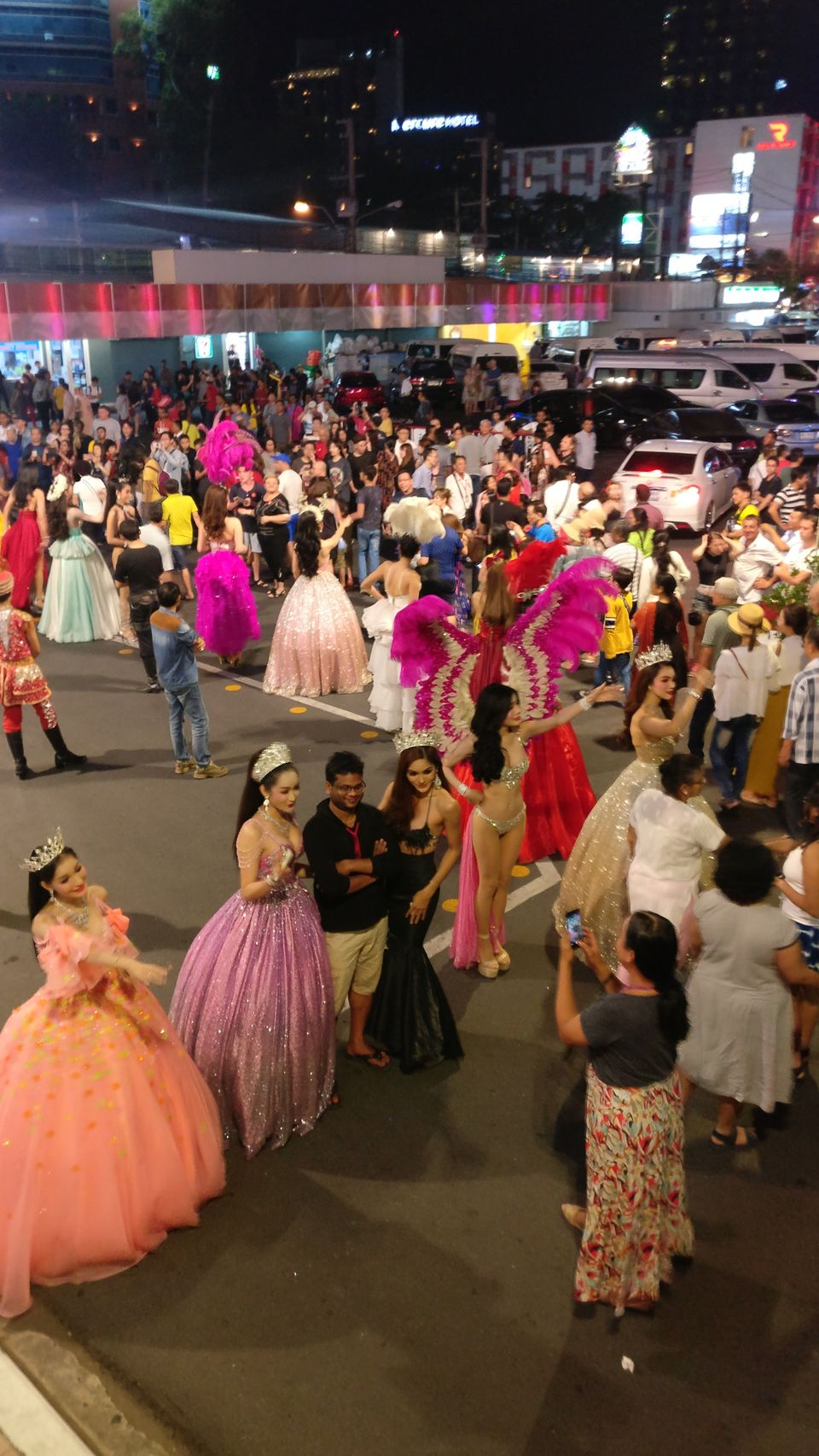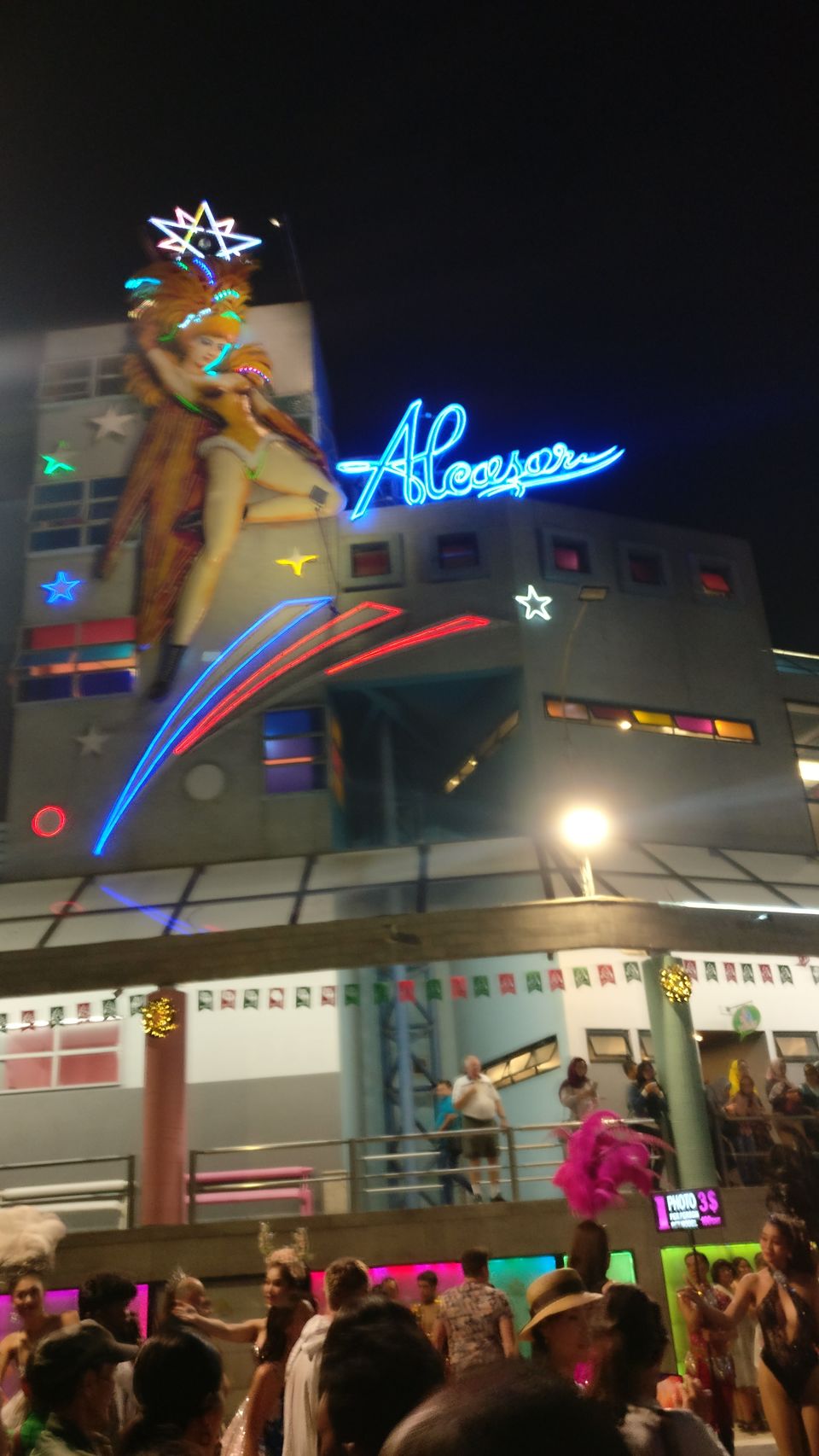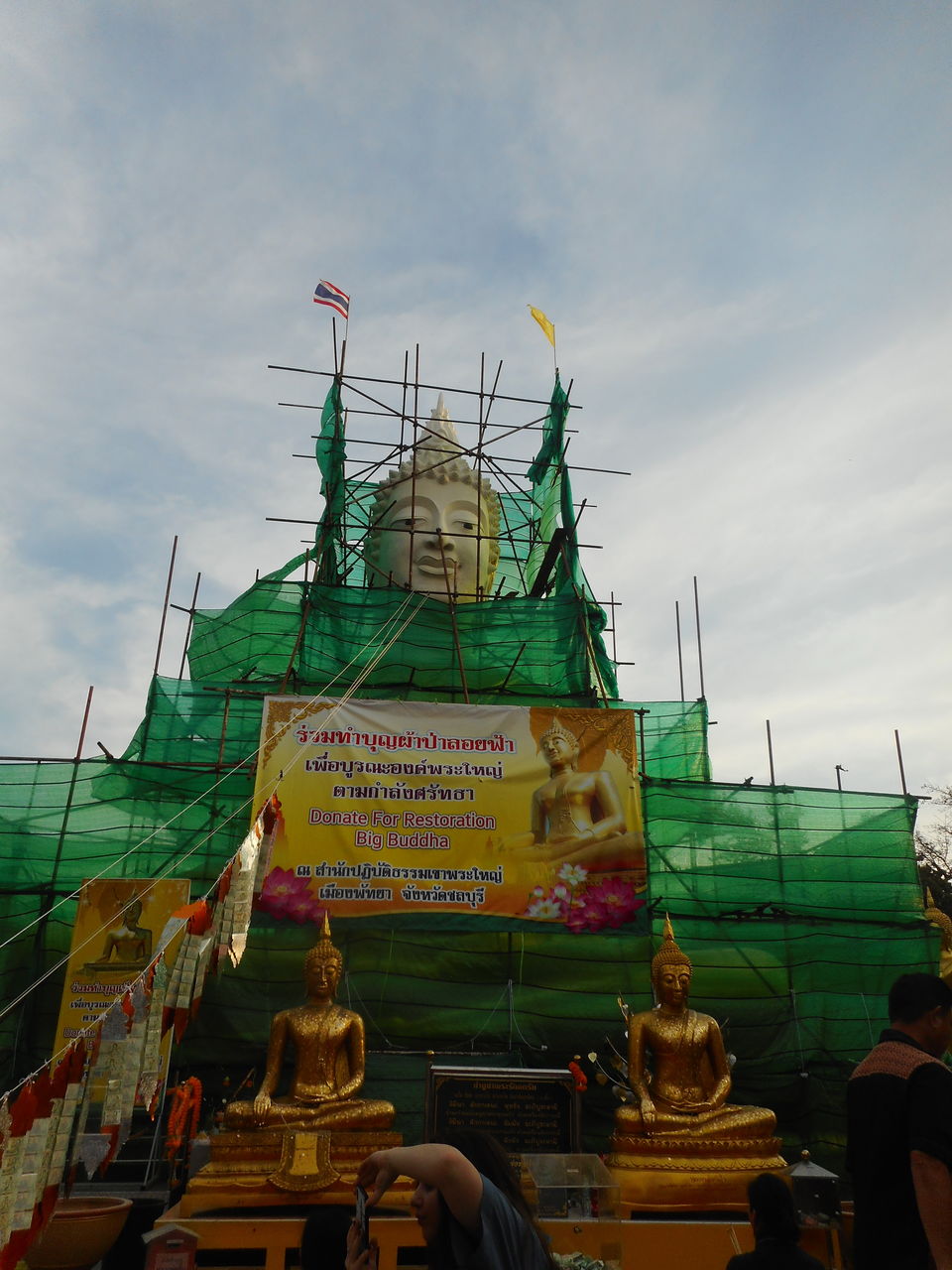 My sickness was thankfully gone and I hit the buffet breakfast with gusto. I am not into adventure and due to an injury, I was advised not to try parasailing. Hence, I completely skipped Coral Island. I instead headed to Sanctuary Of Truth. I got a good deal on Klook and exploring the temple was a great experience. All have to wear helmets here as it's still being constructed. The Traditional Thai dance performance added to the fun.
After having lunch at Chotivala's, I came back to my room as I still felt a bit sleepy. In the evening, I explored the streets and also had a glance at the erotic massage parlours and how much they charged. I realized it's expensive and I suggest one should not try it if they are on a budget trip like me. The Pattaya Beach was beautiful and I spent a lot of time there. I didn't even realize and I missed going to Jomtien Beach.
I had a late dinner this time, at Shree Khodiyar Kathiawadi Dhaba. The buffet was expensive here at THB 200 but I ended up going for it as it seemed delicious. I then proceeded to Pattaya's famous Walking Street. I was warned that the girls and ladyboys will just pull me into the bars but nothing of sort happened with me or anyone. I am not much into nightlife and after taking a round, I got bored. Most places there open at 10 pm. I went inside Raas 1st thing it started, hoping it'll get crowded in no time. It didn't and so I went to Club Nashaa, the only place that had good amount of crowd. The place was buzzing and staff too was quite friendly.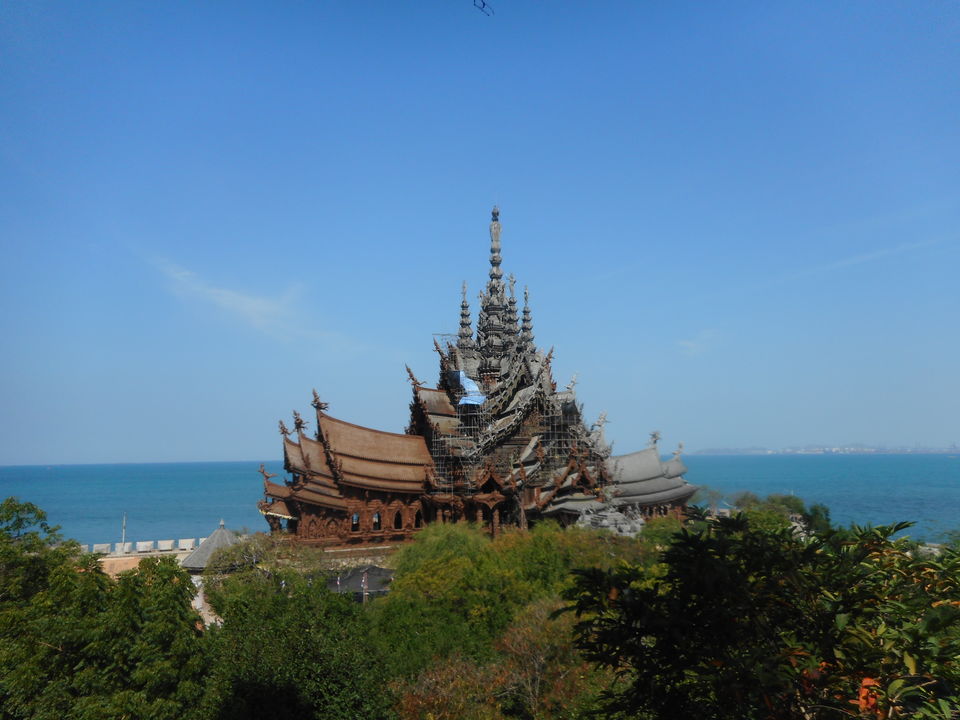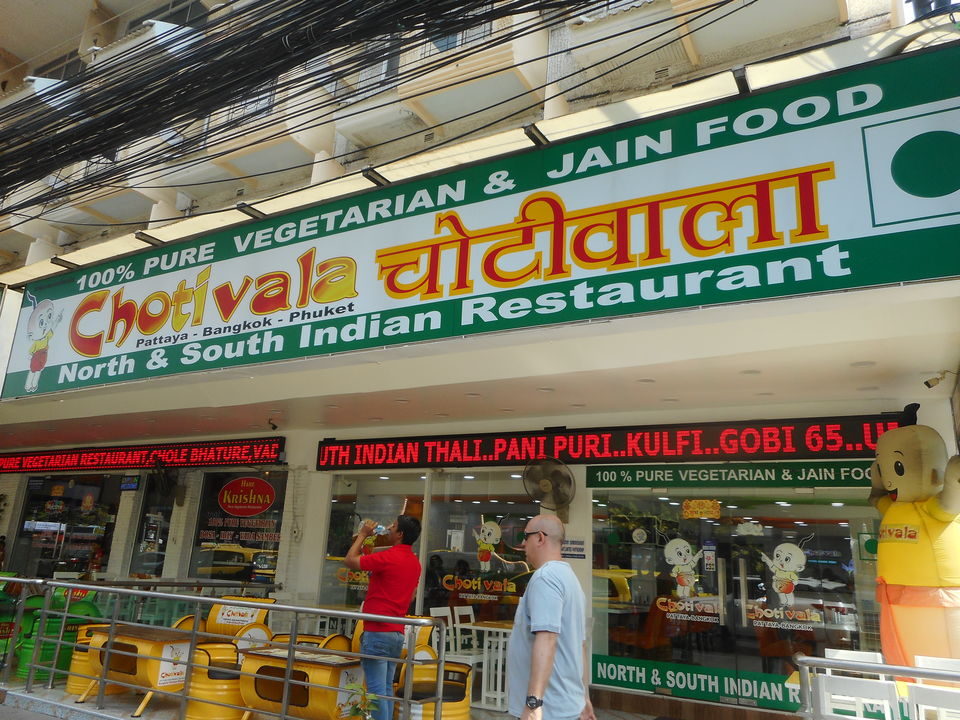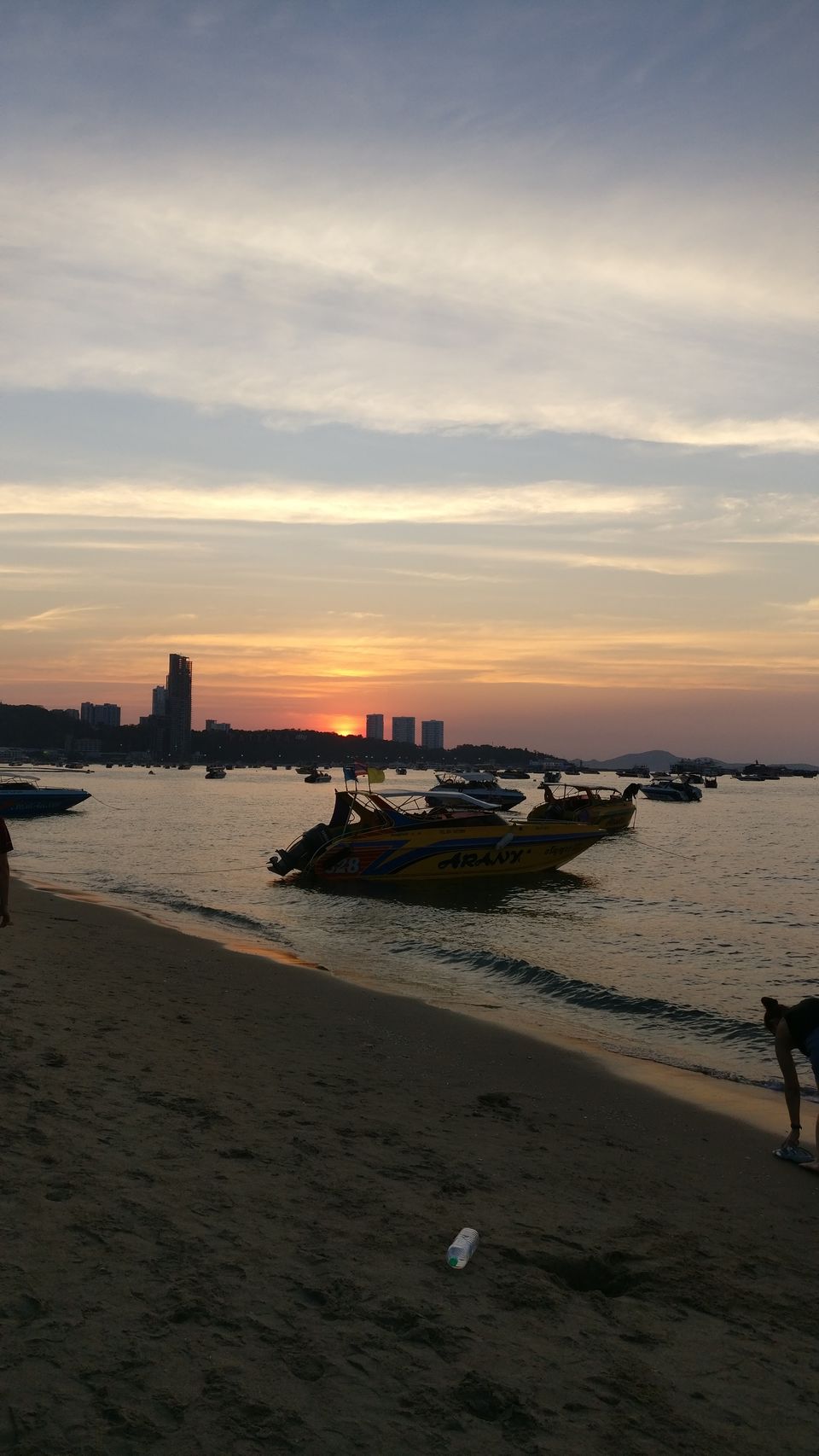 After a hearty breakfast, I checked out. I took baht bus to go to Wat Chai Mongkron, located hardly 5-7 mins away. From here, I walked for a few minutes to reach this place from where I got a van to Bangkok for THB 140. It took around 2 or 2 ½ hours and it left me at Mochit BTS. From here, I took a BTS to Phaya Thai and then I walked for 15 minutes till Ratchaprarop. After having dosa at Sanjha Chulha, I finally used the Grab Taxi app to go to my hotel, SamSenSam Place, located 1 km from Khao San Road. This was a lovely boutique place and I booked the biggest room here – the Suite. It was pretty basic and also reasonable.
After half an hour of rest, I took Grab Bike Taxi to Chatuchak Weekend Market. I couldn't eat anything here due to the smell but tried non-alcoholic sweet beer which was refreshing. And too icy – the Thai put ice in abundance in their drinks. From here, I proceeded to Asiatique The Riverfront, an open air mall by the river. From Saphan Taksin BTS, you get free boat ride to Asiatique, and that's a great deal. The prices of items were a bit expensive but having coffee here was refreshing. I then hopped in to the Chao Phraya River Cruise and got down at Tha Maharaj. I decided to walk from here to my destination only to realize that the road was deserted. I finally booked a bike taxi.
I finally had authentic Thai food at Thipsamai, a place I stumbled upon from a piece of information given by my friend Megha. I stood in queue for 45 minutes here as it's a very famous place. The Pad Thai noodles cost just THB 85 and were excellent. And they provide fork as well, if you aren't chopsticks-savvy like me. From here, I walked to my hotel, located 2 kms away. The roads were still empty but by now, I realized that the city is safe. Also, Bangkok tends to surprise – you might be thinking there'll be not a single soul for miles at stretch but as soon as you take a turn, you'll find hundreds of people in front of you! I was following the map but got lost, something intentionally and at times, unintentionally! I saw Khao San Road in all its glory and crowd and vowed to come there the next day.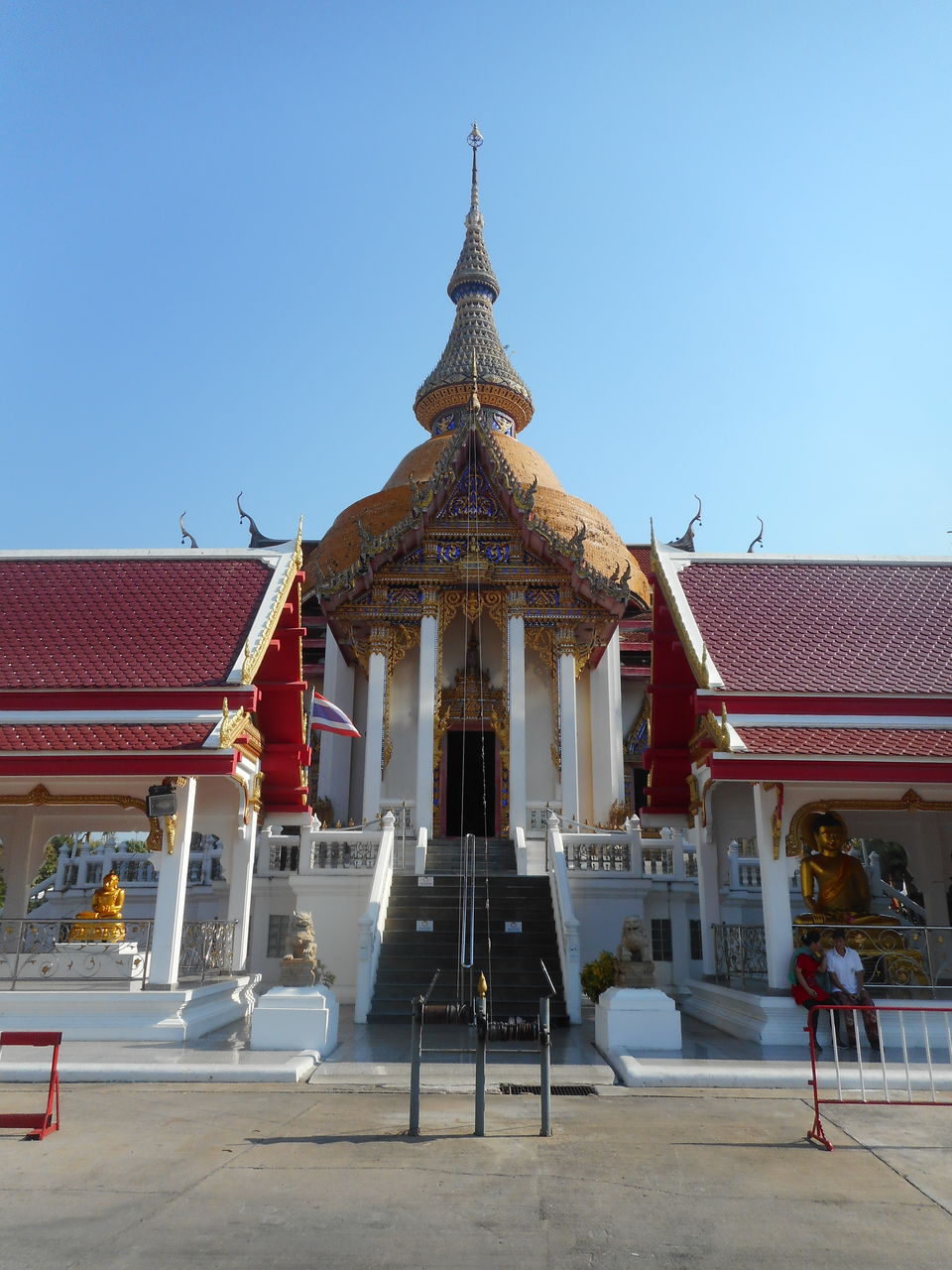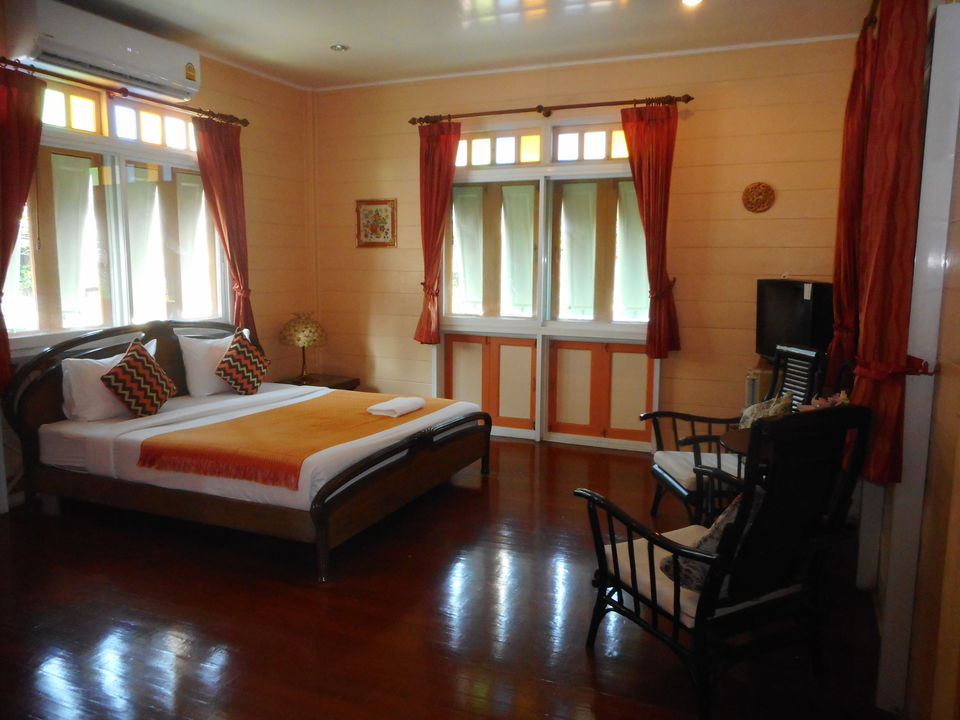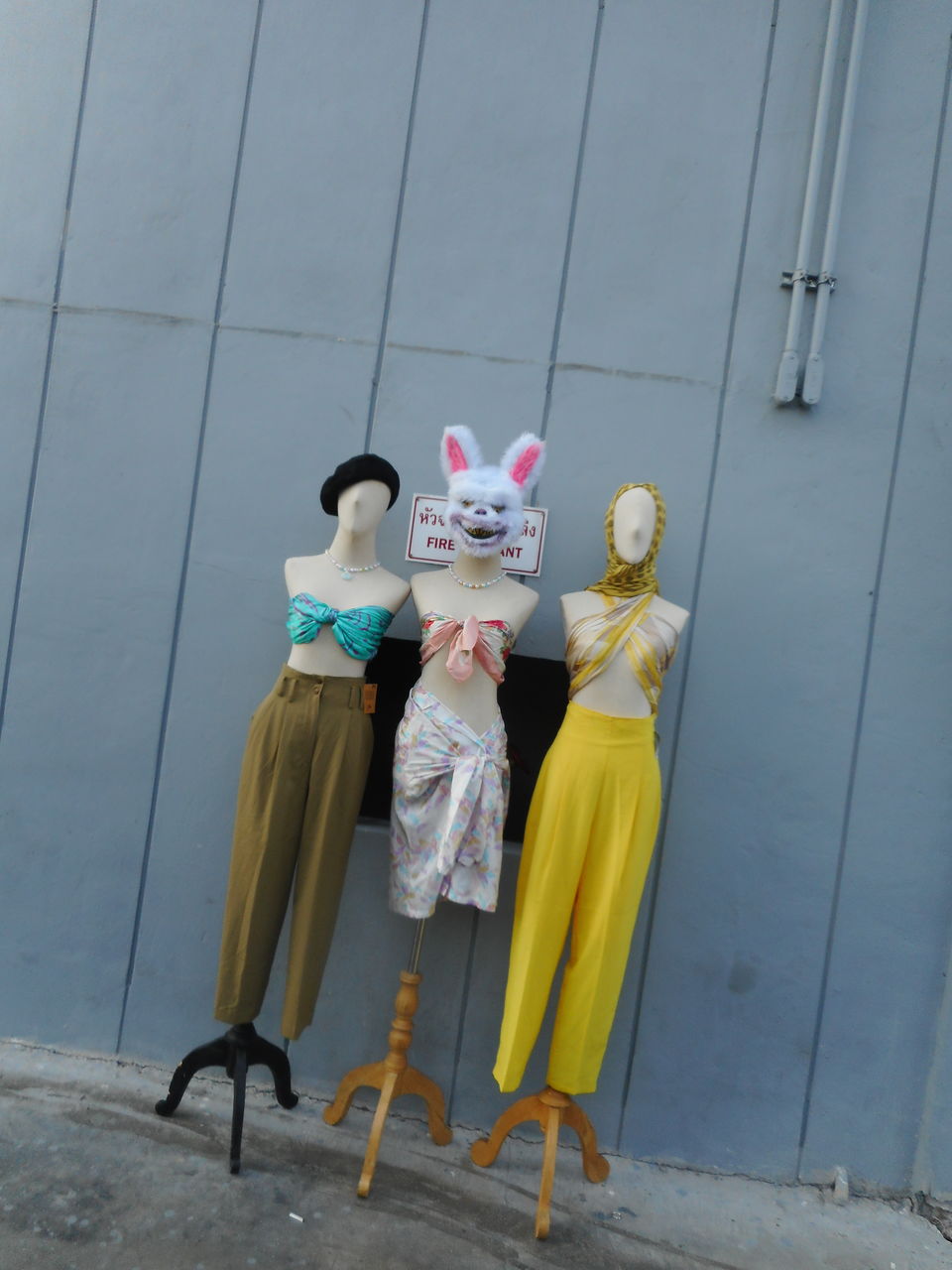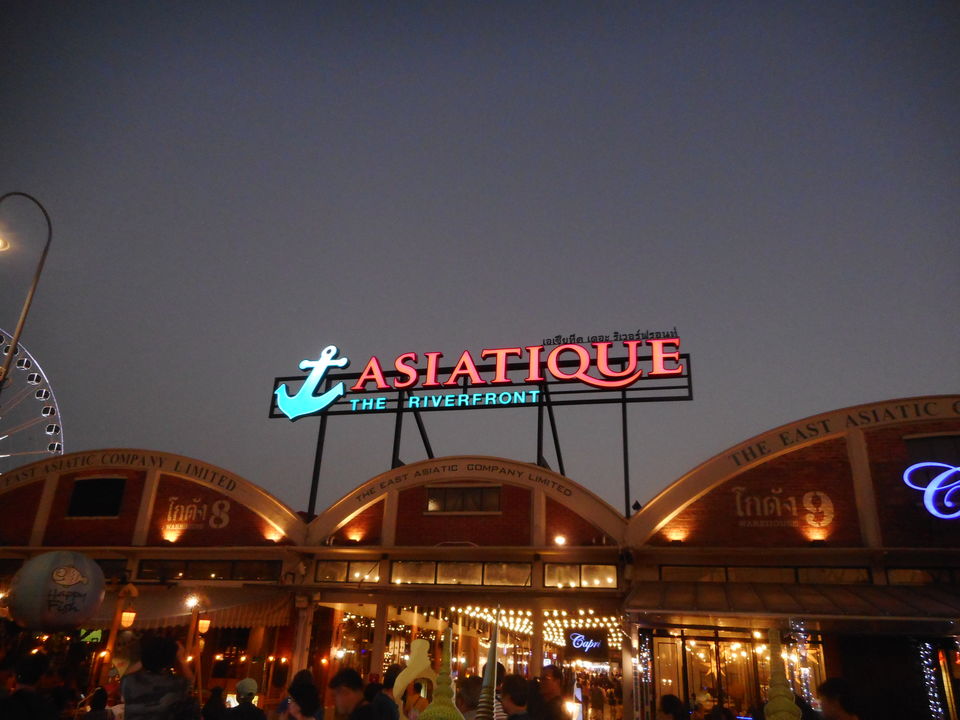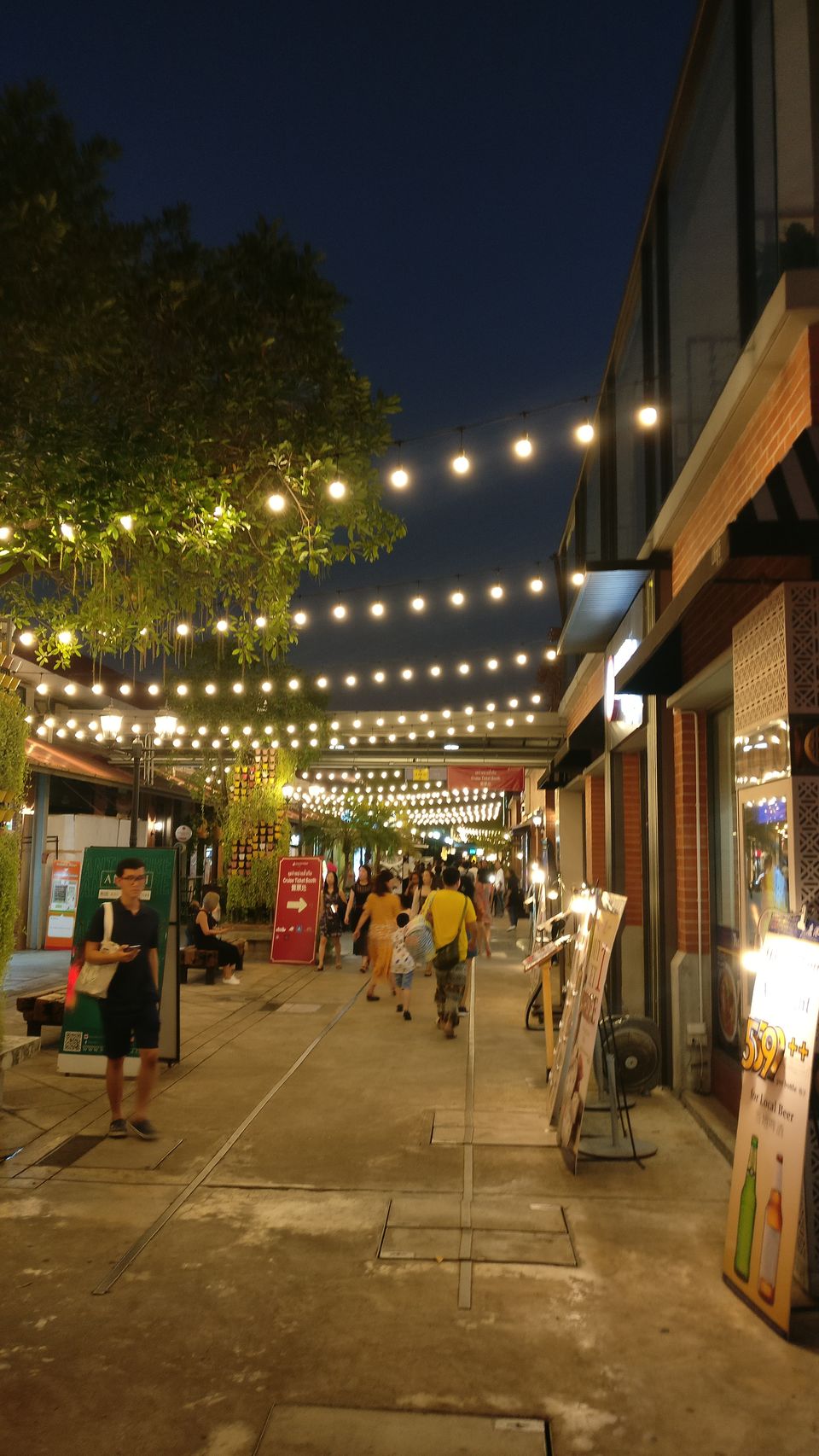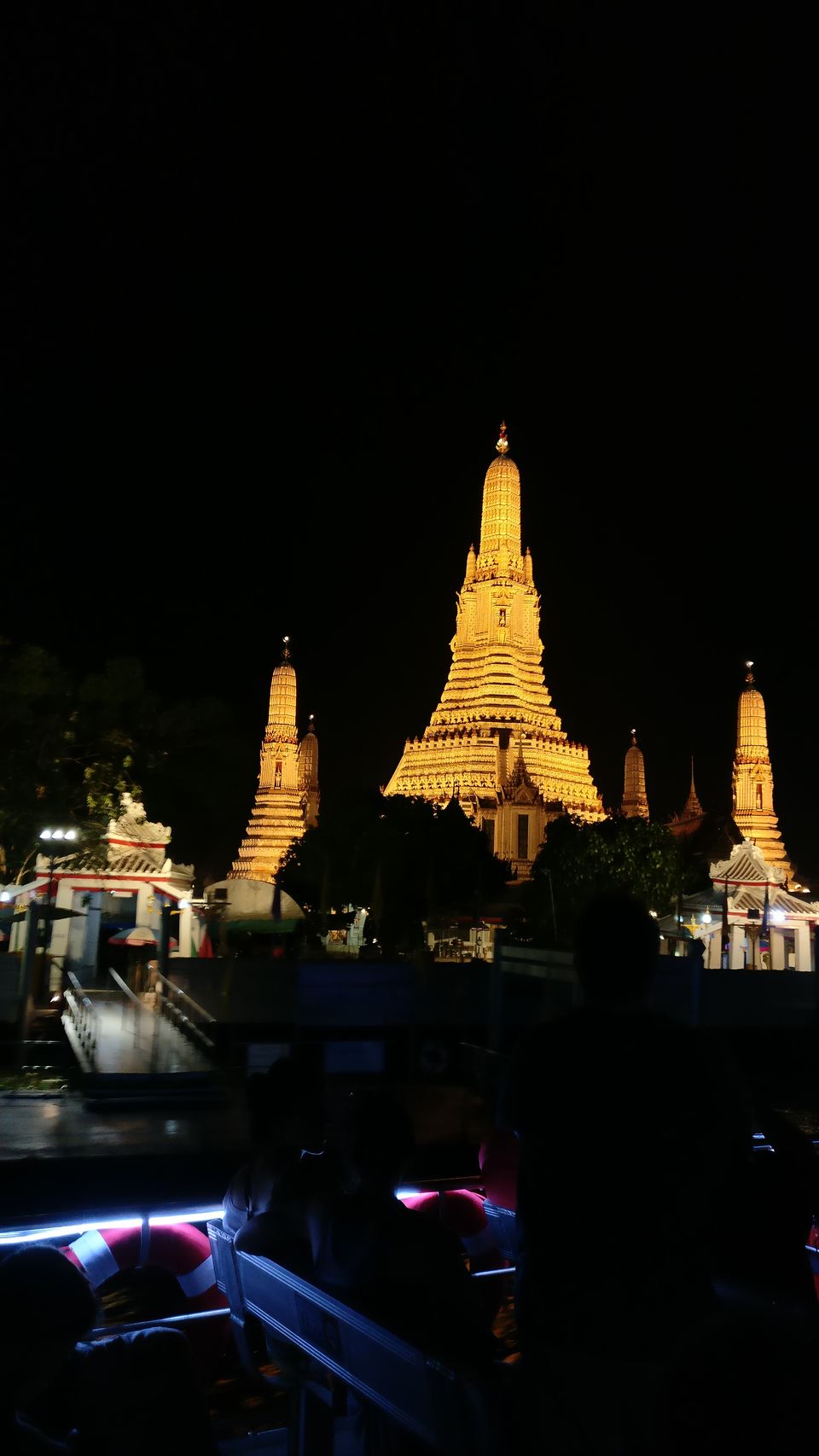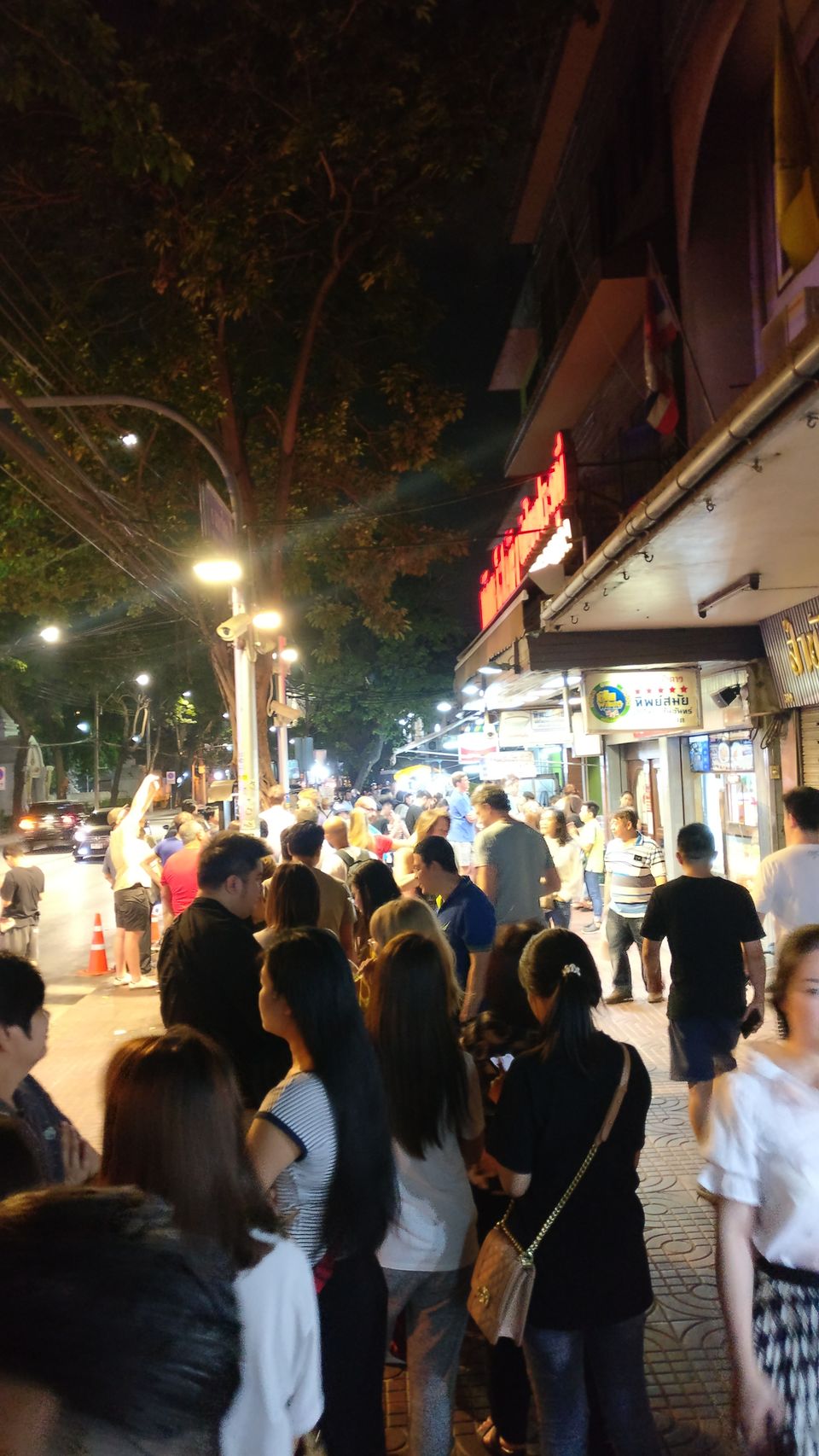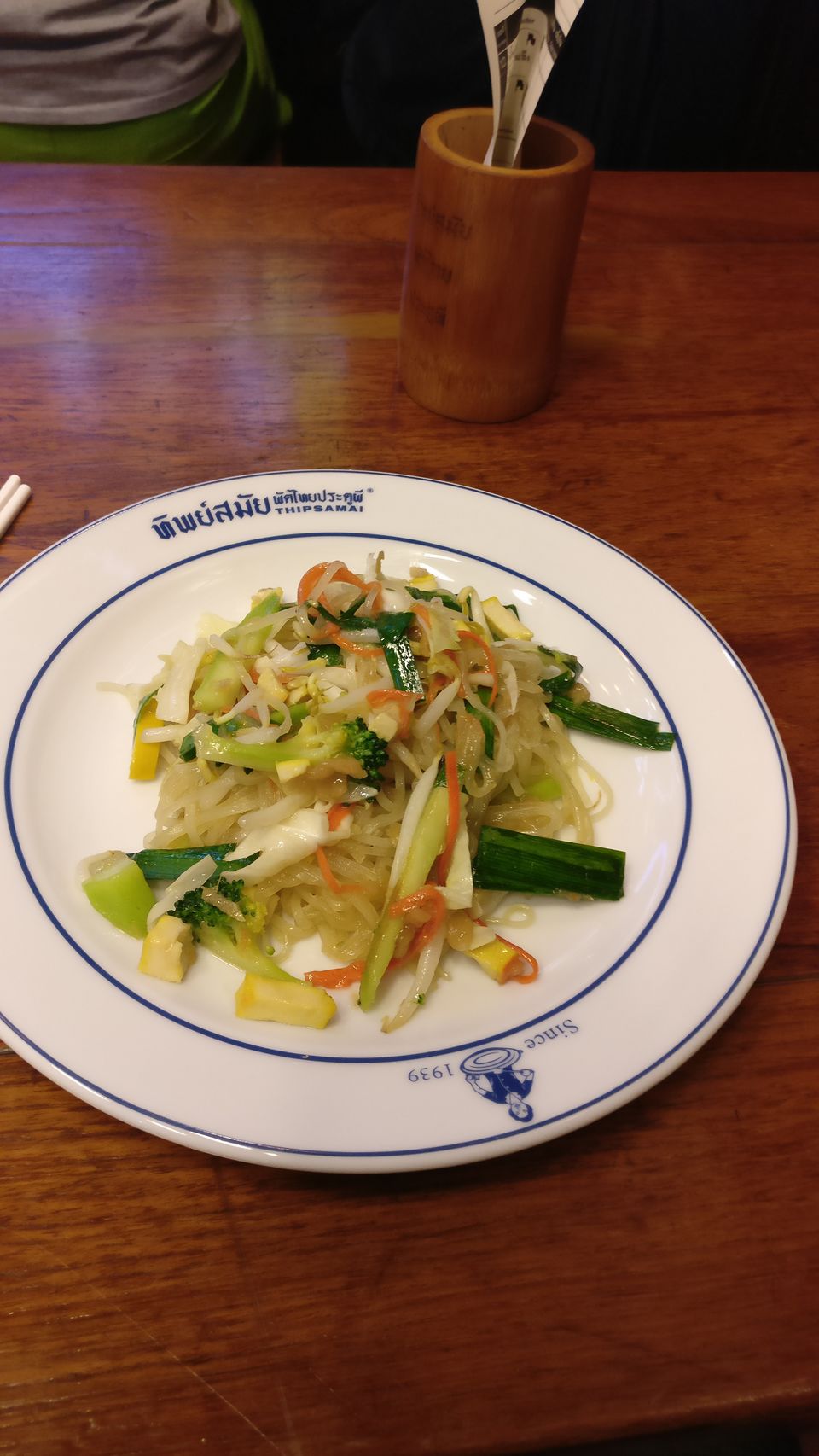 This was a pretty hectic but great day. After a lovely breakfast of fruits, scrambled eggs, toast and tea, I went out. The manager advised me to walk till my destination – Grand Palace which was 2.2 kms away – and not take boat or cab. Thailand can be quite hot even in January but thankfully, it was early in the morning and climate was pleasant. I hence went to the Palace on foot, admiring the Phra Sumen Fort and the public park nearby. Being Sunday, the palace was crowded but I managed to have a gala time. I liked the idea of giving plastic bags to tourists outside the Buddha temple in the complex. Tourists are asked to put their shoes in the bag, take it inside and then wear once they are out. The entry fee is a steep THB 500 but is worth it.
My next stop was Wat Pho, which is at a walkable distance. I had delicious coconut water at THB 40 on the way. Wat Pho is known for the sleeping Buddha idol. The complex might seem small but it isn't. After exploring each and every nook and corner, I came out. Too tired to go to Wat Arun, I found a spot near Blue Whale Café to click a picture of this iconic monument. I then headed back to Ratchaprarop, but this time had lunch at Chotivala's.
Post-lunch, I decided to fulfil all my shopping obligations, mostly of those who had asked me to shop. I started from Indra Square, which is bang opposite Chotivala. After going through Indra and Pratunam, I finally entered Platinum Fashion Mall. It was mostly dedicated to clothes and out of 5 floors, 4 ½ floors are reserved for women's clothing! I bought a T-shirt from here for just THB 100.
At the recommendation of dear friend Akshaye Rathi, I decided to go try After You Ice-cream parlour at a mall called The Market, walkable from Platinum. In fact, most places in this area are connected by a skywalk called R-Walk. You need not even get down! After roaming around here and again getting lost, I reached Siam Center, to buy Godiva chocolates for Goral.
After returning back to hotel and doing timepass, I went to explore nearby places. I first had beer at Mad Monkey Hostel. It has a pub and I fulfilled my desire to socialize a bit. Interacting with an Israeli youth and a British middle-aged gentleman (who blurted 'Kingfisher' the moment I said India) was lovely! The next stop was Khao San Road and here, I finally got my foot massage done, at THB 150. It happens on the street and is quite an experience.
My eyes popped up when I read that Veg Spring Roll was available at a food stall. It was very tasty and was a steal at THB 50.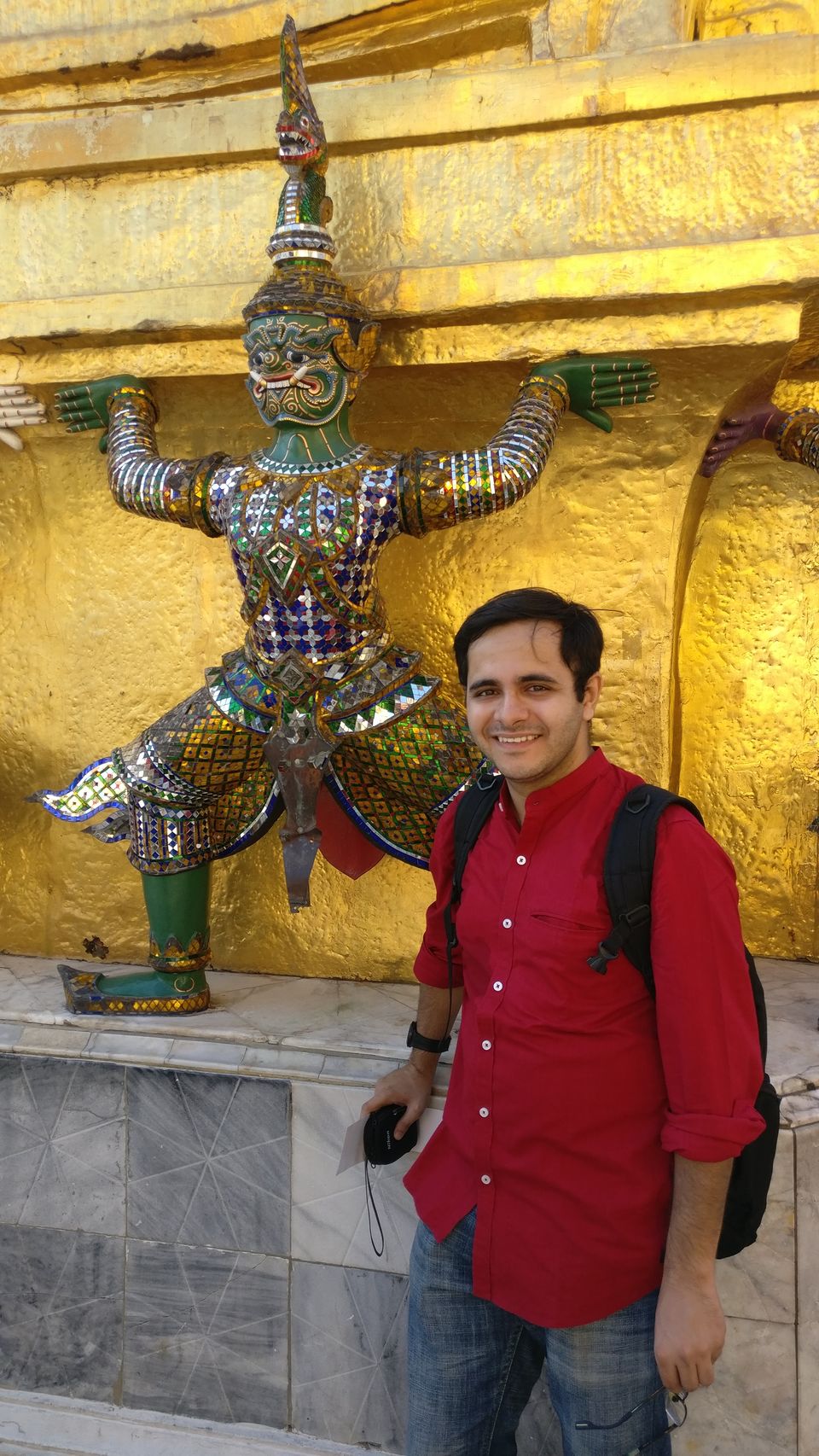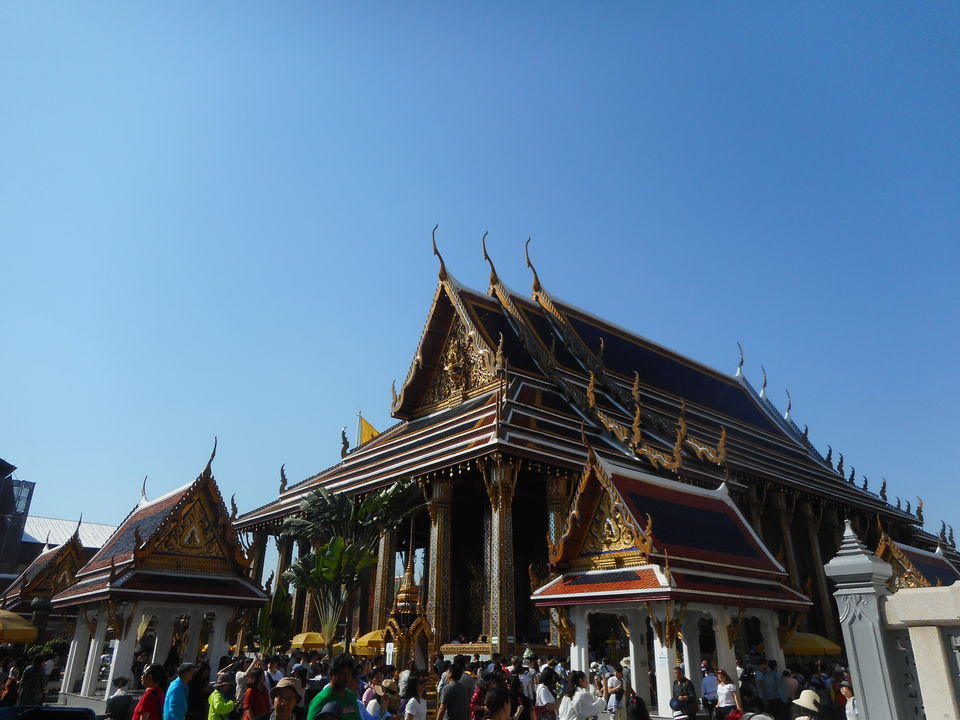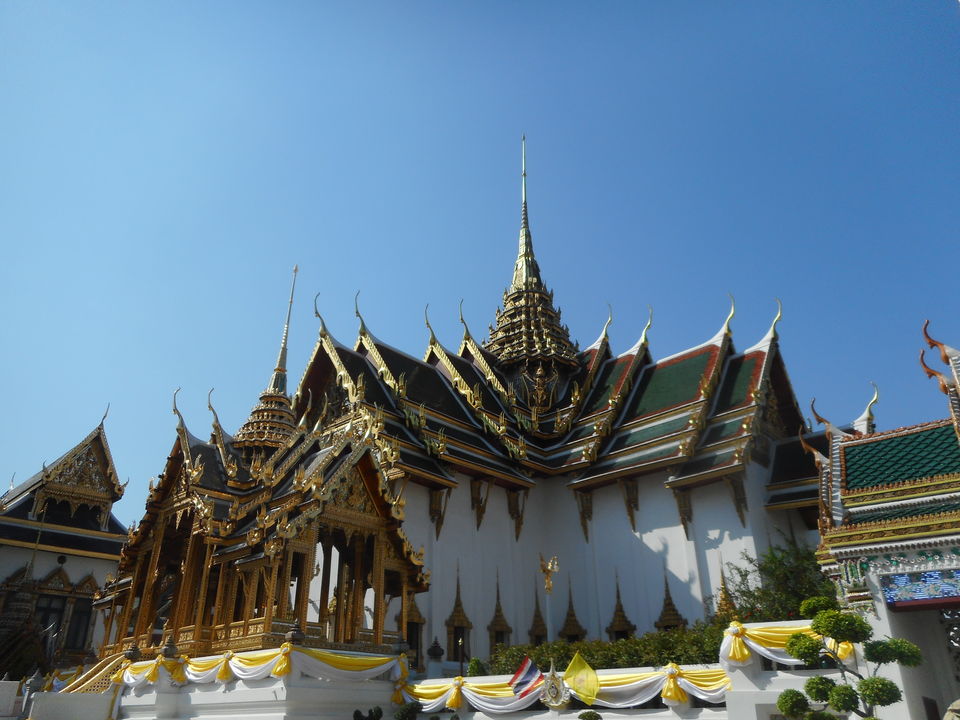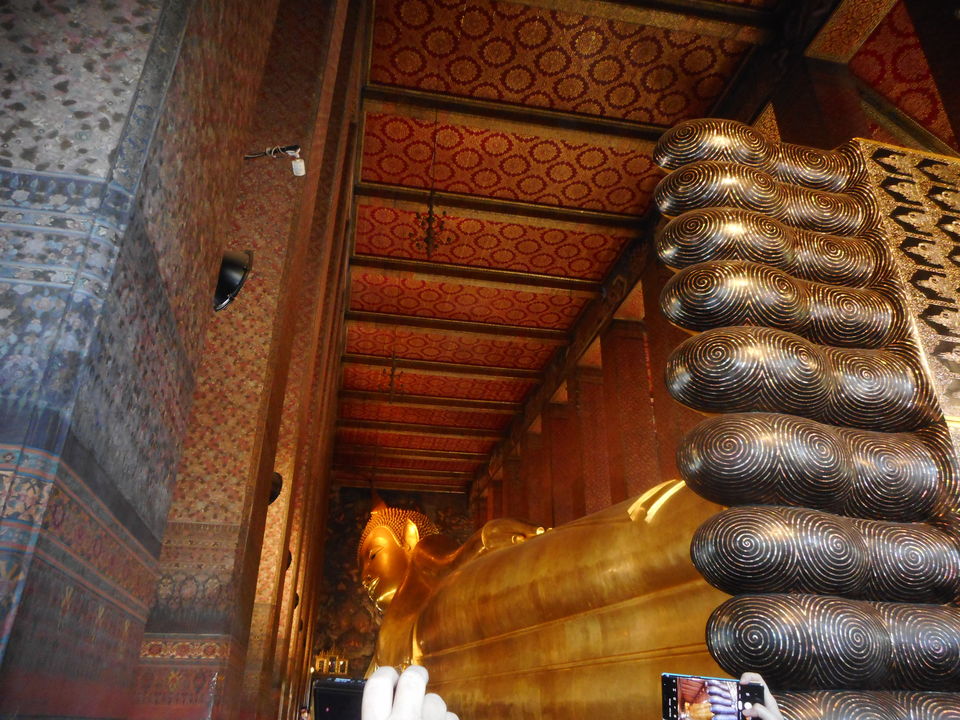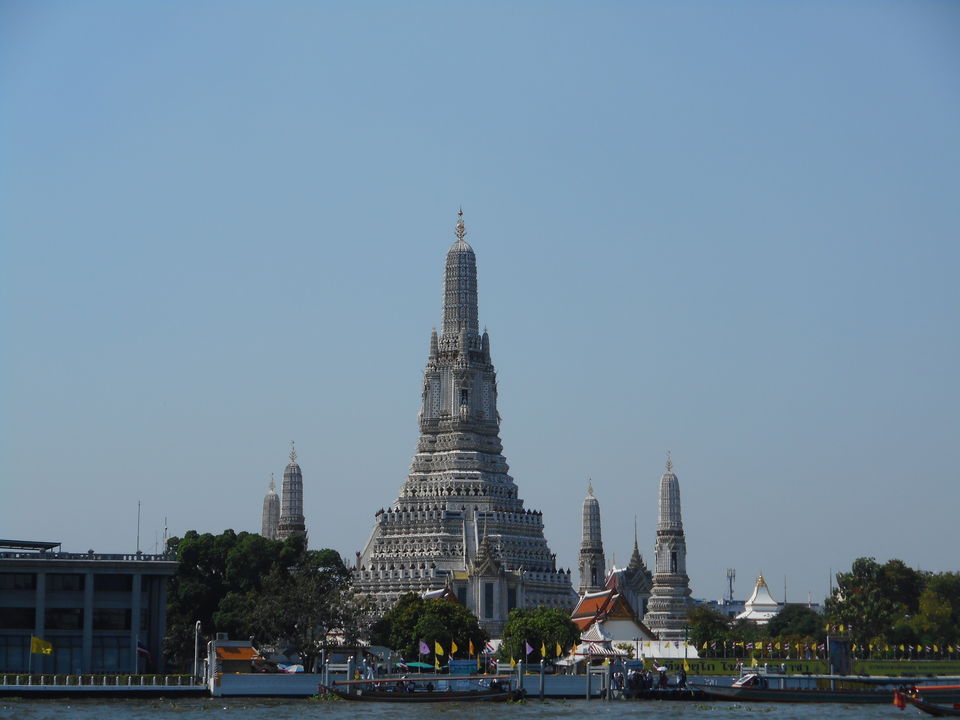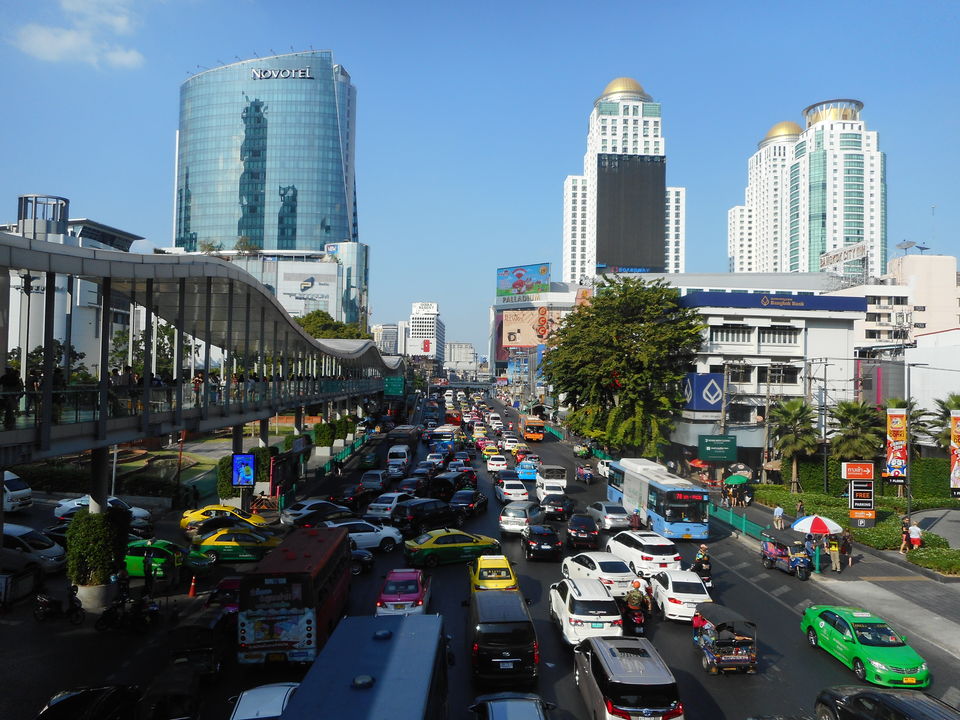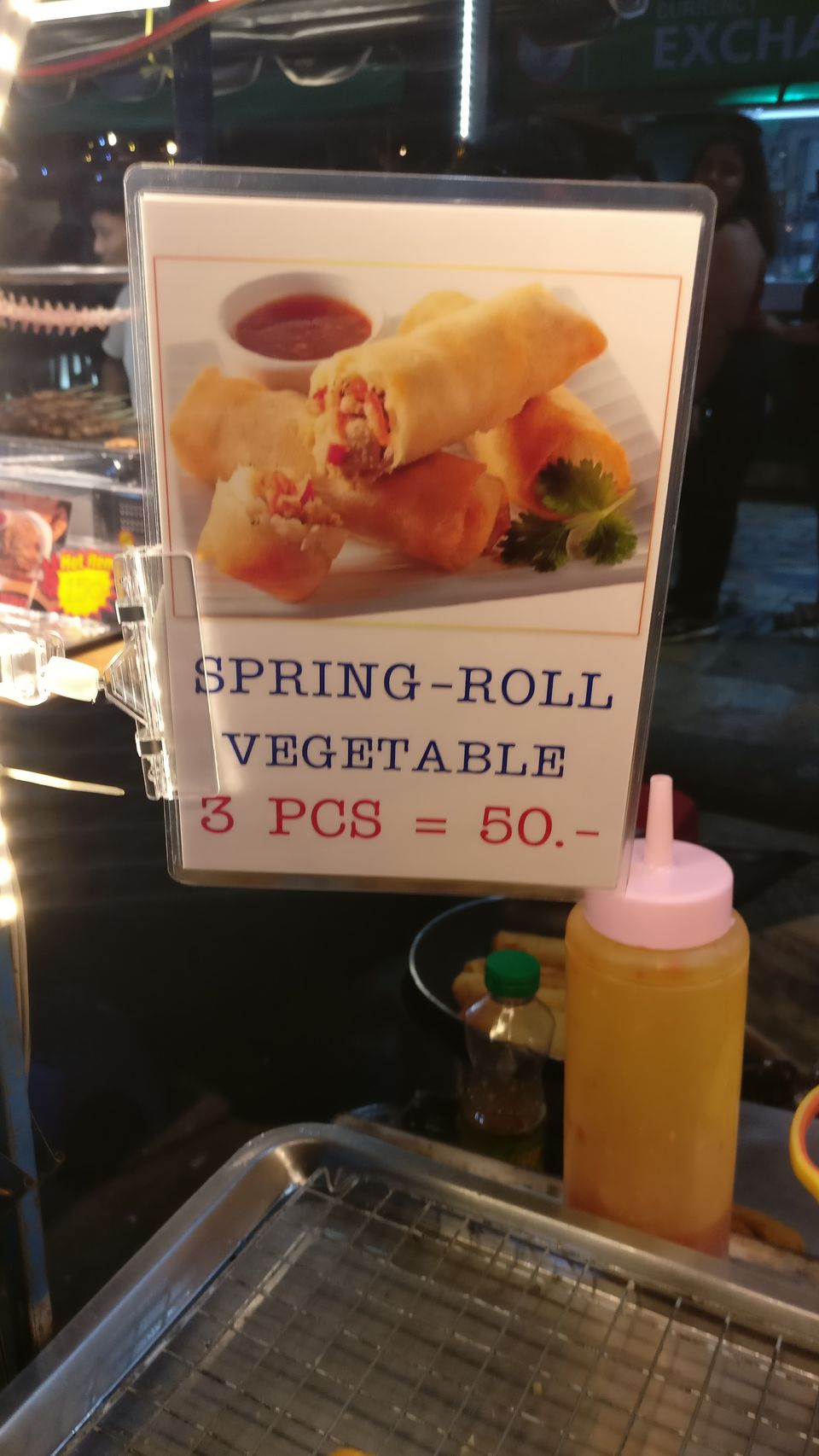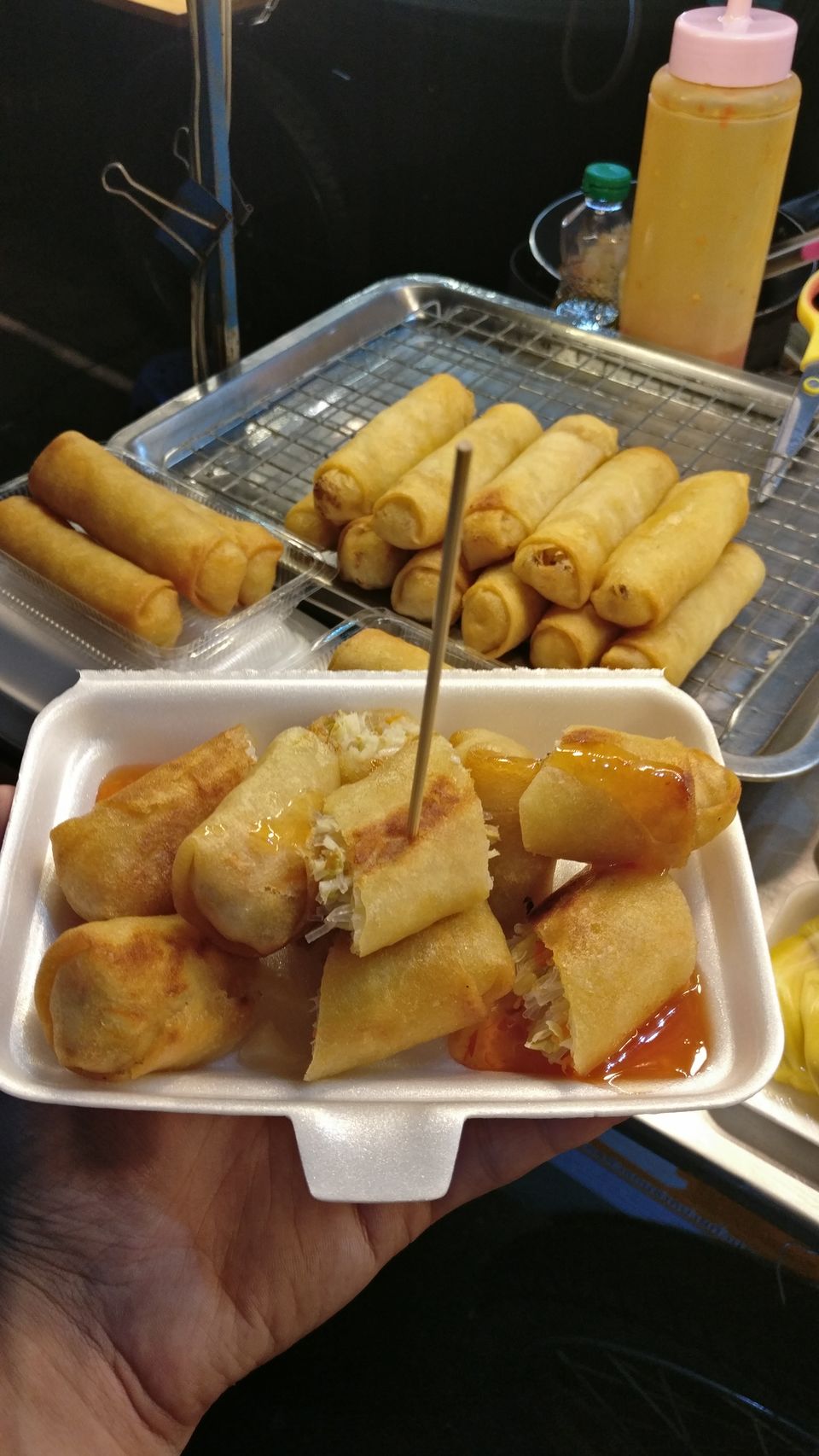 This was the day I check out and return. My flight however was at 10:20 pm and check out time was 12 noon. The manager allowed me to keep my luggage till evening. At 10:30 am, I checked out and proceeded to Mahanakhon Skywalk. This was the most exciting place of the entire trip for me. Here, I got a chance to go up the 74th floor on an indoor conservatory. Needless to say, the view was to die for. That's not all, you can go on 78th floor which is all open. And there's a glass floor as well and walking on it and clicking pictures was a memory I'll always cherish!
The skyscraper also lists places of interest in Bangkok and my eyes fell on a place called Sri Maha Mariamman Temple. It didn't pop up in my research and was just 900 meters away from Mahanakhon. That was my next stop. I then decided to explore Sukhumvit, where many tourists usually stay. I decided to have lunch at a place called Da Vinci there. When I reached there via bike taxi, I realized it was an expensive place inside a five-star hotel, The Rembrandt! I quickly decided to head to Burger King instead, which sells Veg Burger. The taste was lovely and the mall it was located in – The Emporium – was beautiful.
My next stop was Lumphini Park. The entry is free and here I sat besides the lake and drank the orange-lime drink which I had bought for THB 15 from 7Eleven, a supermarket and in other words, lifeline of Bangkok! The experience was relaxing. I then used the underground MRT to go to China Town. It was stunning and I really regretted not going there a day before at night. The sight post sunset must have been dazzling.
After having XXXXL size of milk tea at Tara's Place outside my hotel, I finally went to SamSenSam Place to pick my luggage. I then called for Grab Taxi to take me to Phaya Thai BTS. From here, there's a line that directly takes you to the airport, for just THB 45. It's the cheapest and also most time-consuming way to travel to the airport as the traffic in Bangkok can be crazy.
The security check at Bangkok airport stunned me – my ticket, passport was not checked. Even I wasn't checked! The departure hall is confusing and I had no water as security guys had told me to finish the water. Some food outlets sell water for THB 50 to 99. I couldn't believe my luck when at one place, I got it for just THB 10, the usual rate for water in Thailand!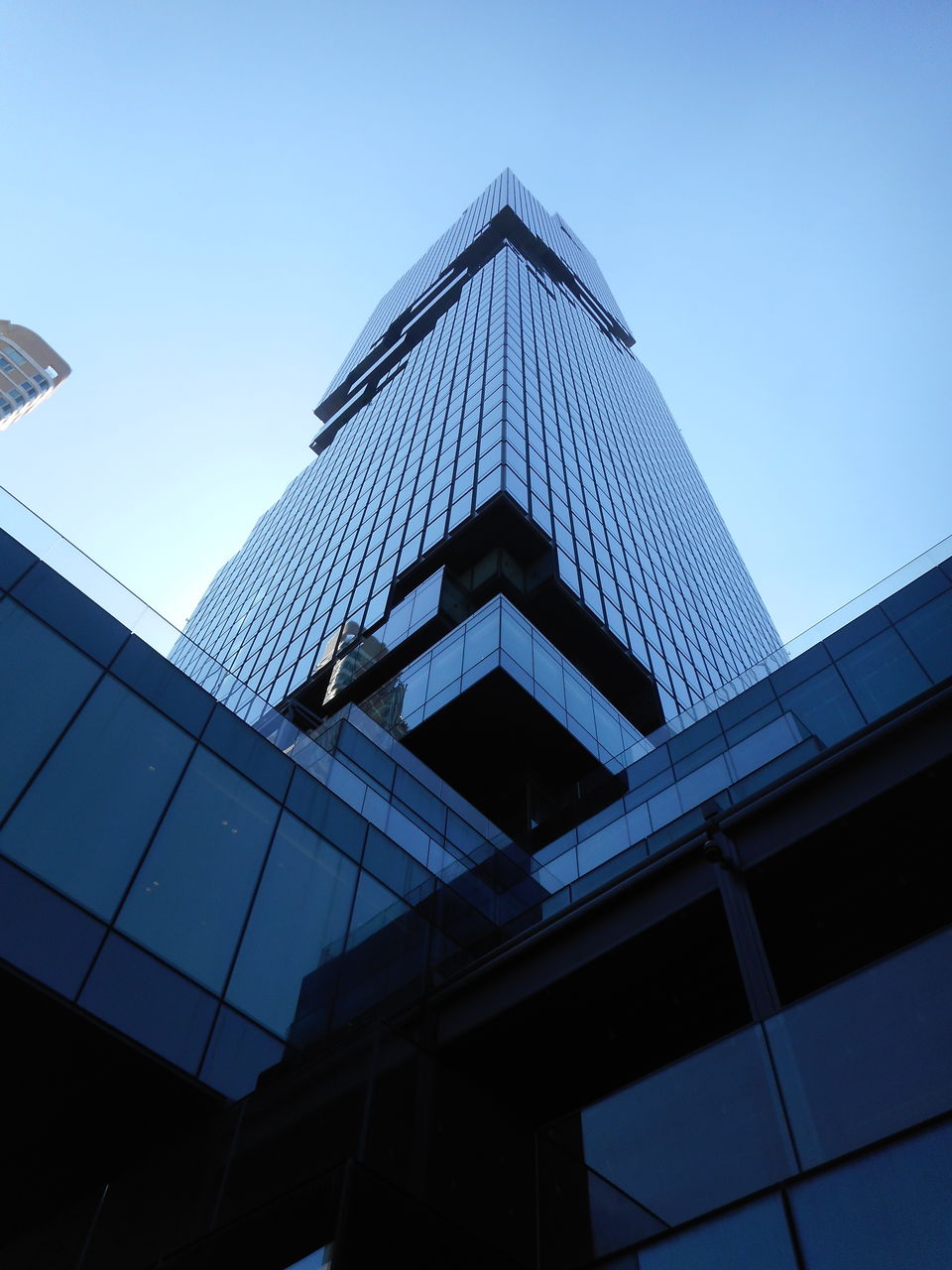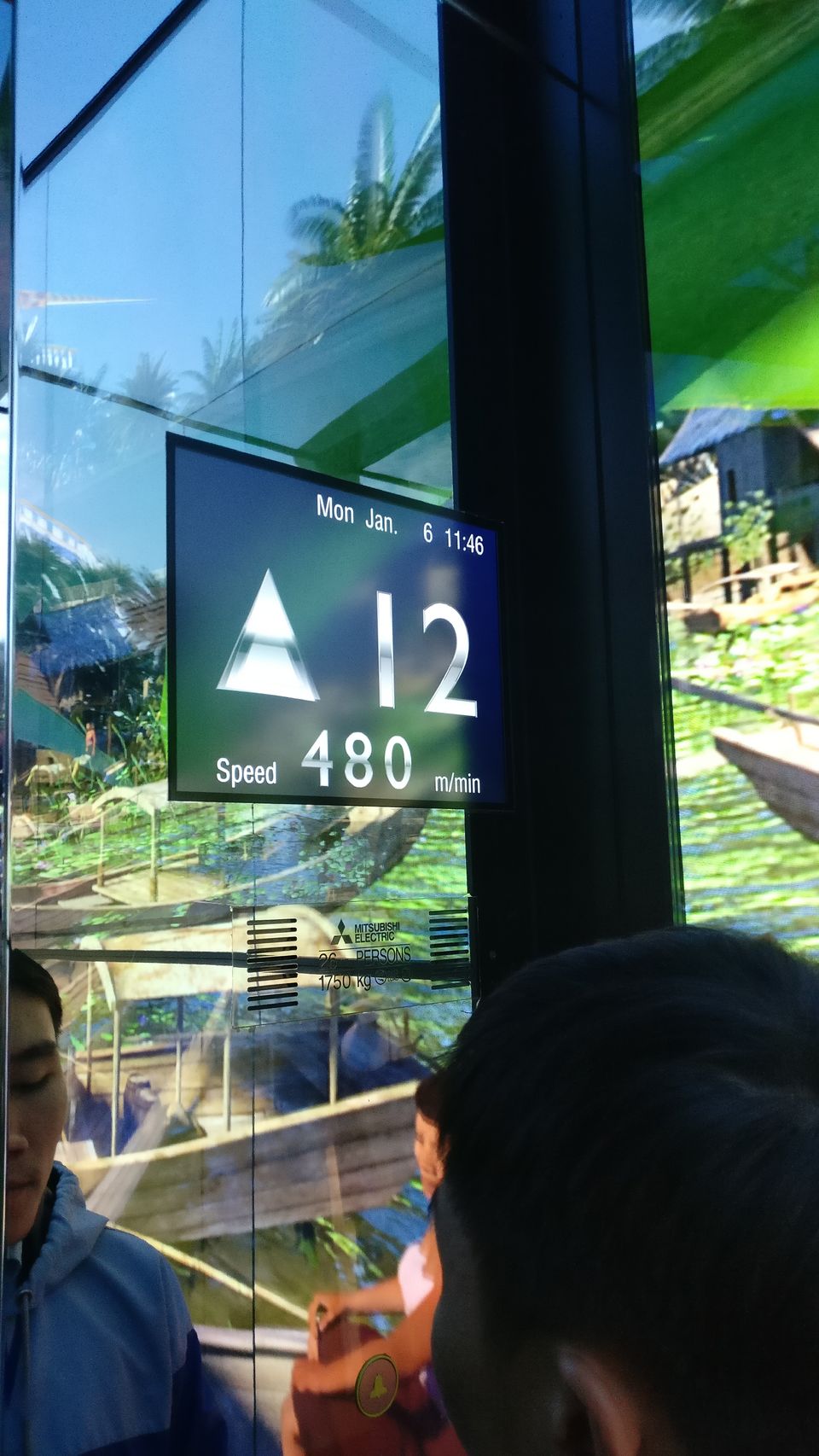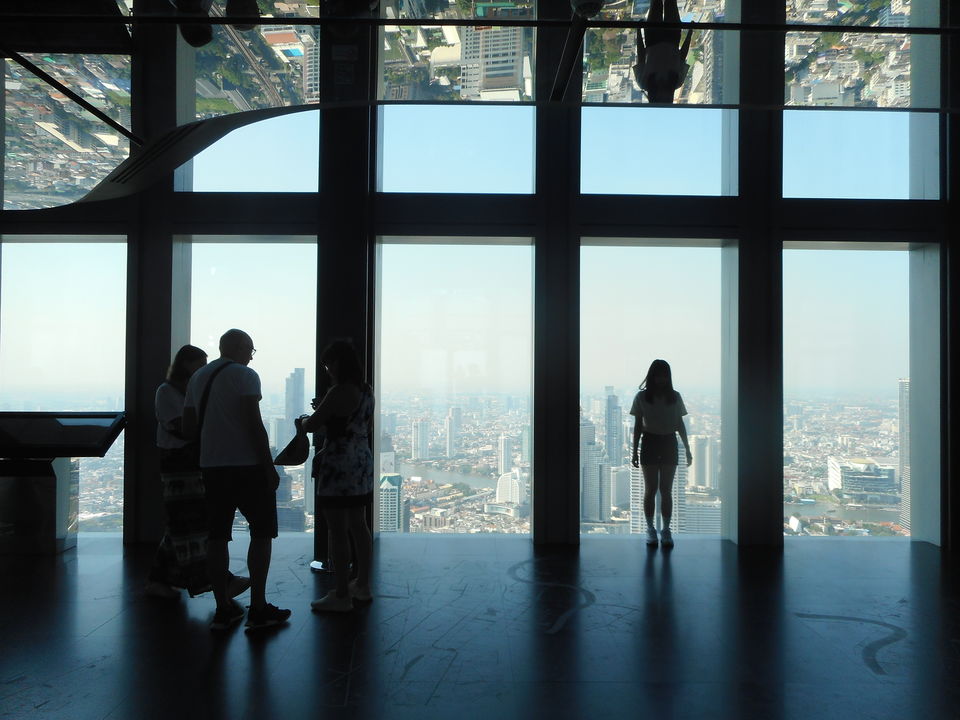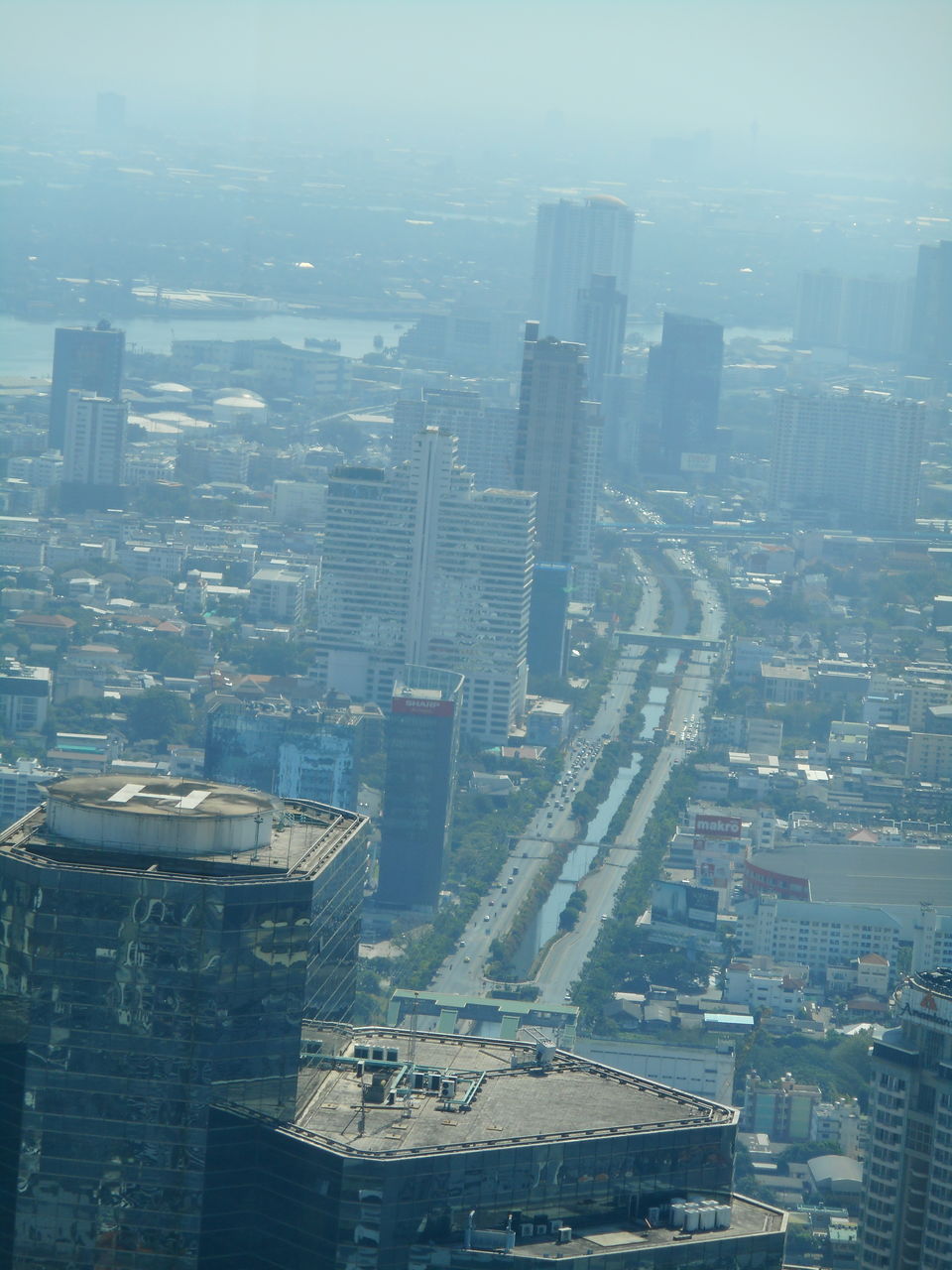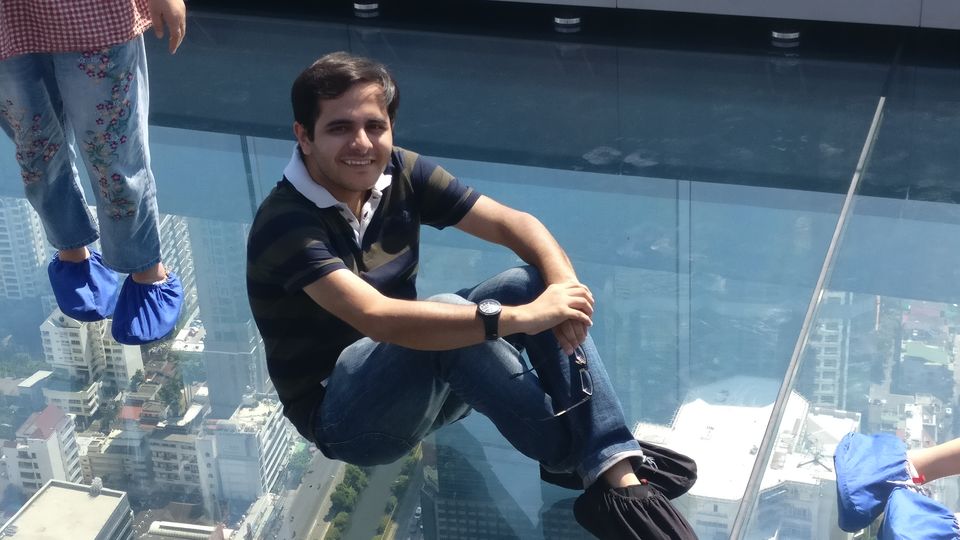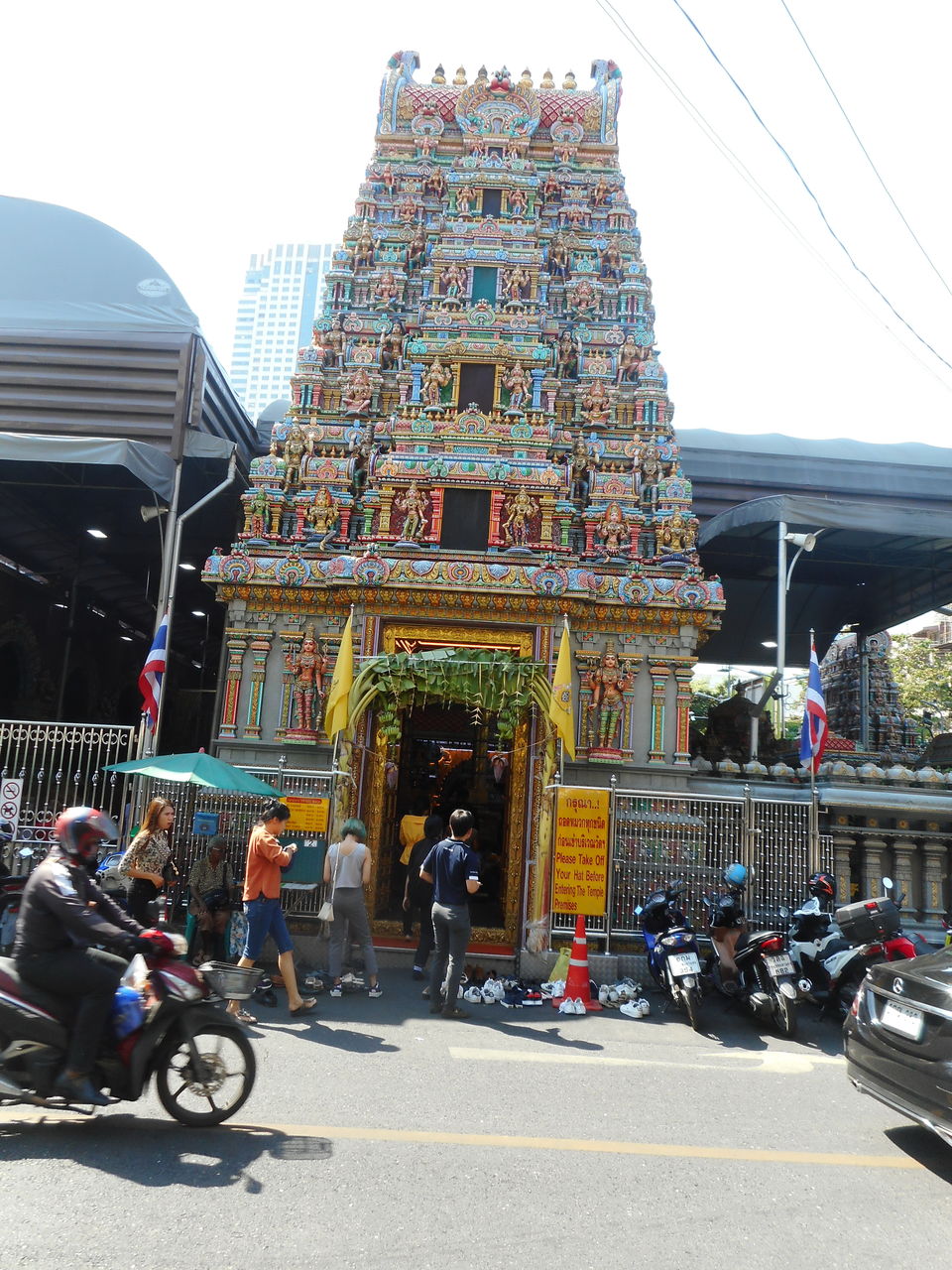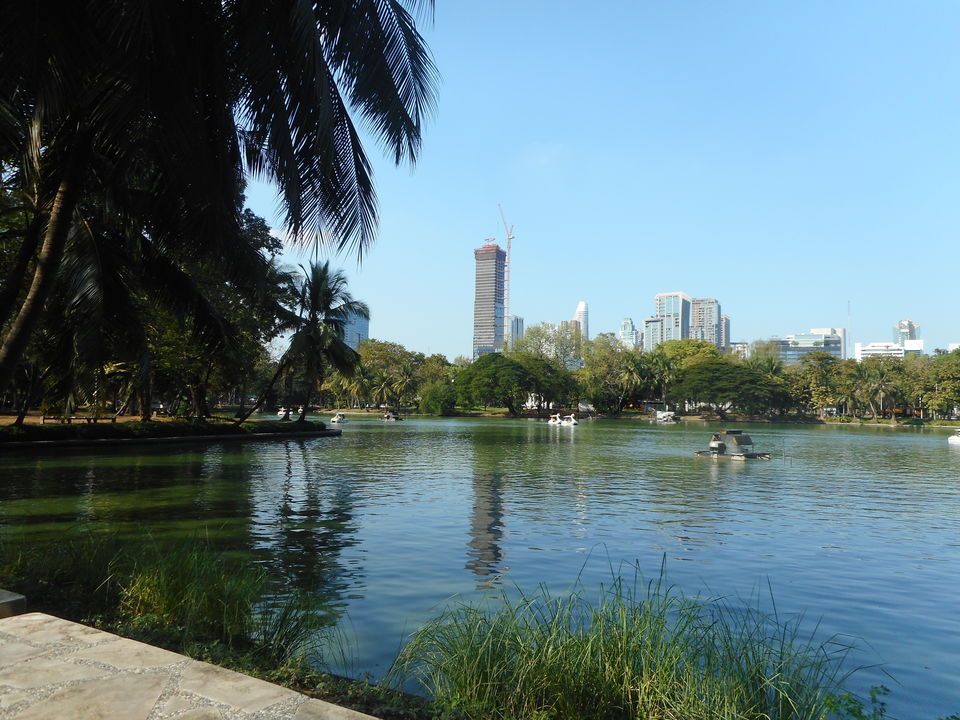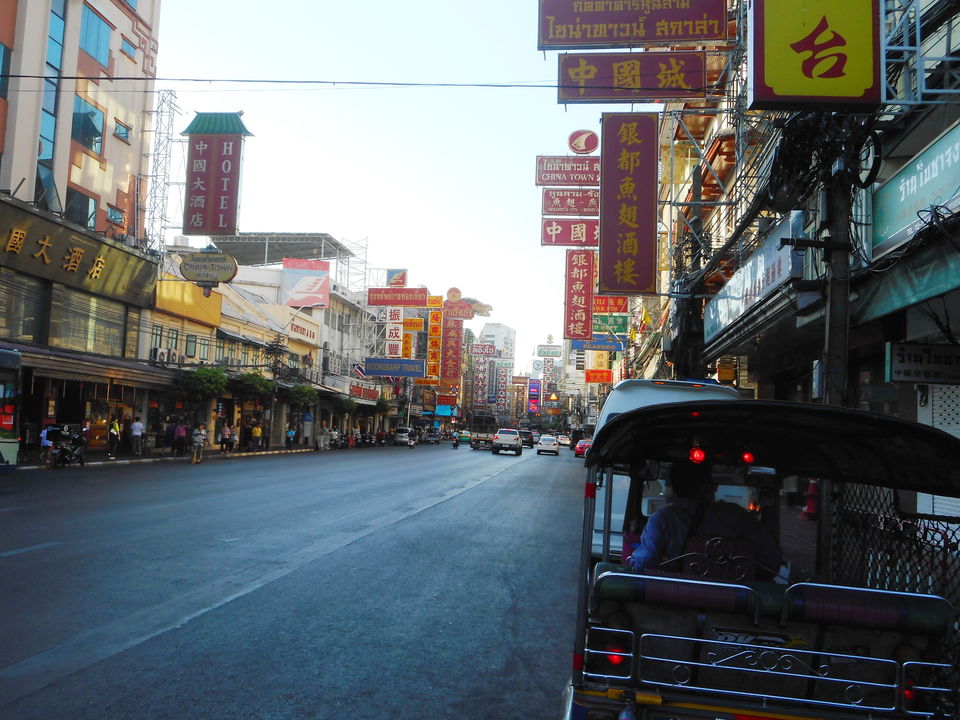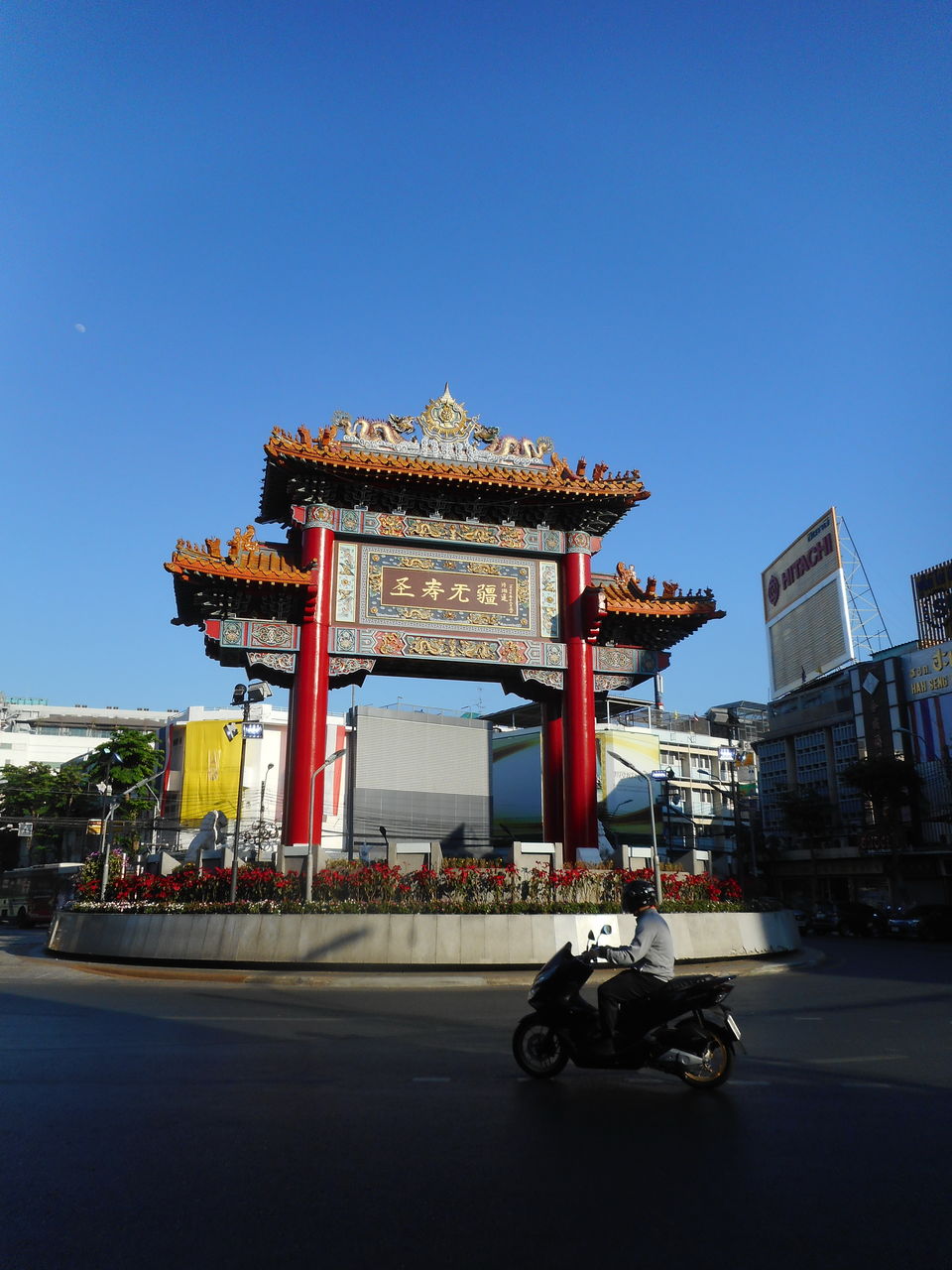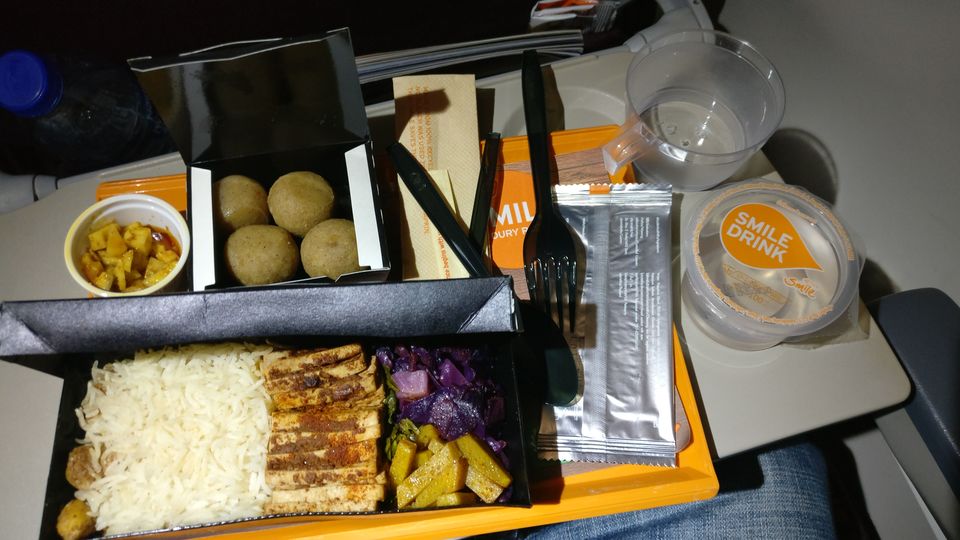 Experience:
If I can say in one word, it's unforgettable! Having stayed in India, so many things out there made me happy – no-honking rule, cars stopping to let pedestrian pass, ever-smiling faces of Thais wherever you go, cleanliness etc. Seeing a different currency in your wallet gave me a mini-kick of sorts every time. Even the Grab app is so cool – taxi gets booked in like 5 seconds and if the driver is 5 minutes late, you get THB 10! And if you ask me, most parts of Bangkok and Pattaya seemed extremely safe. Man, woman, boys and girls could wear anything they want and roam around, even at the dead of the night. Yes, language was a problem at some places but it was manageable if you know basic English. For the Vegetarians, there's no cause for worry as most places sell Veg Food and here I am talking about the non-Indian restaurants. McDonalds sadly has no veg option but Burger King does. And of course, Indian restaurants are there in abundance.
I did miss out on few places as I was there for just 5 days. I hope to get there again to see Mahanakhon Skywalk during sunset and stay there till night, check out China Town post sunset, visit Sea Life Bangkok and yes, try more Thai food options. My trip started on a shaky note due to my health but when I came back, I had tons of happy memories with me. Since it was my first international trip, it'll always remain special! I feel now more responsible and little more proud of myself. I hope to continue with many more such international trips in future, god-willing!