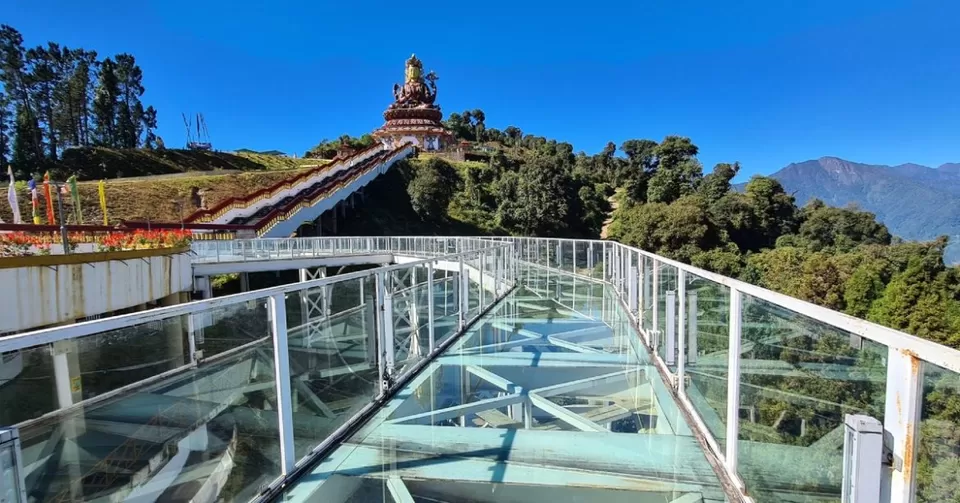 Ever imagined walking a Skyglass from a height and with a magnificent view of gorgeous waterfalls, monasteries, and lush green pastures? Well, you don't have to think of International trips as our very own Sikkim has a splendid glass Skywalk perched above the mist-clad mountains of Pelling. Here's all you need to know about the Pelling Skywalk for adding the place to your Sikkim Itinerary.
Everything you need to know about the Skywalk:
1. The Skywalk is a bridge elevated at 7200 ft over the ocean level, which is India's first glass walk and offers stunning views.
2. The view of the Himalayas and the mesmerizing valley underneath the Pelling Skywalk will take anybody's breath.
3. The Pelling Skywalk overlooks the magnificent Kanchenjunga and the Teesta and Rangit rivers, which flow alongside, adding another dimension to the serenity of the place.
4. After the Skywalk, you must climb several steps to the Chenrezig statue and Sangacholing monastery. The Chenrezig statue in Pelling is the fourth tallest Statue.
5. You will be awestruck by the giant golden prayer wheels at the monastery and the architecture of the 137 feet high Statue.
How to Reach the Pelling Skywalk:
By Air - The nearest airport, 160km from Pelling, is Bagdogra Airport in WesBengal. Gangtok is the nearest town to Sikkim from Bagdogra Airport in West Bengal, around 125 km. First, land in Gangtok and then drive to Pelling, approximately 130 km from Gangtok. The airport is connected to all major Indian cities like Delhi, Mumbai, and Kolkata by regular flights.
By Train - The nearest railway station to Pelling is New Jalpaiguri Railway Station in Siliguri, West Bengal. After getting down at NJP, one can take a shared cab or a taxi to Pelling. One can also take a cab or taxi from Siliguri city, which is 6 km away from the railway station.
By Road - Pelling is easily accessible by all-weather metalled roads. Pelling is connected to Gangtok, Siliguri, and Darjeeling by road. The road from Siliguri to Pelling is quite steep, so it's advisable to travel by car or Sumo rather than by bus.
The Pelling Skywalk is located at a distance of 7.2km from Pelling city. Continue on Pelling-Dentam Road to reach the destination. One can hire cabs from Pelling city for the entire day and include other destinations.
Or, one can book cabs through tourism agencies. Click here to book your tour to Pelling Skywalk
Timings to Visit Pelling Skywalk:
The best time to visit Pelling Skywalk is from February to July as the atmosphere avoids any weather con(before the Monsoon's onset).
Also, September to early December will offer the perfect view of crisp snow mountains.
The Skywalk is open from 8:00 am to 4:30 pm.
Entry fees for Adults are 100rs and might take extra charges for parking if you have your vehicle.
Know Before You Go for Pelling Skywalk
1. Avoid consuming heavy food or alcoholic beverages at least one hour before the activity.
2. The activity might be closed in July and August due to rainfall.
3. Plastic bottles are not allowed; you can take thermal bottles.
4. Plastic carry bags are not allowed.
Restaurants around Pelling Skywalk:
There are some local lodges and small food eateries on the way back to Pelling, and if you are heading to Rimbi waterfalls, there are lodges, hotels and restaurants on the Pelling Rimbi Road as well. Some of them are listed below.
Shree Ambe Restuarant - 3km from the SKywalk destination
Raza Rasoi - 2.6km from the Pelling Skywalk on the Rimbi Road
Garuda Lodge and Restuarant - 2.1 km from the Pelling Skywalk on Pelling Helipad Road
Places to explore around the Pelling Skywalk:
After the Skywalk, one can visit the Hingham, Lamaten Lingmoo viewpoint, a 3hr drive, and an utterly offbeat village. The spot is an uphill drive and a sunset point with cemented seats for tourists to enjoy the view.
Or, if you do not want to drive long, you can enjoy the Sunset at the Pelling Sunset Viewpoint.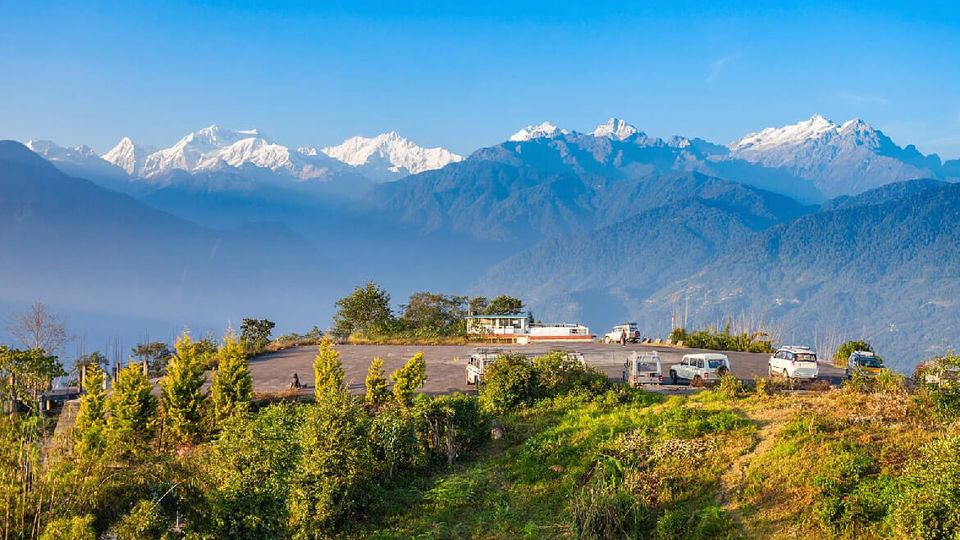 Also, since Pelling Skywalk will consume only 2-3 hrs of the day, you might not want to miss out on trekking to Sanga Chloeing Monastery and visiting Khecheopalri Lake and Rabdentse Ruins around the Skywalk.
Pelling has a lot to offer to tourists. The major tourist attractions in Pelling are Kanchenjunga Falls, Singshore Bridge, Khecheopalri Lake, Rimbi Waterfalls, and Sewaro Rock Garden.
And while including the famous Kanchenjunga falls and the Singshore bridge, waterfalls at every corner, and scenic drives on dangerous roads on your trip to Sikkim, a tour on a Skyglass in Pelling is a must-add to your bucket list.
Ready to travel for free? Earn credits and redeem them on Tripoto's weekend getaways, hotel stays, Mindful Retreats and vacation packages.
Follow me on Tripoto and Instagram @viral_paun for more travel stories!